Send Off Summer at Grimaldi's Pizzeria This August!
By Erin
*I was invited in to Grimaldi's for purposes of this post. All thoughts and opinions remain my own*
The summer is sadly coming to an end, but that doesn't mean the fun or flavor has to end. Throughout the month of August, Grimaldi's Pizzeria in El Segundo invites you to come on in to try their new Spicy Chicken Sausage and Broccoli Rabe Pizza, Caramel Apple Cheesecake, and its Chocolate Cheesecake.  If delicious pizza and mouth-watering cheesecake weren't reason enough to make a visit, Grimaldi's continues to celebrate the summer with Tuesday Tastings, which offers guests half-off all glasses, carafes, and bottles of wine. With more than 50 wines to choose from, sample the extensive wine selection at restaurants nationwide through September 30.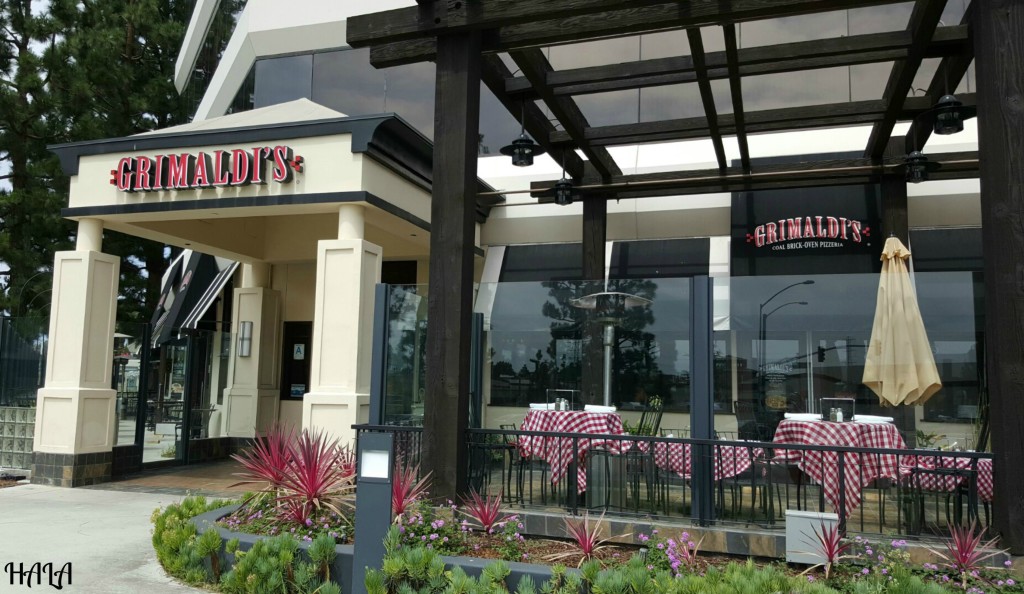 Grimaldi's El Segundo is located at 2121 Rosecrans Ave., in El Segundo, CA, it boasts some gorgeous indoor and beautiful patio dining (just look at all the beautiful palm trees and enjoy the glorious California weather), as well as a private room for parties of up to 40 people. Traditional red and white checkered table cloths dress the tables, New York's history is celebrated with some black and white photography throughout the restaurant and Sinatra can be seen in the background creating an energized setting for an exceptional dining experience.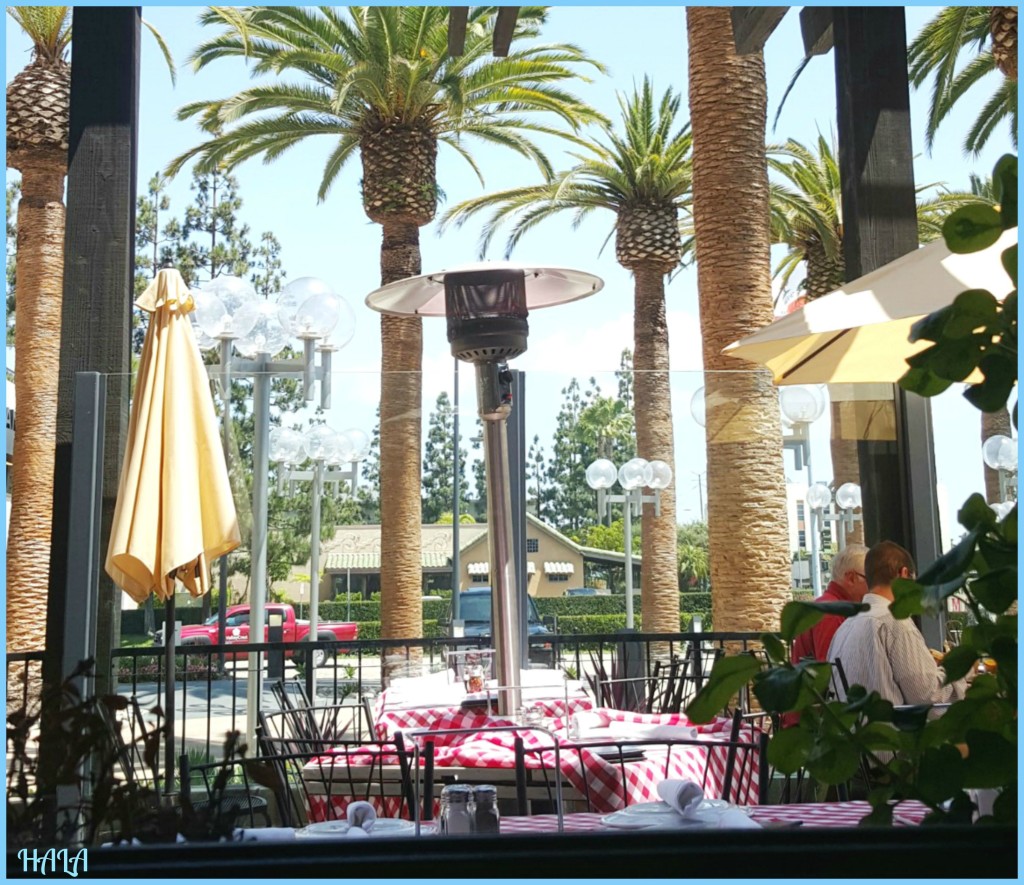 I absolutely loved the decor of the wine bottles being used for light, hanging from the ceilings and on the tables. The kitchen is glass-encased so you can see everything that goes on in there, showcases the 25 ton coal brick ovens that crisp every pizza to perfection at nearly 1200 degrees.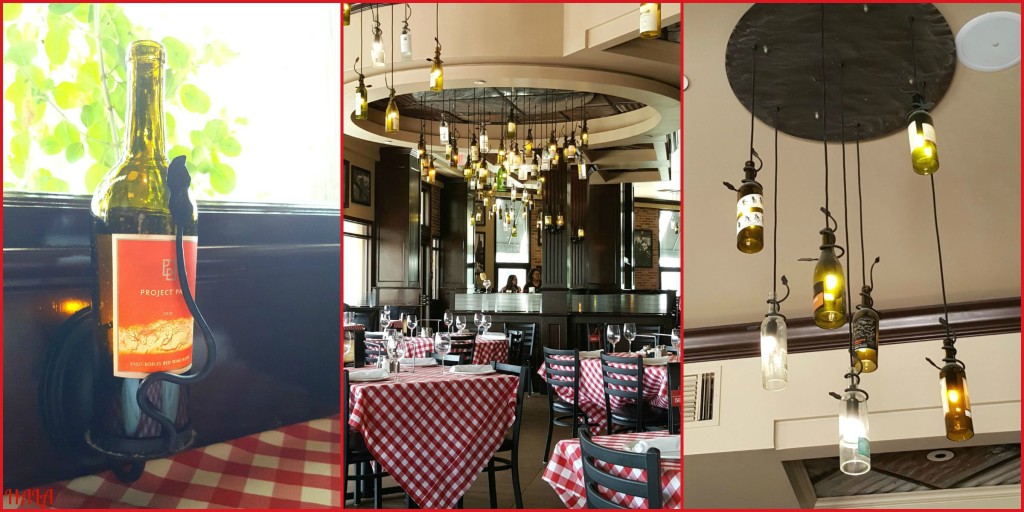 Once we were seated we took a look at the menu and placed our drink orders. It was lunch time, so I didn't want to get anything too crazy or strong, so I went for a nice refreshing White Sangria. It was perfect.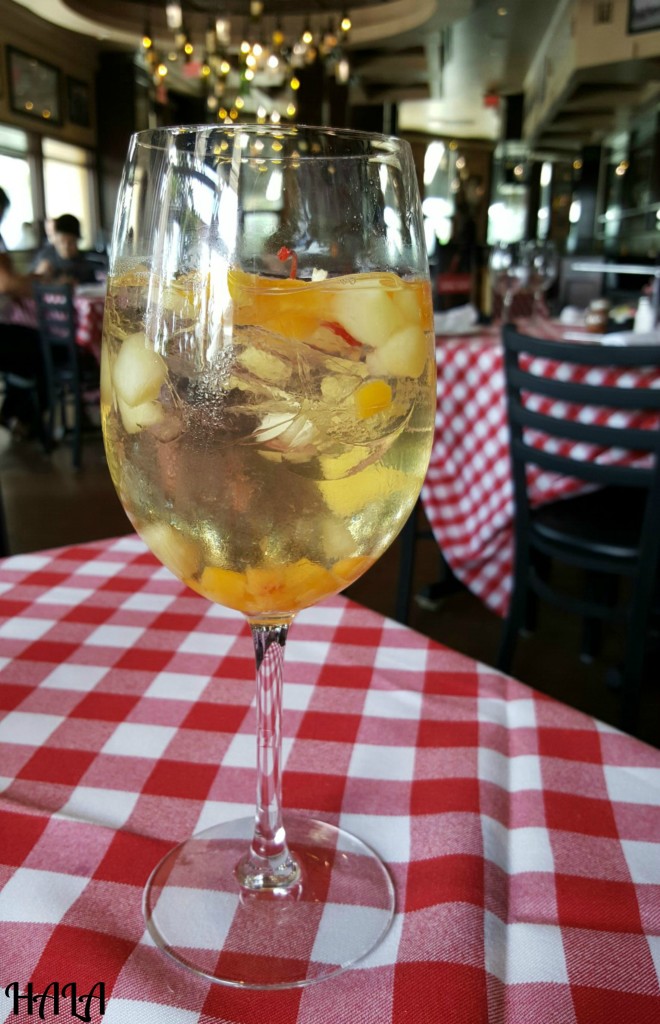 If you're looking for something more on the lighter side, the Grimaldi's House Salad is a good choice. Since we were sharing and also getting pizza, we opted for the smaller sized salad. We also added on Fresh Mozzarella and Genoa Salami to it. It was plenty for two of us to share. It comes with Romaine Lettuce, Red Onion, Cherry Tomatoes, Oven Roasted Sweet Red Peppers, Mushrooms, Sicilian Green Olives, & a Vinaigrette Dressing .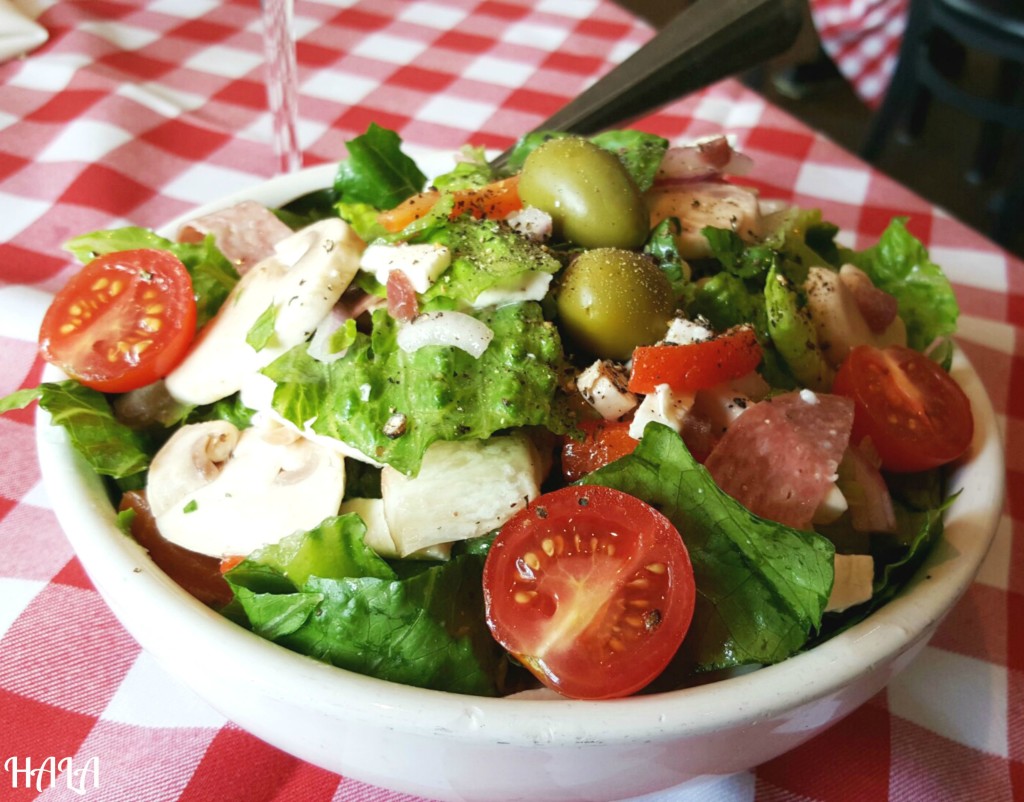 Then it was time for pizza!! First we had the special Spicy Chicken Sausage and Broccoli Rabe Pizza. This seasonal pie comes with quite the kick– it's topped with spicy chicken sausage, sautéed broccoli rabe and ricotta cheese. Its bold and zesty flavor is perfectly balanced by the creamy ricotta cheese.  If you love a little spice, then you're sure to love this fiery new addition. The size shown here is a personal sized pizza, so if you are not completely starving and plan on having a salad and dessert along with your pizza then this should be plenty enough for you to share with another person.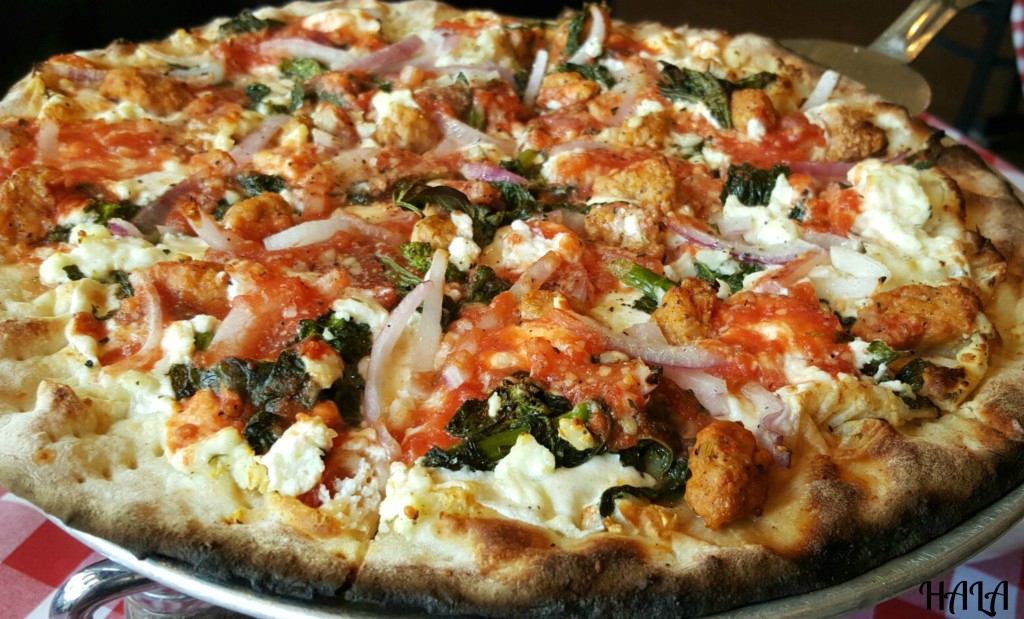 I am a total Pesto lover, so I just had to order a pesto pizza. If you know me, then you also know I'm a total bacon lover. My creation here has pesto, cheese, bacon, and green peppers and it was amazing! I really need to go back and have another one of these.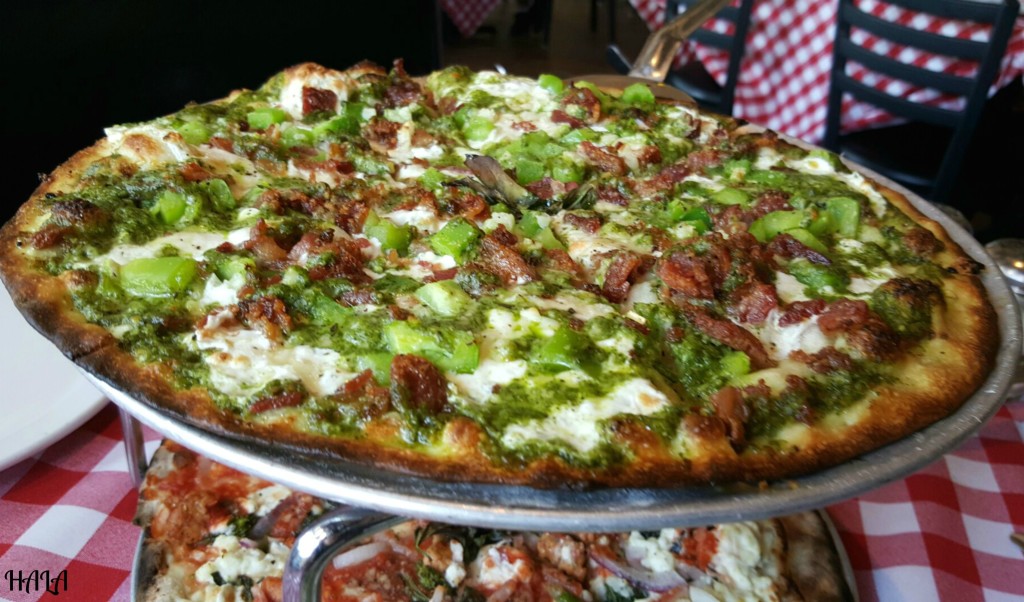 Oh my it makes me hungry just looking at these again. I had to take a close up just so you could see how yummy their toppings are. Just look at that bacon. And Pesto. And everything else…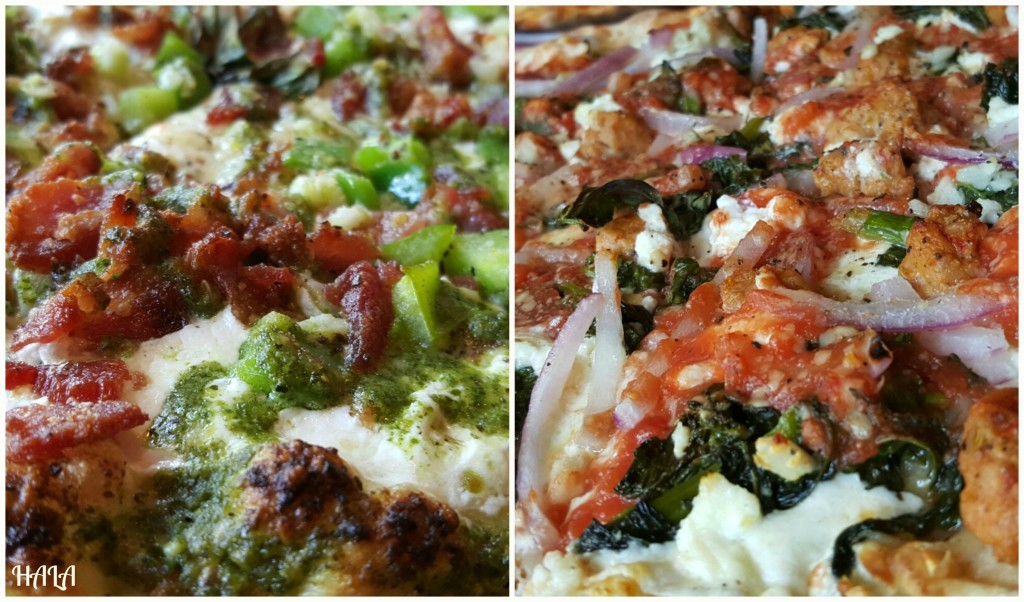 Oh and this, I love how they have these pizza towers so you can easily have more than one or 3 pizzas at your table at a time and still have plenty of room to eat it all.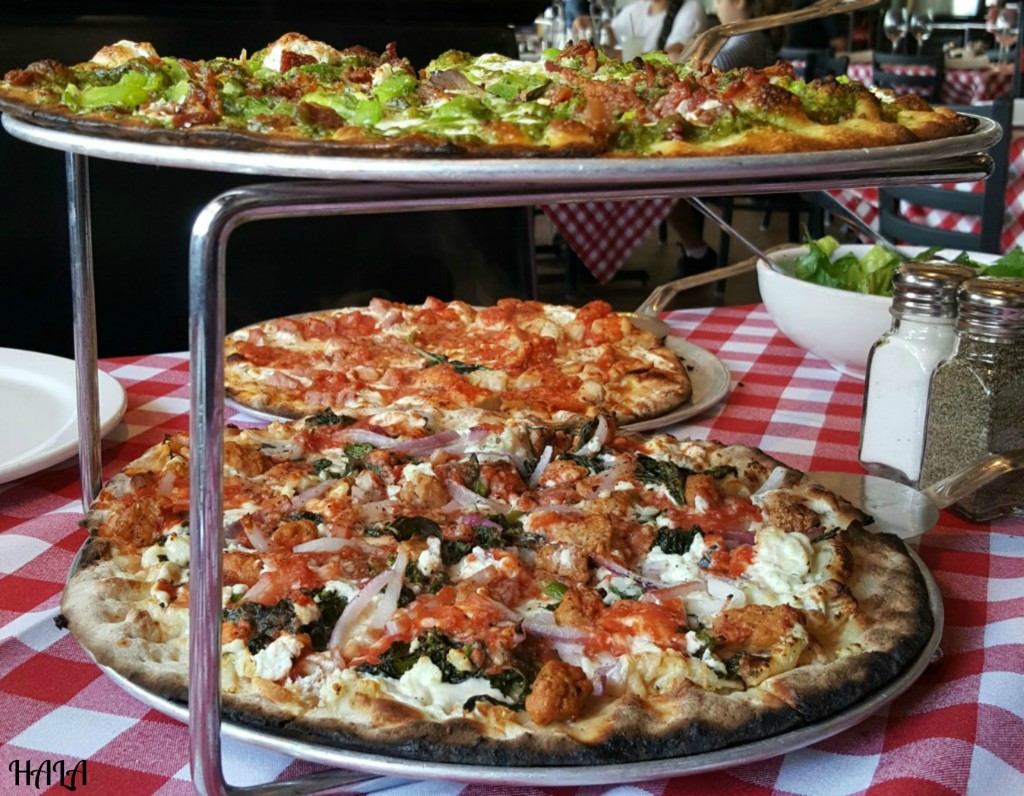 Then it was time for dessert. Not just any dessert either, but my favorite! Cheesecake!! Since we wanted to try both of their special fall cheesecakes; Caramel Apple Cheesecake and Chocolate Cheesecake, and we were already getting pretty full we opted to get the Dessert Trio for $10.  With the Dessert Trio you get to select a sampling of any three of Grimaldi's delicious dessert options, including the house-made cheesecakes, Cannolis, and Tiramisu. We chose to get the two special cheesecakes and the tiramisu. The Caramel Apple Cheesecake is a rich caramel and green apple cheesecake, topped with caramel and whipped cream. The Chocolate Cheesecake is served with chocolate syrup and topped with whipped cream and chocolate chips. My favorite of the three was the Caramel Apple Cheesecake! I almost wished I had a full size piece of it, but it's probably a good thing I didn't.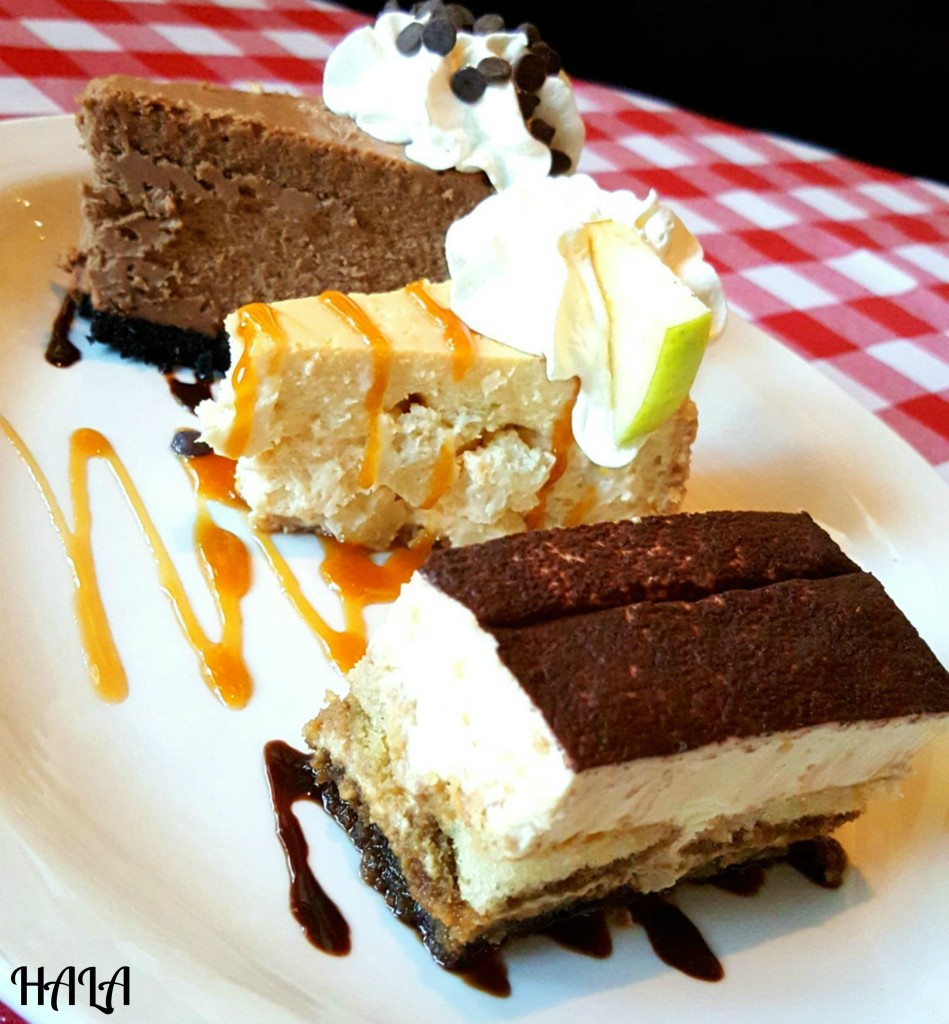 What are your favorite pizza toppings? Would you spice up your pizza with the Spicy Chicken Sausage and Broccoli Rabe Pizza? Oh and that cheesecake… which one would you try first? 🙂 Be sure to check Grimaldi's out the next time you are in the Los Angeles area or any of their other locations if you cannot make it down to El Segundo.