Teen Beach 2 is Out on DVD + Cool Bonus Features!
By Erin
Disney Channel's Teen Beach 2 movie is out on DVD!  Did you tune in on Friday to watch all the fun? If not, or even if you did, it's already out on DVD for you to enjoy over and over and over again! Wether you love it for the songs, the dances, or the friendships, you have to admit that there are some great messages for kids and families intertwined into it. The characters in the movie model healthy/supportive friendships, show strong examples of female lead characters and encourage kids/tweens to believe in themselves. Teen Beach 2 is an amazing follow-up to the Teen Beach Movie. Jam packed with some pretty awesome dance and song numbers, these songs are meant to get stuck in your head, and they will. I saw the movie for the first time, three weeks ago during the Inside Out event and have been singing the songs ever since. You won't want to miss the cool bonus features either, like CheeChee (Chrissie Fit) and Seacat's (Jordan Fisher) version of Falling For Ya, and the making of it (which you can see below). So go get the DVD, which includes all of the not to be missed fun bonus footage and can be purchased here. You can also check out my interview with Chrissie and Jordan here. Or that time they gave us 25 bloggers a dance lesson… 😉
Heartfelt Messages:
Teen Beach 2 is filled with some amazing messages such as–
Believe in yourself

— Brady is really into making these cool, one-of-a-kind surfboards, but he hides it at first because he thinks that Mack won't really "get it" since her focus is on getting into college.
Mack helps Lela realize that she can be anyone she wants to as long as she is true to herself.
Female Empowerment–Mack and Lela are both strong female characters who are empowered, driven and supportive of one another, which is something I'm very happy that young viewers will get to see.
When Lela visits the modern world, she quickly realizes she loves everything about it, especially being able to be in control of her own choices instead of being bound by the movie-world.
Mack is very driven, focused on her love for oceanography and is set on paving her future by going to college.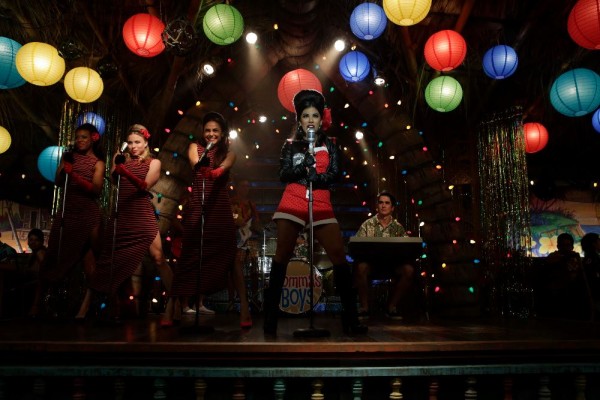 Follow Your Destiny–Lela would love nothing more than to stay in the modern world, but eventually realizes she needs to return to "Wet Side Story." She creates her own destiny and becomes the strong, independent woman she's aspired to be.
Importance of Friendship–Tanner really steps up and helps Brady push beyond his comfort zone and share his surfboard making passion with Mack.
Mack and Lela are supportive of one another and a great example of positive friendship between girls.
All the characters in "Wet Side Story" risk fixing everything going on in their movie world to help Mack and Brady get their relationship back on track.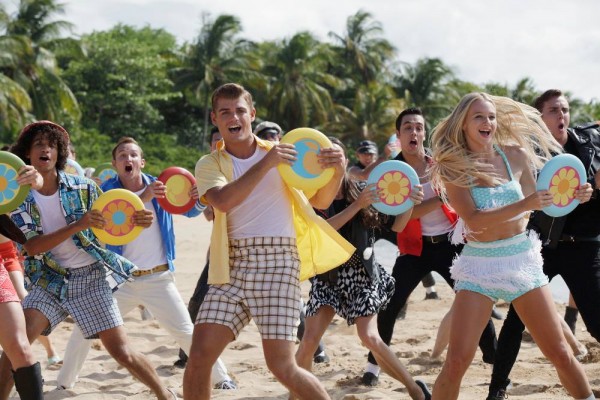 Music & Dance:
 The music and dance numbers are really fun in this movie, and they can be enjoyed by kids and parents alike. Families can enjoy learning the dance numbers and singing along together.
The Perfect Movie Night Movie
Teen Beach 2 is a great movie night pick because of its multigenerational appeal, lighthearted humor, and great story that the entire family can enjoy together. It's a great movie to have a party for, check this out for some awesome Teen Beach 2 Party Ideas! 😉
Bonus Features:
The bonus footage on the DVD includes the cast at dance rehearsals, discussing their favorite songs and favorite moments from the movie. Exciting, new contemporary and retro music with dance numbers choreographed by Christopher Scott (Dancing with the Stars). Come join Ross Lynch, Maia Mitchell and the rest of the cast as they learn some of the crazy steps for the movie. Take a look into how they put these moves into the songs Best Summer Ever, Gotta Be Me, Falling For Ya, and That's How We Do.
You will love watching these bonus features. I loved it because you really get to see their personalities shine through, what it was like filming on set, and how much fun they had making the movie. You are made to feel like you are actually on the set with them. You can totally tell they had a blast filming, and I had a total blast just watching all the awesomeness happen!
Teen Beach 2 is available on DVD now! You won't want to miss all the action and fun of the bonus features either! Purchase your cope of it here. Below is a clip of the "Falling For Ya" Rehearsal that is part of the bonus footage. <3 
Synopsis:
 Dive in and rock out with the hottest surf sequel under the sun! Now that summer's over and school has begun, Brady (Ross Lynch) and Mack's (Maia Mitchell) relationship seems headed for a wipeout — until Lela, Tanner and the "Wet Side Story" kids show up! Dazzled by the novelty and variety of the modern world, Lela wants to stay, but the real world and the "reel" world just don't mix. Can Mack and Brady find the magic to get the kids home and get their own romance back on track before it's too late? Packed with electrifying song & dance numbers and hilarious fish-out-of-water wackiness, TEEN BEACH 2 is "wow-abunga" fun for everyone!