Knott's Soak City Waterpark Kicks Off with a Splash!
By Erin
*We were invited to the media day, courtesy of Knott's Soak City for purposes of this post. All thoughts and opinions remain my own*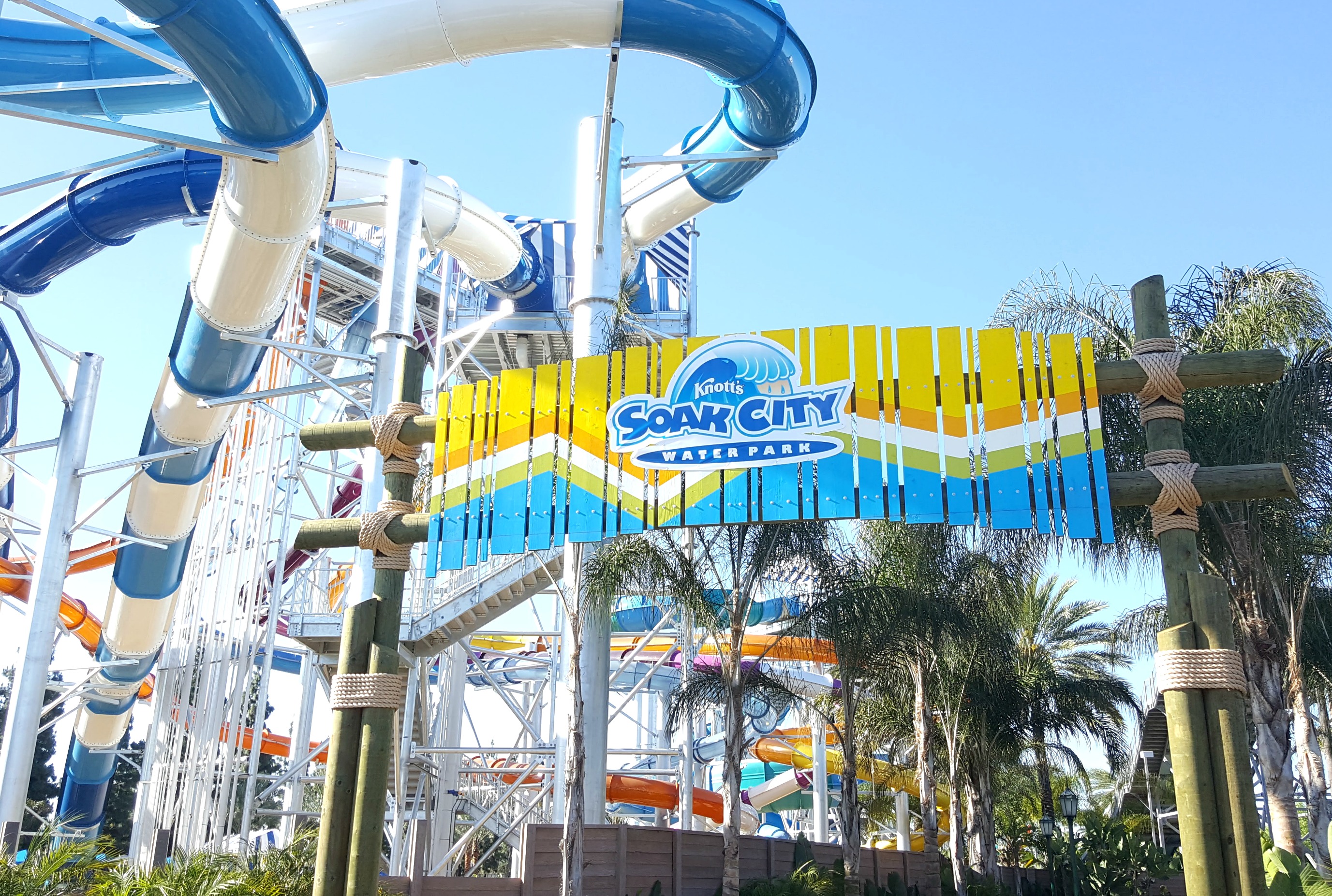 Last weekend was a scorcher! Good thing for us it was also the opening weekend for Knott's Soak City . There's no place I would have rather been than floating around the lazy river to keep cool. It was the perfect weekend for Knott's Soak City Waterpark to kick off with a splash for the summer season to start an unforgettable summer season running through September 10th. It is Orange County's largest waterpark and is the perfect destination to cool off during summer as it debuts two brand new water slide towers with seven new slides, Shore Break and The Wedge. Plus, Soak City has undergone a 2-acre expansion and thematic renovation, which includes new shaded seating areas, spacious cabanas and a newly remodeled Longboard's Grill. So go grab your swimming trunks and sunscreen and plan a fun day at Knott's Soak City Waterpark! Let's take a look at what's new and some of my favorite things to enjoy at Soak City!
SHORE BREAK
Shore Break towers over seven stories high and offers six different thrilling water slide experiences. Four of the slides will have guests climbing into an exhilarating Aqua Launch chamber which will send riders on a vertical free fall through a series loops and curves. When you climb into the chamber you await the chamber's floor dropping from beneath their feet sending you on a high-speed free fall down a 60-foot tall slide and through a series of exhilarating drops and daring loops. I was way to chicken to try this one.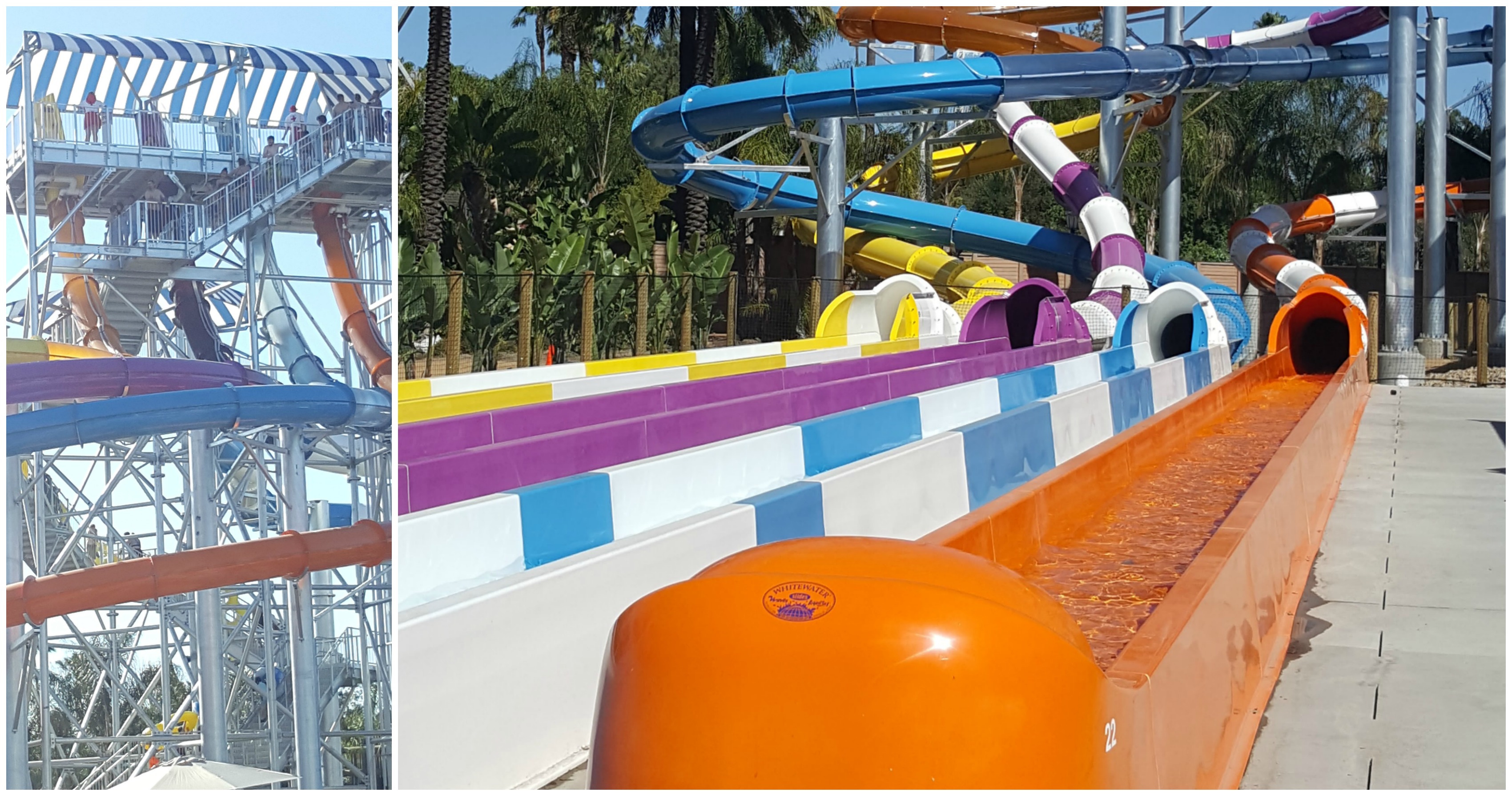 Shore Break also offers two dueling tube slides which riders go zipping through adventurous drops and turns as they soak up the warm summer sun. Now this one I can do!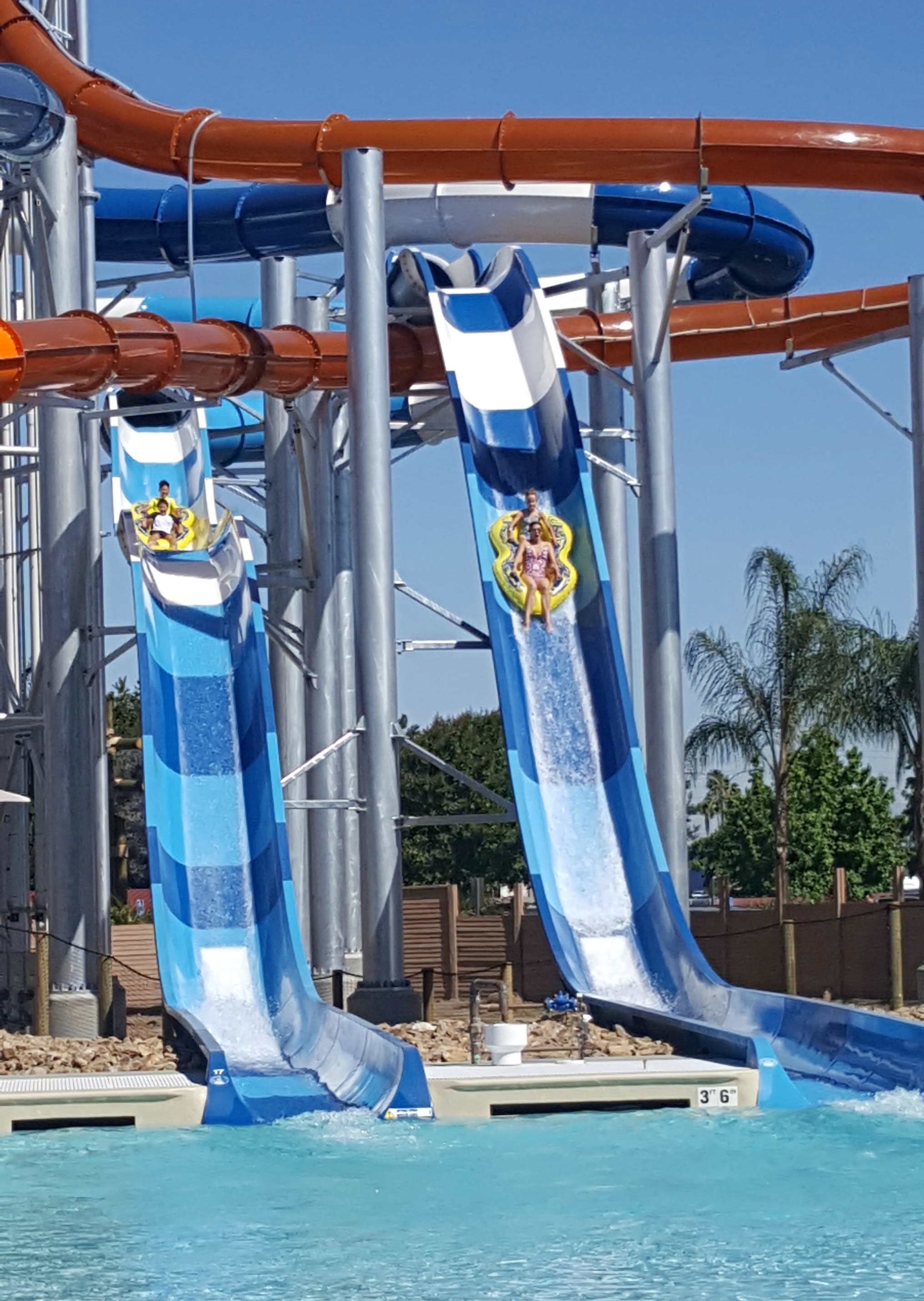 THE WEDGE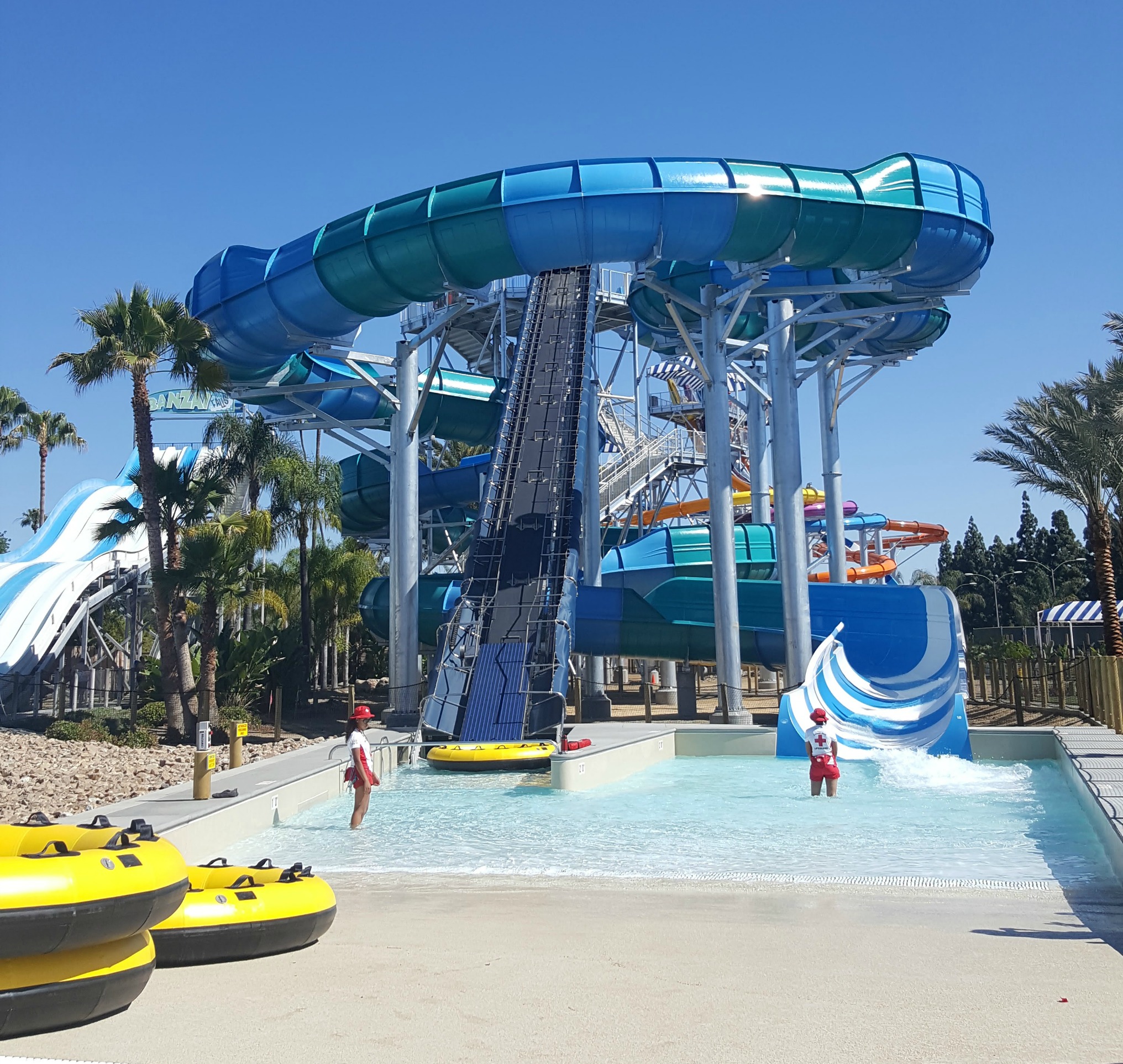 The Wedge will take up to six riders on an exhilarating trip down on an open-raft ride as they descend down hair-raising twists, turns and unexpected dips. Now that one I'll ride again and again. The Wedge was my favorite of the new additions.
LONGBOARD'S GRILL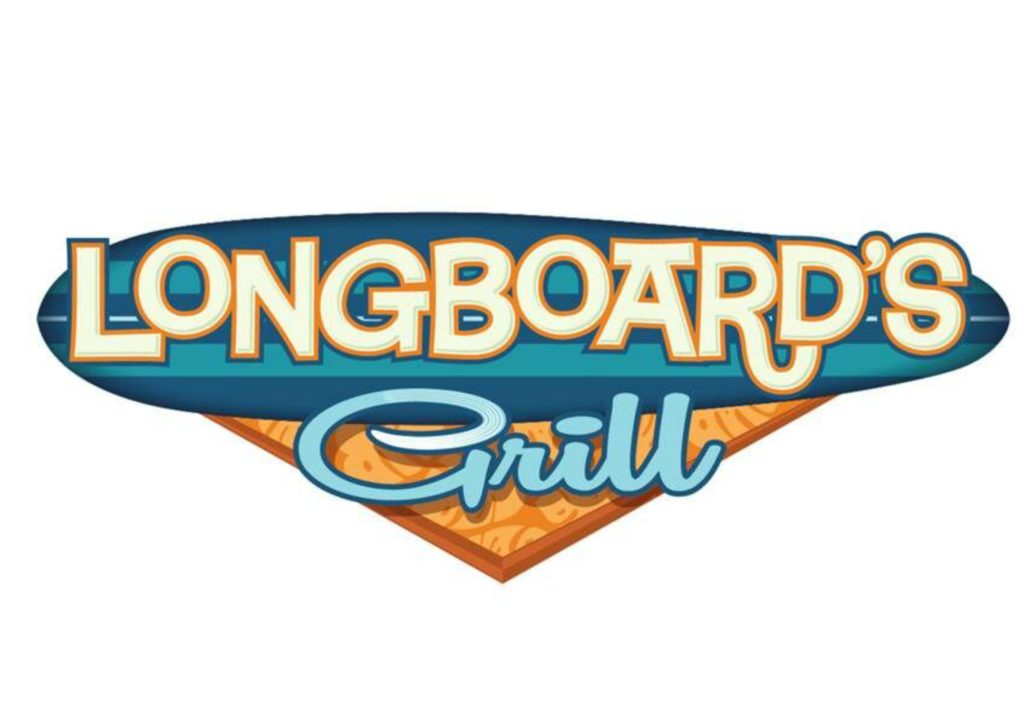 Longboard's Grill  returns for the 2017 summer season after a complete remodeling and expansion which now offers a newly redesigned sleek restaurant layout.  While Longboard's theme remains the same, the menu includes new and delicious items such as fish & chips, hand breaded chicken tenders and assorted wraps. Classic favorites like grilled burgers and hot dogs are also available. A new shaded outdoor seating area has been added by the restaurant's entrance, welcoming diners to fuel up with delicious meals as they take a break from the sun. I really love all the new shady spots at Soak City!
CABANAS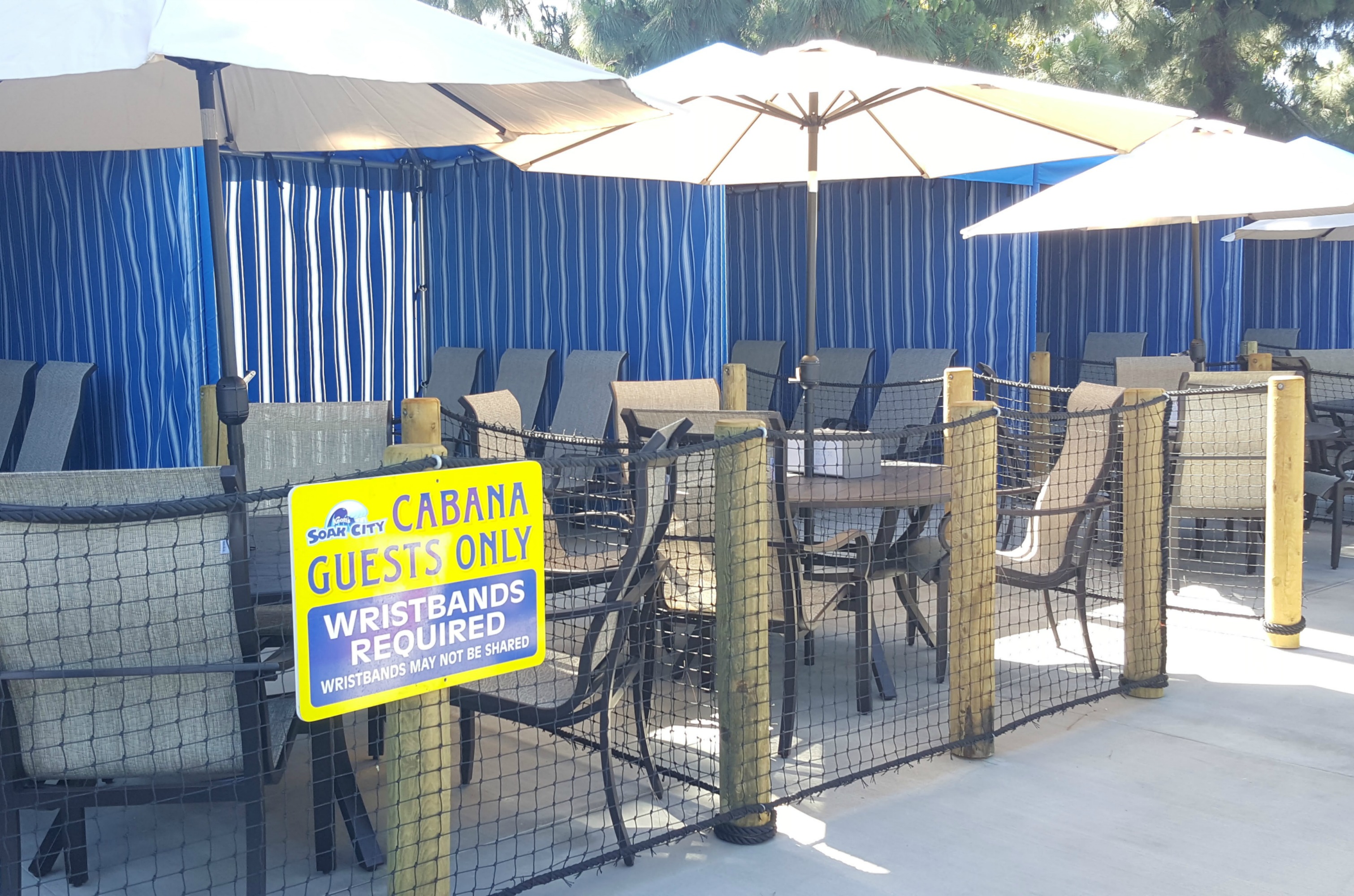 If you really want to get most out of your stay, you will want to rent one of these for the day! As part of the water park's expansion, additional spacious cabanas and seating areas have been added to the park's blueprint. Guests can relax and unwind in the new row of cabanas which will be conveniently located across the new Shore Break tower. A new seating area equipped with lounge chairs will allow guests to relax in the sun and is also located near the Shore Break complex.
WHAT ELSE?
The park has attractions for the whole family, from a fun zone for the little ones called Gremmie Lagoon to thrill slides for the adventurous and the Sunset River for the not so adventurous who just want to sit back and relax and float down the river. Make sure you don't miss these fun attractions.