Disney•Pixar's COCO
By Erin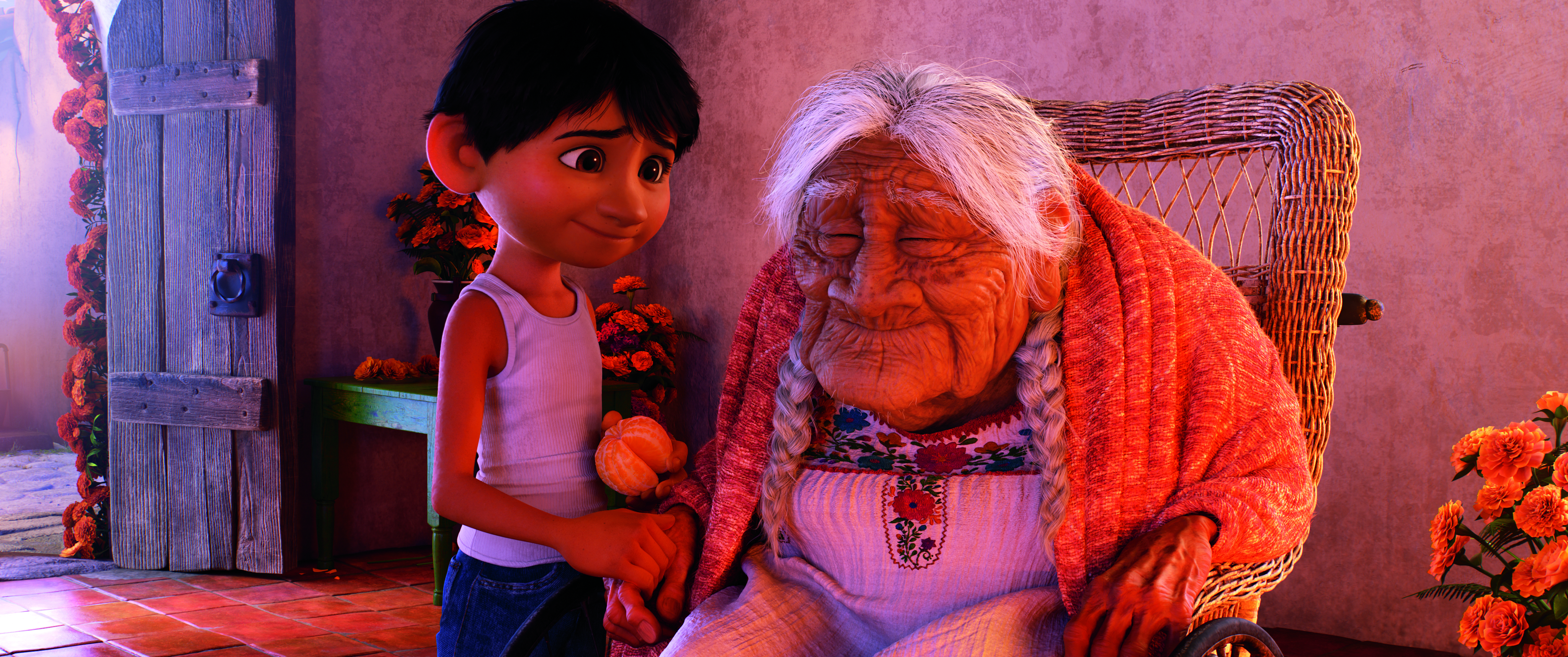 Disney•Pixar's COCO is now playing in theatres everywhere! Also, for a limited time only, you can see the brand new Walt Disney Animation Studios' featurette OLAF'S FROZEN ADVENTURE playing in front of COCO only in theatres! Both of these films are the perfect way to start the holiday season! They will give you all the warm and fuzzy feels.
In COCO, Miguel is an aspiring singer and self-taught guitarist who dreams of following in the footsteps of his idol, Ernesto de la Cruz, the most famous musician in the history of Mexico. But Miguel's family forbids music. Many years ago, his great-great-grandmother and great-great-grandfather came to an impasse: She wanted to raise their family together in Santa Cecilia, but he couldn't let go of his dream, leaving his family behind in his quest to be a musician. Passed down from generation to generation, great-great-grandmother Mamá Imelda's consequent ban on music is strictly enforced—much to Miguel's dismay. When Miguel unearths a secret from his family's past—a connection to Ernesto de la Cruz, he rushes to share the news with his family, thinking it will clear the way for him to be a musician. Unfortunately, it only makes matters worse. Miguel feels like he has to choose between his passion for music and his love for his family. Miguel wants to prove to his family that making music is both beautiful and honorable. We follow Miguel as he follows his heart and his dreams.
A magical event is sparked by Miguel's impulsive actions that renders him visible only to those who have come to visit from the Land of the Dead on Día de los Muertos. This world is a beautiful, lively and colorful parallel world that is populated by generations and generations of people who long ago left the Land of the Living, including Miguel's own ancestors, who instantly recognize him and offer to help—but only if he agrees to give up music forever. Miguel ends up running into and teams up with a scrappy, streetwise skeleton named Héctor and they set out to find Ernesto de la Cruz—who they believe holds the key to Miguel's baffling and decidedly unmusical family history.
What happens next? Well you will just have to go see the film now won't you? 😉 I do not want to give away all the magical twists and turns and melt-your-heart moments. However, I will leave you with some fun tidbits about the film and some cool things to look for and take notice of in Coco!
THEM BONES – Look for the very subtle nods to the skeleton residents in the Land of the Dead, like the cobblestone streets that feature some bone-shaped paving stones.
CHANGE OF PLANTS – Artists at Pixar Animation Studios like to add vegetation—grass, trees, bushes—to exterior environments, but "Coco" filmmakers wanted the Land of the Dead to be different. The only living plants in the vibrant fantastical world are marigolds.
• During research trips to Mexico, filmmakers learned that the color and aroma of marigold petals are believed to help guide the spirit of a family's loved one home during Día de los Muertos.