Finding Dory is Here at Last!
By Erin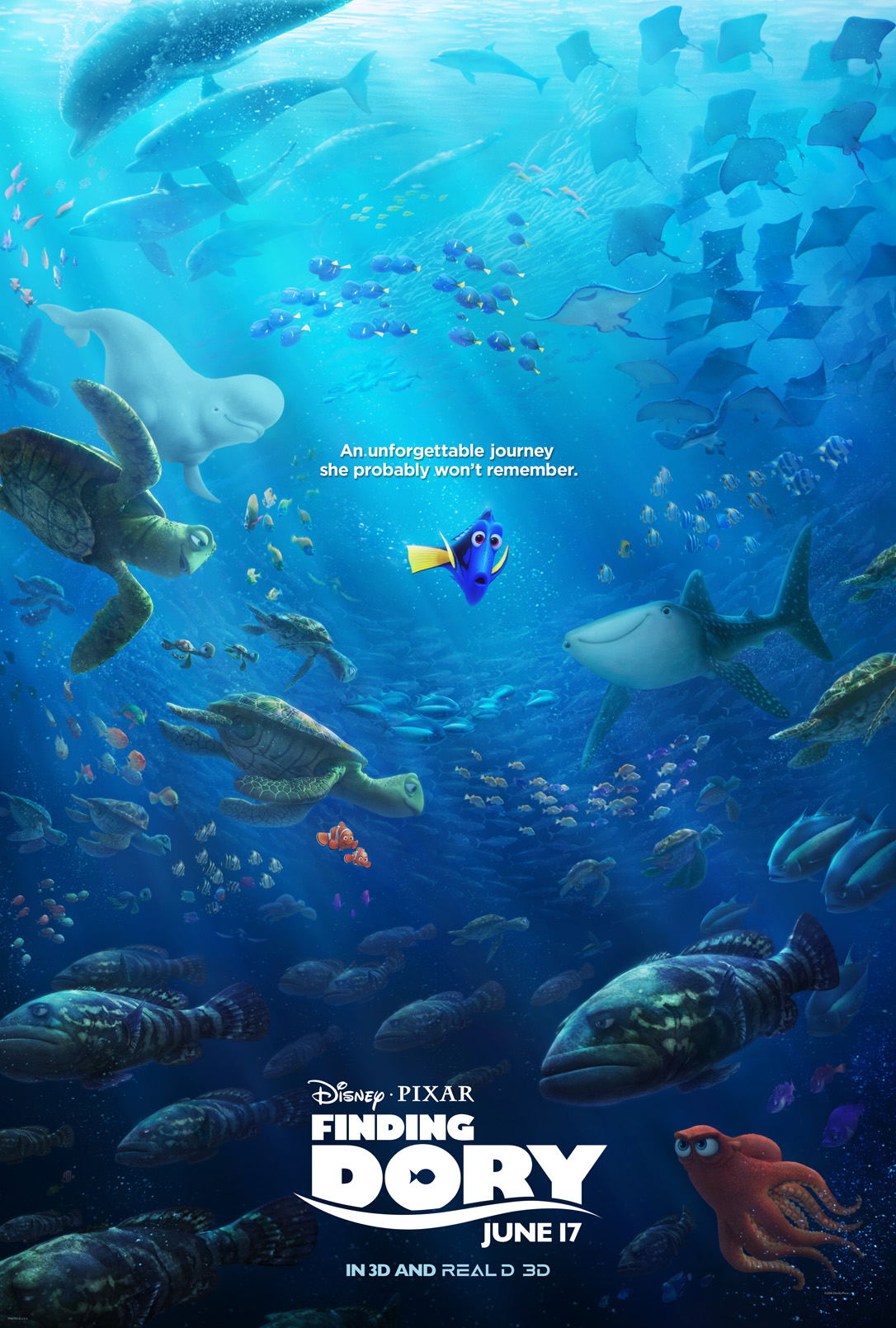 Have you seen her? Finding Dory has finally found her way into theaters after all this time. 13 years of waiting is over! The reunion of everyone's favorite forgetful blue tang, Dory, with her friends Nemo and Marlin is finally here.  Finding Dory is back and ready to swim into your heart. Disney•Pixar's Finding Dory finds Dory living happily in the reef with Marlin and Nemo about a year after their life-changing adventure. When Dory suddenly remembers that she has a family out there who may be looking for her, she recruits Marlin and Nemo for a life-changing adventure across the ocean to California's prestigious Marine Life Institute (MLI), a rehabilitation center and aquarium. Be ready for the ride of your life as you follow this lovable bunch on their quest across the ocean to find Dory's family.
Family is a key theme in Finding Dory.  Dory can't remember where she's from, but she has to have a family, right? Dory finds herself asking 'Where are they?'–there's a sad truth to that and she is curious and determined to find out where they are.
In the effort to find her mom and dad, Dory gathers the help of three of the MLI's most fascinating residents: Hank, a cantankerous octopus who frequently gives employees the slip; Bailey, a beluga whale who is convinced his biological sonar skills are on the fritz; and Destiny, a nearsighted whale shark. Navigating their way through the complex inner workings of the MLI, Dory and her friends discover the magic within their flaws, friendships and family.
I don't want to ruin any of the magic for you in Finding Dory, so I will leave you with some fun facts and some fun numbers to know to get you ready to swim on over and go see this adorable film!
Dory Fun Facts
A New Voice for Nemo – Alexander Gould, who was the original voice of Nemo in 2003's Finding Nemo is all grown up and turned 22 in May, so filmmakers had to recast the character, calling on 12-year-old Hayden Rolence to voice the junior clownfish in Finding Dory. Gould, who won filmmakers' hearts 13 years ago, can be heard in the new movie as the voice of a truck driver. Rolence, who was cast long before recording began, was told that he couldn't tell anyone about the role. You can imagine how rough this was for a young kid who wanted more than anything to share the news with his grandma.
Comedian Albert Brooks Returns–as the voice of clownfish Marlin in Finding Dory. Filmmakers say Brooks is all about improv, infusing his iconic comedy into the character. While Marlin carried a big emotional load in Finding Nemo, he's been freed up in Finding Dory, allowing Brooks a lot more improvisational leeway this time.