The Last Jedi Global Media Days: May The Force Be With You
By Jonelle
*We were invited as media to attend the Global Media Days. All thoughts and opinions remain our own.*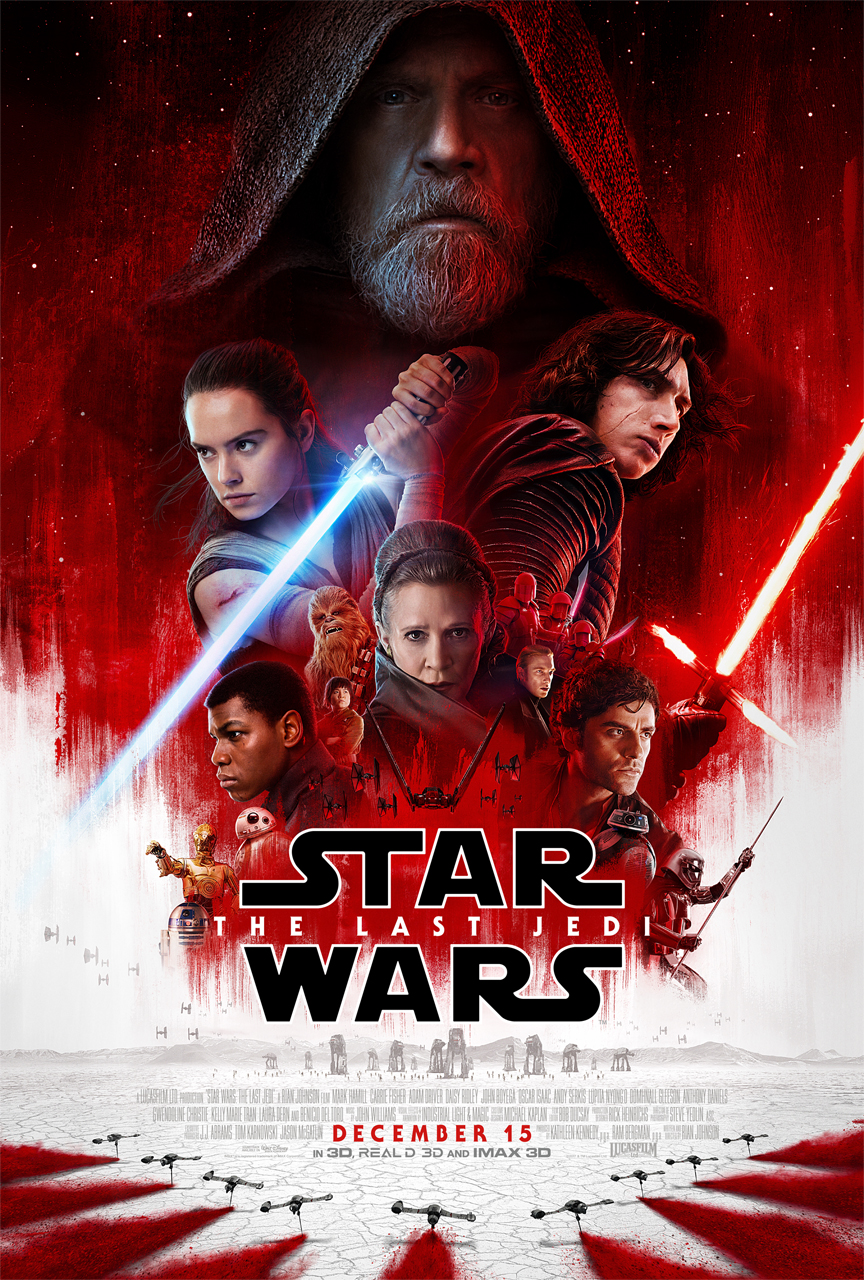 It's that time of year, when my husband and I sit and watch all of the films leading up to the new Star Wars movie, a tradition for us since The Force Awakens. Something happens to us the moment that unmistakable music starts. The goosebumps form, the excitement begins. We're taken to a new world, or in this case a galaxy far, far away. Star Wars: The Last Jedi is in theaters on Decmember 15th.
When I was asked to attend the Global Media Days for The Last Jedi, I jumped at the chance to go. How could I pass up a chance to be in the same room as Luke Skywalker? So, Sunday morning I got in my car, left my Orange County bubble and drove myself to downtown Los Angeles.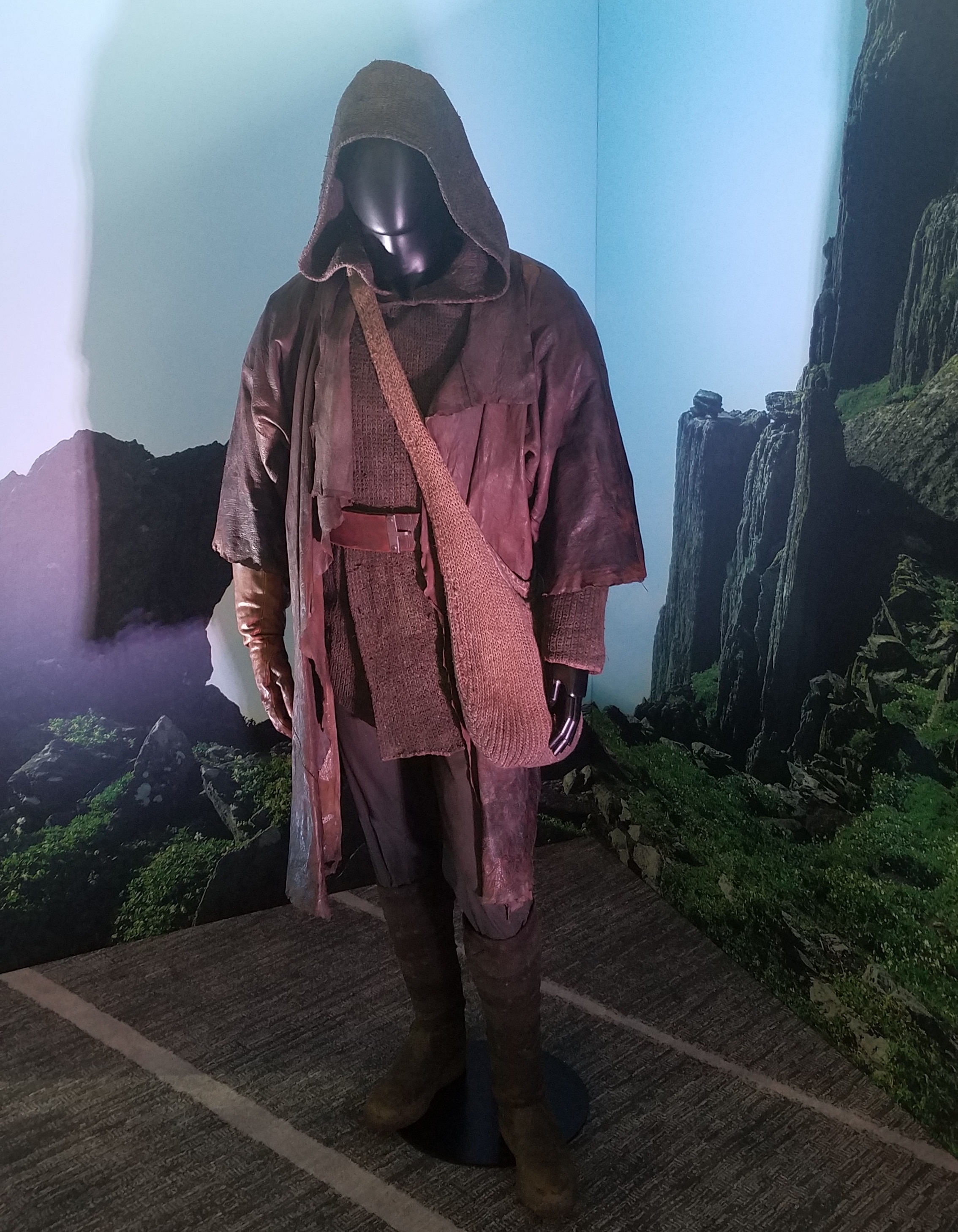 When I checked in, I was given a little backpack with goodies inside, including a Mighty Mugs "Rey" (from Jakku) figurine, an At-At Driver, and a coupon to get a custom-made Star Wars T-Shirt. My inner geek was dancing for joy. I immediately went to get my T-Shirt knowing that the line would be crazy after the press conference. The T-Shirts came in black or grey and you could choose between, R2-D2, C-3PO, BB-8 and new for The Last Jedi, a Porg, which is described as a puffin like sea bird. I got R2-D2 on my shirt. The way they were made was extremely interesting and only took a few minutes. 
As soon as my T-shirt was finished, we were called into the press conference area. I managed to finagle my way to the third row. When the cast arrived, my inner geek was over the moon with happiness. There they were, Mark Hamill "Luke Skywalker", Daisy Ridley "Rey", John Boyega "Finn", Oscar Isaac "Poe Dameron", Adam Driver "Kylo Ren", Gwendoline Christie "Captain Phasma", Domhnall Gleeson "General Hux" Andy Serkis "Supreme Leader Snoke", Star Wars newbies, Laura Dern "Vice Admiral Amilyn Holdo", Kelly Marie Tran "Rose Tico", and Director Rian Johnson, the only one missing of course, our "Princess Leia" Carrie Fisher.
The cast was very tight lipped when it came to discussing the actual movie, I do know that this film picks up immediately after The Force Awakens. The first thing that I noticed however, was the color of Daisy Ridley's lipstick, an intense dark shade. I couldn't help but wonder, could it be a subliminal message about Rey's possible turn to the "dark side"? I also wondered "Who are Rey's parents"? Could her father be the man sitting to her right? And by this, I mean Mark Hamil's Luke Skywalker.   Of course, like so many others I have my own fan theories about who she may possibly be related to. The latest I heard is that she's Palpatine's granddaughter. My (new) hope is that she is a granddaughter, but to Obi-Wan. Then the story will come full circle.
Obviously, many of our questions about Rey's parentage and possible "dark side" turn went unanswered and the actors were extremely aloof when pressed on the subject. Mark asked the audience, "Do I pick up a lightsaber?" when the discussion came to Rey's possible Jedi training or lack thereof.  I guess we'll all just have to wait until the movie comes out. I already have my ticket for December 14th.
One thing consistent amongst the entire cast, how "blown away" they were when watching the film, a statement echoed by Andy Serkis. We also get to see more Luke Skywalker. Finally!!! After waiting the entire length of The Force Awakens and then some two years, we get to see more Luke. I'm sad at the prospect that there may not be a reunion of the Skywalker twins.
Speaking of which, the elephant in the room was addressed, as one key component was missing, Carrie Fisher. For so long she was the only female lead in the Star Wars universe. It's wonderful to see that she paved away for so many amazing women to join the "force". Strong women who do amazing things and kick some serious butt. When asked about Carrie's (Leia's) impact on young girls, all of the women could agree that being oneself, without compromise, is something that Carrie taught all girls. As Leia, she was strong, smart, witty and fearless. Something, even in my almost 40 years on this planet, I'm still trying to achieve. Growing up I wanted to be a Princess Leia or a Queen Amidala or a Jedi warrior. Why couldn't I be both a princess and a Jedi?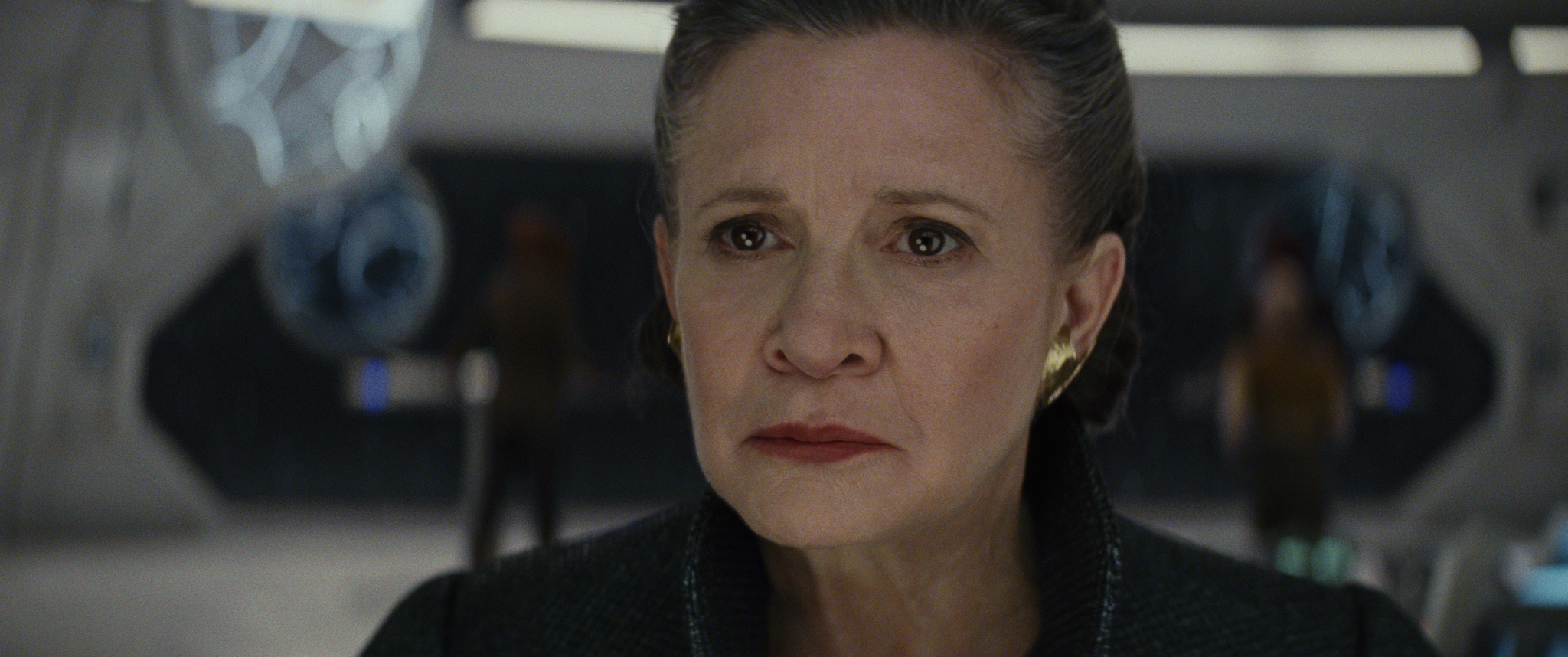 After the press conference I was ushered back upstairs to experience the rest there was to offer. There was a room made up to look like the cantina on Tatooine in A New Hope. I could either take pictures with Imperial Guards or sample delicious Star Wars inspired ice cream by Ample Farms.  I chose the ice cream! There were three flavors to choose from, The Force (sweet cream ice cream with chocolate fudge and chocolate and white chocolate pearls), First Order (salted dark chocolate with bittersweet chocolate and espresso) and Resistance (brown sugar, vanilla bean ice cream with red velvet cake, toffee and marshmallows). They all sounded so delicious it was hard to just pick one! I guess in actuality I could have sampled all three, however, I felt the need to not be greedy. Anyway, the force was with me and I chose, the flavor, "The Force". This ice cream was so creamy and yummy. According to the Ample Farms site, these flavors will be available to ship December 11th and cost $30 dollars for a set of three.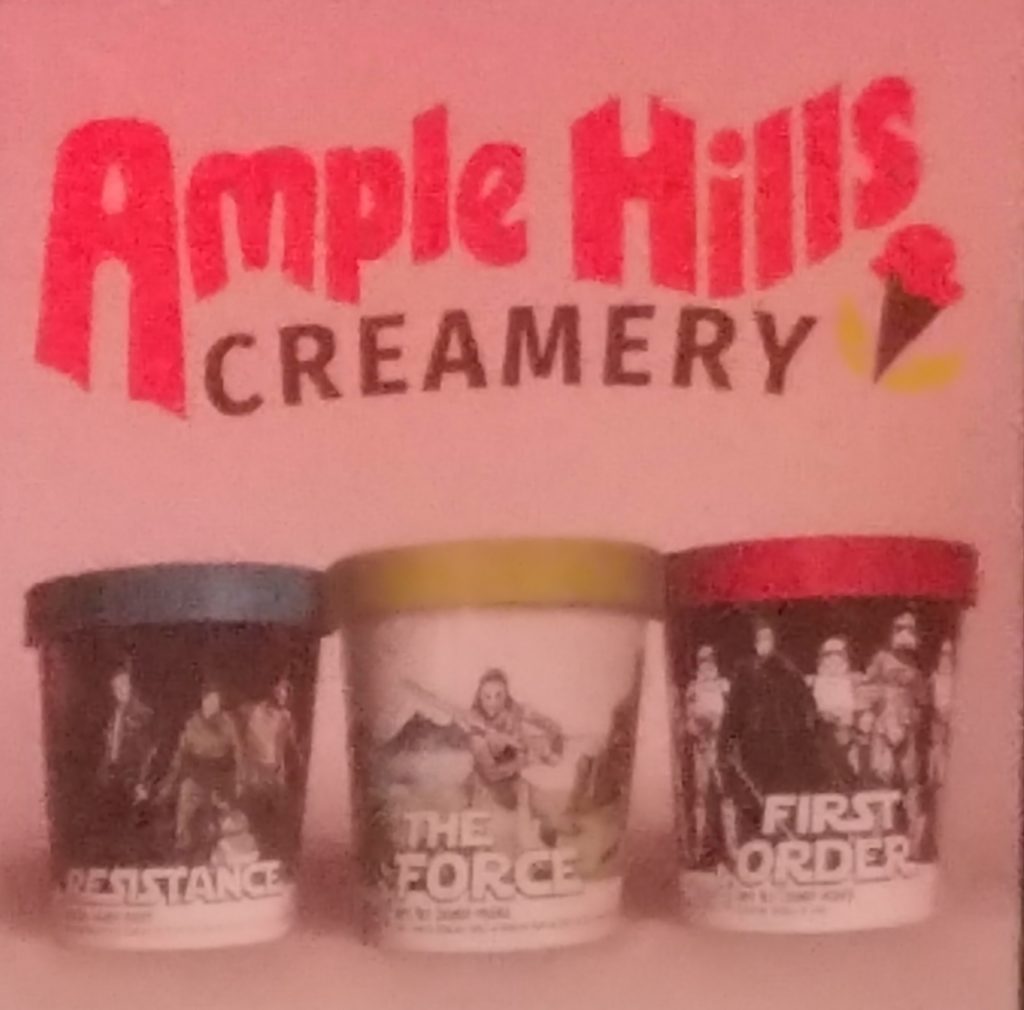 I was hoping for a photo with the droid BB-8. However, he was tried and needed a rest from all of the fanfare. I was introduced to the new droid on campus, BB-9E, a menacing droid for the First Order. When I say menacing, I mean completely adorable and funny. Let's face it the droids are cute, and I'd like to own one now please. 
Another cool thing I got to see was the conception art for the new Star Wars Land set to open at Disneyland in 2019. I haven't had a Disneyland pass for over 10 years. I think its time to renew.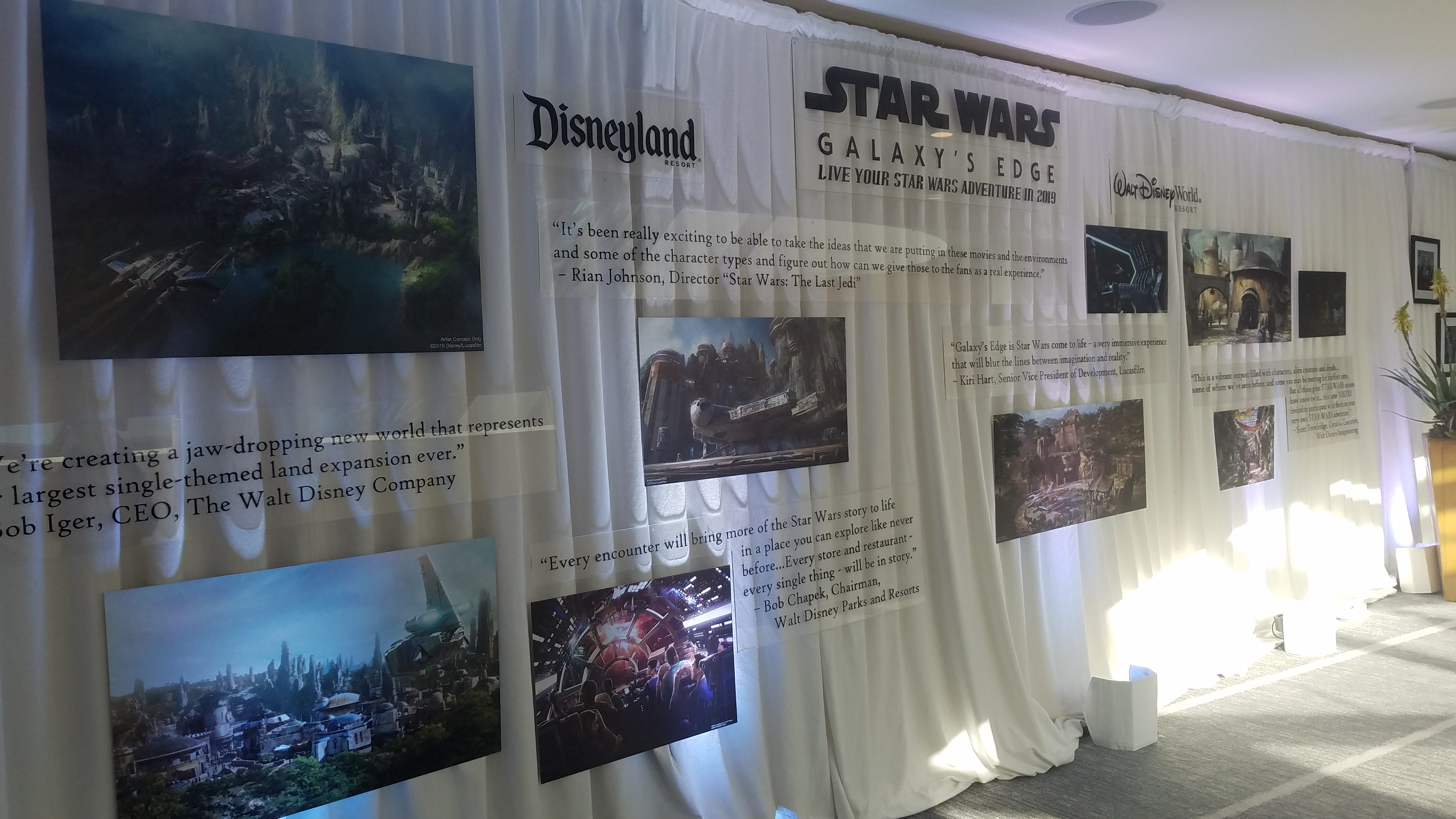 Other than sitting in on the panel, the best part of my day was defeating Darth Maul in an epic lightsaber battle. You read that right, I defeated Darth Maul in a lightsaber battle. I felt like a Jedi. The Star Wars: Jedi Challenges game was on display at the event. Brought to you by Lenovo and Disney, this game is what Jedi dreams are made of. Year ago, I downloaded lightsaber sounds to my phone. That was lame, it did nothing but make noise. This game places you in a virtual reality, where you fight the Sith with a lightsaber of your very own. My inner geek was ready for some Jedi training!! According to the promoters, you can purchase this game at Best Buy for $199.99. According to the specs, my Samsung Galaxy Edge is compatible to the device. Guess what we're getting for Christmas this year? I feel like I want open my own Jedi Academy with my husband as my first Padawan learner.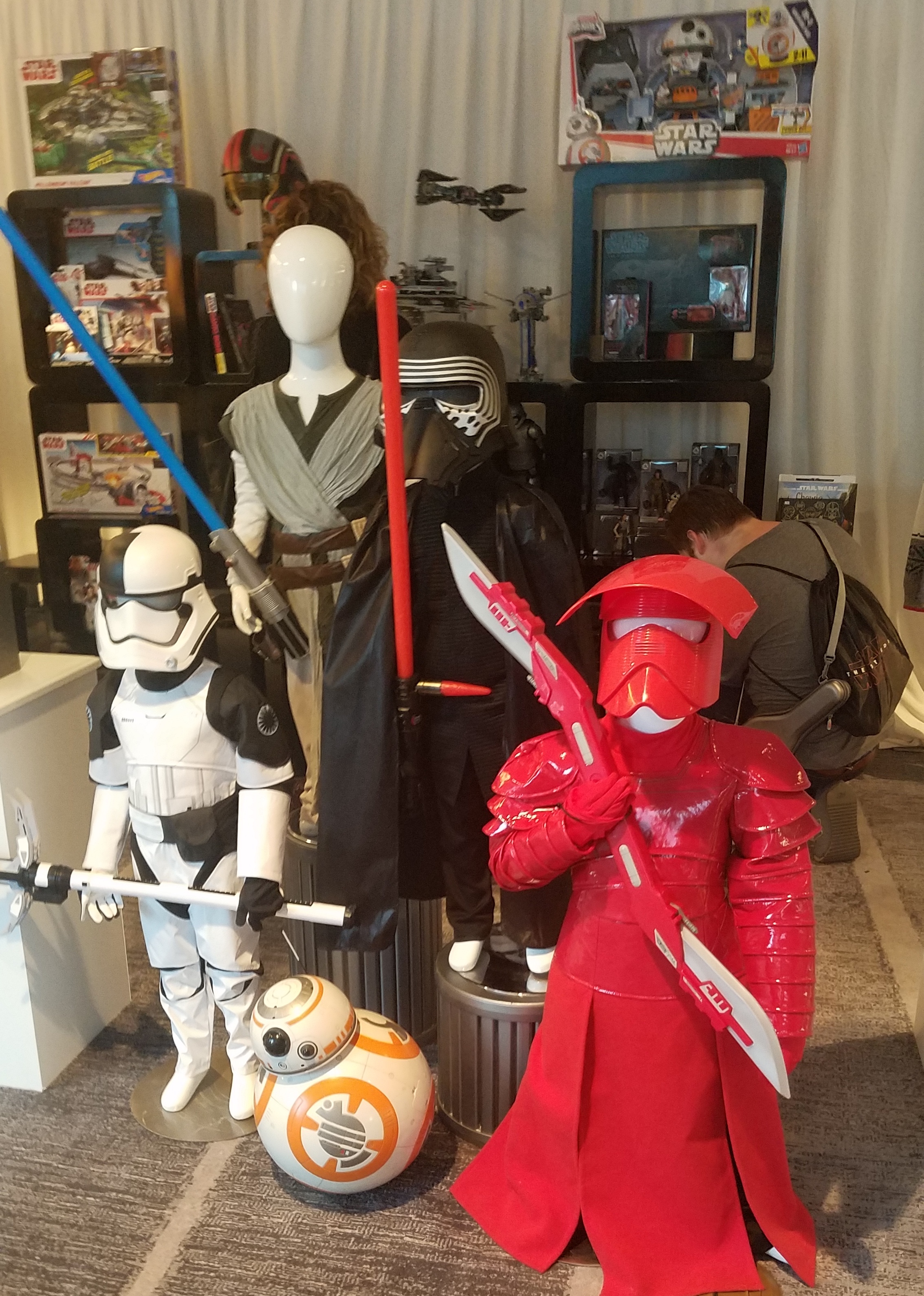 Back to the upcoming film. Sometimes being bad can be a good thing, right? I can't wait to see more of Kylo Ren's internal struggle with the dark side, I can't wait to see who Rey's parents may be and if she does turn to the dark side, or does Luke? I can't wait to see how Carrie Fisher's passing is dealt with. So many unanswered questions in my mist, I feel. I'd like to see more of Rey and Finn. Their chemistry onscreen is undeniable! My giddy geek has just one more week to suffer through before The Last Jedi! I have an internal struggle of my own, as I'm both excited and nervous about the upcoming film.  Overall my day was amazing! Sitting in on the Star Wars panel with a phenomenal cast of characters, is a Star Wars fangirl's dream come true.
Like STAR WARS on Facebook: https://www.facebook.com/starwarsmovies/ 
Follow STAR WARS on Twitter: https://twitter.com/starwars 
Follow STAR WARS on Instagram: https://www.instagram.com/StarWarsMovies/
Follow STAR WARS on YouTube: https://www.youtube.com/user/starwars
Visit the official STAR WARS: THE LAST JEDI website: http://www.starwars.com/films/star-wars-episode-viii-the-last-jedi
STAR WARS: THE LAST JEDI opens in theaters everywhere December 15th!