Disney•Pixar's COCO
By Erin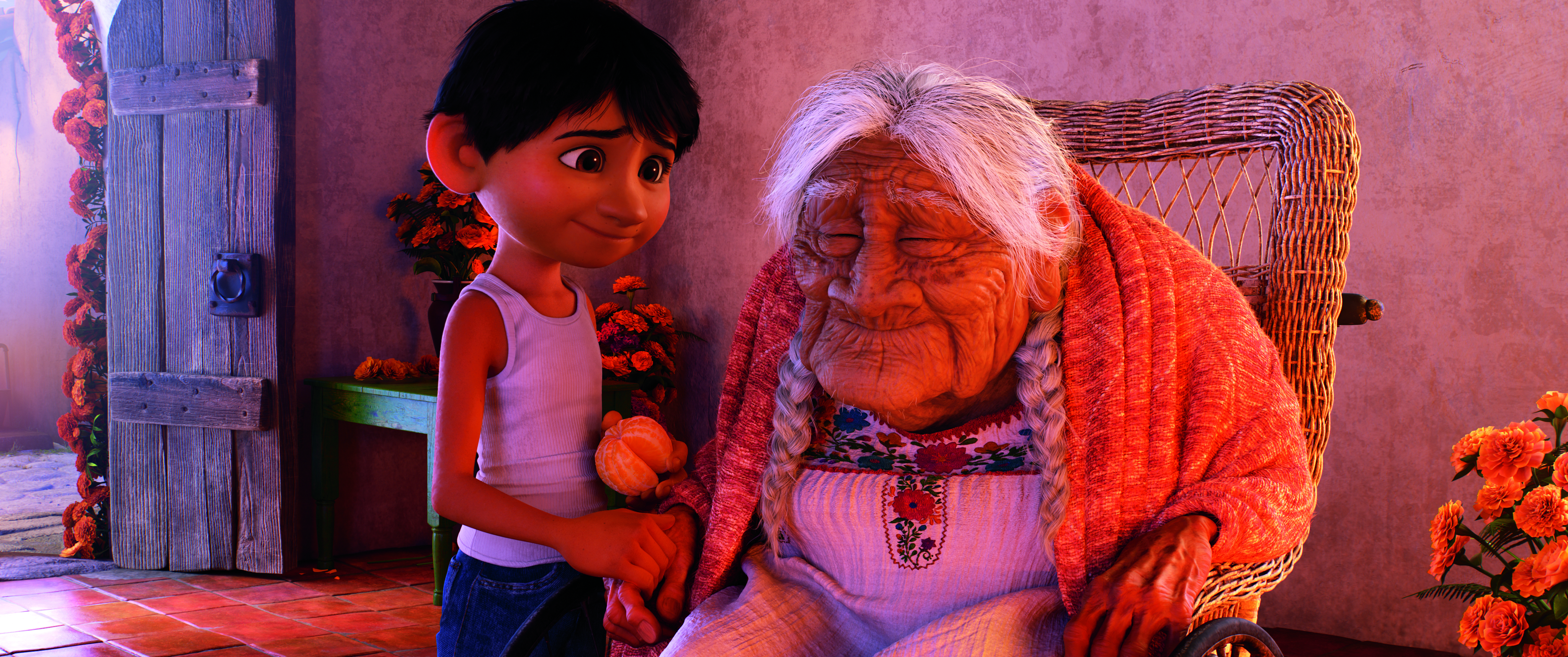 Disney•Pixar's COCO is now playing in theatres everywhere! Also, for a limited time only, you can see the brand new Walt Disney Animation Studios' featurette OLAF'S FROZEN ADVENTURE playing in front of COCO only in theatres! Both of these films are the perfect way to start the holiday season! They will give you all the warm and fuzzy feels.
In COCO, Miguel is an aspiring singer and self-taught guitarist who dreams of following in the footsteps of his idol, Ernesto de la Cruz, the most famous musician in the history of Mexico. But Miguel's family forbids music. Many years ago, his great-great-grandmother and great-great-grandfather came to an impasse: She wanted to raise their family together in Santa Cecilia, but he couldn't let go of his dream, leaving his family behind in his quest to be a musician. Passed down from generation to generation, great-great-grandmother Mamá Imelda's consequent ban on music is strictly enforced—much to Miguel's dismay. When Miguel unearths a secret from his family's past—a connection to Ernesto de la Cruz, he rushes to share the news with his family, thinking it will clear the way for him to be a musician. Unfortunately, it only makes matters worse. Miguel feels like he has to choose between his passion for music and his love for his family. Miguel wants to prove to his family that making music is both beautiful and honorable. We follow Miguel as he follows his heart and his dreams.
A magical event is sparked by Miguel's impulsive actions that renders him visible only to those who have come to visit from the Land of the Dead on Día de los Muertos. This world is a beautiful, lively and colorful parallel world that is populated by generations and generations of people who long ago left the Land of the Living, including Miguel's own ancestors, who instantly recognize him and offer to help—but only if he agrees to give up music forever. Miguel ends up running into and teams up with a scrappy, streetwise skeleton named Héctor and they set out to find Ernesto de la Cruz—who they believe holds the key to Miguel's baffling and decidedly unmusical family history.
What happens next? Well you will just have to go see the film now won't you? 😉 I do not want to give away all the magical twists and turns and melt-your-heart moments. However, I will leave you with some fun tidbits about the film and some cool things to look for and take notice of in Coco!
THEM BONES – Look for the very subtle nods to the skeleton residents in the Land of the Dead, like the cobblestone streets that feature some bone-shaped paving stones.
CHANGE OF PLANTS – Artists at Pixar Animation Studios like to add vegetation—grass, trees, bushes—to exterior environments, but "Coco" filmmakers wanted the Land of the Dead to be different. The only living plants in the vibrant fantastical world are marigolds.
• During research trips to Mexico, filmmakers learned that the color and aroma of marigold petals are believed to help guide the spirit of a family's loved one home during Día de los Muertos.
RECYCLED – Miguel's loyal canine companion Dante is a Xolo dog—short for Xoloitzcuintli—the national dog of Mexico whose origins are deeply rooted in Mesoamerican civilization. The Xolo was regarded as the representative on Earth of the Aztec god Xolotl, the god of fire and lightning. Nearly hairless, Xolo's also often have missing teeth which is why their tongue naturally hangs out and why Dante's tongue behaves like a character itself. To achieve the look, they borrowed the rig used in "Finding Dory" for "septopus" Hank's dynamic tentacles. Local Xolo dogs were invited to Pixar so artists could interact with the lovable dogs and study their anatomy. Many consider Xolo dogs to have healing abilities.
PULLING STRINGS – Miguel recycles an old guitar, patching it up and painting it to mirror Ernesto de la Cruz's signature guitar. Filmmakers knew that if they assigned an adult artist to do the design, it wouldn't look right. Director Lee Unkrich called on his son to tackle the project and create the recycled guitar's design.
• All of the guitar playing in "Coco" is technically accurate. Filmmakers videotaped musicians playing each song and strapped GoPros to their guitars to give animators reference footage.
A LEG UP – When Miguel and Héctor pay a visit to Chicharrón in hopes of borrowing his guitar, it becomes clear that it's not the first time Héctor has borrowed from his friend. Chicharrón sports a pipe where his femur once was—a bone forever loaned to Héctor.
• Chicharrón is the least remembered character in the Land of the Dead. Artists wanted to showcase the effects of being forgotten: his face has more chips and grooves, and his bones are much looser and more weathered than his counterparts.
CLOTHES MAKE THE CROWD – More than 500 pieces of clothing were made to dress the crowd characters—from the residents of Santa Cecilia to the skeleton-attendees of Ernesto de la Cruz's party in the Land of the Dead. Pixar artists spent time drawing in life sessions with Mexican folkloric dancers. Artists shaded, shaped and combined the 500 individual pieces in a variety of ways to outfit thousands of crowd characters.
CHIN UP – Character artists spend months finding the right look for each character and since Ernesto de la Cruz is a larger-than-life character known around the world, they wanted to give him identifiable attributes, including a cleft in his chin—visible in both the living and dead versions of the character.
• Artists gave the character a distinctive curl of hair that falls across his forehead.
• He sports a pencil-thin mustache, which was common in the era Ernesto was popular.
• Ernesto wears all white in the Land of the Dead. With so many vibrant colors surrounding him, it helped ensure that Ernesto would be the center of attention— just the way he likes it. Even his bones are pristine because he's so well remembered.
• Animators gave Ernesto a bit of a swagger to showcase his celebrity status.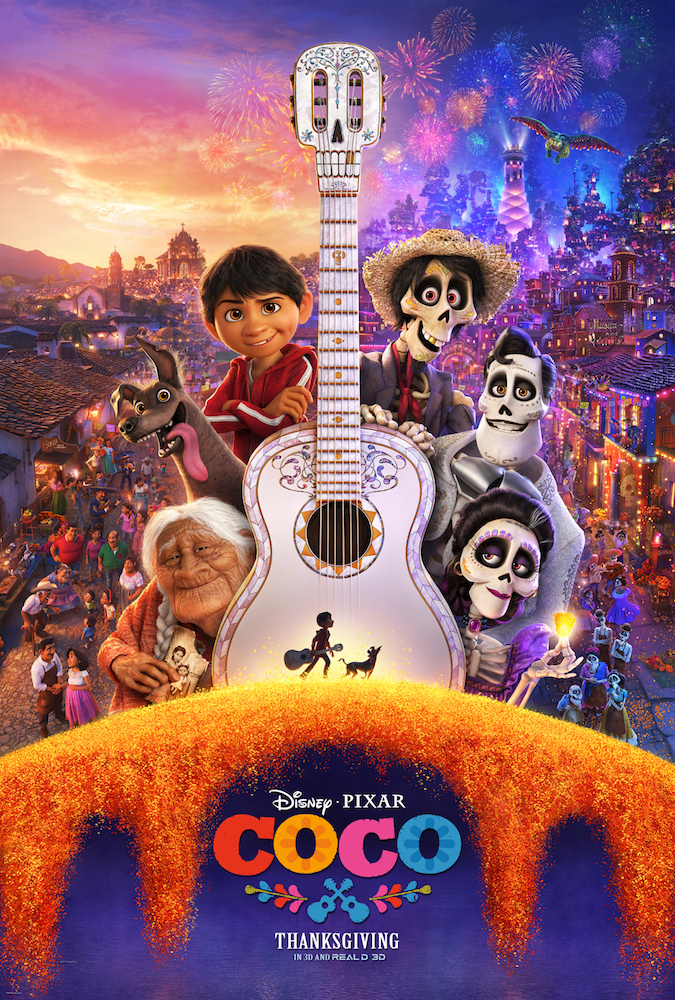 Coco is a beautiful film about the importance of family, honoring your ancestors and following your dreams. Make sure you go out and see it this Thanksgiving! It is the perfect way to kick off this holiday season! Happy Thanksgiving!