Fun Facts From the Cast of Disney*Pixar's Coco!
By Erin
*We were invited by Disney to attend this press conference for purposes of this post. All thoughts and opinions remain my own!*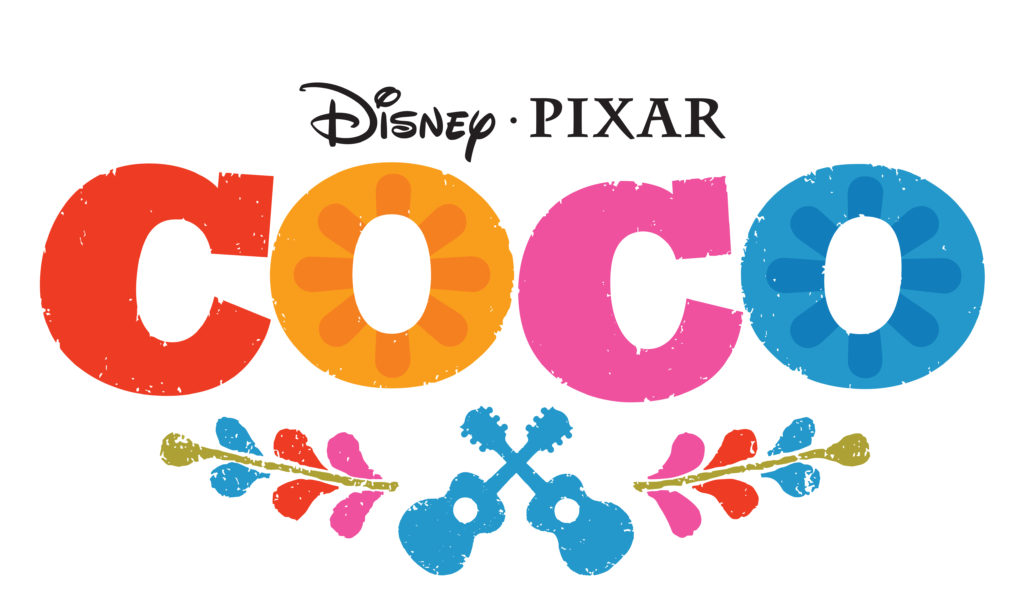 Thanksgiving is just about here. It's the perfect time for families everywhere to come together and celebrate everything there is to be thankful for. Pixar's new movie Coco, couldn't be coming out at a better time than at Thanksgiving as Coco showcases the importance of family, honoring your ancestors and following your dreams. Opening in theaters everywhere on Wednesday, November 22nd.
Coco is about a 12-year-old boy named Miguel with big dreams and a hardworking family with great traditions and a lot of love. What's so cool is that this could be any family that lives next door. The sweet, bossy grandmother who insists on one more bite might be your grandma (she sure reminds me a lot of my own grandmother). There's something familiar to us all in this story. The universal theme of family is what makes it so special, with relationships that are beautiful and complicated, but our family shapes who we are. Pixar Animation Studios' 19th feature film introduces Miguel, an aspiring singer and self- taught guitarist who dreams of following in the footsteps of his idol, Ernesto de la Cruz, the most famous musician in the history of Mexico. But Miguel's family forbids music.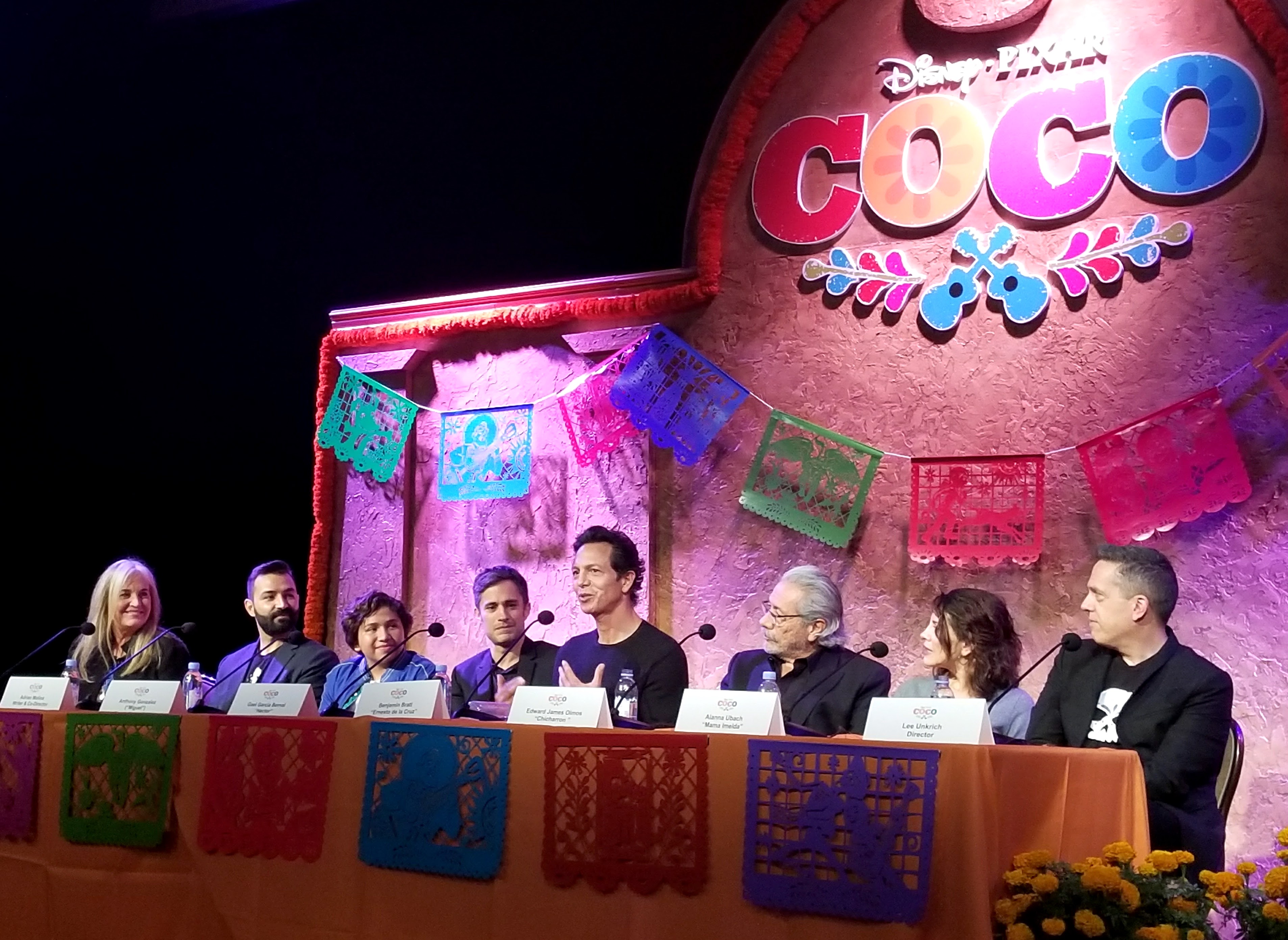 The other week we were delighted to meet the cast at the Beverly Hilton Hotel in Beverly Hills, CA. The talent in attendance were:
Benjamin Bratt (voice of "Ernesto de la Cruz")
Gael Garcia Bernal (voice of "Hector")
Anthony Gonzalez (voice of "Miguel")
Edward James Olmos (voice of "Chicharron")
Alanna Ubach (voice of "Mama Imelda")
Director Lee Unkrich
Co-Director Adrian Molina
Producer Darla K. Anderson
Right before the conference started, we were in for a very special treat: a performance by Mariachi Divas and some dancers.
Look how beautiful those dresses are. They put on a beautiful performance for all of us to enjoy.
During the press conference, here were some of the fun and interesting facts we all learned.
Lee Unkrich- "Darla, and Adrian, and I all worked on Toy Story III together. When we finished that film, I started to think about what was next, and I had a few different ideas that I was kicking around. One of them was the idea of telling a story set against Dia de los Muertos. I had always been interested in the tradition, and I spent some time doing some research, and really trying to understand more than I already knew. The more that I dug in, the more that I learned about how central family is to this celebration, and that Dia de los Muertos is all about this obligation that we all have to remember our loved ones, and to pass their stories along. I just really started to see the potential to tell a unique story, to tell a story that could only be told in animation, that could be visually dazzling, but also had the potential to have a real emotional core to it. That was really kind of the beginning of this journey. We immediately headed down to Mexico and started – went on the first of what proved to be many lengthy research trips, to spend time learning about the traditions, learning about the culture, and spending a lot of time with many beautiful families down in Mexico." 
Anthony Gonzalez- Really loved the making of Coco. He loved being with Lee, Darla and Adrian in the booth, and other people. It was just so much fun, because it was very easy for him by having the guidance of those three, it made it a breeze for Miguel. 
Anthony's first audition was for Coco when he was 10 years old and thankfully his voice didn't start changing until after the movie was finished. He read a bunch of scenes and script pages. He took out a CD, and he said, "I brought a song I want to sing to you."  At that point, they didn't even know if Miguel was going to be singing in the movie, so that wasn't part of the audition. Unfortunately, there was not a CD player that day where they were. So Anthony, true to his great spirit just said, "Oh, well, whatever – I'll just sing it a cappella."  He launched into this beautiful, 10 minute long, sweet rendition of a song. Wowed by his audition, that just really sealed the deal. 
Gael Garcia Bernal shared with us how thrilled he was with how Coco turned out.  "The results – I'm just thrilled, it has transcended all my expectations. This is what happens when the film becomes good, but there's nothing you can expect that will match a result when a film is good.  It's just impressive. I'm really happy for, and proud, and lucky to be part of this, with all this great team, with all this collaborative effort, me being a little part of it, being able to put forth, into the world, a little fable about a mythology, and a tradition that I hold very dearly, like the other mortals,  that Mexico can give this to the world, and everyone in the world can adopt this tradition, this reflection on death."
Benjamin Bratt- told us about where he got the inspiration for his character. "The first inspiration you draw from is the image that they create.  We don't have the benefit of performing with one another.  It's a very kind of isolating experience to be in a booth, with only three other people in the room, and with Lee giving you the lines. Most of what we try to do is create something organic through action and reaction.  So with just this to work with, you have to pull on all kinds of other things.  So I start with the images they created.  And clearly, this guy, even in a skeleton form, he's got swagger, you know.  So – so it's easy to kind of adopt that idea, principally.  But beyond that, Lee, and Adrian, and Darla pointed me in the direction of studying some of the movie clips of Pedro Infante, and Jorge Negrete.  These were film stars, and music stars, in the equivalent strata of someone like Frank Sinatra – guys who were as beloved, and as admired for their singing prowess as they were for their acting chops.  And there's plenty of footage to be found on YouTube, and so I studied that quite a bit. My own father, who's now deceased, and who I lost touch with many years before he passed on – I lived with him in some very formative years, from 12 to about 17.  Although he was quite a bit different than who Ernesto de la Cruz is, he was larger than life – 6'3", massive frame, broad shoulders, and a booming voice, and the kind of person that no matter which room he walked into, he commanded attention – and sometimes by saying the wrong things, well, I'll say that much.  But nonetheless, it was the kind of thing that I could draw on because it was familiar to me.  So in that way, that was kind of like the lynch pin for me, with all this other stuff to create someone that enjoyed that adulation – not only enjoyed it, but they actually used it as his life's blood."
Darla K. Anderson-  Shares what she wants young kids to take away from the film. "When we make our movies, we make them for everybody – young to old. What I really want young kids to take away from the film is to be thinking about their ancestors, and think about where they came. First, I want them to have a great time. First I want them to come, and enjoy the film, and have a fabulous time.  And then if they watch it multiple times, I want them to be thinking about, hopefully, where they came from, and who their great-grandparents might be, and what their ancestry is.  And then Adrian's fond of saying he hopes that they'll all pick up a musical instrument."
Alanna Ubach-  Also shared with us the message she wants kids to get from the film. "I think it was very important for Pixar to make a movie like this, because they painted such an exquisite portrait of the afterlife.  And so you can only hope that – my son, who's 12 weeks old – when he's old enough to understand this movie, he can walk away saying, "Mama, I am not afraid of death.  I'm not afraid of the afterlife."  What a beautiful world this would be if the afterlife was like this.  Could you imagine? Also, that they really did pay such a respect to the one quality that Latin families, Latin American families have across, and that is the importance of familia, and that is something that no presidents, or borders, or politics can ever break – that importance, the importance of familia."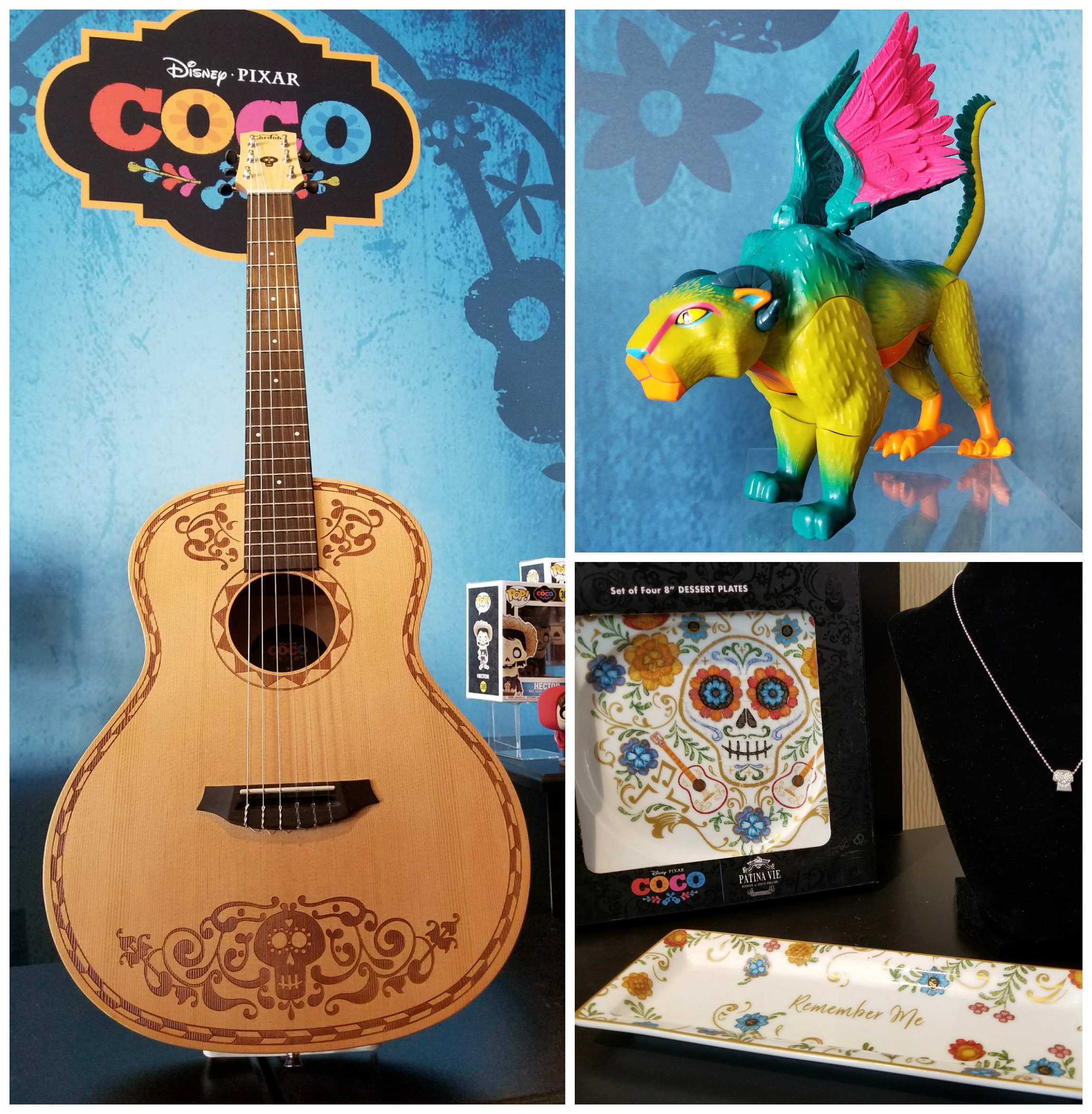 There is a lot of cool Coco merchandise too that both young and old will want to have to treasure forever. I really love the dessert and Remember Me plates! They would make great Christmas gifts! 😉
COCO opens in theaters everywhere on November 22nd!
Like COCO on Facebook: https://www.facebook.com/PixarCoco 
Follow COCO on Twitter: https://twitter.com/pixarcoco
Follow COCO on Instagram: https://www.instagram.com/pixarcoco/
Visit the official COCO website here: http://movies.disney.com/coco