Guardians of the Galaxy Vol. 2–Meet the Cast!
By Erin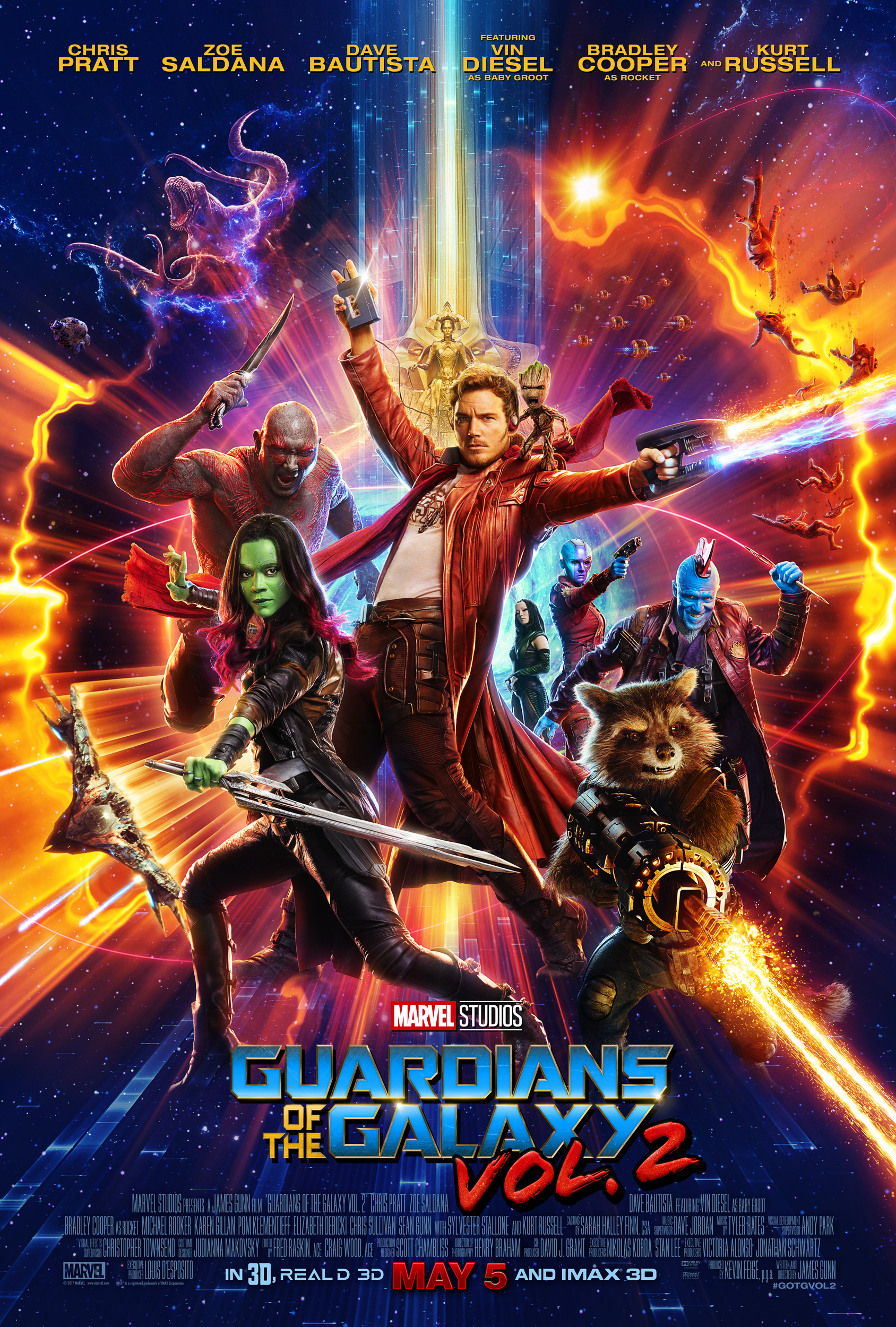 In Marvel Studios' latest adventure, "Guardians of the Galaxy Vol. 2," the Guardians must fight to keep their newfound family together as they unravel the mystery of Peter Quill's true parentage. Picking up right where 2014's "Guardians of the Galaxy" left off, Marvel Studios' "Guardians of the Galaxy Vol. 2" continues the action-packed, irreverent, epic space adventures of Peter Quill aka Star-Lord and his gang of eccentric characters as they patrol and protect the universe. We are introduced to Awesome Mixtape #2 where the story follows the team as they fight to stay together while traversing the outer reaches of the cosmos. Old foes become new allies and fan-favorite characters from the classic comics will come to our heroes' aid as the Marvel Cinematic Universe continues to expand.
Before the movie blasts into theaters everywhere this Friday, May 5th, we had the chance to meet the cast at a press conference last month. Take a look at some of the hilarious moments that were captured and what the cast had to share with us about the new film.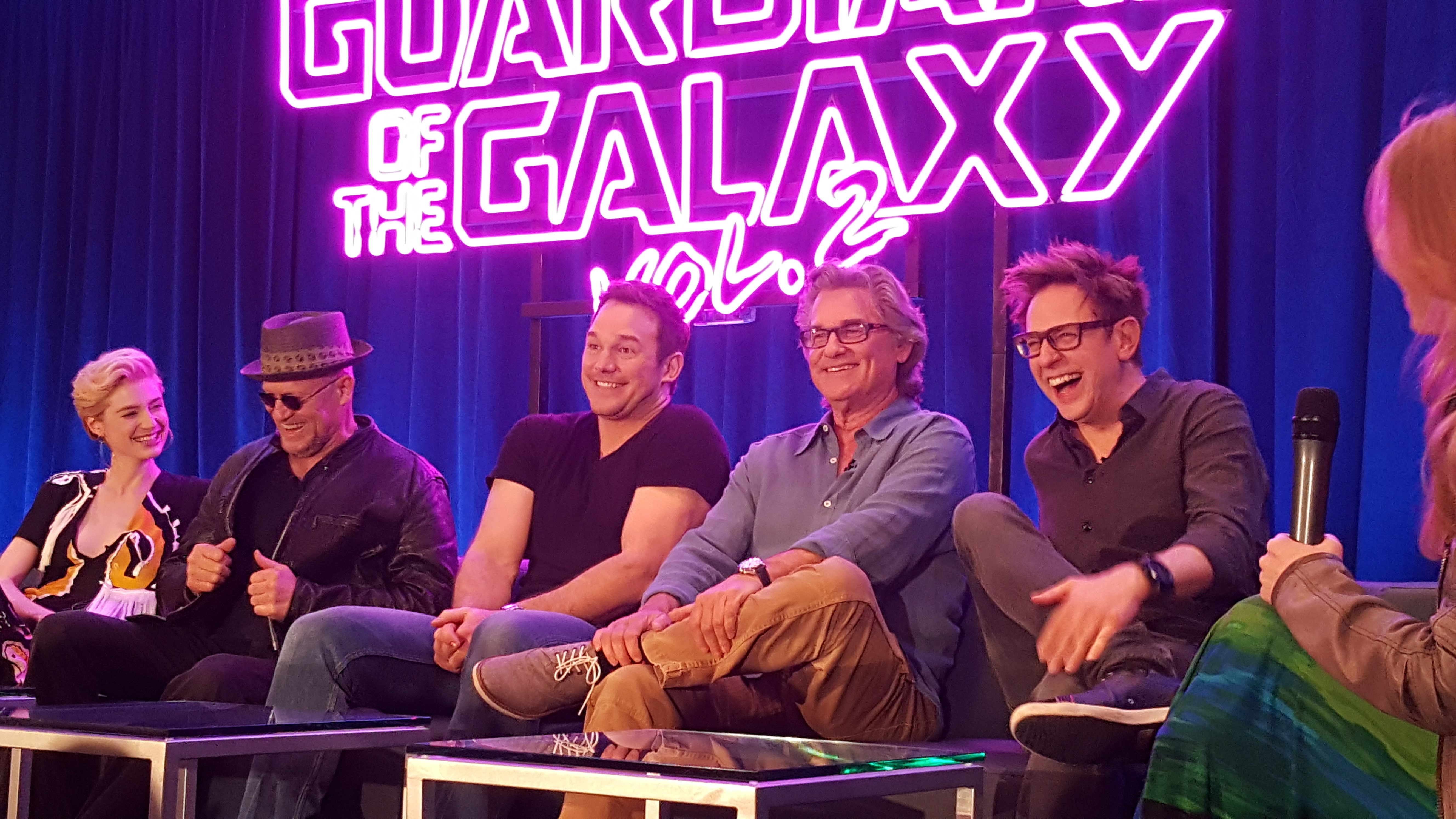 Moderated by Kara Warner from People Magazine, it was just one laugh after another. Look at all those smiles!
Press Conference #1 with the below talent:
Chris Pratt ("Peter Quill / Star-Lord")
Kurt Russell ("Ego")
Michael Rooker ("Yondu")
Elizabeth Debicki ("Ayesha")
Director James Gunn
Producer Kevin Feige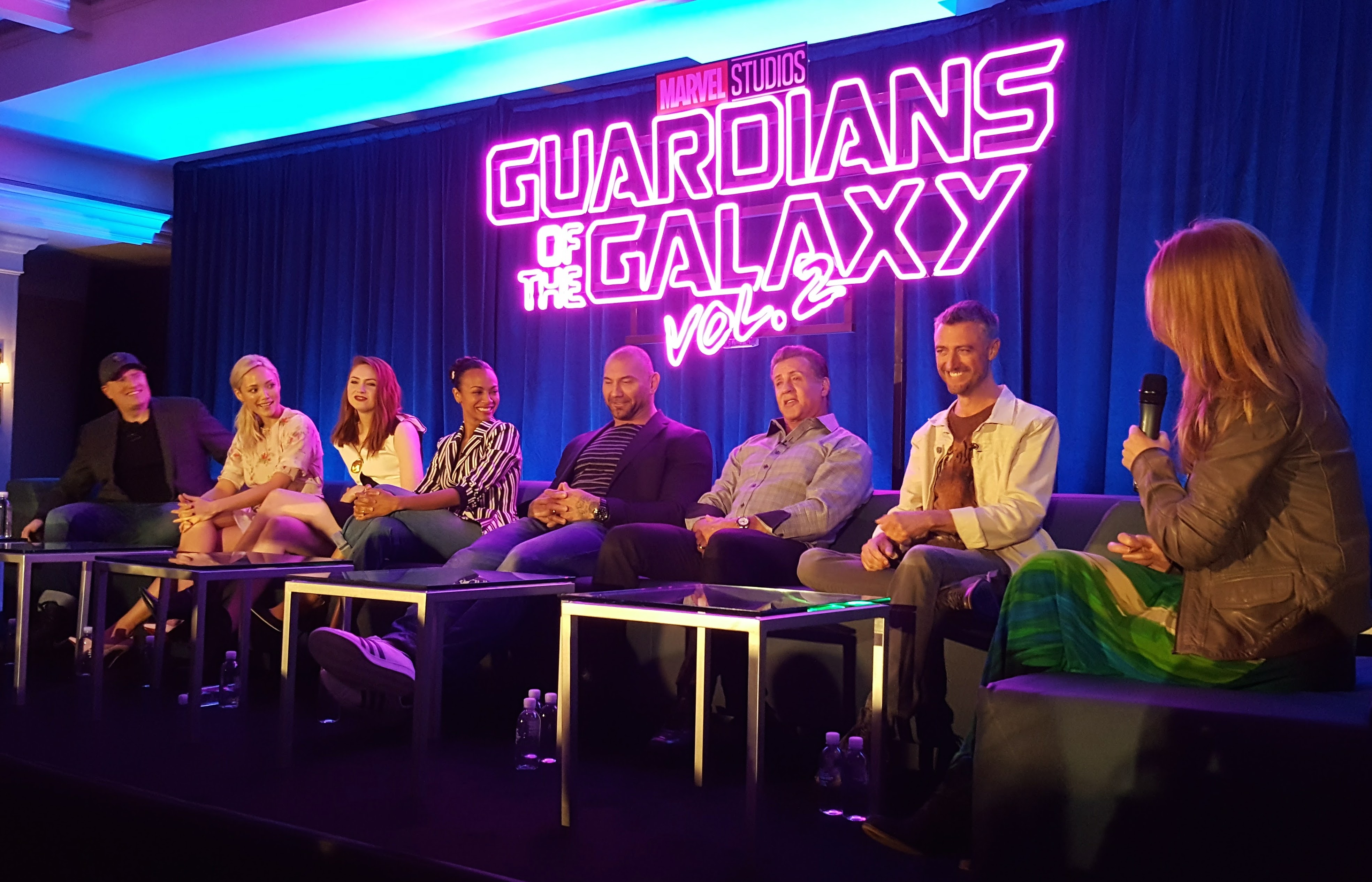 Press Conference #2 with the below talent:
Zoe Saldana ("Gamora")
Dave Bautista ("Drax")
Karen Gillan ("Nebula")
Sean Gunn ("Kraglin")
Pom Klementieff ("Mantis")
Sylvester Stallone ("Member of Nova Corps")
Producer Kevin Feige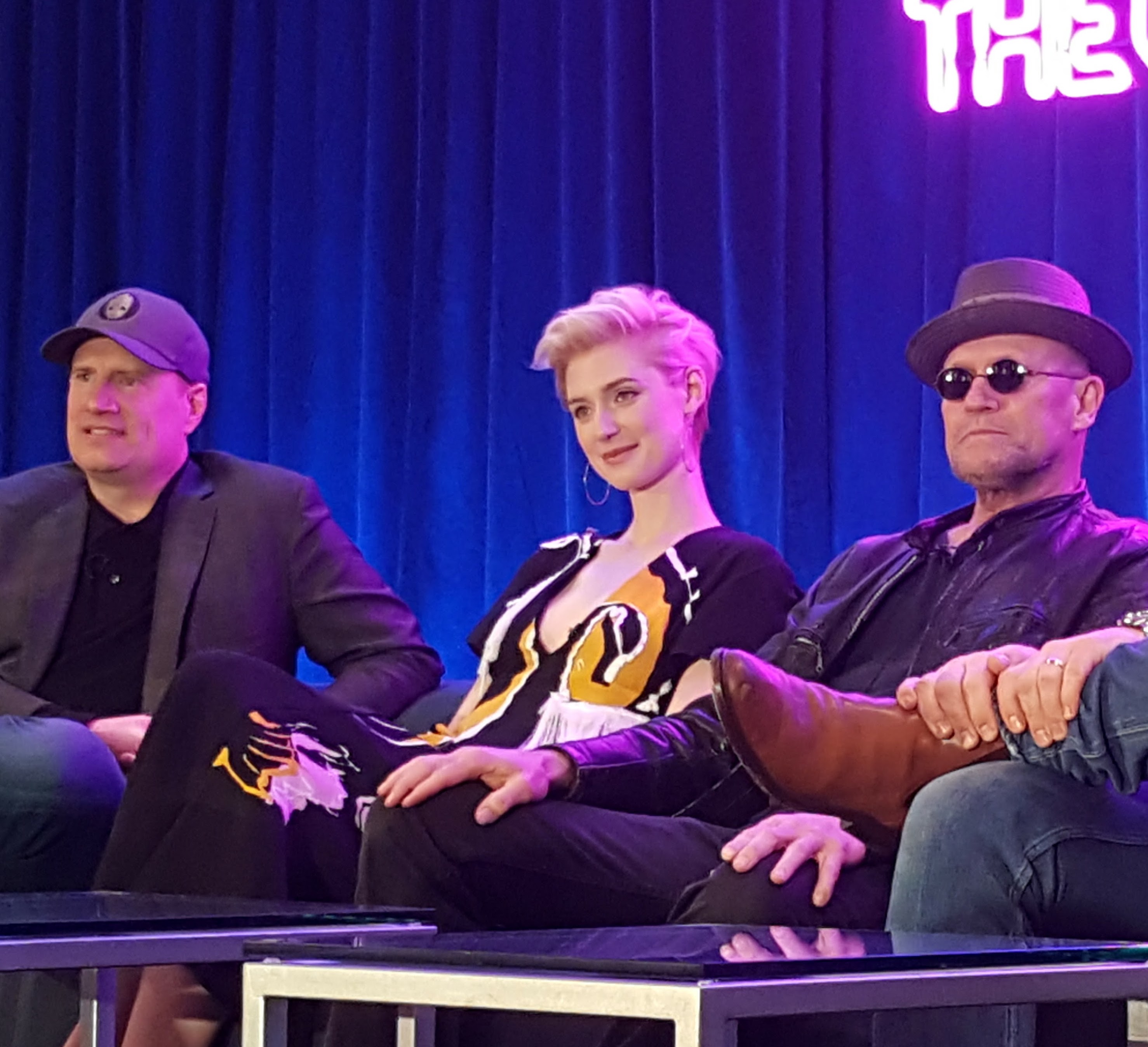 The first question was directed at Elizabeth regarding her new role as Ayesha. Being a new member of the cast, what kind of initiation process was there, and what exactly convinced her to join this ragtag bunch.
Elizabeth: James convinced me obviously. He's extremely persuasive, not that I needed convincing. My first day on set was when we were shooting in the throne room, and I was obviously terrified of playing this extremely powerful creature. I remember sitting up on the throne for a long time and all the Guardians were in front of me. It was so intimidating, and it was about two hours before we spoke to each other, I think. They all came up in this line to sort of come and say hello. I was like, please come and say hello to me! Someone say hello. And then that was fine after that.
Also new to the cast is Kurt Russell as Ego.
Kurt: They do this weird thing. I didn't quite know what to make of it. You have to do this thing, you have to go to Chris's house… I don't know how much I can say. You have to bring over some food. The truth is that when I read the script I wanted to make sure I was kind of understanding it correctly and I hadn't seen the first movie. All of a sudden, one day I was doing Hateful Eight stuff like this, and all of a sudden, boom, boom, boom, boom, my phone and the people around me are saying, are you gonna do, oh that's great, are you gonna be Star Lord's dad? Are you gonna be Peter Quill's father and are you gonna do Guardians of the Galaxy and I, I just was like, guys, I don't really know what they're talking about. And I saw the movie and when I saw the movie, I immediately started getting it. I also immediately started wanting to do it. That was immediately followed by, everybody loved the first movie. What you don't want to do is do something that's gonna make them not like the second one, right? I don't know about you, but I said yeah. I told James that. I said, I don't want to mess this thing up, so I need your help.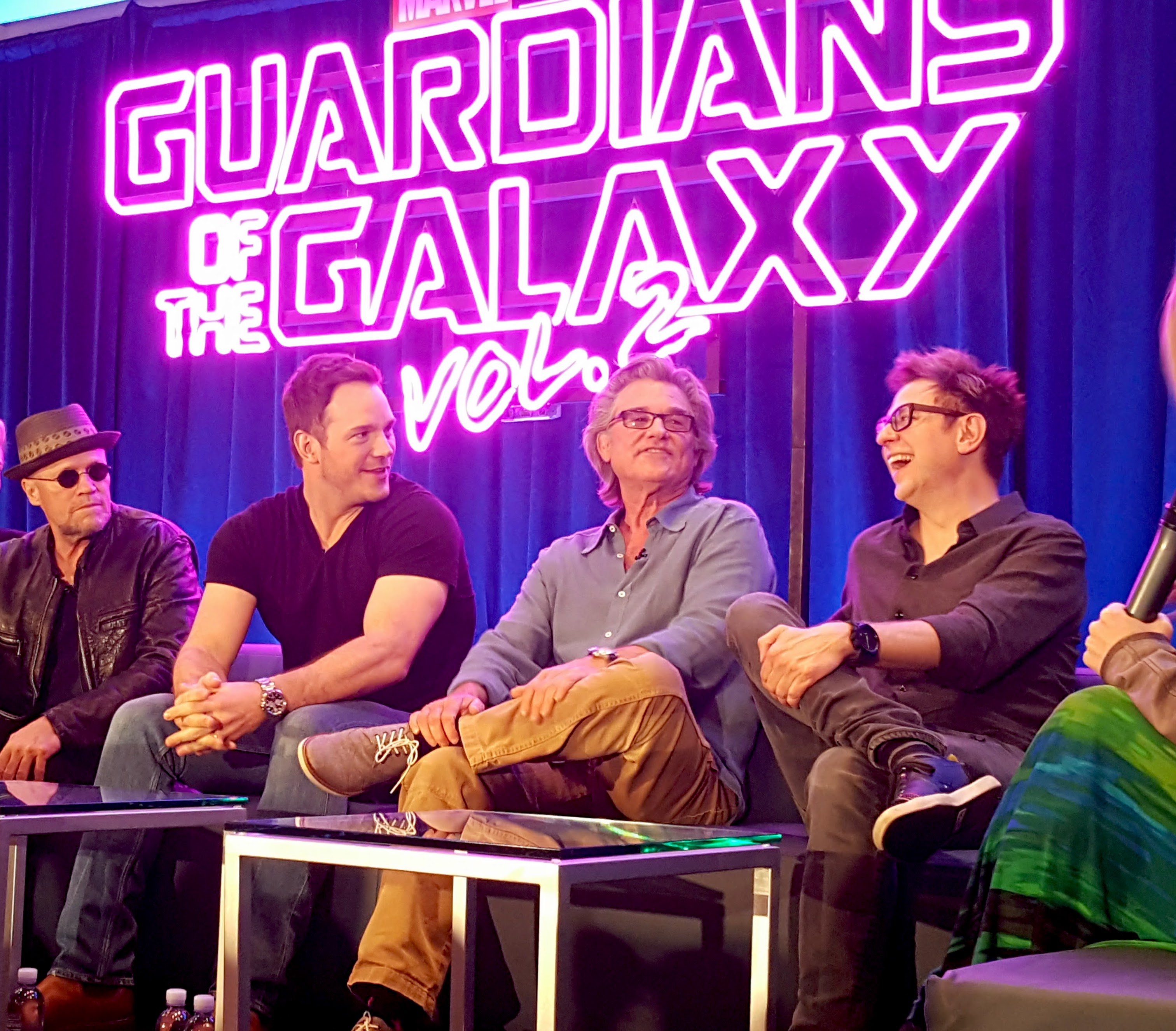 James Gunn was asked if there is one thing that he wanted to make sure not to mess up.
James: The movie? I don't know. I just wanted to continue the film from the first movie. So many sequels are not good. The primary reason in studying them seemed to be that so many of them just kind of do the same thing the first movie did with different template, and so they say, oh people liked the dance-off in the first movie, so what's our version of the dance-off? People liked "we are Groot" in the first movie, what's our version of "we are Groot"? And instead of doing that, we really tried to let these characters grow and change. We want to watch them become new people and different people in every film that we come up with. I think allowing them to be themselves and do their thing, I know that sounds strange because I'm writing what they say, but sometimes I'm just letting it happen inside my own imagination and letting the characters go where they wanted to go. I think the thing that I didn't want to mess up was just trying to be a rehash of the first movie. I think people were surprised by the first movie, people have been surprised by the second film, and to give people something new and something different from what they already had.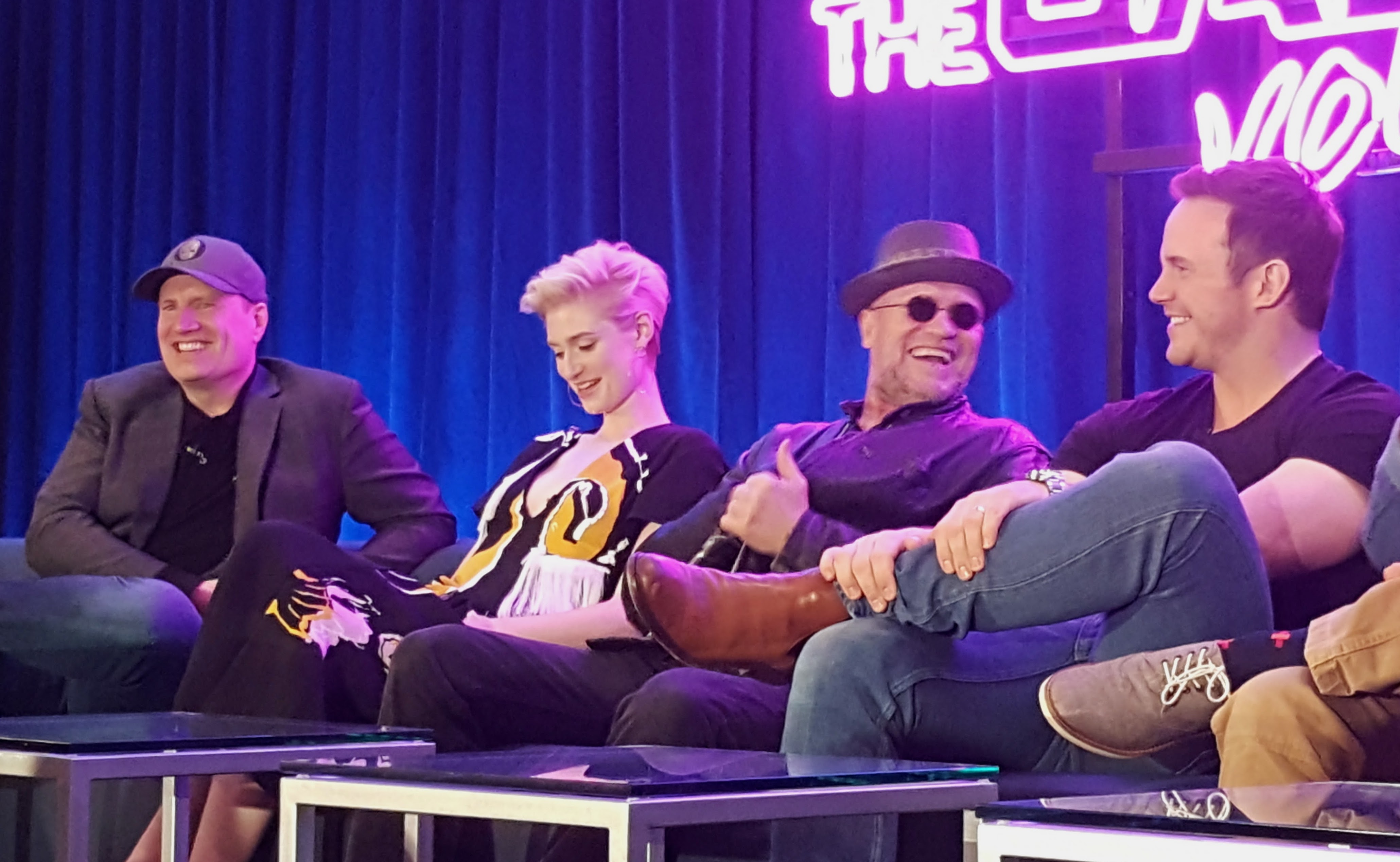 There was also some discussion about Peter Quill's shirt coming off a little longer than in the first movie. Not that we mind though, right? 😉 Michael Rooker joked that it was at his request. James Gunn was given full creative freedom by Kevin Feige and that there had to be a Chris Pratt shirtless scene, since there's a beefcake clause.
Chris Pratt thought that the greatest shirtless scene in this film by far, though, went to Mr. Michael Rooker. Be sure to pay attention to the moment you see Yondu for the first time in the film. In Chris' opinion: "It's a series of wordless pictures that truly is the moment when this film transcends the genre. I'm not joking, it sounds like I'm doing a bit and I'm really not. Yondu is shirtless and really vulnerable. There's this look on his face, he never says a word, but you feel his pain. You know that he's hurting inside, you know that he's lonely and he's vulnerable, and then immediately you cut to him walking in, fully clothed with his Ravagers behind him and this sense of power, but because you saw him naked you know what's going on inside of his mind and that pathos carries the entire arc for Yondu through the whole movie. And he doesn't even say a word. So that's way better than a guy who's like, I'm gonna take my shirt off and sniff this, put this one on."
In the second press conference, the ladies told us a little bit about the makeup process and where they go to be Zen about sitting in the chair.
Zoe and Pom's makeup take  3 1/2- 4 hours. Zoe and Karen shared this with us about her makeup process.
Zoe: It can take a long time.  I just talk my team to death. I don't shut up from 2:30 in the morning until we're on set and James says "Action," I just keep talking and I feel like that's how I get time to go by, because if not, I'll just go crazy.  There's not much to do at 2:30 in the morning besides sleep, you can't eat, you can't really move around that much because they need your hands and your face and your mouth needs to be shut because if you open your mouth you're going to get a whole bunch of green paint sprayed into your mouth.
Karen:  For me actually it's sort of become my ritual of getting into character and it was quite interesting, like I did this rehearsal as Nebula one time, not under makeup and I just didn't feel like her. It's an imperative part of the process for me now.  It's like I literally get to wear her skin, which is like the closest I can get to her, so that's kind of cool.
Dave also spends a lot of time on the makeup for his character. What does he do?
Dave: I'm ashamed to even talk about it.  It's not really a labor at all.  It's about an hour and a half and I literally just zone out for the whole hour and a half. Just tune out.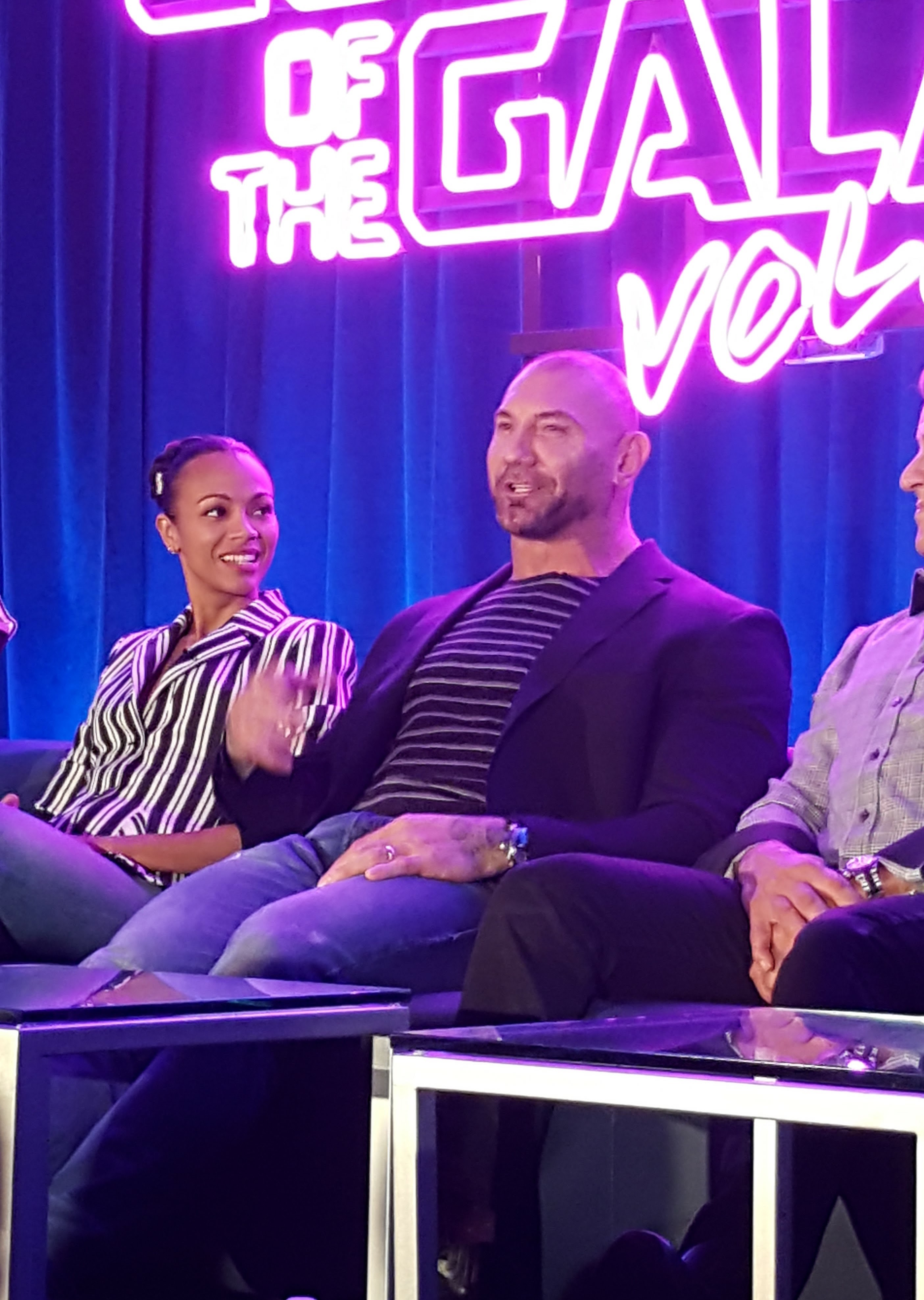 The returning cast members were asked what their favorite thing was about returning to make the next Guardian of the Galaxy film. 
Zoe jokingly said that her favorite part was the makeup process, but then went on to say that she loved the relationship between Gamora and Nebula. She has been yearning to see more of a female presence in action films because of her love of action films and to have a film with three female characters that are adding such unique qualities to the film that are very relevant and their relationships are explored deeply. Zoe was appreciative and super excited and in a way anxious because Gamora is a much more reserved character.  Sean's favorite thing was working with everybody again since it's such a gift to have a bunch of artists come together to collaborate on something where everyone is really putting their heart into it and really believes in the script and believes in the movie. Dave thought it was really a luxury to come back into a reoccurring role not only where he was comfortable with the character, but comfortable with his cast members, because they're people that he loves and cares about .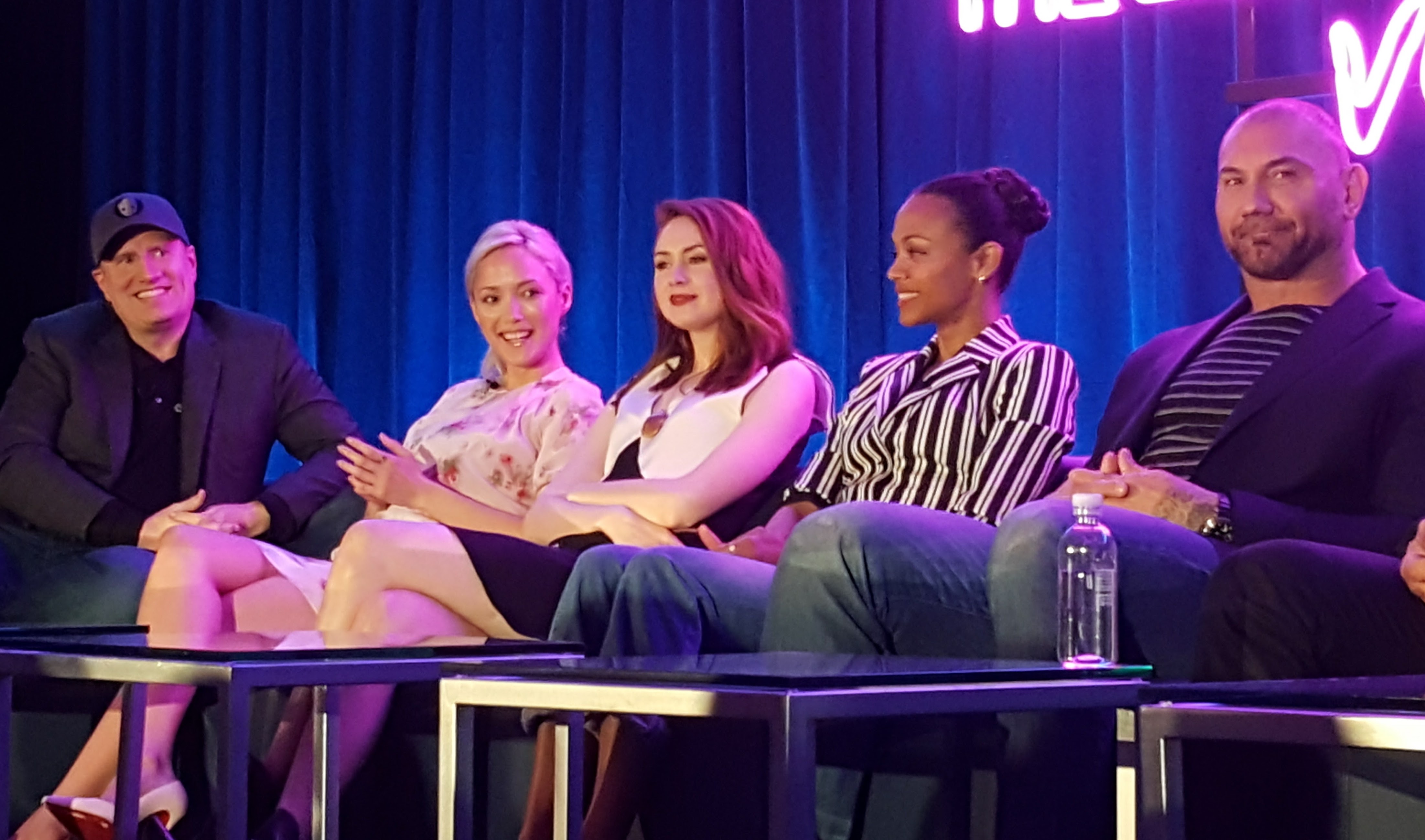 Kevin was asked about the amount of women characters in the film and if there was any push back from it.
Kevin:  No push back and I think there's lots and lots of great female characters in the comics that we want to bring to life on screen and it was very important to James to include these characters and more than just include them, give them their own storyline and have it be more than just their ability to fight or romance with a male character and that's why I think Nebula and Gamora are the high point of the movie and that relationship is one of the biggest and best arcs of the whole movie is that sister relationship. 
Dave of course had to add his thoughts on the matter too. "I'd like to add one thing too because I keep hearing over and over that women are so happy to see these strong, sexy, feminine characters and trust me, that the men are happy to see them as well. 
Make sure to go see the film this Friday, May 5th! For now watch the trailer below. 🙂
Like GUARDIANS OF THE GALAXY VOL. 2 on Facebook: https://www.facebook.com/guardiansofthegalaxy/
Follow GUARDIANS OF THE GALAXY VOL. 2 on Twitter: https://twitter.com/Guardians
Follow GUARDIANS OF THE GALAXY VOL. 2 on Instagram: https://www.instagram.com/guardiansofthegalaxy/
Visit the official GUARDIANS OF THE GALAXY VOL. 2 website here: https://marvel.com/guardians
GUARDIANS OF THE GALAXY VOL. 2 is in theaters May 5th!