Celebrate Earth Day with Born in China!
By Erin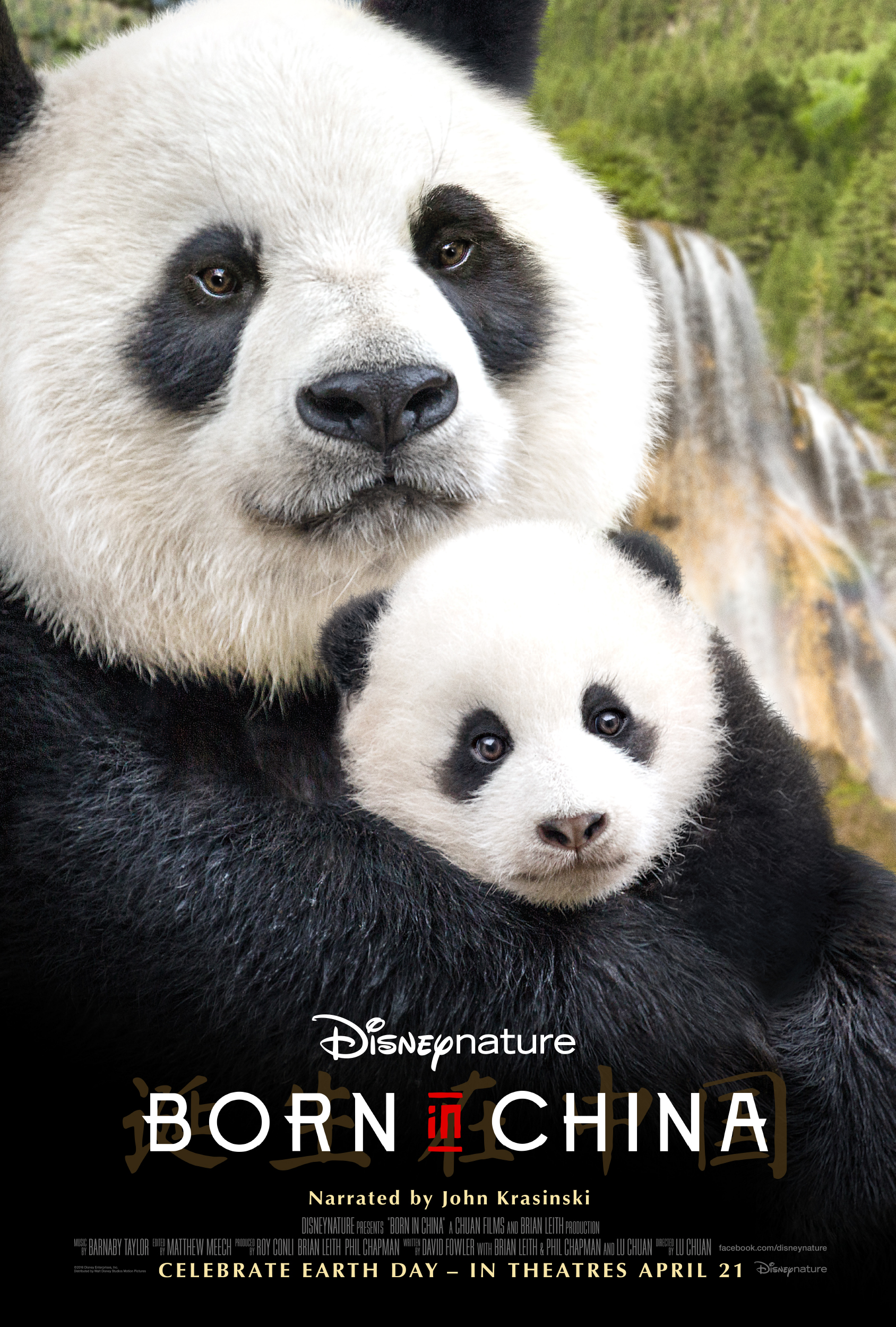 Disneynature movies are so magical. I learn so much about the animals on our planet by watching them as they take us to places we would otherwise never be able to get to on our own. Disneynature proudly presents, Born in China, opening in theaters everywhere this Friday, April 21st. A breathtakingly gorgeous film that will have you in complete awe; Born in China follows the heartfelt, hilarious, and all too real adventures of three animal families: a panda bear and her cub, a snow leopard and her two cubs and a golden monkey and his family.
Born in Nature is brilliantly narrated by John Krasinski ("13 Hours: The Secret Soldiers of Benghazi," NBC's "The Office," "Amazon's "Jack Ryan"), Disneynature's new True Life Adventure film "Born in China" takes audiences on an epic and exciting journey into the wilds of China where few people have ever ventured.  Following the stories of three animal families, the film transports moviegoers to some of the world's most extreme environments to witness wildly intimate moments in the lives of these animals, whose day-to-day endeavors are both captivating and comical. A proud panda bear mother guides her growing baby as she begins to explore and seek independence. A  curious 2-year-old golden snub-nosed monkey, who feels displaced by his new baby sister, joins up with a group of free-spirited outcasts. And a mother snow leopard—an elusive animal rarely seen by human eyes—faces the very real drama of raising her two cubs in one of the harshest and most unforgiving environments on Earth. This is the perfect film to go out and see on Earth Day! Or any other day of the year really, if you are as much of an animal lover as I am.
 The first family we will meet here, is the snow leopard. China's Qinghai Plateau, the highest mountain plateau on Earth, is home to the stunning and elusive snow leopard. Experts estimate that there as few as 4,000 snow leopards left in Central Asia's high mountains. We watch the story of Dawa unfold, she is a mother snow leopard who has to fight to provide for her cubs and the environment where she lives in is harsh and unforgiving. At more than 15,000 feet above sea level, Dawa's world is decidedly inhospitable making food scarce and surviving with two cubs is a difficult task. Having to protect her territory from other snow leopards, makes it even more of a challenge. Winter temps are bitterly cold, precipitation comes largely in the form of hailstorms and limited vegetation provides little relief from winds that can exceed 40 miles per hour. This mother snow leopard is truly a creature of majesty. And it's instantly evident just how important this mother's cubs are to her. Your heart will go out to this brave and courageous family as you watch the hardships they endure.
Next we meet TaoTao, a golden snub-nosed monkey.  In the mountain valleys of central China, near the Yangtze River in the Shennongjia Forest, thousands of golden snub-nosed monkeys can be spotted—they swing branch to branch in deciduous broadleaf trees, snack on lichens and insects, and raise their families within well-organized troops. Filmmakers initially planned to feature the first year of a monkey's life. After capturing hours of footage of newborn monkeys, searching for the right, compelling story, filmmakers noticed a youngster who had recently welcomed a new baby sister. TaoTao's life is turned upside down when his family turns its collective back on him. He previously was the center of attention, so now poor TaoTao does not understand how he fits into his family or his troop. TaoTao decides to seek comfort and acceptance elsewhere in the troop, aligning with a group of males, known in the film as the "Lost Boys." TaoTao spends his time with them for a while, only to discover that life with these lone males is a bit rough. There are no rules and you can get hurt if you're not careful.
The third animal family you will meet are these two adorable pandas. YaYa is a first-time mom. She doesn't know for sure how to raise this rambunctious little cub, MeiMei. but from the moment she's born you can tell that mom falls in love with her. She has the cuddliest, cutest, sweetest, most beautiful little ball of fluff on the planet as her first baby that she just cannot stop fussing over. Loving, cuddling, licking and smothering her little MeiMei with love. Viewers get a peek into all of these special mother and daughter moments. YaYa's affection for the little cub is incredible, but the cub is determined at all costs to succeed in becoming an accomplished tree climber and to become independent.
Born in China is the 7th theatrical release for Disneynature. Since the label's launch in 2008, Disneynature's filmmakers have ventured around the world—from African savannas to Alaskan coastlines, from the depths of the ocean to majestic mountaintops, but Disneynature had not yet explored China. Born in China is a beautiful story with amazing visuals that will have you wishing you were right there with the animals. Audiences of all ages will love and appreciate this film. I immediately fell in love with the animals shown in the film and the entire circle of life is represented in these heart-felt stories, so make sure you take some tissues to the theater! It is a movie you must experience for yourself.
SUPPORT A GOOD CAUSE & SEE DISNEYNATURE'S BORN IN CHINA OPENING WEEK!
Through the release of  the new film Born in Chinathis Friday, April 21, moviegoers who see Born in China in U.S. theaters opening week (April 21-27) will help support WWF's work in the region. For every ticket sold opening week in participating markets, Disneynature, via the Disney Worldwide Conservation Fund will make a donation to WWF. Funds raised from Born in China will focus on improving landscape connectivity and integrity across the three landscapes that are home to the species in the film and covering the traditional range of the giant panda, including the Middle East Qinling, Northern Minshan, and Middle Qionglai landscapes. Additionally, funds raised will aide WWF's efforts to increase wild panda populations, and enhance conservation stewardship to local communities, including up to 10,000 people.
Like Disneynature on Facebook: Facebook.com/Disneynature
Follow Disneynature on Twitter: Twitter.com/Disneynature
Follow Disneynature on Instagram: http://instagram.com/disneynature
Visit the official BORN IN CHINA website: http://nature.disney.com/born-in-china
Born in China 

opens in theaters everywhere on April 21st!