Classic Afternoon Tea at the Disneyland Hotel
By Erin
Recently a friend and I enjoyed the Premium Classic Afternoon Tea Party at Steakhouse 55 inside the Disneyland Hotel. Afternoon tea is available Friday-Sunday from 12pm-3pm. I've been anxious to have a tea party at Disneyland ever since they first started having these, so I was thrilled to finally be able to get a reservation for one (they are not always easy to get, especially around holidays!). We were extra lucky and were able to come during the Valentine's Day tea for some extra magic! We had a fabulous time and I am so excited to share this with you.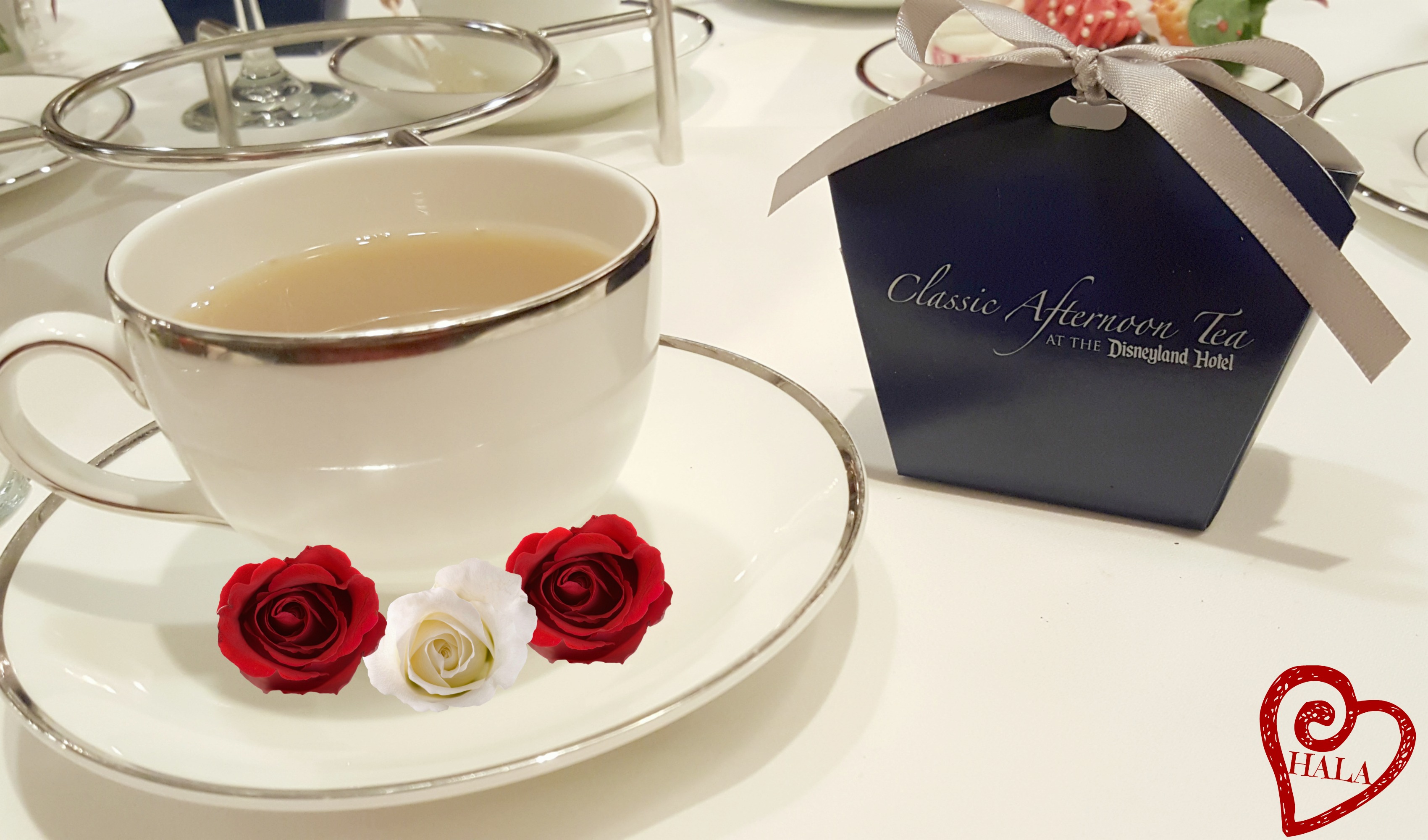 Dining at the Steakhouse 55 restaurant at the Disneyland Hotel is an amazing experience in itself if you are as big a steak lover as I am. It was even more amazing to come here for a magical tea party! It is a bit pricey but well worth it; don't forget if you have your annual Disney pass, you can use your discount for the tea party, which will help quite a bit. You also will feel like Disney Royalty here with all the fancy plates and silverware and farewell gifts. Be ready to experience an elegant afternoon complete with sweets, savories and a lovely selection of teas.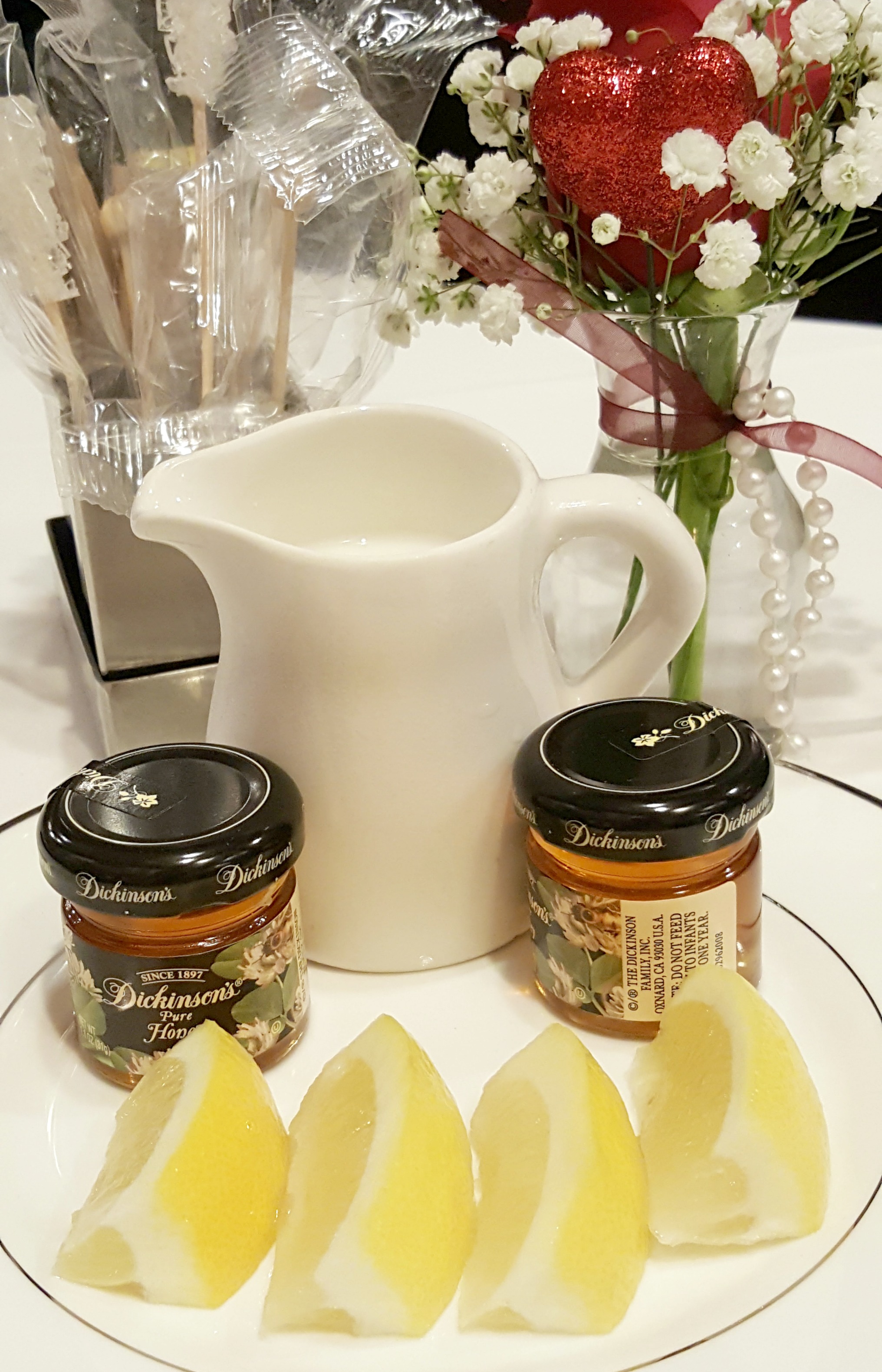 The menu includes traditional scones, tea sandwiches, desserts and more. Aperitifs, wines by the glass, ports and cordials are also available for an additional charge. The glamorous Hollywood-style setting of Steakhouse 55 at Disneyland Hotel, is the perfect setting to enjoy afternoon tea. Originally introduced to European high society in the 1800s, this relaxing respite promises to forge unforgettable memories with family and friends.
Choose from 3 distinct tea parties:
Classic Tea Party- $50
Traditional Scones
Tea Sandwiches
Desserts
Teas and Herbal Infusions
Premium Tea Party-$65
Sparkling Wine
Traditional Scones
Salad
Tea Sandwiches
Desserts
Farewell Truffle
Teas and Herbal Infusions
Kids Tea Party- $35
Traditional Scones
Tea Sandwiches
Desserts
Herbal Infusions, Juices, Milk or Hot Chocolate
Please Note: Gluten-free and vegan options are available upon request.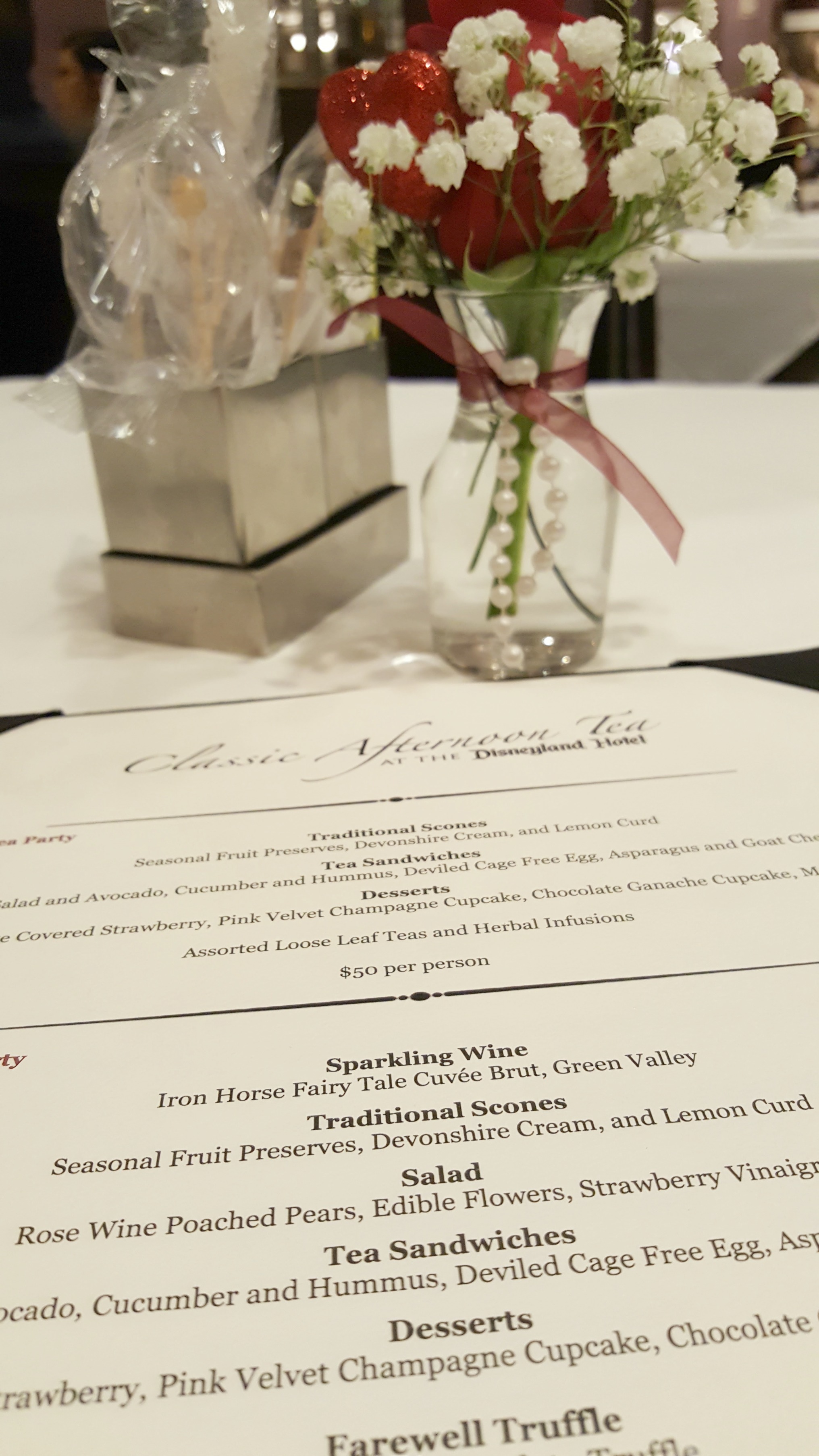 *I highly recommend getting the premium tea party package to make your experience a total dream come true. If you have a pass, for the premium tea party with tax it comes to just under $60 per person.*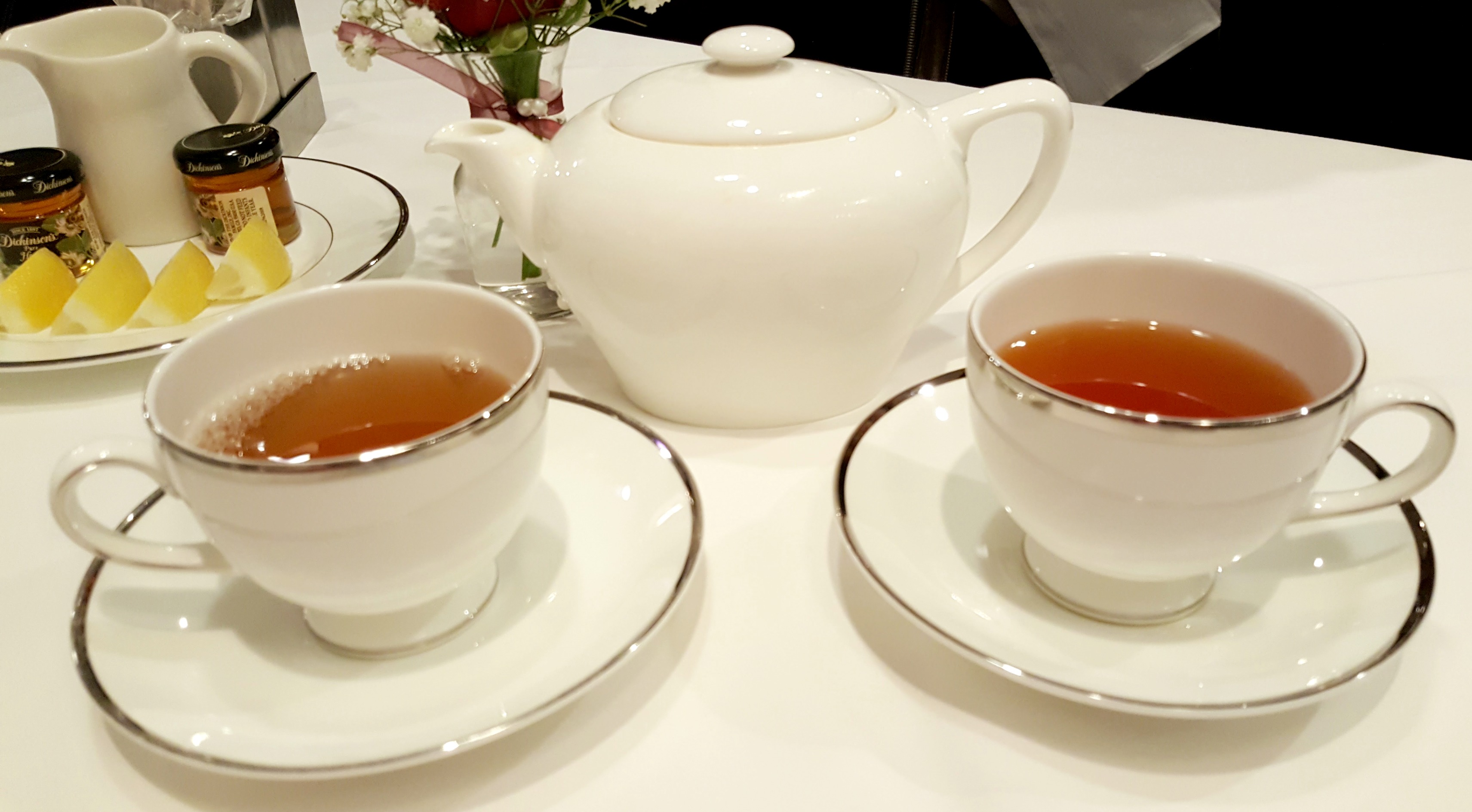 After you order the kind of tea party you wish to enjoy and pick out your teas, the tea is brewed and served to you in your own cute adorable tea pot.  You have a choice of either hot or cold tea and
each person in your party can choose a different kind of tea so that your party can enjoy a variety of different kinds of teas. This is a great way to try out some different teas that you may not have had before as well as your favorites. We went with the Redbush Caramel Velvet ( Reminiscent of a luxurious Dulce de Leche with a light, refreshing aftertaste. Caffeine-Free, Herbal) and the Eros (a black sweet orange and creamy vanilla bean blended with medium bodied Ceylon leaves). Both of the teas were delicious and came with honey, lemon, cream and your choice of sugar, calorie free sweeteners, or some cool rock sugar candy sticks to dip into your tea!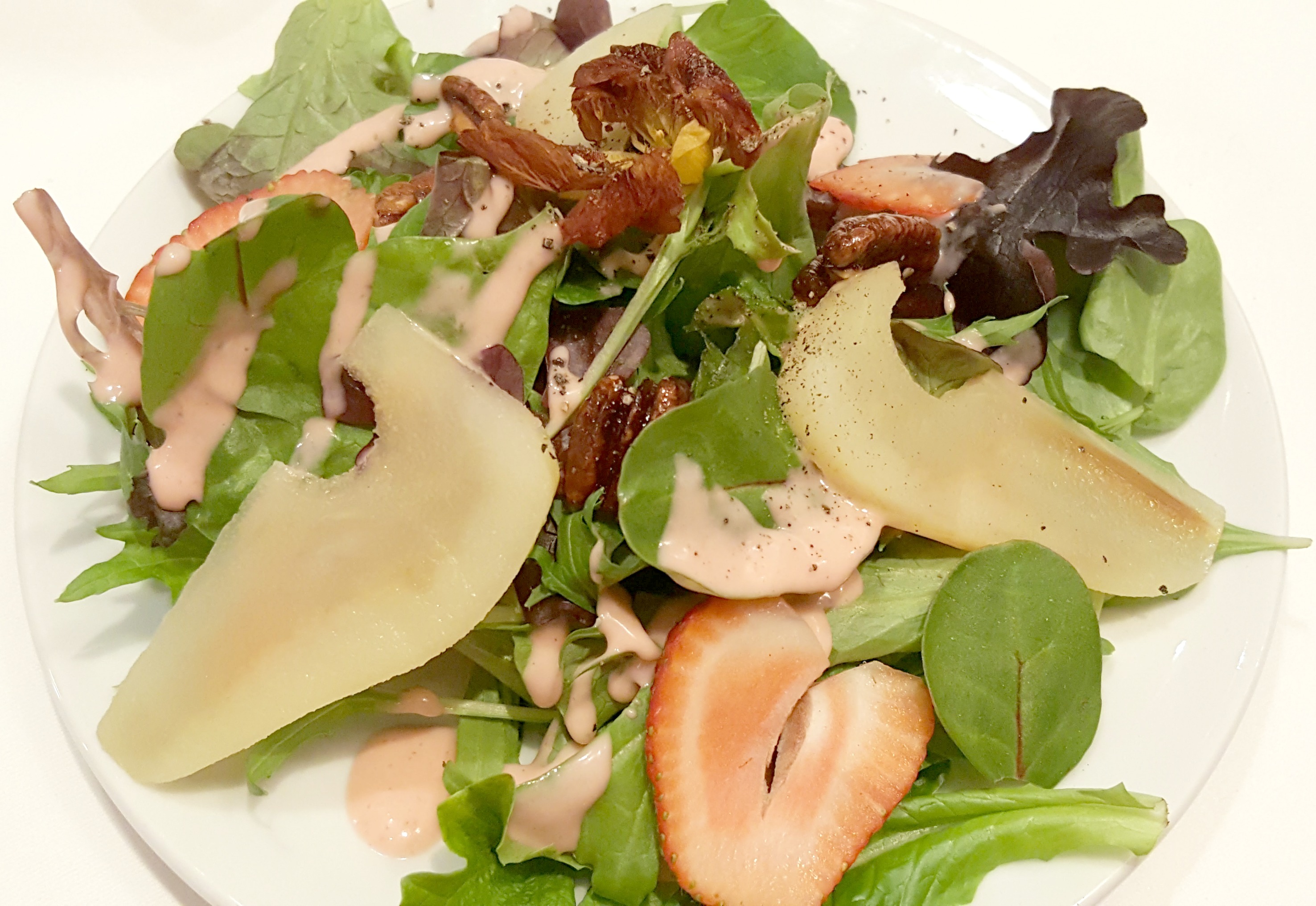 First the salads came out. Very light and refreshing; Rose Wine poached pears, edible flowers, with a strawberry vinaigrette.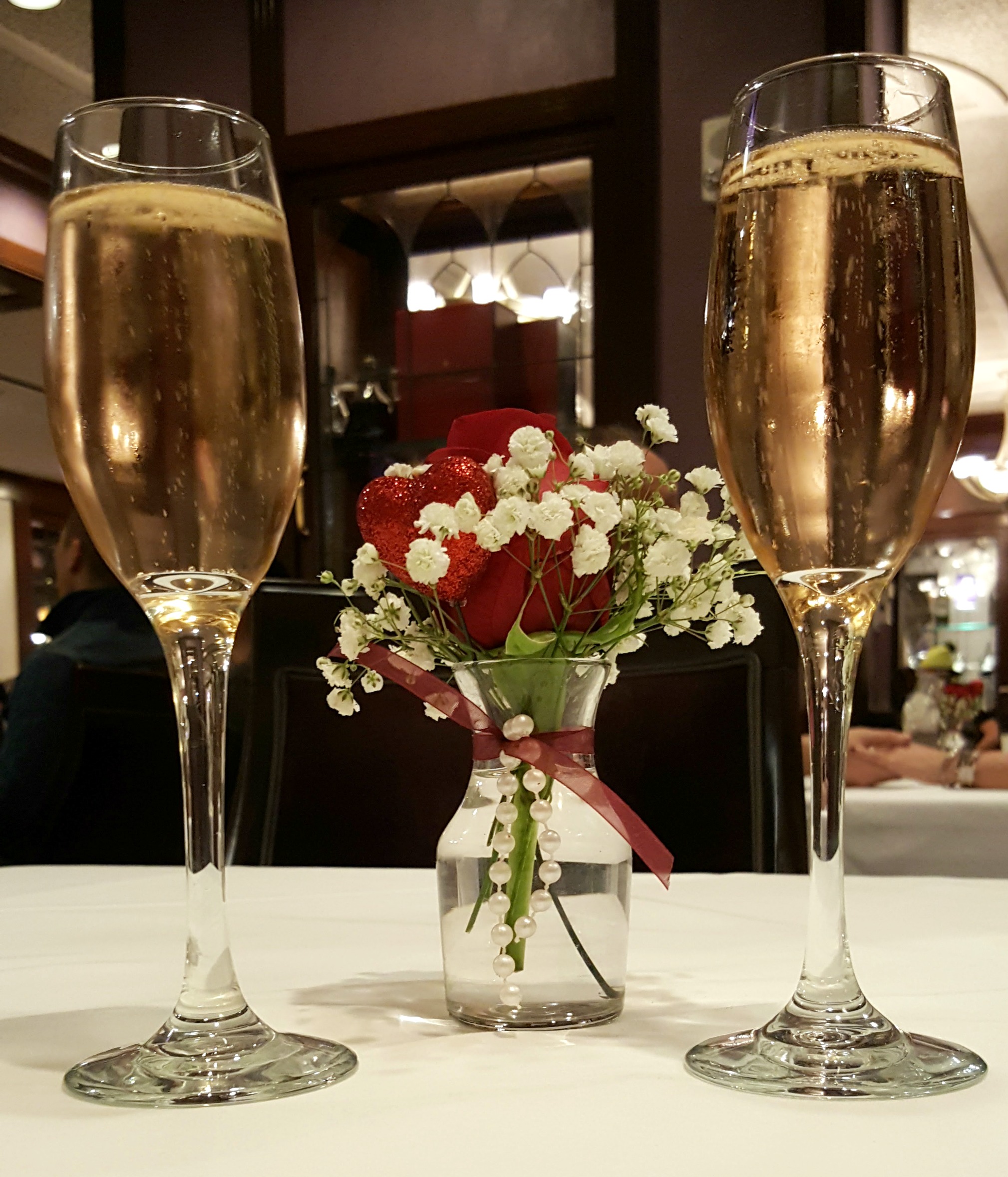 With the premium tea, you also get a glass of sparkling wine; Iron Horse Fairy Tale Cuvee Brut. It was great to have a little bit of bubbly with our tea party!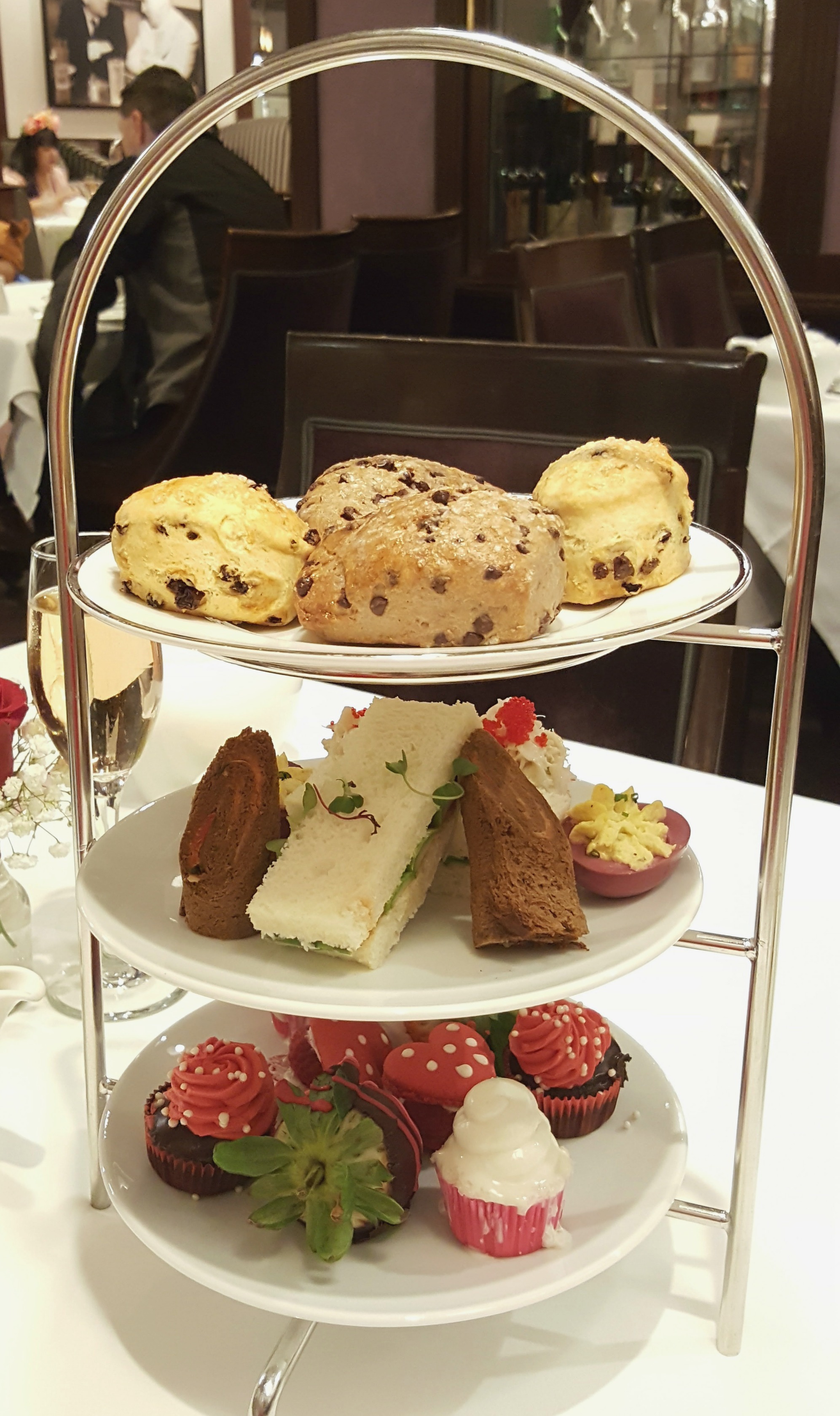 Our tiered tea party came out with all the goodies! Yum yum, so much food!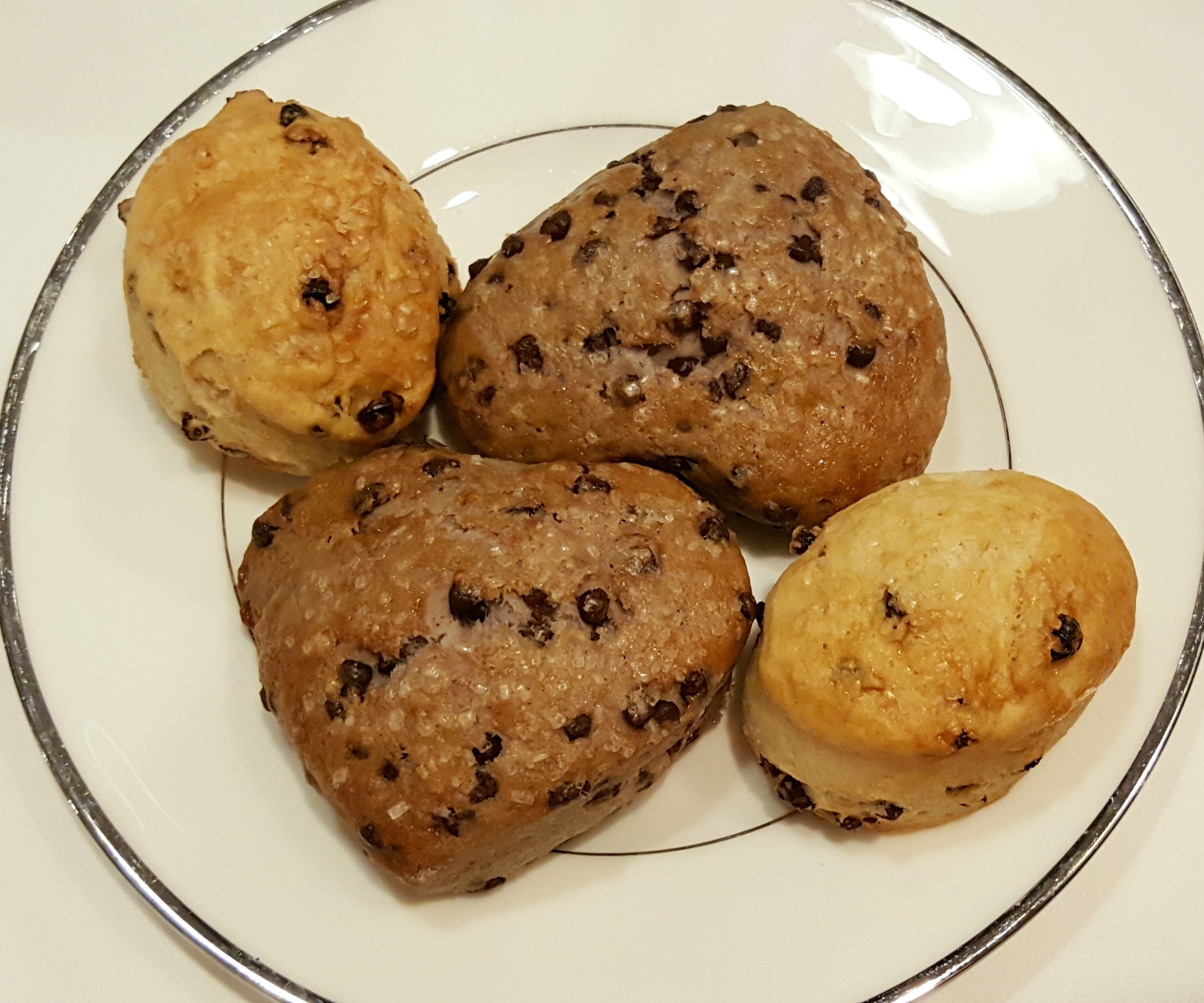 ​The top tray held the scones. Since it was Valentine's Day weekend they had heart shaped chocolate chip and raspberry ones. You could top your scones with Devonshire cream, lemon curd, or strawberry jam. So delicious! They are very filling though, I could not finish my two!
 The middle tray includes a wonderful selection of  tea sandwiches that go perfectly with your tea. The sandwiches included were: Crab salad and avocado, Cucumber and hummus, Deviled cage free egg, and Asparagus and goat cheese.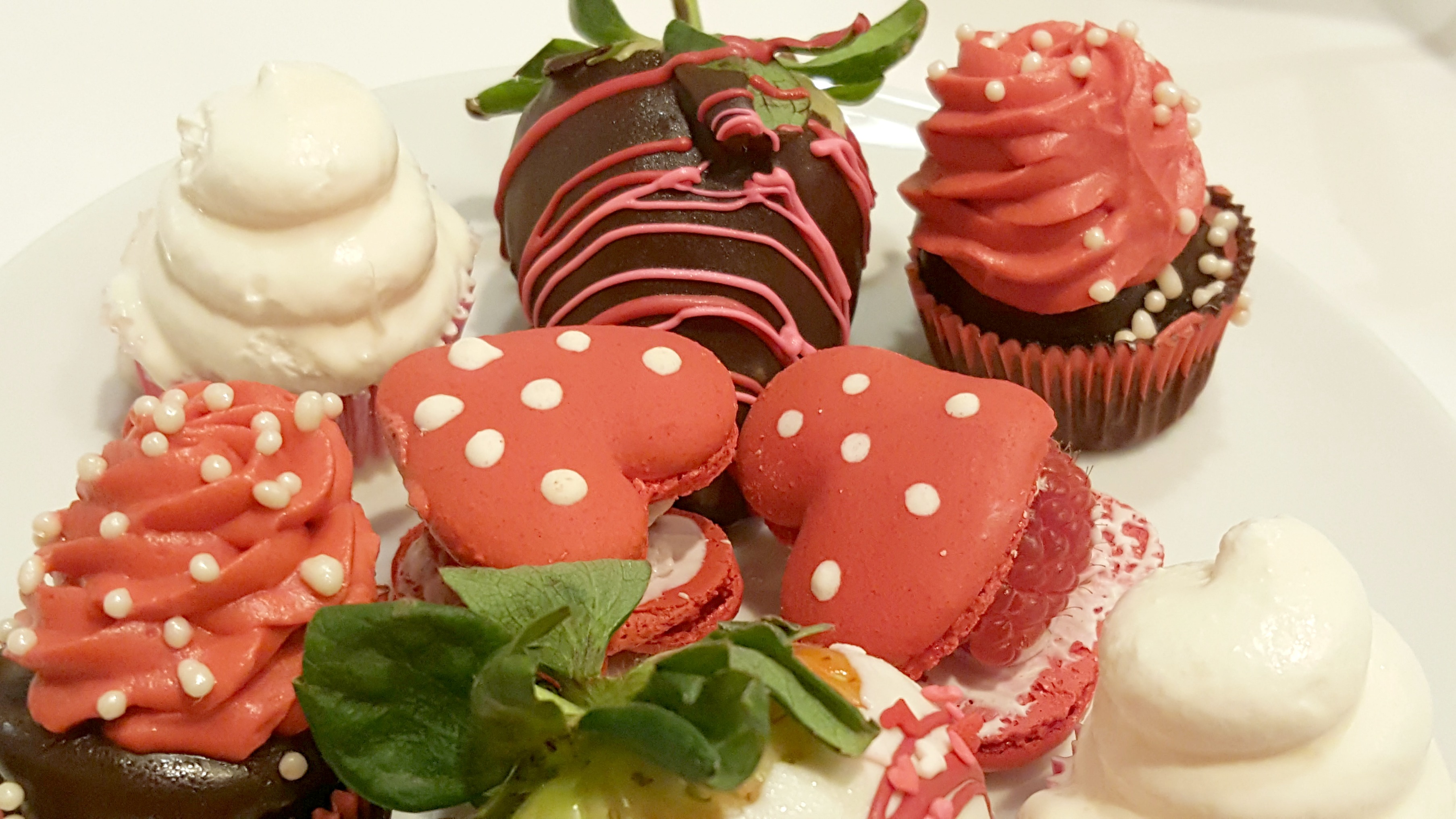 The bottom tray was an adorable plate of Valentine's themed desserts.  We enjoyed some macarons, cupcakes and chocolate covered strawberries as we sipped the last of our sparkling wine and tea.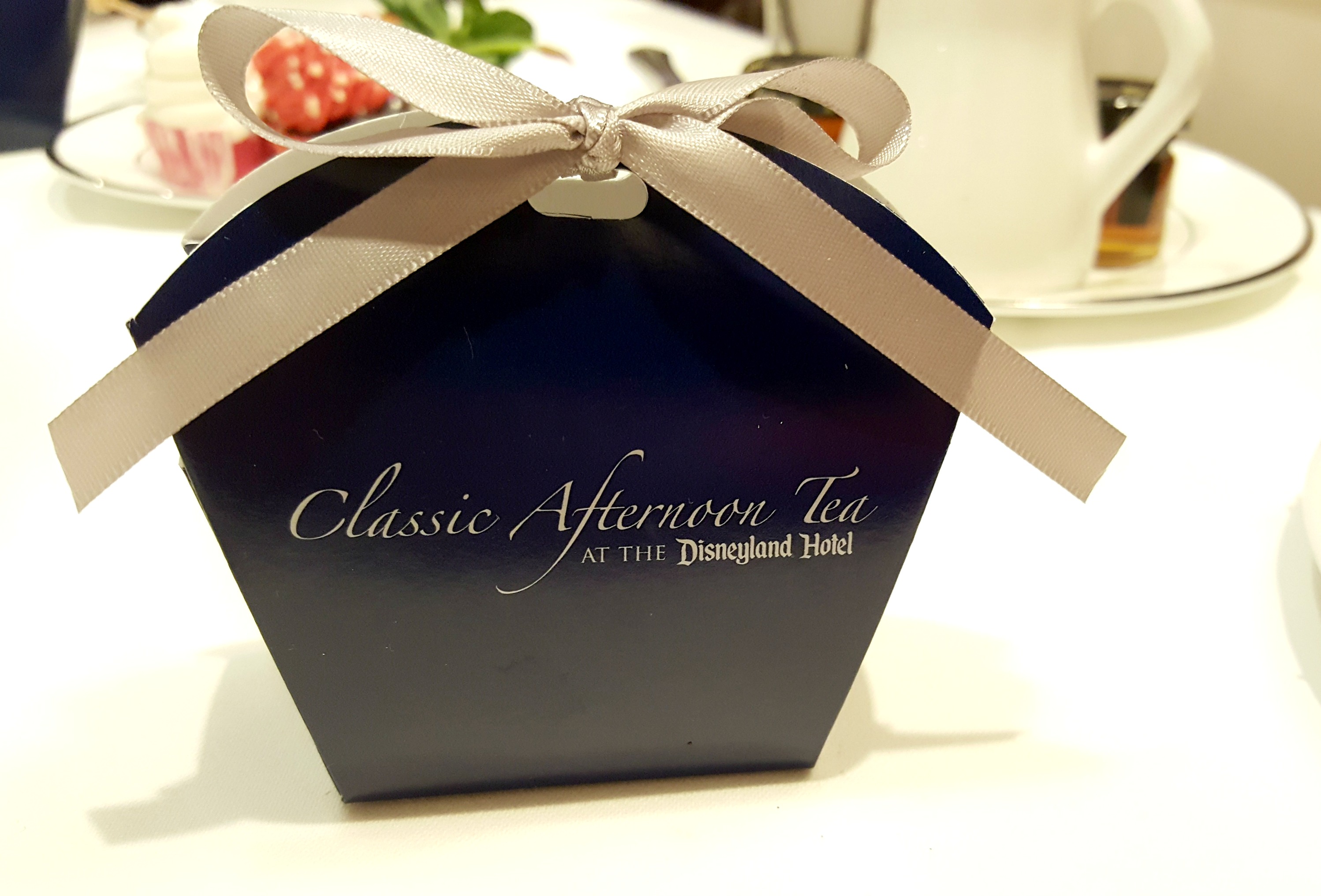 To complete your amazing experience you get a magical box with some decadent Farewell Chocolate Truffles. It's the perfect ending to an amazing experience, just like in a fairy tale. I am already dreaming of going back to enjoy  another round of tea. We are hoping to be able to get a reservation for either the Halloween or Christmas Teas. Will you be joining in for some tea? Enjoy!