Coming Next Week! Disney on Ice Presents Worlds of Enchantment!
By Erin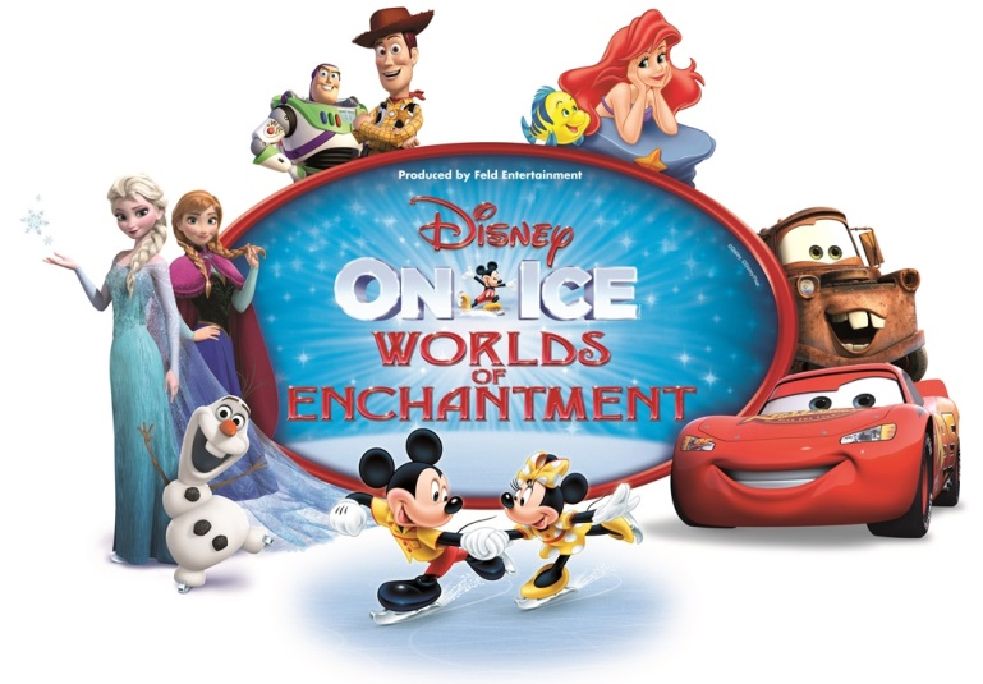 Coming next week to the Southern California area, Disney On Ice Presents Worlds of Enchantment will be skating into a city near you. Get ready for non-stop family fun with four of your favorite Disney stories. This action-packed ice spectacular showcases beloved characters from Disney•Pixar's Cars, Toy Story 3, Disney's The Little Mermaid plus the enchanting Academy Award -winning Frozen. Produced by Feld Entertainment, Disney On Ice presents Worlds of Enchantment is performing from December 15 through January 8, 2017 in Los Angeles (STAPLES Center), Anaheim (Honda Center), Long Beach (Long Beach Arena) and Ontario (Citizens Business Bank Arena). We will be attending as media to cover this magical show!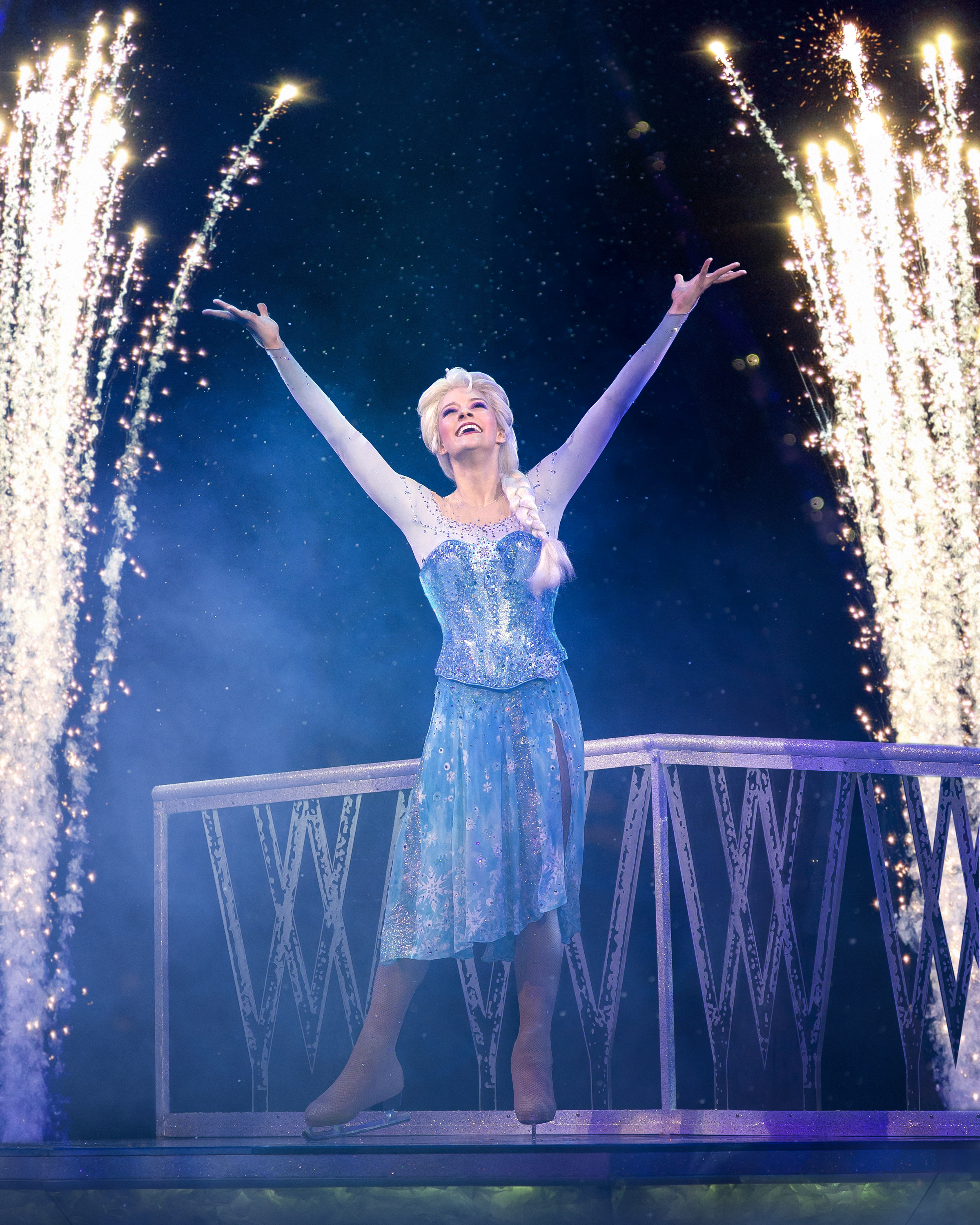 Thrill to high-speed stunts and high-octane fun, as Lightning McQueen, Mater and the crew of Disney•Pixar's Cars race across the ice.  Dive into adventure with Ariel from Disney's The Little Mermaid, as she explores her undersea kingdom.  The toys are back in town with heroic action when Buzz, Woody, Jessie and the Disney•Pixar Toy Story gang escape Sunnyside Daycare in a daring adventure to get back to Andy's room.  Plus, enter the wintery world of Arendelle with sisters Anna and Elsa and pals Olaf and Kristoff from Disney's Frozen as they learn that true love comes from within. Make sure to get your tickets here www.DisneyOnIce.com!! Use the special code: MOM20 to get 20% off your tickets too!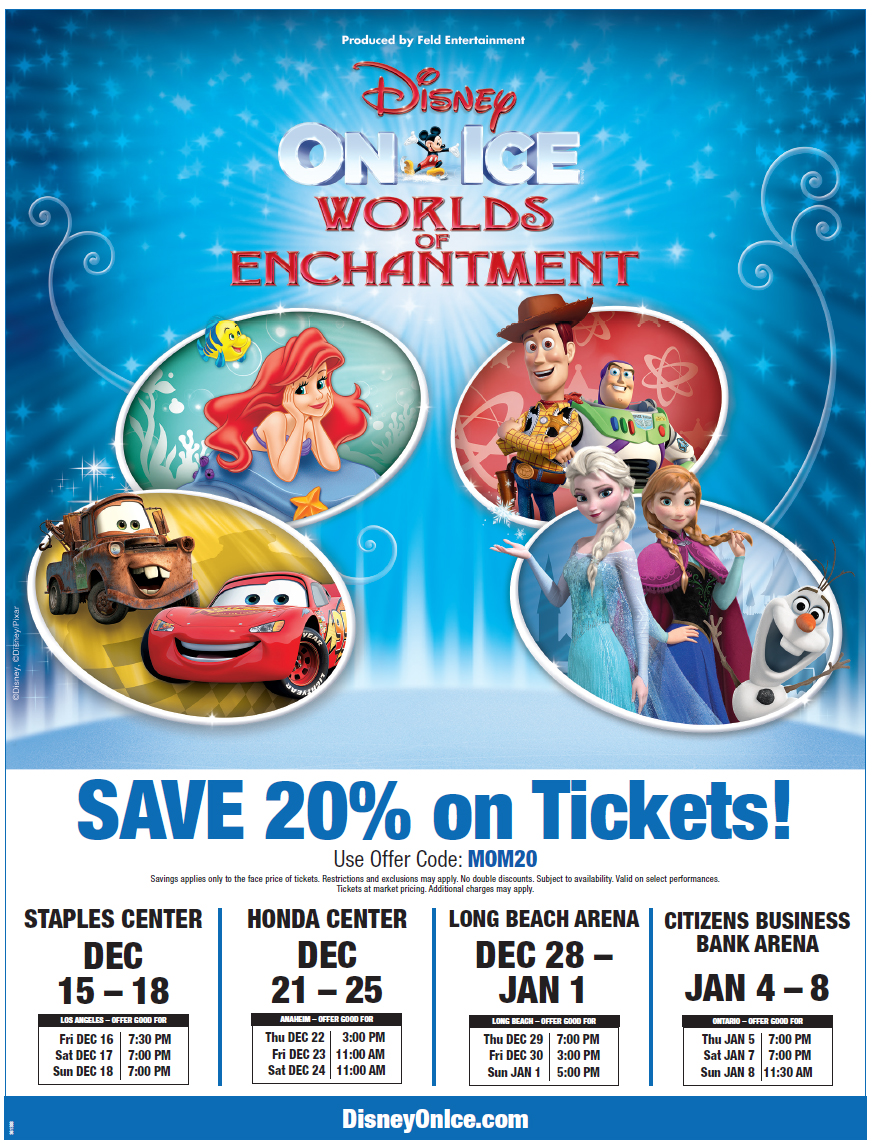 Here's some more info on where you can go see the show in Southern California!
LOS ANGELES – STAPLES Center
WHEN:
Thursday, December 15 – Sunday, December 18
Thursday, December 15  7:30pm
Friday, December 16th   7:30pm
Saturday, December 17  11:00 AM, 3:00 PM & 7:00 PM
Sunday, December 18    11:00 AM, 3:00 PM & 7:00 PM
WHERE: STAPLES Center – 1111 South Figueroa Street, Los Angeles, CA 90015
TICKETS: Ticket prices start at $25! Discount Opening Night tickets available for as low as $15 each on select seating (not valid for premium VIP/Front Row seating) Tickets available for purchase online at Ticketmaster.com, charge by phone at 800-745-3000 or in-person at the venue Box Office. *prices subject to change; additional venue/ticketing fees may apply
  ANAHEIM – HONDA CENTER
WHEN :
Wednesday, December 21 – Sunday, December 25
Wednesday, December 21 7:00 PM
Thursday, December 22 3:00 PM & 7:00 PM
Friday, December 23 11:00 AM, 3:00 PM & 7:00 PM
Saturday, December 24 11:00 AM & 3:00 PM
Sunday, December 25 1:00 PM & 5:00 PM
WHERE: Honda Center – 2695 E. Katella Avenue, Anaheim, CA 92806
TICKETS: Ticket prices start at $25! Discount Opening Night tickets available for as low as $15 each on select seating (not valid for premium VIP/Front Row seating) Tickets available for purchase online at Ticketmaster.com, charge by phone at 800-745-3000 or in-person at the venue Box Office. *prices subject to change; additional venue/ticketing fees may apply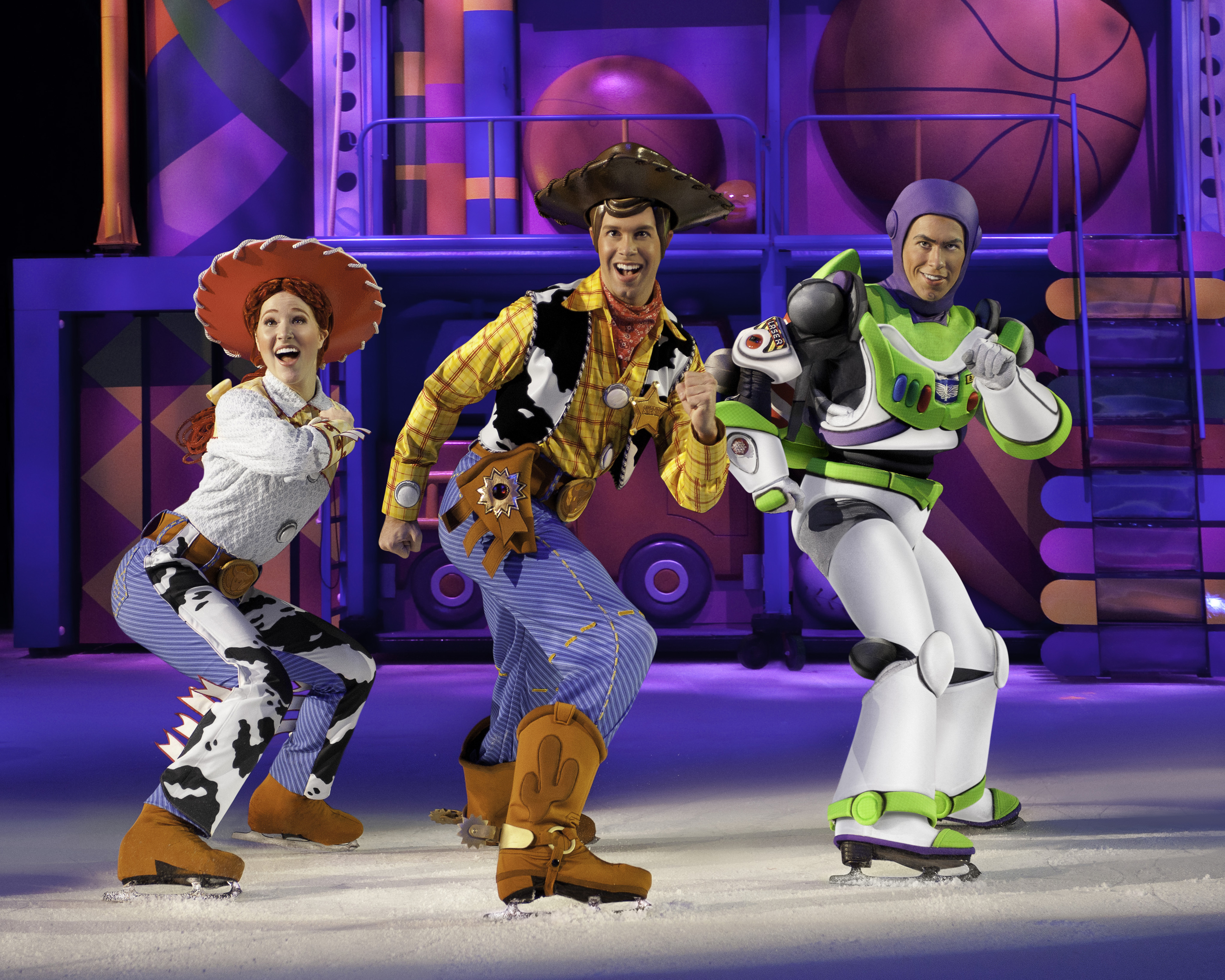 LONG BEACH – LONG BEACH ARENA
WHEN:
Wednesday, December 28, 2016 – Sunday, January 1, 2017
Wednesday, December 28 7:00 PM
Thursday, December 29 7:00 PM
Friday, December 30 3:00 PM & 7:00 PM
Saturday, December 31 11:30 AM & 3:30 PM
Sunday, January 1 1:00 PM & 5:00 PM
WHERE: Long Beach Arena – 300 E. Ocean Blvd, Long Beach, CA 90802
TICKETS: Ticket prices start at $25! Discount Opening Night tickets available for as low as $15 each on select seating (not valid for premium VIP/Front Row seating) Tickets available for purchase online at Ticketmaster.com, charge by phone at 800-745-3000 or in-person at the venue Box Office. *prices subject to change; additional venue/ticketing fees may apply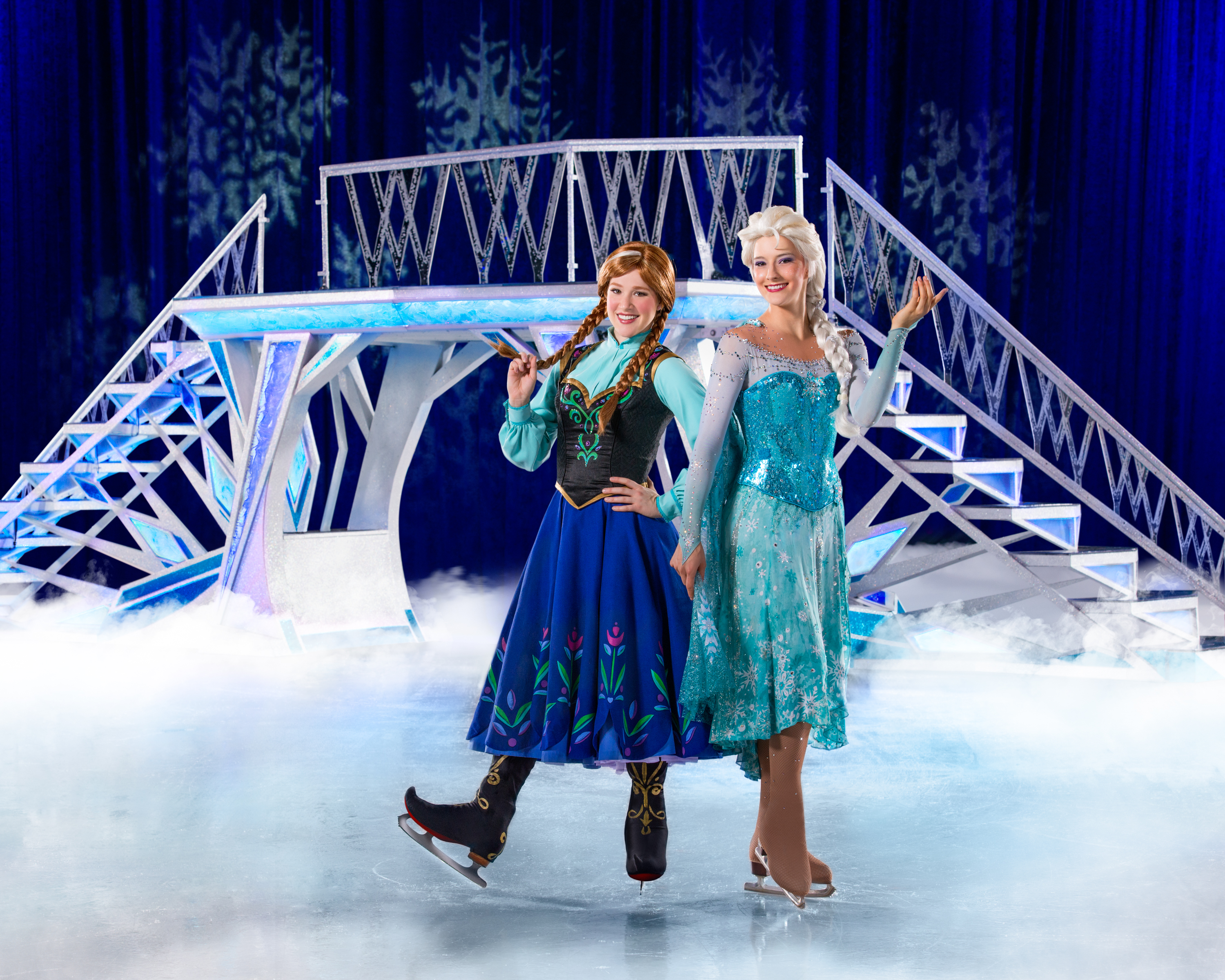 ONTARIO – CITIZENS BUSINESS BANK ARENA
WHEN:
Wednesday, January 4 – Sunday, January 8, 2017
Wednesday, January 4 7:00 PM
Thursday, January 5 7:00 PM
Friday, January 6 7:00 PM
Saturday, January 7 11:00 AM, 3:00 PM & 7:00 PM
Sunday, January 8 11:30 AM & 3:30 PM
WHERE: Citizens Business Bank Arena – 4000 Ontario Center Parkway, Ontario, CA 91764
TICKETS: Ticket prices start at $25! Discount Opening Night tickets available for as low as $15 each on select seating (not valid for premium VIP/Front Row seating) Tickets available for purchase online at Ticketmaster.com, charge by phone at 800-745-3000 or in-person at the venue Box Office. *prices subject to change; additional venue/ticketing fees may app