Moana
By Erin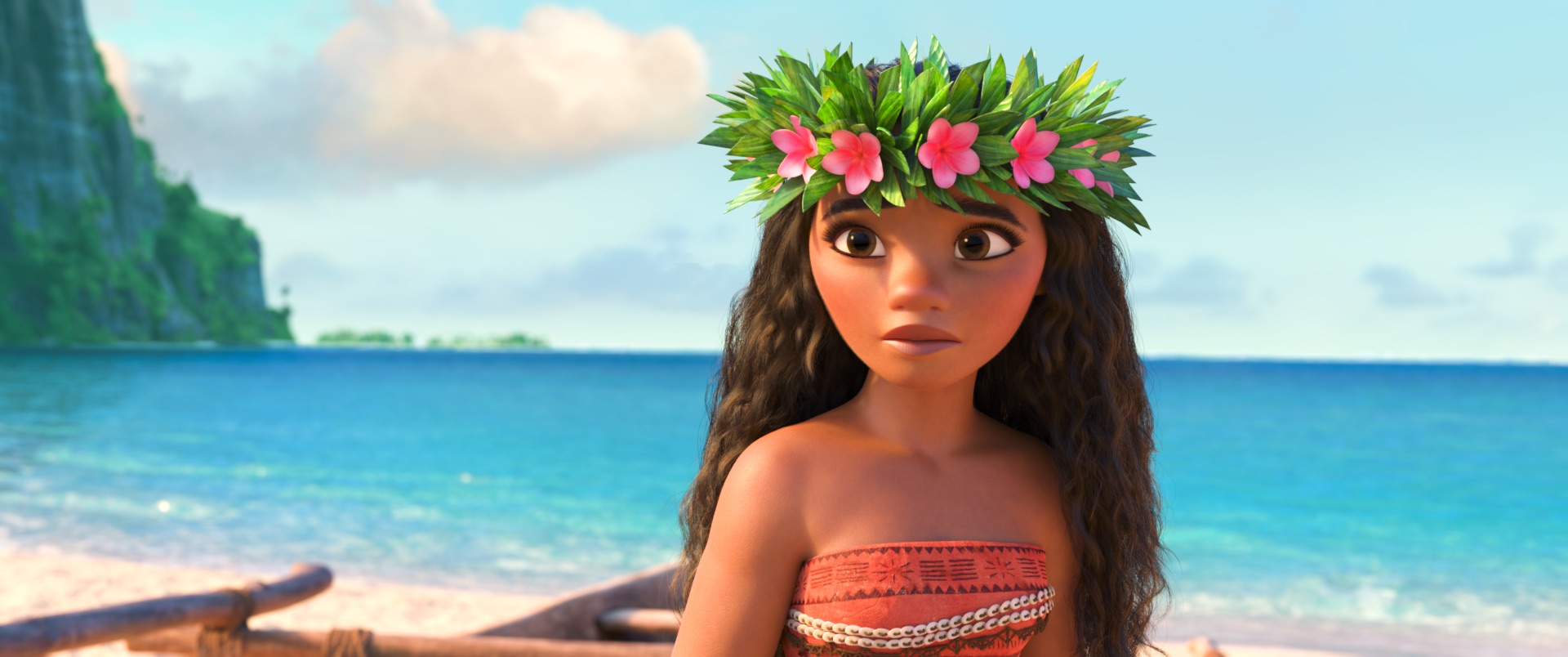 Moana. ©2016 Disney
Three thousand years ago, the greatest sailors in the world voyaged across the vast Pacific, discovering the many islands of Oceania. But then, for a millennium, their voyages stopped – and no one knows exactly why.
From Walt Disney Animation Studios comes "Moana," a sweeping, CG-animated feature film about an adventurous teenager who sails out on a daring mission to save her people. During her journey, Moana (voice of Auli'i Cravalho) meets the mighty demigod Maui (voice of Dwayne Johnson), a larger-than-life trickster and shapeshifter who was inspired by multitudes of varied tales and legends about him throughout the Oceania region. He can pull up whole islands from the sea with his fishhook; he has the power to slow down the sun. Maui is on his own journey of self-discovery and he reluctantly guides Moana in her quest to become a master wayfinder and save her people. Together, they sail across the open ocean on an action-packed voyage, encountering enormous monsters and impossible odds, and along the way, she fulfills the ancient quest of her ancestors and discovers the one thing she's always sought: her own identity.
For as long as Moana can remember, through the stories of her ancestors that her grandmother shares, the island they live on had always been lush and beautiful. Now everything is dying out. There are no more fish to be found anywhere in the reefs. Coconuts are dried out and rotting. Plants and flowers aren't blooming. The island is growing dark. The ocean is calling Moana, but her father forbids her from going out into the ocean. She knows she needs to go for it though to help save her people. Through the tales that her aging grandmother tells her, she learns about Maui. Demigod of the wind and the sea who attempted to steal the heart of Te Fiti. The heart is lost in the process though and Maui disappears. Moana's grandmother knows Moana is their only hope and encourages her to listen to her heart. What happens next? Go see the movie to find out! It's way more magical than I could ever make it by telling you the whole story here.
Both young and old will fall in love with Moana. This isn't your typical Disney princess movie. Moana is a  sweeping magical musical adventure that kicks the old Disney princess mold and brings us something that feels fresh and alive. There is no prince charming or any kind of love interest. She is determined to become a master wayfinder and is a bit of a tomboy. Both boys and girls can fall in love with this Disney Princess and learn to listen to their own intuition, to follow their heart and that working together is the only way to make big things happen in this world. Other characters like Pua and Hei Hei will have you laughing out loud too with their actions. This film is full of heart, but it's also full of some really great laugh out loud comedy too. You will also want to go out and buy them at your nearest Disney Store, they are just that lovable and oh so cute!
The soundtrack is also something you will want to look out for. It is filled with catchy songs and island music. Lin-Manuel Miranda did an awesome job of capturing the heart and soul of the story of Moana. I absolutely love and adore the music and so will you. Also, come on everyone, The Rock is Maui! How can you not? He is the most sexiest man alive, er I mean demi god!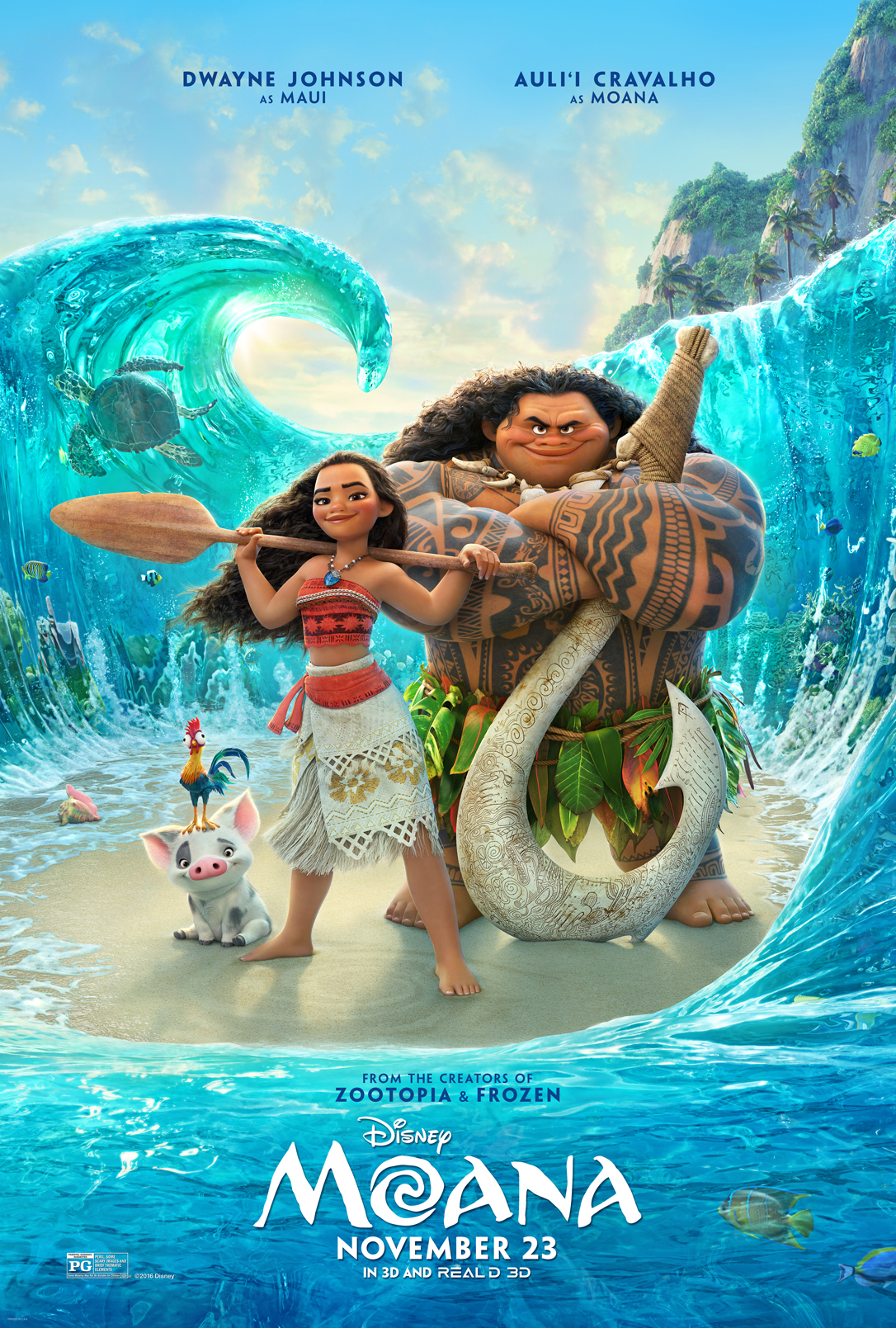 This Thanksgiving make sure you go out and see this one, you will be thankful you did! 😉 Happy Thanksgiving!

Moana is out in theaters everywhere now! 
Like MOANA on Facebook: https://www.facebook.com/disneymoana
Follow MOANA on Twitter: https://twitter.com/disneymoana
Visit the official MOANA website here: http://movies.disney.com/moana