Odysseo by Cavalia  is Back in Orange County!
By Erin
*I have been invited to the show as media. All thoughts and opinions remain my own. I am a lifelong horse lover so of course this show is something I have a HUGE love and passion for!* <3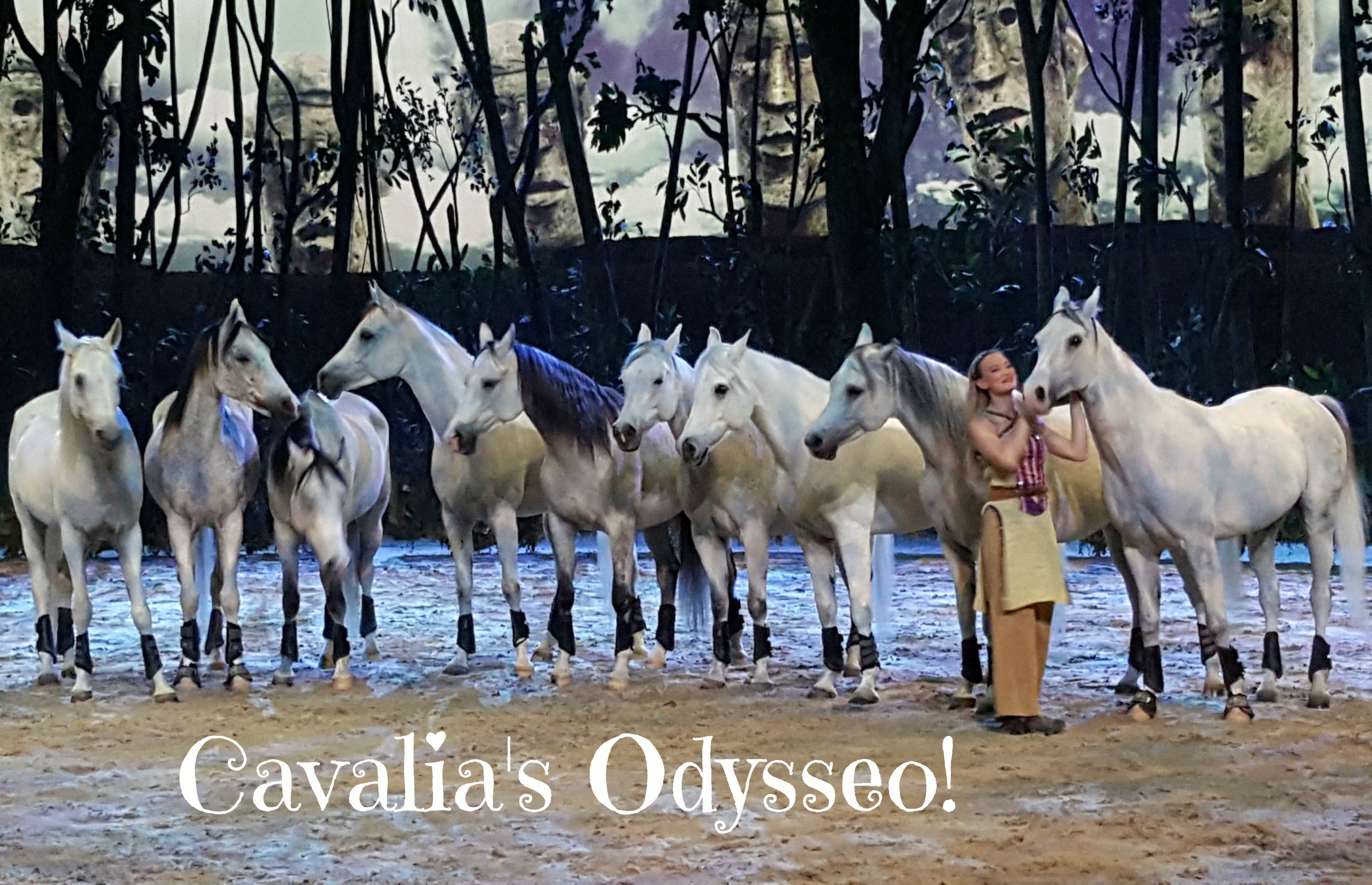 Odysseo by Cavalia is now back in Orange County for the holidays! Horse lovers everywhere will rejoice with the return of this majestic show. You recently might have seen the White Big Top again along the freeway off the 405 and 133.  The show will be in town through January 8th, 2017 so you can enjoy one of the best shows that has ever been created. Watch as horses and man come together to perform some pretty amazing routines.
"Odysseo marries the equestrian arts, stage arts and high-tech theatrical effects at never-beforeseen levels. A veritable revolution in live performance, Odysseo comprises a list of superlatives: the world's largest touring production and traveling big top, the biggest stage, the most beautiful visual effects, and the largest number of horses at liberty. Odysseo features 65 horses of 11 different breeds of horses, riders, acrobats and musicians as together they embark on a soulful journey from the Mongolian steppes to Monument Valley, from the African savannah to Nordic glaciers, from the Sahara to Easter Island."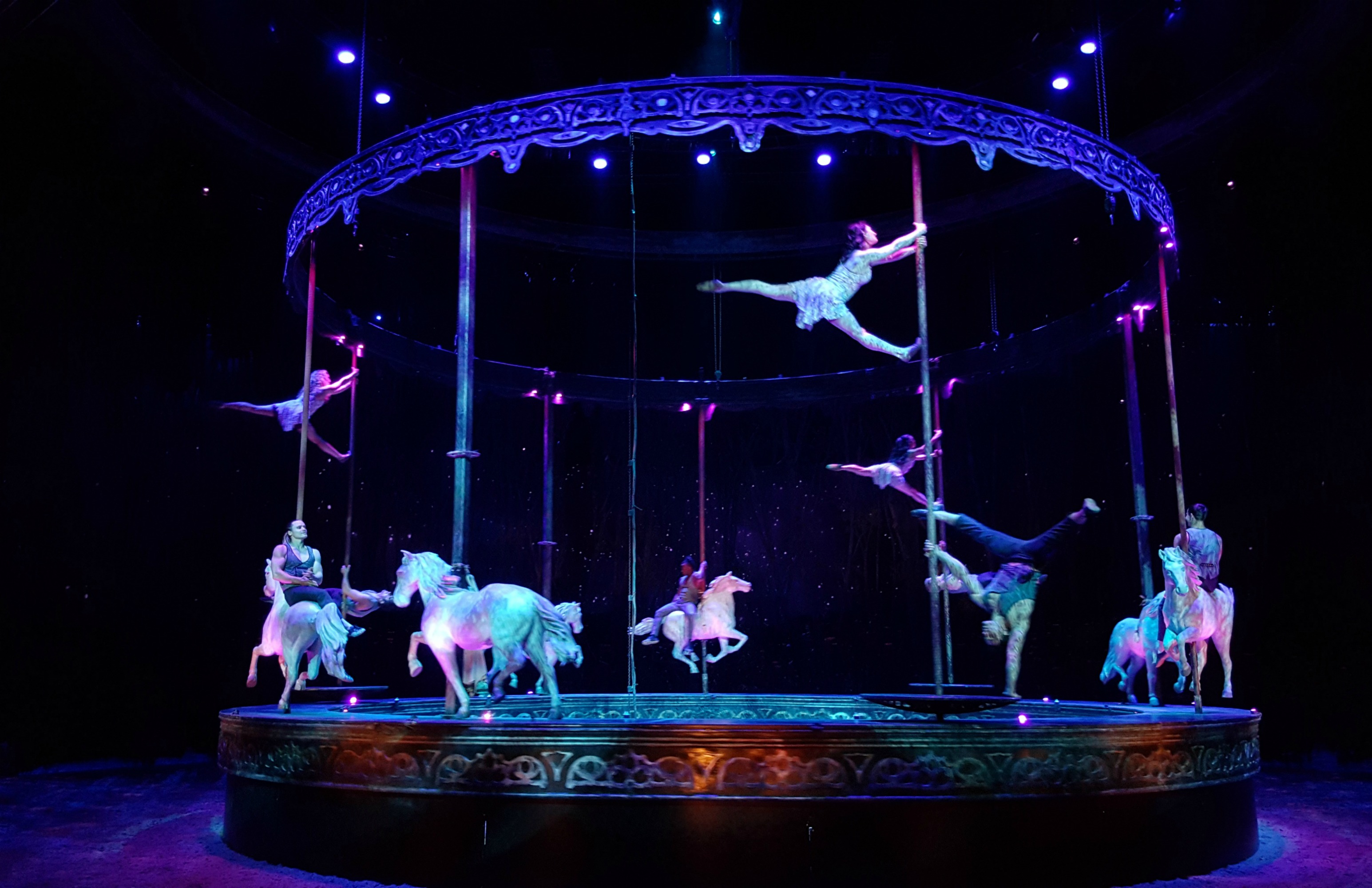 Odysseo by Cavalia Info!
WHEN: November 16 to January 8, 2017
WHERE: Under the White Big Top in Orange County at the junction of the I-405 & the SR-133 in Irvine
Want to go? Get YOUR TICKETS!!! Available at www.cavalia.net and by calling 1-866-999-8111. Tickets are priced from $29.50 to $254.50 + applicable taxes and fees. Special pricing & packages available for groups, children (2-12), juniors (13-17) and seniors (65+).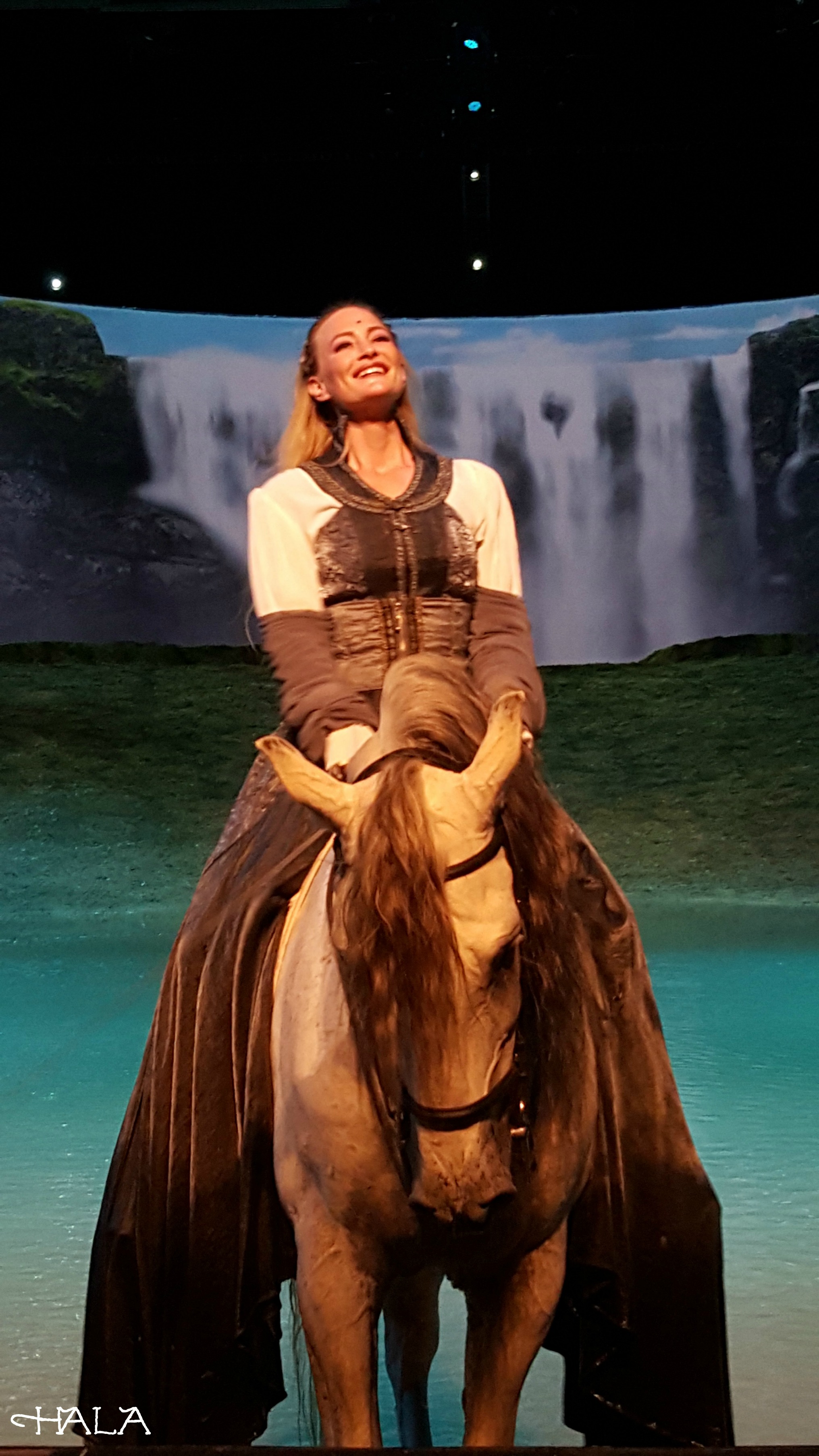 Fascinating Facts about the Show:
* Odysseo features 65 horses of 11 different breeds including the Appaloosa, Arabian, Australian Stockhorse, Holsteiner, Lusitano, Paint Horse, Percheron Hanoverian Cross, Quarter Horse, Thoroughbred, Selle Français and Spanish Purebred (P.R.E.).
*The horses are from Spain, Portugal, France, Germany, Australia, the United States and Canada.
* There are 48 artists – riders, acrobats, aerialists, dancers and musicians.
*The artists are from around the world including the United States, Canada, Brazil, France, Guinea (Africa), Russia, Spain, Ukraine, Italy and Australia.
* There are 350 costumes and 100 pairs of shoes and boots in the show. Artists may have up to seven different costumes.
* An artist may have no more than 30 seconds to do a quick costume change between numbers.
*A team of 13 dressmakers, one property master, one designer and one shoemaker worked in the Odysseo studios to create the costumes.
*Materials used in the costumes include linen, silk, cotton, leather and some imitation fur. The use of natural fibers gives the clothes sheen and lets them fall in a way that synthetic fibers simply cannot match.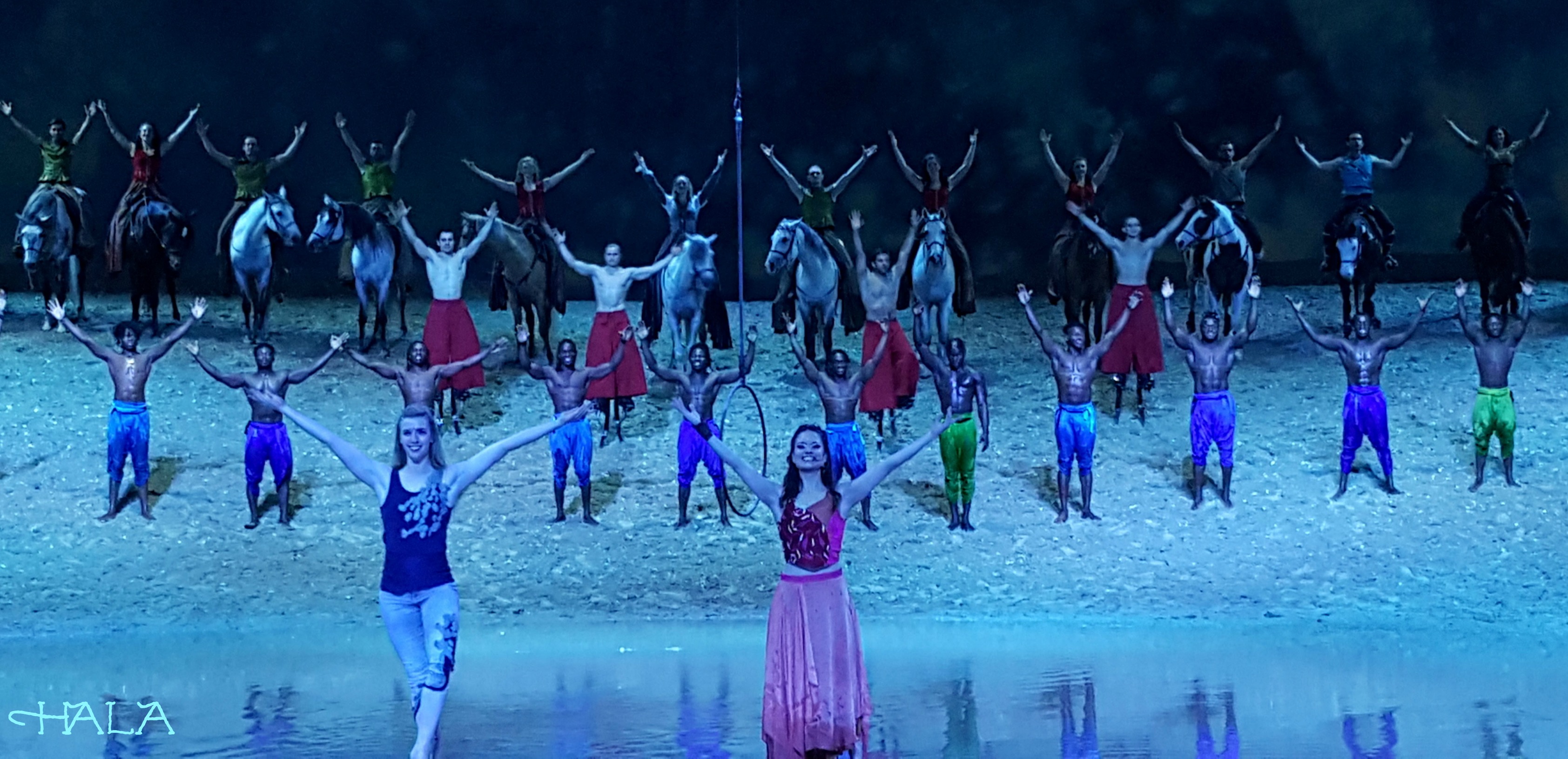 * The costumes are adapted to the artists' needs, especially those of the acrobats and riders, to facilitate their onstage movement while not compromising their appearance.
*The on-tour costume department consists of one wardrobe person and three dressers who launders, mends and cares for the costumes. At times during the show, they juggle 15 simultaneous wardrobe changes. They have two sewing machines, one shoe-repair machine and one overlock machine.
*The White Big Top stands 125 feet tall, higher than the Sleeping Beauty Castle in Disneyland (77 feet)!
*The seating capacity is for 2,000 people. Air conditioning and heat are available.
*The stage is approximately 17,500 square feet, an area larger than the Anaheim Duck hockey rink.
*An underground drain system is built to flood 40,000 gallons of recycled water onto the stage for the splashing finale. After the show, it takes 15 minutes to drain the water.

 Be sure to get to the show early to check out some pretty amazing artwork and find that perfect gift or souvenir for yourself to remember the moment forever!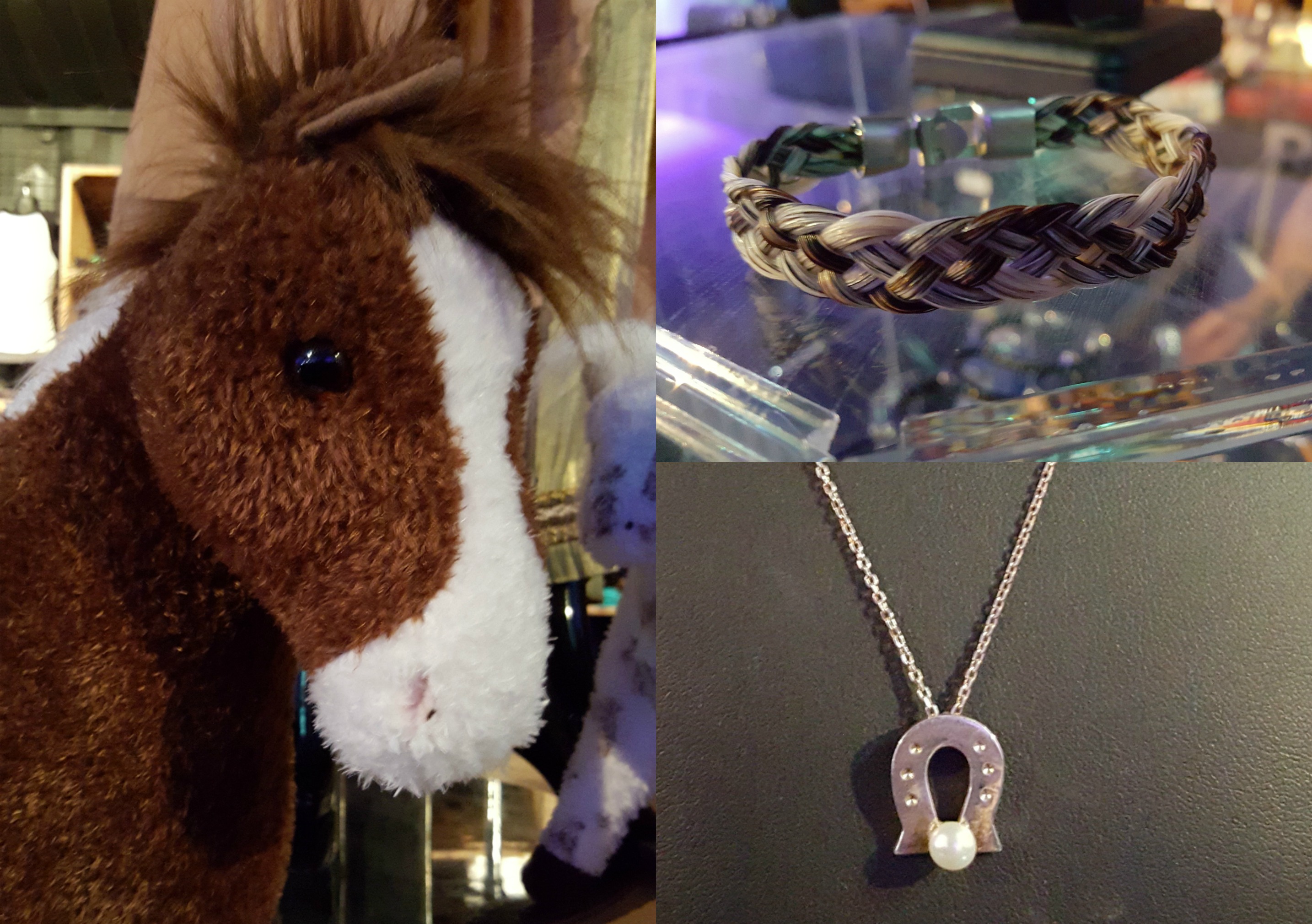 Such beautiful and unique items to choose from!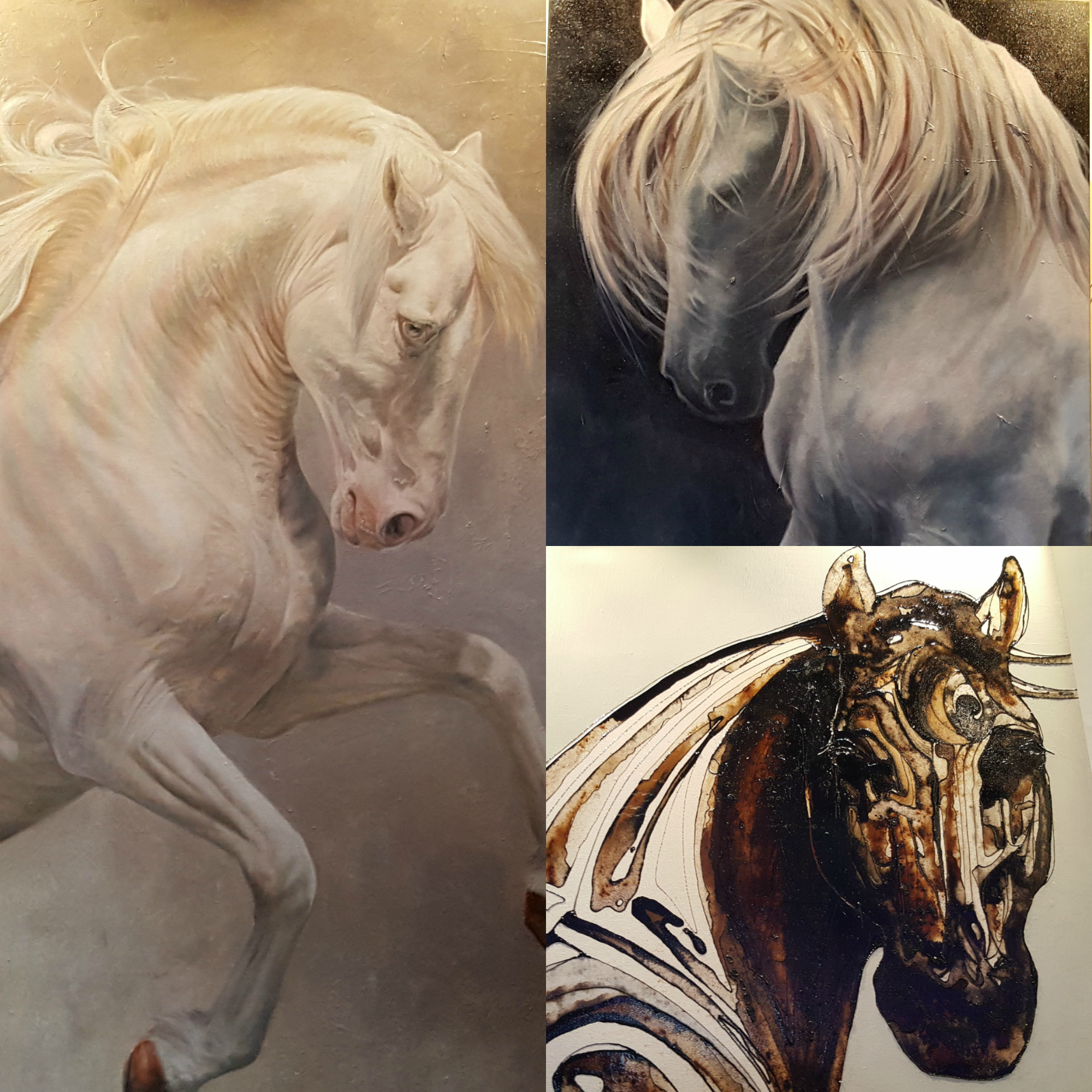 Awe inspiring artwork of our magical equine friends are available for purchase too!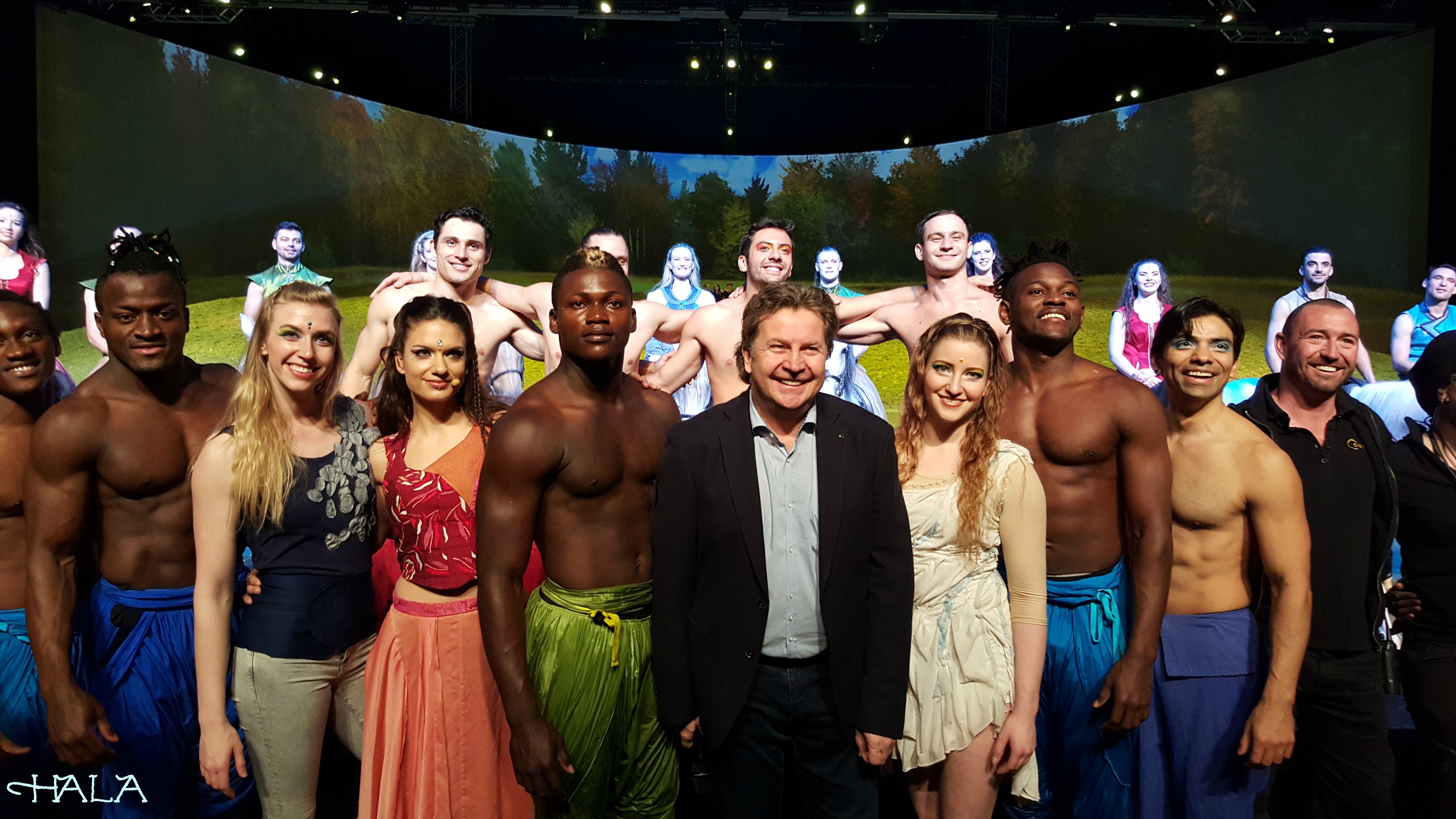 Enjoy the show!!