Meet the Cast of Doctor Strange!
By Erin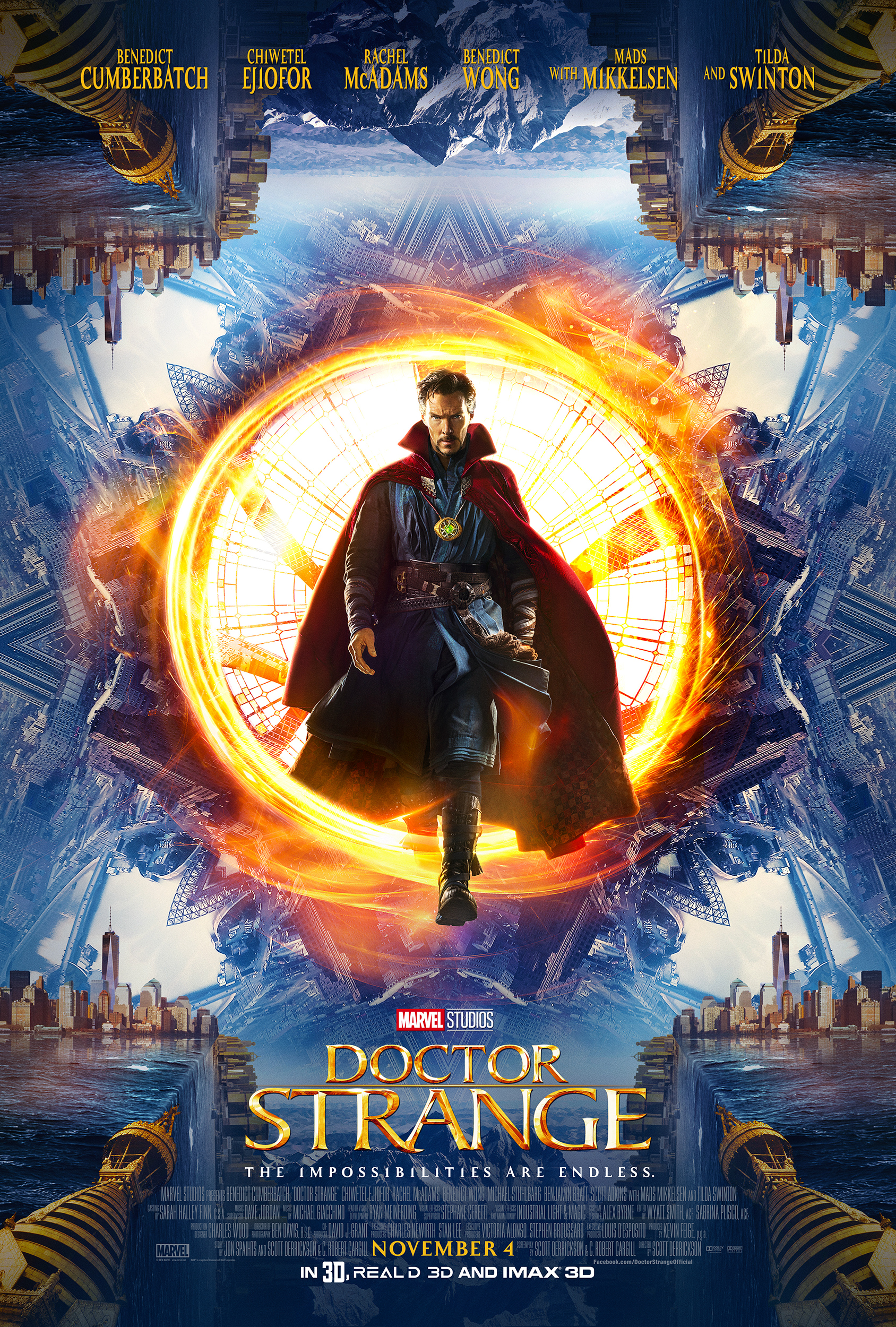 Marvel Studios has created more movie magic with "Doctor Strange!"  Coming out in theaters this Friday, November 4. You won't want to miss it! Doctor Stephen Strange, the Master of the Mystic Arts, made his first appearance in Marvel comics in 1963. Th Marvel Cinematic Universe opens up a host of new, electrifying stories and exciting, mystifying, never-before-seen action with this one. There has always been a very important supernatural side to the Marvel comics, and 'Doctor Strange' is the perfect entry point into that realm, with parallel dimensions, alternate dimensions and the multiverse, which unlocks an entirely new area of storytelling.
The story follows world-famous neurosurgeon Dr. Stephen Strange, whose life forever changes after he gets himself into a horrific car accident where he ends up losing the ability to be able to use his hands. Traditional medicine fails him miserably, and he is willing to do anything to heal his precious hands. He ends up in an unlikely place—a mysterious enclave known as Kamar-Taj. He soon finds out that this is not just a center for healing but also the front line of a battle against unseen dark forces bent on destroying reality. Strange finds out he has some magical powers of is own and is forced to choose to either return to his old life or to defend the world as the most powerful sorcerer in existence.
The other week I had the opportunity to meet the cast of this action-packed film. Here are a few fun and exciting things they had to share with us.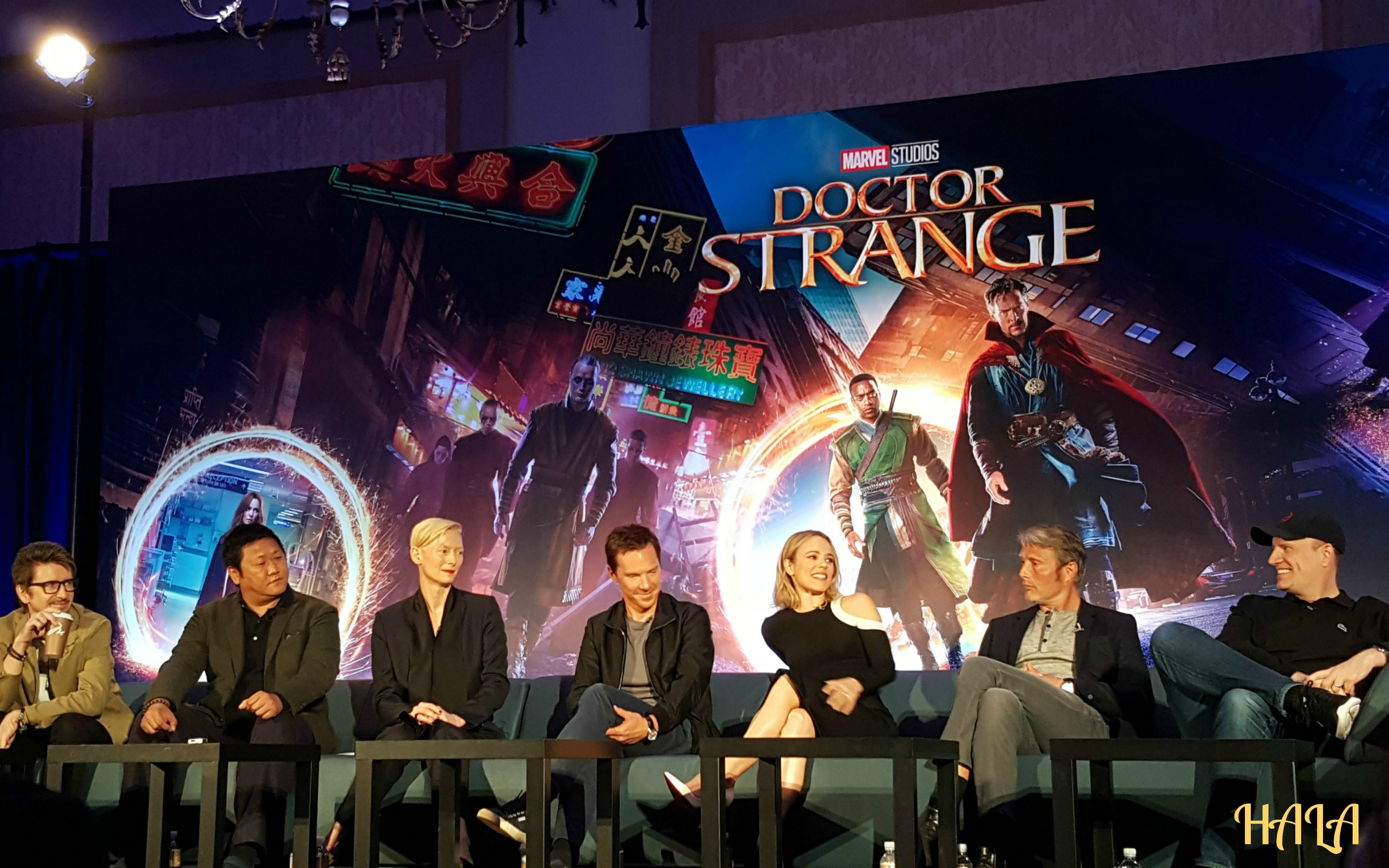 Talent in attendance
·         Benedict Cumberbatch ("Dr. Stephen Strange")
·         Rachel McAdams ("Christine Palmer")
·         Tilda Swinton ("The Ancient One")
·         Benedict Wong ("Wong")
·         Mads Mikkelsen ("Kaecilius")
·         Director Scott Derrickson
·         Producer Kevin Feige
Kevin Feige shared with us about the right time to bring Dr. Strange into the Marvel Cinematic Universe "Sometimes things just work out, timing often, particularly in the cinematic universe, works out well for us, and it'll be our 14th film within the MCU and we always say we have to push the boundaries, we have to keep surprising people, we have to keep making them unique and different, and certainly this movie and this character fits all of that. Also tapping into other dimensions and tapping into sort of that supernatural realm of the Marvel Comic Universe is going to come in handy, as we move forward throughout the Cinematic Universe, so the timing was perfect."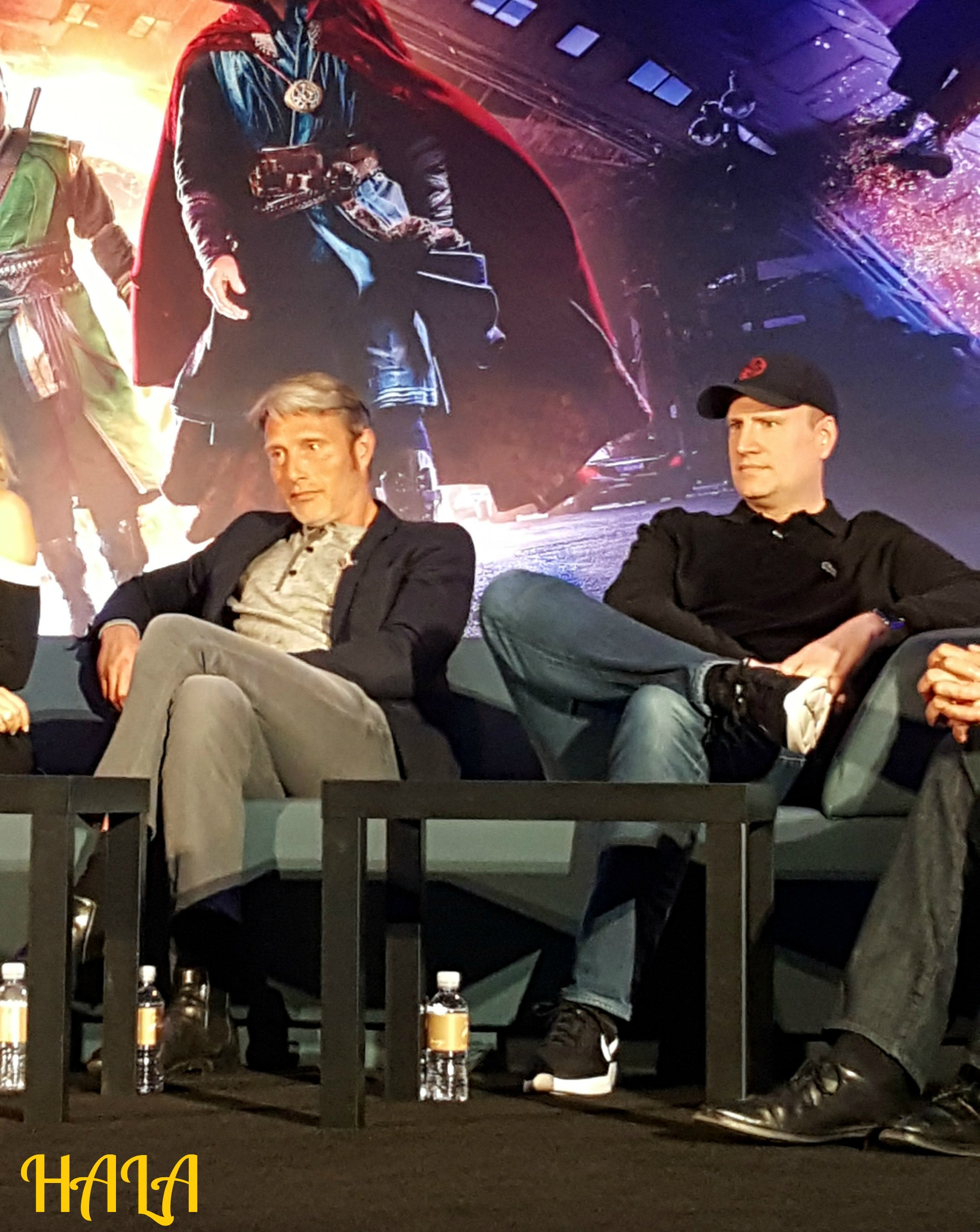 Scott Derrickson added to that how Doctor Strange was a product of the Sixties and was a big breath of fresh air into the world of comics at that time, and as a fan watching movies felt ready for some new, daring, weird left turns in the world of comic books and the MCU. Guardians of the Galaxy was that and was such a bold that movie. When he came in to meet for Doctor Strange, his approach was, let's make this as weird in the MCU as the comic was in the comic book world in the Sixties. I think they've done a good job accomplishing this!
One of the biggest challenges of the movie and to keep it fresh according to Scott, was to try to make a movie that is as visually progressive by movie standards as the Ditko art was in the Sixties. "The primary source of inspiration was the early Stan Lee, Steve Ditko comics, and that artwork is still progressive. That was the primary source of inspiration and visual effects have just caughten up to where we can do some of the things that we did in this movie. The trick of it was to not hold back and to push ourselves as far as possible to do original things with the set pieces."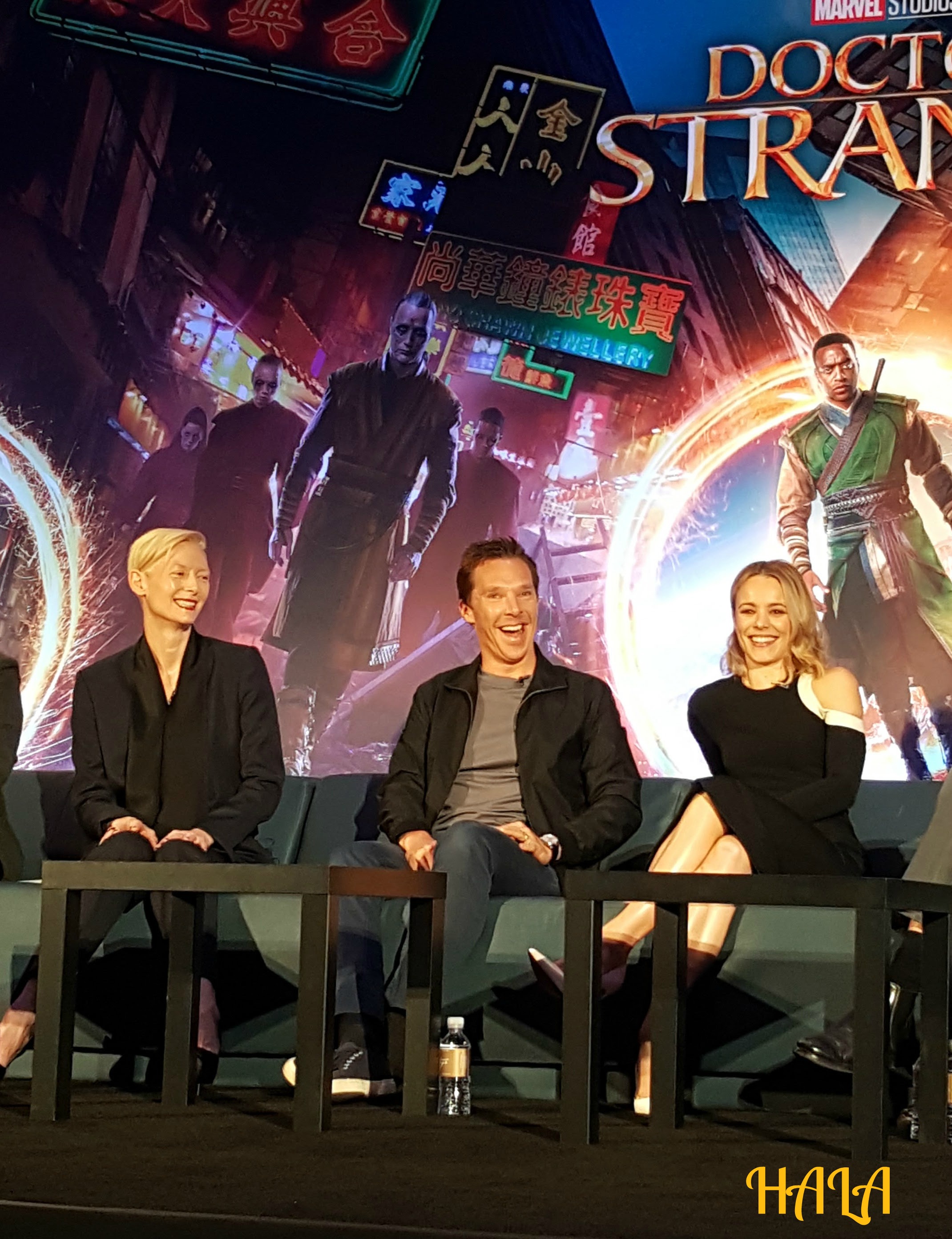 What was Benedict Cumberbatch's thoughts when first trying on the cloak and saw himself as Doctor Strange?  " I was sort of giddy like a child at Halloween. It was the first moment and Alex spotted it, our brilliant designer who's done a few of these films, and she went, Oh, you're having the superhero moment, aren't you? It really was the penny drop moment for me. When I first had that moment, it really was quite giddy. I just did stand up just giggling. And then the second time it really hit home was near the end of the main body of the shoot, when we were in New York, we were on Fifth Avenue and there were as many paparazzi as there were crew, it was getting a little bit surreal –it was just a moment of magic to think that the men and women that first crafted these comics on the floors of that building and other buildings in that town, and there I was playing one of those characters.
One other fun fact in the production timing of Doctor Strange was that it was pushed back from being a summer movie to the fall in order to include Benedict. Kevin and Scott had decided they wanted him for the role and they knew they would have to work around his commitment to Shakespeare's Hamlet in London. Benedict mentioned that it was incredibly flattering and a great motivator to get the role right.
Rachel McAdams is a newcomer to the Marvel Cinematic Universe, so what did she think of getting to be a part of a Marvel movie?  She replied, "You get  to  work  with  the  best  of  the  best  in  the  world,  what  they  do,  so  it's  just   this  like  treasure  trove  of  talent, so I  just  couldn't  wait  to  dive  into   that."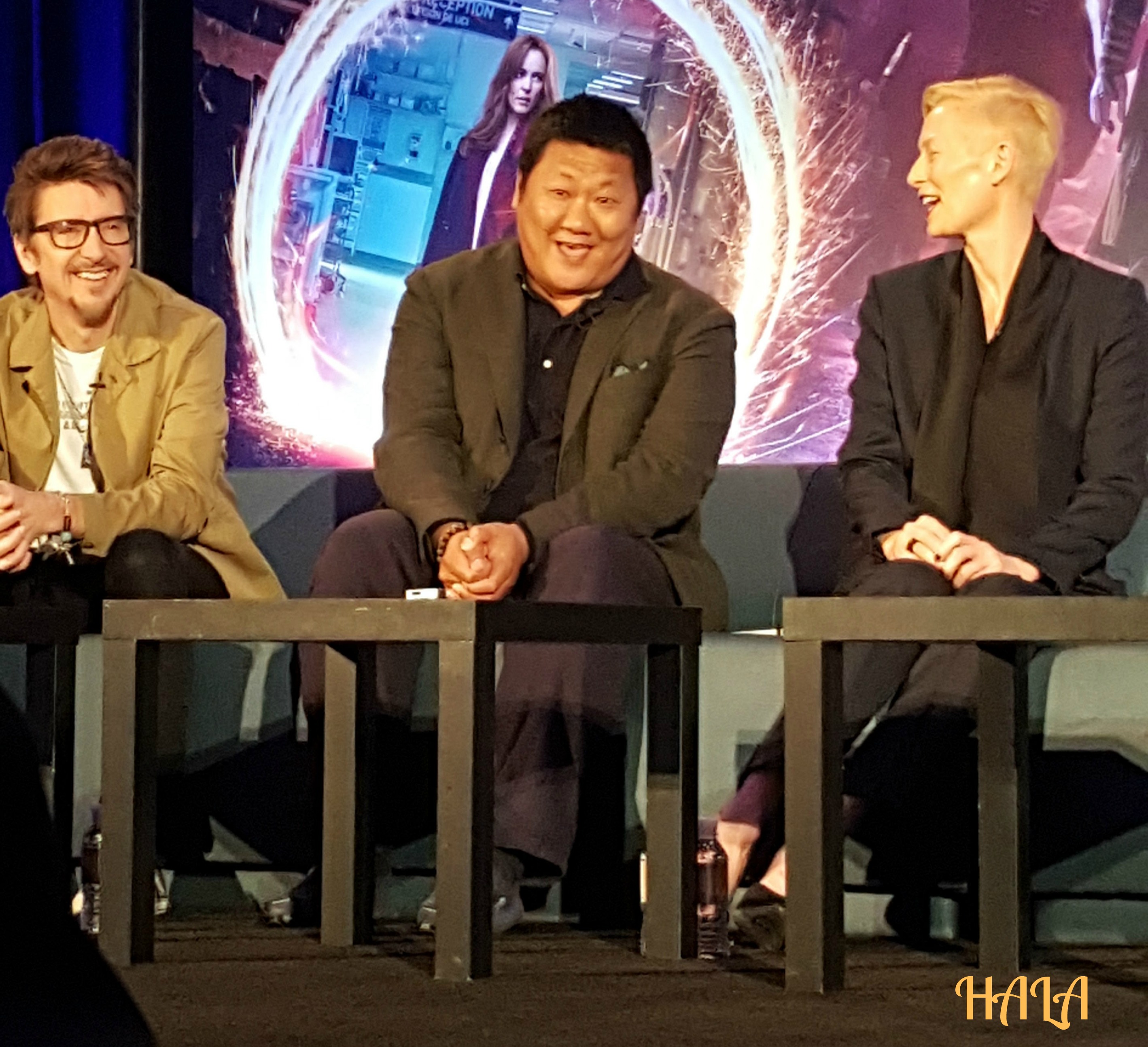 I loved Tilda Swinton's response to this same question too. "I  keep  saying  that  it's  a  bit  like  being  invited   to  join  the  circus,  you  know?  You  get  invited  to  be  the  bearded  lady  or  the  painted   gentleman  or  something  and  you  may  have  a  chance  in  the  future  to  play  with  a   clown  or  learn  a  bit  of  trapeze  or  work  with  the  ponies  with  the  plumes.  The  reason   that  feels  like  a  correct  way  to  describe  it  is  that  everybody's  so  psyched.  I  mean,   even  the  Sorcerer  Supreme,  Kevin  Feige's  just  the  super  fan  of  all  super  fans  and   he's  the  master  of  the  big  top  and  it  just  feels  such  a  lucky  break  for  everybody   who's  working  in  that  circus  top,  don't  you  think?"
It was so much fun to get to sit in on this one, I can't wait to see it again in theaters later this week! Until then make sure to check out the trailer below!
Like DOCTOR STRANGE on Facebook: https://www.facebook.com/DoctorStrangeMovie
Follow DOCTOR STRANGE on Twitter: https://twitter.com/DrStrange
Follow Marvel on Instagram: https://www.instagram.com/marvel/  
Visit the official DOCTOR STRANGE website here: https://marvel.com/doctorstrange
DOCTOR STRANGE opens in theatres everywhere on
November 4th

!