Trolls + The Boss Baby= 1 Awesome Comic Con 2016!
By Jonelle

A few weeks ago I was invited, by the DreamWorks Animation team to attend Comic Con, (yes, you read that right, Comic Con), and sit in on the Trolls panel in the infamous Hall H. So many great things come out of that hall and this was by far one of the greatest things I've seen in a long time.
The morning started out a bit rough. Having to get up at 4 a.m., to meet the caravan at the 20th Century Fox Studios was quite a feat. Let's just say we all slept on the way down to San Diego. However, the moment we reached the city limits my adrenalin was pumping. There was no sleeping now, one, I was going to Comic Con and two; I was going to meet Justin Timberlake and Anna Kendrick.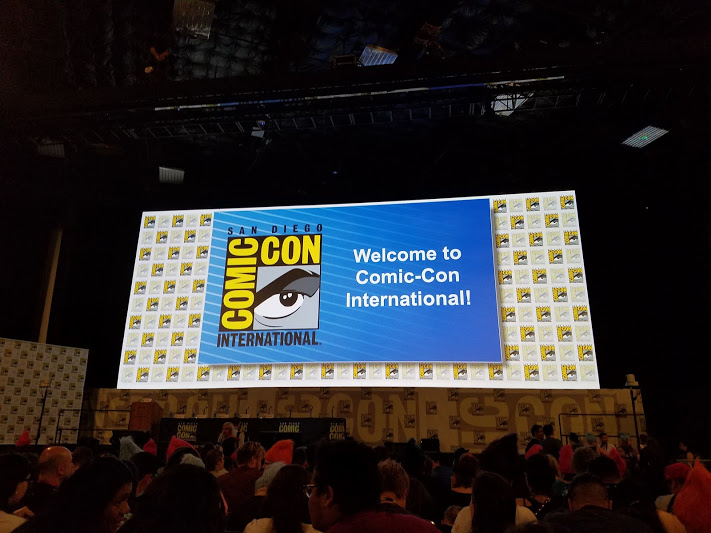 We were dropped off at the Hard Rock Hotel, where breakfast was waiting for us. I had just loaded my plate with eggs, when we were told it was time to head on over to the convention center. This was the moment we were waiting for. We were herded into Hall H where we were each given a Trolls wig. I got the pink wig. Great, now I have my costume for Halloween; I decided I'm going to be Poppy this year!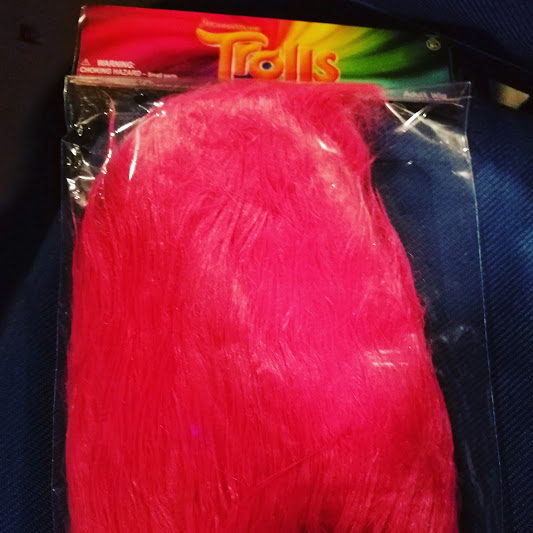 Trolls opens November 4th, a week after Halloween.  I remember growing up with the troll dolls, which according to Mike Mitchell and Walt Dohrn, the creators of Shrek, are the "ogres' distant cousins." I had a troll doll; he was cute and goofy looking all at the same time.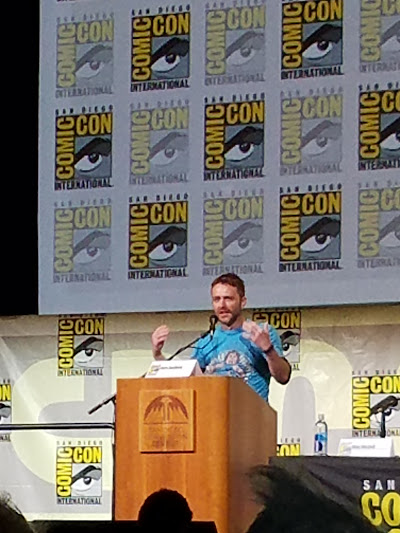 Chris Hardwick was the moderator for the panel and after he announced the cast and crew, the audience was treated to the first of two clips of the film. The colors were spectacular! DreamWorks Animation does an amazing job to make their animation look so realistic. For example, you can see every pore and bead of sweat on the humans in Shrek. During our round tables, later on in the afternoon, Mike Mitchell discussed this very thing. He said, "So it's great that things look realistic, but we tried to take that technology and do something different. So we built a very realistic forest, but then we applied different textures to it, like felt and carpet and our trolls look like gummy bears. And it was really exciting for us to take natural fibers and do this look we hadn't seen in other films."  This movie has a very 70's bright color vibe, with shag carpets and great music, (um, hello, Justin Timberlake's "Can't Stop the Feeling").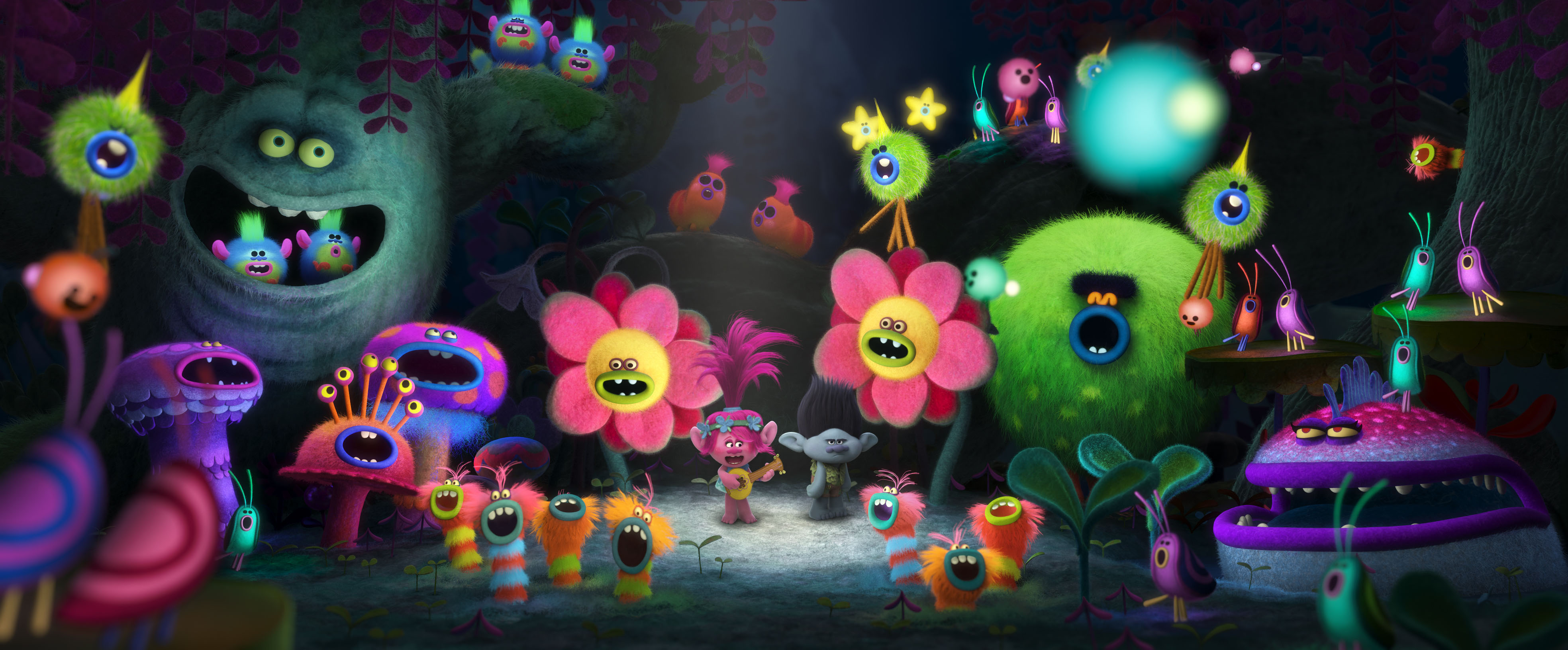 No pictures or filming were allowed in the presentation hall during the movie clips, but one thing is for certain, come November 4th, I will be filling a seat at the local theater to watch this movie. From what I saw, it was uber adorable and has an amazing message. You can't help but totally love Poppy, voiced by Anna Kendrick. She's pink (and pink is my signature color), but she also shows us that the tiniest heart can make a huge difference and do great things. Poppy is really upbeat, positive, happy and optimistic. She can't help but make you smile. With the world the way it is right now, we need positive, happy movies like this. I learned something new, for a hug to work; it has to last up to 7 seconds.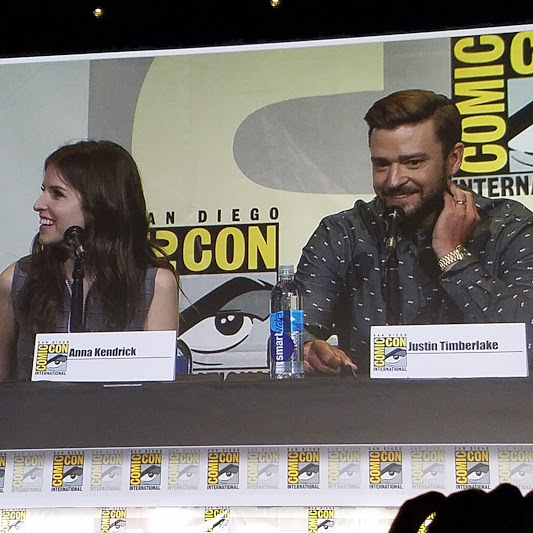 Justin Timberlake plays, Branch, the polar opposite of Poppy. He's grey, angry, a pessimist and is very unhappy. They must work together to save Poppy's friend from an evil creature hell bent on destroying the Trolls. However, keeping up with the themes of optimism and happiness, Justin Timberlake mentioned that writing "Can't Stop the Feeling" made him "feel really good" and that, "It's nice to be a part of something that you can put out in the world that makes people happy."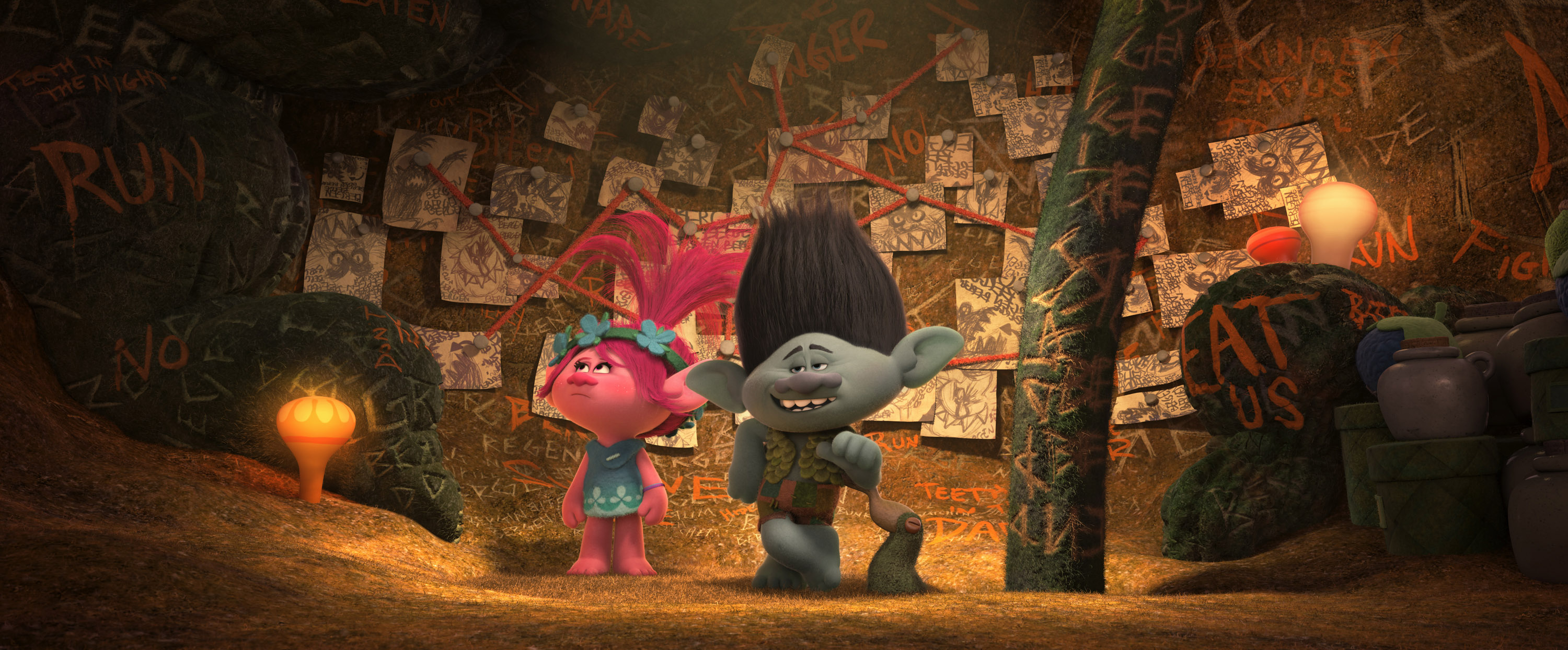 Speaking of "Can't Stop the Feeling", the music in this movie is phenomenal. I love Can't Stop the Feeling, as a matter of fact, every time it's on the radio, I can't help but dance and sing along.  I'm also really excited for new music from Gwen Stefani too. Music is an important part of the film. Producer Gina Shay mentioned that the music was one of her favorite things about this movie. Anna Kendrick is a really talented singer too, so it'll be nice to hear what she'll be singing in the film.
One thing that stood out the most from the panel was when producer Gina Shay mentioned that they decided to keep the Trolls in the film looking like the dolls from our youth because as filmmakers it's their responsibility to give girls "memorable characters that don't make them feel inadequate in body image." That they,"broke every princess rule in the book, the Trolls are round and shoeless."  She said she has an 11-year-old- daughter, "with a powerful mind" and that she'd rather "have her using it (her mind) to be imaginative than obsessing in the mirror. All girls are beautiful." This is a beautiful message especially for young girls who struggle with their self image.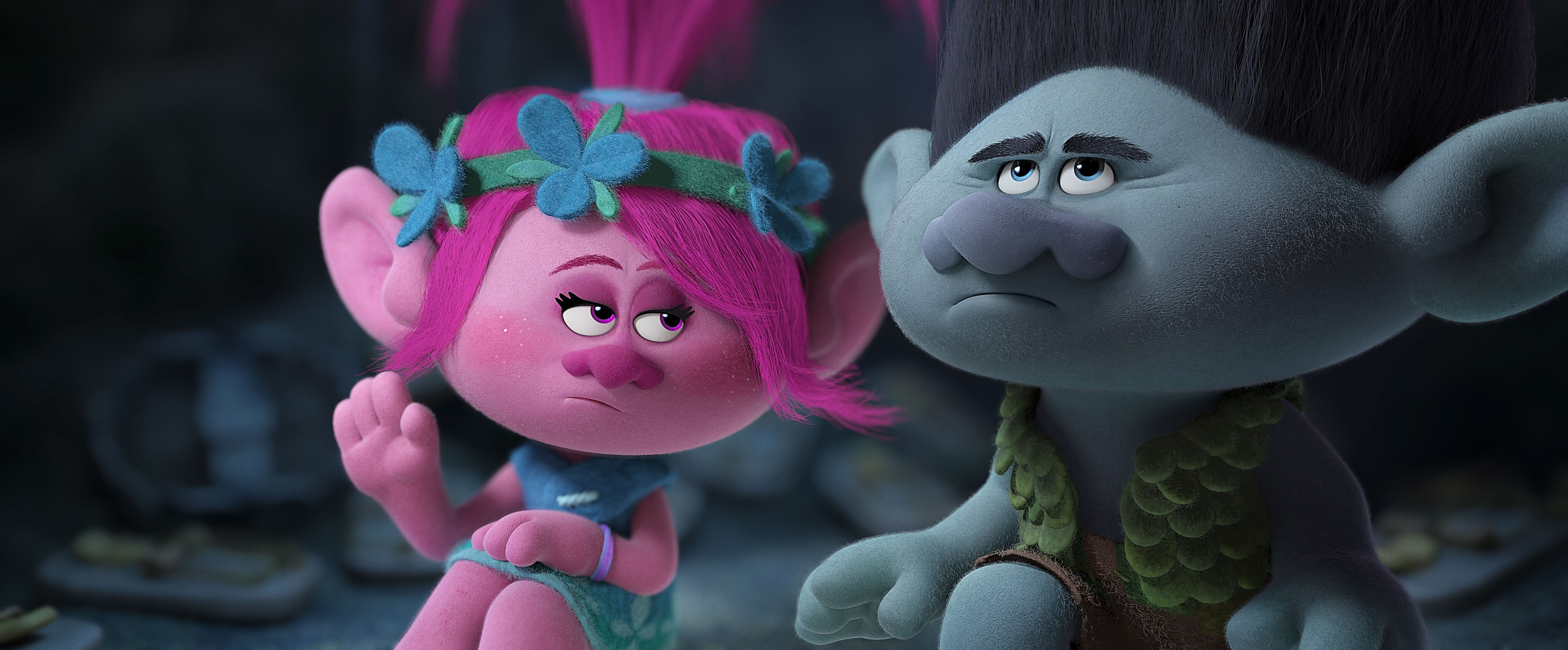 Before the gang left Hall H for their interviews, Justin, Anna and the rest of the Trolls panel posed for a fun group selfie with Chris.
Then the audience was surprised by DreamWorks with a special presentation of their upcoming film The Boss Baby, based on the children's book written by Marla Frazee and starring Alec Baldwin. Again, DreamWorks hits another home run.

Like Trolls, this movie has an amazing cast and team behind it.  Alec Baldwin hilariously voices "the baby", with Lisa Kudrow, Steve Buscemi and Jimmy Kimmel also starring. It's a funny take on who really the boss in the family is, and what a family dynamic looks like. Alec Baldwin mentioned that this was his first Comic Con; it was my first Comic Con too Mr. Baldwin, we have something in common! From the clip I saw of "The Boss Baby", he is the perfect choice to play the "baby". He has this amazing ability to be serious and have a great dry sense of humor at the same time. Because of this, parents will enjoy this movie as much as their children.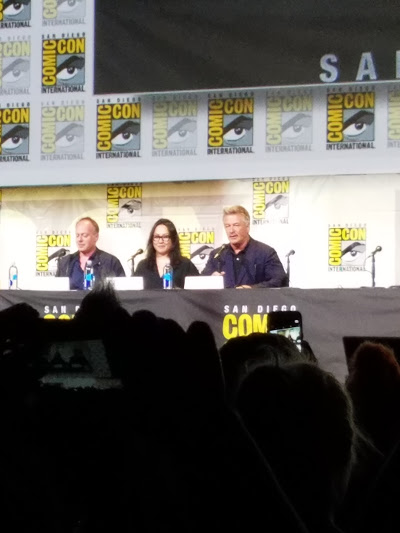 Once the panel for The Boss Baby was finished, we had the opportunity to walk around the Comic Con show floor, before heading back to the Hard Rock Hotel for lunch and our round tables.  The show floor was both thrilling and overwhelming all at the same time. I didn't know where or what to look at first. In the lobby the zombies from the Walking Dead were running amuck. Comic Con antics aren't isolated to just the convention center, events can be found all over town.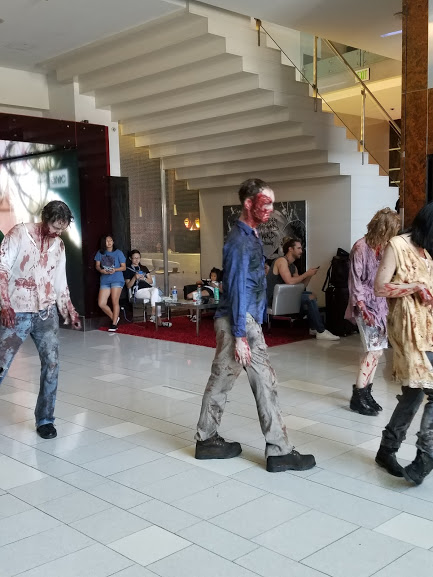 Then it was onto the round tables. First up was Alec Baldwin, director Tom McGrath and producer Ramsey Ann Naito for The Boss Baby. Ms. Ramsey Ann Naito made it very clear that this film will appeal to all; "parents, kids, single people and dates." The message behind the film is that love is infinite, not finite; there is plenty of love to go around.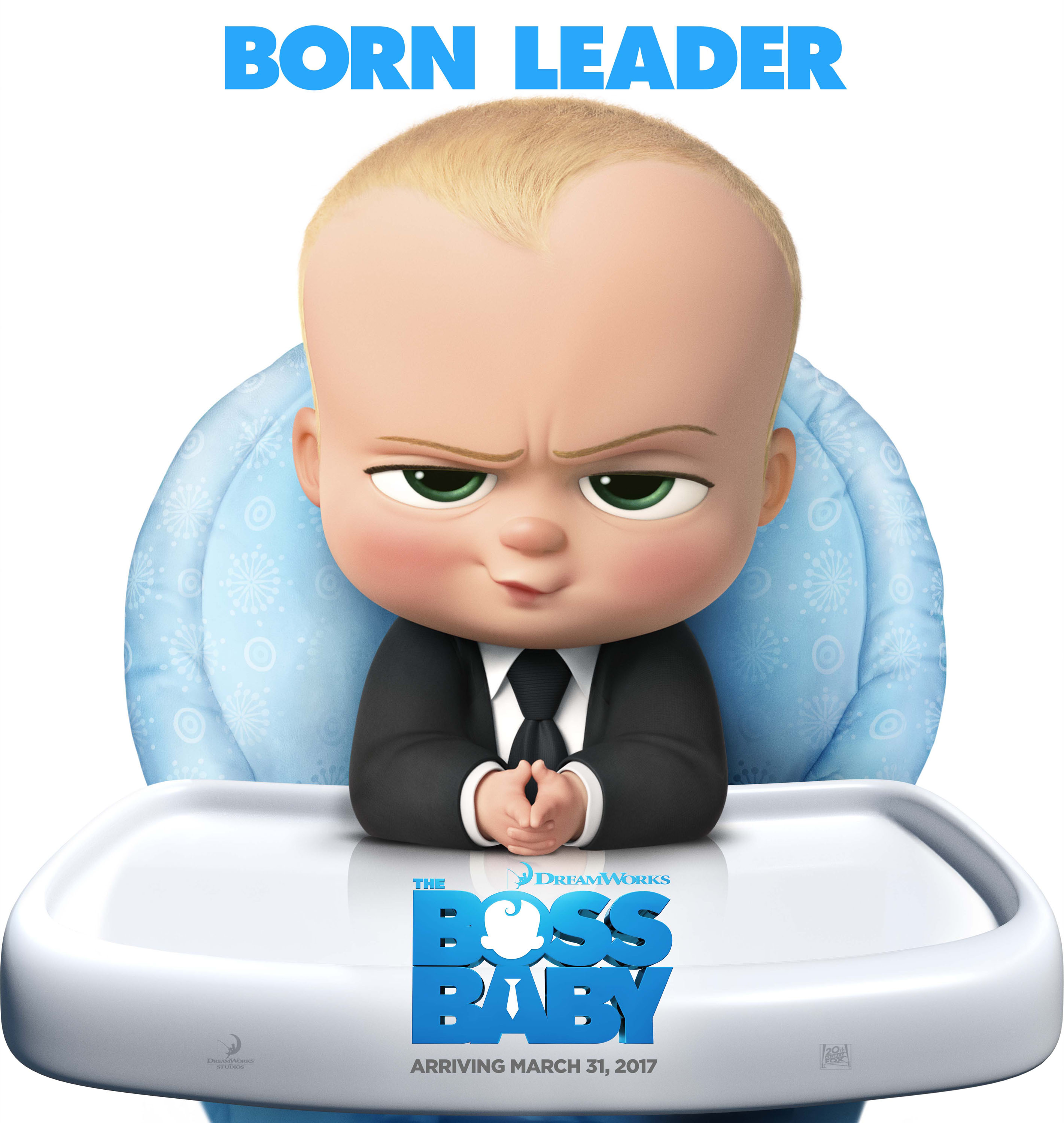 Mr. Baldwin, who is about to be a father again, is now more picky about the roles he chooses, stating that, "choosing family over work has kind of become a bit of a theme, or a real theme in my life."  He also mentioned that every week, he writes something down about his children. In a round-about-way, he insinuated that his one-year-old-son is really the "boss baby" in the family, stating, "My son, I feel like he looks at me now and he's like, 'You realize who the dominate man in this house is. You realize who all these women who work here, who they're in love with now, don't you?'"
Mr. Baldwin added a few more cute anecdotes about his kids and talked about what it was like growing up as one of the "oldest" in his large family. He and his sister were the "staff" helping his mother out, while he hilariously called his brothers  the "hillbillies of the porch" not the most domesticated members of his family. I loved listening to Mr. Baldwin share his stories.
After our group photo, it was time to say good-bye.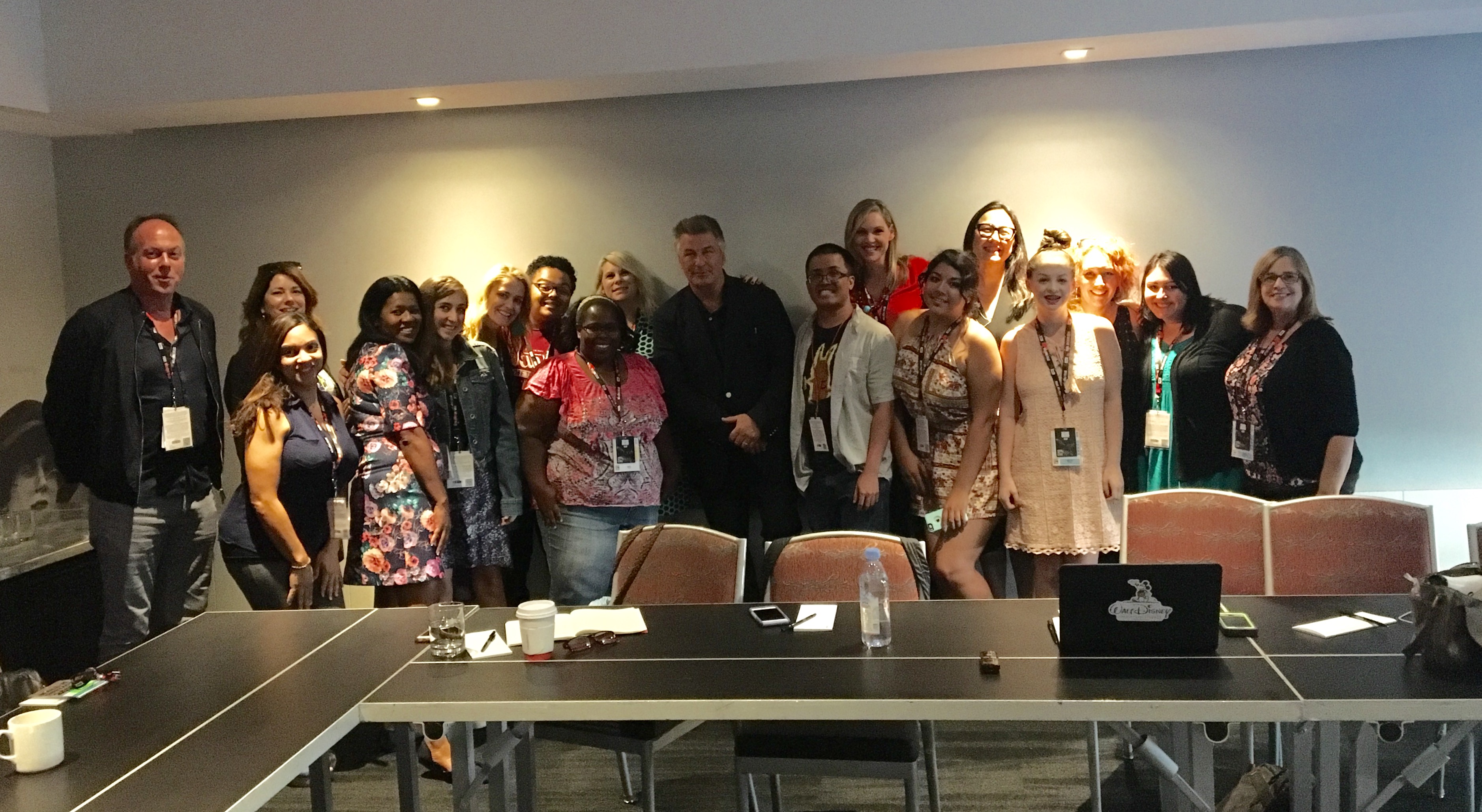 Our second and final round table for the day was with Justin Timberlake, Anna Kendrick, directors Mike Mitchell and Walt Dohrn and producer Gina Shay. You could tell that these guys have really amazing chemistry, despite not actually filming the movie "together". They collaborated together on the music, but to film their lines Mr. Mitchell and Mr. Dohrn would fill in for the other actors. According to Anna Kendrick, "When we're working with Mike and Walt, it's like we're working with half of the cast anyway, because they're doing these weird impressions that, at first you're like, 'Is that supposed to be Russell Brand?'"
Ms. Kendrick discussed what it was like getting into the extremely optimistic character of Poppy.  She said that when she would go in to record and there was a huge poster of Poppy on the wall and her lines were super optimistic, she couldn't help but start talking in a "cartoony" voice, but that Ms. Shay would press the button and say, "Just your normal voice, Anna."  From inception to conclusion, this film took five years to complete.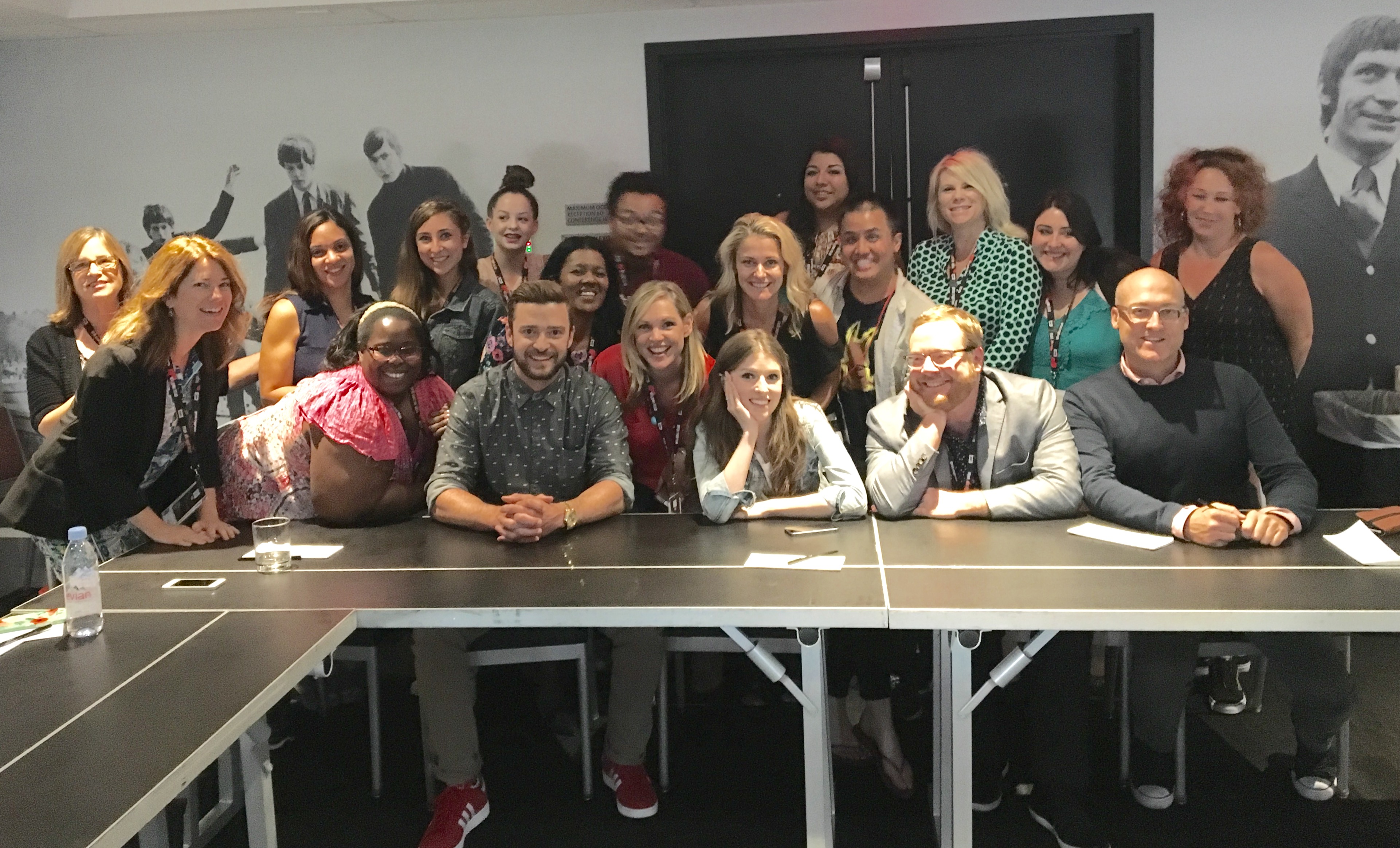 Again, the talent graciously posed with us for a group photo. It was now time to say good-bye to Alec, Anna, Justin, San Diego and Comic Con and head back north to LA. This is a day that I will never forget. All of these people have such amazing talent and the messages about love and self worth that they are trying to convey, are very important, especially in the world that we currently live in. I feel honored to have had the opportunity to step out of my own comfort zone and attend this amazing event.
I cannot wait to watch the full length versions of these films. "Trolls" coming out November 4th 2016 and "The Boss Baby" coming out March 31st, 2017. Sorry guys you'll have to wait a little bit longer! Both films will make a fantastic night out, so mark your calendars as you won't want to miss either one! 🙂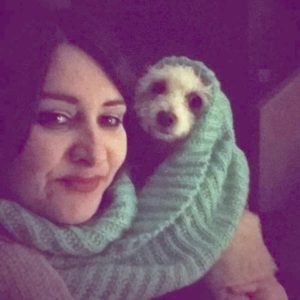 Jonelle Edrosolano is an OC housewife, editor of children's work (AKA English Teacher), blogger and mommy to two "fur babies", Sam and Mia.  When she isn't shaping the minds of our future, writing on her blog or cooking, she can be found out and about in Orange County or Los Angeles.  Jonelle is an avid coffee enthusiast, who loves going to the movies with her hubby, singing at the top of her lungs to her favorite tunes, reading great novels (and some not so great), being an advocate for all animals and user of all things organic. Jonelle writes a lifestyle blog called Confessions of an Unemployed Real OC Housewife, which focuses on beauty, movies, music and book reviews. While she's not "unemployed", she did begin this blog while on sabbatical from teaching and while venturing into the mad-mad world of Public Relations.  She lives by the motto of "dance like you think no one is watching and sing like you think no one is listening." Remember, when you're dead no one is going to remember what kind of purse you carried or what kind of car you drove, it's the memories you make that count the most!