Finding Dory is Here at Last!
By Erin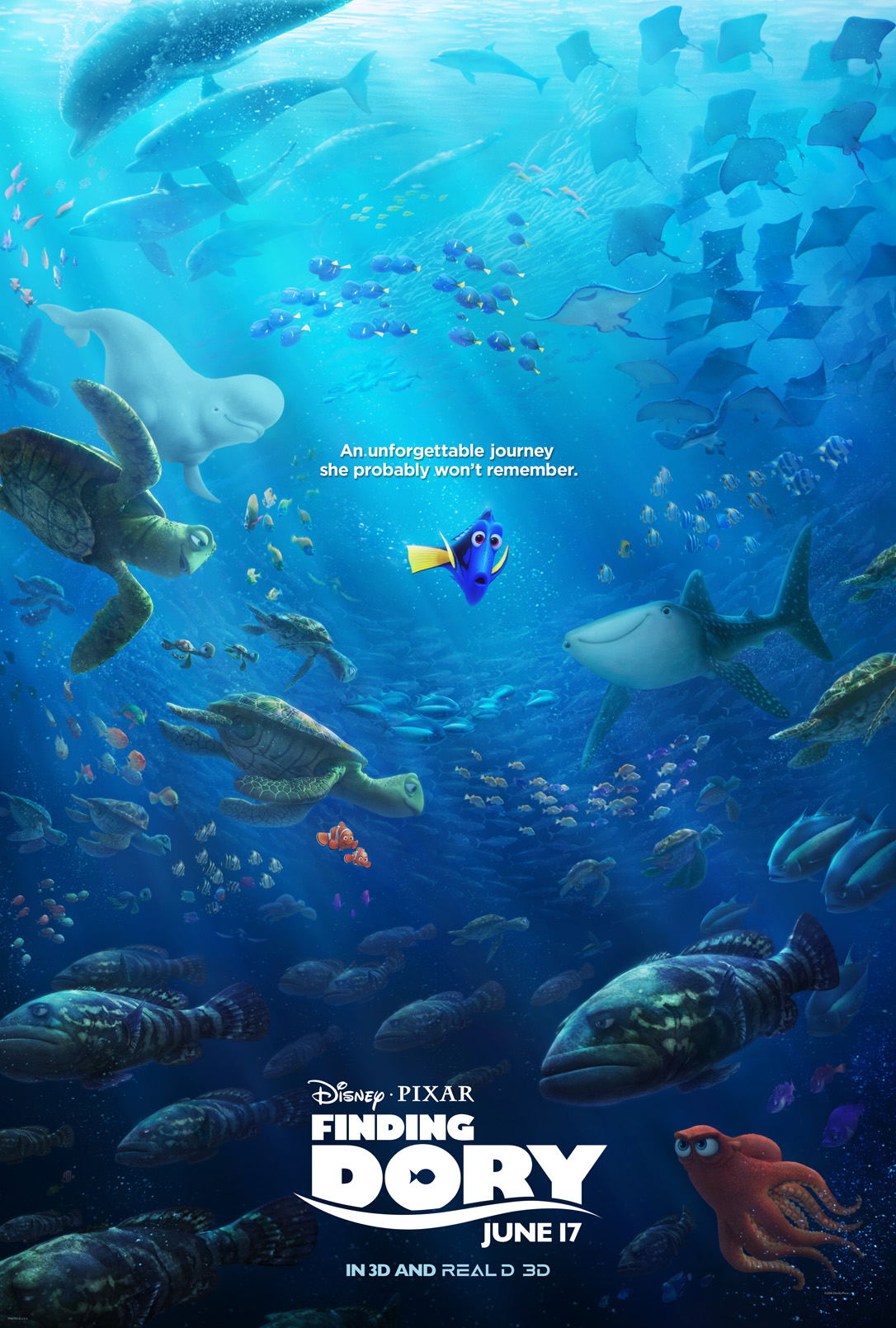 Have you seen her? Finding Dory has finally found her way into theaters after all this time. 13 years of waiting is over! The reunion of everyone's favorite forgetful blue tang, Dory, with her friends Nemo and Marlin is finally here.  Finding Dory is back and ready to swim into your heart. Disney•Pixar's Finding Dory finds Dory living happily in the reef with Marlin and Nemo about a year after their life-changing adventure. When Dory suddenly remembers that she has a family out there who may be looking for her, she recruits Marlin and Nemo for a life-changing adventure across the ocean to California's prestigious Marine Life Institute (MLI), a rehabilitation center and aquarium. Be ready for the ride of your life as you follow this lovable bunch on their quest across the ocean to find Dory's family.
Family is a key theme in Finding Dory.  Dory can't remember where she's from, but she has to have a family, right? Dory finds herself asking 'Where are they?'–there's a sad truth to that and she is curious and determined to find out where they are.
In the effort to find her mom and dad, Dory gathers the help of three of the MLI's most fascinating residents: Hank, a cantankerous octopus who frequently gives employees the slip; Bailey, a beluga whale who is convinced his biological sonar skills are on the fritz; and Destiny, a nearsighted whale shark. Navigating their way through the complex inner workings of the MLI, Dory and her friends discover the magic within their flaws, friendships and family.
I don't want to ruin any of the magic for you in Finding Dory, so I will leave you with some fun facts and some fun numbers to know to get you ready to swim on over and go see this adorable film!
Dory Fun Facts
A New Voice for Nemo – Alexander Gould, who was the original voice of Nemo in 2003's Finding Nemo is all grown up and turned 22 in May, so filmmakers had to recast the character, calling on 12-year-old Hayden Rolence to voice the junior clownfish in Finding Dory. Gould, who won filmmakers' hearts 13 years ago, can be heard in the new movie as the voice of a truck driver. Rolence, who was cast long before recording began, was told that he couldn't tell anyone about the role. You can imagine how rough this was for a young kid who wanted more than anything to share the news with his grandma.
Comedian Albert Brooks Returns–as the voice of clownfish Marlin in Finding Dory. Filmmakers say Brooks is all about improv, infusing his iconic comedy into the character. While Marlin carried a big emotional load in Finding Nemo, he's been freed up in Finding Dory, allowing Brooks a lot more improvisational leeway this time.
Reunited – When casting the voices of the lounging sea lions Fluke and Rudder, they decided to bring two actors from "The Wire" together again, tapping Idris Elba and Dominic West.
Clear Vision – Destiny is a whale shark who is being cared for at the Marine Life Institute, but filmmakers weren't initially sure what ailed her. It was Bailey, Destiny's beluga whale neighbor, who opened their eyes—so to speak. Belugas are known for their echolocation skills—a biological sonar of sorts—that is described at the MLI as "The World's Most Powerful Pair of Eye Glasses." Filmmakers decided that if Bailey had an enhanced sense of sight, perhaps Destiny's was compromised. A nearsighted whale shark was born. Destiny actually taught Dory to speak whale. Of course, the fact that Destiny is a whale shark—not a whale—explains Dory's limited understanding of the language.
Keeping it in the Family – Becky, an offbeat, kooky loon who takes a liking to Marlin, is named after production manger Becky Neiman-Cobb, who insists there's no resemblance.
If you are a numbers person like me, and get a kick out of fun facts with numbers, here are a few you might enjoy about Finding Dory!
By the Numbers
*16,091 fish are swimming in the Open Ocean exhibit at the Marine Life Institute.
*5,000 stingrays take part in the stingray migration.
*1,108 fish are in quarantine at the Marine Life Institute
*746 visitors are hanging out at the Marine Life Institute.
*350 suckers are found on Hank: 50 suckers on each of his seven arms.
*83 employees of the Marine Life Institute appear in the film
Dory's short-term memory loss, while a source of comedy before, has very real consequences for her with all of her forgetfulness. Spending a lot of time alone before she met Marlin, she's always upbeat and perky, but deep down she's afraid of what might happen if she gets lost again. Dory struggles to deal with her shortcomings and she has no problem accepting everyone she encounters. She doesn't even realize that she's surrounded by characters with their own hurdles to overcome. Her optimism and helpful nature are a defense, one of the very first things she says is 'I'm sorry.' She just assumes that somehow her short-term memory loss has caused a problem and she's quick to try to mend it. A delightful story about family and finding the courage to do something she's always wanted to do—even if she can't remember she wanted to do it.
In theaters EVERYWHERE now!! Swim on over and Find Dory! 🙂
Like on Facebook: https://www.facebook.com/PixarFindingDory
Follow on Twitter: https://twitter.com/DisneyPixar
Follow on Instagram: https://instagram.com/DisneyPixar