Meet the Cast of Finding Dory!
By Erin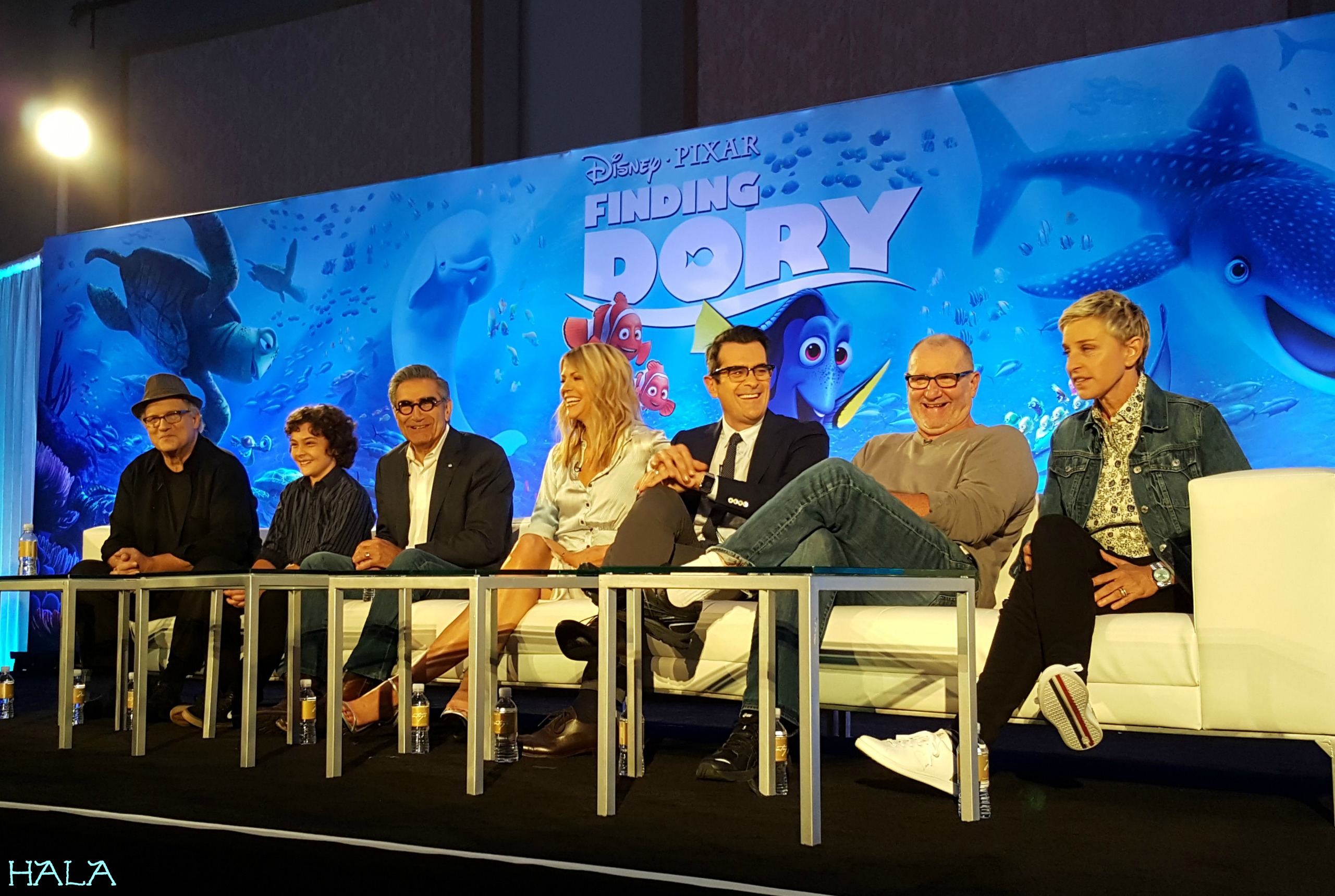 Can you believe it? It's been 13 years since that absentminded Blue Tang, Dory swam on screen and into our lives and hearts. It's about time, right? I'm pretty sure Ellen thinks it's about time too. 😉 The familiar characters of Finding Nemo that we have all fallen in love with: Nemo, Marlin & Dory are all back in true Disney*Pixar fashion along with plenty of new friends that you will love just as much. I was lucky enough to get to attend the Finding Dory press junket held in Beverly Hills, California as a guest of Disney. It was truly an unforgettable experience sitting right across from Ellen and just feet away from such an amazing cast!
Making waves in theaters starting this Friday,  June 17, this much awaited movie picks up where Finding Nemo left off, starting about a year later with Dory, the fish with "short term remembery loss."
So, have you seen her? We actually got to see her as we entered the room for the press junket. You couldn't miss her! She was right in the center of the room.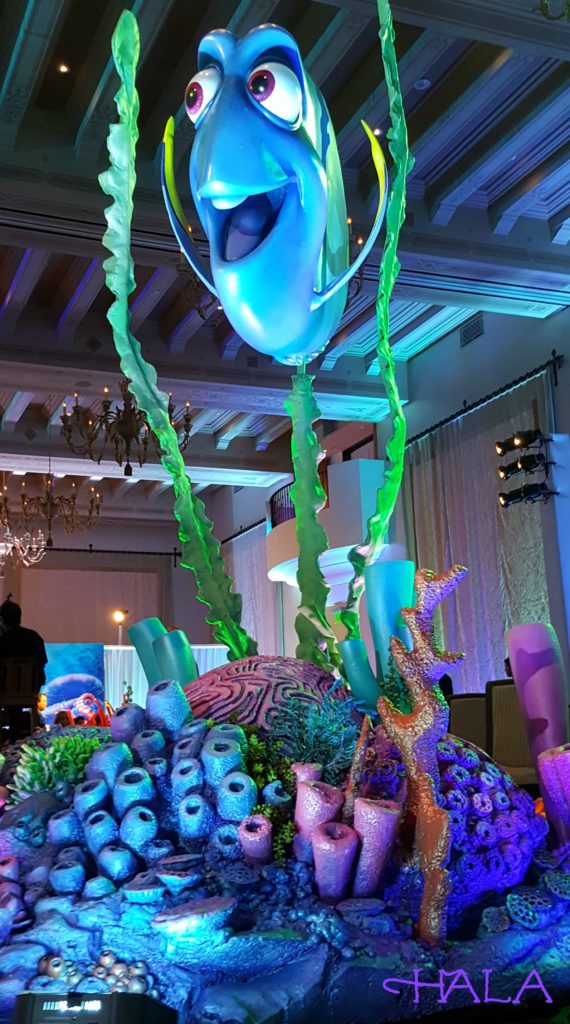 The Amazing Talent in Attendance Included: 
· Ellen DeGeneres (voice of "Dory")
· Ed O'Neill (voice of "Hank")
· Ty Burrell (voice of "Bailey")
· Kaitlin Olson (voice of "Destiny")
· Albert Brooks (voice of "Marlin")
· Eugene Levy (voice of "Charlie")
· Hayden Rolence (voice of "Nemo")
· Director Andrew Stanton
· Producer Lindsey Collins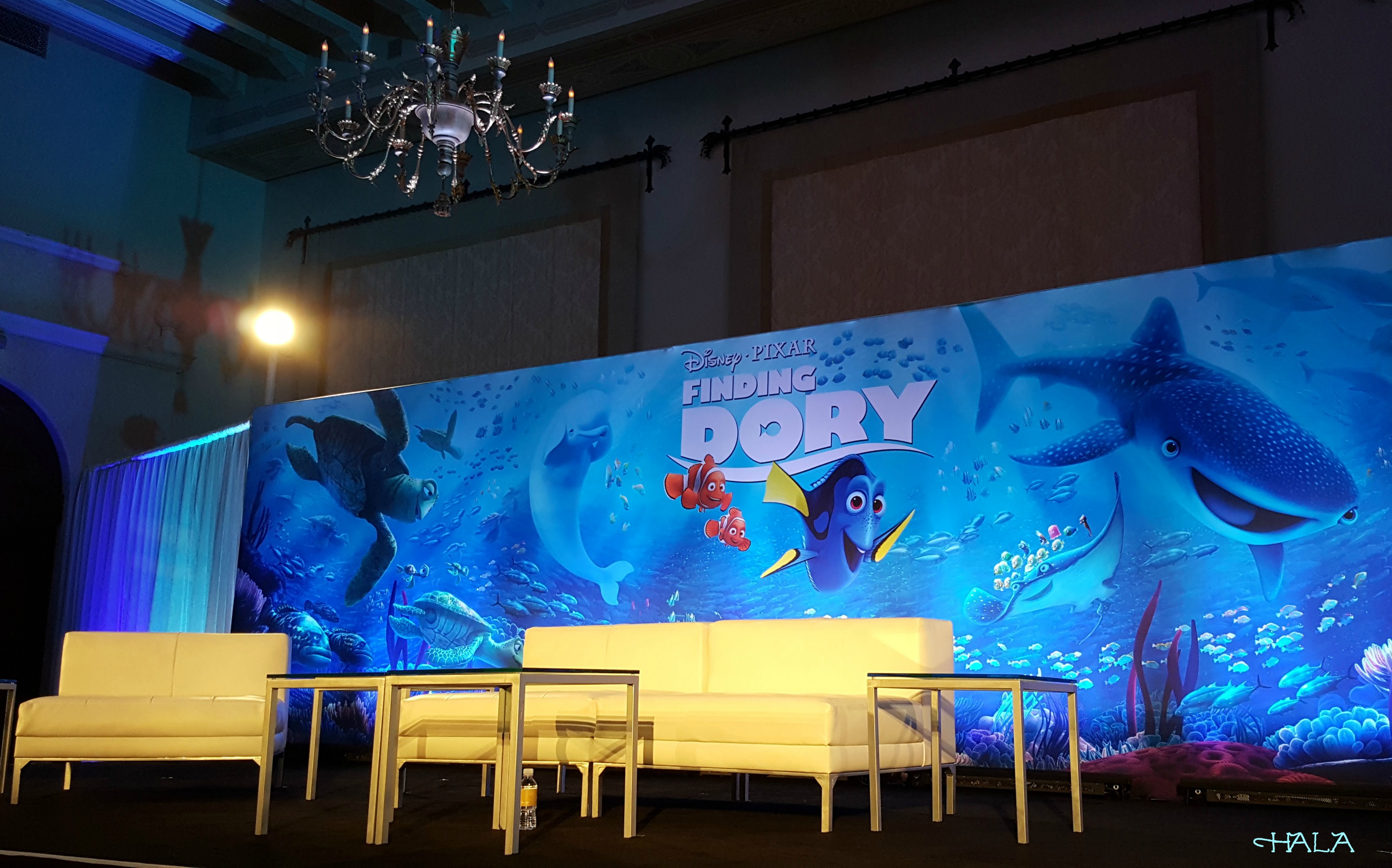 Director Andrew Stanton and Producer Lindsey Collins came out to chat with us first. Creating Finding Dory took them a very laborious four years to create but was a labor of love and a true passion project for them. Stanton said it all started one morning when "he woke up one day worried about Dory" and that's how he got started with creating Finding Dory, but the hold up then was having the right story to tell.  He realized 13 years in between films is a crazy amount of time so he wanted to be sure to create a stand along film that was not reliant on history.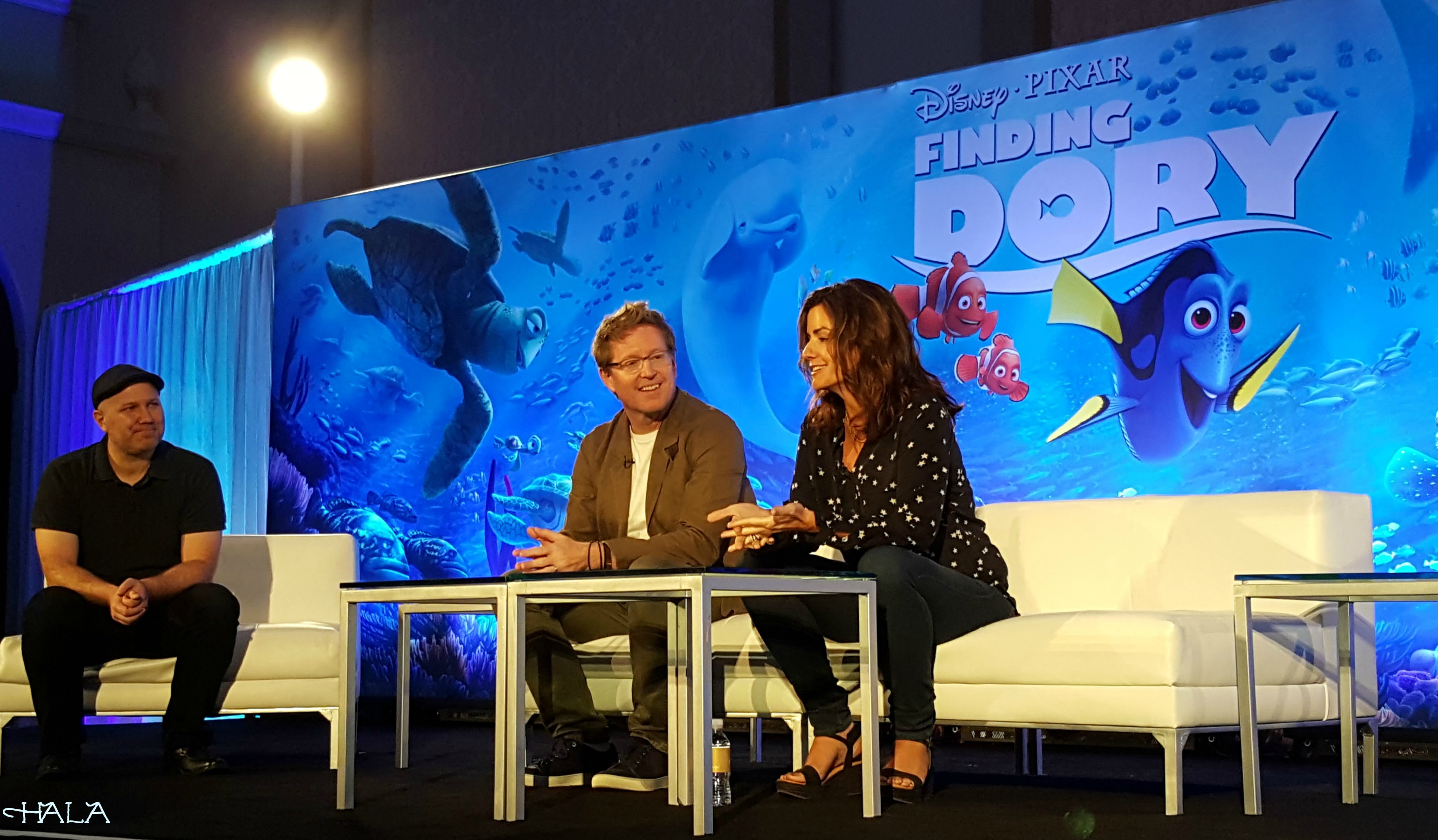 Next we met the rest of the very talented cast where Ellen's presence was at the center of it all. In true Ellen fashion she had us all laughing and wishing we could sit down and chat with her one on one or maybe even dance with her (as we heard later some other very lucky writers got to dance with her!!). You'll notice the many faces of Ellen below, one moment she shares something so  profound and serious, it really makes you think, then the next second she says something to have you laughing in tears. All in good-natured fun though. She is definitely a genuinely nice person with an amazing heart.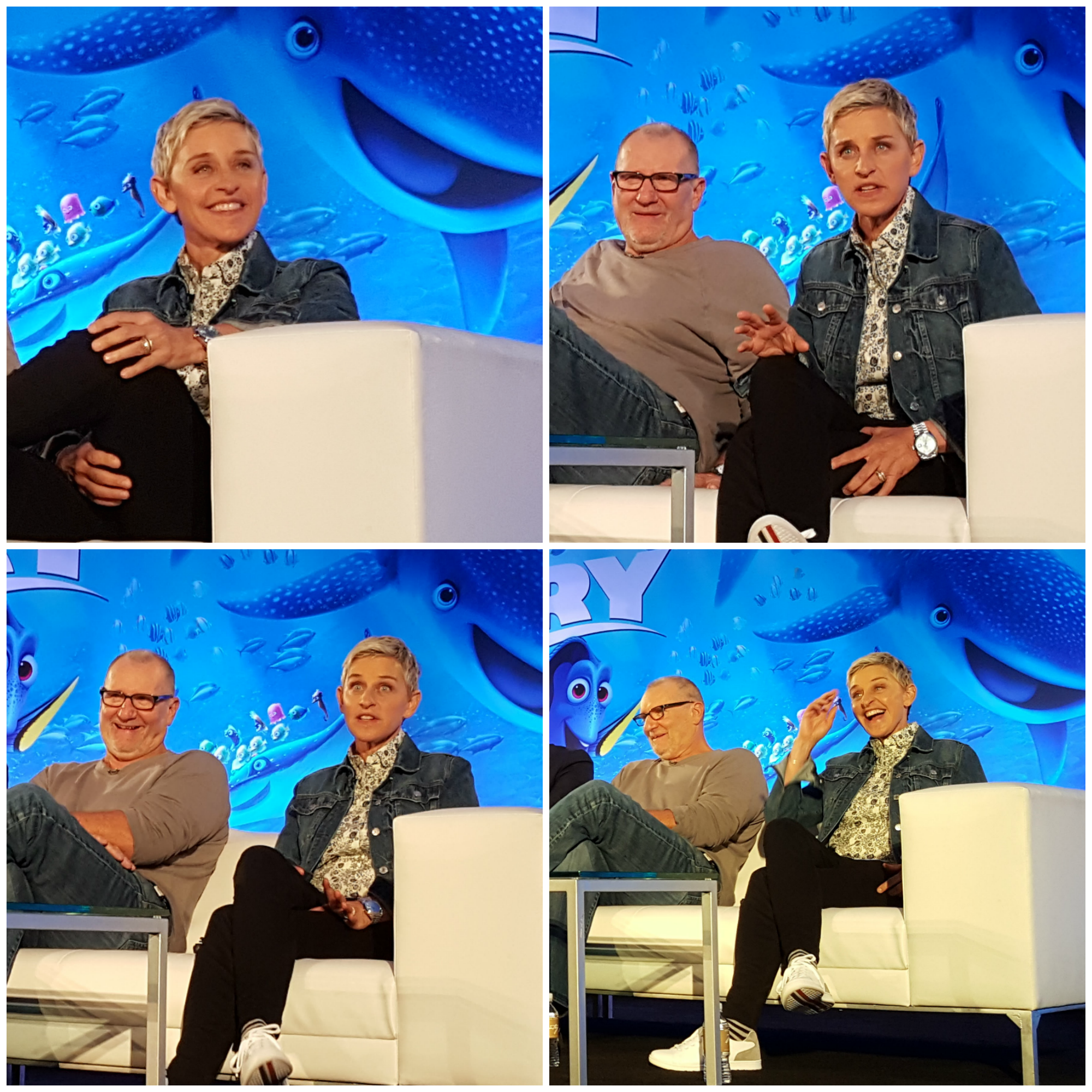 Fun facts from the press conference!
*Hank had a very bad experience in the ocean where he lost a tentacle, which is why he does not want to go back.
*If Ellen could have any of Dory's traits she would want to have as many traits as she has. "As far as optimism and perseverance, non-judgment. Not having any resentment or holding on to anger. She doesn't feel like a victim, and I think that's why she is such a lovable character. She just thinks everything is possible. She doesn't think there is anything wrong with anyone else. She just keeps swimming. I'd like to have all of those traits."
*Ellen didn't see Dory as a tragic character. "You can think of it that way, but as you see in the film now; what appears to be a disability is her strength. It turns into "What would Dory do?" Maybe what appears to be a disability is actually something everybody else can look at in another way a different way of thinking and saying it's a good way of thinking. I love that message in it that something that appears to be a handicap is something you can use as a strength."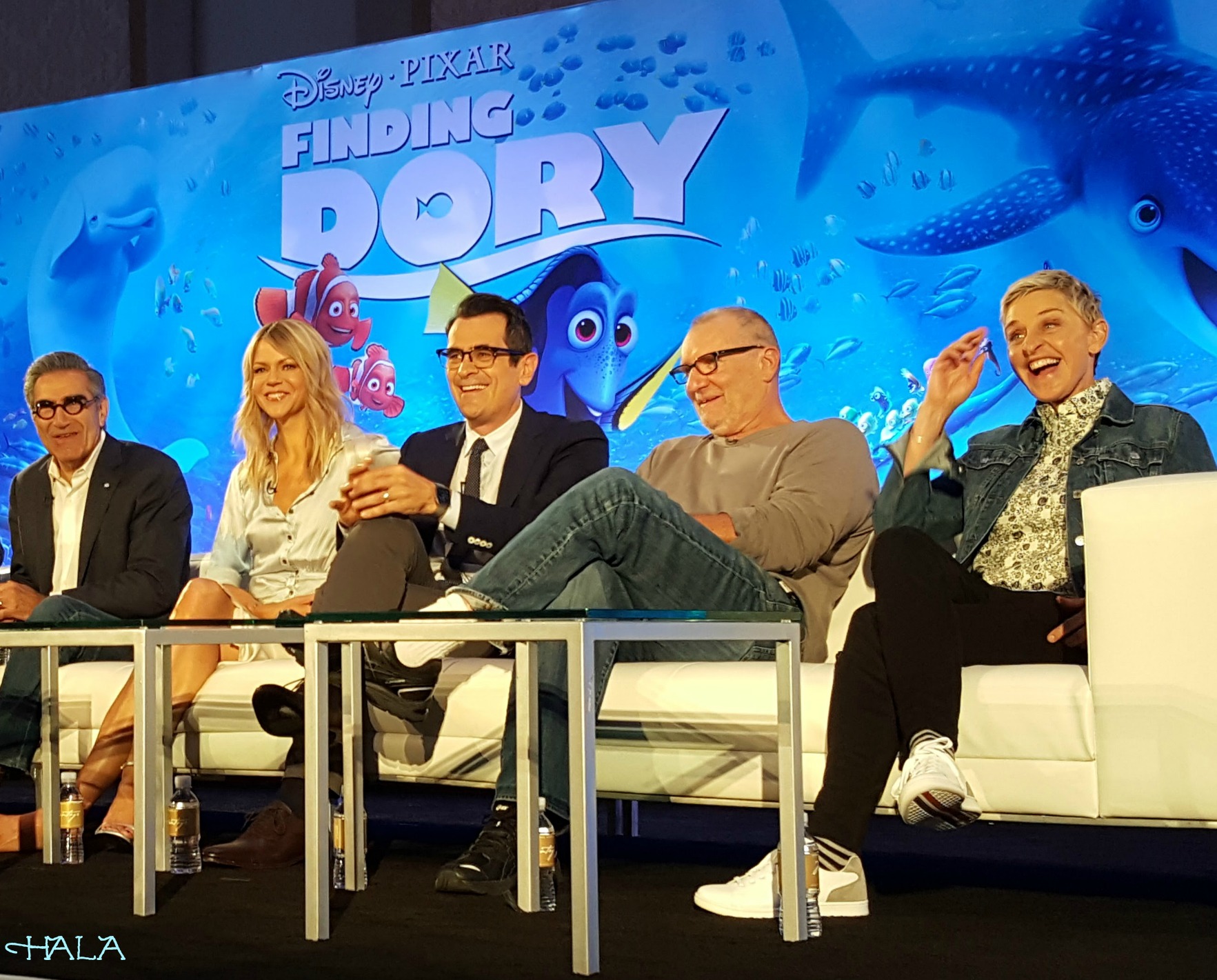 *The 'Just Keep Swimming' slogan came from Andrew Stanton who wrote it.
*Dory has some of Ellen's mannerisms. Ellen was filmed constantly as she read her lines (which sometimes made her cry) so the animators were able to pull in her movements and expressions as they created Dory.
*Hayden Rolence ("Nemo")-Hayden loved Finding Nemo and he was honored to be tapped for Finding Dory. He wanted to do Nemo justice. I think it's safe to say that he has!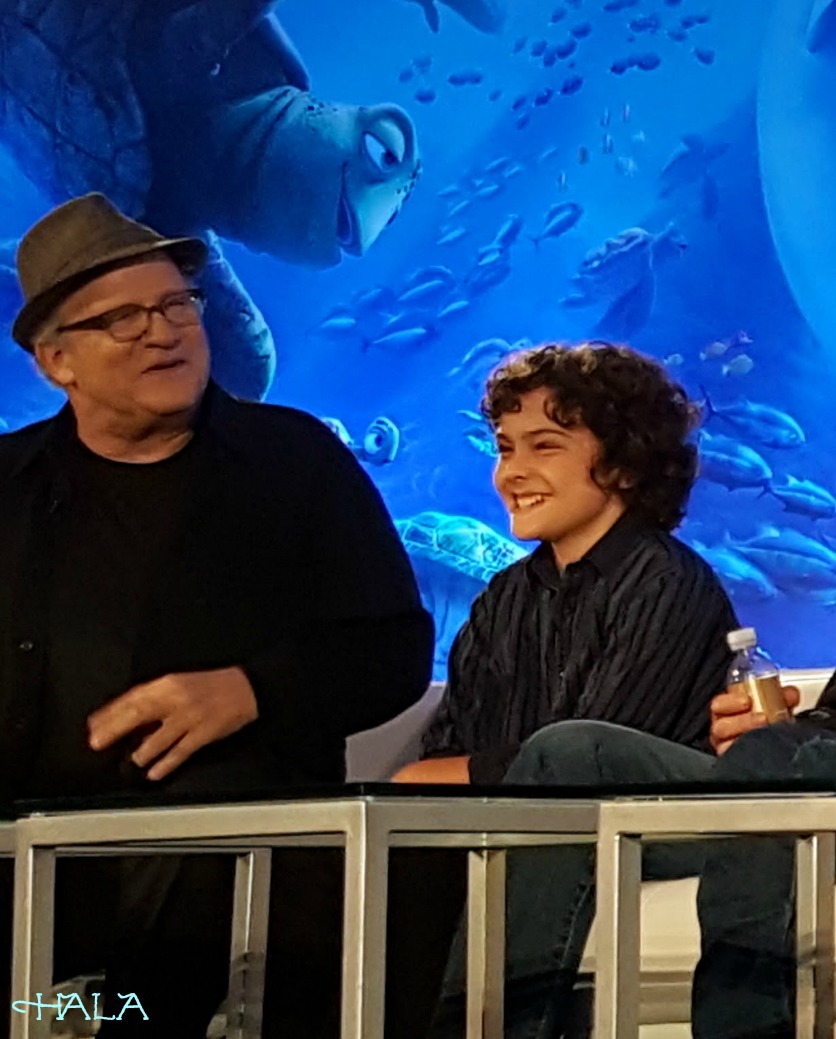 *Albert Brooks shared one of his philosophies on life: if something is bothering me, I ask myself to check back in, in 30 minutes. If it's still bothering me then I deal with it, but a lot of it I don't remember.
*Ellen had a very special message for everyone as the junket ended. "Life is a very interesting journey that is filled with surprises. Sometimes they are good surprises and sometimes they are bad surprises. They are all good because even the bad ones get you ready for something else. They build another part of you that you wouldn't have inside of you. I think we are made up of all kinds of different things. If we were just made up of joy and love and all good things and nothing bad happened to us, then we would just be a little less layered. Embrace the bad with the good and "Just Keep Swimming."
Finding Dory will be swimming her way into theaters nationwide on June 17th, 2016!
Like on Facebook: https://www.facebook.com/PixarFindingDory
Follow on Twitter: https://twitter.com/DisneyPixar
Follow on Instagram: https://instagram.com/DisneyPixar