a2 Milk® + Cookies
By Erin
"This post was sponsored by a2 Milk® as part of an Influencer Activation for Influence Central. I received complimentary products to facilitate my review."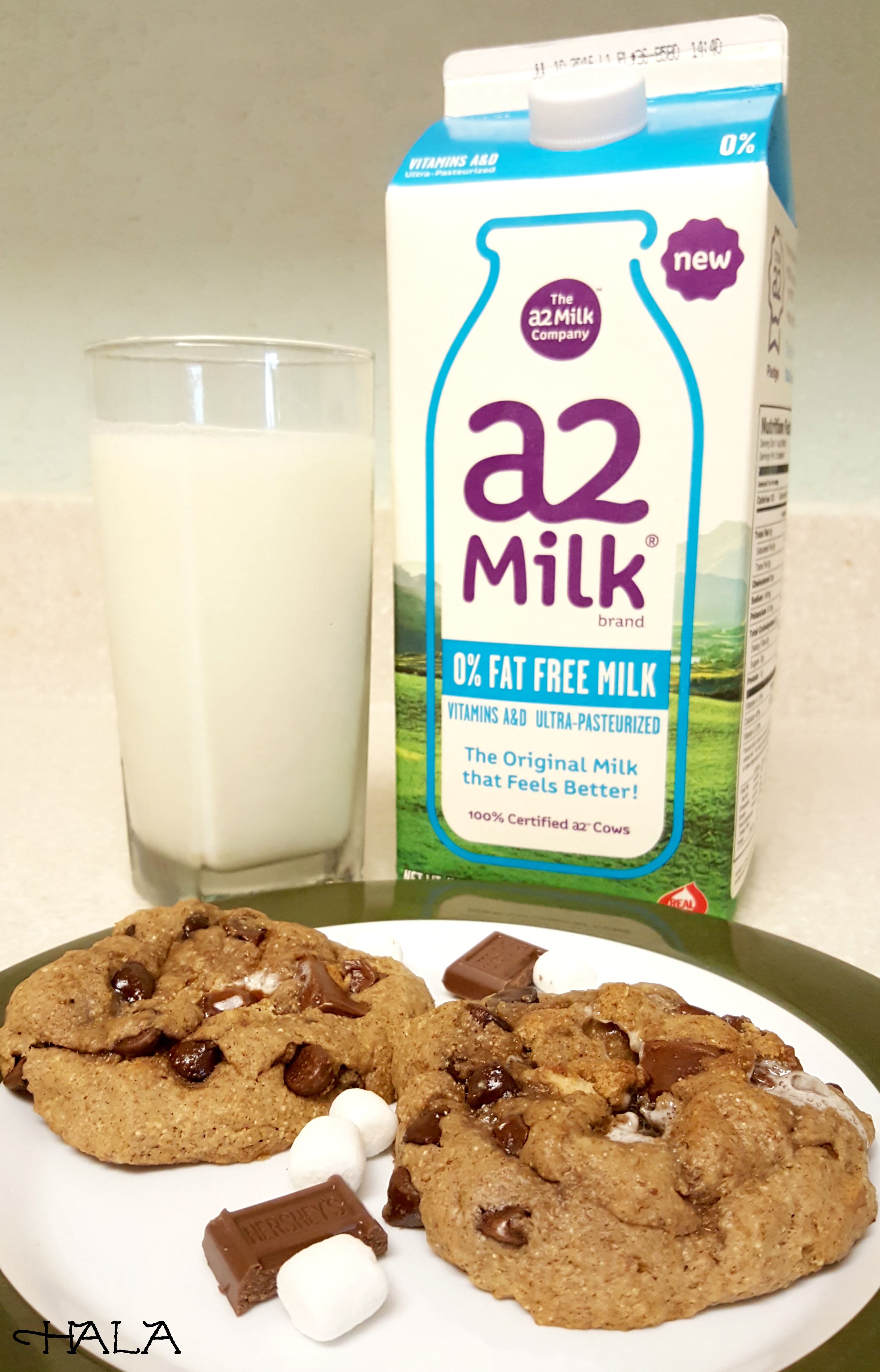 Who doesn't love milk and cookies? Warm, Gooey- cookies, right out of the oven and paired with a glass of cold milk. I can never wait long enough for them to cool. I have to have one the second they are taken out of the oven when they are still super soft and filled with all that melty chocolate goodness followed by glass of cold milk. I know I can't be the only one that does that, am I?
The only thing is, as I've gotten older, dairy doesn't seem to like me as much anymore as my tummy doesn't always agree with it. Experiencing tummy trouble when eating or drinking dairy poses a lot of problems! It also takes away from many of life's favorite traditions- such as milk and cookies. Who wants to miss out on yummy milk and cookies experiences? I sure don't! Lucky for me (and everyone else out there) a2 Milk® has saved the day so I can still enjoy my cookies with milk and not have to worry about the tummy troubles!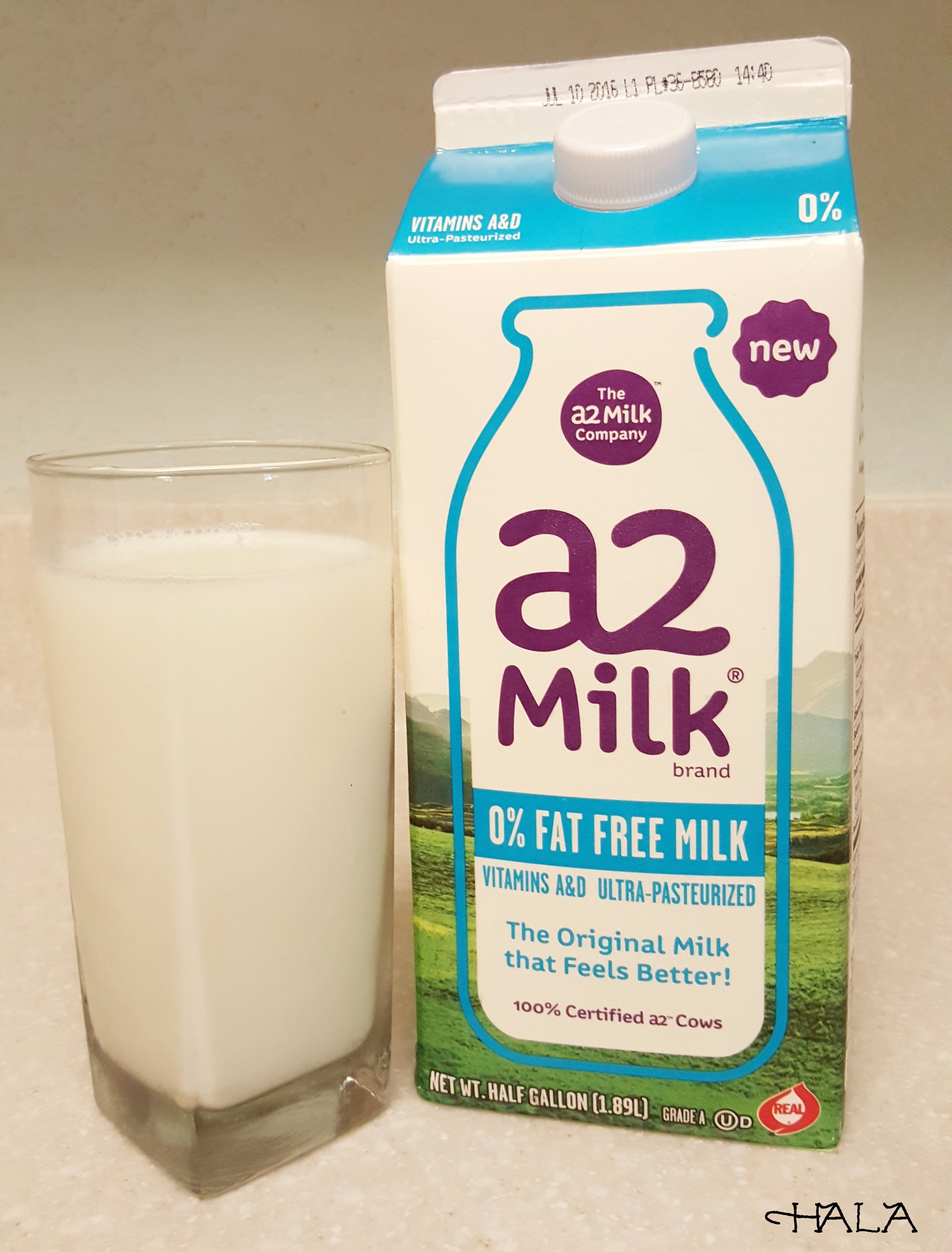 Getting to Enjoy Milk Again With a2 Milk®!
I have always loved drinking milk and have been reluctant to give it up due to tummy troubles. It took me awhile to realize that drinking milk was the offender. In an independent study I found out that 1 in 4 Americans have discomfort after drinking milk; yet only 5-7% of the population has been clinically diagnosed with a lactose intolerance medical condition.
YES! a2 Milk® is real milk! Those who experience tummy troubles or Post-Dairy Digestive Discomfort may enjoy a2 milk® without any symptoms. With a2 Milk®, you can enjoy great tasting milk without the worry of those pesky tummy troubles after. Did you know it's the A1 protein that causes these tummy issues and that Post-Dairy Digestive Discomfort? The A1 protein is the culprit behind many people's discomfort after having dairy, and it is currently in all conventional & organic milks in U.S. stores. a2 Milk® only comes from specially selected a2 cows, whose milk is naturally free of the A1 protein.  We no longer need to compromise on taste and nutrition with inferior nut- or bean-based beverages – or worse yet, cutting out milk all together –those days are long gone now!
a2 Milk® Comes From a2 Cows!
The a2 Milk® Company™ has partnered with U.S. dairy farmers in upstate New York and in the Midwest to expand the a2 herd that produces milk that is free from the A1 protein, so it is the original milk. Just like Mother Nature intended. Nothing added and nothing taken away. Not like the chemically processed milk alternatives you see in stores.
It is also interesting to note that a2 Milk® contains approximately 6 x's the amount of calcium as soy beverages, approximately 8 x's the protein of almond beverages and approximately 6 x's the potassium levels of rice beverages so you can feel great about serving it to your family and friends. Which is great news to me as I have never liked the flavor or texture of these other so-called alternatives to milk!
If you have avoided milk due to being lactose intolerant, you may just want to give a2 Milk® a try and see how it works for you. The nutritional benefits of a2 Milk® can be enjoyed with confidence.
Now lets celebrate with some milk and cookies!  Try this delicious recipe for S'Mores Cookies!

S'Mores Cookies
1 cup (2 sticks) unsalted butter, softened
3/4 cup light brown sugar, packed
2 large eggs
2 teaspoons vanilla extract
1 1/2 teaspoons ground cinnamon
1 1/4 cups all-purpose flour
1 1/4 cups wheat flour
2 teaspoons cornstarch
1 teaspoon baking soda
1/2 teaspoon salt
1 cup chopped honey graham crackers, about 4 or 5 full-size cracker sheets
1 cup semi-sweet chocolate chips
1/2 cup chopped milk chocolate bar
1 1/2 cups  mini-marshmallows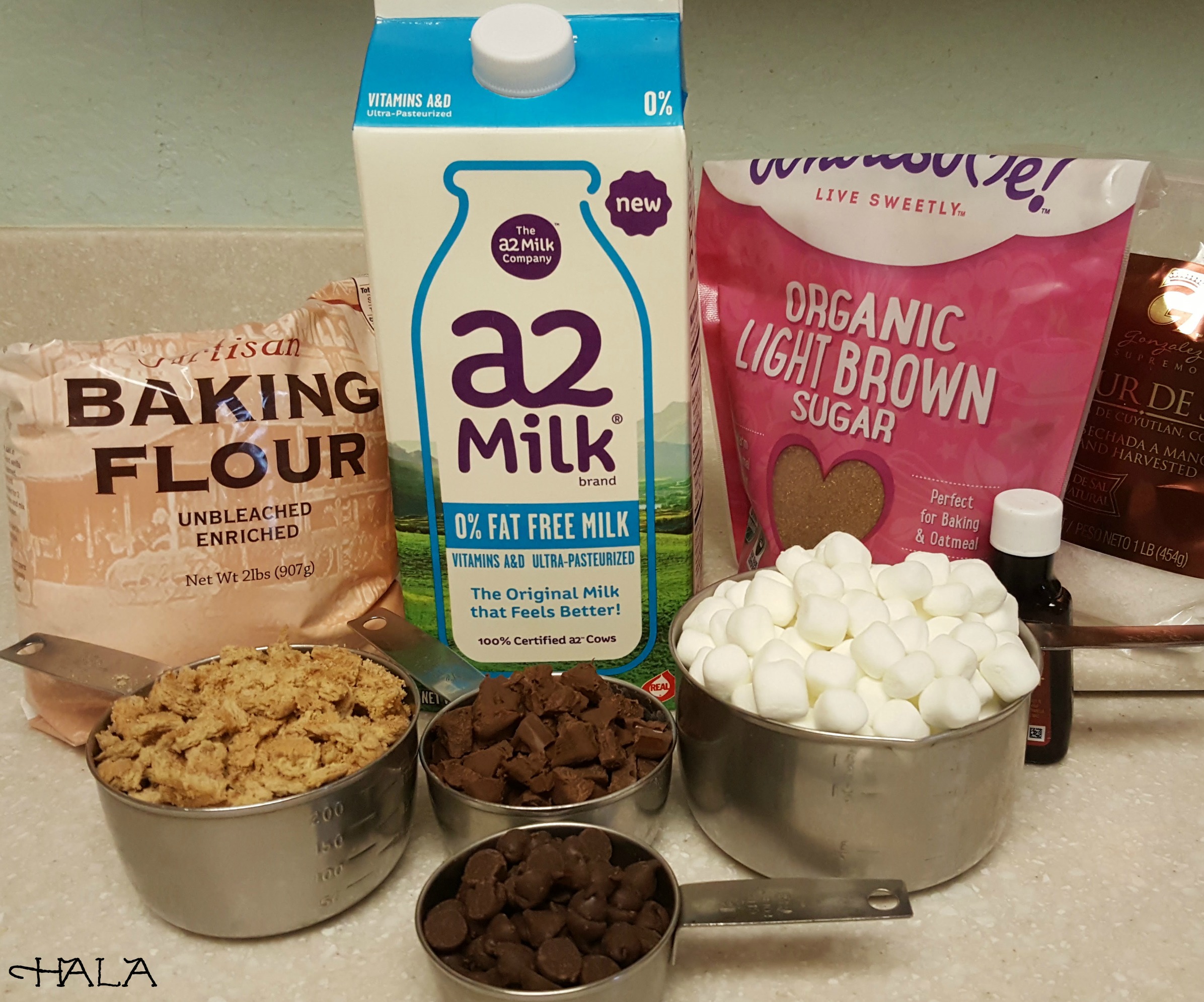 Directions:
Mix together both flours, salt, cinnamon, baking soda and corn starch. Set aside in a bowl.
Break up the graham crackers into small pieces. Don't make the pieces so small that it gets all powdery, but some graham cracker powder is okay. Set aside.
Mix the butter and sugar together.
Add in the eggs one at a time and mix slowly.
Add in the vanilla.
Add the flour mixture in with the butter and sugar mixture and mix to incorporate.
Fold in the graham crackers and chocolate.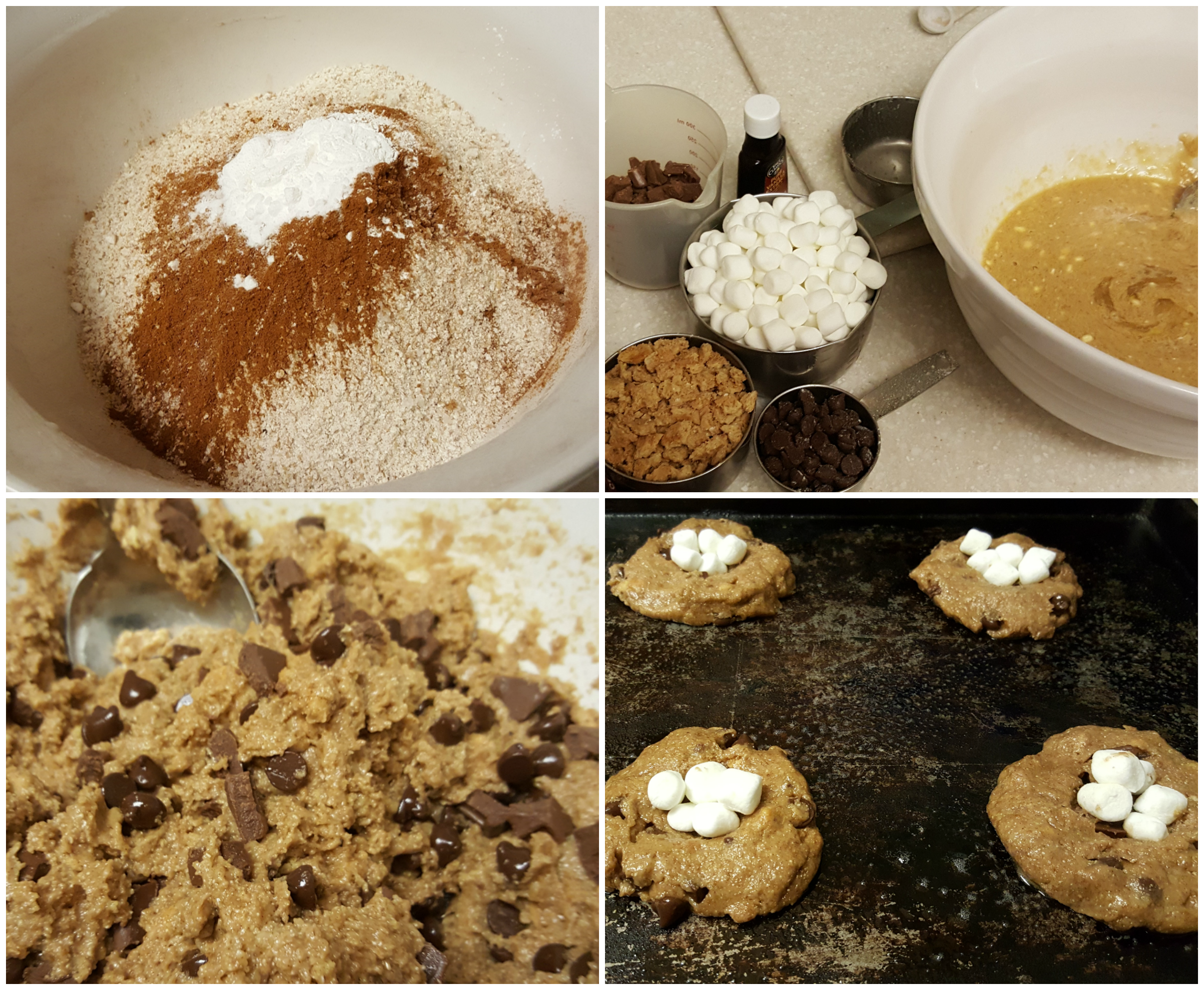 Stuff mini marshmallows into the indentation (~5-7 of them). Cover the marshmallows with a thin layer of cookie dough       until the dough completely covers the marshmallows. Repeat until all dough has been used.
Cover with plastic wrap and chill in the refrigerator overnight, up to five days. You want the dough to be cold do not bake with warm dough 

because the cookies will spread and bake thinner and flatter.

Take a scoop of the cookie dough (~1-2 tablespoons, depending on how big you want to make them) and place on a baking   sheet and create a small indentation
Preheat the oven to 350 degrees.
Take plastic wrap off of the cookies and bake for 8 – 9 minutes or until a light golden brown. I bake mine for 8 minutes so they are nice and melty with the chocolate and marshmallows.
Immediately remove the cookies to cool on a wire rack. For the best results, place the cookies near a fan to cool them quickly.
Serve immediately or store in an airtight container at room temperature for up to 1 week, or in the freezer for up to 3 months.  Enjoy! 🙂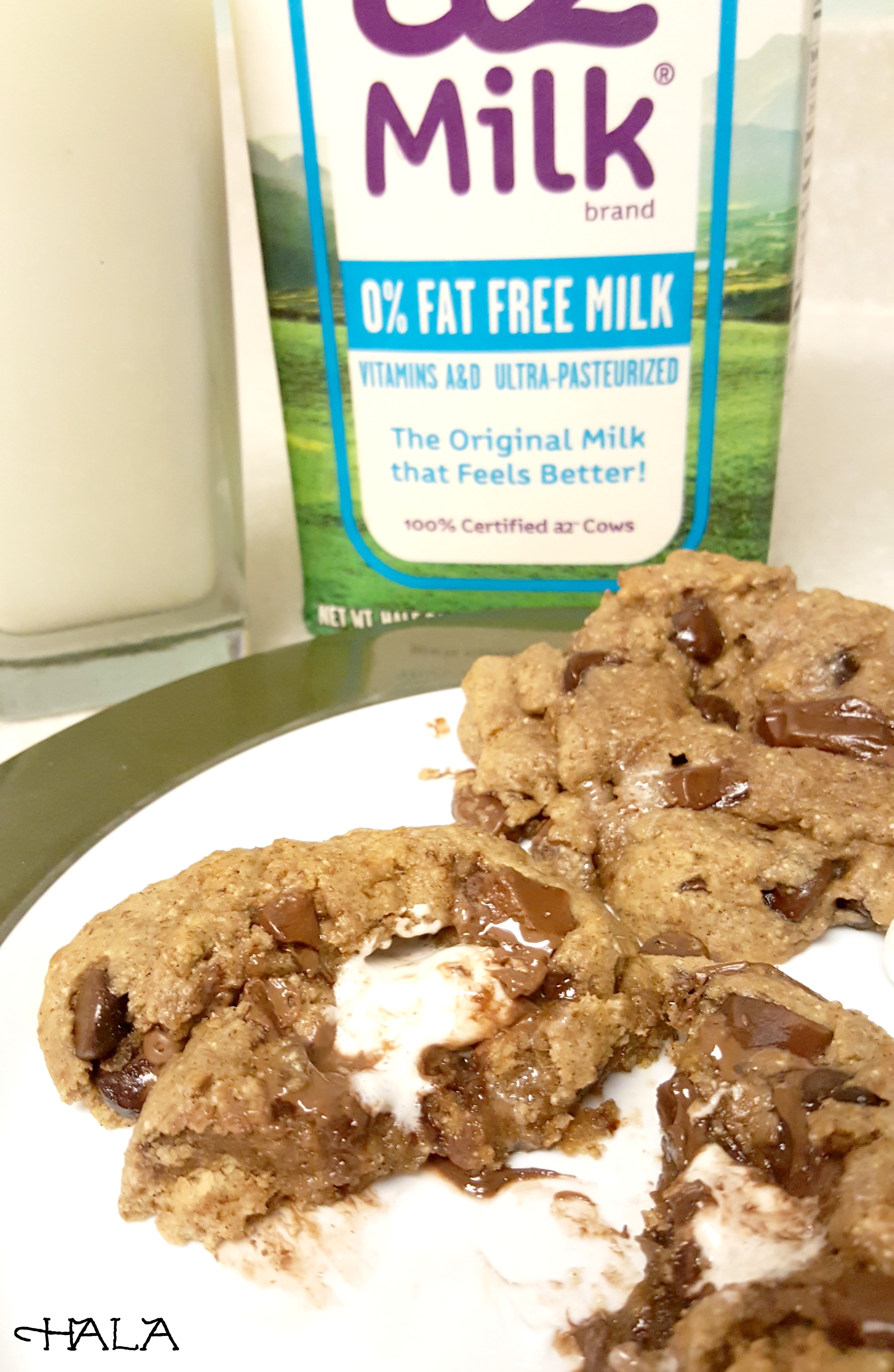 Enjoy with some nice cold a2 Milk!®
a2 Milk® Website
a2 Milk® Store Locator
a2 Milk® Facebook
a2 Milk® Twitter