Finding Dory Filmmaker Interview
By Erin
*I was invited to Monterey courtesy of Disney • Pixar for a media event. All thoughts and opinions remain my own*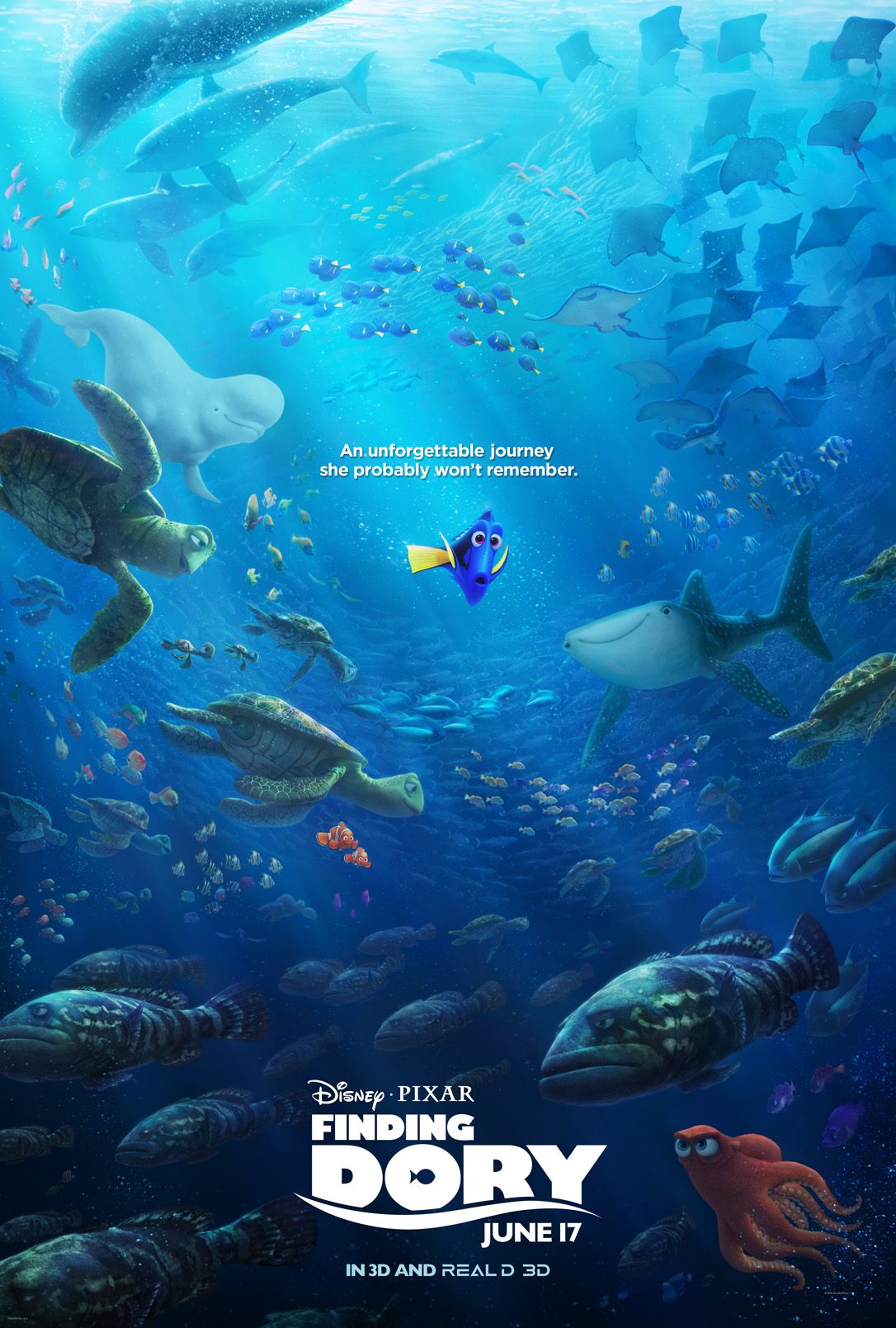 Finding Dory will be here before we know it! It only took what, 13 years? 😉 When I went to the Monterey Bay Aquarium back in March, our group had the chance to sit down with Director Andrew Stanton and Producer Lindsey Collins to learn more about Finding Dory and their thoughts about casting and creating the film. First, here's a little bit of background info on these two amazing filmmakers, so you can get an idea of who they are and what they have accomplished so far.
Andrew Stanton has been a major creative force at Pixar Animation Studios since 1990, when he became the second animator and ninth employee to join the company's elite group of computer animation pioneers. Stanton wrote and directed the Academy Award®-winning Disney•Pixar feature film "WALL•E," for which he received an Oscar-nomination for best original screenplay. Making his directorial debut with the record-shattering "Finding Nemo," an original story of his that he co-wrote, which he was also awarded an Oscar® for best animated feature film of 2003, the first such honor Pixar Animation Studios received for a full-length feature film. He also helped to create  many other award-winning beloved films like "Toy Story," "A Bug's Life," "Toy Story 2," and "Monsters, Inc.,"  "Monsters University,"  "Ratatouille," "Brave," and "The Good Dinosaur."
Lindsey Collins, Producer, joined Pixar Animation Studios in May 1997.  She has worked in various roles on a number of Pixar's feature films.  Collins' film credits include "A Bug's Life," "Toy Story 2" and the Academy Award®-winning films "Finding Nemo" and "Ratatouille." Another neat fact about her is that she provided the voice of the character Mia in Pixar's 2006 release, "Cars."  Before joining Pixar, Collins worked at Disney Feature Animation for three years, managing creative teams on the films "Pocahontas," "The Hunchback of Notre Dame" and "Hercules."
Now that you have an idea of all the amazing films they have had a hand in so far (if you didn't already know), here are some fun facts that were shared with us during the interview about "Finding Dory!"
Finding Nemo & Finding Dory were written with Ellen DeGeneres in mind as Dory-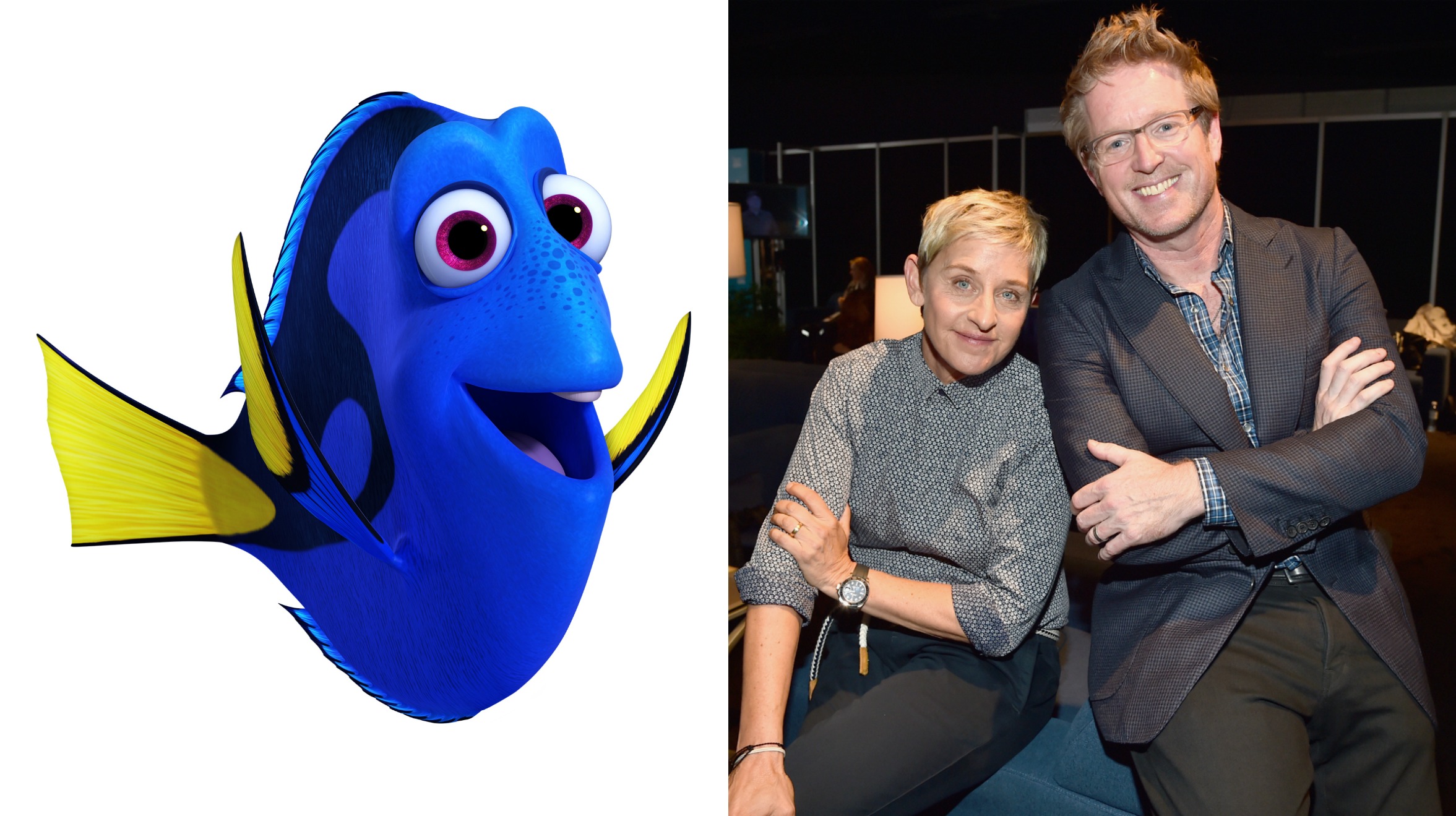 For Nemo, Andrew Stanton wrote with only Ellen in mind to do Dory.  And that's rare.  He hasn't ever done that with anybody else. For Dory he didn't do that with anybody else except that he always had wished that if Dory ever did have parents, it was Diane Keaton and Eugene Levy.  They were the dream cast, and he was very thankful they agreed to the roles. Andrew shared with us how quick of a call it was with Ellen to ask if she would take on the role of Dory, "The quickest phone call I ever had with her was taking the role of Dory.  I basically wrote with her in mind cause I couldn't figure out Dory, I couldn't figure out.  It wasn't even a female Character at the time, and I just needed this Character to have short-term memory loss and I didn't know how to do it.  And she had an original Show in the '90s called "The Ellen Show" that was a Sit-Com.  And it was on in the room while I was trying to deal with Writer's Block and suddenly I heard her change the sentence 5 times in one sentence, and I went that's it, that's how you do it. But I knew there was no guarantee you can get her and I'm really pinning myself in a corner if I do that but it ended up working so then I sent her the script, called her out of the blue, and I said, Ellen, I wrote the part for you and if you don't take it, I'm completely screwed, completely screwed.  She didn't know me, she was like, well then I better take it.  It was that short of a phone call, and I've been so thankful to her ever since and then probably the second shortest phone call was calling for "Finding Dory."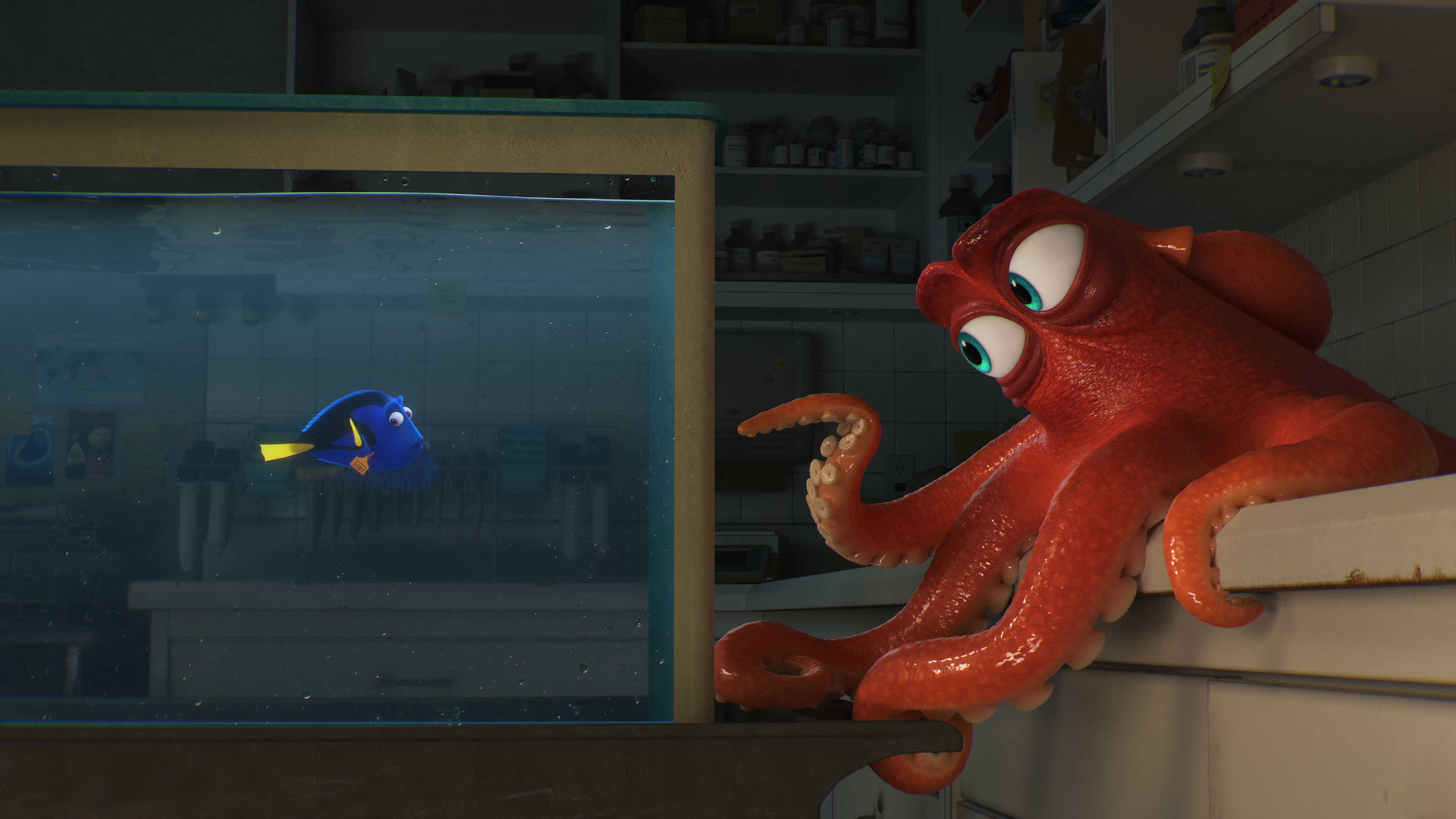 Watch for Easter Eggs
There are plenty.  A1-13, the pizza planet truck, a character from the next movie they're doing (Cars 3), Darla, KeeKee and then John Ratzenberger are all gonna be in there. Plus plenty of others. 😉
New Favorite Characters?
Out of the new characters that we will be meeting in Finding Dory, Andrew Stanton shared with us, who he would consider his favorite at the moment. "Well, that's a tough one.  They pop around.  It was sort of the same in the first film.  But I think maybe it's just because we spend a little more time with this character than any of the other new characters, is Hank. He's just so gruff.  But he's got a heart of gold. He's like your grumpy uncle. Or your grandpa.  You just love putting him in uncomfortable situations and seeing him have to like deal with it.  And be kind and things like that."
What about Nemo and Marlon?
Yes, they will be seen throughout the film.  Andrew told us, "They're in it all the way through.  They're just, they get separated from her and are like 3 steps behind her kind of throughout the whole film. We wanted to make sure that, we had at least explored putting in a lot of these characters just because we love them too."
Did they do any Medical Research on short-term memory loss?
According to Andrew, No."No to be honest, there's — there's nothing.  It's so made up for us.  I mean, it honestly, came from a biological fact that I've learned about Goldfish that they have a memory of 5 seconds, and I thought that was so hilarious, and I thought what if we come up with a character like that, and I thought it was too good.  And I gave it to maybe the character that has to go with Harland through the journey and how to figure that out.  Then slowly evolve because just forgetting every 5 seconds just gets so annoying so fast.  And slowly, it turned into this almost like just feeling it out.  It's like let her — let her have emotional memory.  Let her not forget any of that stuff."
That's just a fun peek into the interview with the filmmakers. Make sure to see the film on June 17th as Disney•Pixar's "Finding Dory" welcomes back to the big screen everyone's favorite forgetful blue tang Dory!
Swimming into theaters on June 17th!
                                               Like on Facebook: https://www.facebook.com/PixarFindingDory
                                               Follow on Twitter: https://twitter.com/DisneyPixar
                                               Follow on Instagram: https://instagram.com/DisneyPixar