Kay N Daves: The Perfect Spot for Sunday Brunch
By Erin
Brunch. Who doesn't love brunch? It's the perfect way to spend a weekend morning or afternoon. Sipping on an amazing cocktail and munching on some delicious food while enjoying the good company of friends and family aways makes for a great day in my eyes!
When I was invited to brunch with the Gigasavvy crew, a delightful group of fellow foodies, I couldn't resist. Hosted by Kay N  Daves Cantina in Culver City, we were in for a special treat! Kay N Daves also has locations in Brentwood and Pacific Palisades.
Kay N Daves has been a favorite neighborhood gathering spot since 1991 with their location on Pacific Coast Highway. In 1992 the Pacific Palisades location was opened, followed by Brentwood in 1995 and Culver City in 2009. Owned and operated by Dave and his wife, Jintana. Neither Dave or his wife are chefs, so they brought on Alejo Grijalva to run the kitchens with his two brothers, Ruben and Roberto. They grew up in Oaxaca with a love of food that their great-grandmother taught them, cooking using only the freshest of ingredients. That love and knowledge of food can be seen today at Kay n Daves.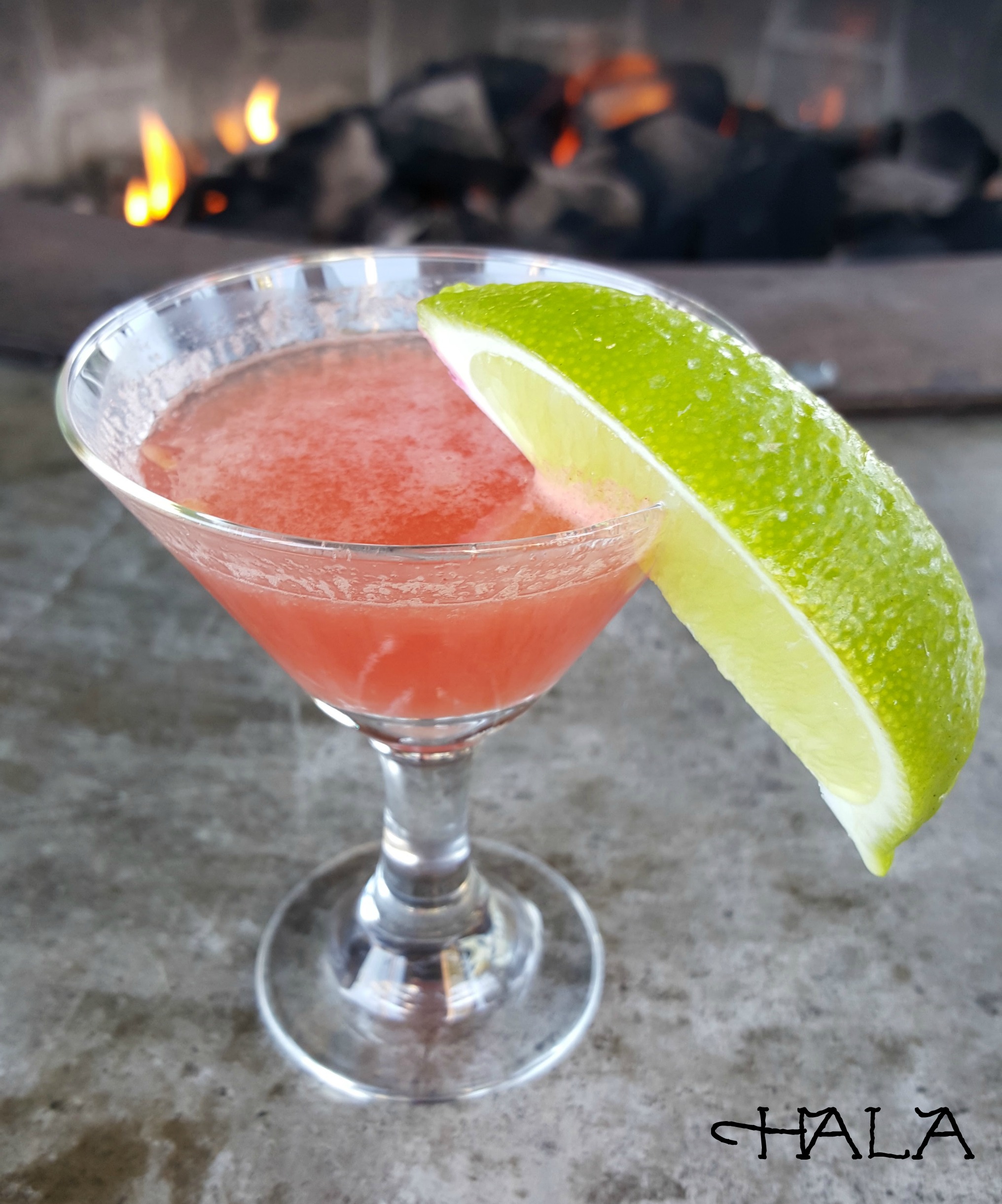 We started off our morning at Kay N Daves with a martini shot glass holding a refreshing watermelon shot made with fresh muddled watermelon. Plenty strong, it was the perfect way to get the party started. We were seated around a big round table that had a fire pit in the middle, which really added to the atmosphere, making it a great meeting spot to hang out at for a leisurely Sunday Brunch. Even on a chilly California-winter's day, you will be kept plenty warm. 😉
The next drink we tried was the Tamarindo Margarito. Made with Xicaru Mezcal and served with a chili-rimmed glass, this was my least favorite of the drinks we enjoyed. I'm more of a fruity drink girl, so this one isn't for me like the others were, like the next drink you see below…now THAT I could drink. All. Day. Long….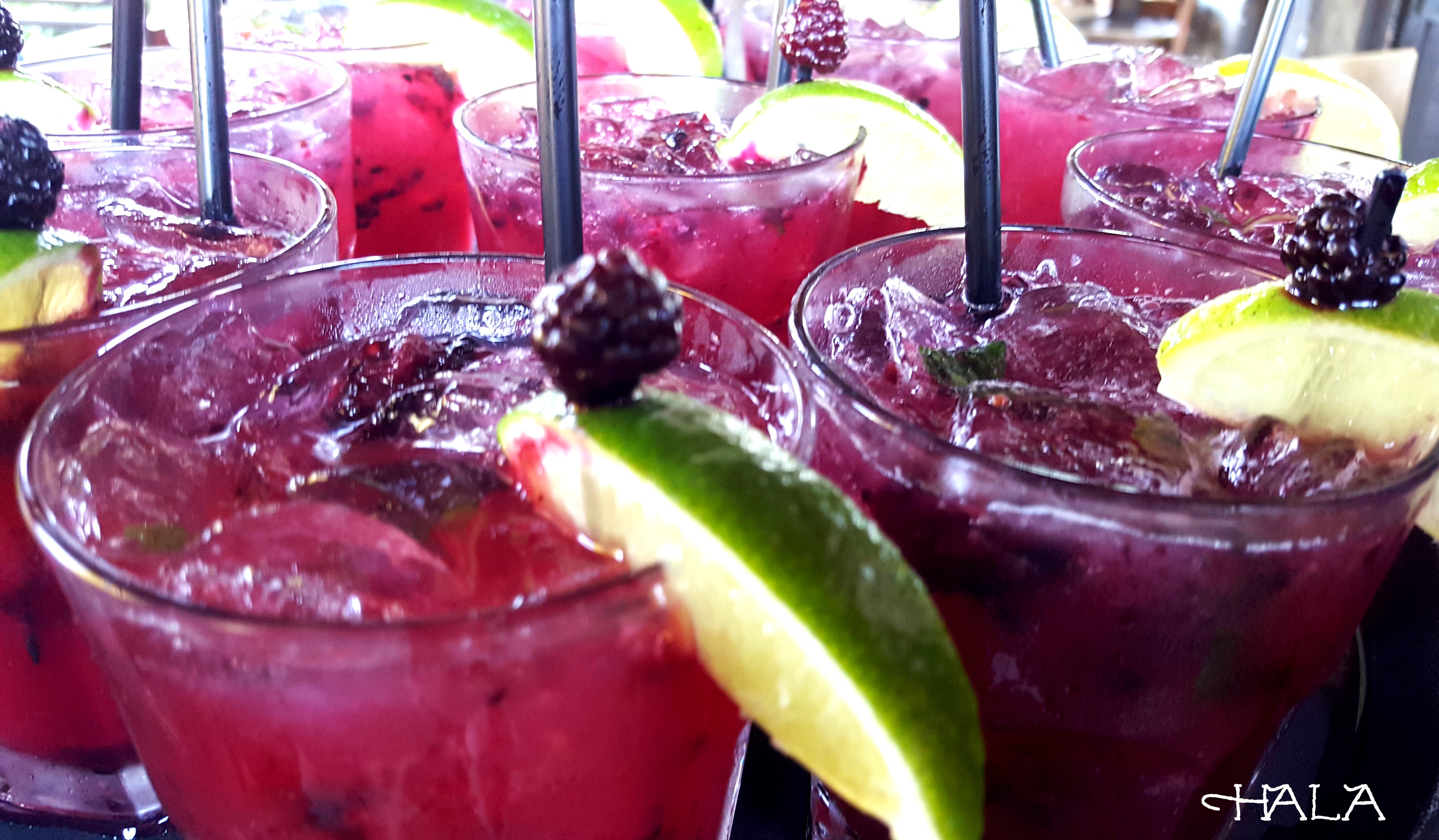 Mmmmm don't those look amazing? My favorite drink of the day, the Blackberry Margarita! Made with fresh muddled blackberries and mint. Topped with chunks of blackberry, lime and mint that mask the tequila well. It is very easy to drink and perfect to quench your thirst, just be careful, it's one of those drinks you can drink a lot of without realizing just how much alcohol you've had until you've had 2 or 3 and it catches up to you! 😉 But boy is it good!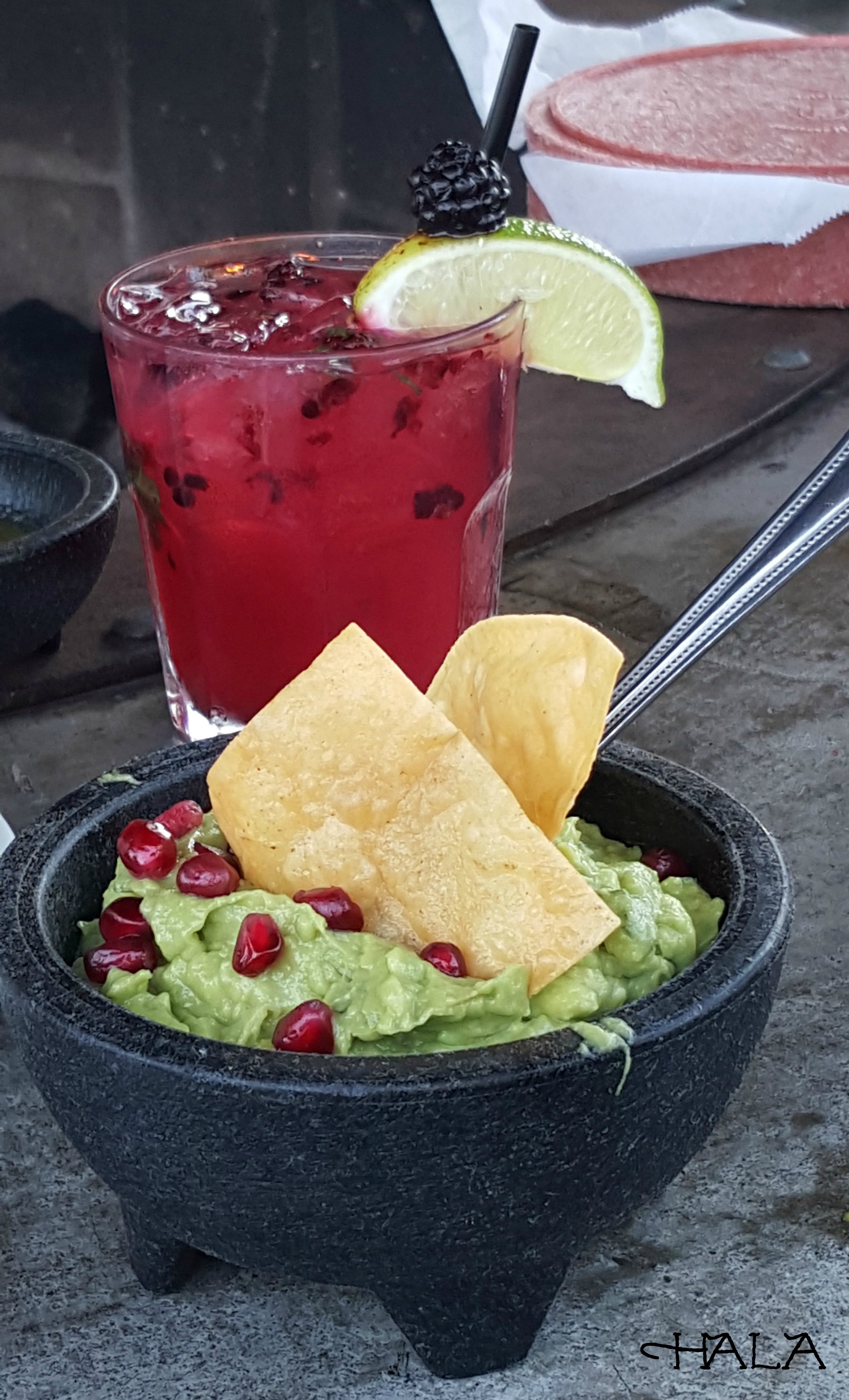 The starter plate was one for all of the senses to enjoy. Beautifully presented, the smells, the tastes, the textures, it was one to delight all of your senses. Starting from the bottom of the plate we had, The Mini Pibil Sope— cochinita pork pibil, oven-roasted in banana leaves with agave leaves. The Ceviche Tostada–sole marinated in fresh lime juice. The Squash Blossom Relleno— fresh blossoms, jack cheese, Mexican Herbs, crema and pico de gallo. The Mini Chicken Mole Taco–mole negro, that is made from scratch. They were all delicious, and I easily could have eaten two of each of these. My favorite of the four, just by a hair though, would be the Squash Blossom Relleno. So. Good. I'm more than ready to go back for more!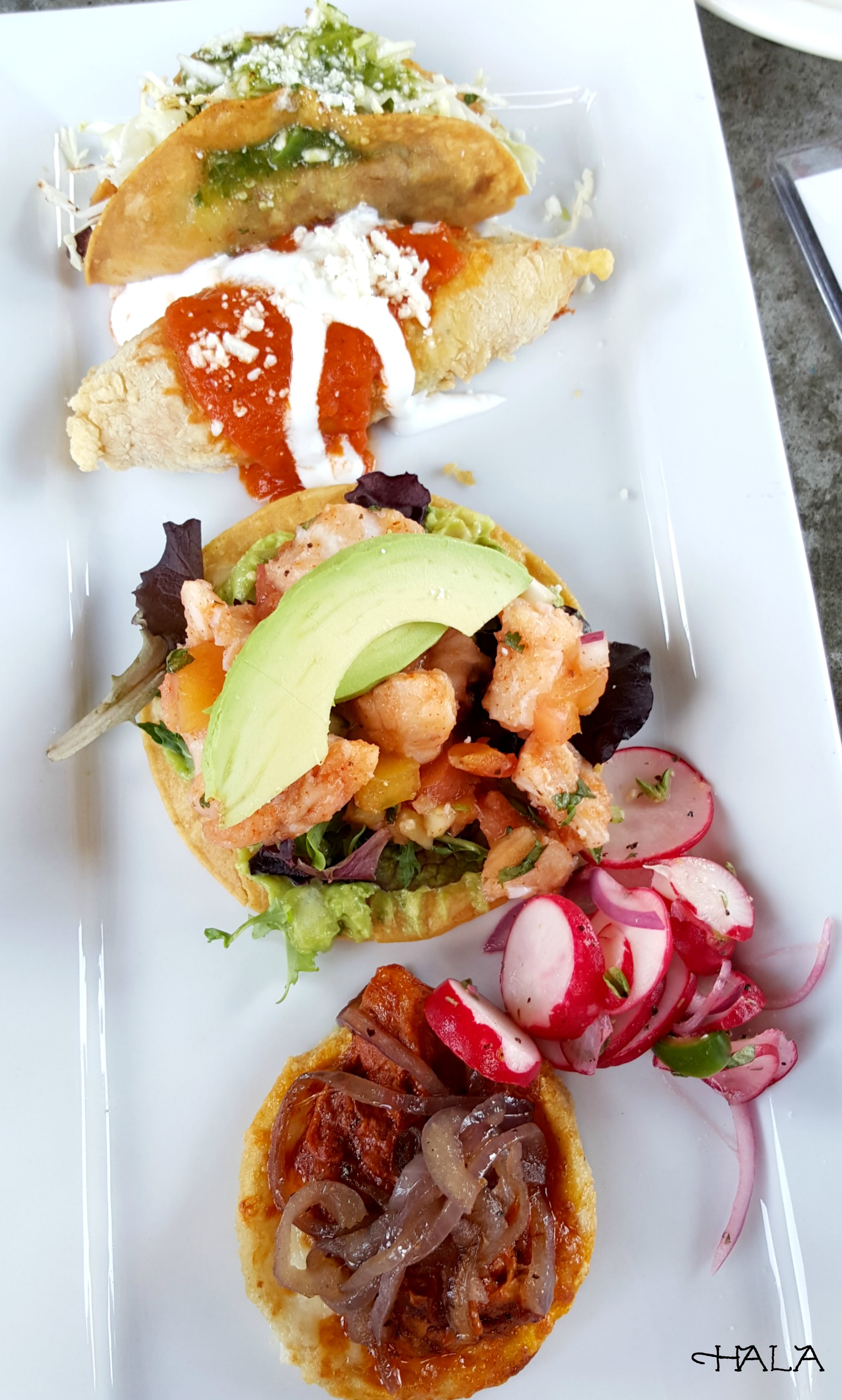 Just look at that Ceviche. Isn't it pretty? So yummy too! 🙂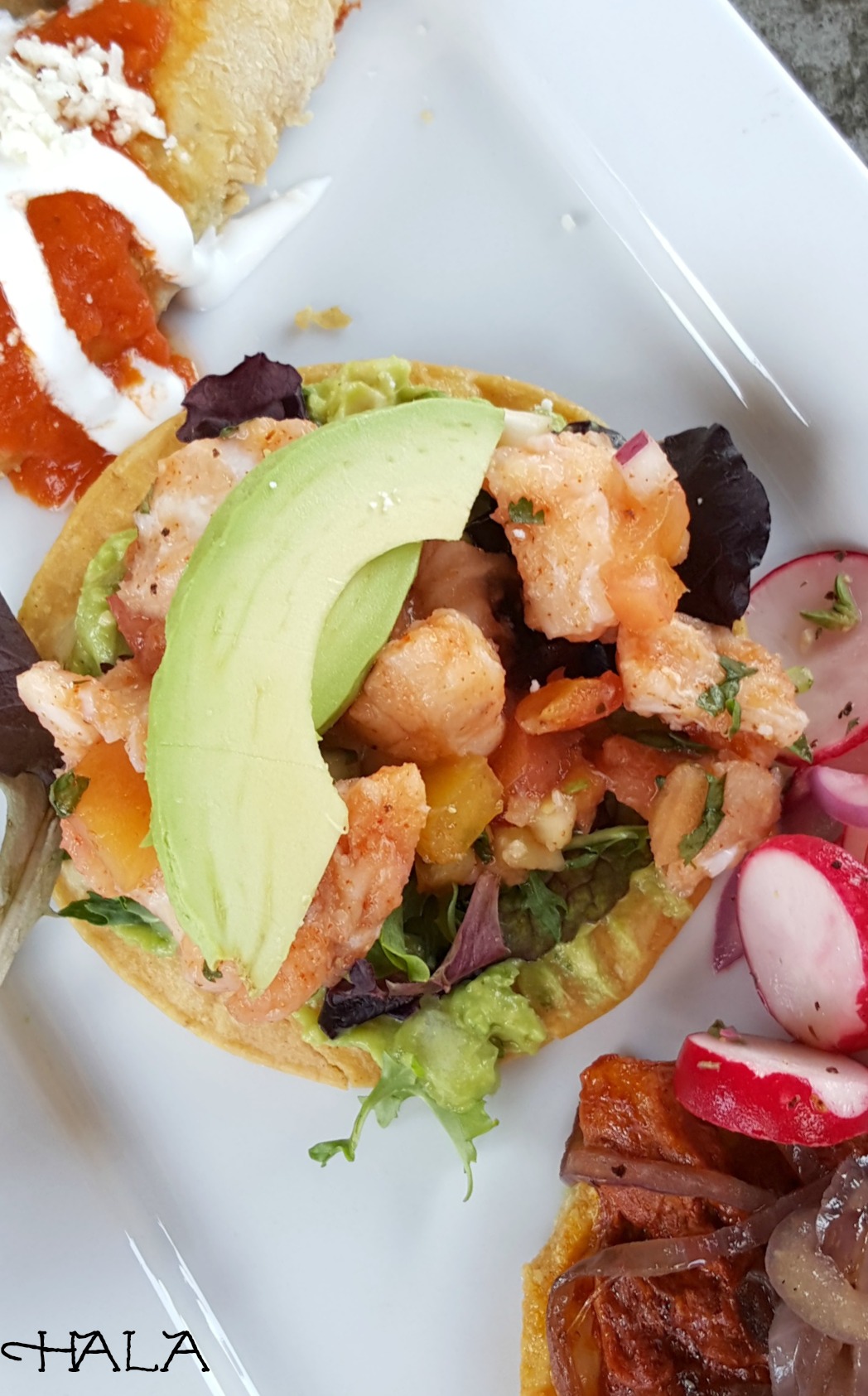 Our first entrée sampler was the Chiliquiles Verde. Made with spicy tomatillo salsa, cojita cheese and fresh herbs, it was the perfect blend of flavors.  Brunch wouldn't be complete without some egg involved, and the yolk slowly covered the dish, making a great mix of ingredients to dip the chips into. I'd love to have this dish for breakfast again. Maybe tomorrow? 🙂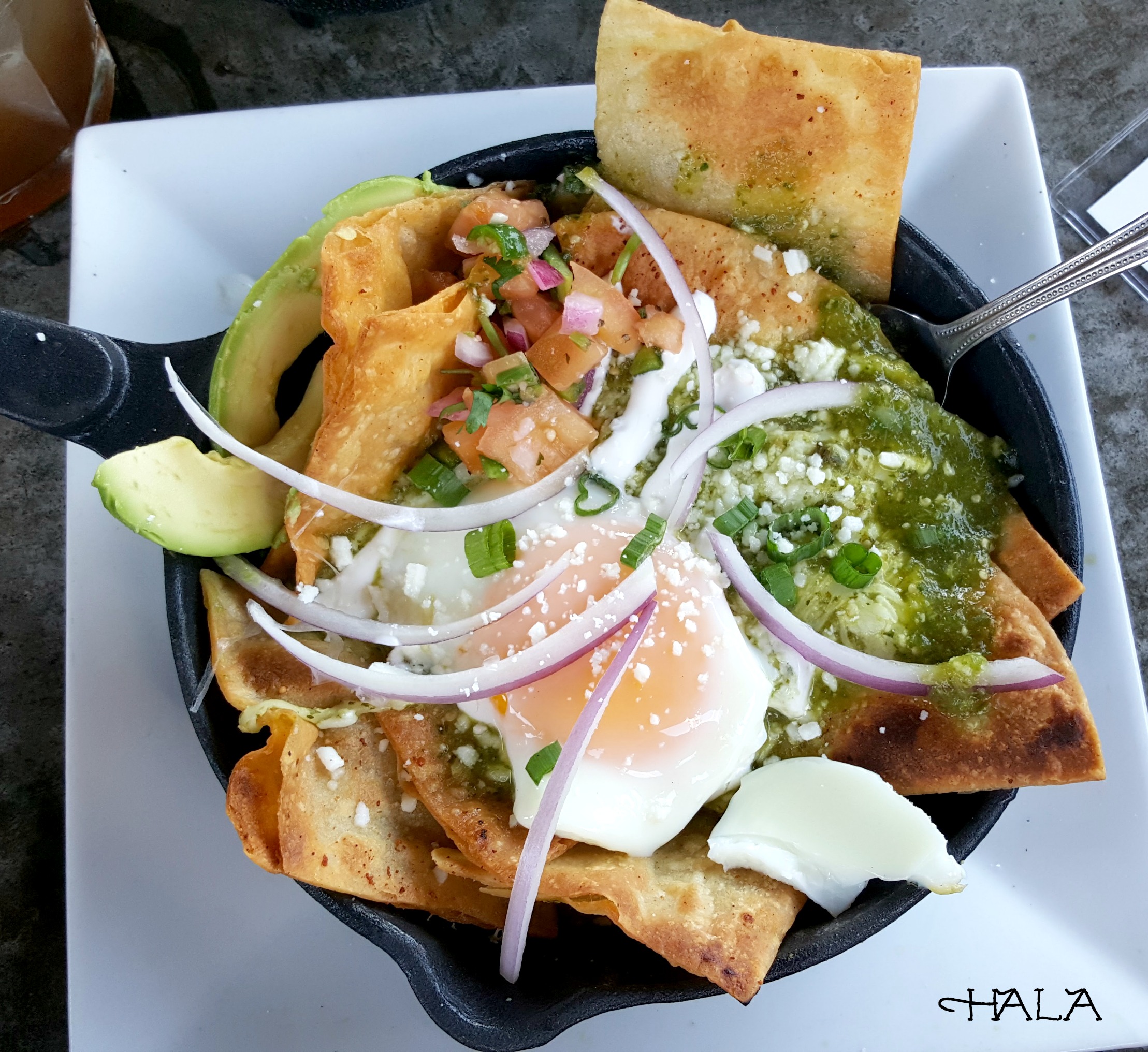 Our second entree sampler was this tasty Molcajete. Loaded with grilled steak, shrimp and chicken, slow cooked with a relleno in guajillo sauce. Served piping hot and bubbling (look at that sauce!), this dish is a flavor explosion. With the different flavors of meat, veggies, cheese and sauce, if will fill you up, but leave you wanting more at the same time.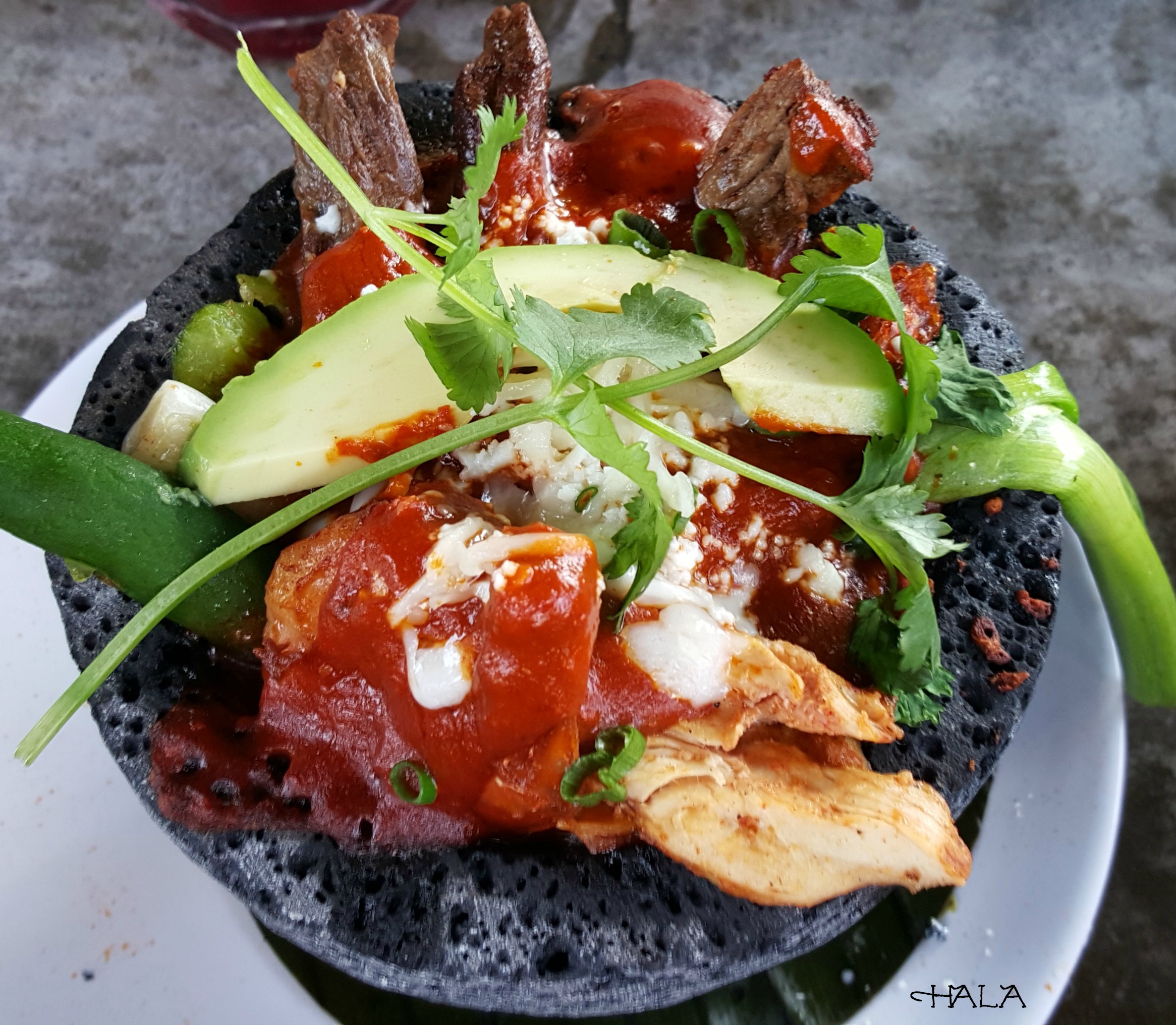 As we got ready to end our meal, out  popped the Mexican Mochas for us to all enjoy, just in time for dessert!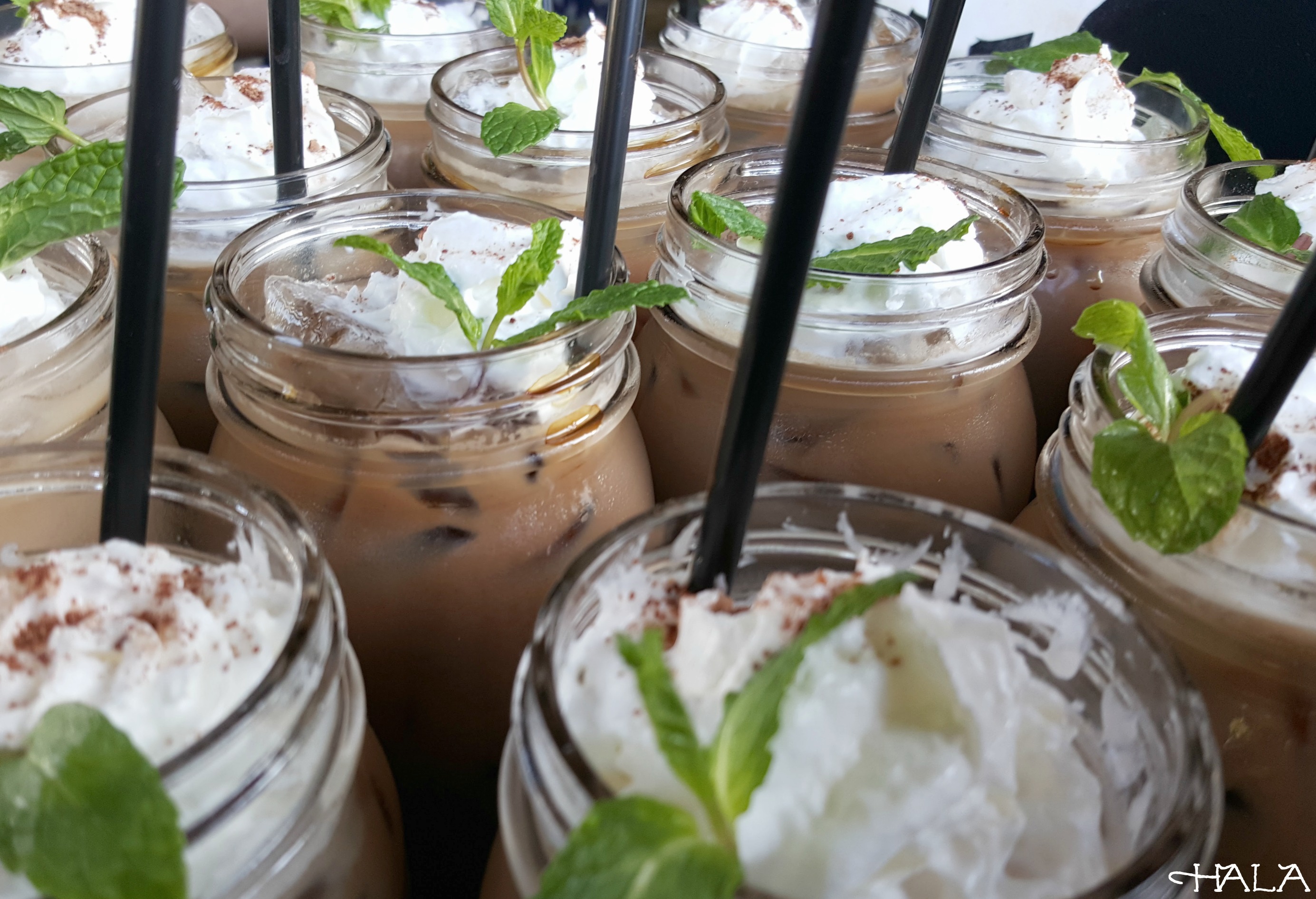 Dessert! Three desserts were served for us to savor. Tres Leche, Banana Flautas and Coconut Crusted Fried Ice Cream. The Tres Leche cake was so soft and moist, you can see the leche and caramel oozing out from it, it is heavenly. Everything is made in-house and the cream is handwhipped too.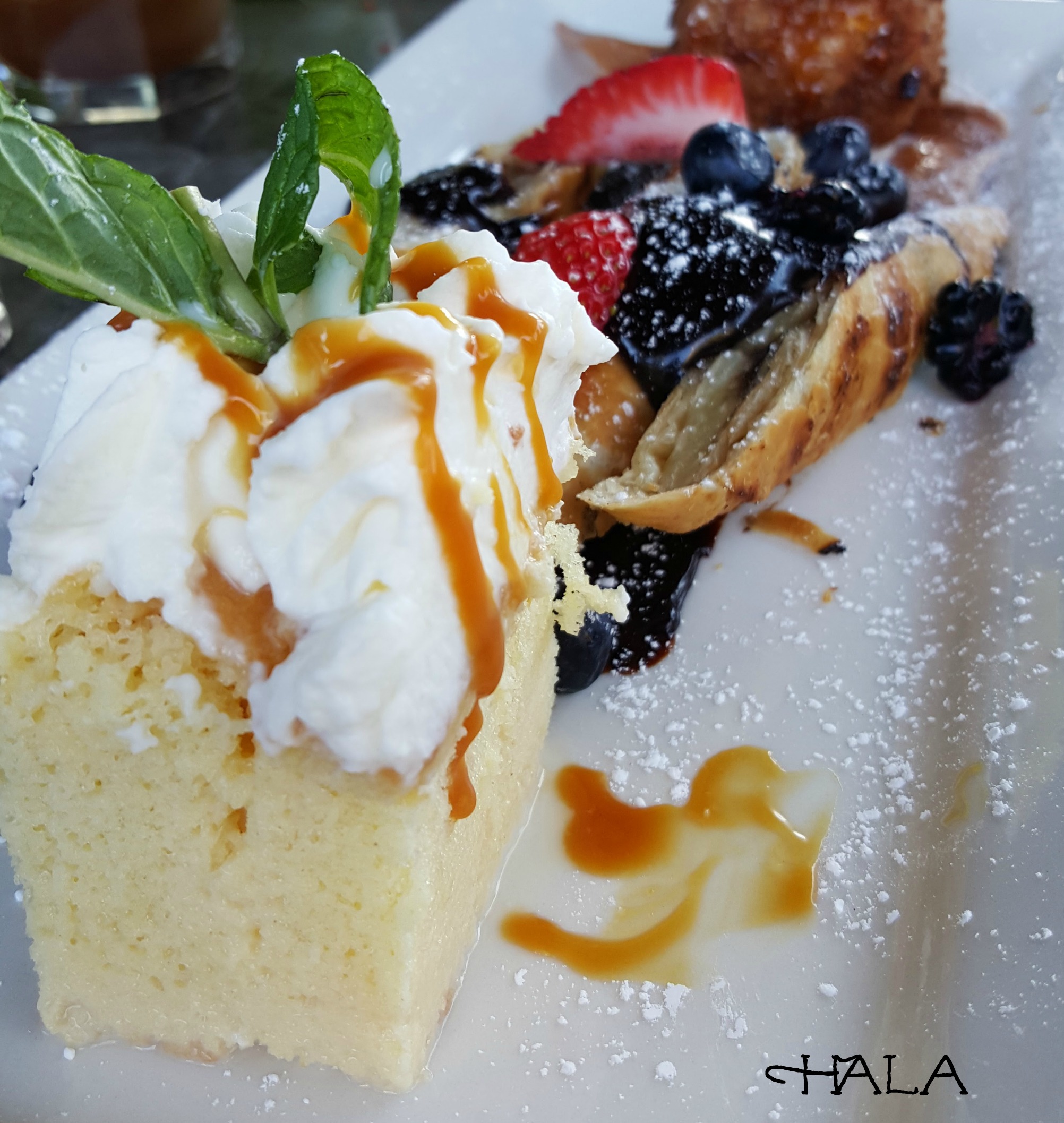 The Bananas Flautas in the middle and shown below, were light and crispy and the bananas inside were so smooth and creamy and went perfect with the chocolate sauce that was drizzled on top. The Coconut Crusted Fried Ice Cream was a delicious ball of crispy coated ice cream and melted in your mouth, if you wait too long though, it will melt right on  your plate!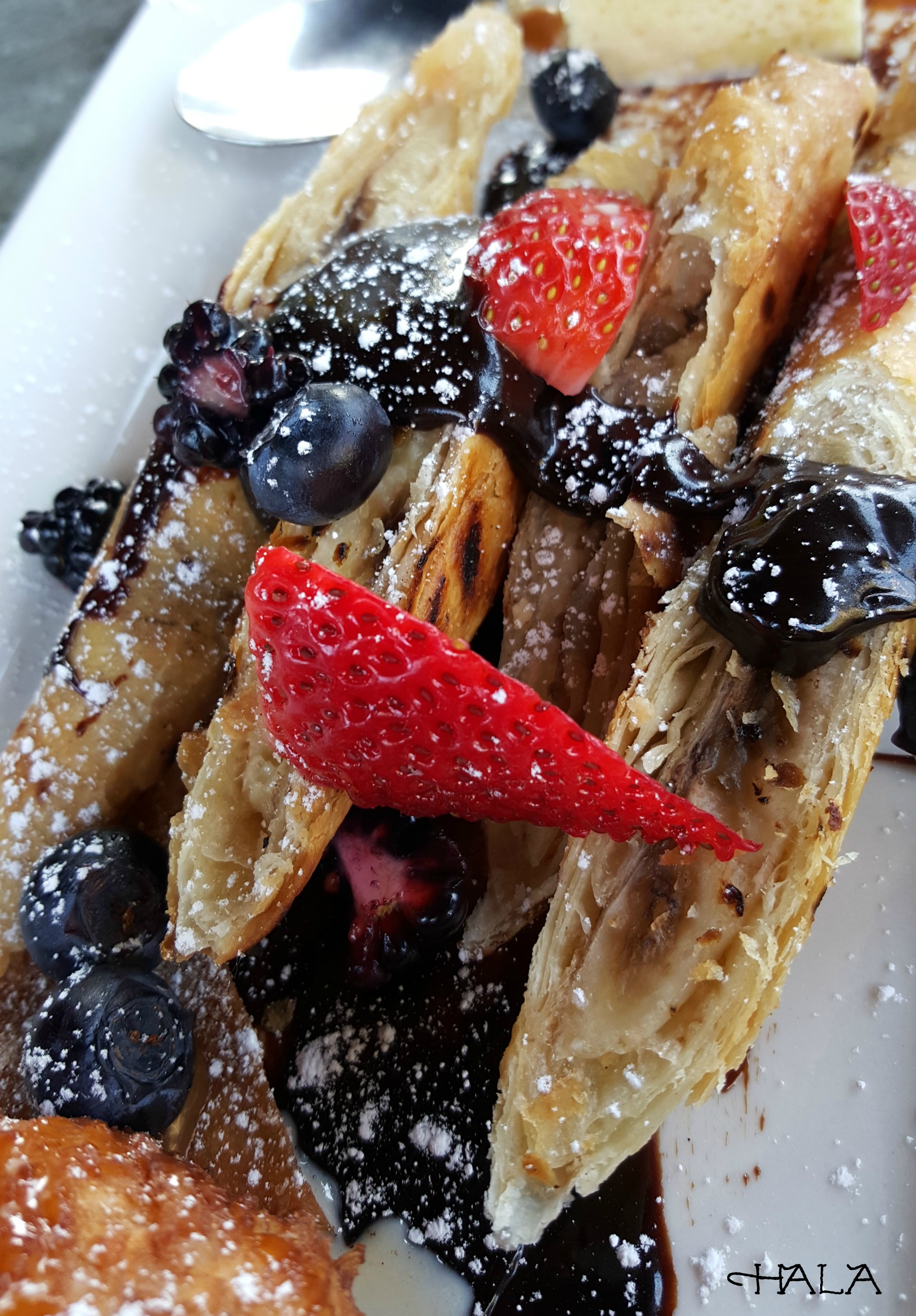 After all this, I was beyond stuffed, but was already dreaming of my next trip to Kay n Daves and when the next time would be to have another Blackberry Margarita! Kay N Daves is located right across the street from Trader Joe's and next to a public parking area. Parking can be a bit tricky to find, so I highly recommend parking in the parking structure near the Trader Joe's. Be sure to follow them on their Facebook page, Twitter, or on Instagram!