Star Wars: The Force Awakens!
By Erin
*I was invited as press by Disney to the Global Press Day for Star Wars: The Force Awakens for purposes of this post.*
The wait is almost over. The most anticipated film of the year; Star Wars: The Force Awakens is about to blast into theaters everywhere. Die-hard fans have been camping out for days in the cold and the rain, awaiting the arrival of the next installment of Star Wars. Everything for this film has been kept top-secret, in order to keep it fresh and new for everyone to enjoy without any spoilers. This included the press junket for Star Wars and its location. I've done a lot of press junkets now, and this was by far the most secretive and under wraps one yet! We were even instructed not to Geo-tag any of our posts, or we would be asked to leave. Usually there are signs once we get to the location telling us which way to go to get to the correct room for the junket, but not this one! Everything was secret. In the email it said to go upstairs and look for a white curtain. No signs anywhere, nothing. Just this white curtain, so unless you knew what to look for, you'd never know by just walking by, what was behind this very magic curtain.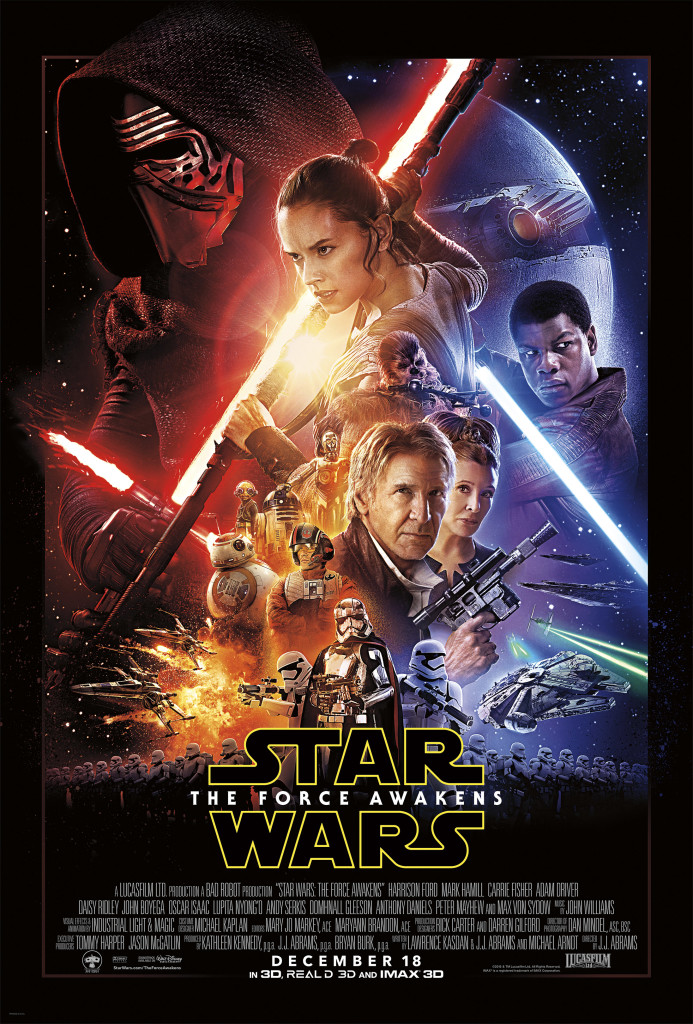 This junket was very different from the rest, as usually we are able to see the movie before the junket. This one we didn't. We didn't get to see it until just yesterday. Everything was top secret! So I will be giving you a little different perspective on the Star Wars: The Force Awakens than in other junket posts. This is more what my experience was and some information and thoughts from the cast on creating this masterpiece. So don't worry, no spoilers here about the actual film! 😉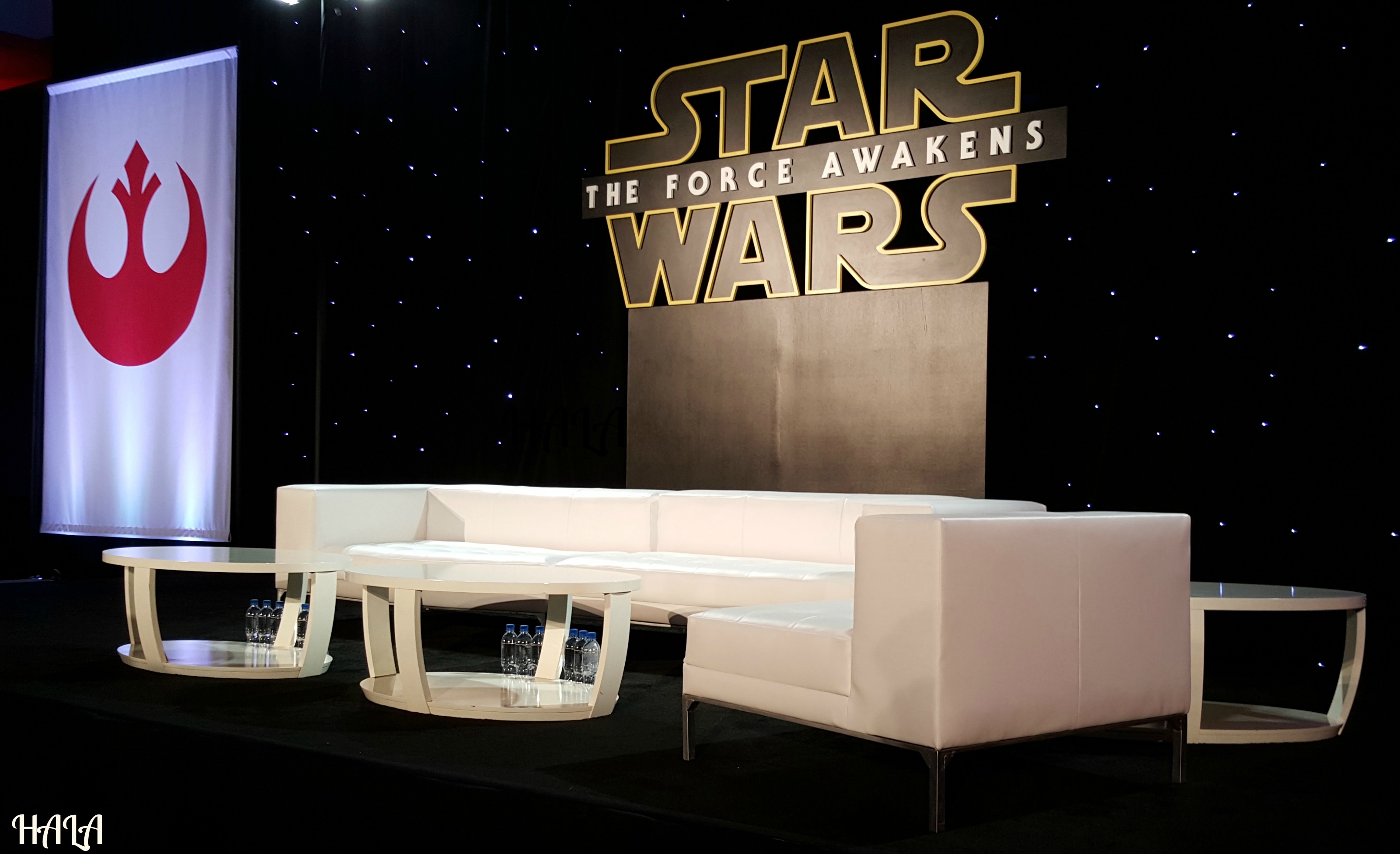 The set for the Star Wars: The Force Awakens Global Press Day! We wait in anticipation for the cast to walk out!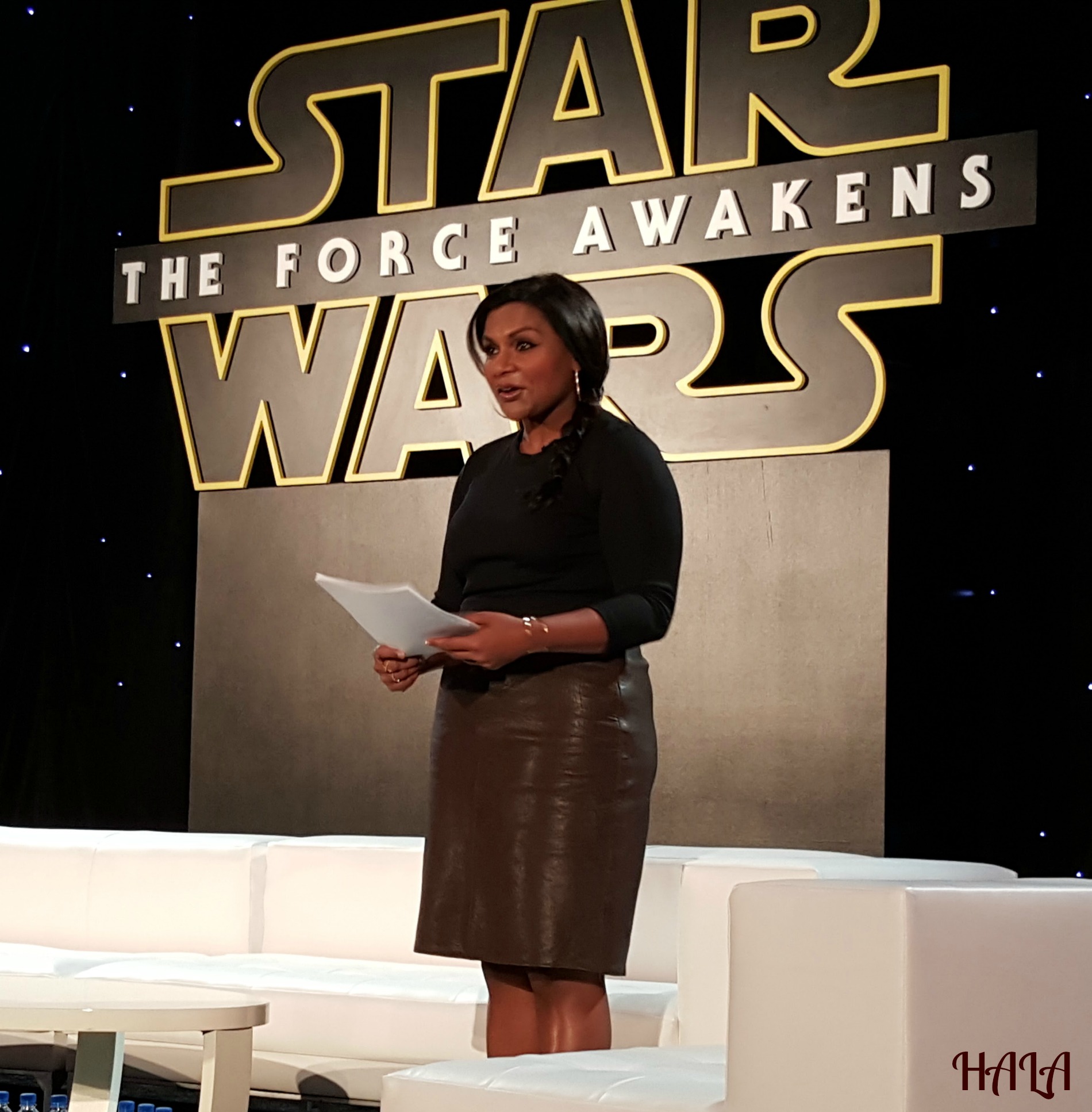 Eeek! Mindy Kaling (From The Office & Inside Out) was the moderator for the press conference! The conference was in two groups. The first group she introduced us to interview was: Carrie Fisher ("Leia"), JJAbrams (Director/Producer), Daisy Ridley ("Rey"), Adam Driver ("Kylo Ren"), Lupita Nyong'o ("Maz Kanata"), Lawrence Kasdan (Screenplay By).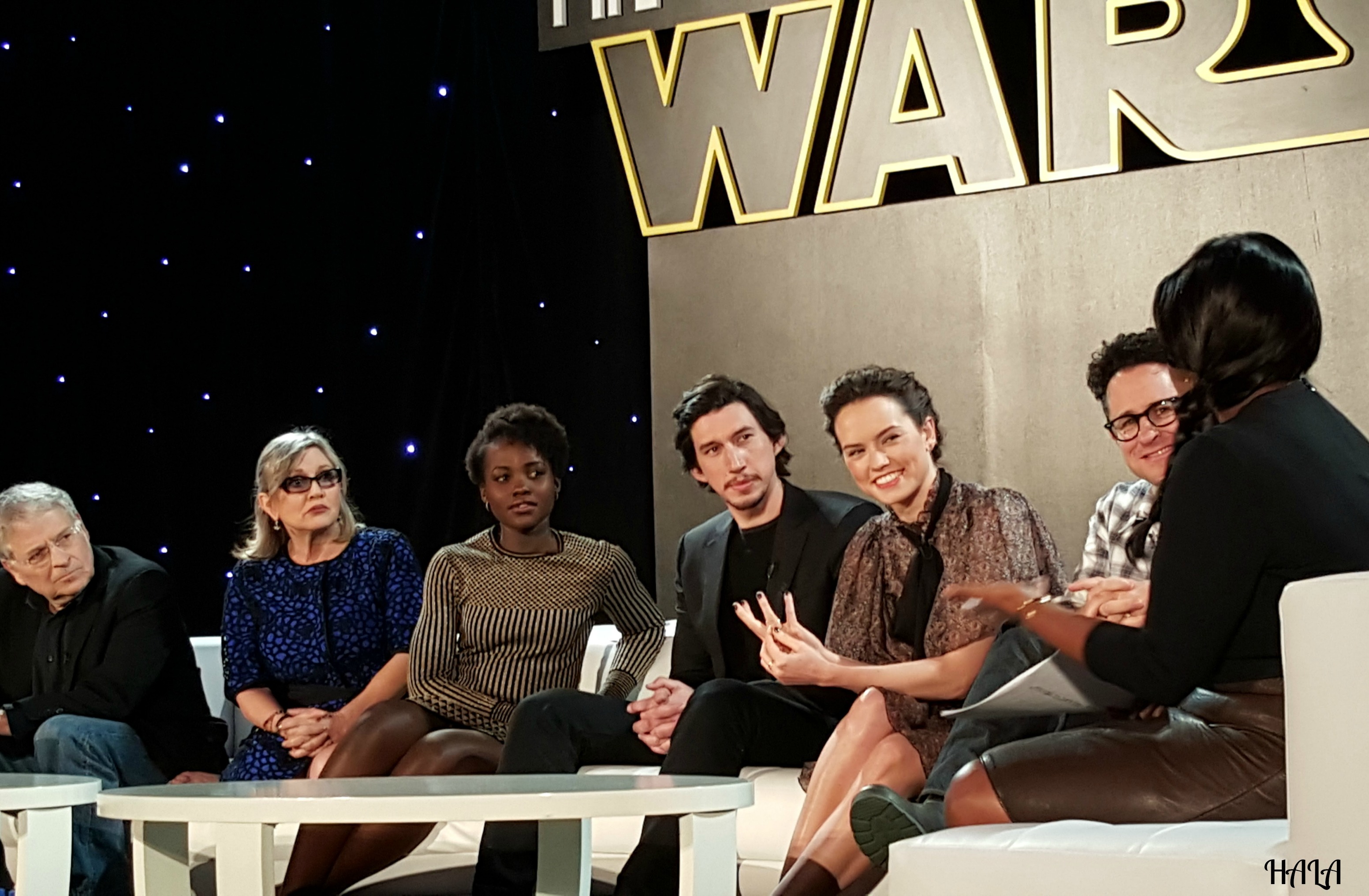 Since we did not talk about the film directly (as no one had seen it), one of the things we did discuss that really caught my interest was about the costumes. We asked the cast how long it took them to get into costume.
Daily Ridley (Rey): "Twenty minutes. Does that seem long or short? Cause putting the arm things on and everything takes a while, and the wraps and everything. Had a wonderful woman called Callie helping me."
Adam Driver (Kylo Ren): "The first time took like an hour and a half. Then we got it down to like 20 minutes, I think."
Lupita Nyong'o (Maz Kanata): "For me it took about – well, I didn't have a costume because I was a motion capture character, but to get suited up it took about – in the beginning it took like two and half hours, maybe three. And then by the end we had it down to about an hour or an hour 15."
Lawrence Kasdan (Screenplay): "I was ready like that. Show up ready to go."
Carrie Fisher (Leia): "How long did it take to get into costume? About 10 minutes for the 20. I'm older and I do it faster. No, really, 20 minutes. I have a kind of classy gas station attendant look. So that doesn't take long to put on."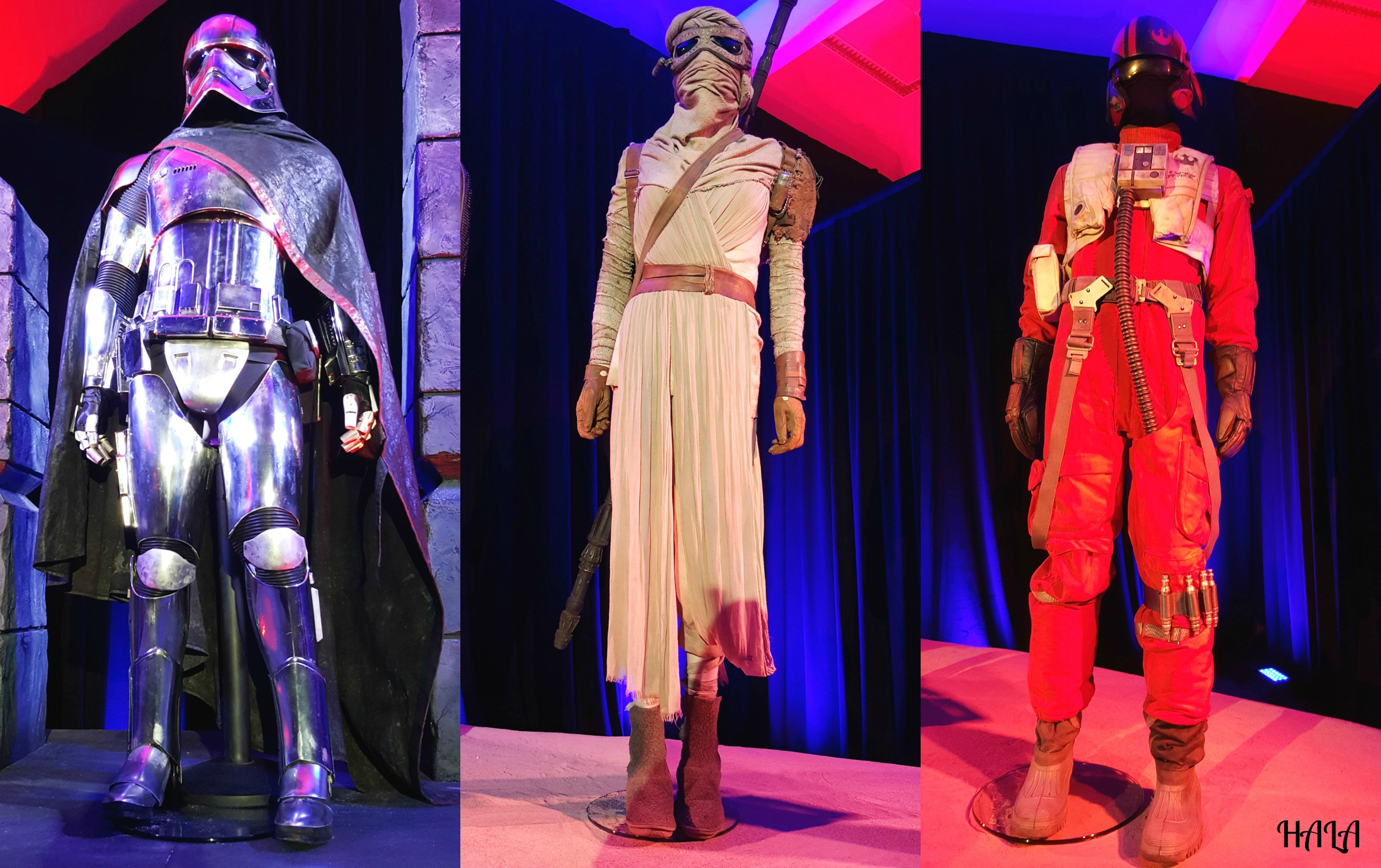 They had many of the costumes on display for us to see just how detailed and intricate each one was. From left to right you have: Captain Phasma, Rey, and Poe. What does each character have to put on to complete their costume?
Captain Phasma
Helmet – Chrome vacuum-plated 3D printed nylon
Cape – Cotton canvas and painted with binder
Armor – Chrome vacuum-plated molded polyurethane
Undersuit – Cotton lycra
Gussets – Molded rubber and cotton lycra
Collar – Neoprene and rubber
Belt – Rubber
Gloves – Chrome painted 3D printed fingers over leather
Boots – Chrome vacuum-plated polyurethane armor over leather
Rey
Wrap Dress-viscose
Head Wrap-cotton
Top-hemp and cotton jersey
Trousers- silk
Backpack-leather
Wrist Cuff and Belt- leather
Pouch-canvas
Arm Wraps-cotton
Gloves-leather
Boots-wool and leather
Staff-3D print
Poe
Flight Suit-Orange Nylon Canvas
Boots-Rubber Nylon
Gloves-Leather Gauntlet with padded detail
Belt-Grey webbing with nylon and metal
Vest-Off white life vest with plastic clip fastenings and alliance detail on the left shoulder
Helmet-Molded Polyurethane Helmet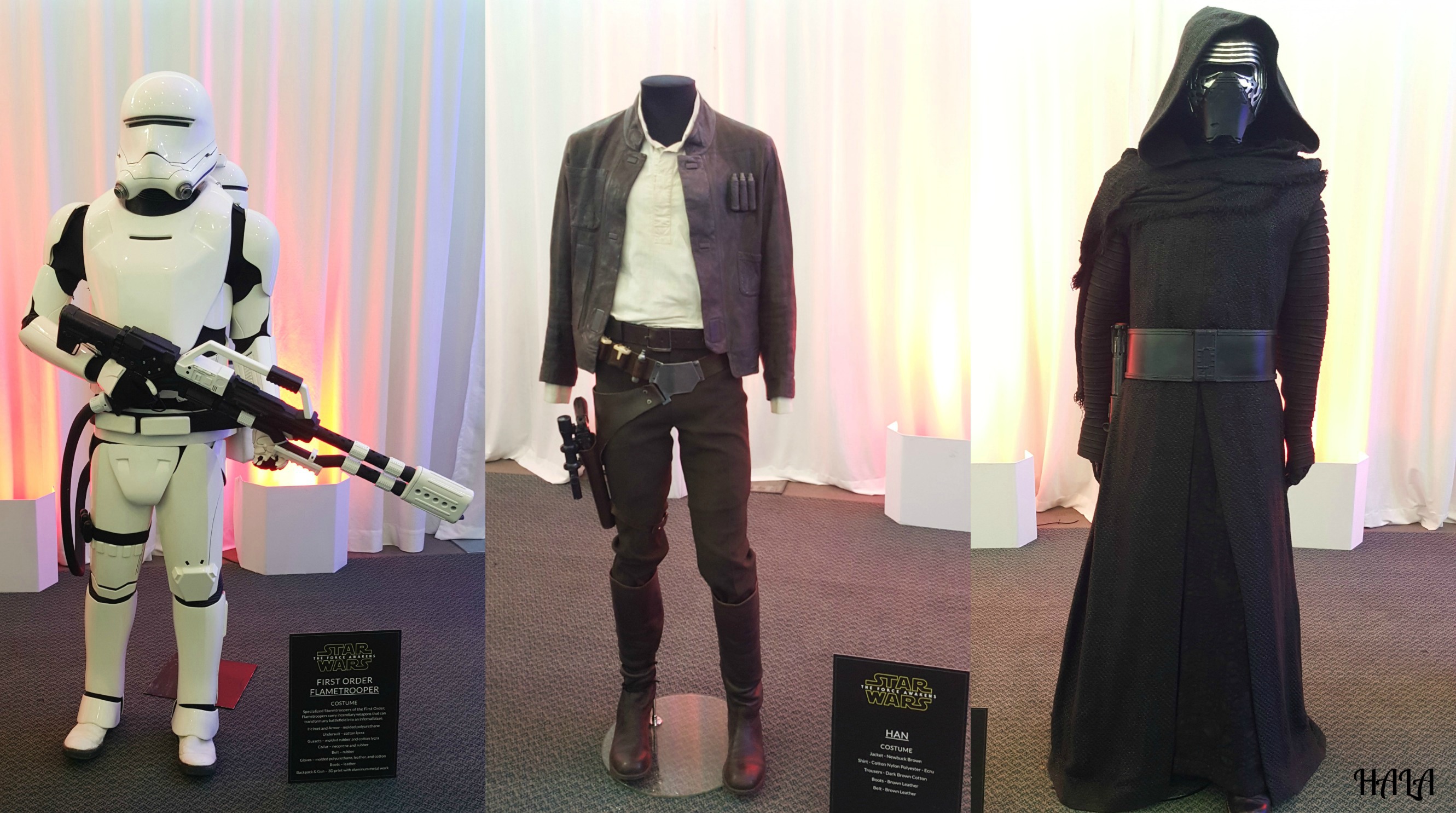 From left to right: First Order Flame Trooper, Han, and Kylo Ren.
First Order FlameTrooper
Helmet and Armor – molded polyurethane
Undersuit – cotton lycra
Gussets – molded rubber and cotton lycra
Collar – neoprene and rubber
Belt – rubber
Gloves – molded polyurethane, leather and cotton
Boots – leather
Backpack and Gun – 3D print with aluminum metal work
Han
Jacket-Newbuck Brown
Shirt-Cotton Nylon Polyester- Ecru
Trousers-Dark Brown Cotton
Boots- Brown Leather
Belt-Brown Leather
Kylo-Ren
Helmet-Molded polyurethane
Top Coat-black basket weave coated cotten
Mid Coat-wool
Under Tunic-cottone
Trousers-denim
Gloves-leather
Boots-leather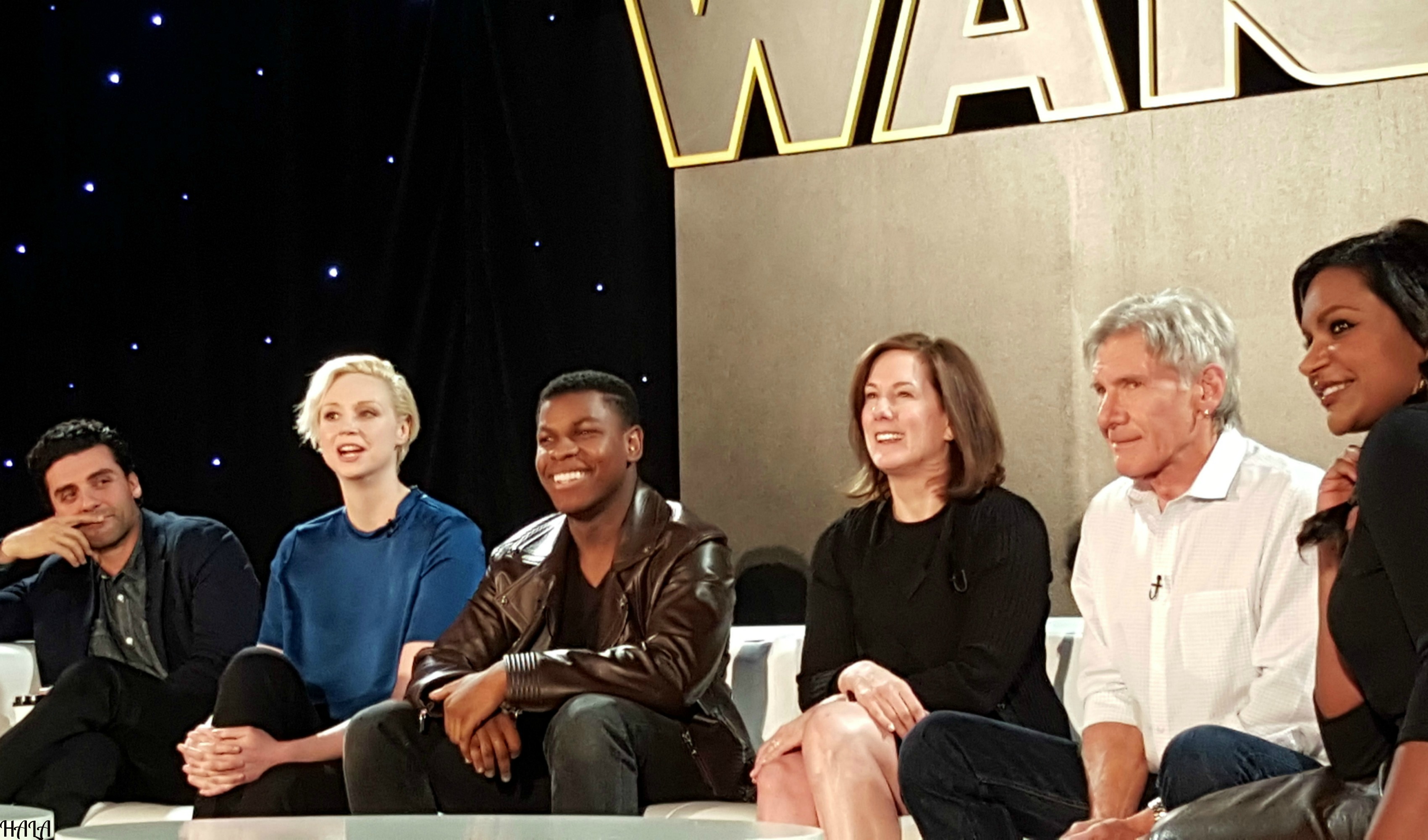 After chatting with the first amazingly talented group, Mindy introduced the second group to us;  Harrison Ford ("Han Solo"), John Boyega ("Finn"), Oscar Isaac ("Poe Dameron"), Gwendoline Christie ("Captain Phasma") and Kathleen Kennedy (Producer).
A lot of attention was on Harrison Ford. Mindy started the conversation by asking  Harrison why he needed to do this film if he was rich.
Harrison's response probably wouldn't surprise anyone I'm sure.
"It's because it's what I do. It's what I like to do. It's what's fun for me. And I had a chance to work with people who I really admire, doing something that I thought was going to be fun, and which actually turned out to be fun, and to work with J.J., whose work I had really admired and long known about. And it seemed like a good idea at the time."
 Another question for Harrison was how it felt to be the bridge from the original series to the new generation.
"It's gratifying to be asked to be part of this. There was an interesting story to tell for the – through the character. It's always nice to anticipate working in something that you know people will have an appetite for. This is not a crap shoot. This is – this is a big casino. And it's fun to play with these toys again. It's been a great experience."
John Boyega was asked,  What he thought the greater cultural impact of The Force Awakens was with him being cast as the first black storm trooper. His thoughts?
"For me, I'm going to be honest.  I really don't care about the black storm trooper stuff.  I couldn't care less.  This is a movie about human beings, about Wookies, spaceships, and Ty fighters, and it has an undertone and a message of courage, and a message of friendship, and loyalty. I think that's something that is ultimately important.  I watched the movie with Kathy just last week, and I really relate to Rey more than any of the characters.  And to be in a circumstance where you have to find something bigger than who you are within yourself, is something that's an inspiration to me.  And I think that people take that away – in terms of the kids, all they're going to be concentrating on is BB-8."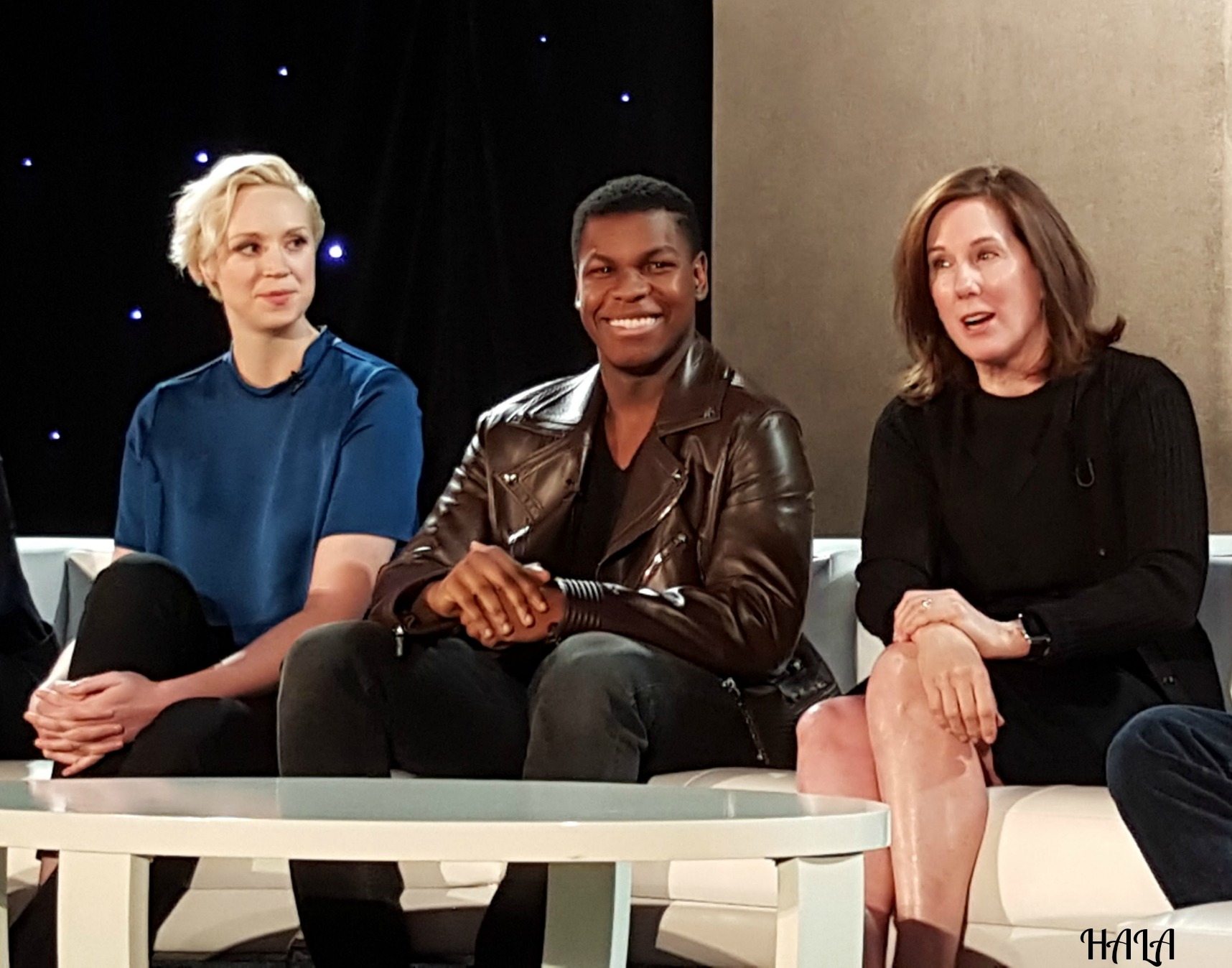 After the Global press conference we got to stick around to check out the new Star Wars: The Force Awakens Merchandise. How cool is all of this??!! I'll take one of each. Thanks. 😉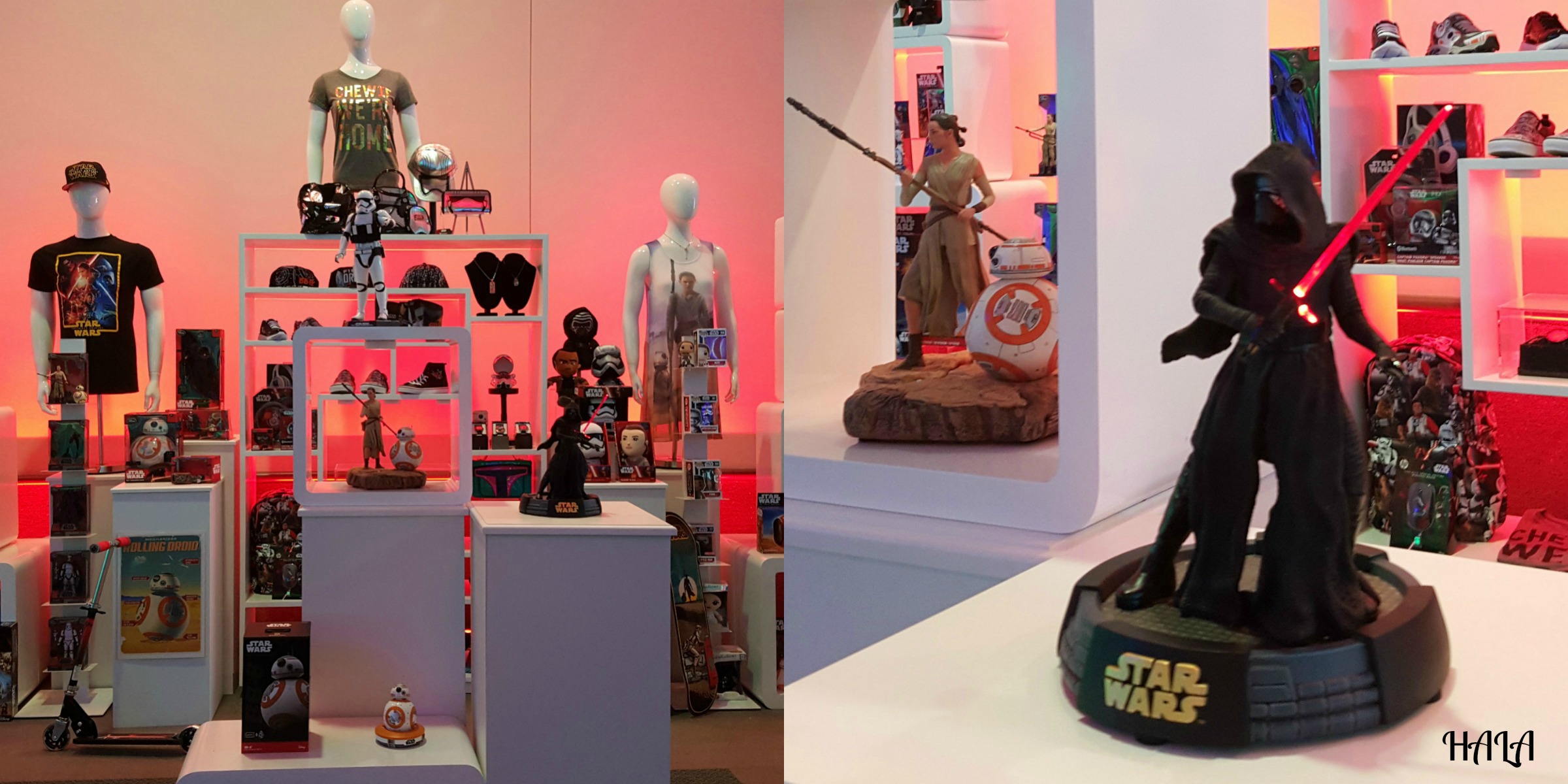 One of the most memorable things for me from this whole amazing experience was having the opportunity for some amazing photo ops, including this one here with BB-8! He is just too adorable! I wanted to take him home with me.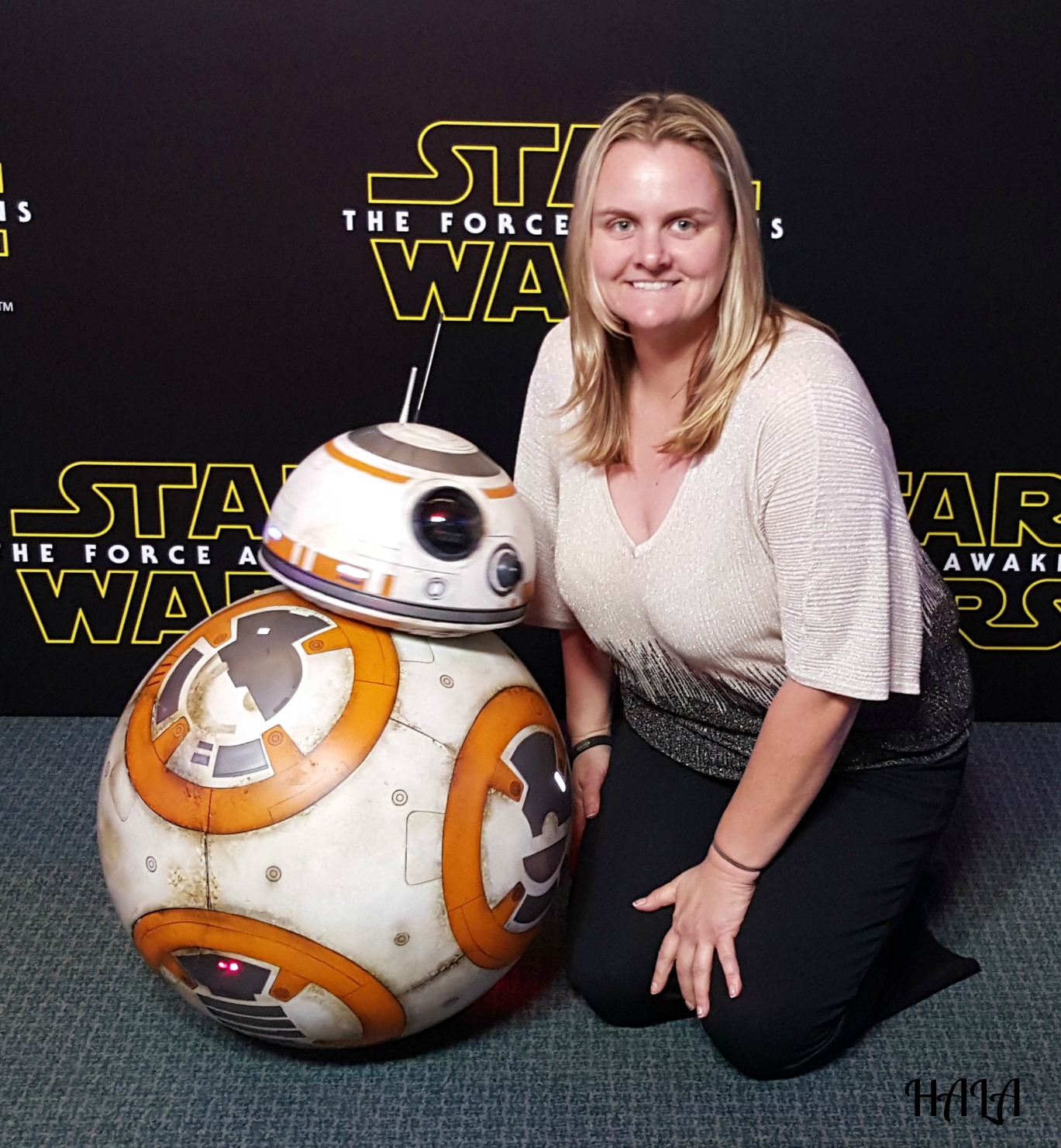 After seeing the film, I'd say that the film is perfect for children and adults of all ages. The twists and turns in the plot will not disappoint the biggest of Star Wars Fanatics. It is the perfect family holiday film. Wether you have tickets yet or not I encourage everyone to go this weekend and may the force be with you! 😉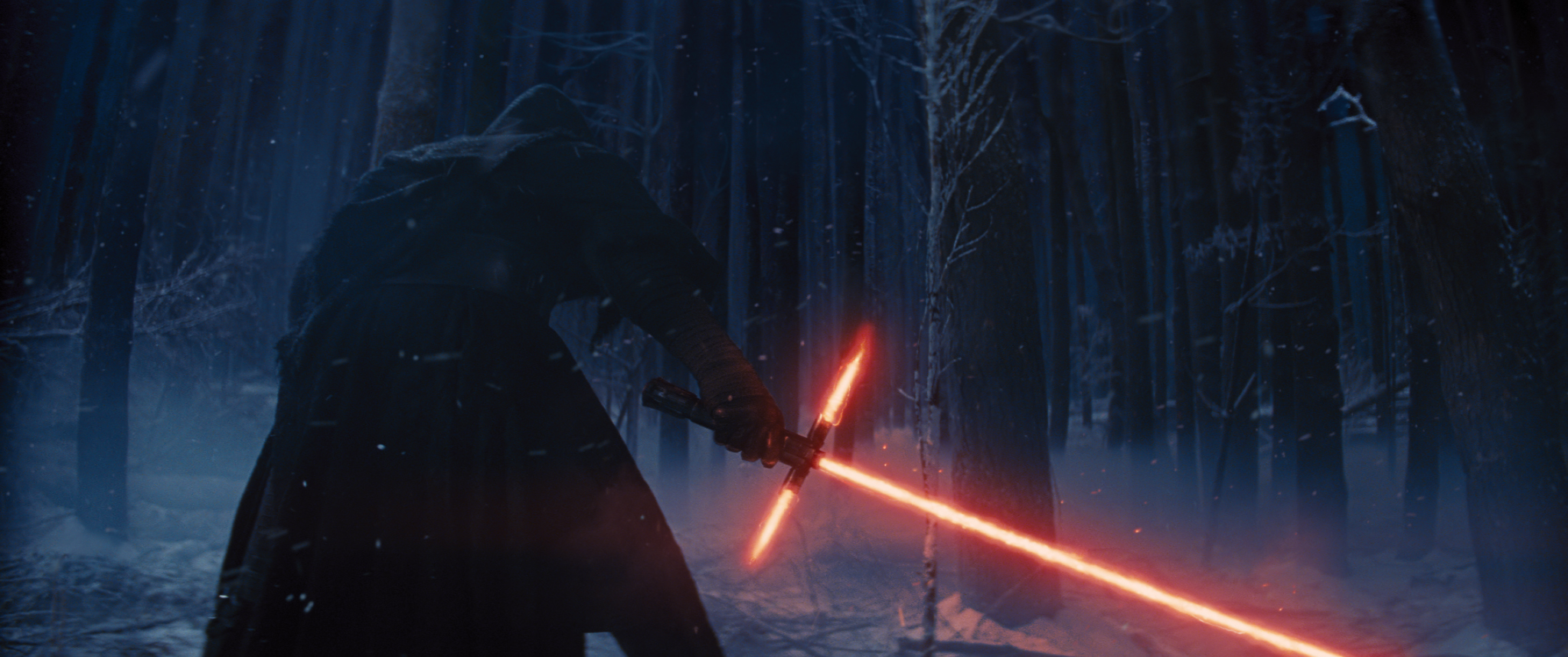 Lucasfilm and visionary director J.J. Abrams take us back again to a galaxy far, far away as "Star Wars" returns to the big screen with "Star Wars: The Force Awakens." The film stars Harrison Ford, Mark Hamill, Carrie Fisher, Adam Driver, Daisy Ridley, John Boyega, Oscar Isaac, Lupita Nyong'o, Andy Serkis, Domhnall Gleeson, Anthony Daniels, Peter Mayhew and Max Von Sydow. Kathleen Kennedy, J.J. Abrams and Bryan Burk are produced with Tommy Harper and Jason McGatlin serving as executive producers. The screenplay is by J.J. Abrams & Lawrence Kasdan. "Star Wars: The Force Awakens" releases in U.S. theaters on December 18, 2015.
STAR WARS: THE FORCE AWAKENS Opens in theaters everywhere on Friday!
Like STAR WARS on Facebook: https://www.facebook.com/StarWars
Follow STAR WARS on Twitter: https://twitter.com/starwars
Follow STAR WARS on Instagram: https://instagram.com/starwars/
Follow STAR WARS on YouTube: https://www.youtube.com/user/starwars
Visit the official STAR WARS: THE FORCE AWAKENS website:http://www.starwars.com/the-force-awakens/