Welcome to the World of Zootopia!
By Erin
*I was invited as a guest of Disney to the early press day of Zootopia for purposes of this post*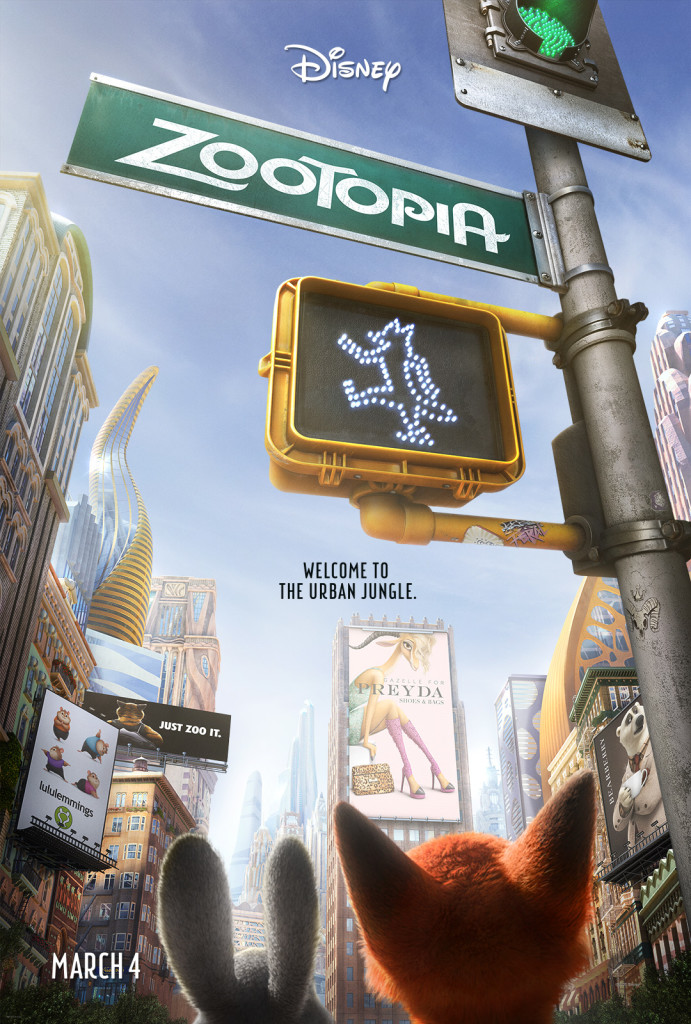 The other month, I had the pleasure to meet a few friendly critters… like Judy and Nick here—who are a rabbit and a fox—natural enemies by definition, so they don't exactly get along at first. They come to the relationship with ideas about each other—beliefs that aren't informed or accurate. They're a little pushy… but definitely *NOT* camera shy! 😉 They both live in a magical place called Zootopia, which I was able to get a first look at while I was visiting.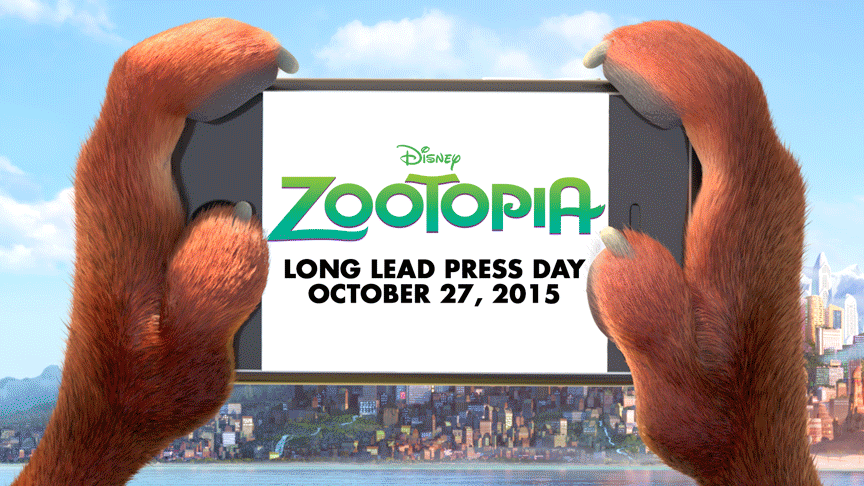 Zootopia isn't like any other city you've ever been to before. It is made up of neighborhoods that celebrate different cultures. There's ritzy Sahara Square for desert animals, Tundratown for the polar bears and moose, the hot and humid Rain Forest District, Little Rodentia for the the tiniest mice, and Bunnyburrows for the millions and millions of super adorable cute little bunnies. The downtown area, Savanna Central, is a melting pot where a wide array of mammals from every environment come together—a place where no matter what you are, from the biggest elephant to the smallest shrew, you can be anything. When Rookie Officer Judy Hopps arrives, she finds out that being the first bunny on a police force that is run by a lot of big, tough animals isn't so easy. Having a deep desire to prove herself, she jumps at the chance to crack a case, even if it means partnering with a fast-talking, scam-artist fox, Nick Wilde, to solve a mystery…
So what do these different neighborhoods look like exactly in Zootopia? Before going into more depth of the characters (in a future post), you'll want to have a better understanding about the layout of the land! 😉
THE BIG SIX
Filmmakers had endless possibilities to explore when it came to creating different lands for Zootopia. They needed to narrow down the districts of Zootopia. Ultimately, six key areas were agreed upon, giving each a specific color palette and details.
Sahara Square: The glitz! The Glamor! The lights! Sahara Square is made up of sand dunes and buildings that are shaped like sand dunes. "The heart of Sahara Square is inspired by Monte Carlo and Dubai," says Matthias Lechner, art director of environments. "We learned that desert animals are mostly nocturnal because it's too hot during the day. So we built lots of nighttime activities—casinos and a giant palm-tree hotel with an oasis surrounding it."
Sahara Square is filled with a warm palette of reds, oranges and yellows.
Tundratown: Brrrrr it's cold here! Tundratown is made up mainly of snow and ice and features a cool color palette with blues and teals. "There are giant snow blowers," says Lechner. "They go off periodically—they're part of the climate control. Nothing ever thaws. We have floating blocks of ice instead of moving sidewalks. Cars are on skis." An interesting environment I'd love to visit for sure, Cars on skiis? Wow! But I would need to be bundled up in my warmest winter clothes!
Added spots of color with strategically placed neon lights were added by designers, playing with reflections and shadows to add interest and dimension to the area.
The Rain Forest District: This place is home to hundreds of giant, bright, jungle-green steamer trees—artificial trees that mechanically suck up water from a river to create the steamy atmosphere required by the locals. "The rain forest is a vertical environment with walkways, bridges and gondolas," says Lechner. I really love the design of this environment.
Trees! Trees! Trees! The sheer number of trees—more than half a million—illustrates one of the many major advances in technology that allowed the artists to create the incredible detailed environments in Zootopia.
Bunnyburrow:  This is Judy Hopps' hometown. Bunnyburrow houses mostly carrot farmers like Judy's parents. Wide open space contrasts here with the busy city streets of Zootopia.
"It's a very rural part of this world," says Howard. "It's about 200 miles away from the city of Zootopia. If Zootopia were Manhattan, Bunnyburrow is like Yonkers—way out in the country. Bunnies are born there and live out their lives there. Nobody quite understands why in the world Judy would want to leave—and move to the big city of all places."
Savanna Central: The place where the Zootopia Police Department (ZPD), City Hall and Central Station, the bustling train station where Judy Hopps lands when she first arrives in town.  Modeled in part after Disneyland's hub-and-spoke design—Savanna Central is Zootopia's central hub. "It's our version of the watering hole," says Goetz. "Animals from each of the districts converge here."
Other interesting things to note about Savanna Central are a central water feature and a savanna theme with acacia trees and warm tones: oranges and grays with olive foliage.
Little Rodentia: The environment where Zootopia's smallest mammals make their homes. "It is an entirely tiny town with rodent-sized housing, shops and streets," says Lechner. "It's surrounded by a big fence so that big animals can't walk through it."
Little Rodentia has all of the big-city luxuries, including a chic hair salon that caters to tiny high-end clientele. How cute is that? 🙂
Stay tuned to learn more about the critters that live in these different lands… and be sure to see it when it opens in theatres everywhere on March 4th, 2016!