Vampires Beware: It's Garlic Month at STACKED!
By Erin
It's Garlic Month at Stacked this October! Get ready to enjoy garlic inspired Signature Menu Items all month long. From sandwiches, to burgers, mac & cheese, pizza and more, Stacked has something everyone will love for garlic month (unless you're a vampire, then probably not)! Of course I had to go and try it out for myself. I approve. 😉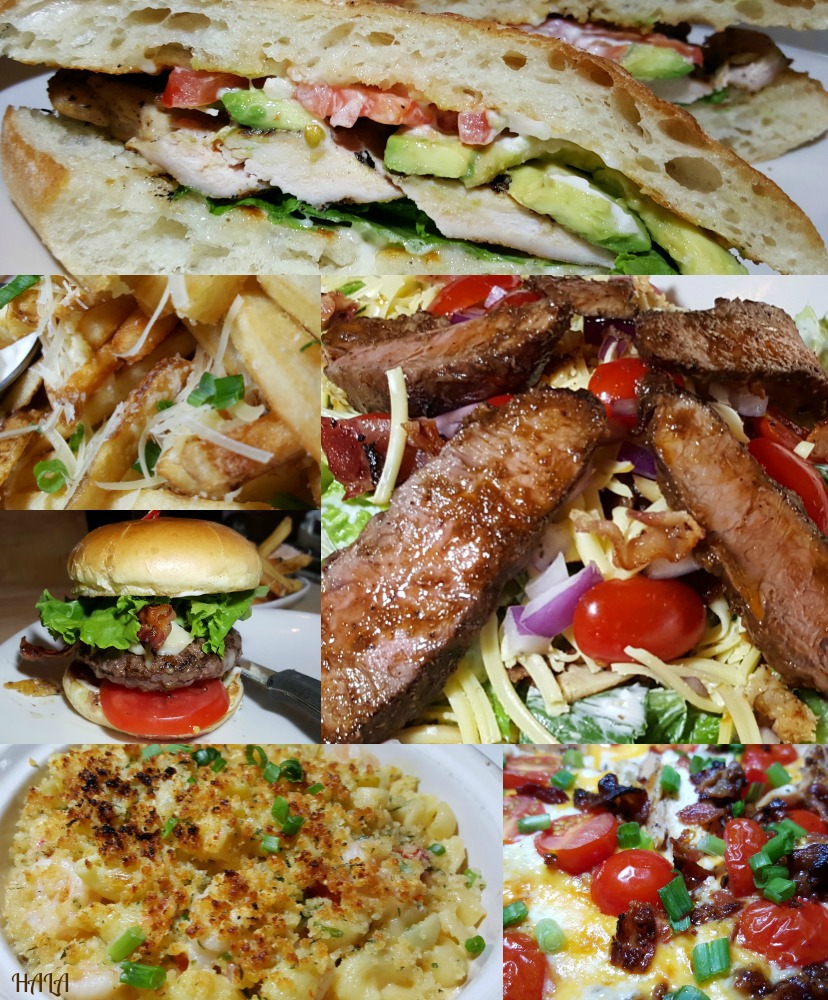 Before getting started on all the new signature items, we had to start off with an old favorite, The Candied BACON!! It's so addicting. It's a Stacked staple and once you've had them, you cannot come here and NOT order these! It's the perfect mix of sweet and salty. Paired with some hard cider, it's a match made in heaven. Yummmmm.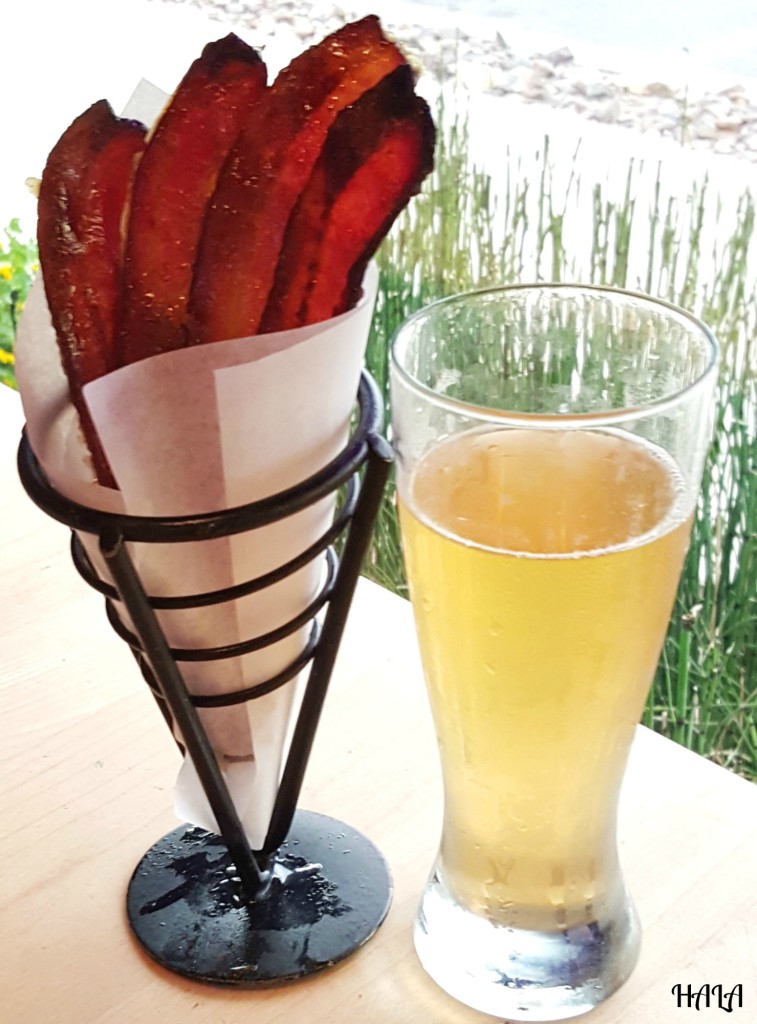 Ready to see what's on the line-up for this month?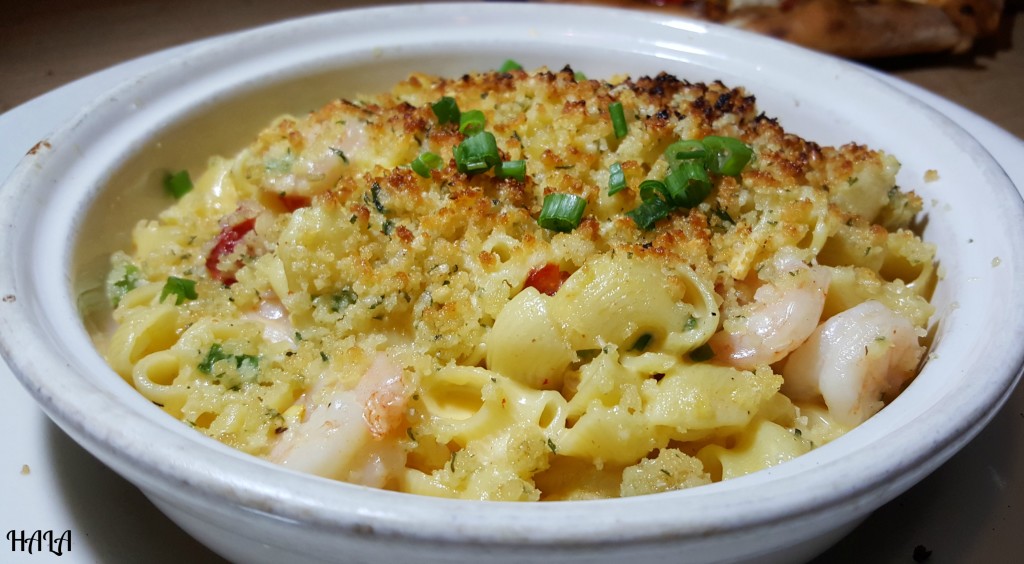 Garlic Shrimp Mac: Creamy Mac 'N' Cheese with shrimp, Fresh Garlic, Roasted Red Pepper, Roma Tomato and green onion, topped with Parmesan Breadcrumbs. What's not to love about mac 'n' cheese? You'll love this garlic and shrimp version that will leave you craving more.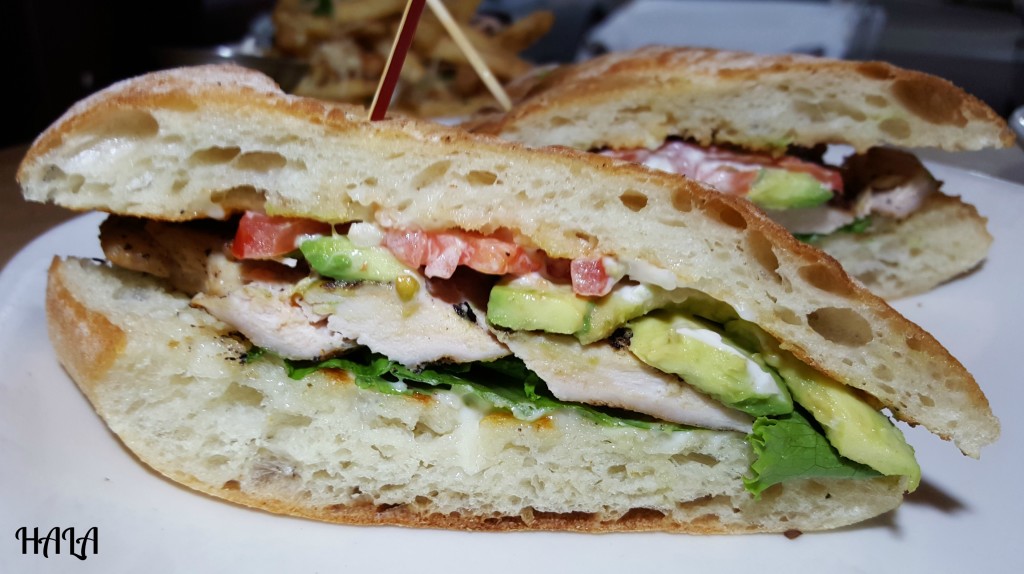 Garlic Chicken Sandwich: Grilled Chicken Breast with Swiss Cheese, Tomato, Avocado and green leaf lettuce on a rustic French Roll with a house-made Garlic Aioli. It's perfect if you want to indulge in something on the lighter side. I would add bacon to this. I love bacon and avocado on anything!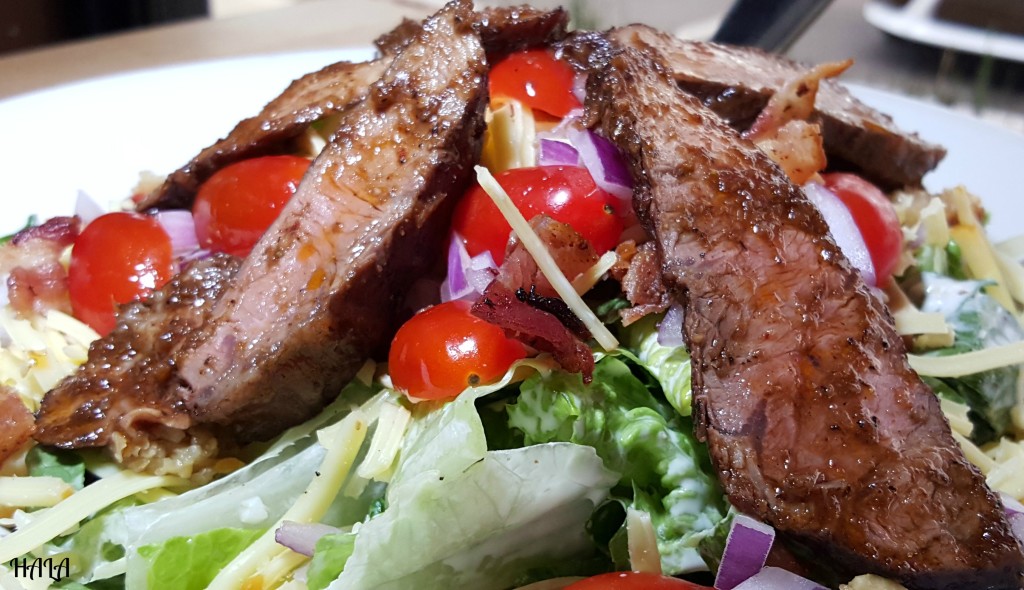 Steak Salad with Creamy Garlic Dressing: Flat Iron Steak, Crispy Bacon, Gouda cheese, red onion, grape tomatoes and roasted garlic on a bed or Romaine Lettuce, tossed with a Creamy Garlic Dressing. This salad is amazing! I think it's my new favorite. My friend that was with me said the same thing. She LOVES the 'Cow in the Garden' salad Stacked has, but now she thinks this one takes the cake as the new favorite. So, it's not just me that thinks this salad is perfection!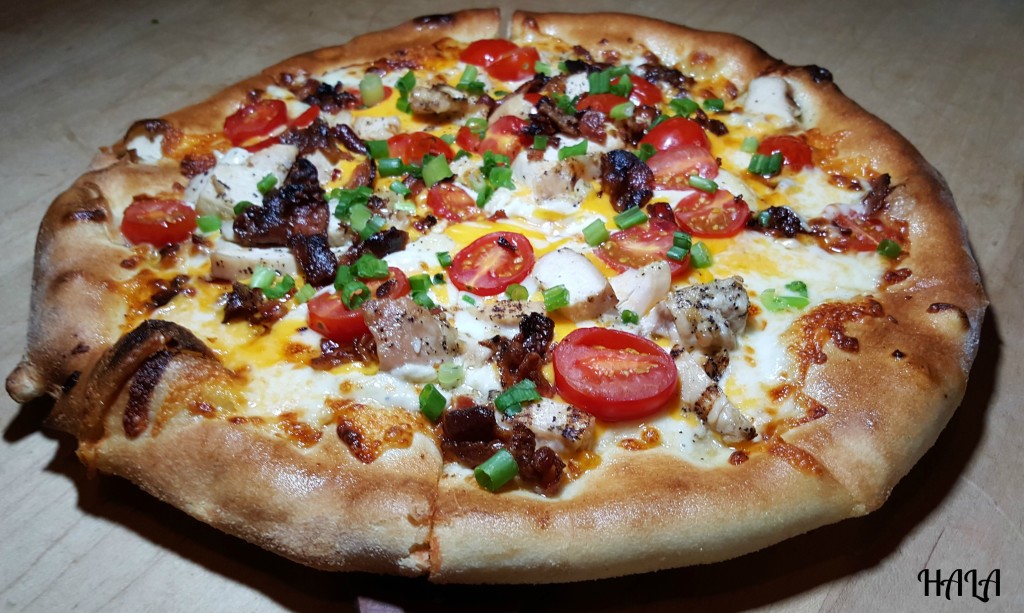 Garlic Chicken and Bacon Pizza: Hand Stretched Pizza Crust that is topped with a tasty garlic sauce, Mozzarella and Cheddar Cheeses, Roasted Chicken, Bacon, grape tomatoes and green onions. The garlic sauce really helps make this one! So much goodness stacked onto one pizza!
Garlic Parmesan Bacon Burger:  a fresh Angus Beef stacked with Applewood Smoked Bacon, roasted garlic, Parmesan Cheese, green leaf lettuce and tomato on a Brioche Bun with a creamy herb dressing. I loved this one, with all the flavor from the barcon, garlic, and parmesan cheese, it's is sure to make your mouth happy!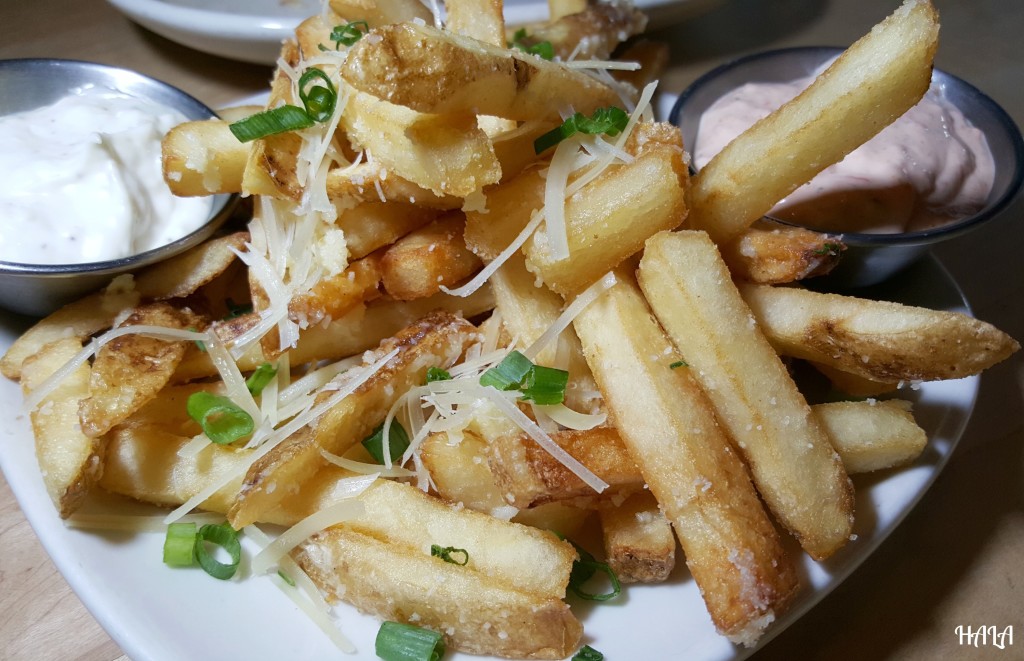 Garlic Parmesan Fries:  Fries tossed with fresh garlic and topped with fresh parmesan and green onions. Great as an appetizer or to go with your burger or sandwich. I'm always a sucker for some garlic fries!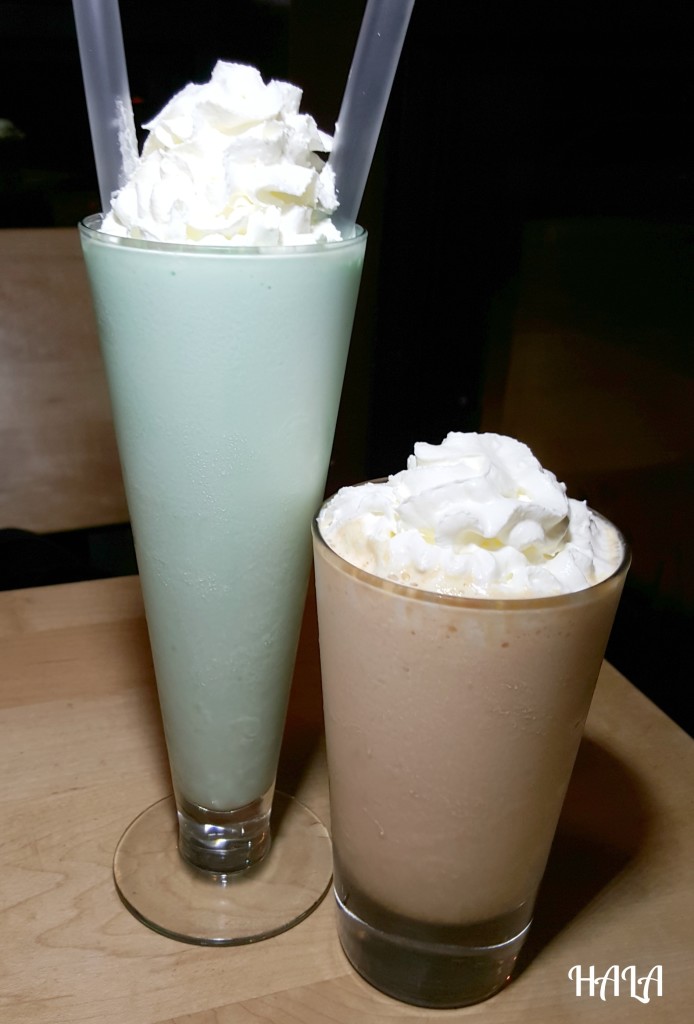 Don't forget about Dessert! Cool off and take the edge off all that garlic with one of these special shakes! Choose from either the Pumpkin Pie Shake or the Mint Shake! The Pumpkin Pie Shake shown here is the 'adult version' that is called the 'Jack-O-Lantern.' Both were a perfect way to end our garlic filled meal. The mint shake is just minty enough, but the mint flavor is not overpowering. The Jack-O-Lantern has a lovely pumpkin spice taste with a kick.
Which Items do you want to try out this month? Get in the Halloween Spirit and fight off some Vampires with these delicious dishes! 😉