Albertsons Stock Up Sale & Fall Harvest Trail Mix
By Erin
This shop has been compensated by Albertsons. All opinions are mine alone. #AStockUpSale #Albertsons #CollectiveBias
It's Fall! Which means everything pumpkin spice and everything nice, right? In order to make some of my favorite fall treats though, I need to do some shopping to stock up! Luckily, Albertsons is almost my next door neighbor and is my go-to store for all of my favorite snacks. Right now they are having a special Stock Up Sale through 10/13 that you won't want to miss. I was able to stock up on all of my favorite General Mills products to make one of my all time favorite fall treats, a Fall Harvest Trail Mix! Albertsons made it easy for me to stock up to make this most delicious treat.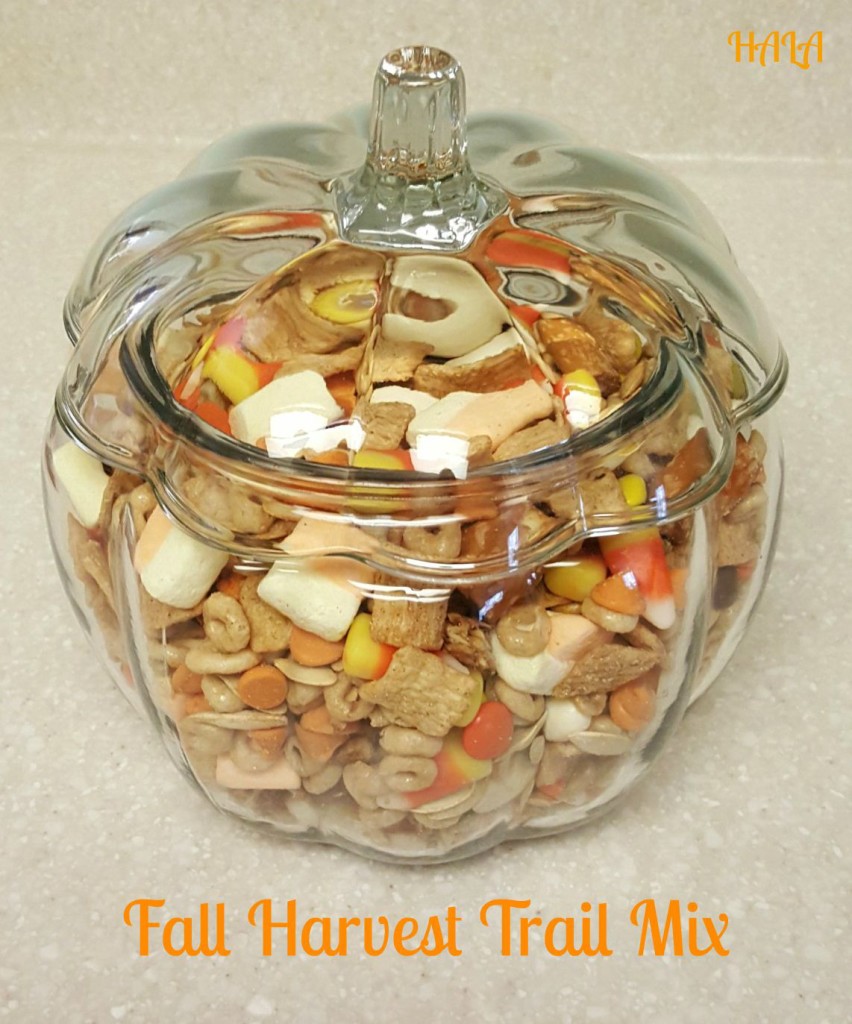 I love making this! It's the perfect snack to make to share at the barn, for a special after school snack, after the gym, a boy or girl scouts meeting, or if you play a team sport and need a snack to fuel up that the whole team will love. It is just so festive and fun to eat!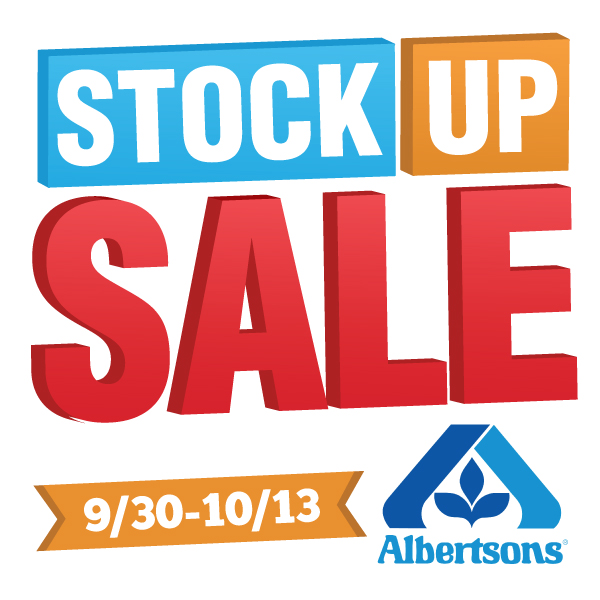 Some of the specials to stock up on include: Honey Nut Cherrios 12oz box- $1.88, Cinnamon Toast Crunch- $1.69 and Nature Valley Crunchy Oats N Honey Granola Bars- $2.48.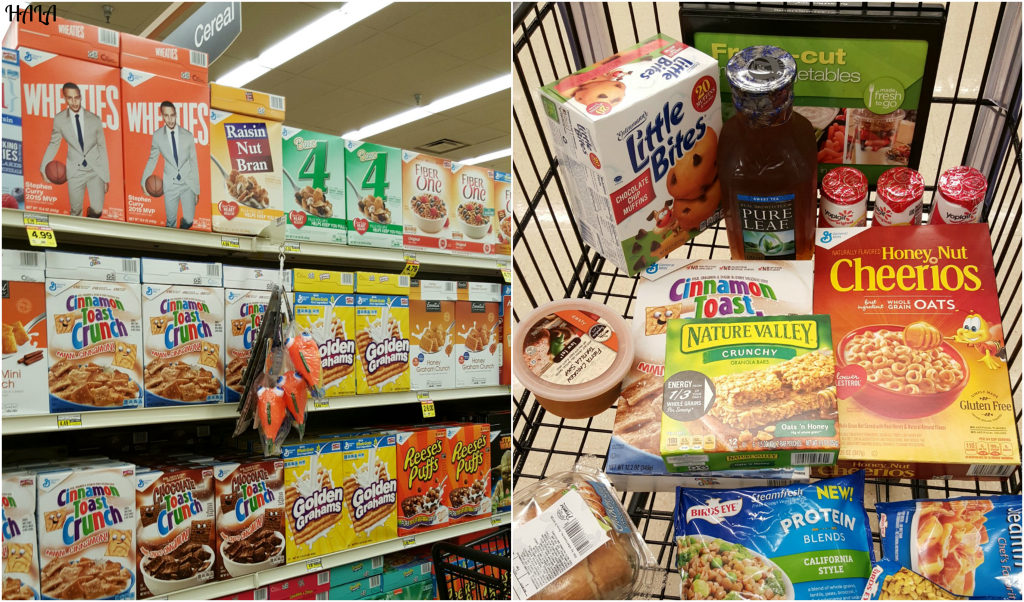 Once I had everything I needed from the store, I was ready to get the party started with this trail mix!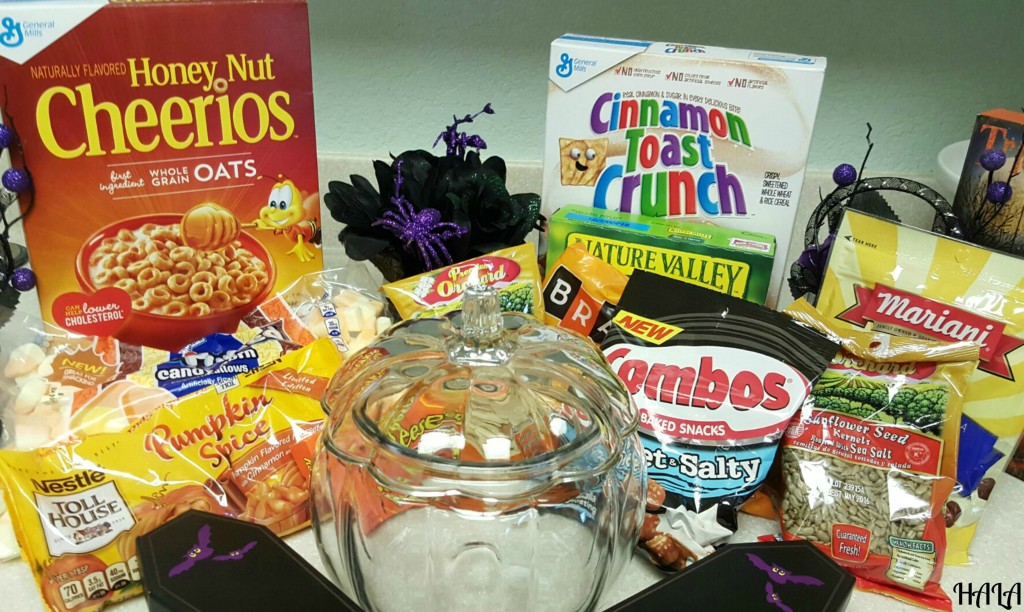 Here's everything you'll need to make yours! The best thing I love about it is that you can add whatever else you like or take out whatever you want as your taste buds and needs desire. You can also play around with the amounts of each item that you are adding as well if you need to make a larger or smaller batch. It also does not matter too much the order in which you add each ingredient into the bowl, I'd just recommend putting in the larger items first as the smaller ones (like the sunflower and pumpkin seeds) will sink to the bottom and not mix as well if they are added in first.
Fall Harvest Trail Mix
Honey Nut Cherrios- 1 1/2 cups
Cinnamon Toast Chrunch- 1 1/2 cups
Nature Valley Crunchy Granola Bars- 1 pouch (2 bars)
Jet-Puffed Candy Corn Marshmallows- 1 Cup
Pumpkin Spice Chips- 1 Cup
Pumpkin Seeds- 1/2 Cup
Pretzels- 1 Cup
Sunflower Seeds- 1/2 Cup
Yogurt Raisins- 1/2 Cup
Candy Corn- 1/2 Cup
Reese's Pieces- 1 box
Festive bowl or bags to package them up in.
*Makes about 8- 1 Cup Servings*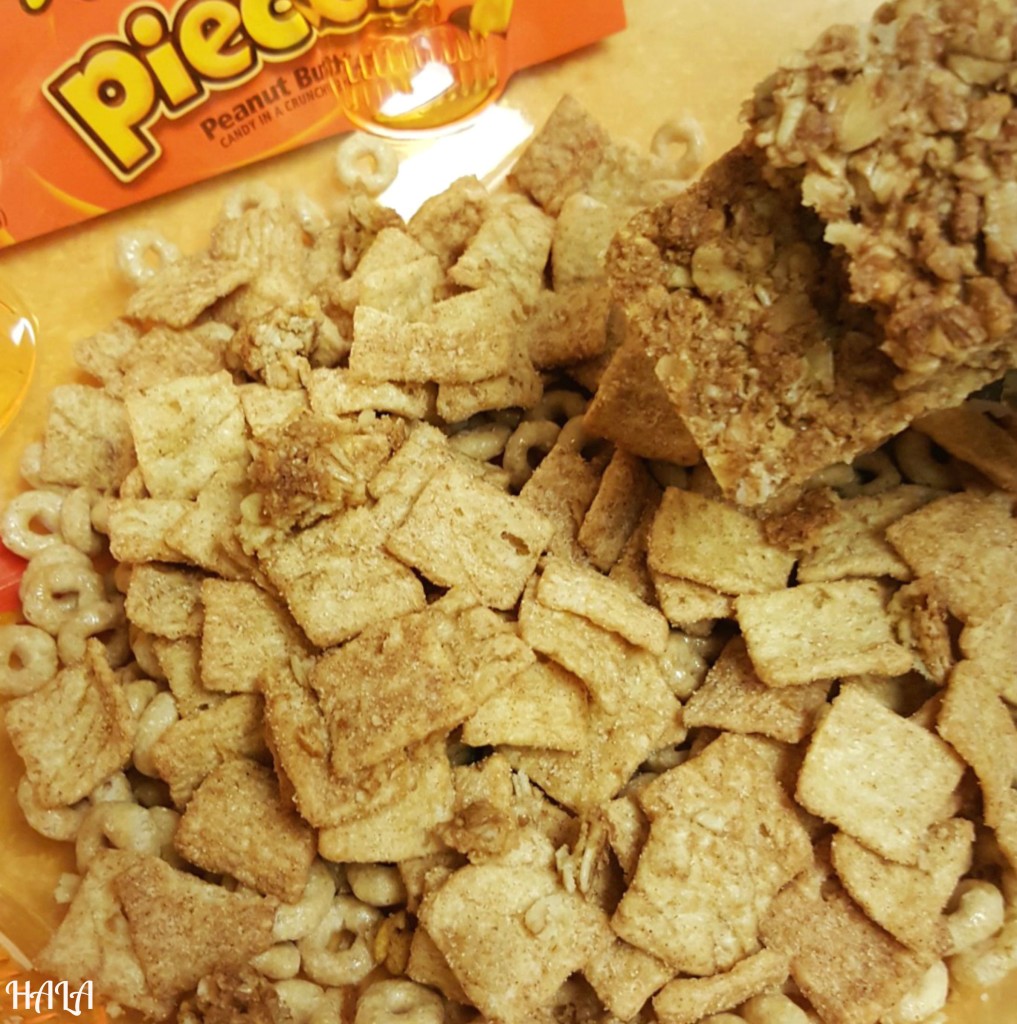 First pour the Honey Nut Cherrios and Cinnamon Toast Crunch into a large bowl. Then take the Nature Valley Crunchy Granola Bars and crumble them up into the mix like shown above.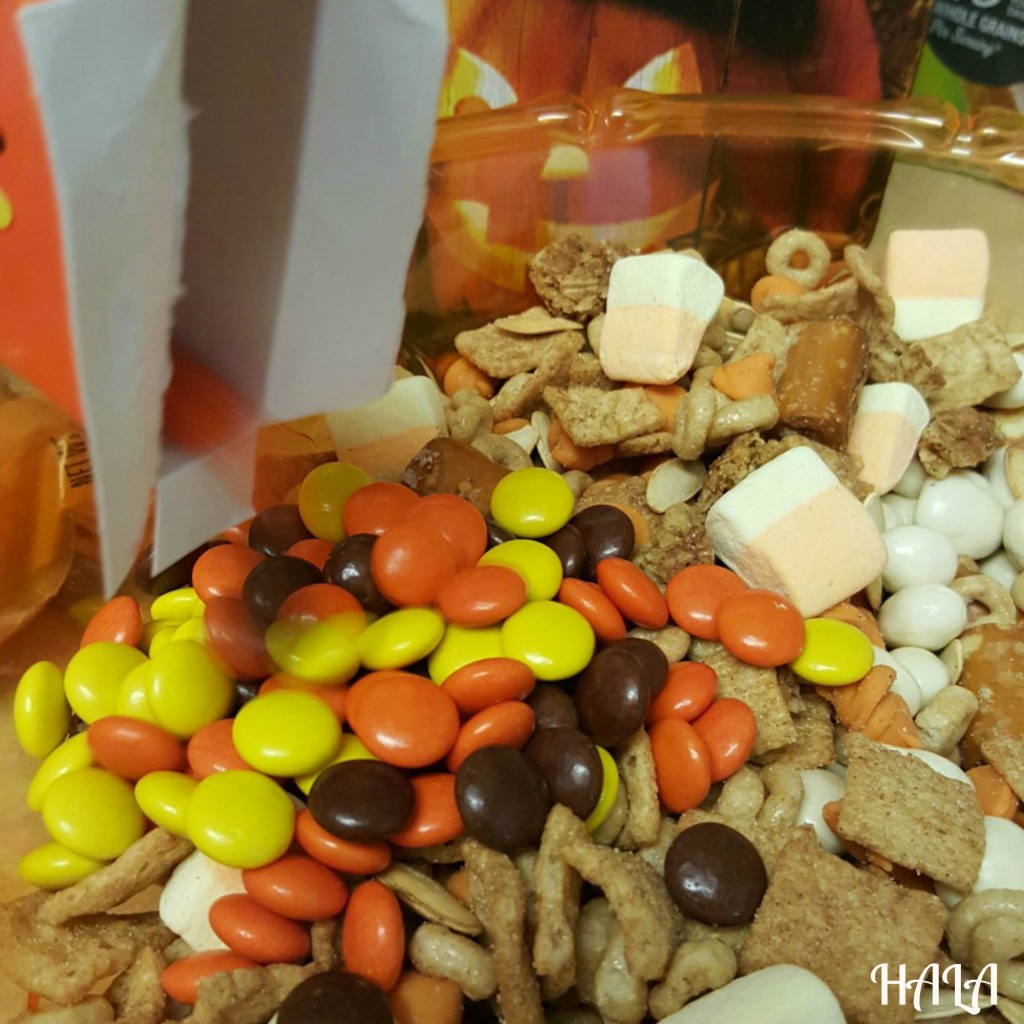 Mix in all the other ingredients and then you are ready to serve into a cute party bowl, pumpkin, or package up to go into some festive bags! Doesn't it look yummy?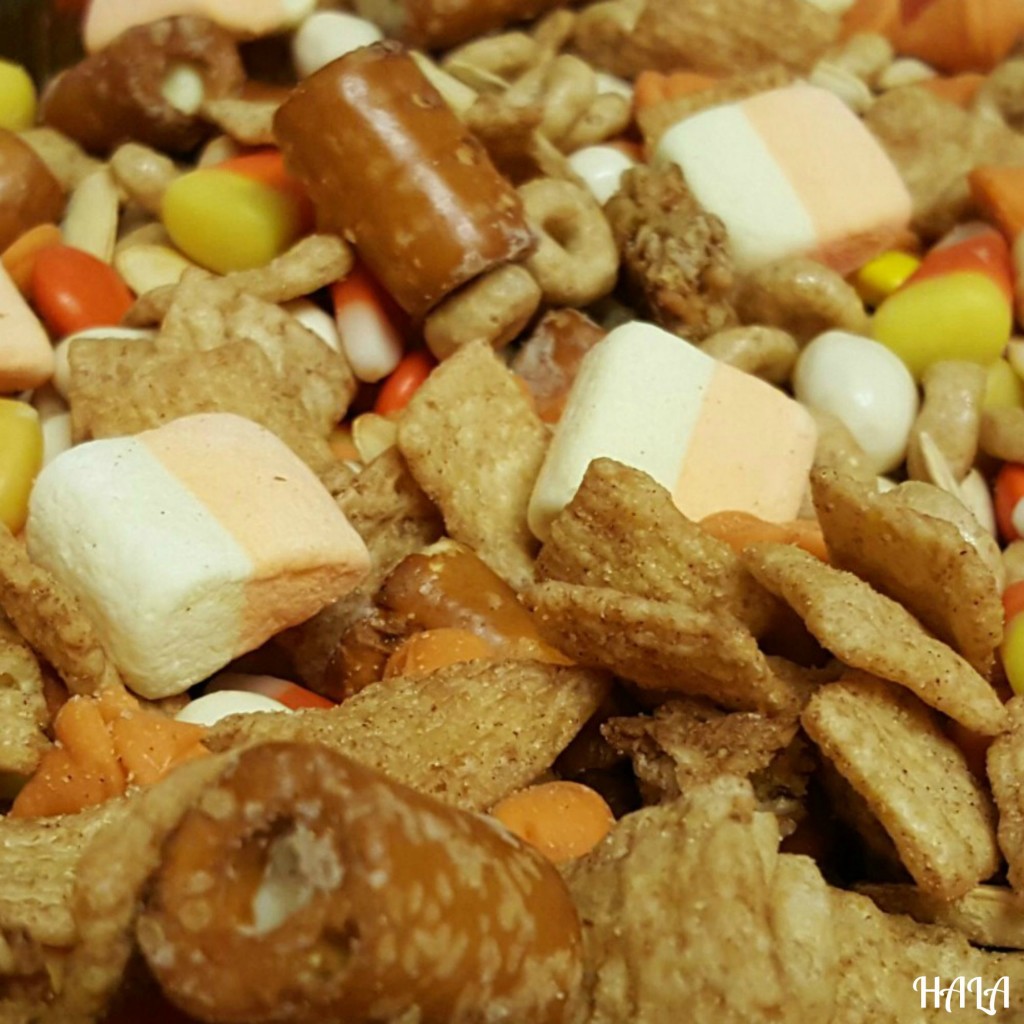 Here are some super cute ways to present this festive afternoon snack!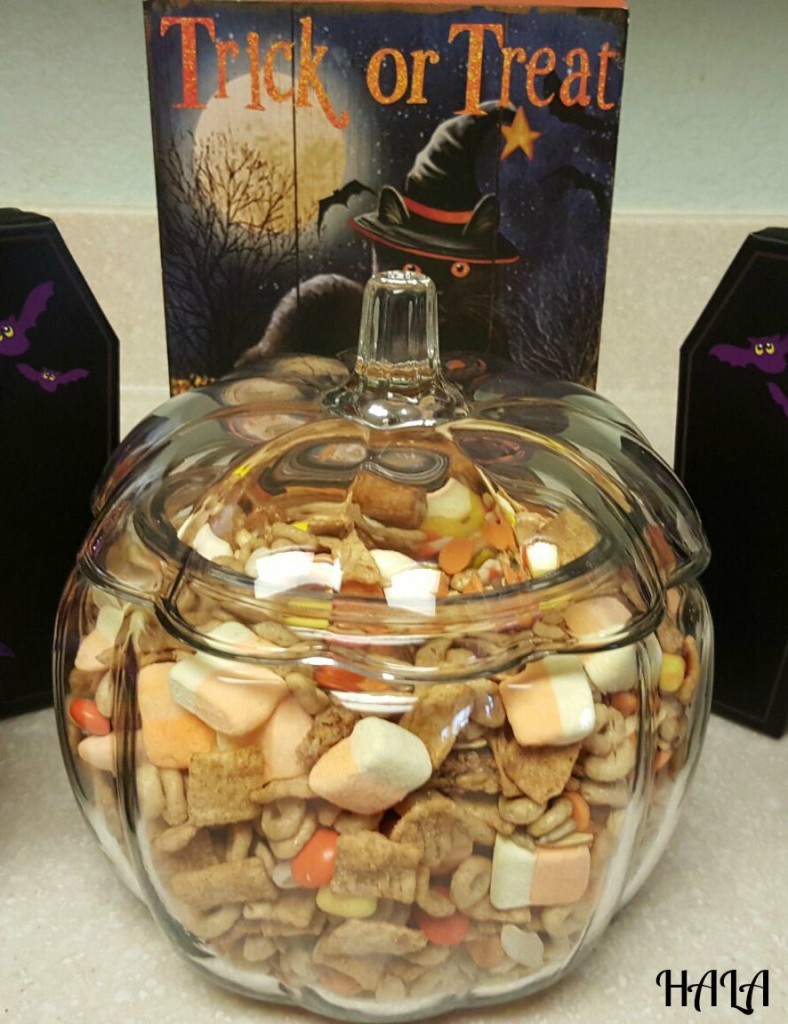 In a pumpkin shaped bowl. This one holds the entire batch I just made and is ready to go! You can find bowls like this just about anywhere this time of year and for under $10.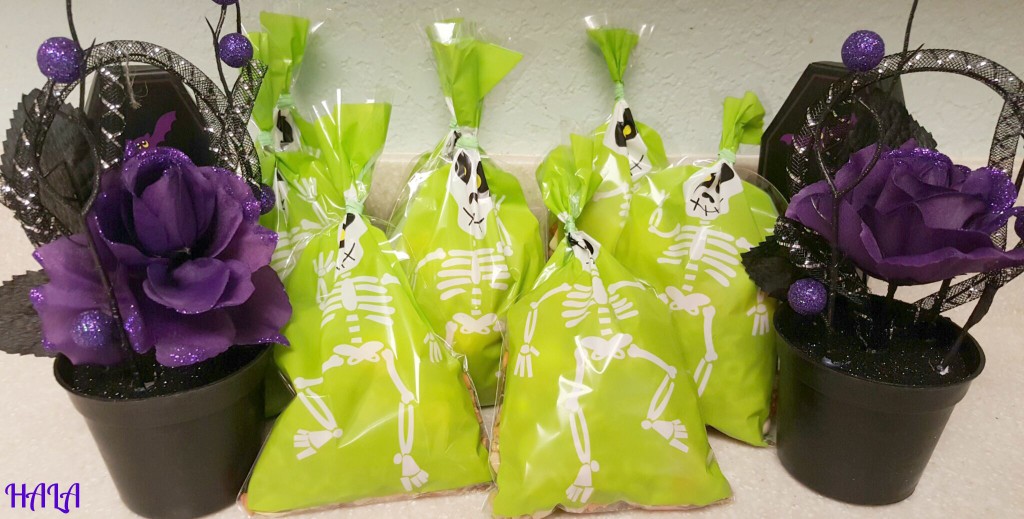 Or if you need something for on the go, in the car, to pass out as a snack at a meeting, after a game or practice for the team, then get some fall or Halloween themed bags (they're super affordable, I got a package of 20 bags for just under a buck!) and fill them up! I used mine as an after school snack and to pass out as a special treat at the barn!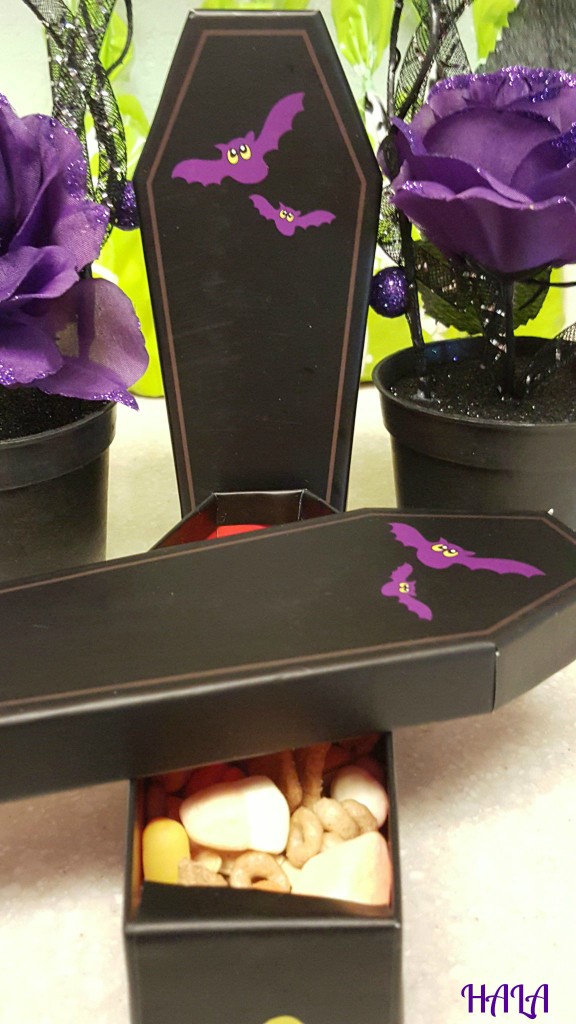 How adorable is this?! One last way I packaged up my Fall Harvest Trail Mix was into these cute Halloween Bat Coffins. They easily fit a one cup serving with room for more. Now it's time to enjoy this tasty after school snack! Yum!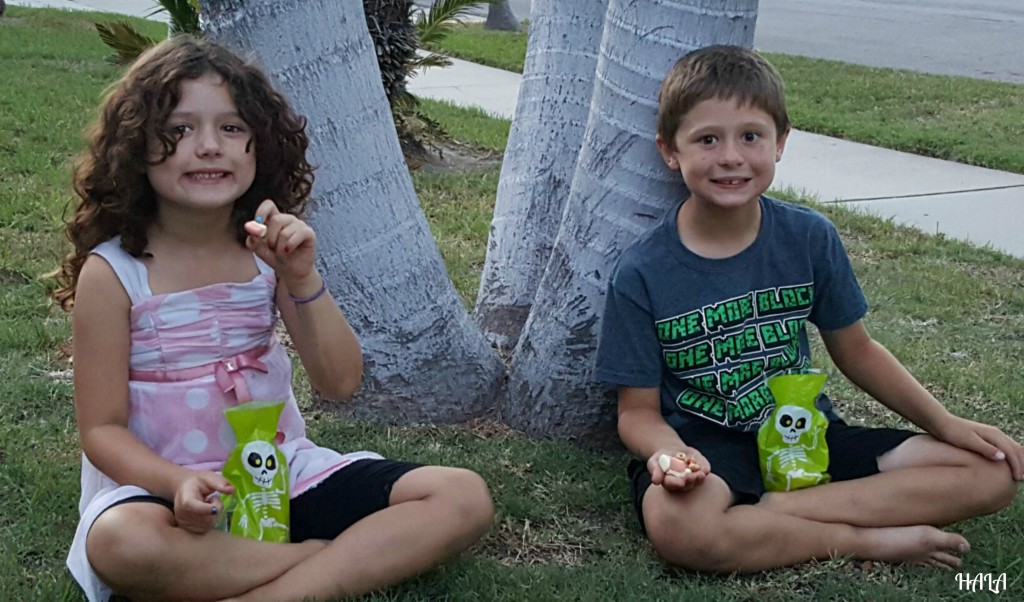 What's your favorite treats to include in a Fall Trail Mix? Be sure to stock up on them all at the Stock Up Sale going on now! 🙂