Bacon Signature Items at Stacked!
By Erin
Bacon! Who doesn't love this ingredient? I love bacon and one of my favorite restaurants has devoted this entire month to everything bacon! STACKED- Food Well Built has been offering some special September Signature Items including a shake, pizza, burger, salad, and Mac' n' Cheese centered around this beloved ingredient. Stacked invited me to their Cerritos location to test out a few new bacon items, how could I say no to bacon? So off I went!
We started off with my favorite, the Candied Bacon. Cripsy, thick, bacon; covered in maple syrup, it just melts in your mouth, it's a pure delight. Especially after a long day!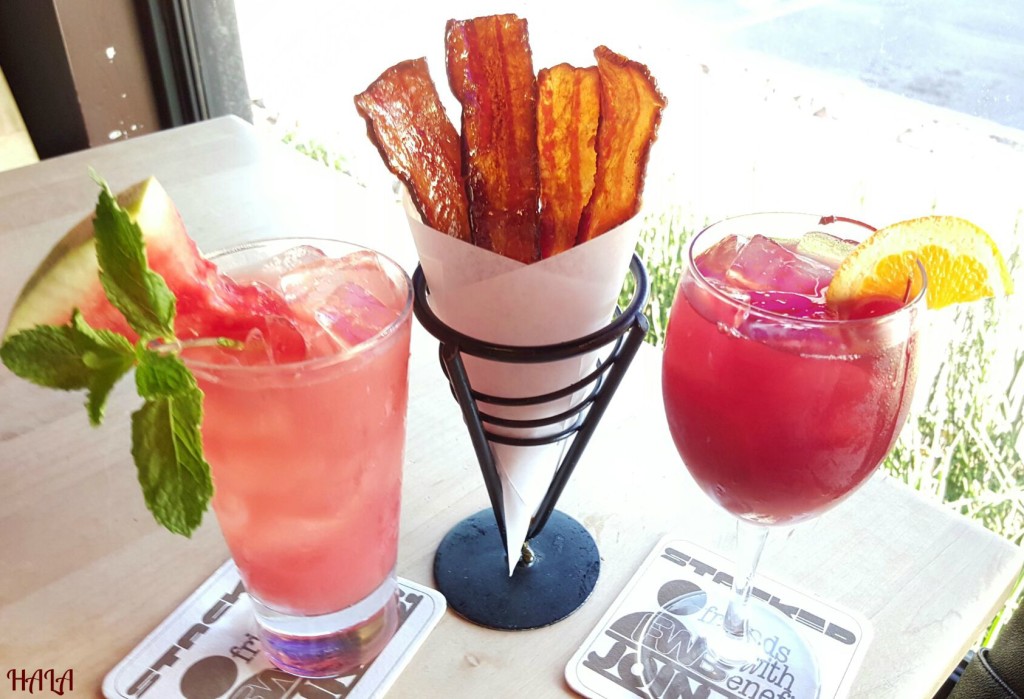 Of course, you need some drinks to start off your meal to go along with that Candied Bacon, right?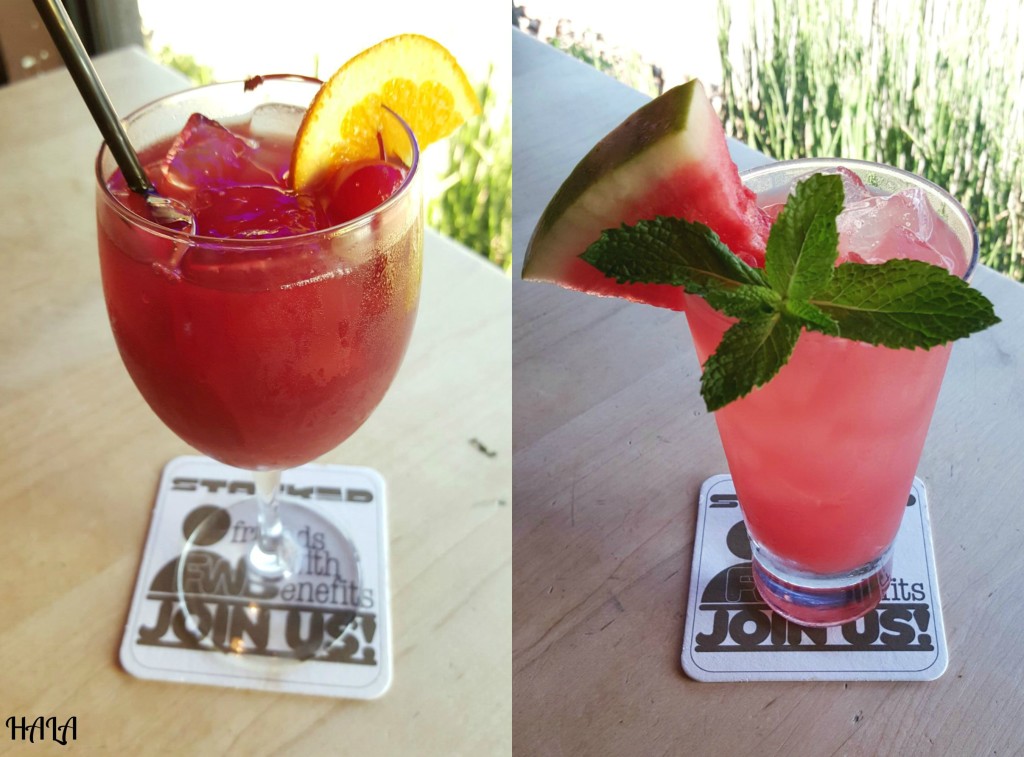 The Sangria is always a refreshing choice, or you can go for the season cocktail, H2O Melon Mojito. I absolutely loved the mojito! So pretty, tastes delicious and it is served up with a fresh slice of watermelon.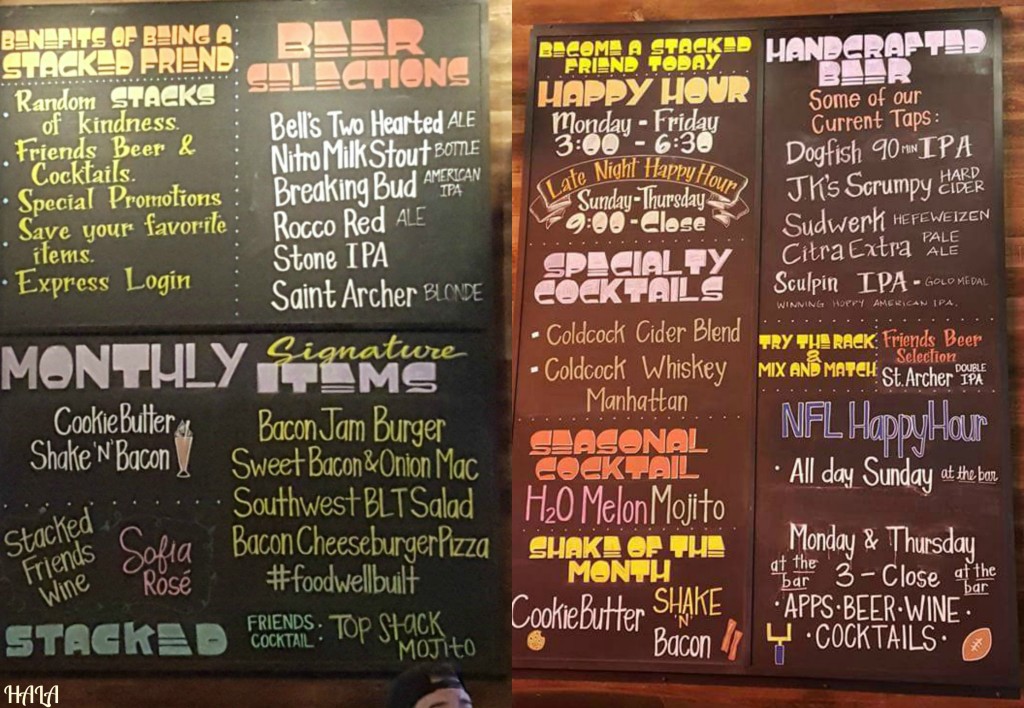 Be sure to be on the lookout for any other drink or food specials on the walls of Stacked. You are sure to find something that catches your eye that you won't want to miss! As you can see, there are plenty of choices to choose from!
Ok, so on to all of the rest of the scrumptious bacon items that you are probably ready to take a peek at?
The September Signature Bacon Menu Items Include: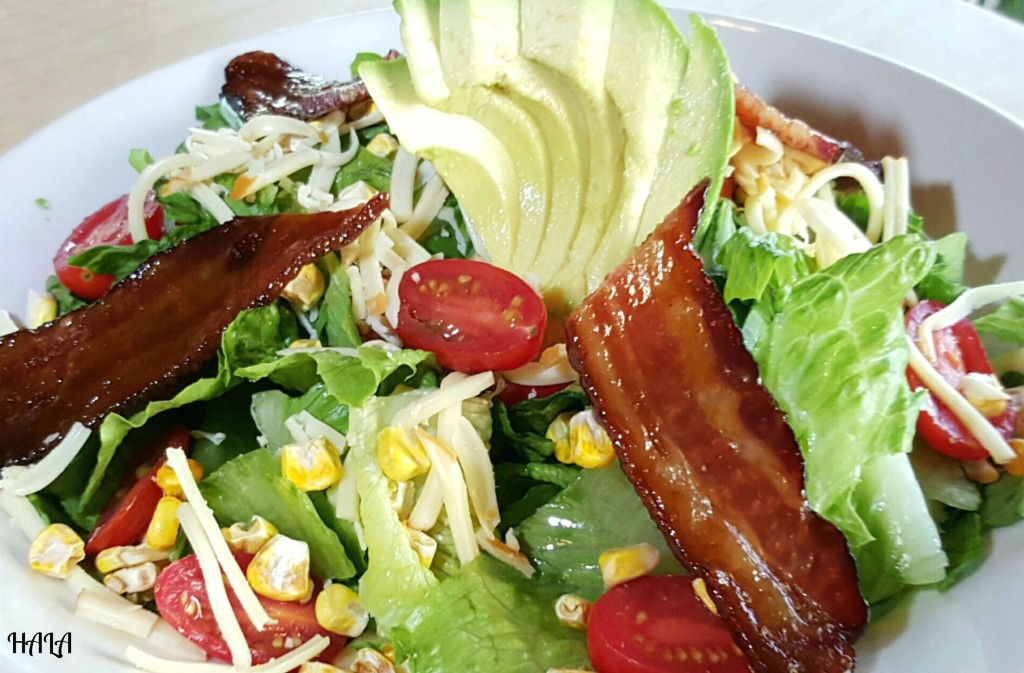 Southwestern BLT: Romaine lettuce with smoked Gouda cheese, grape tomatoes, sweet corn, avocado and Cherrywood candied bacon tossed with a honey chipotle dressing.  The perfect choice if you're looking for something on the lighter side. I totally recommend getting the dressing on the side. This way you can try a couple different dressings with this one, to see which one you like the best as the chipotle dressing is a little bit on the spicy side. The salad itself is delicious. My favorite dressing to go along with this salad was the BBQ one.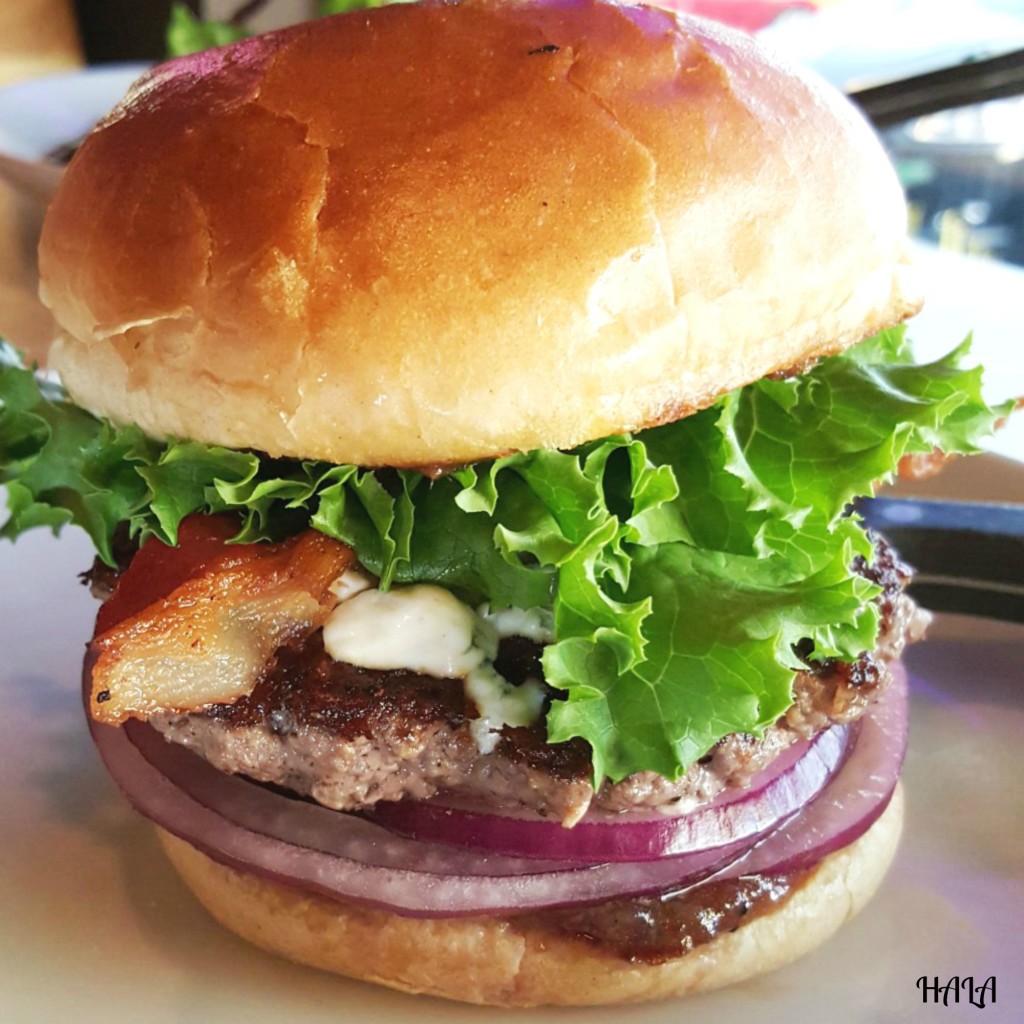 Jammin' Bacon Burger: A fresh Angus Burger patty, topped with a perfect balance of  a Sweet and Savory Bacon jam and bleu cheese. Loaded with Applewood smoked bacon, red onion, and green leaf lettuce on a brioche bun. This one was my favorite by far. I want another one right now, just looking at the picture of it again. It's juicy, flavorful, and the special jam adds the perfect touch to create the perfect burger.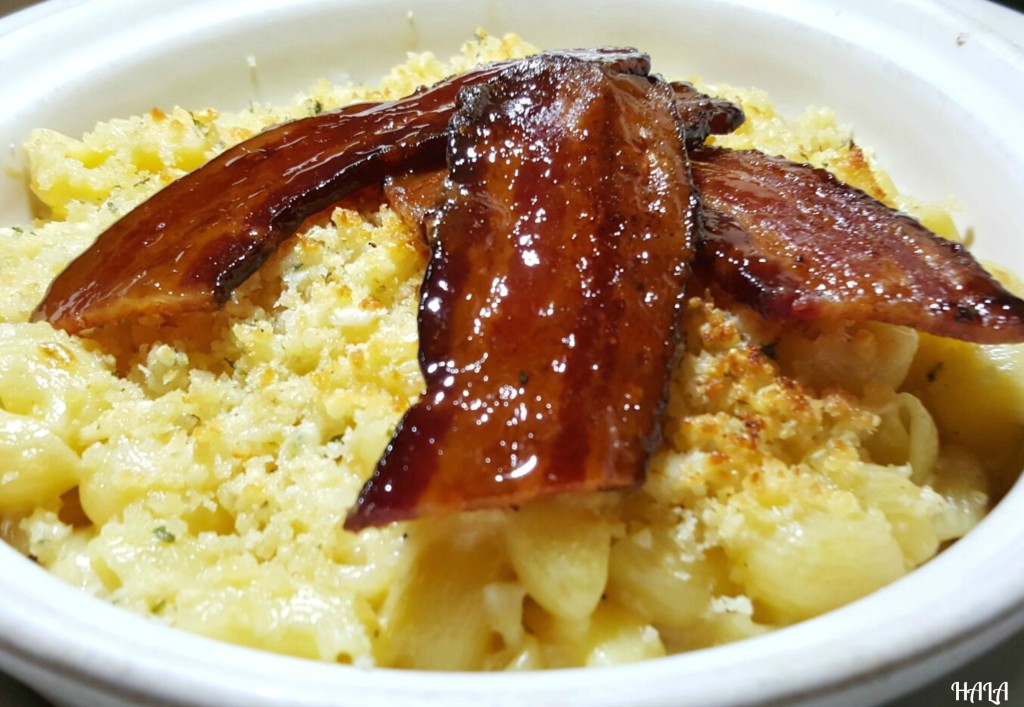 Sweet Bacon and Onion Mac: Caramelized onion and candied bacon come together  for this amazing version of Mac 'n'Cheese. Great for sharing, but then again, you may just want to keep all of the bacon and cheesy goodness to yourself. 😉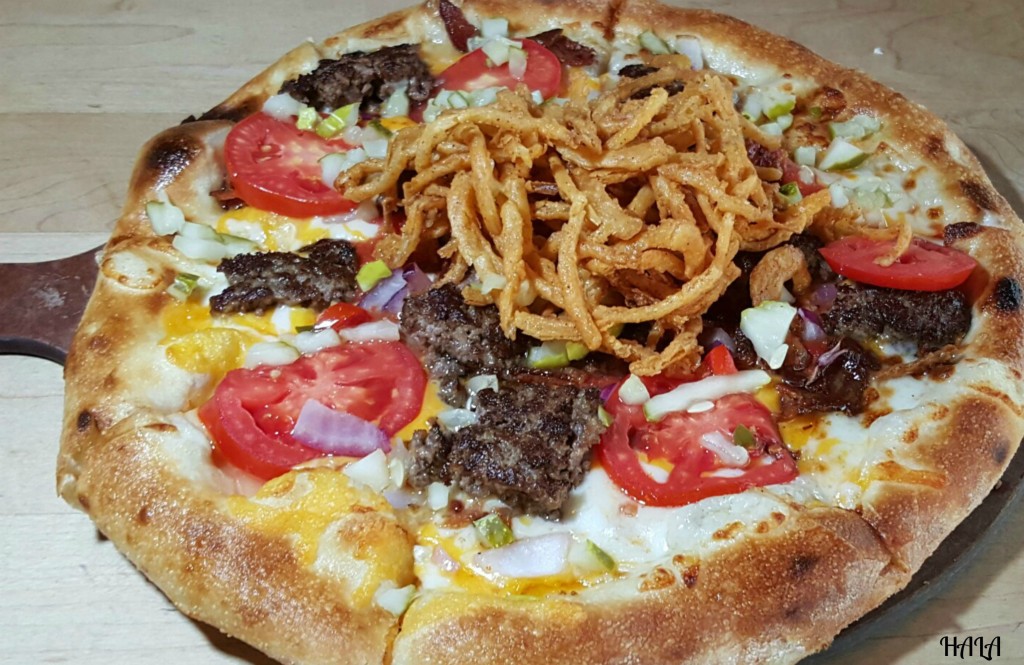 Bacon Cheeseburger Pizza: Mozzarella cheese, sharp cheddar cheese, ground beef, red onion, Roma tomatoes, pickles, and Applewood smoked bacon. We also added on onion strings and  Asiago Cheese to this one for some added crunch and flavor. It was all baked to perfection on a hand-tossed crust. For my Gluten-Free friends, you can also get this made with a gluten-free crust. You're welcome. 🙂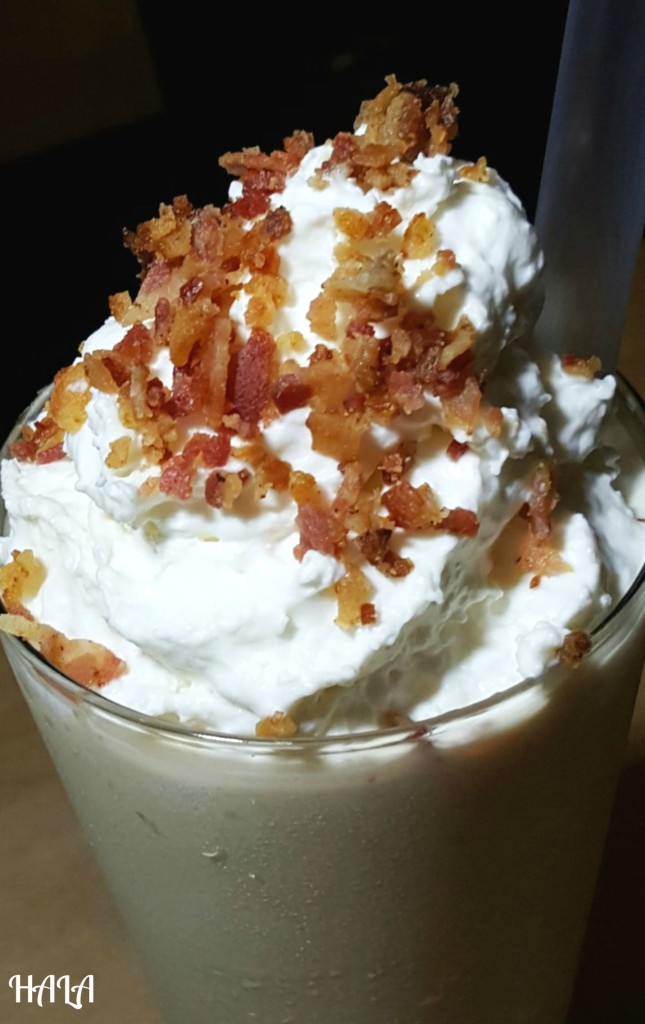 Cookie Butter Shake 'n' Bacon: Stacked's Signature Cookie Butter Shake with bacon pieces. Make sure you save room for dessert and end your meal off right! This is a must try! It's the perfect blend of cookie butter and candied bacon, that will leave you and your tummy in a happy place.
You only have a few days left to make it out to STACKED to experience the unique flavor combinations with bacon as the star of the month. Bacon is one of the most popular ingredients at Stacked and the September Signature Items add a delicious craveability factor that is more than satisfying! So don't miss it! Visit the STACKED nearest you to join in on the Bacon amazingness! 😉
Which item are you most looking forward to having? Would you try them all, or just a few? 🙂