Knott's Scary Farm 2015. Get Ready for the Scares!
By Erin
Knott's Scary Farm is returning for your horrifying pleasure in just a couple of short days. So get ready for 24 nights of pure terrifying horror. Scary Farm is the largest, most haunting Halloween experience in Southern California, with endless mazes and shocking surprises. I was lucky enough to attend the preview to let you in on what's to come for this years haunt! The Scary Farm will be here September 24 – October 31 and conjures up never before seen experiences and show-stopping entertainment. Hours vary by night, so make sure to check the site out for exact hours. Read on for all the gruesome details of what's new this year and to find out which of your  favorites are returning.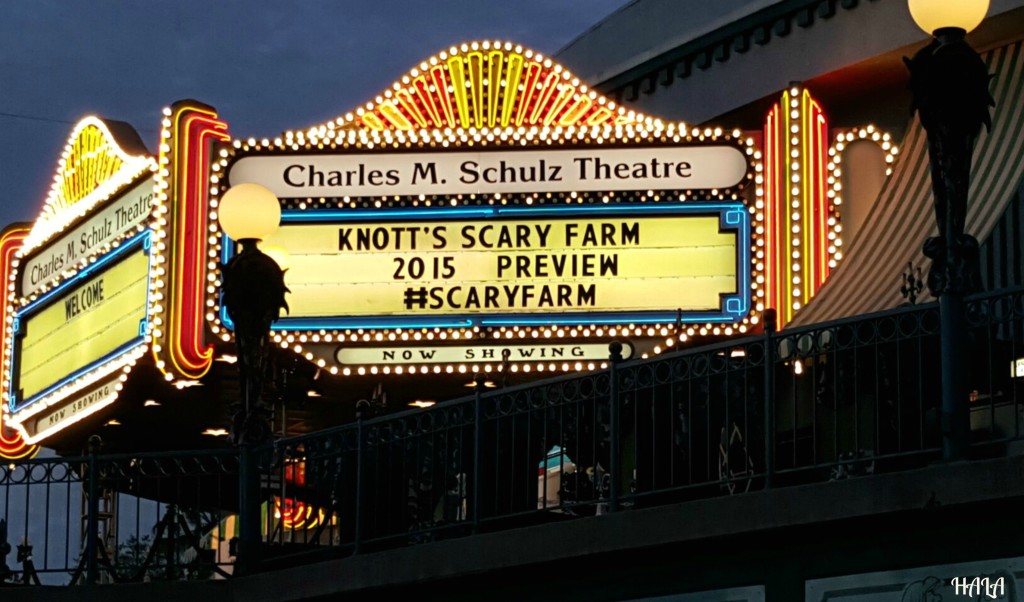 2015 HIGHLIGHTS:
*11 Haunted themed walk-through mazes and interactive haunted attractions that are filled with scare masters galore whose only goal is to see to it that you don't make it out alive. Are you up for the challenge? 😉
*3 Endless scare zones across the park's 160 acres.
*2 Spectacular live shows, including the return of Elvira – Mistress of the Dark in an all-new show.
*1,000 Live monsters, ghosts, ghouls, goblins, freaks, mutants, maniacs and other beasts lurking in the fog to scare any soul that happens by. Oh, and don't forget the zombies….
 Plan on Coming Here Often?

*Lets you come back every night for only $80.
*Parking? If you plan on coming at least 4 times be sure to add it to your pass. A pass with parking costs $140. Parking is $20 a Night at Scary Farm otherwise.  So it is totally worth it to add it to your pass if you plan on coming 4 or more nights.  If you already have a parking pass, it will still be good on Scary Farm Nights.
What's New: Terrifying Mazes & Attractions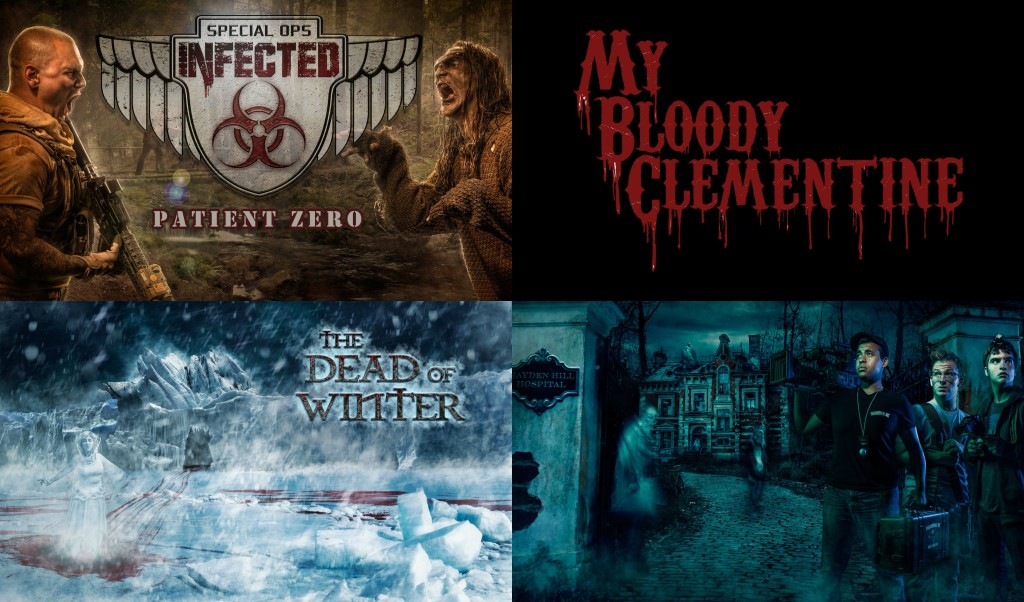 *Special Ops: Infected – Patient Zero with new missions and more zombies (Throughout six acres – near the Main Entrance)-Enlist to fight the zombie apocalypse in an all-out war against the undead in this chilling interactive experience.
*Paranormal, INC: Case #1 The Haunting of Hayden Hill (Adjacent to Ghost Rider)- An interactive story with branching storylines as you investigate a haunted hospital where the patients were tortured for decades by deranged doctors and nurses. Demonic spirits of the murdered victims have been detected throughout the mysterious halls, while evil medical staff hunt for new patients to torture.
*The Dead of Winter (Inside Boardwalk Ballroom)-Escape the icy grasp of the chilling Snow Queen.
*My Bloody Clementine (Calico Mine Ride)-Take a grim ride through the Calico Mine where Clementine and her father were brutally murdered centuries ago. Their wretched spirits roam the tunnels in search of those who killed them. This year the ride through maze will feature live monsters out for revenge at the train track's every turn.
Returning Favorites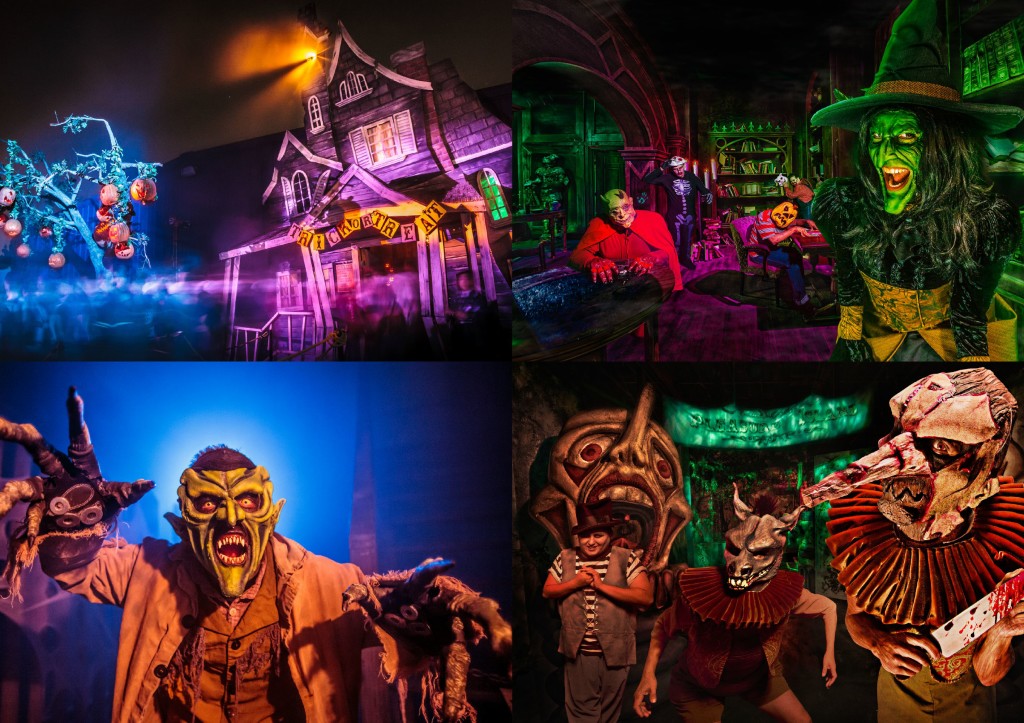 *Black Magic (Near Xcelerator)
*Forevermore (Mystery Lodge Entrance)
*Gunslinger's Grave: A Blood Moon Rises (Adjacent to Silver Bullet)
*Pinocchio Unstrung (Inside Wilderness Dance Hall)
*The Tooth Fairy (Adjacent to Ghost Rider)
*Trick or Treat (Adjacent to Ghost Rider)
*Voodoo – Order of the Serpent (Adjacent to Ghost Rider)
Monster Scare Zones

*CarnEVIL (The Boardwalk)
 *Fiesta De Los Muertos (Fiesta Village)
 *Ghost Town – the largest Scare Zone at Knott's Scary Farm (Old West Ghost Town®)

*New for 2015*: The Deadly 7 (Park Wide)-Out on the prowl in the darkest corners of Knott's midways and scare zones, the Green Witch and her Deadly 7–a sadistic crew guilty of more terror than meets the eye. Each of the monsters represent one of the seven deadly sins and make terrifying surprise appearances throughout the park each night.
Scary Farm Shows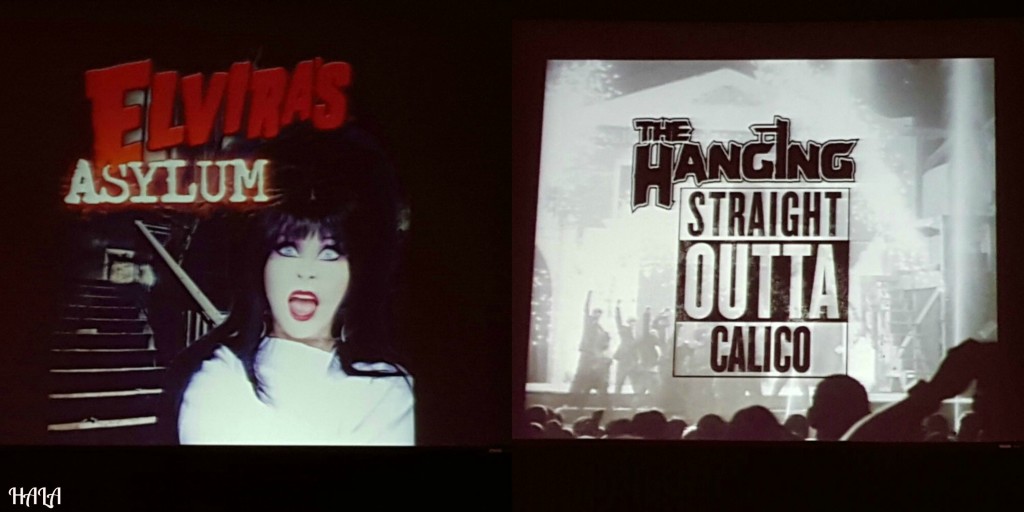 *Elvira's Asylum (Charles M. Schulz Theatre)-Elvira, the legendary Mistress of the Dark, returns in a spectacular new show which transports guests to an asylum of music, dance and comedy.
*The Hanging® (Calico Square)
Want to Avoid the Lines?
*Fright Lane With Skeleton Key: get unlimited priority access to 11 mazes and haunted attractions all night long.  The Skeleton Key is included with all Fright Lane passes and"unlocks" a secret extra room inside of five mazes. Guests also receive a commemorative lanyard and collectible key chain.  Visit knotts.com for pricing (Separate theme park admission required, and not included.  Nightly quantities are limited.)
*Fast Lane: get unlimited priority access on some of Knott's world-class coasters. Fast Lane passes are valid during regular Knott's Berry Farm operation and for Knott's Scary Farm operation on the date of intended use. (Separate theme park admission required, and not included.  Nightly quantities are limited.)
*Single Night Passes and Combo Tickets including ADMISSION + FRIGHT LANE WITH SKELETON KEY are available online only.*
Are You Dying to Come?
Then get the pass already before they become extinct! Selling out in its inaugural year, the Pass is back for 2015, and offers access to the 43rd annual event. Diehard fans who purchase the pass will have unlimited visits to the haunted event! 24 nights of pure terror, nightmares and non-stop screams galore.  Only a limited number of this highly sought after Pass will be available on knottsscaryfarm.com and the Knott's mobile app.
With 11 haunted attractions and more than 1,000 monsters roaming the park and lurking in the fog, whatever you're imagining, it's here…at Knott's Scary Farm. Get your tickets and join the conversation using #ScaryFarm. *Due to the explicit and frightening nature of the event, it is not recommended for children under 13.*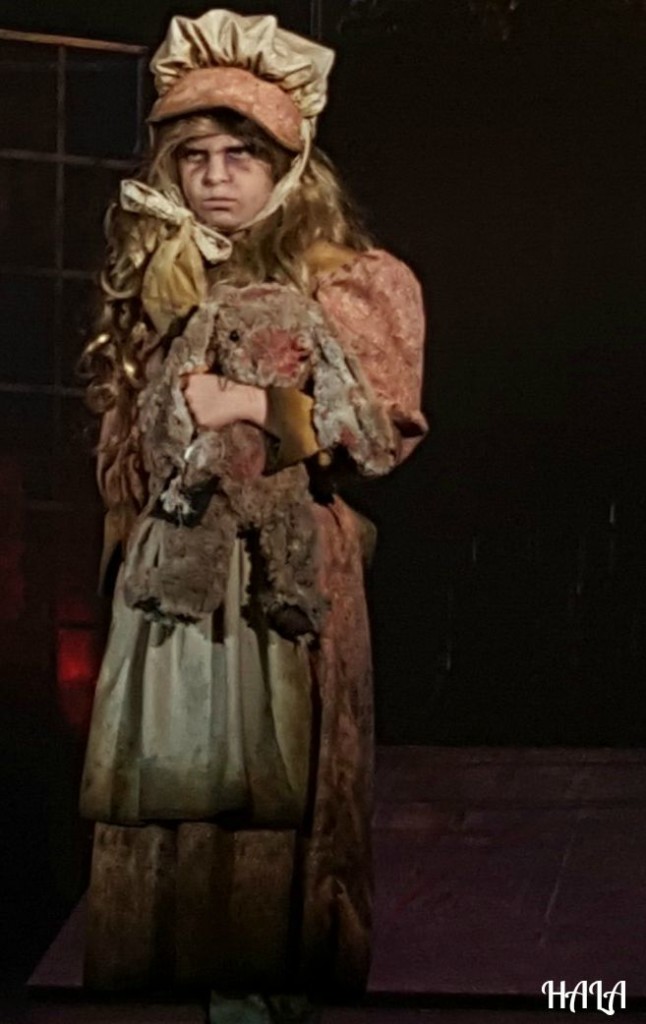 See you on the 24th! They'll be waiting for your arrival…. 😉