Savannah's Chophouse: A Night of Food & Fun For All
By Erin
I love a good night of food and fun with friends. Last month I hopped into the car with a couple of good friends and we traveled a little farther South into the OC to try out a steakhouse that was new to all of us called Savannah Steak & Chop House that is in Laguna Niguel.  Gigasavvy has a Social Club now and this was to be their first gathering and we had all been invited to join in on this special night! Savannah's made it a truly special night to remember, and a lovely date night for those attending with their spouses or significant others.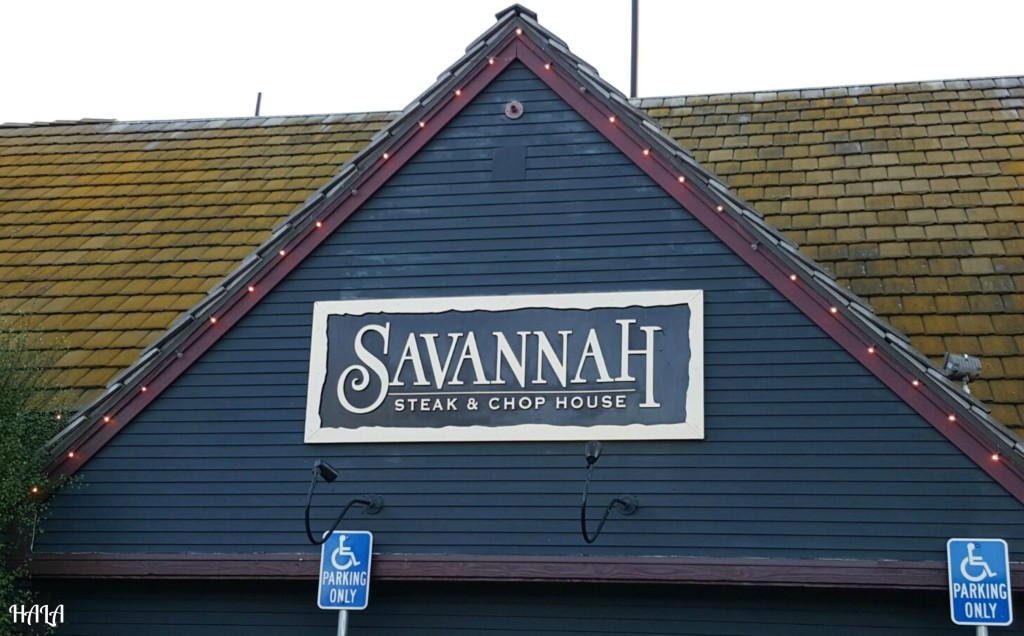 We were greeted by a very welcoming staff, as well as these cute guys below… uhhh lobster anyone? You really can't get it fresher than that! The decor is very elegant, classy and refined. A special occasion or date night place for sure!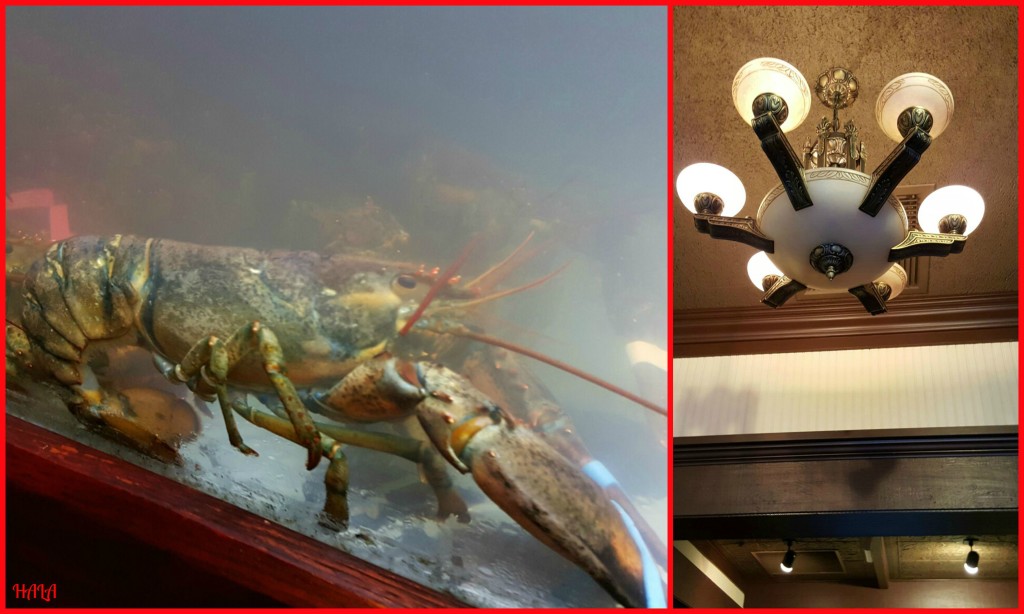 Outside on the patio where we would be spending our evening at, we were greeted by a gorgeous view and a sunset setting over the ocean. How romantic!! Uh, well it would be if I had a special someone like that to share it with! If  you DO have romance in mind though, be sure to ask for Table #1! Table #1 has the best view on the outdoor patio which is perfect for romance and to wine and dine your honey at.  Many engagements have occurred here at this special spot! The General Manager Phil Roberson and Executive Chef Chris Tzorin spoke to us and went out of their way to make sure we all had a wonderful time and that the food was superb. Savannah's has an amazingly accommodating and attentive team.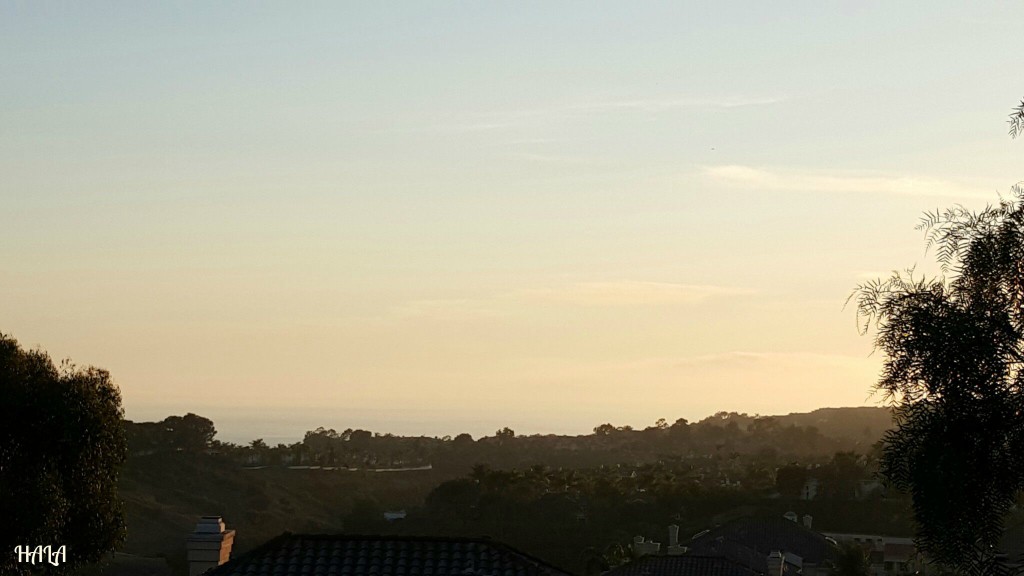 We started off with appetizers and drinks that gave us a preview what the rock star chef  Chris Tzorin had in store for us.  The tray passed appetizers included: Smoked Salmon on a Toasted Point, Bruschetta, and Grilled Prosciutto Wrapped Shrimp.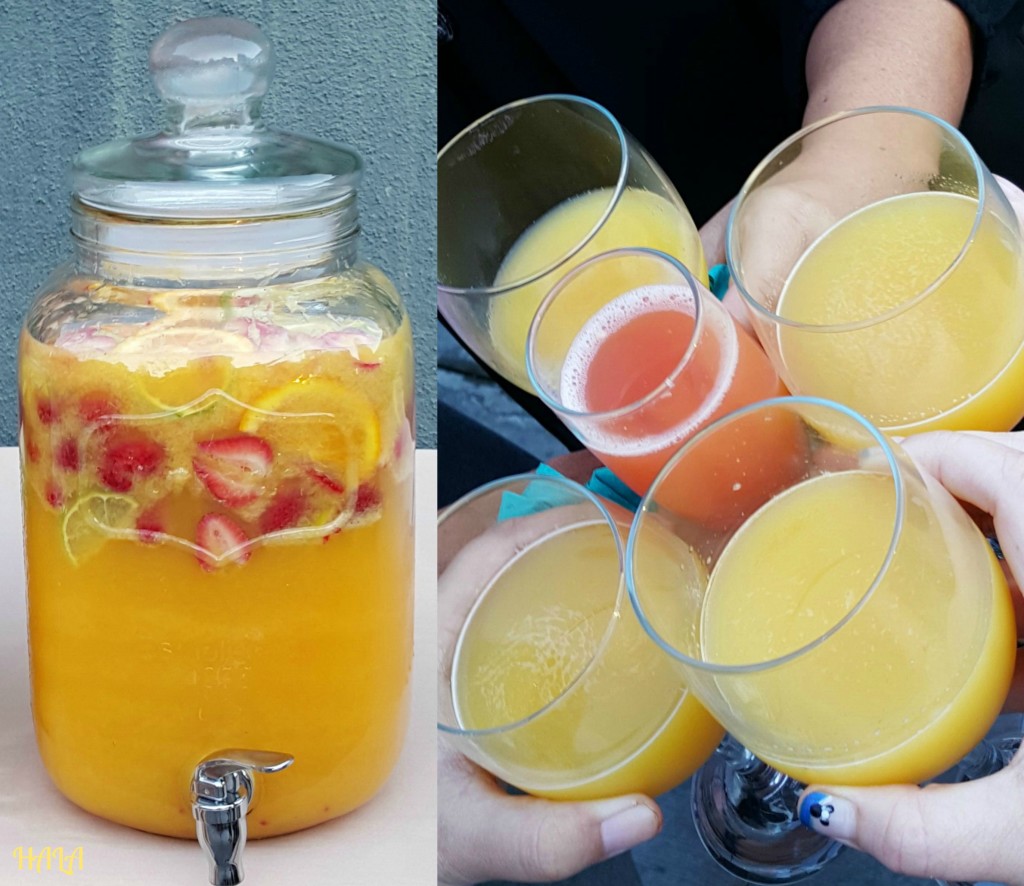 Cheers to a night of amazing food and company!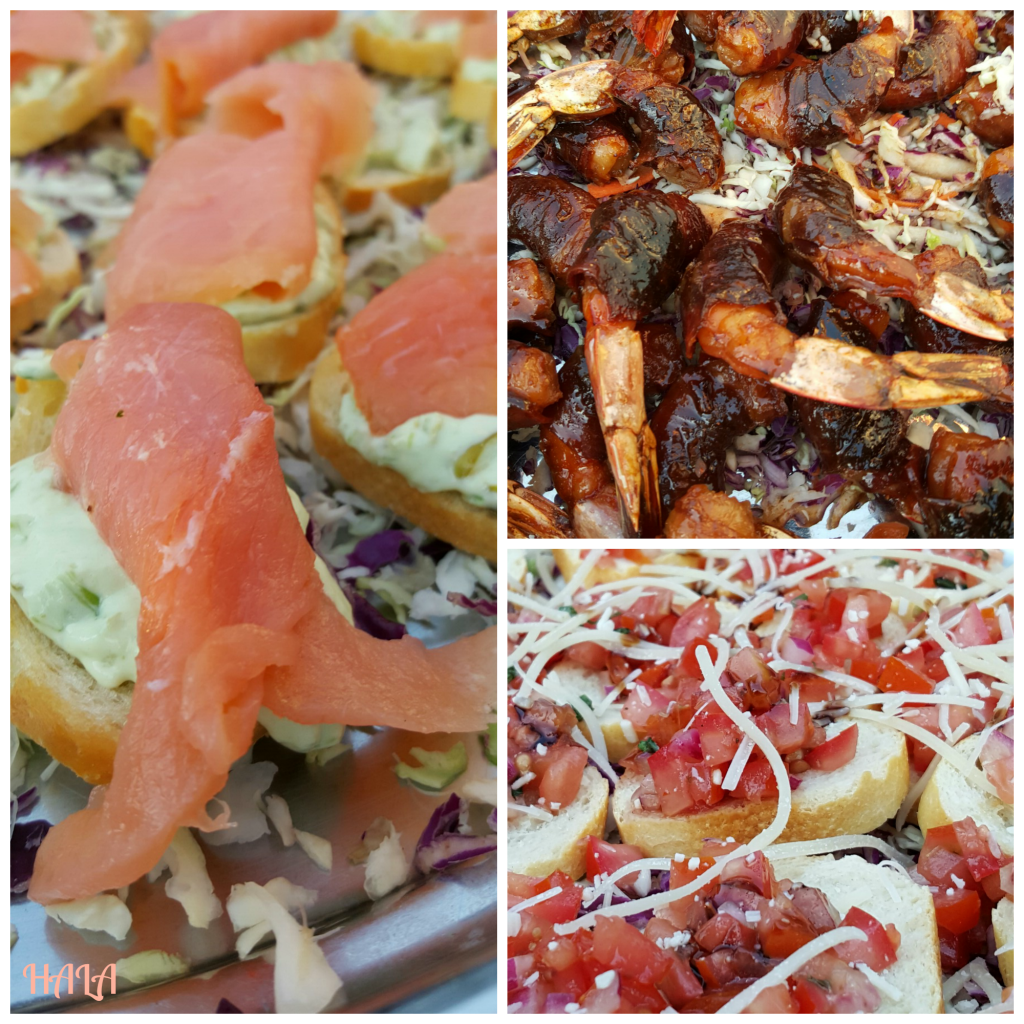 The delicious Tray Passed Appetizers.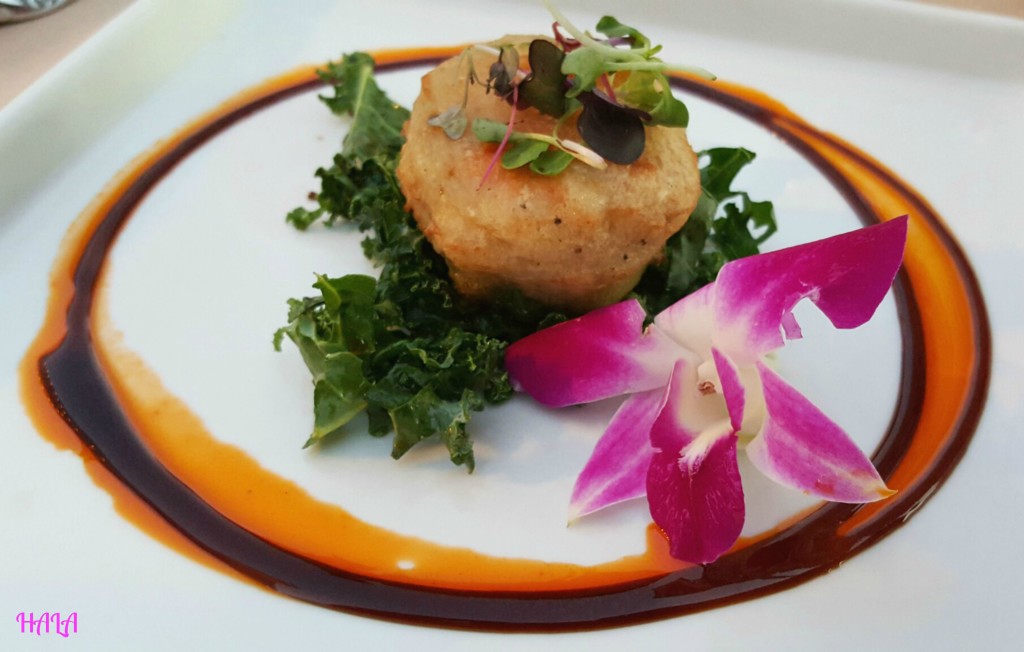 After we had a little bit of time to mingle with everyone, we were seated and the first course was served: Tempura Stuffed Zucchini!  Stuffed with herd goat cheese and sun-dried tomatoes on top of a bed of mixed baby greens and a Ponzu sauce. It was the perfect way to start off our meal together.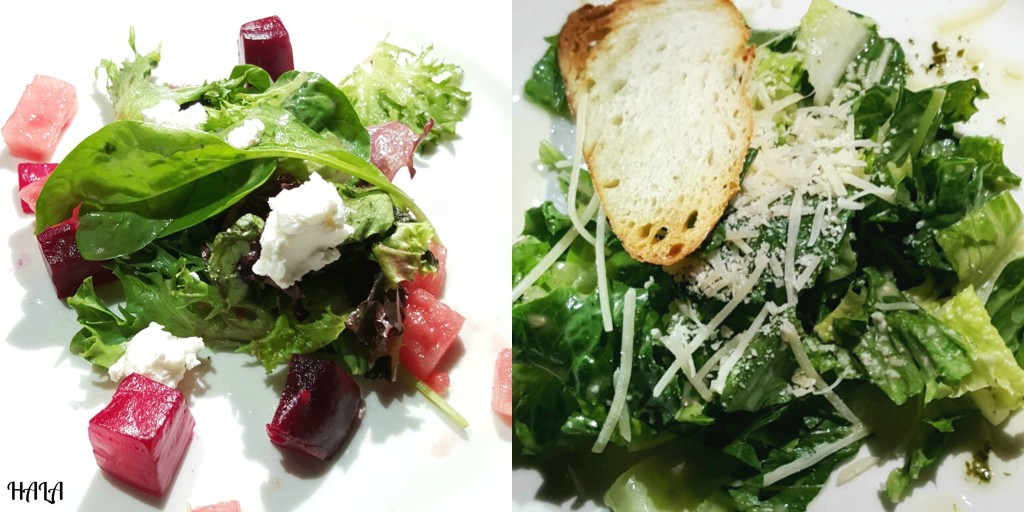 Next up for the second course was either a Watermelon Beet Salad with a mixed blend of lettuce,  candied pecans, goat cheese, and a herbal vinaigrette. This was the salad that I had and it was a very refreshing choice for a hot summer day.  The other choice was a Caesar Salad with croutons, Fried Capers, Parmesan, and a House Caesar Dressing.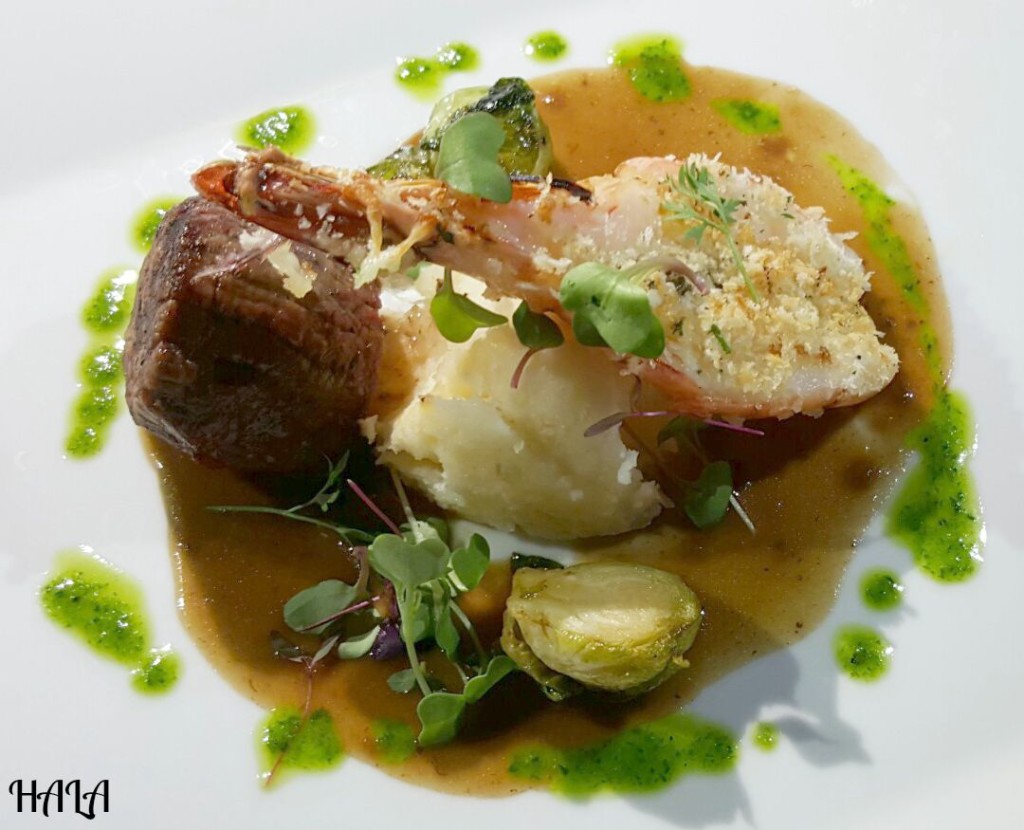 The main course was next! It was none other than a superb Surf and Turf plate! A Filet Medallion with Shrimp Scampi, mashed potatoes, Brussel Sprouts, and a nice Cabernet Reduction. I love steak and shrimp, so I was in heaven with this meal!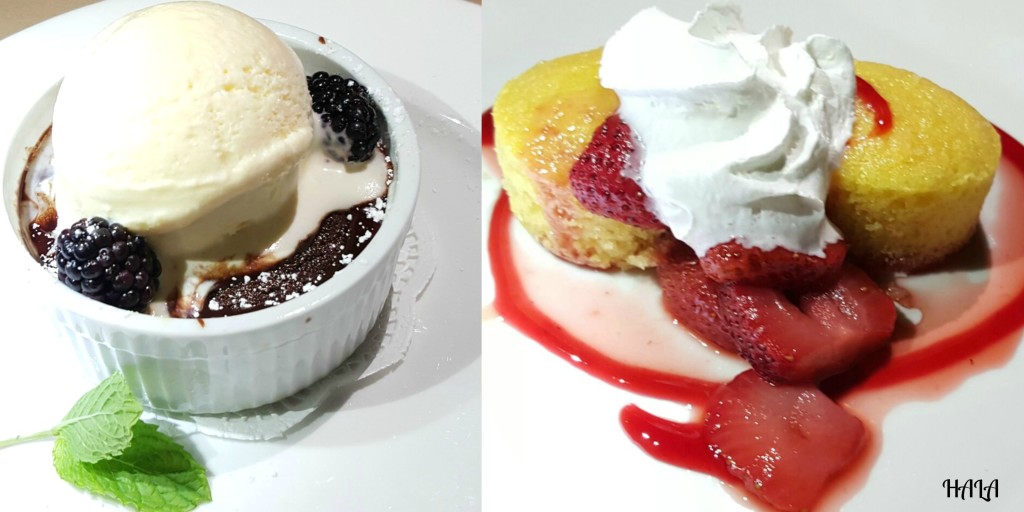 No meal would be complete without a dessert or TWO! 😉 The choices to share were a warm flourless molten chocolate cake with vanilla bean ice cream, berries, and a chocolate sauce. THIS one was amazing. I could have easily eaten a second one of these all on my own!! The other choice was a Strawberry Short Cake, which consisted of a warm vanilla cake, fresh strawberries and whipped cream. This one was also very yummy, but the Chocolate Cake stole my heart.
Other things offered here at Savannah's includes: live entertainment, childrens' cooking classes, magician dinners, wine-pairing dinners and other fantastic events that are all excellent reasons to come eat Chef Tzorin's fabulous food and have a good time with good company. You really can't go wrong here. It doesn't matter if you are seated inside by the huge cozy rock fireplace near the bar, in the main dining room, the veranda or out in the patio, you are in for a special treat and a ton of fun! So go on out and start making your own special memories at this delicious restaurant in the heart of Laguna Niguel.
Savannah Chop House
32441 Golden Lantern
Laguna Niguel, CA 92677
949-493-7107
A very special THANK YOU goes out to Savannah Chop House and Gigasavvy for a wonderful night out at Gigasavvy's 1st Social Club Gathering! I hope to be a part of many more to come!