Marvel's Ant Man!
By Erin
The Ants finally out of the bag! Sometimes, BIG heroes start out small. Ant-Man is out in theaters everywhere today! If you are not already a fan of Marvel, you are in for a special treat. Be prepared to become a fan after watching this action packed laugh fest with a slight romantic twist and an interesting story line that is very heartfelt. In a nutshell, this movie has something for everyone to enjoy (ladies come on, Paul Rudd stars in the film, how can you not want to see him?). This movie is not your typical macho superhero movie.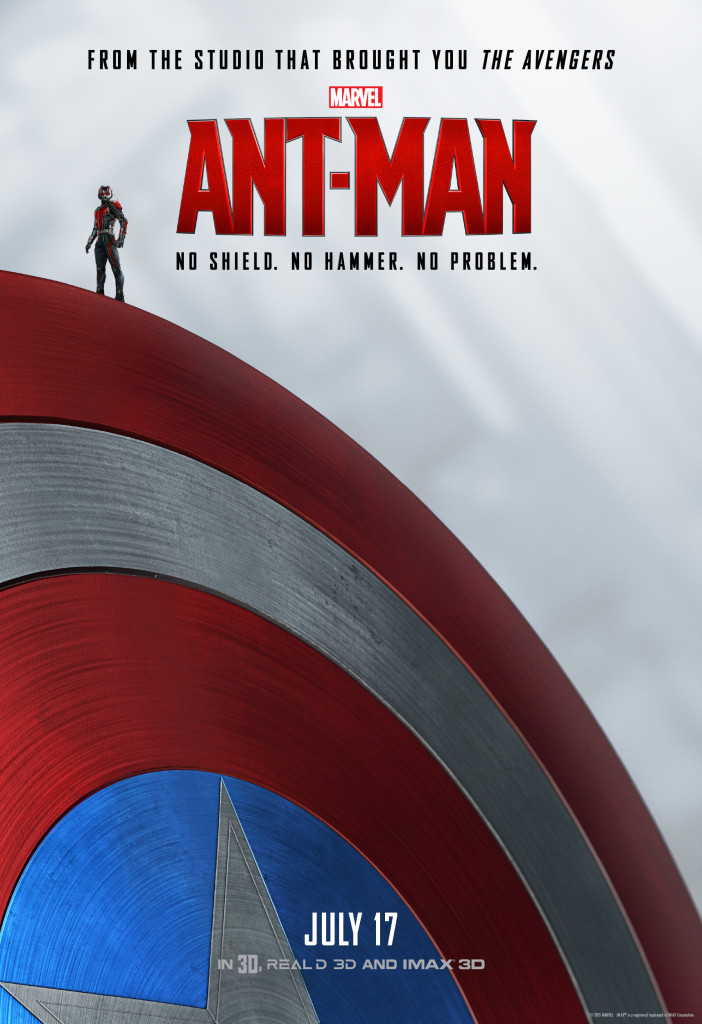 A little bit of background history on this next chapter of the Marvel Cinematic Universe. Ant-Man brings to us a founding member of The Avengers to the big screen for the first time. Hank Pym/Ant-Man was first introduced to us by Marvel in 1962 in "Tales to Astonish #27" and then later Pym appeared alongside The Avengers in the team's debut in "Avengers #1" in 1963. Pym became Ant-Man after discovering a chemical substance—the Pym Particl, which allowed him to alter his size and possess superhuman strength. Pym further developed his technologies so that Ant-Man also has the ability to control armies of ants.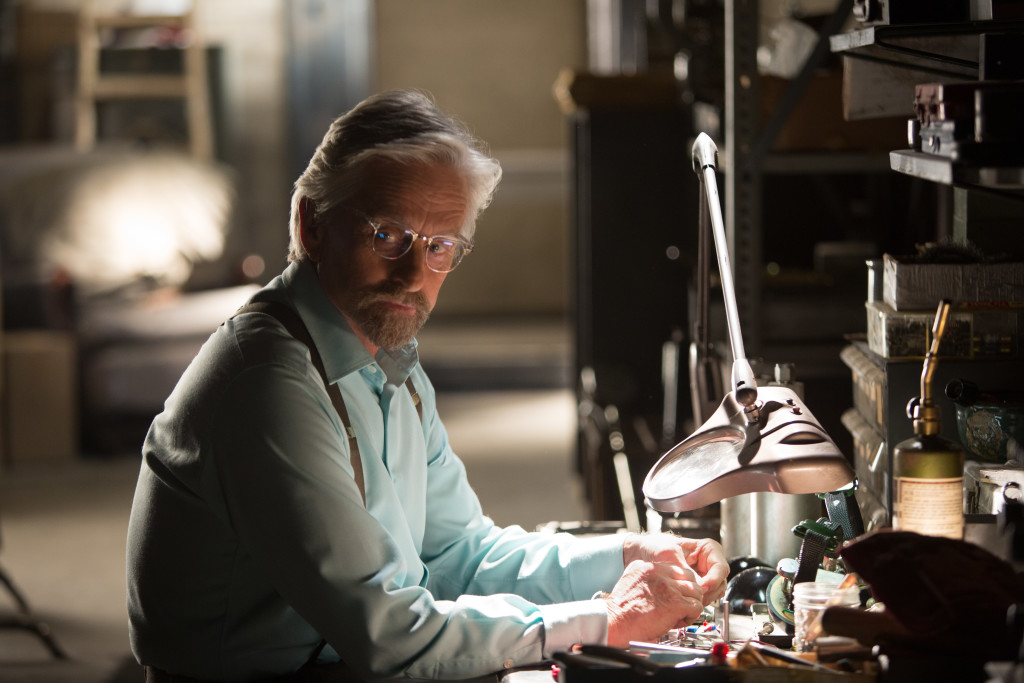 Marvel's Ant-Man. Hank Pym (Michael Douglas). Photo Credit: Marvel
The action-packed adventure starts by introducing us to master thief Scott Lang (Paul Rudd) who is to become the present-day Ant-Man. Dr. Hank Pym has a genius idea about how to arm Lang with the ant man suit that has the astonishing ability to shrink in scale but increase in strength. Lang must grab onto his inner hero and help Pym protect the secret behind the Ant-Man suit from the bad guys as a new generation of towering threats grows. Pym and Lang must overcome many obstacles and come up with a plan to pull off a heist that will save the world.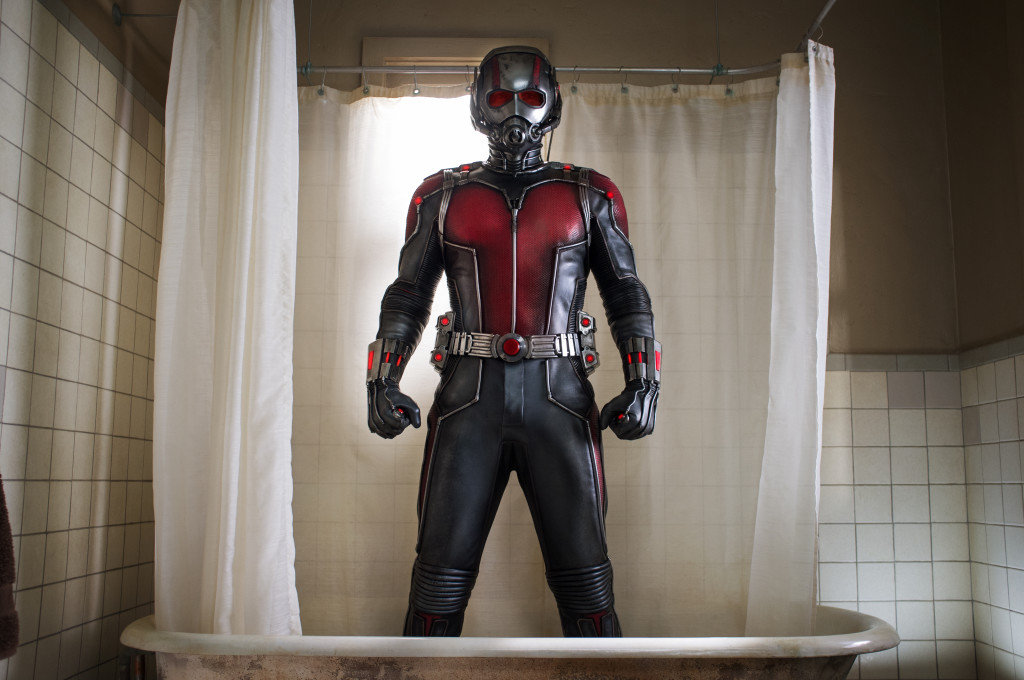 Scott Lang/Ant-Man (Paul Rudd) Photo Credit: Marvel
Marvel's Ant-Man stars: Paul Rudd ("I Love You, Man," "Role Models") as Scott Lang aka Ant-Man
* Evangeline Lilly ("The Hobbit: The Desolation of Smaug," "Lost") as Hope van Dyne, daughter of Hank Pym
* Corey Stoll ("House of Cards," "The Bourne Legacy") as Darren Cross aka Yellowjacket
*Bobby Cannavale ("Chef," "Blue Jasmine") as Paxton,
*Michael Peña ("End of Watch," "American Hustle") as Luis
*Tip "T.I." Harris ("American Gangster," "Identity Thief") as Dave
*Wood Harris ("Above the Rim," "Remember the Titans") as Gale
*Judy Greer ("13 Going on 30," "Dawn of the Planet of the Apes") as Maggie
*David Dastmalchian ("The Dark Knight," "Prisoners") as Kurt
*Michael Douglas ("Behind the Candelabra," "Wall Street") as Dr. Hank Pym.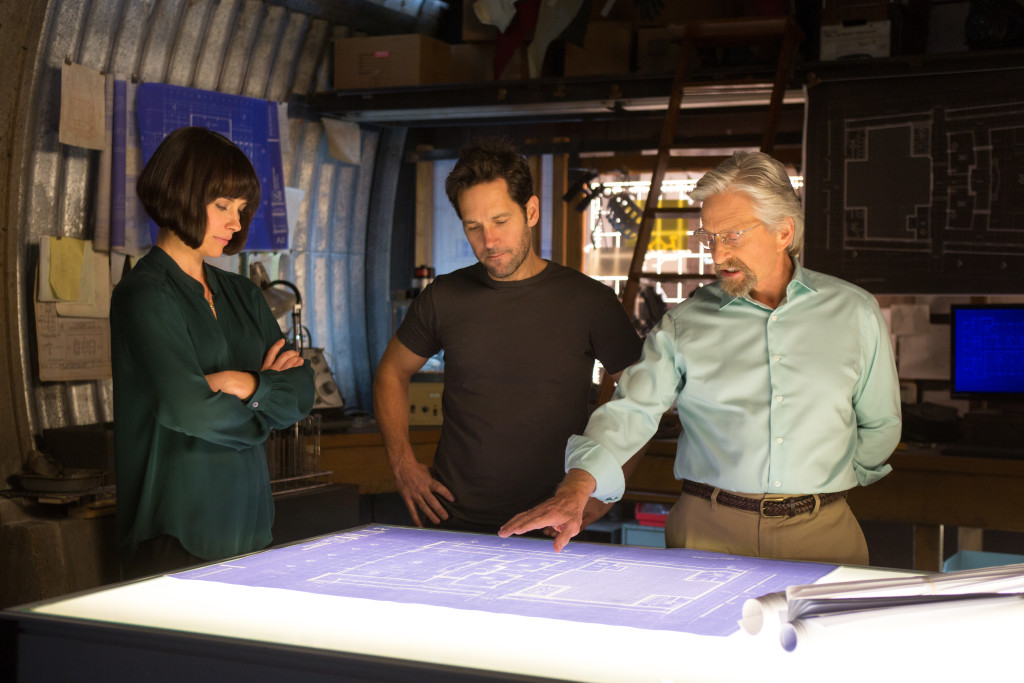 Hope Van Dyne (Evangeline Lilly), Scott Lang/Ant-Man (Paul Rudd) & Hank Pym (Michael Douglas) Photo Credit: Marvel
Peyton Reed directs Marvel's Ant-Man with Kevin Feige. The story is by Edgar Wright & Joe Cornish and the screenplay is by Edgar Wright & Joe Cornish,Adam McKay & Paul Rudd.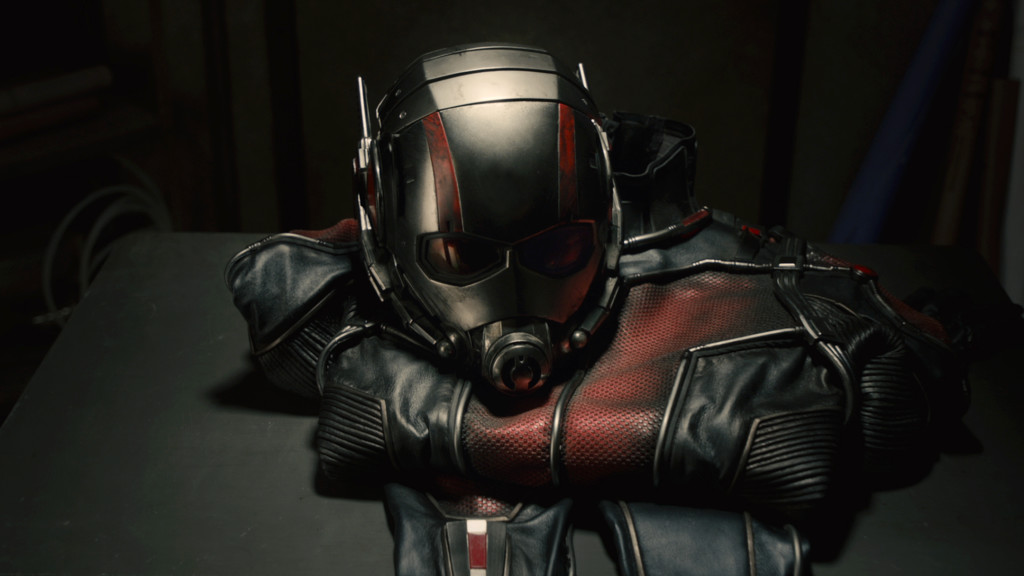 Ant-Man suit. Photo Credit: Marvel
Before you go see the movie, or even if you have seen the movie, here are some fun facts from the film about Ant Man!
*How does the Ant-Man Suit Work?*
Have you ever wondered how the Ant-Man suit works? Well here's the answer. The suit encapsulates the Pym Particle technology that allows a person to shrink down to the size of an ant. When the wearer wants to change size, he/she uses a button on the suit that regulates the Pym Particles, which run through the suit and helmet like an intricate system of veins. The particles are volatile and change the distance between atoms, so the suit and helmet serve as protection for the wearer. Ant-Man technically does not  have super powers, but when he shrinks down in the suit, he actually exceeds the strength of a normal person because energy and mass compacted create a more powerful force.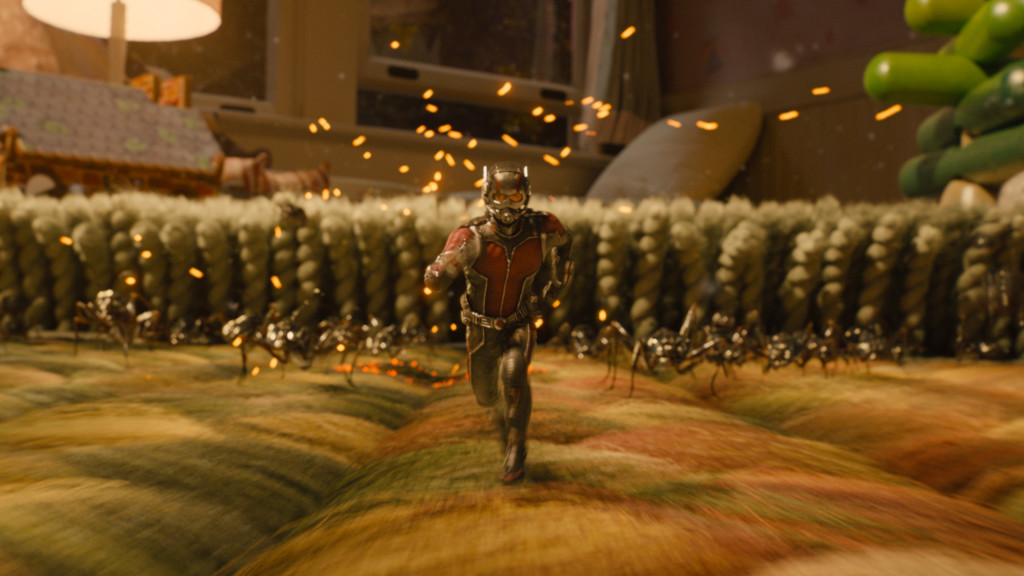 Photo Credit: Marvel
*What is the Ant-Man Suit Made of?*
Costume designer Sammy Sheldon Differ and head suit designer Ivo Coveney headed a team of artists that constructed 13 Ant-Man suits, 17 helmets, 17 belts, 8 pairs of gloves, 15 backpacks, 6 pairs of shoes, 15 balaclavas and 14 necklaces that go on the balaclava. The Ant-Man suit is made of leather and resembles a vintage motorcycle suit. It has a worn look and is battle-scarred to harken back to when Hank Pym was Ant Man and wore the suit on missions. Each Ant-Man helmet has 54 different pieces to it as well as 10 LED lights. Each Ant-Man suit has over 159 LED lights, which are controlled remotely. All the circuitry and batteries for the lights are in a very small backpack. The whole suit can light up, including the gloves and belt.
Yellowjacket/Darren Cross (Corey Stoll) Photo Credit: Marvel
*What can the Yellowjacket Suit Do?*
The villain's heavily armored Yellowjacket suit can withstand bullets and has articulating arms that can shoot plasma rays and incorporates sensors and infrared vision. Just like the Ant-Man suit, the Yellowjacket suit has the shrinking technology built-in.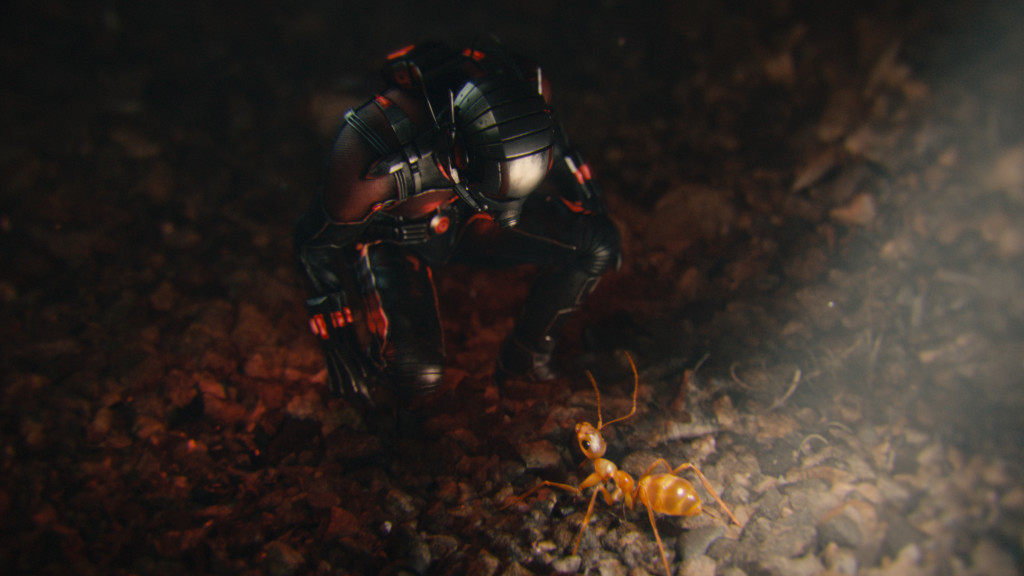 Photo Credit: Marvel
*What about the Ants in the film?*
Marvel put lots of research into learning about ant behaviors and what the different species of ants could bring to the movie in terms of what was needed for the heist. The Paraponera Clavata or bullet ants have a very painful sting and resemble dinosaurs in the movie; the Solenopsis or fire ants are like architects as they can link together and form bridges and rafts to help Ant-Man. The male Camponotus carpenter ants can fly, providing Ant-Man with a very useful mode of transportation.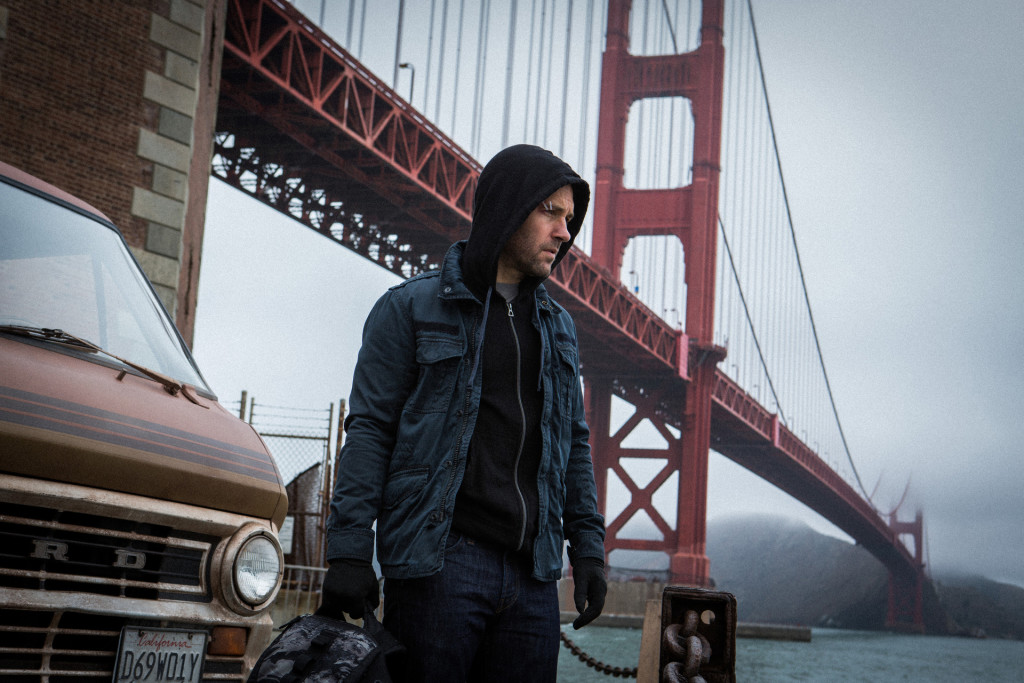 Shot on location in San Francisco. Paul Rudd stars as Scott Lang/Ant-Man. Photo Credit: Marvel
*Keep an eye on "The Van" during the film!*
Scott Lang (Paul Rudd) has a best friend Luis (Michael Peña) who owns an old brown van that has seen better days. Watch as the van keeps changing its appearance through the course of the story. The different versions were dubbed the Mark 1, the Mark 2 and the Mark 3, in a tongue-in-cheek nod to the Iron Man suits. The Mark 1 is the old brown van that Luis is really proud of, but in reality it is a "beater." The Mark 2 is accessorized for a job by the thieves and boasts things like bigger mirrors, so they can see who is coming and going, and side boards for fast ins and outs. The Mark 3 is geared up for the Pym Tech heist and is painted and accessorized to look like a Water & Power utility vehicle.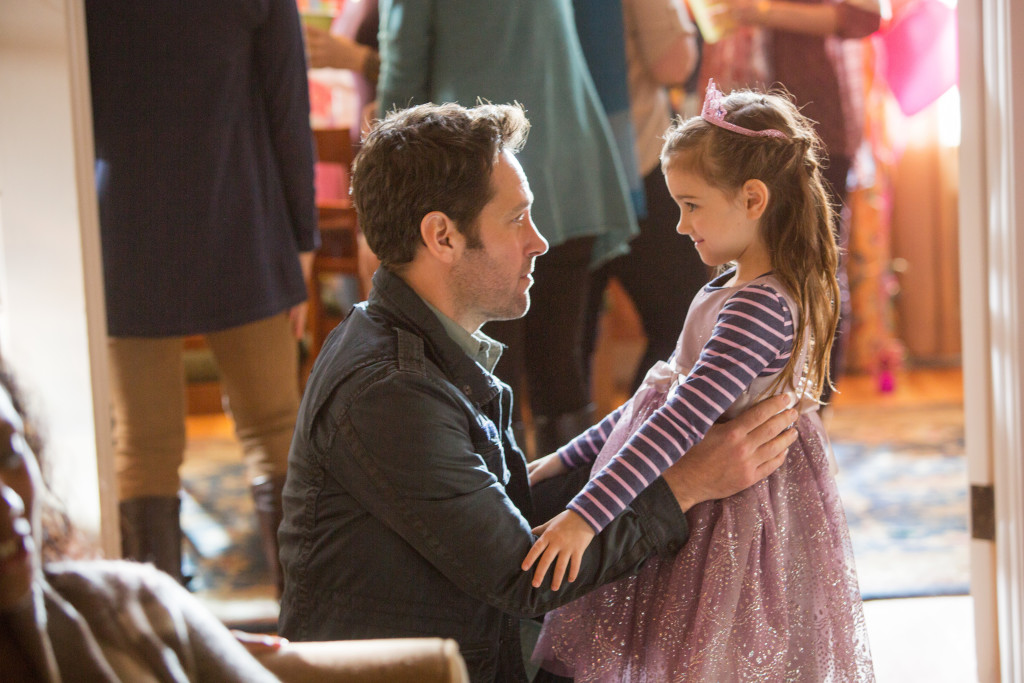 Ant-Man/Scott Lang (Paul Rudd) and Cassie (Abby Ryder Fortson) Photo Credit: Marvel
So be sure to make it out to the theater to see this most delightful and hilarious action packed film. To learn more about Ant-Man check out their Facebook, Twitter, and on the Ant-Man website.  This is one not to be missed!
Ant-Man is in Theaters Now! Go See it! 😉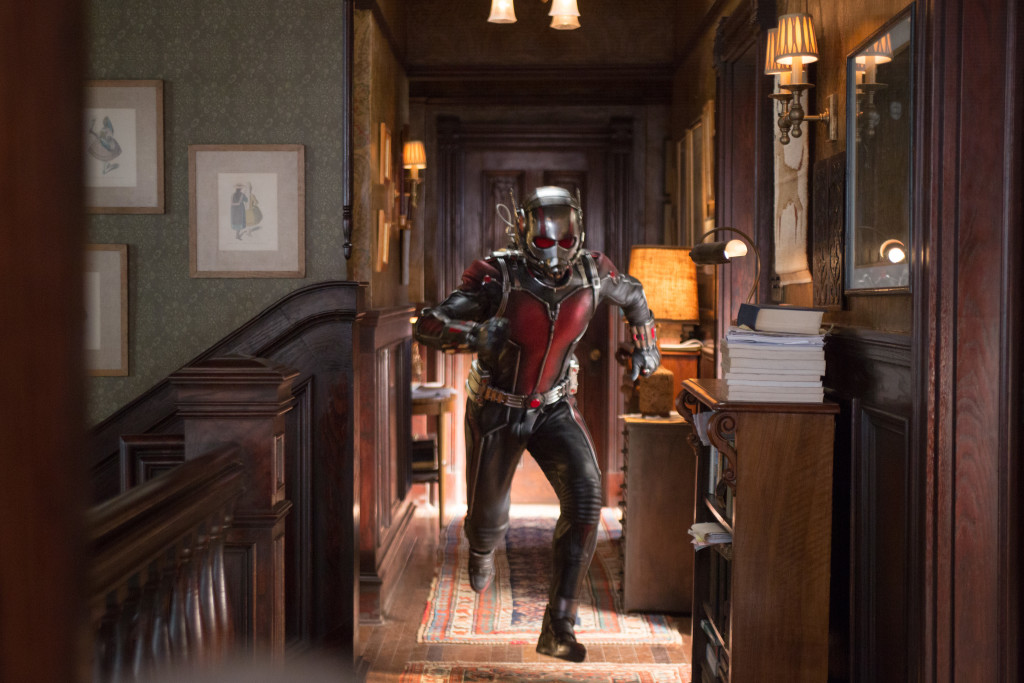 Photo Credit: Marvel