Kyle MacLachlan as Dad in Inside Out
By Erin
*I attended a special interview with Kyle MacLachlan as a guest of Disney as part of the #InsideOutEvent! All thoughts and opinions remain my own*
Kyle MacLachlan plays the voice of "Dad" in the new major emotion picture Inside Out. You might remember him from beloved shows such as Sex and the City , where he played Trey, Charlotte's first husband or from How I Met Your Mother, where he played The Captain. The other week during all of the Inside Out festivities we were able to get inside his head and what he thinks of the film. Disney Pixar's Inside Out was the perfect film to open this past Father's Day weekend don't you think? All of the frustrations and challenges a parent faces while their child grows up in front of their eyes is summed up pretty well. It is sure to be an emotional roller coaster for a lot of families as well as the perfect opportunity to bond and bring up some emotional topics about feelings.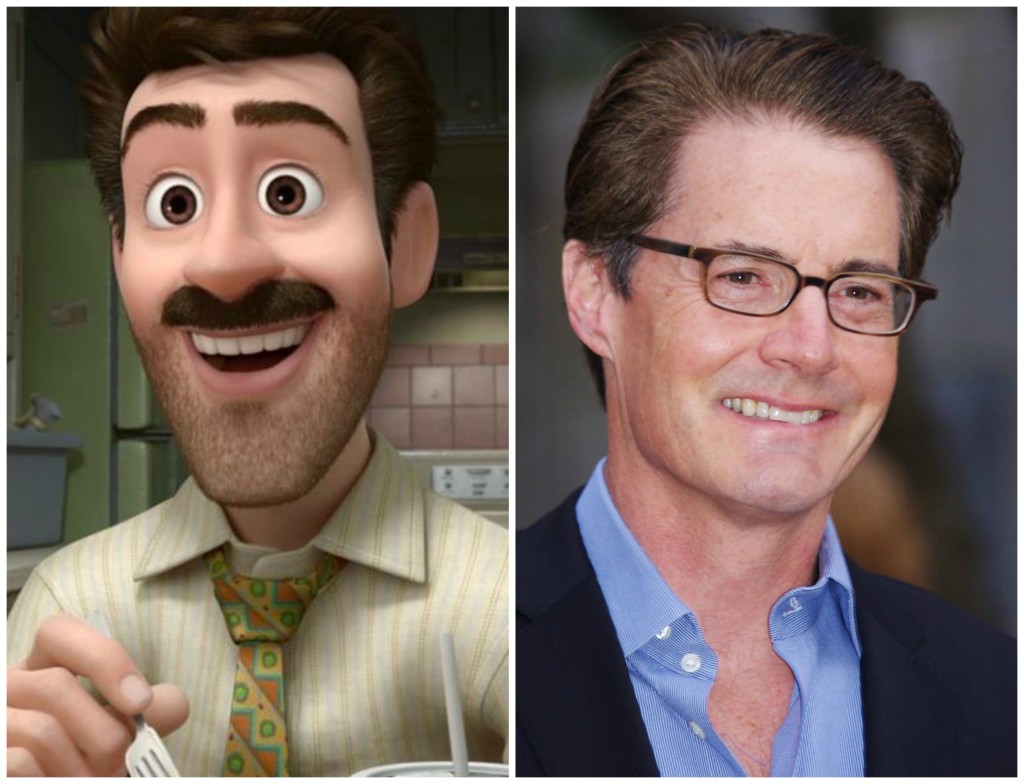 Onto our conversation with Kyle! We jumped right into the good stuff and asked him, What identities would control you?
Kyle replied with, "What would they be, controlling me?  It would be, Wino would be one.  He controls me after 6.  I don't know if Pete Doctor and Jonas and those guys thought of that one, and it maybe not appropriate for Riley, for that maybe.  Coffee would be another one.They're pretty much the same.  Don't you think? I would put underneath that Silliness, just because that's just kind of my nature. The rest of them would be secondary."
Next he told us about being a Dad and how much of the character he was able to bring on-screen because this was kind of normal character departure from what he normally plays. "It was fun to do this guy, being a Dad myself, I was able to bring a little bit of my relationship with my son in and it was encouraged actually by Pete and Jonas and Ronnie, they wanted my personality so I was happy to try different things.  Some worked, most didn't but it's always good to throw them out there just as ideas. But the process is strange because you're sitting with a Microphone and you don't have anything visually to work off  of and Pete would feed me all the information of what was happening in the scene and I would read it and go into my head and play it out in my head so it was like I was shooting my own little Movie as I was saying the words; walking into the room, sitting down on the edge of the bed and saying things got a little hand, you start asking questions like, would I say that from the doorway or would I knock? You begin to put it together in your brain; let me try it this way and then let me try it starting it here." He found the process rather fascinating.
"Most people I think would be bored to tears but I love just how to interpret those words, in the most interesting way, hopefully that's the difference between doing it in front of the camera where you're actually just walking through it and you can feel it yourself to just playing it out in your head as you go."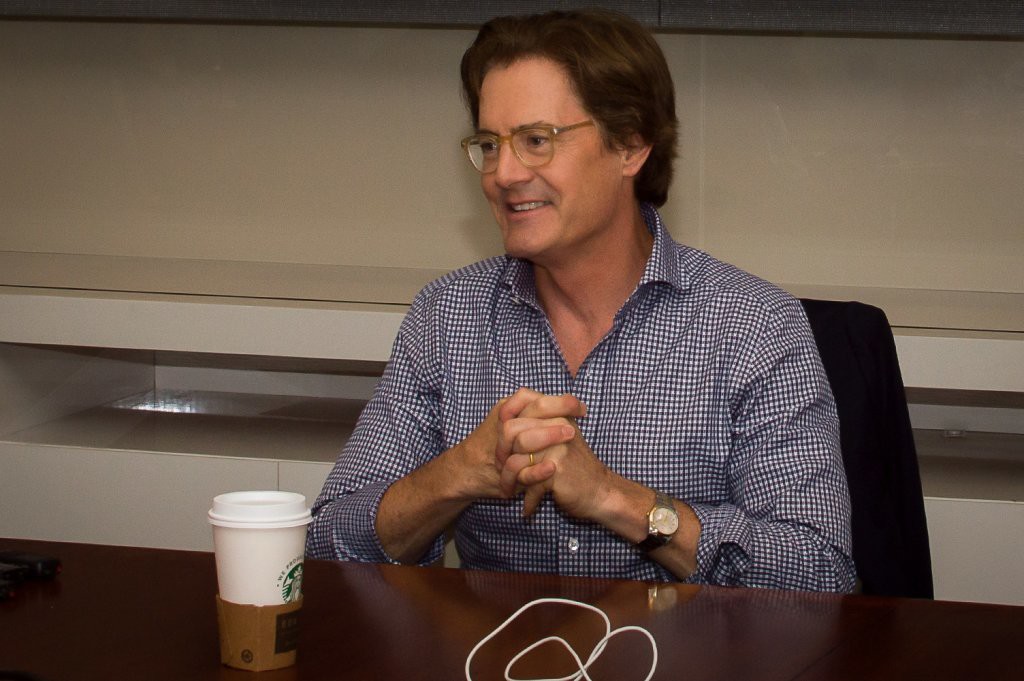 Kyle's son will be 7 next month, has he seen the movie yet?
He's seen the trailers on it like the Dinner scene. "He loved the Dinner Scene.  He says, the foot is down, the foot.  He loves that part. He's seen a couple moments but, I'll take him to see it at some point this summer." This was followed by asking if he feels like he can see the emotions in his son's head?  
"I totally see it in him. He's coming up on 7 so they're still trying to figure out how they all work together.  Joy is the dominant one for him as well but he can bring in some disgust with attitude, which I'm sure he's picked up at school.  He definitely, has this silly gene from me. That comes from my Grandmother in fact. You begin to see and recognize, not only in him but in other people as well. I was doing an interview earlier where the Writer said, why don't you take your hand off the Anger button to his son. I was like OK, so maybe this will enter our consciousness in a whole different way."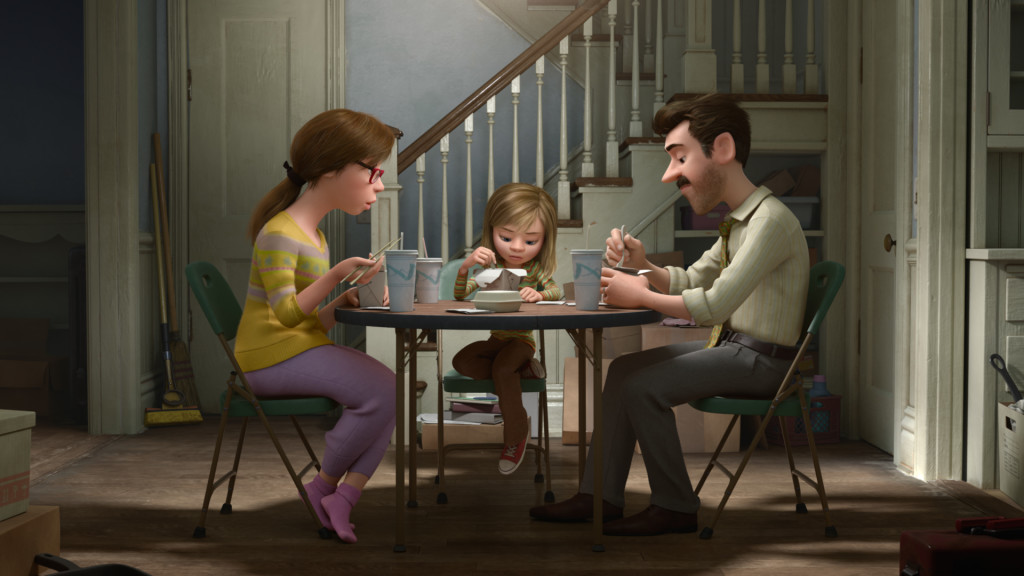 Photo Credit: Disney/Pixar
We a were all very curious to find out what the difference between Voice Acting and Standard Acting was like?  Could you relax in Voice Acting?
He told us, "Going to work as an Actor, they sort of tell you what time, they pick you up sometimes, they feed you, they tell you what to wear.  They tell you what to say.  They tell you where to stand.  They tell you when to stop, they tell you when to go.  They tell you where to sit and you're waiting.  They tell you where to eat lunch.  So it's pretty nice not to have to do a whole lot. Voice Acting is nice because, there's not a Camera that you have to be aware of necessarily. Although they did film all of the stuff that I was doing just to capture the physical gestures and mannerisms and a little bit to incorporate I think in the role or in the drawings. But it's different, challenging, because as I said earlier, I run the scene in my head so I'm recreating, cause I don't see all the stuff.  It's sort of described, he's at the door, he's at the bed.  I'm like, when does he get there?  How does that work and when is his line when you reach out and touch your hair, would you like pat our hand?  All that is running in my head as I'm doing it, trying to recreate it up here.  And that takes–  You get exhausted doing that actually.  But there's only 2 hour sessions so that was OK, yeah."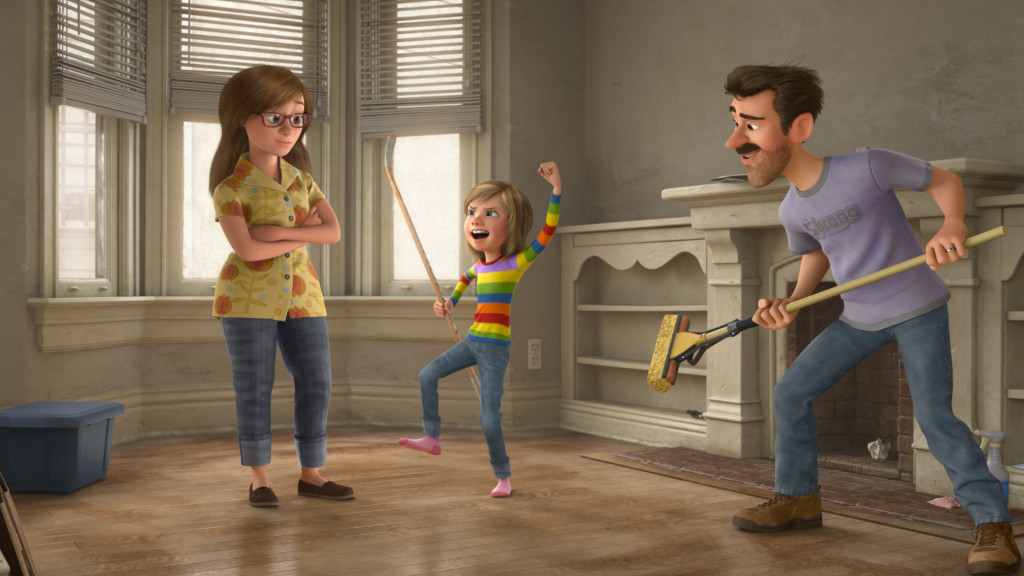 Photo Credit: Disney/Pixar
Another important question that was asked was, What do you think the Audience of Dads will take away from this?
He explained to us how he is a soft spoken kind of Dad. "He's a gentle Dad. I think really attempting to connect with her, to understand what her, what is going on in her brain, which of course, Pete.  I don't know if you've spoken to him but he talks about that, that inspiration of course was his daughter and trying to understand where this, vivacious outgoing joyful little Creature, she turned 11. I think just giving your kids a little bit of space to figure it out I think would be good. One of the things in doing the scenes with her, you know, I attempted to connect with her. Do you want to talk about it? You realize with kids, a lot of it is about timing so if you come to them and you're prepared to have a nice conversation, deep, they're not ready.  So you have to take them when they're ready.  You have to engage them when they're ready.  That could be at the most inopportune times. 4th Quarter, you know, in a great Football Game, you just have to walk away from the Football Game and engage in what, cause that's when they're ready.  So maybe their understanding about that, it's hard to do cause kids are Masters."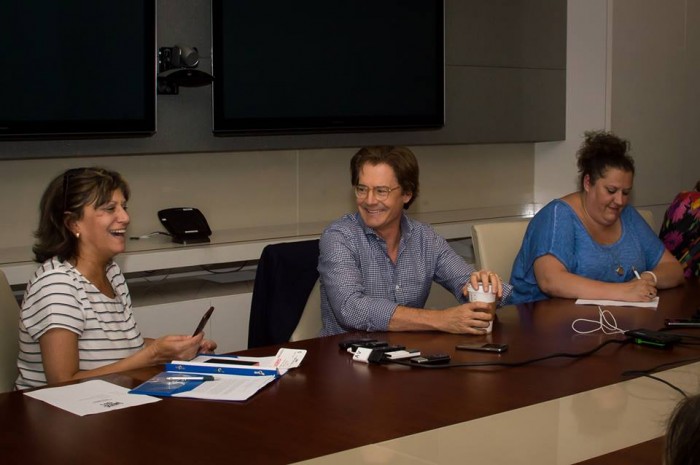 We had to get a little bit silly you know, since that's one of his core personality traits, so we just had to ask him, how did he get so awesome?
His witty response? "Slippery slope.  Uh, blame my Parents.  It's just kind of, I mean I love, you asked the question.  Everyone here has responded and you tweet." So of course we all were tweeting this out… 😉
On the topic of being silly, in the movie, one scene that really stands out is when Mom and Riley decided to go for some pizza and the strangest topping of brocoli is on the pizza, so What's the strangest thing he has had on Pizza?
"Well 2 point answer.  I like the Canadian Bacon Pineapple topping.  But the more interesting answer, when I was in a Marine Biology Camp, 8th Grade maybe, 9th Grade, 14, 15, we had to make Dinner, our own Dinner based on the ingredients we found in water. So whatever we found in tide pools or in the water, we could catch, we had to make Dinner, our own Dinner based upon the ingredients that we found in water so whatever we found in tide pools or in the water, whatever you catch, we had to make our Dinner. We made Pizza with a variety of different Molusks and things on top of Pizza and it was, we had to chew things that I didn't really know what they were. But we stuck it on a Pizza thinking that, we made it on a Dough with Tomato and then stuff on top.  So it was challenging so that was one of the weirdest things.  Yeah funny that I remember that."
Before we said good-bye to our new friend (who we'd get to see in a couple of hours again at the purple carpet premiere of Inside Out), we were able to get an awesome group shot.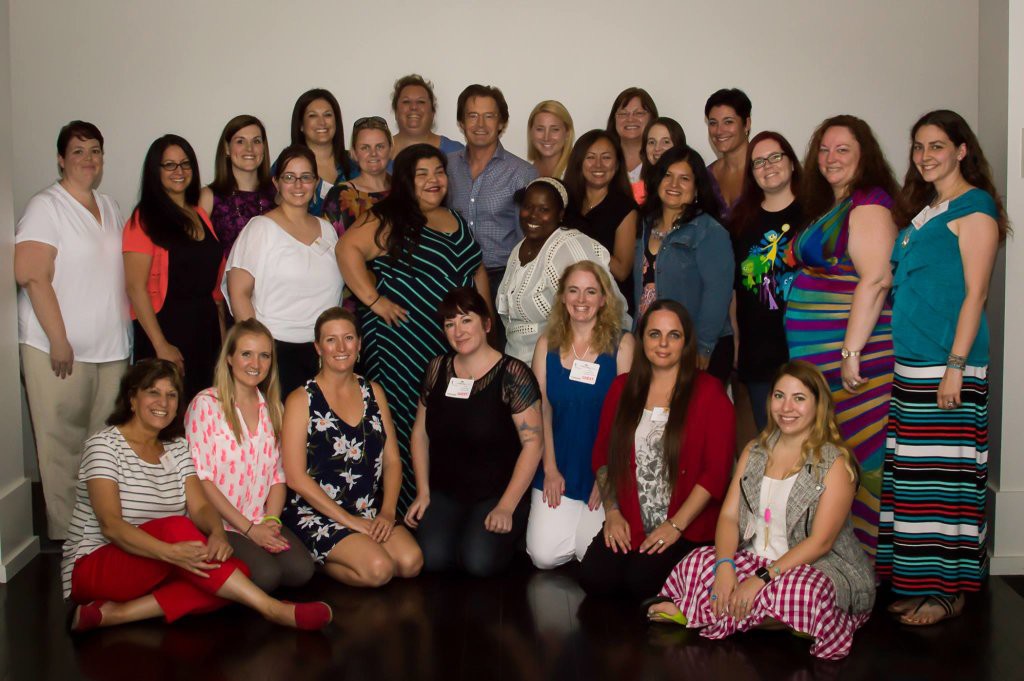 Make sure to go see Inside Out again and again or for the first time! 😉