Ringing in Summer with Celebrity Family Feud
By Erin
*As a guest of Disney and ABC I attended a taping of Celebrity Family Feud on June 7th. All thoughts and opinions remain my own.*
Today marks the first day of summer and what better way to celebrate than by watching two families spar off against each other in the classic game show "Family Feud," which has become one of television's most popular and enduring game show formats. I've been watching since I was a little girl, so when I found out we were going to get to see a taping of the show, I was beyond excited. What makes this extra special is that this is a new primetime celebrity version called "Celebrity Family Feud"  that will take the fun to a whole new level with the six-episode special series. Steve Harvey, the highly popular actor, author, deejay and Emmy Award-winning game show host, will pit celebrities against each other in a contest to name the most popular responses to a survey-type question posed to 100 people. It is set to air tonight (Sunday, June 21st) at 8:00-9:00 p.m., ET/PT on the ABC Television Network.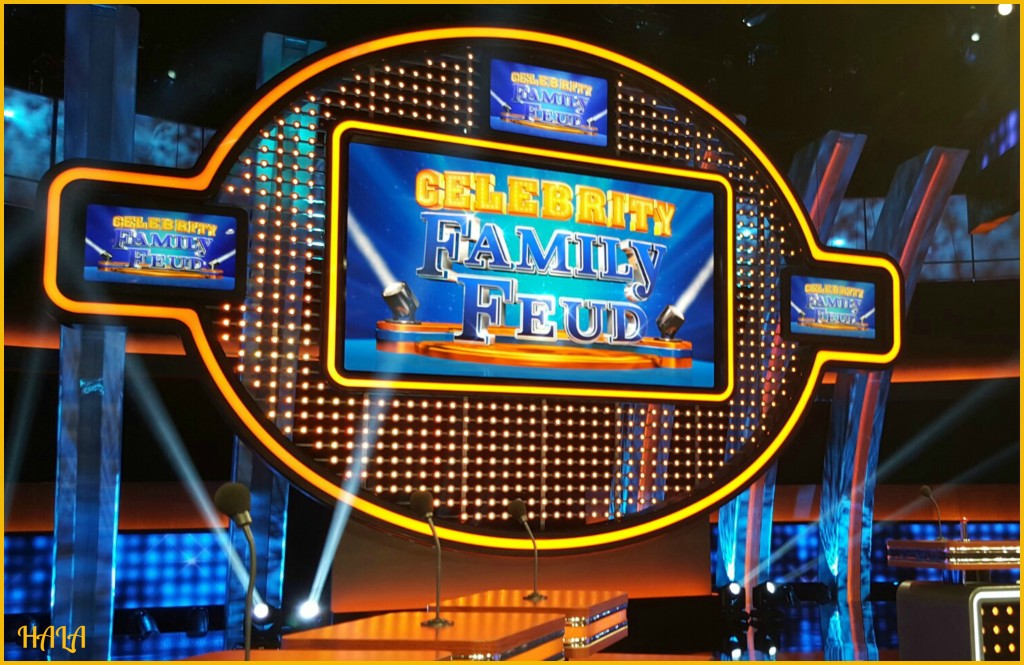 What I love most about this new version is that Celebrities and their families will be coming together play to win some cash for their favorite charity.  A total of twelve families will be squaring off to take home the prize for the charity of their choice. The schedule is full of fan favorites, so be prepared for a fun-filled, hilarious, six weeks of entertainment. Families include, Mario Lopez (Saved by the Bell), Vicky Lawrence (Mama's Family), Dr. Phil, The Robertson Family (Duck Dynasty) and many more you are sure to love.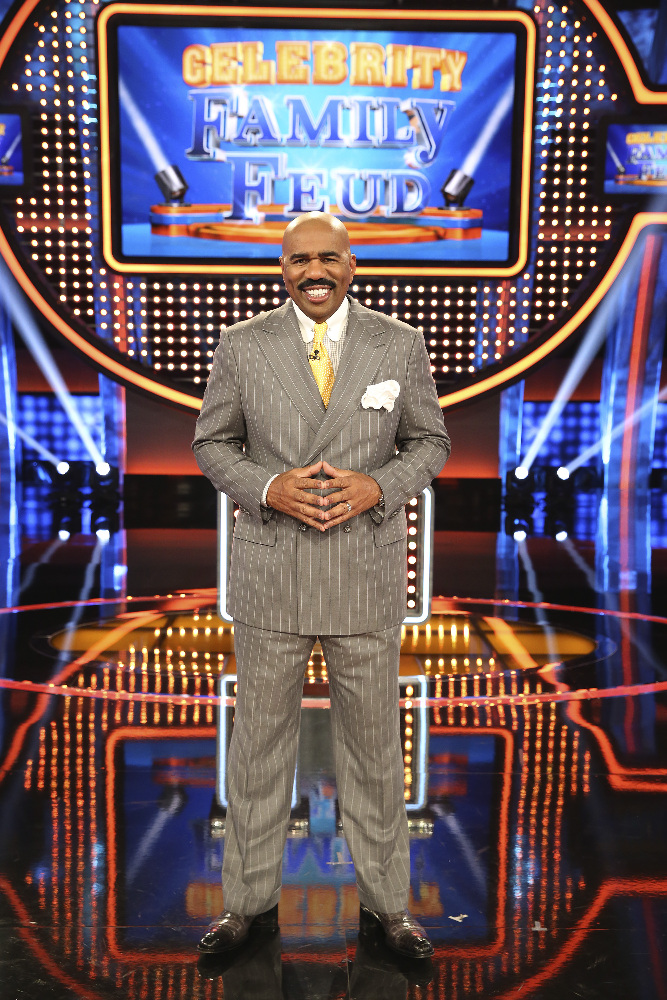 Steve Harvey Photo Credit: ABC/Adam Taylor
"Anthony Anderson vs Toni Braxton and Monica Potter vs Curtis Stone" –will kick off the series premiere of "Celebrity Family Feud." First off we will see Actor Anthony Anderson's ("black-ish") family vs. 7-time Grammy Award-winning artist Toni Braxton and her sisters; and then in a separate game we will see family members from Australian celebrity chef Curtis Stone and actress Monica Potter. Contestants will go up against each other for victory.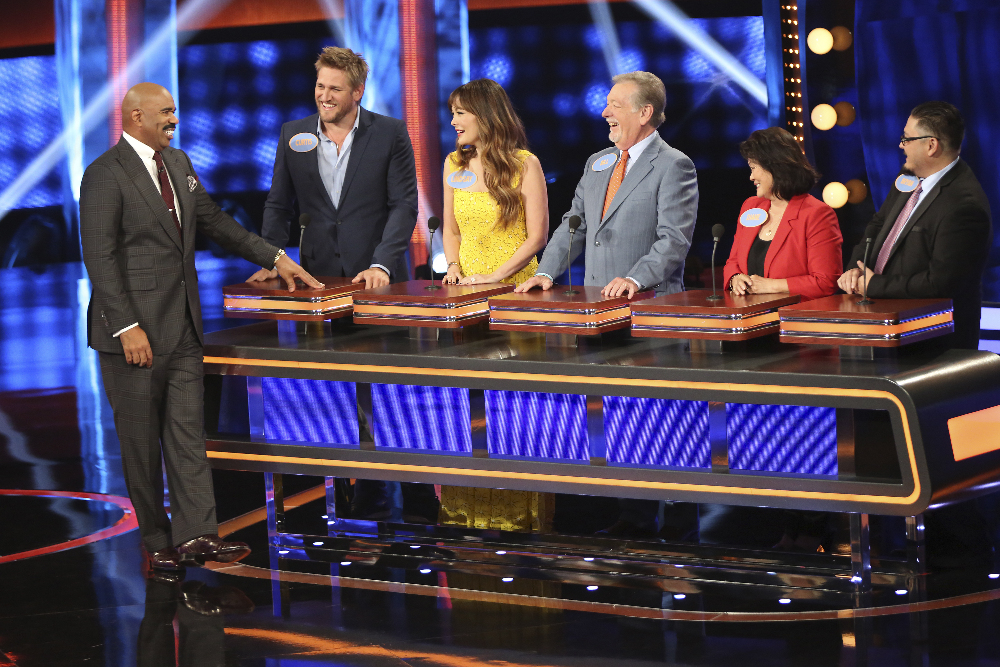 Steve Harvey, Curtis Stone, Lindsay Price Stone, Bill Price, Diane Price, Bryan Price  Photo Credit: ABC/Adam Taylor
My Live Taping Experience: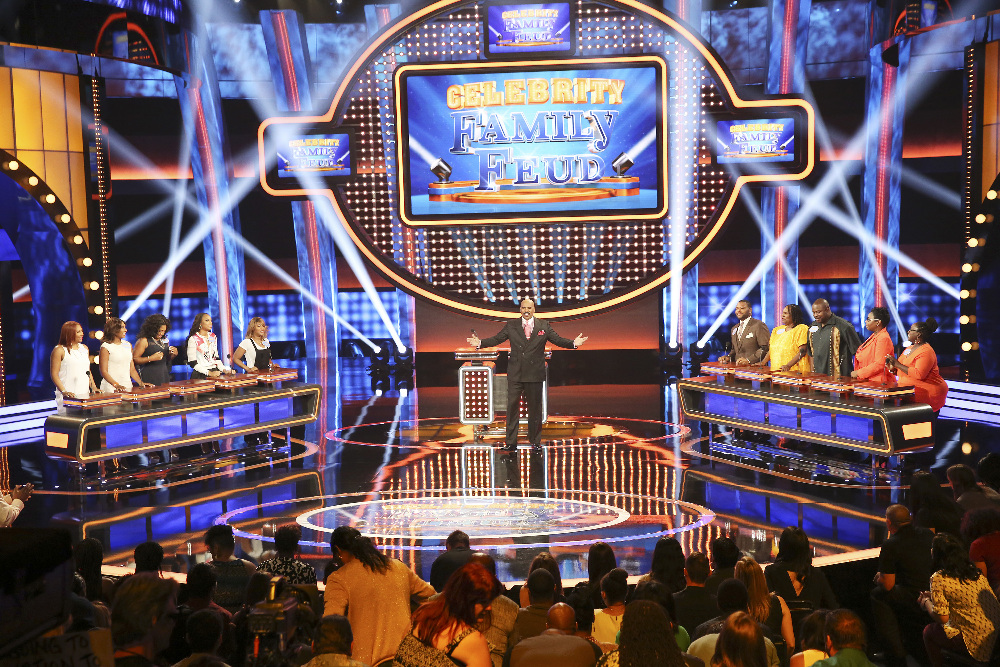 Photo Credit: ABC/Adam Taylor
The episode that  I had the pleasure to watch being filmed was Vicki Lawrence vs. Ed Asner. Once we arrived at the studio, they had us walk around to the back side of the building where we went through security and were then ushered to our seats. As we entered the building to take our seats in the audience, you could feel the energy in the room, with the upbeat, energetic music to get everyone going and ready for all the fun the show was to bring. A host was leading the audience and getting everyone up and out of  their seats dancing and clapping along to the music.  After all the dancing, moving and grooving to the music, it was time for the show to start. Steve Harvey made his appearance and we all clapped and cheered. Each celebrity family was introduced and told us the charity they were playing for. The contestants were awesome, the categories and the answers were hilarious. A good time was had by all. A week or so before we came to the taping, we were asked if we had any questions for Steve. During the breaks Steve Harvey talked with the audience and he answered many of the questions that us 25 bloggers had come up with! How awesome is that? He also told us stories about his childhood and his experiences growing up. He preached a very inspirational message to us all about hope, dreams, and to never give up. To follow those previews in our head, and to make them a feature film. I might not be able to tell you who won the show that I saw, but I can tell you this. Tune in. WATCH IT! 😛  I do not yet know the exact airdate of the the  episode I was present for, but I'll be sure to update everyone when there is a confirmed date. After the taping, we were in for a special treat! We were told that we could go up on stage and take photos!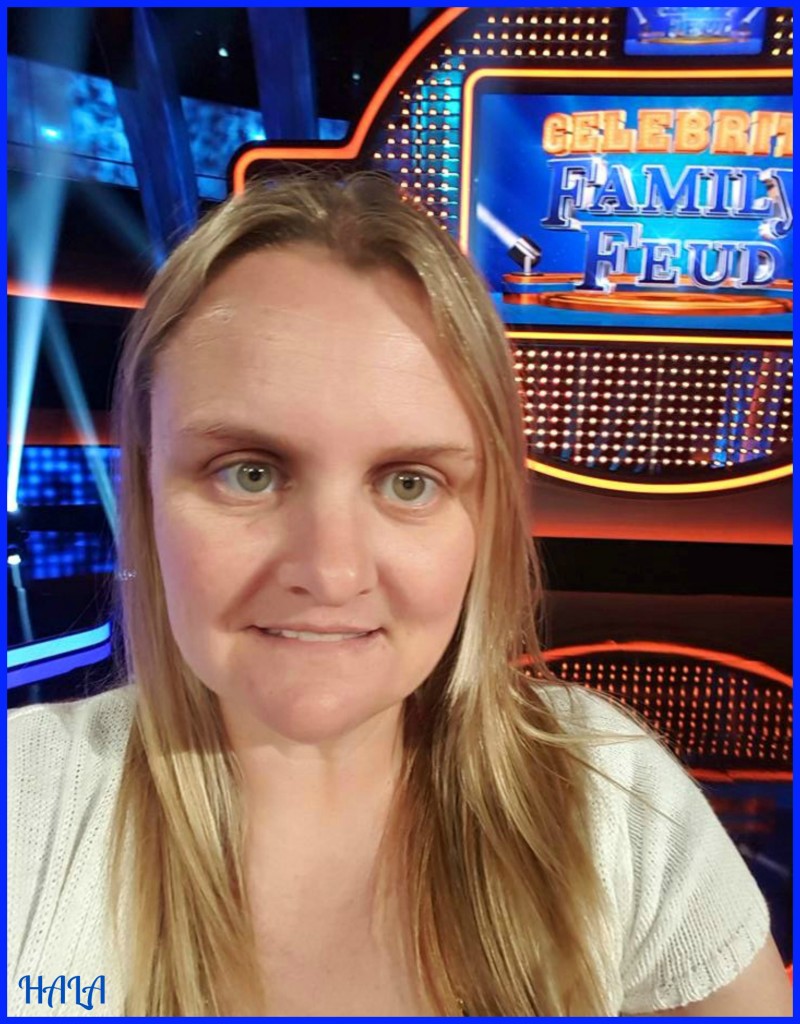 On the stage there was so much to take in, and only a few minutes to try to capture it all and enjoy it.  Luckily we were able to get a few quick shots at the buzzer and where the contestants get to play the game.  I'm on team Kathy, Gayle, Erin and Stefani! What an incredible experience! Now, I want to go play for real! Maybe they can have a blogger version of the show? 😉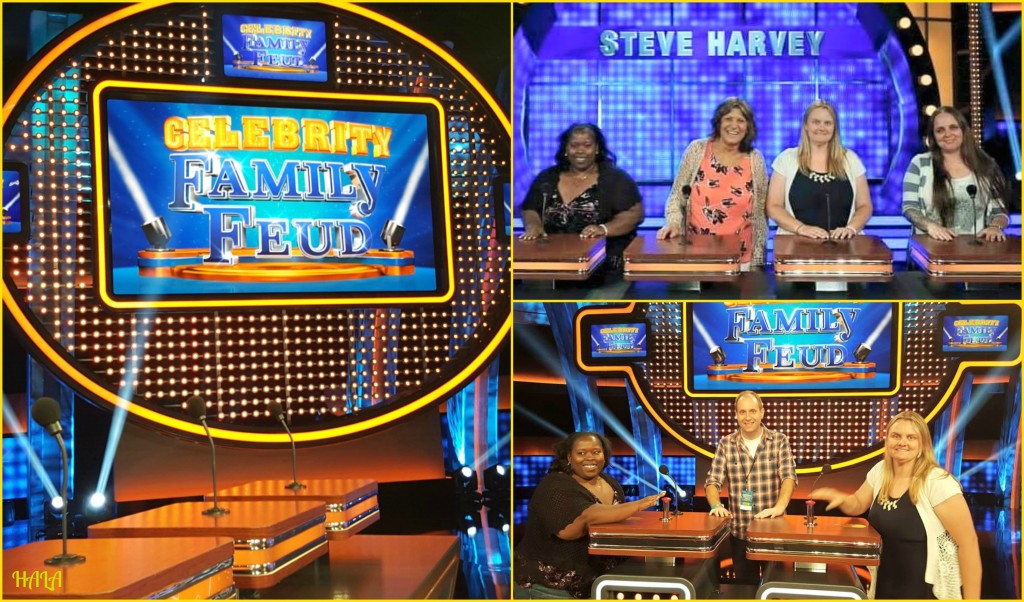 In case you are wondering….Who will be on the Celebrity Family Feud?
The celebrity captains and their teams who will try to guess what the "survey said" are:
• Dr. Phil McGraw – the world's most well-known mental health professional and host and executive producer of television's #1 daytime talk show, "Dr. Phil."
VS.
• Penny Marshall – Golden Globe nominee, best known as Laverne of the beloved TV show "Laverne & Shirley" and director of "BIG," "League of their Own," and "Awakenings."
* Garry Marshall – Prolific director and producer of classic films and television shows including "Happy Days," "The Odd Couple" and "Pretty Woman."
• Karina Smirnoff – American audiences first fell in love with Karina during season three of "Dancing with the Stars." In Season 13, she won the Mirrorball trophy with J.R. Martinez as her partner. Her "Celebrity Family Feud" team consists of DWTS pro dancers:
* Anna Trebunskaya – she partnered with Jerry Rice in season 2
*Sasha Farber – he partnered with Snooki in season 17
*Witney Carson – season 19 Mirrorball Champion with celebrity partner, Alfonso Ribeiro
* Allison Holker – she partnered with Riker Lynch in season 20 and placed second in the finals
VS.
• Sean Lowe – He was "The Bachelor" during the romantic reality show's 17th season in 2013
*Catherine Guidici-Sean's wife
*Jason Mesnick – He was the first-ever single dad when he appeared as "The Bachelor" in the 13th season in 2008
*Molly Mesnick– Jason's wife
*Kaitlyn Bristowe – Currently "The Bachelorette" after winning the vote the men took the first night between her and Britt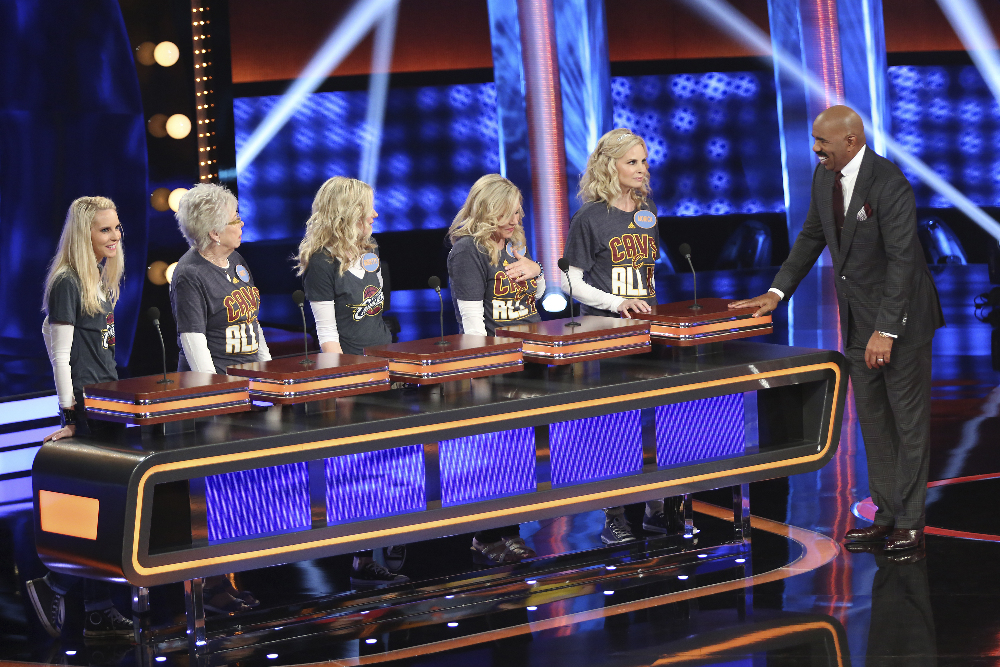 Photo Credit: ABC/Adam Taylor
• Kevin McHale – actor and singer best known for his role as Artie Abrams on television's "Glee" and former member of the R&B boy band NLT
VS.
• Fred Willard — iconic comedic actor from "Fernwood Tonight," "Modern Family" and the film, "Best In Show"
• American Stars from the NFLPA
* Antonio Brown – Pittsburgh Steelers/wide receiver
* Nick Mangold – New York Jets/center
* Terrell Suggs – Baltimore Ravens/outside linebacker
* Antonio Gates – San Diego Chargers/tight end
* DeMarcus Ware – Denver Broncos/defensive end
VS.
• National Stars from the NFLPA
* Vernon Davis – San Francisco 49ers/tight end
* Eddie Lacy – Green Bay Packers/running back
* Calais Campbell – Arizona Cardinals/defensive end
* Matt Forte – Chicago Bears/running back
* Thomas Davis – Carolina Panthers/outside linebacker
• Monica Potter – Critics' Choice-winning and Golden Globe-nominated actress ("Parenthood," "Con Air," "Patch Adams," and "Saw")
VS.
• Curtis Stone – Australian celebrity chef, author and television personality
• Mario Lopez – actor, author and host of the entertainment news program "Extra"
VS.
• Joey Lawrence – actor and producer, known for "Melissa & Joey" and "Blossom"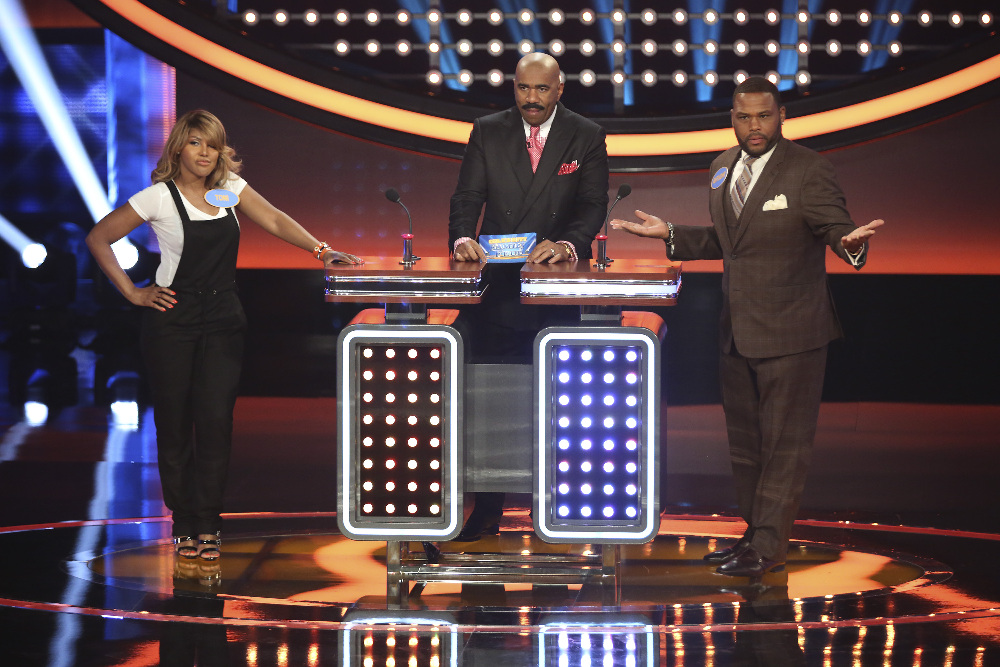 Photo Credit: ABC/Adam Taylor
• Katy Mixon-movie and TV actress best known for playing Victoria on "Mike & Molly" and April Buchanan on "East Bound & Down"
VS.
• Willie Robertson – he leads family members from the reality show, A&E's "Duck Dynasty"
• Rob Gronkowski – NFL tight end for the Super Bowl-winning New England Patriots and actor (2015's "Entourage")
VS.
• Holly Robinson Peete – actress, author, activist and co-founder of The HollyRod Foundation
• Niecy Nash –Emmy Award-winning actress/comedienne ("Getting On," "The Soul Man," "Reno 911!," "Clean House")
VS.
• Cheryl Hines – movie and TV actress best known for her Emmy Award-nominated role as Cheryl David on "Curb Your Enthusiasm" and 3 seasons on "Suburgatory"
• Keke Palmer – Award-winning actress ("Akeelah and The Bee," "Masters of Sex"), singer and dancer, starring in FOX's new comedy-horror series, "Scream Queens."
VS.
• Bill Engvall – Actor/Comedian
• Ed Asner – 7-Time Emmy Award winning ("The Mary Tyler Moore Show," "Lou Grant," "Up" )
VS.
• Vicki Lawrence – Emmy Award-winning comedienne best-known for her part in the legendary cast of the "Carol Burnett Show"
• Anthony Anderson – executive producer and star of ABC's award-winning series, "black-ish"
VS.
• Toni Braxton – The 7-time Grammy Award winning artist and actress' team includes her sisters and stars of WE tv's hit series "Braxton Family Values"
Survey Says: Tune in TONIGHT for all the family fun! 8PM ET/PT! 🙂
Follow us on: Facebook: https://www.facebook.com/FamilyFeudABC
Twitter: @FamilyFeudABC
Hashtag: ‪#‎CelebrityFamilyFeud‬
Tumblr: http://familyfeudabc.tumblr.com
Instagram: @FamilyFeudABC
#‎CelebrityFamilyFeud‬
#ABCTVEvent
#InsideOutEvent