An Insiders Look Into Disney/Pixar's Inside Out!
By Erin
The big day has finally arrived! Inside Out is here to enter the minds and hearts of all who see it. I just cannot say enough good things about this film; it's the feel good movie of the summer, and it's still technically a couple of days until summer is officially here. But it's just that good, so I'm going to pretend it's summertime already. Adorably inventive, gorgeously animated, and powerfully moving, Inside Out is another  jewel to add to the Pixar library.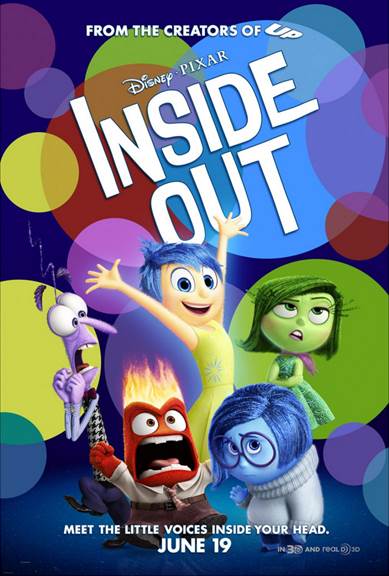 Centered around 11-year-old Riley, the movie follows this spirited and goofy young girl, as her dad's new job in San Francisco uproots the family from the Midwest (Minnesota). To help her navigate through this change are her emotions: Joy (Amy Poehler), Fear (Bill Hader), Anger (Lewis Black), Disgust (Mindy Kaling), and Sadness (Phyllis Smith).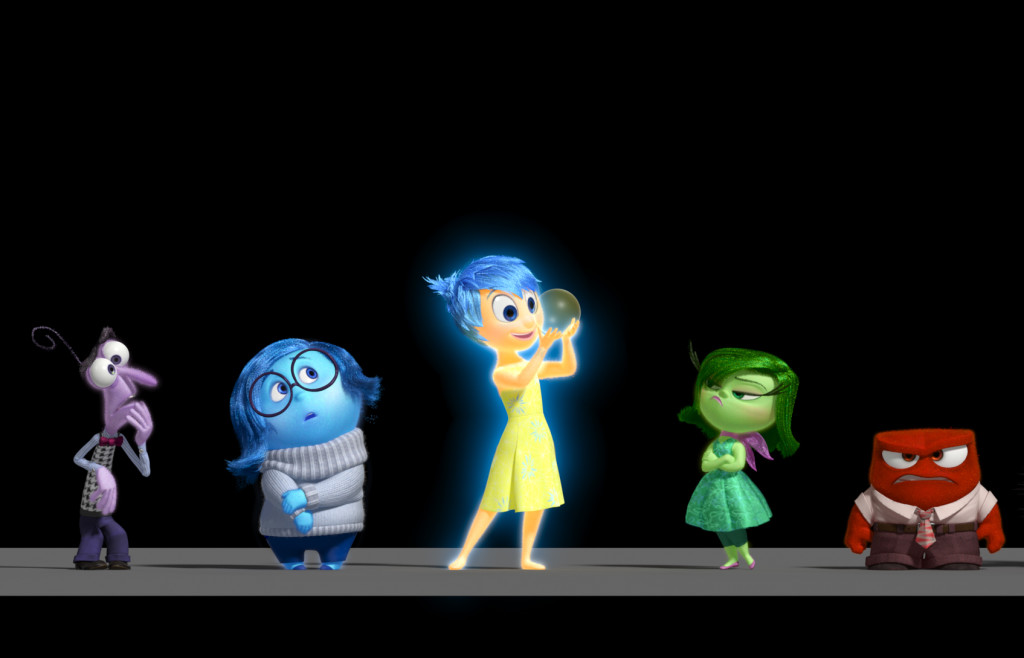 The control center inside 11-year-old Riley's mind, is called Headquarters and it is where five Emotions are hard at work, led by lighthearted optimist Joy, whose mission is to make sure Riley stays happy. Fear heads up safety, Anger ensures all is fair and Disgust prevents Riley from getting poisoned, both physically and socially. Sadness isn't sure really what her role is, and frankly, neither is anyone else. "The Emotions are kind of like the voices in our heads," says director Pete Docter. "Everybody has a default temperament. We all go through periods of being happy or sad, but certain people are just happy or angry or what have you. Riley is one of those happy kids. So Joy had to be the first Emotion to show up, and she has a very special bond with Riley." But when Joy and Sadness are accidentally swept into the far reaches of Riley's mind, taking some of her core memories with them; Fear, Anger and Disgust are left in charge, and all sorts of crazy things start happening.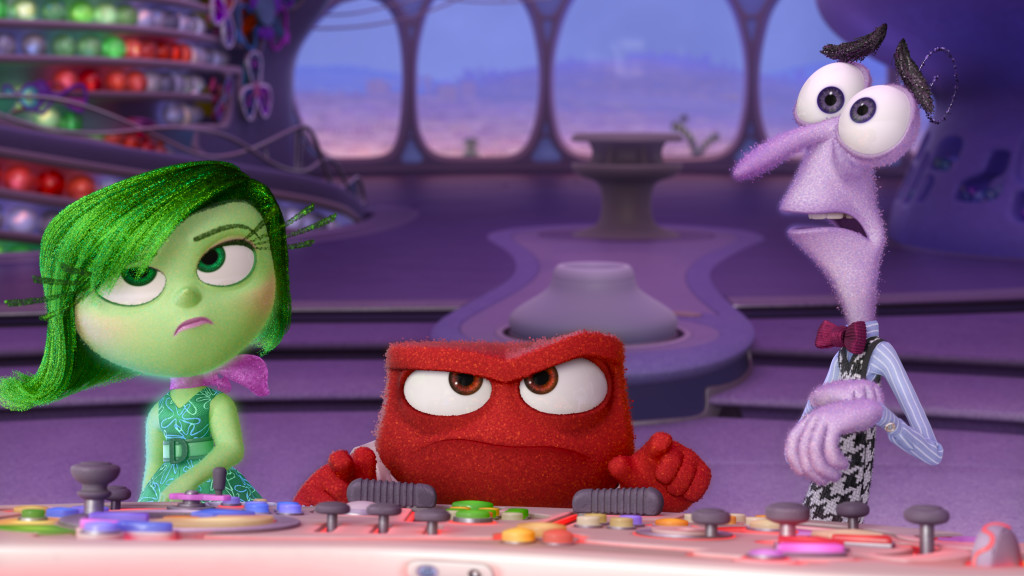 Joy and Sadness venture along through Long Term Memory, Imagination Land, Abstract Thought and Dream Productions all in a dire effort to get back to Headquarters before it's too late. On this adventure you will meet many colorful characters, including the Forgetters, who are Mind Workers in charge of sorting Riley's memories, to Riley's forgotten imaginary friend named Bing Bong, (whom I just adored, and I am sure you will too! Bing-Bong! Bing-Bong! Bing-Bong!) is part cat, part elephant, but mostly cotton candy. He's desperately trying to find a way to make Riley remember him. Filled with lovable and memorable characters, making it a fun movie for all.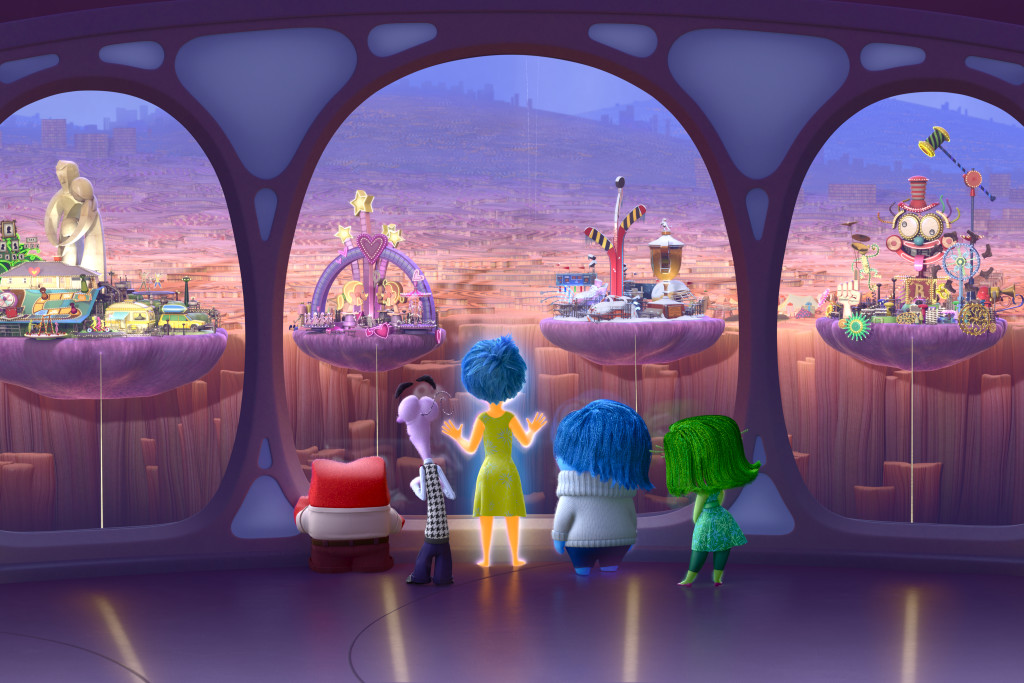 You will learn a lot about Riley's Islands of Personality in the film. They are powered by core memories, which are all of the really important and significant times in Riley's life. Core Memories are those things that you'll think about or remember until your last days. It's those big moments that have led us to be who we are. Each Island defines a different aspect of Riley's personality: Hockey Island, Friendship Island, Family Island, Goofball Island, and Honesty Island.
Of course I don't want to ruin it for you and give away the ending or all of the little details that make this such a wonderful and enjoyable film, so I will leave you with a few fun facts about Inside Out.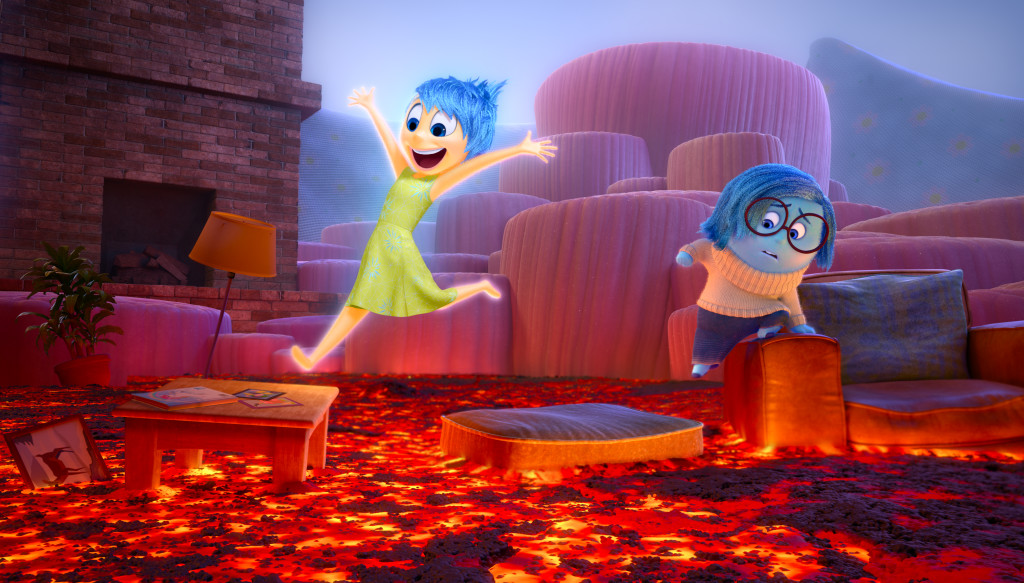 How far away are the Islands of Personality from Headquarters? According to production designer Ralph Eggleston, the islands are located an average of 7.3 miles away from Headquarters. "Each island has a handful of iconic structures on it that had to read clearly to the audience," he says. "They couldn't be too close or they would appear too large. They couldn't be too far, or they wouldn't read."
Where did Riley live before moving to San Fransisco? Riley called Minnesota home. Or at least she did before she and her family moved across the country.  Minnesota is where she fell in love with hockey and where all of her friends live. Docter grew up in Minnesota, and felt it would be a good representation of childhood.
Some fun things to watch out for in Inside Out.
*The background memories on shelves inside or outside of Headquarters are shots from the "Married Life" scene in "Up."
*As Riley and her parents make the drive out to San Francisco, they come across birds on a telephone wire from production designer Ralph Eggleston's 2000 short film "For the Birds."
*The globe in the Riley's classroom has been used in all the "Toy Story" films.
*One of Riley's classmates is wearing a camo pattern made up of "Toy Story" characters.
*Some of the city cars  in the background of San Francisco have bumper stickers from "Cars."
* Dad's company, Brang, is a nonsense word, meant to sound like a startup that would fit in in the San Francisco tech scene.
*A sign on a parking meter in San Francisco reads, "Quarters and Dollar Coins or Barter During Burning Man."
*As a tribute to the Walt Disney Family Museum, the filmmakers set Riley's hockey rink in the exact spot the museum is located in San Francisco.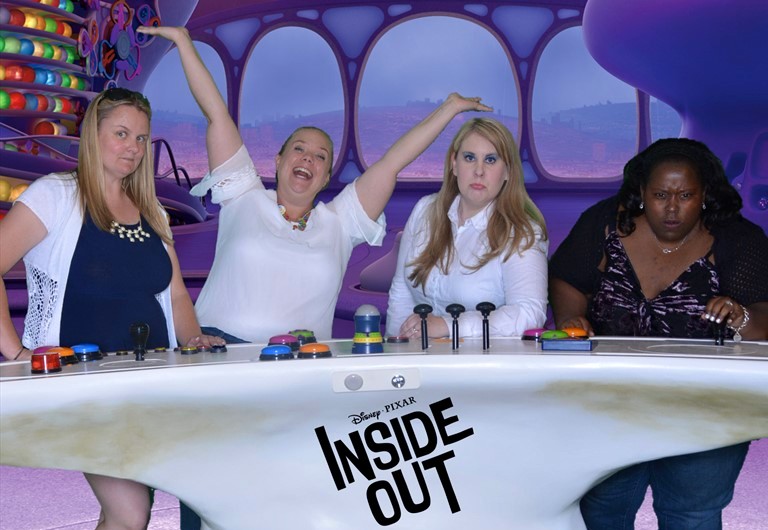 Our attempt at trying to control the control center as Disgust, Joy, Sadness, and Anger (Fear was hiding). I hope you enjoy this major emotion picture as much as I did! 😉 Let me know how you liked it!
P.S. As awesome as Inside Out is, you can't forget about Lava!
Lava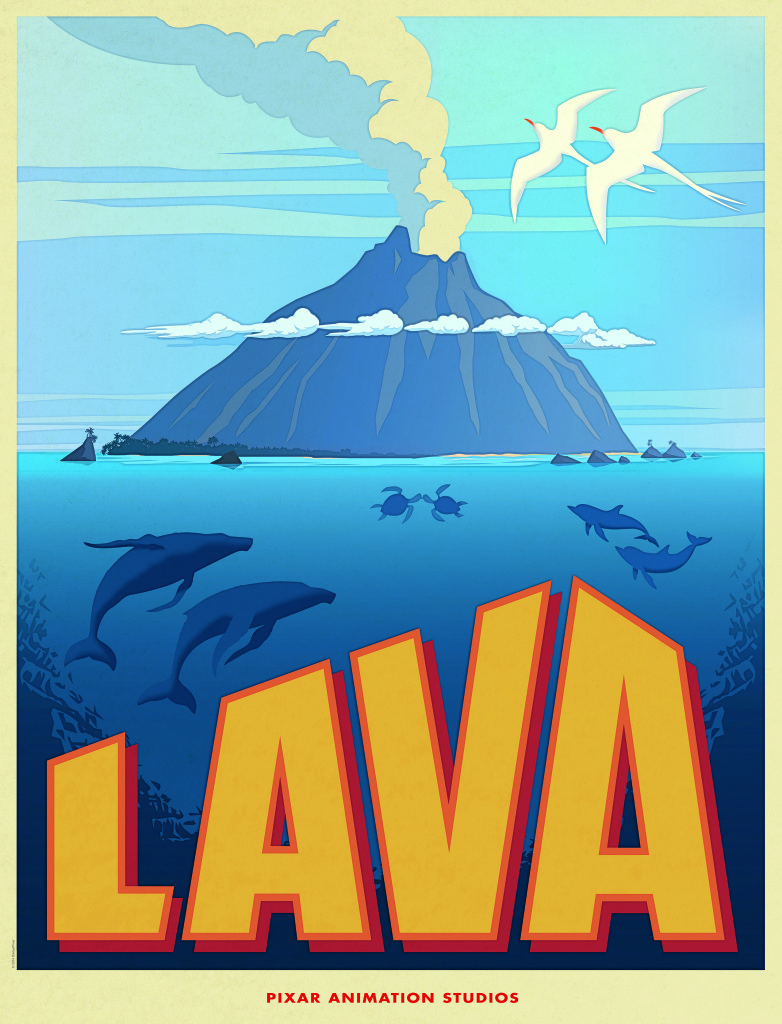 You won't want to miss this new short created by masterminds; director James Ford Murphy and producer Andrea Warren before the start of Inside Out, so make sure to get to the theater a little early so you won't miss out! Inspired by the isolated beauty of tropical islands and the explosive allure of ocean volcanoes, "LAVA" is a musical love story that takes place over millions of years.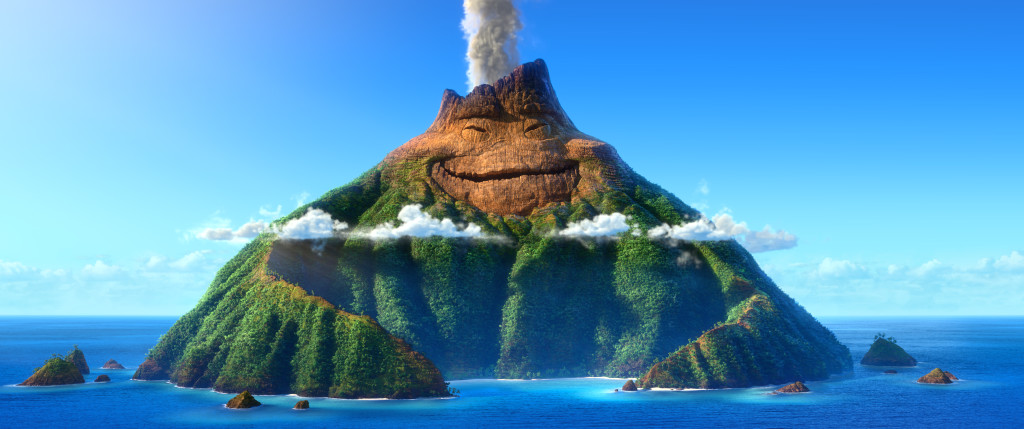 *All photos courtesy of Disney/Pixar*