Getting Real with Chrissie Fit & Jordan Fisher from Teen Beach 2!
By Erin
*I attended as a guest of Disney. I received an all expense paid press trip for the Inside Out/Phineas and Ferb/Teen Beach 2/Celebrity Family Feud event. All opinions are my own.*
The next chapter to Disney Channel's outrageously popular "Teen Beach Movie" will be premiering this summer on June 26th at 8PM EST. "Teen Beach 2", A Disney Channel Original Movie — starring the original foursome from the sing-and-dance hit, Ross Lynch (Disney Channel's "Austin & Ally"), Maia Mitchell (ABC Family's "The Fosters"), Garrett Clayton and Grace Phipps is ready to roll, but this time, is set in the modern-day high school attended by Brady (Lynch) and Mack (Mitchell) with their 1960's silver screen friends Lela (Phipps) and Tanner (Clayton) stuck in it. A plan must be made to get their friends back to their old-fashioned movie world before it's too late.
To celebrate this occasion we had the pleasure to meet up with and chat with the ever popular Chrissie Fit (Chee-Chee) and Jordan Fisher (Seacat) who also star in the movie. You might have also seen that they gave us a dance lesson in a previous post the other day, so be sure to check that out as well. Those two sure can move! And the rest of us, well we tried. We can move, just maybe not as gracefully or as fast. 😉 Chrissie and Jordan were such a joy to talk to, so come join in the conversation with us!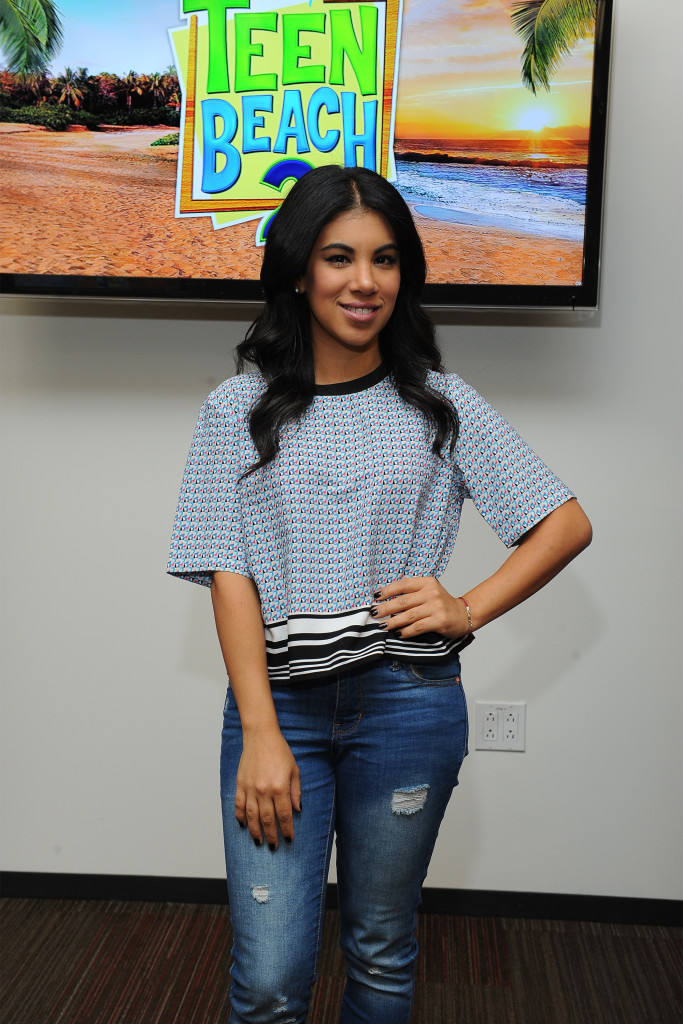 Chrissie Fit. Photo Credit: Disney Channel/Valerie Macon
One of the first things we all wanted to know was  about their dance backgrounds and if they started out as singers and then got into dancing or what?
Chrissie Fit told us, "I'm not a Professional Dancer, although Teen Beach 2 makes me look like one. I am Cuban. So I grew up in a household where we were dancing Salsa, Meringue and you know it was a dance kind of loving family. I was a Singer and then I became an Actress so I don't really have a dance background.  I think I learned the most doing the Teen Beach Movie and I appreciate it so much."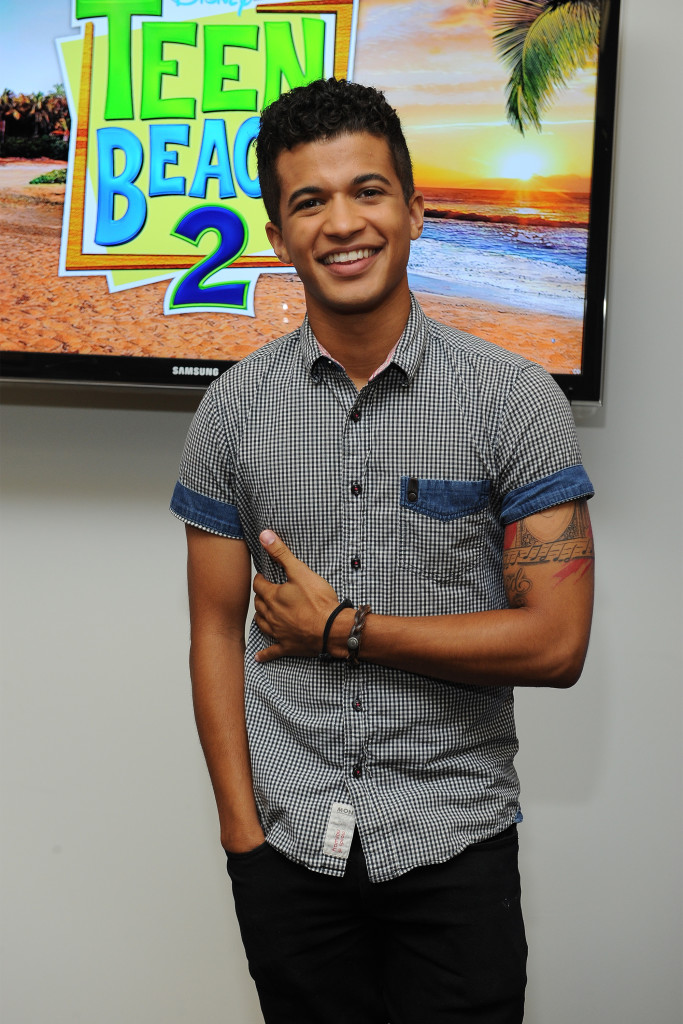 Jordan Fisher. Photo Credit: Disney Channel/Valerie Macon
 Jordan Fisher had this to say about how he got started dancing. "You know you walk into a rehearsal full of a bunch of people that you watch on So You Think You Can Dance and incredible choreographers, incredible dancers and you walk in.  Yeah I'm an Actor.  I walk in I'm like, "Okay here we go, let's get this going."  I had a crush on a girl in the 5th grade who joined the Drama Club and so I loved that, joining the Drama Club.  And so I started acting and singing and dancing all on the same day and like when I was 10."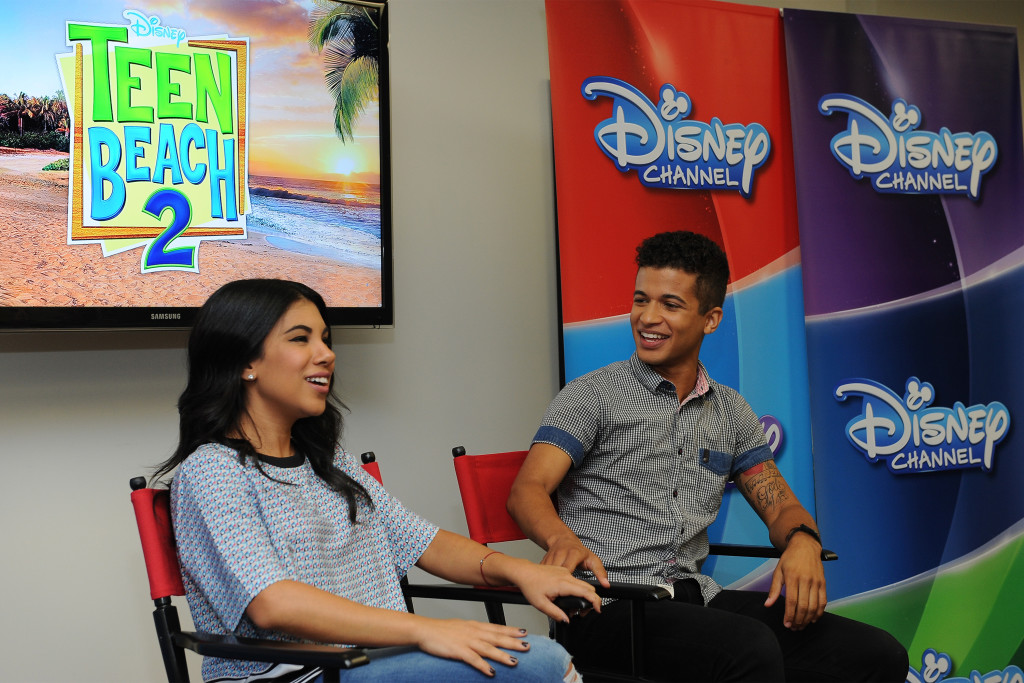 Chrissie & Jordan during our interview. Photo Credit: Disney Channel/Valerie Macon
While we were on the topic of singing, dancing and acting it was only fitting to ask them if they had any advice for an aspiring Musician, Artist, or Dancer?
Jordan replied with, "That passion is driven from a very different place, do what you do because you love it, that tends to find success. People gravitate towards people that are like-minded you know what I mean?  So understand why you're doing it first. Secondly, it's cliché and you're gonna' hear it at times, but I just don't take no for an answer. One of my favorite Song Writers of all time her name is Diane Warren. If you don't know who she is you, you absolutely should, her discography's ridiculous.  She's written with everybody from Cher to Biance'. She wrote "If I Can turn Back Time." She has not had to write a song for anybody for 20 years and she's made more money than you could ever even dream of. But she's still does, she pitches. She writes songs every day. She does what she does because she loves it."
Chrissie had some very inspiring advice as well, " I would also say in that kind of world it's not like a sprint, it's a marathon.  Have patience, educate yourself. Not just with the craft that you wanna do. The acting, dance and music, you should really try in school. So many of my artistic choices that I've made have come through education. Really apply yourself, give everything you do 100% because then it's more likely that the thing that you invest the most time in you'll give 110%. So don't give up.  Keep it up."
 Now, what about rehearsals?  How long were they?
Jordan told us that for this film they started actually a year ago, in July. "We conditioned for a month. It was choreography for about 3 weeks here in L.A. Then we moved to Puerto Rico and we rehearsed.  We rehearsed there for another week or two.  Most of the time spent in studios was for conditioning and the choreography happened more closer to the end. Cause it's so much time spent on the beach and on different terrains and different weather.  You had to do a lot, but that's what put us in top physical shape."
Chrissie admitted to us that she missed all of their rehearsal and conditioning.  "I  was like eating Jambalaya and Crawfish. But I would get videos sent by them of the choreography and kind of in between takes have to learn shoot choreography which obviously was in the movie.  It's incredible and it's very fast and it's really kind of just like on another level. I didn't get to condition. Shucks! But I commend them so much because they did so much work before hand and I kinda' just like skated in and got 3 hours of practice.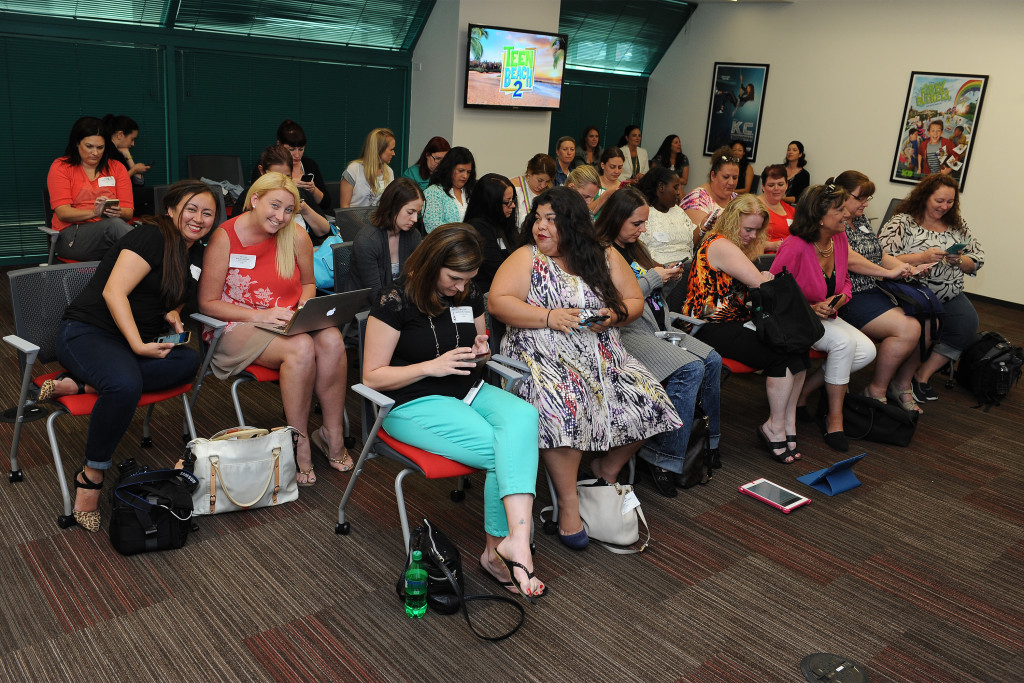 Us bloggers during the interview. Photo Credit: Disney Channel/Valerie Macon
If the choreography wasn't working, were  they able to make any suggestions for changes and last thoughts about the Teen Beach 2 movie coming up?
They definitely were according to Jordan. "There were some harder moments on the beach where we were concerned. Everybody had a voice in, in the film. All of the dancers were incredible.  Everybody's toured with different artists. Everybody has an incredible amount of experience, which is really great, but  even as the Actors we could say I feel this is a little awkward.  Is there any way we can shift something this way? Other people would be like, "Oh that actually is a little bit easier.  Let's do it that way. Good stuff.  Good suggestion." The product turned out really well, which is what everybody was concerned about." 
Chrissie had a lot to say, including some very heartfelt words about the movie and to young girls everywhere. She also agreed that it was a very open set and everybody was very open to their input as they all wanted to make the best movie possible. 
" I feel like Christopher Scott who was the Choreographer, just did a brilliant job of stepping up the choreography in the second one.  I'm really proud of this movie. Aside from the dancing and the costumes, there's many wonderful messages in this movie you know.  I'm big about female empowerment and we're seeing these two girls Mac and Lela have an actual friendship and not compete against each other for something. I feel that's really important for our young girls to see and that there are healthy friendships and relationships.  Even with Ross and Garrett with their characters, the friendship is so important in this movie. They both help each other figure out things that they might have felt insecure about, which is also the thing for kids.  So aside from all of the great musical numbers, the dancing and all that stuff I feel that this is a great movie for kids because it just shows how important friendship is and shows healthy and positive friendships with females. It's also about totally believing in yourself.  You know Ross's character, Brady has this amazing talent. He can make these surfboards and he's kind of insecure about it until Tanner kind of gives him the confidence to share this with Mac. He's so open and positive and you know we have that support. It's a system and it's up to moms and dads to encourage your kids to tell them you know you can, you can do this. You can believe in yourself and you have the support system. I think that that's the biggest thing that comes out of this movie aside from all the cool clothes."
That concluded our exclusive and very intimate interview with the lovely and inspirational Chrissie and Jordan. They were kind enough to take pictures with us all before treating us with a very special dance lesson.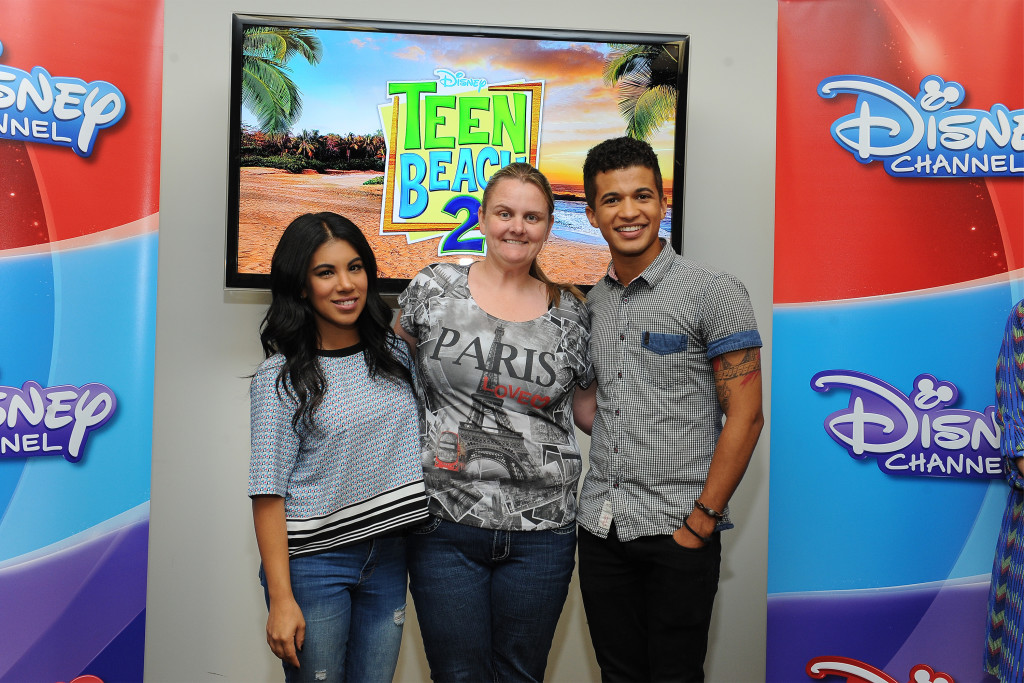 Chrissie Fit, Myself, and Jordan Fisher. Photo Credit: Disney Channel/Valerie Macon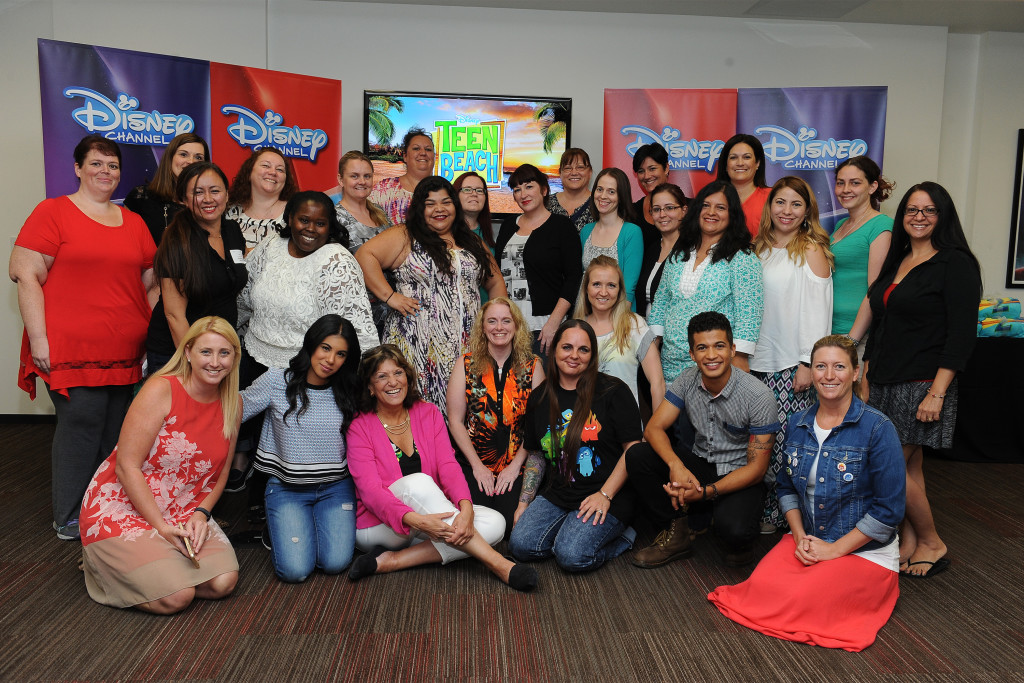 Of course we had to take the group shot as well. 😉  Photo Credit: Disney Channel/Valerie Macon
Be sure to tune into the Disney Channel on Friday, June 26th for the premiere of Teen Beach 2! #TeenBeach2