Phineas and Ferb Last Day of Summer
By Erin
Last week I mentioned that I was going to be seeing the "Phineas and Ferb Last Day of Summer" episode as Phineas and Ferb is sadly ending after an amazing run. We also had the opportunity to chat with creators and Executive Producers: Dan Povenmire & Jeff "Swampy" Marsh about the "Phineas and Ferb Last Day of Summer" episode, airing on Disney XD on Friday, June 12 at 9:00 p.m. ET/PT. As if that wasn't enough, we got to end our time with Dan and Swampy with a fun summer picnic (the weather did not disappoint us either as we got some HOT HOT HOT  summertime weather on Monday!) Even Phineas and Ferb joined in on the fun!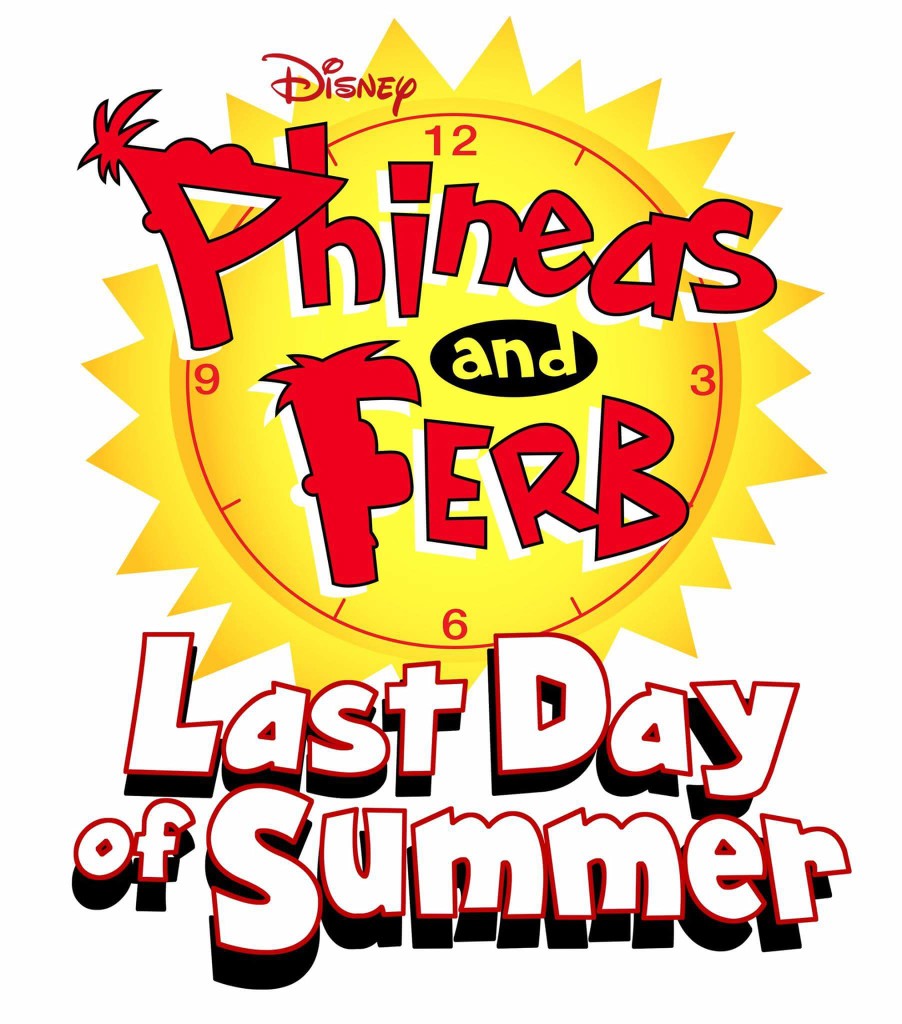 First, we had the screening for the Special One-Hour Episode Premiere. How exciting to see it on a big screen instead of on the TV at home! Here's a quick synopsis of the Last Day of Summer. As the summer season comes to a close, it's Candace's last chance to bust her brothers. She is quickly foiled, but is presented with an opportunity to redo the day when she sets off Dr. Doofenshmirtz's Do-Over-Inator, which results in other consequences like rips in the space-time continuum, the shortening of days and the disappearance of her brothers and other things. I can't give away the ending but I am happy to say that you will enjoy the way the Last Day of Summer ends. Be on the lookout for a few special "Easter eggs" in the episode you won't want to miss either! 😉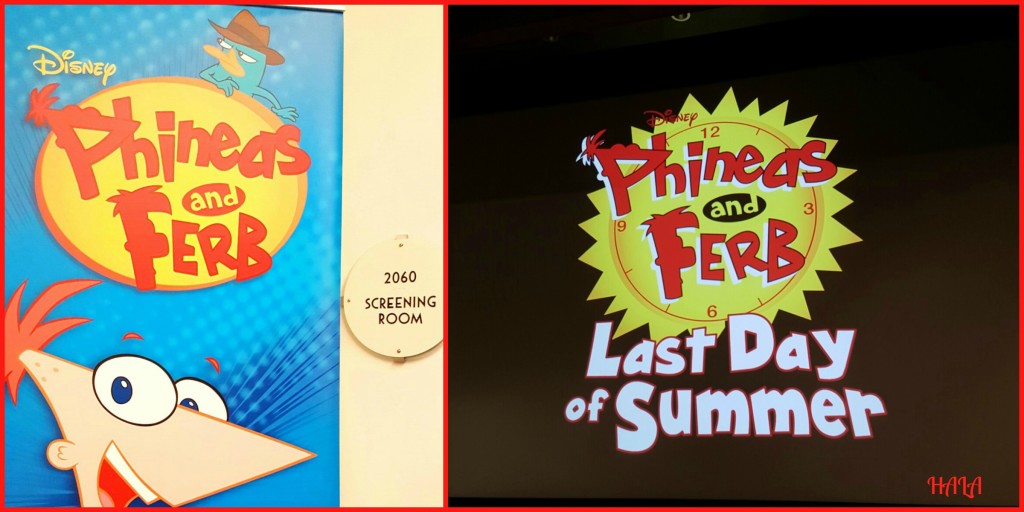 When the episode was over with, Dan and Swampy came to join us for an emotional Q & A session. First we found out what the inspiration for Phineas and Ferb was. There inspiration came mostly from their own childhoods. Dan said, "Cause Swampy and I were both sort of creative kids and, we had creative parents that would allow us to do ridiculous things and were always building things like tree houses and I was the king of my neighborhood" Swampy added, "It started with us putting ourselves back to 10 to 12 year old boys and thinking  you could do anything. That's pretty easy for us to do, cause we're pretty close to that maturity level."
Next we asked about which episode was their favorite. Dan said he has a list of favorites, but if he really had to be pressed for a favorite it might be the roller coaster one because it's one that he and Swampy did themselves. Another favorite was Summer Belongs To You, which was their first hour long special. In that episode it has Phineas and Isabela in Paris where Isabela's trying to get him to see how romantic it is and, Candace and Jeremy decide to be boyfriend and girlfriend and then they're all stranded on a desert island and the last 11 minutes of Summer Belongs To You I think was maybe the best thing. The songs from Summer Belongs to You and the ending song in the  finale were also favorites. "The one that just aired, I literally can't watch without tearing up.  When it was playing I actually purposely took my phone out and answered e-mails so that I wouldn't be all red eyed," said a very teary eyed and emotional Dan. "The song is one of my favorites," said Dan. Then Swampy continued to say, "It really says a lot about the series."
Now, why did the show have to end?  Dan explained to us, "We've been doing this for a decade and we felt like this is a good time-I feel like this show is still really good and really fresh. I'm really proud of the 4th season as much as I am of the first ones. I felt like let's go out before it starts feeling tired. Swampy added in, "There's a whole new batch of kids that could start in episode one."
A very heartfelt part of our interview with Dan and Swampy was when they shared with us about all the great feedback they've received from viewers. From helping viewers get through a really dark time, to inspiring kids to be more creative, Dan and Swampy have received countless letters from folks. "This is the show that got me through PTSD.  This is the show that got me through chemo with my kid because it was the one thing that would make him smile. They're all these kinds of things. I started crying like I'm doing right now." Dan shared with us about letters received from other families. Phineas and Ferb meant a lot to everyone who saw the show.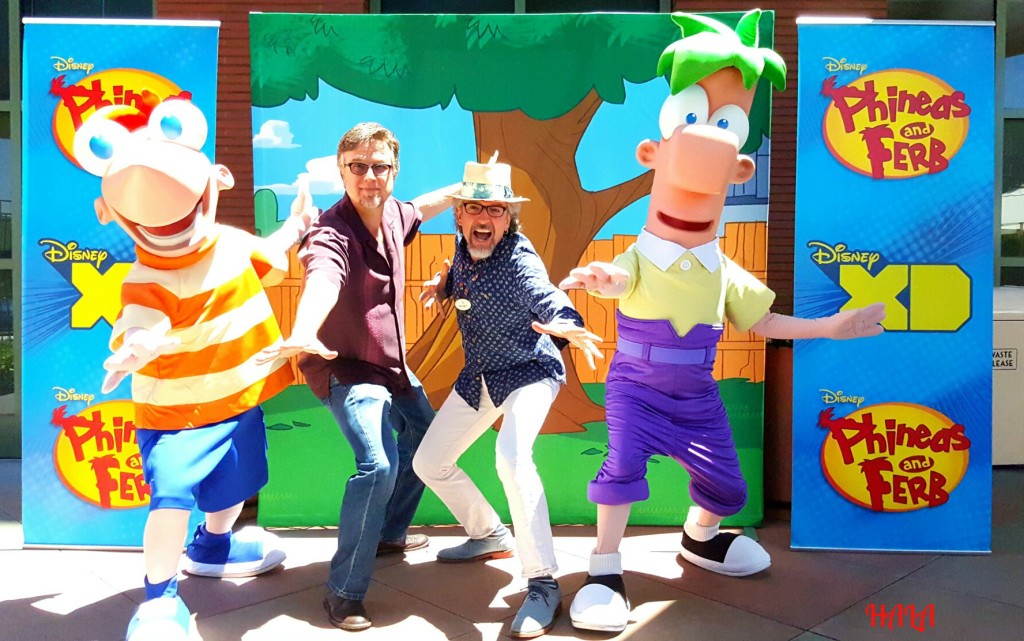 After the tearful and powerful Q & A session with our new friends, we all came together to smile, laugh and celebrate this wonderful series with a summer barbecue and picnic. Phineas and Ferb joined in as well! Jeff and Swampy are all smiles now with their pals Phineas and Ferb!
Memories that will last a lifetime.
The group with Phineas, Ferb, Dan, and Swampy! So much fun!!! 🙂
Enjoying delicious food, with amazing company!
The day wouldn't be complete without some selfies with Dan and Swampy!
 Make sure you don't miss the Last Day of Summer episode, premiering tomorrow night, Friday June 12th at 9:00pm EST on Disney XD and simulcast on Disney Channel!