Create Your Tomorrow Today with Tomorrowland!
By Mary Lansing & Erin
Is it just me, or does Disney keep pulling out all the stops with their films? Whether its Big Hero 6, Into the Woods or all they're accomplishing with The Marvel Universe, it can be hard to come up for air when so much pure awesome-ness is surrounding you at the movie theatre.
Their newest gem? Tomorrowland, hitting the big screen TODAY, May 22nd. I was treated to an advanced IMAX screening and let me tell you, it will not disappoint. Tomorrowland is easily my favorite part to visit at Disneyland, but what if a land where anything truly is possible existed? With a world of tomorrow's happening every, single day.
That's just what happens when we're introduced to a young Frank Walker (later played by George Clooney). The era is mid 1960s, & this adorable young chap has taken a grueling long bus trek to enter The New York's World Fair & show off his jetpack invention to the powers that be at this event. "The powers that be" is Mr. David Nix (Hugh Laurie), who is less than impressed at this boy in front of him, as he excuses him away, a little girl named Athena (Raffey Cassidy) sees some kind of magic in Frank, & offers him a mysterious pin, encouraging him to check out an attraction (I am not going to tell you, but I will just say: It's an attraction we all know & love!). There, he is transported to a fantastic, not of this world place, where little Frank's jetpacks seem like nothing compared to this city of Tomorrowland.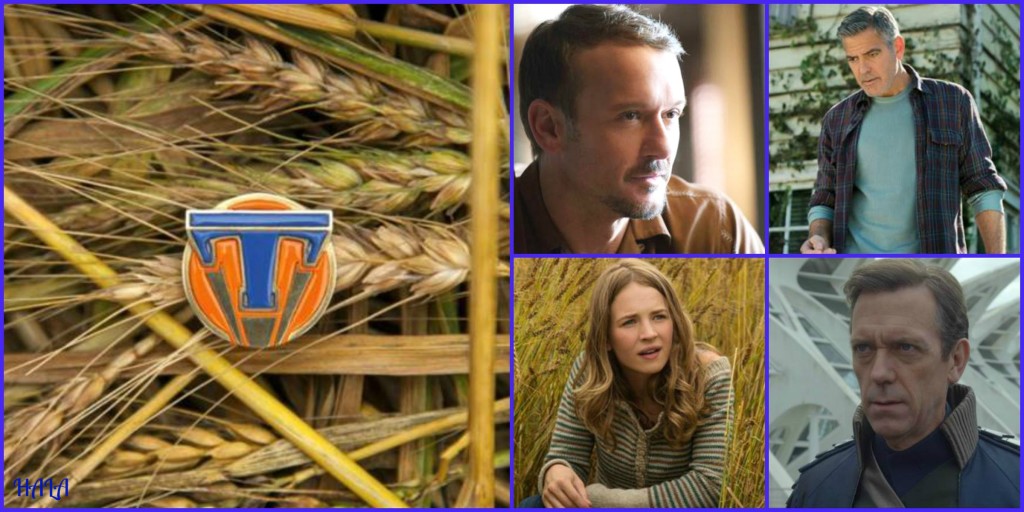 Fast forward to now, & we're introduced to young rebel, Casey (Britt Robertson). Casey's Dad (Tim McGraw) works at NASA but, alas, things are changing & his job is in jeopardy. Casey finds much of the current state of the world not good, & therefore does her own kinds of things to try to change that. When one of her antics lands her in jail, she soon discovers that she now has one of those mysterious pins, when her bail is posted & her belongings are returned. As you've probably seen in the trailers, just picking up this "T" pin, transports Casey to who knows where. Not one to let things slide, she next sets out on an adventure to discover more about this pin.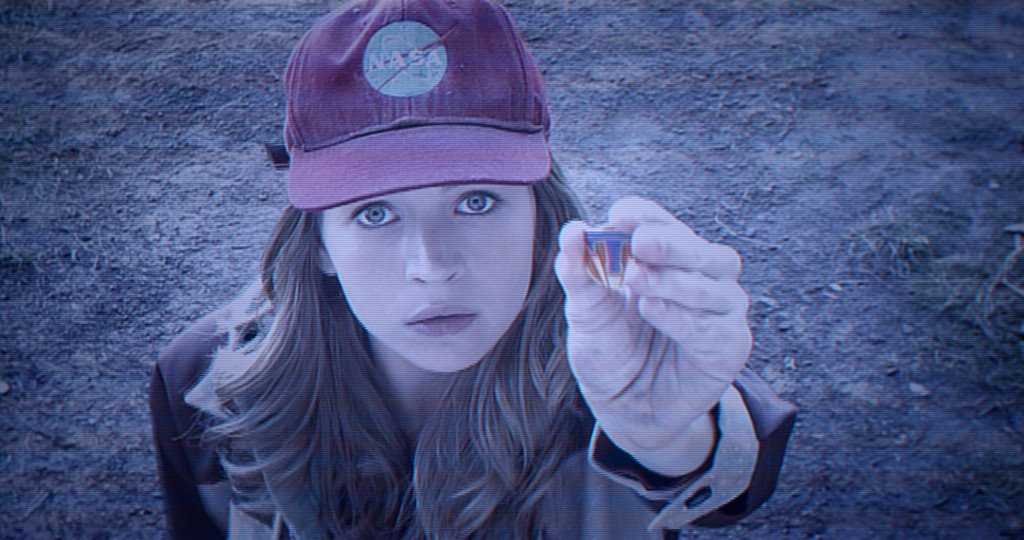 Luckily, it is then that Casey meets a young girl….I will let you guess who this is once again 😉 & thus, their own road trip begins in order for Casey to connect with the now-recluse Frank.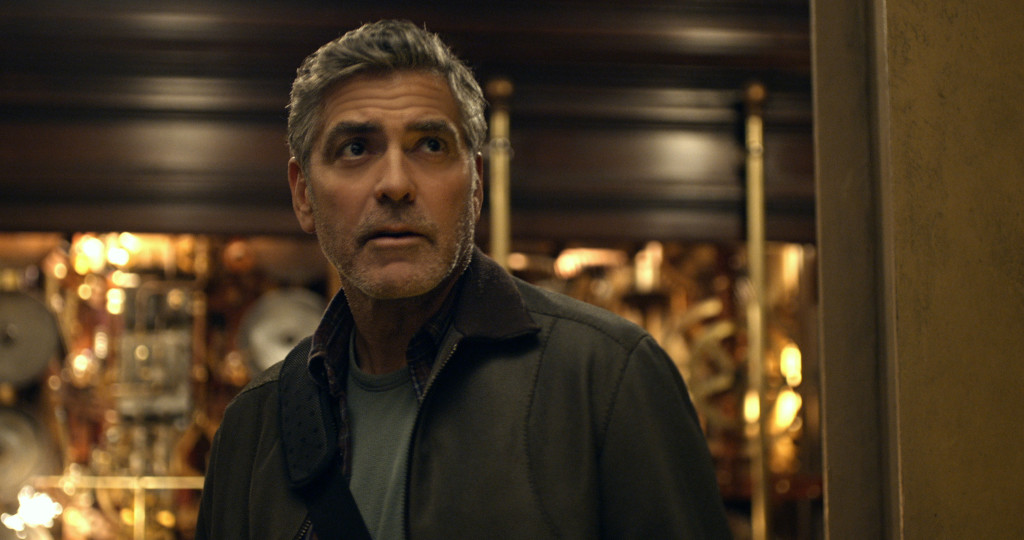 Visually, this film is outstanding. I cannot recommend enough to see & soak in all its beauty in IMAX. With so many twists & turns, I want to be careful not to give too much away. Director Brad Bird is certainly on the right path at securing his place in the world of the Director for futuristic, sci-fi films. Think no further than his last Disney collaboration, 2005's The Incredibles. The dynamics of this cast is pure gold, as well. What continued to amaze me throughout the course of Tomorrowland, were the strong performances led by Robertson & Cassidy; these young women have the chops to not only hold their own among some of the film industry's leading men, but are paving their path to become A list status, as well.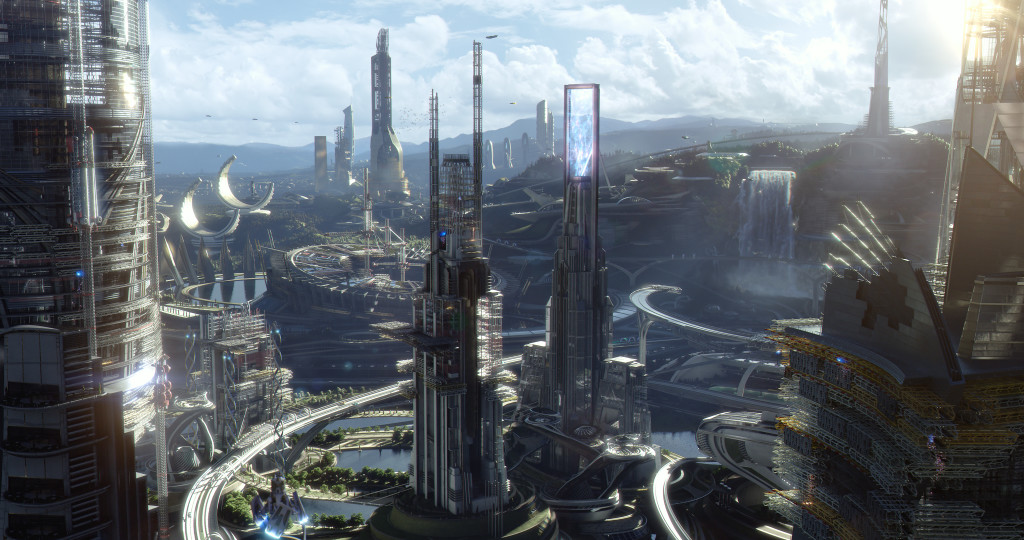 This also goes for Clooney. Always a superb performer, I do admit I wondered what it would be like seeing him play against such fresh, new talent. He absolutely shines, & the role of Frank Walker was made for him; word is this role was written for him, personally, & it shows.
Tomorrowland

is playing everywhere today, & while it's a great choice for the family, I especially recommend it for families with children over 12.
Enjoy!
xox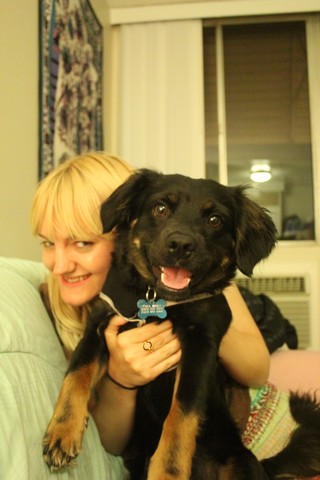 *Mary Lansing* is a 20 something year old living in Sunny Southern California with her boyfriend, Mike & dog, Hammond and runs the blog, Along Comes Mary. She is a Gluten Free Pescatarian, and her occupation in life is having as much fun as possible as well as occasionally working in the technical side of theatre.