An Afternoon with the Tomorrowland Team!
By Mary Lansing & Erin
The place to be on May 8th was definitely The Montage Hotel of Beverly Hills. There, I was extremely fortunate to be in attendance of the Tomorrowland USA press junket, where I got to learn more behind the making of this fabulous new film, snap a selfie with Director/Writer/Producer, Brad Bird….& be within 5 feet of the one & only, George Clooney! Also there to get the party started were stars Britt Robertson, Tim McGraw & Raffey Cassidy, as well as Writer/Producer, Damon Lindelof & Jeff Jensen.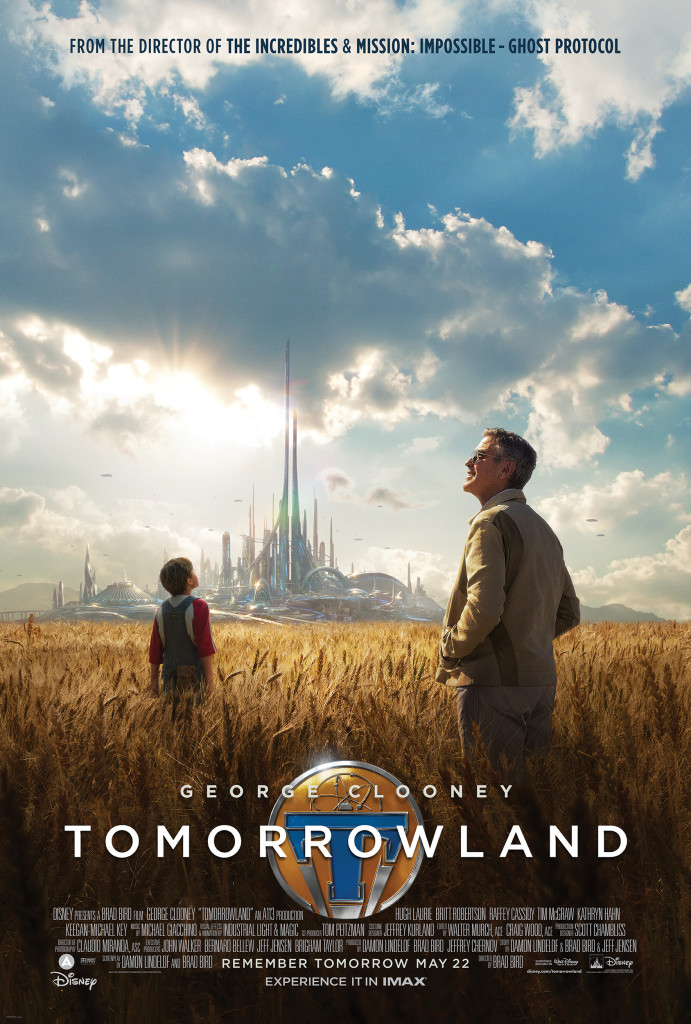 I was very interested to learn more about how this futuristic film came about; having heard it was born from a various group of discussions, I was also intrigued that Jensen, who is known for his work as an Entertainment Weekly critic, got involved.
"I was having a meeting, a lunch, with Sean Bailey, who is the president of production at Disney." explains Lindelof, "We were talking about the Marvel movies, of which we're both fans. He said they had a number of fantasy princess movies in the pipeline at Disney, but just sort of wondered what else a Disney movie should be. I said to him, I don't know what it's about, but I would see a movie called Tomorrowland.  And that was the beginning of this whole adventure. I was really interested in the history of Disney, the Imagineers, and the theme parks, particularly as it related to the World's Fairs, and Jeff Jensen, who wrote about Lost extensively and had crazy theories that were much more imaginative than anything we as writers were coming up with. And also, I just felt like tactically speaking, you should just hire critics and turn them over to your side. And I was able to kind of recruit him and we then went after Mr. Bird, who came on and joined the party."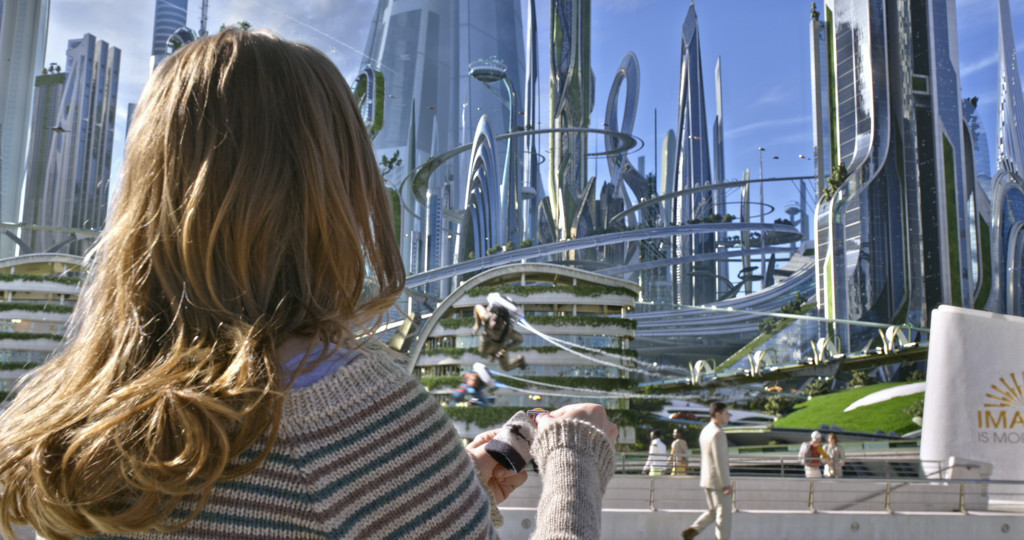 Having read & admired Jensen's work for quite some time now, I was impressed at what he had to add,  "It was definitely a little crazy and humbling too." he says, "It was a lot of fun to work with someone whose storytelling you really admire, and to get in a room with them. And the idea that he pitched to me was just really engaging. Yeah, we groove on the same stuff, but the whole idea of a movie that kind of riffed on and looked at the different ways that we looked at the future then and now, to research the history of futurism and science fiction, and let that inform a story, that was super-fun, and to really kind of build out the story. But also, I thought I knew a lot about how movies are made and TV shows are made. And this was a real learning experience in how much I didn't know." Always room to learn something new, no?! 😉
I will admit, my boyfriend gave me a huge crash course with Brad Bird; some of my favorite films are The Iron Giant & Ratatouille, yet little did I know that these were indeed from the genius world of Bird. Having not seen The Incredibles (I know, I know!) we watched that pronto & of course, I loved it. So, it was such an honor to be in the same room as Bird, & hear what he had to add to the table,  "I was just happy to be asked to join" he begins, " I was inspired by the idea and I was an admirer of Damon's work. Damon was really smart. So I asked what he was doing next during that time, and he mentioned this idea. And I was immediately hooked."
I also loved hearing his own personal story about watching Armstrong land on the moon, "I remember how that felt. I was actually in the air when they were about to get out on the surface. We were flying in from Denver, and [when we landed], We ran to the nearest TV monitor and there were, like, 400 people just packed in, watching when Neil Armstrong set foot on the moon. And everybody just went, "Whoo!" That feeling has never left me. And when we were first planning the movie, Damon and I were at Disney and the space shuttle took its last sort of circle over LA. And everybody came out and watched it, and there was this weird feeling of pride mixed with great sadness, like we're not doing that anymore, and why aren't we? So a chance to shoot at NASA was fantastic, and to be on this launchpad where so many really noble journeys started. And we got to watch a launch from the launchpad, which was one of the coolest moments on the film. So it was great to be at NASA. And if this, in any way, encourages NASA people to do more, then I think that would be a great thing."
Clooney had similar memories he recalled,  "I actually grew up during the Cold War period. And I always found that although we always thought that the world would end in a nuclear holocaust at some point, everybody was pretty hopeful. There were an awful lot of things going on that you felt you could change. I grew up in an era where the voice, the power of the one, really did feel as if it mattered. You know, we had the riots that are reminiscent of the things we are looking at today, but we had the Civil Rights Movement and we had Vietnam. And we had the Women's Rights Movements and all those things that you felt you could actually have some part of changing. And actually, if you look at the things that changed in the 1960s and early 1970s, individual voices did make a huge difference. It wasn't governments doing it, necessarily. I didn't ever have that great disappointment in mankind. I always felt like it was going to work out in the end. And I still feel that way. And so what I loved about the film was that it reminds you that, young people don't wake up, they're not born and start out their lives cynical, or angry, or bigoted. You have to be taught all of those things. And I watch the world now and think I see really good signs from young people out there. And I feel as if the world will get better. And I've always been an optimist. I've been a realist, but I've been an optimist about it. And I really related to the film because I thought, you know, Brad and Damon want to tell a story that's an entertainment, because first and foremost, it has to be an entertainment. But it is hopeful, and I've always felt that way myself."
Pretty awesome, heartfelt words from one of the best looking men in Hollywood!
With 2 of the most lovely young women in the industry today, right before me, it was sweet to hear more about the dynamics they felt their characters added to Tomorrowland, "I think Raffey played Mom a lot, especially with George and I, you know?" says Britt Robertson, who plays Casey, "She was constantly just trying to keep us focused and funny enough, that's how she is in life too. I mean, not intentionally, but she's so professional and so focused herself, But, we had such fun together and we had such a great time. We spent a lot of time together, just between stunt training and then obviously filming the movie. So I think our dynamic off-screen probably helped a lot of our chemistry on-screen as well."
Raffey Cassidy is an absolute doll, & it was so sweet to see how much of a goofball George Clooney actually is; they were laughing & joking together half of the time during the junket! 
While all good things must come to an end, like this wonderful conference, rest assured, as you can catch-all the fun & thrills to be seen in Tomorrowland opening this Friday, May 22nd. See you there!