Farrell's Ice Cream Parlour: A Magical Place to Eat at & Celebrate!
By Erin
*Special thanks to Farrell's of Buena Park for their hospitality and willingness to create this magical Disney experience for us!*
The other week, we were finally able to let the little person in on our big secret…. That we were going to DISNEY WORLD!! Back in March, I got the golden ticket from Disney Social Media Moms to attend their conference at Disney World that is happening next week. Now, we needed to come up with a magical way to make this announcement to a special little 7 year old girl. When I found out that her most FAVORITE place EVER to go to was to Farrell's Ice Cream Parlour I knew what I had to do. I just HAD to see if I could connect with Farrell's and get something grand in the works with them.
Go BIG or GO HOME! Right? So we went to Farrell's.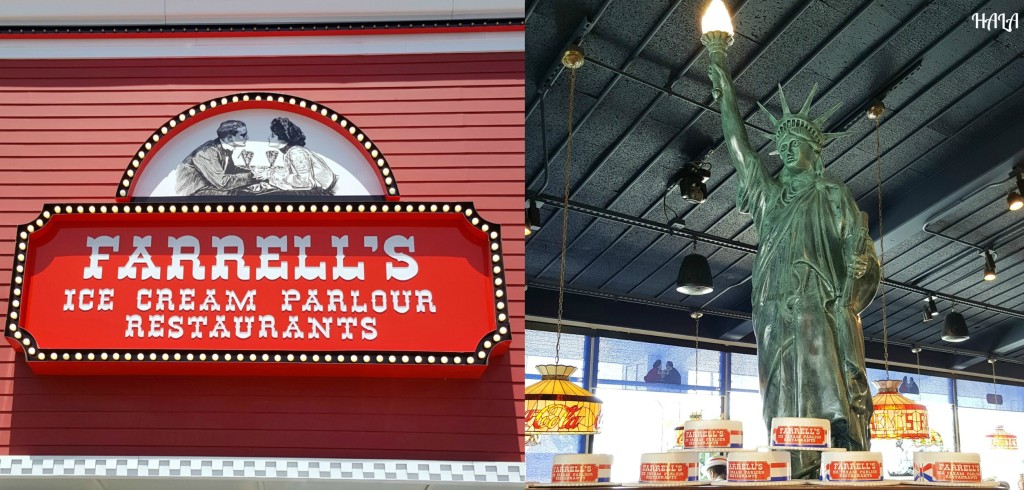 I love the decor and energy at Farrell's. If you aren't in the mood to celebrate and have some fun, you will be once you enter the front doors. Even if you don't have anything in particular to celebrate, you can just celebrate along with whatever everyone else dining around you is celebrating as you will hear a lot of singing throughout your visit.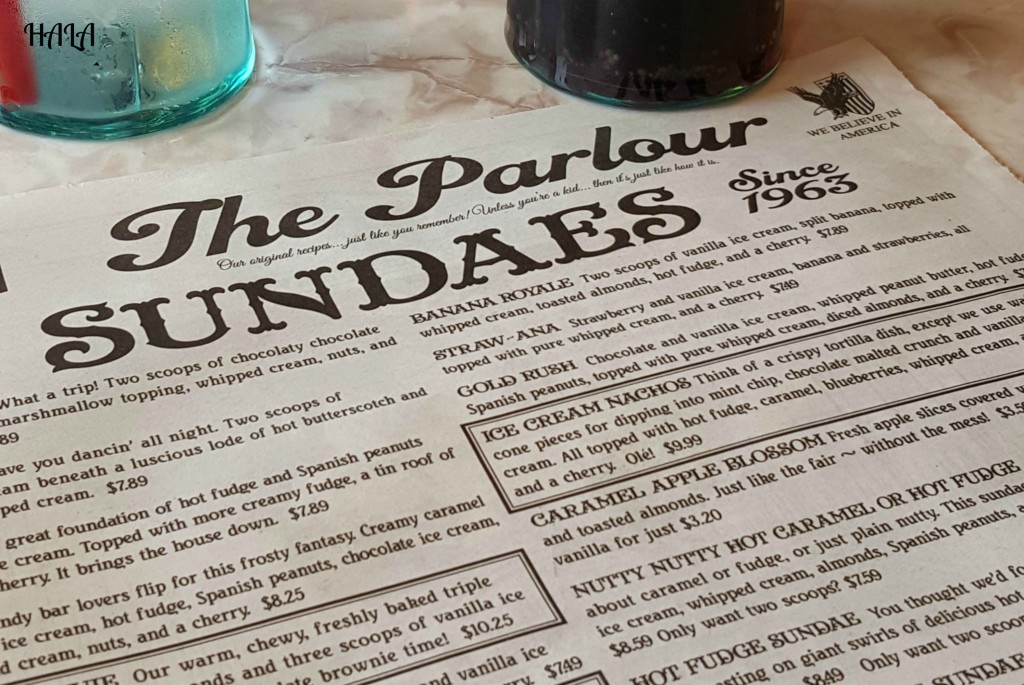 Just a tiny glance of the menu. They are made to look like old newspapers. They have a ton of choices to choose from. You can see what section caught my eye first! Gotta love the variety of ice cream sundaes to choose from!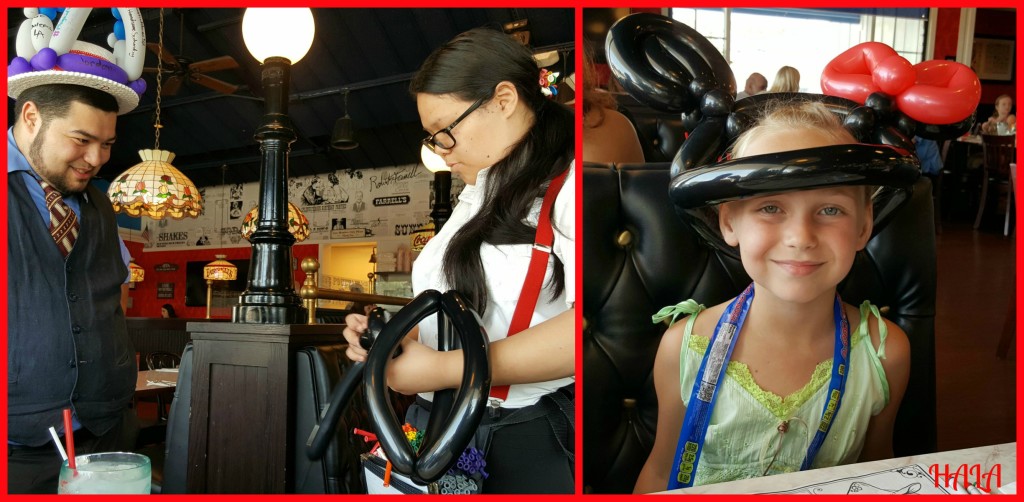 While you wait for your food and other goodies to arrive, there is plenty of entertainment around you for the kids, both young and old alike to enjoy. Since they were in on our Disney surprise, they made all kinds of Disney jokes and references throughout our visit. They even made a cool Minnie Mouse ears hat for Chey.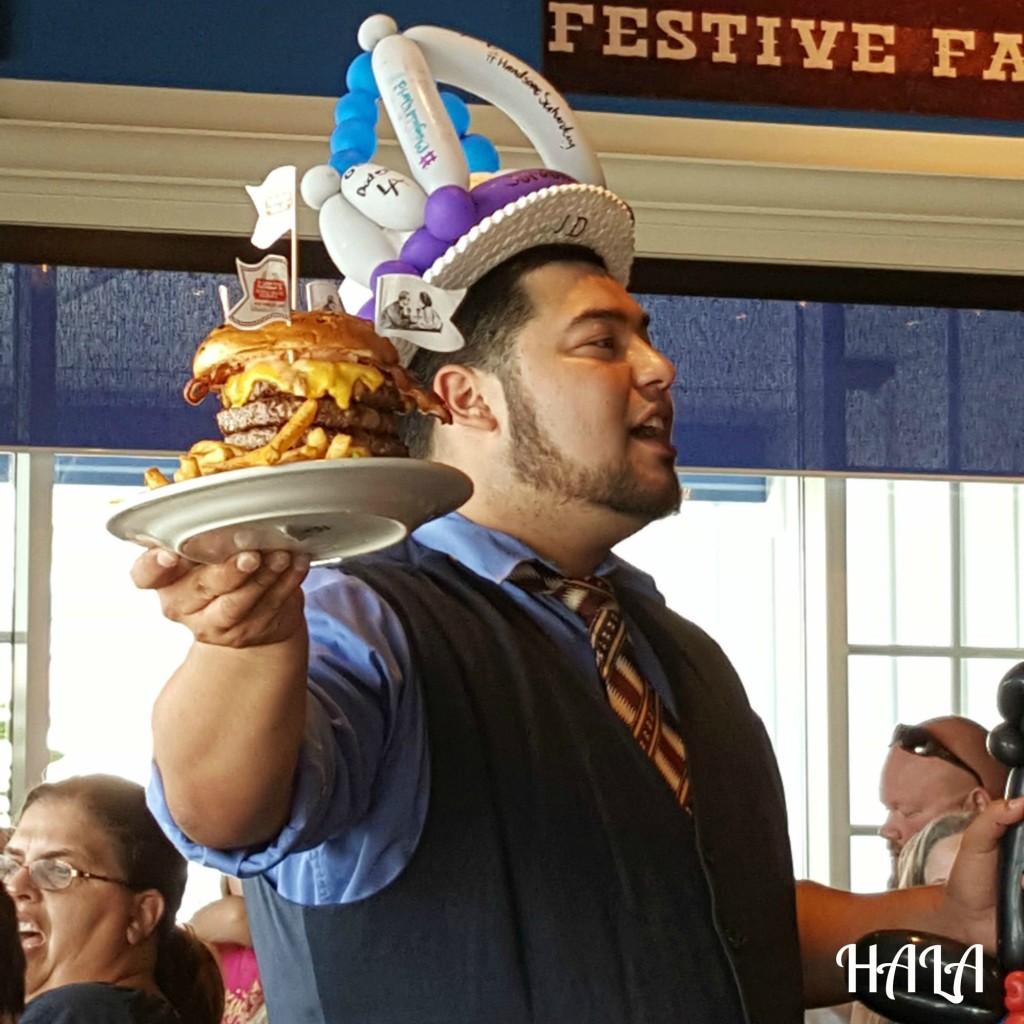 Now, no one at our table ordered this… but someone else nearby us ordered a Quadruple Dare Burger! Four patties, oh my! They make a fun announcement anytime someone orders this, right before delivering it to its rightful owner who will attempt to devour it all in one sitting.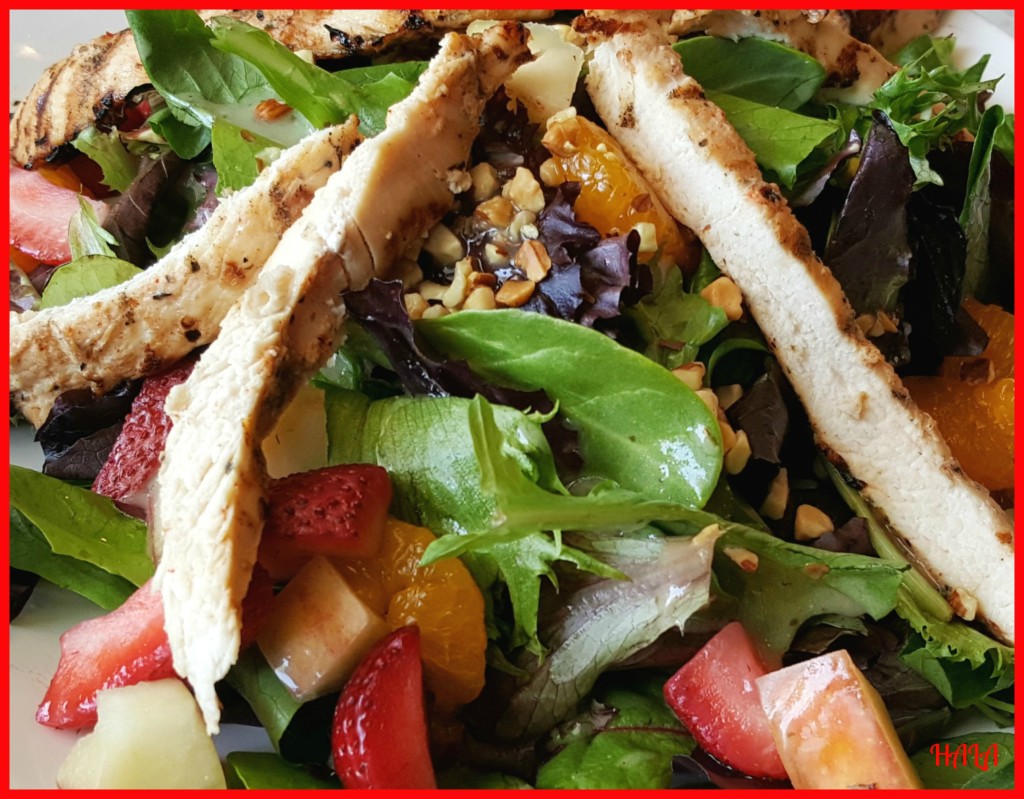 If you're looking for something a lot lighter than that Quadruple Dare Burger…. there are plenty of salads to choose from, like the Harvest Salad. Fresh mixed greens, crisp sliced apples, sweet strawberries, mandarin oranges, toasted almonds, and tossed with white balsamic vinaigrette. We had grilled chicken added onto ours. You can also order it with bleu cheese crumbles.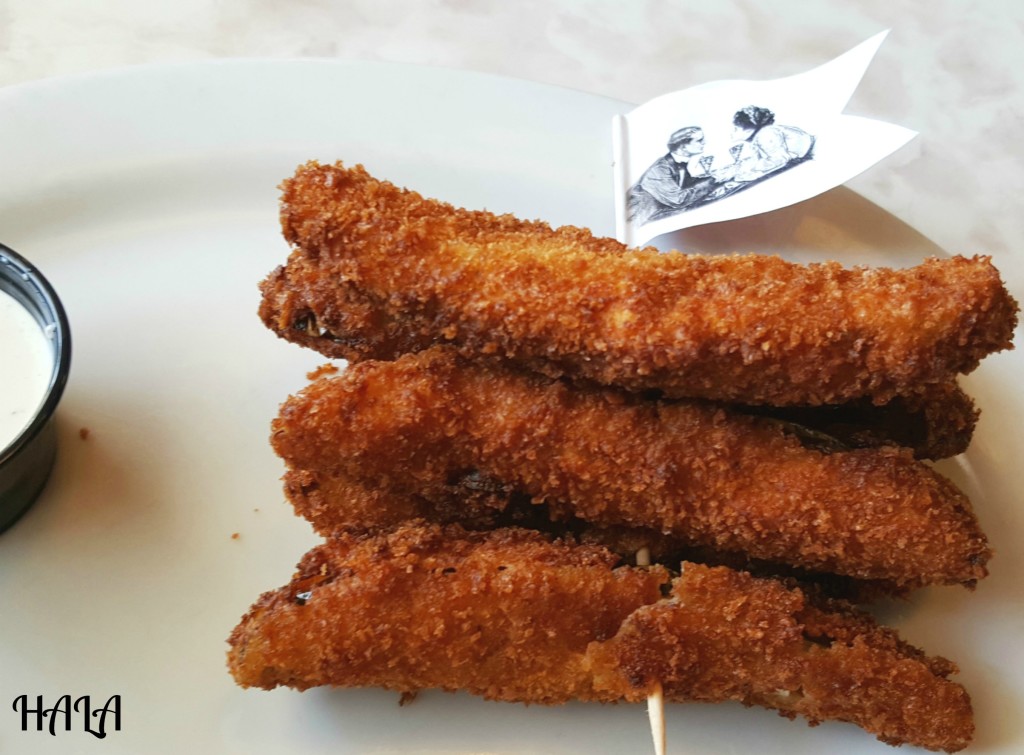 Now, if you have not had these before, you must try them. Fried Dill Pickles. These are Farrell's famous pickles, lightly breaded and seasoned then deep fried to crispy tangy perfection. Served with creamy ranch dressing.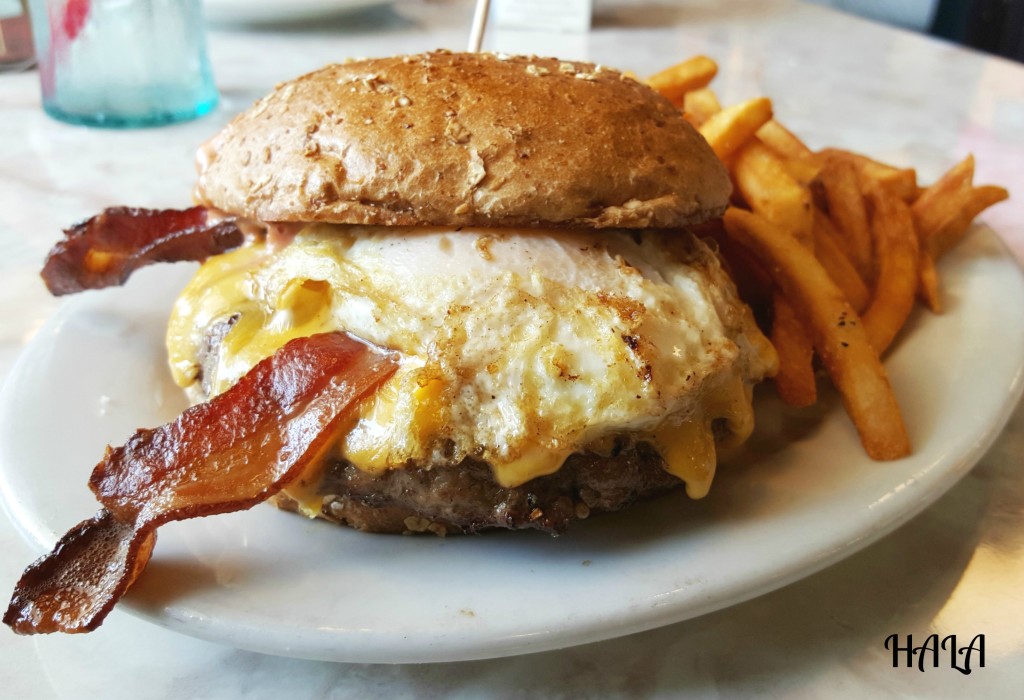 One of Farrell's most popular burgers is the Old Macfarrell's Burger. Just like the name states, you pretty much have the whole farm here on your burger. Topped with two strips of crispy bacon, a freshly fried egg, melted American cheese and Farrell's sauce. You get the whole barnyard. No produce comes with this burger. This is one big burger, but it is also very tasty and a bit messy. All part of the fun though, right? 😉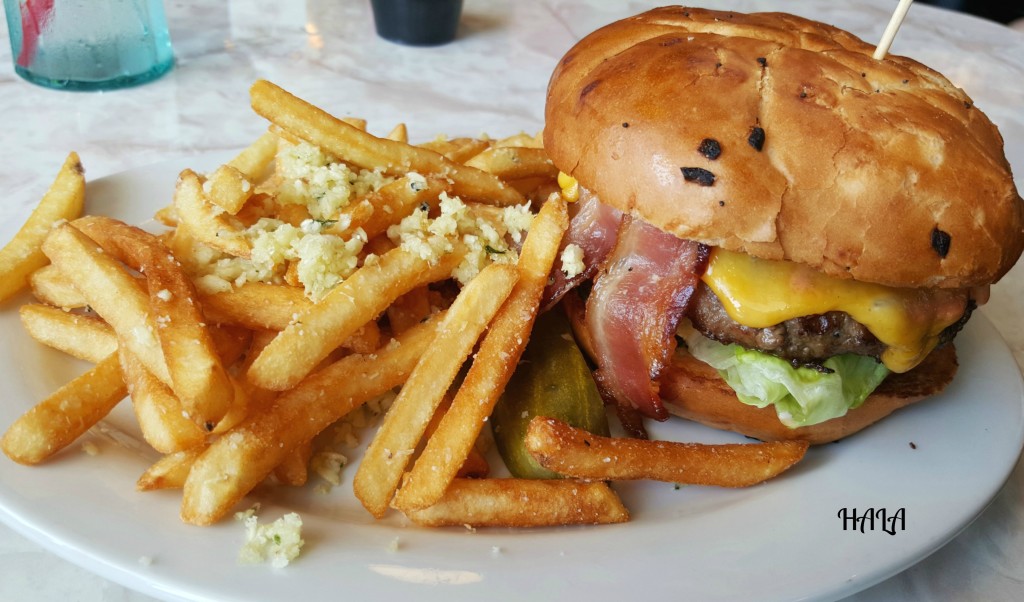 This was the burger I enjoyed greatly. It's called Talk of the Town, and with good reason. It is their most popular burger. Bacon, melted American cheese, fresh produce, pickles and Farrell's sauce. I ordered my burger with some garlic fries, which I also highly recommend you do.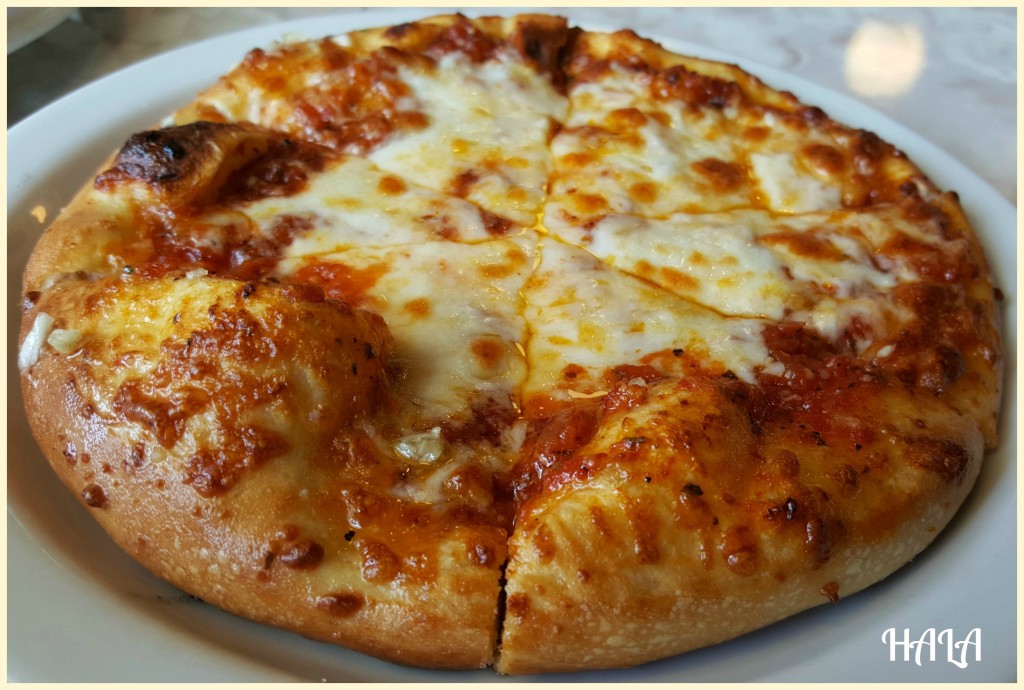 For guests of the tiny variety, they have a special menu. This is one of the choices from the kids menu. Pizza! What kid doesn't love pizza?  It was HUGE! Way more pizza than I could have had, as an adult! You are bound to have leftovers of this, unless of course you help out and take a bite or two… 😉
Now that we were pretty much done eating our meal, it was time to celebrate both mine and Melody's birthday's…. two weeks early… check out the video to see the special announcement and song that those at Farrell's created for us. Do you want a birthday sundae? Or maybe you'd rather have a fantasmic day?
Of course no birthday celebration would be complete without some ice cream!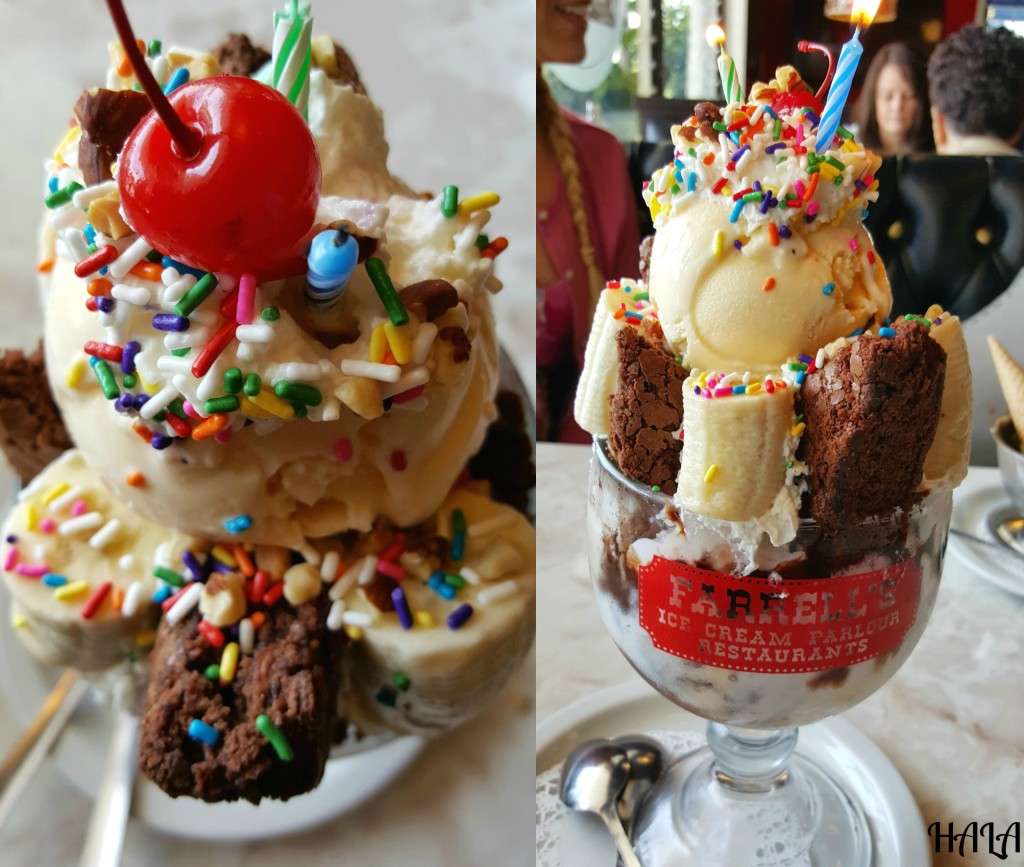 This is the Triple Chocolate Brownie Sundae. A warm, chewy, freshly baked triple chocolate Ghirardelli brownie, hot fudge, almonds and three scoops of vanilla ice cream with sprinkles, marshmallow cream, bananas, and you cannot forget the cherry on top! It tasted just as delicious as it looks. This was more than enough for us to share with two people.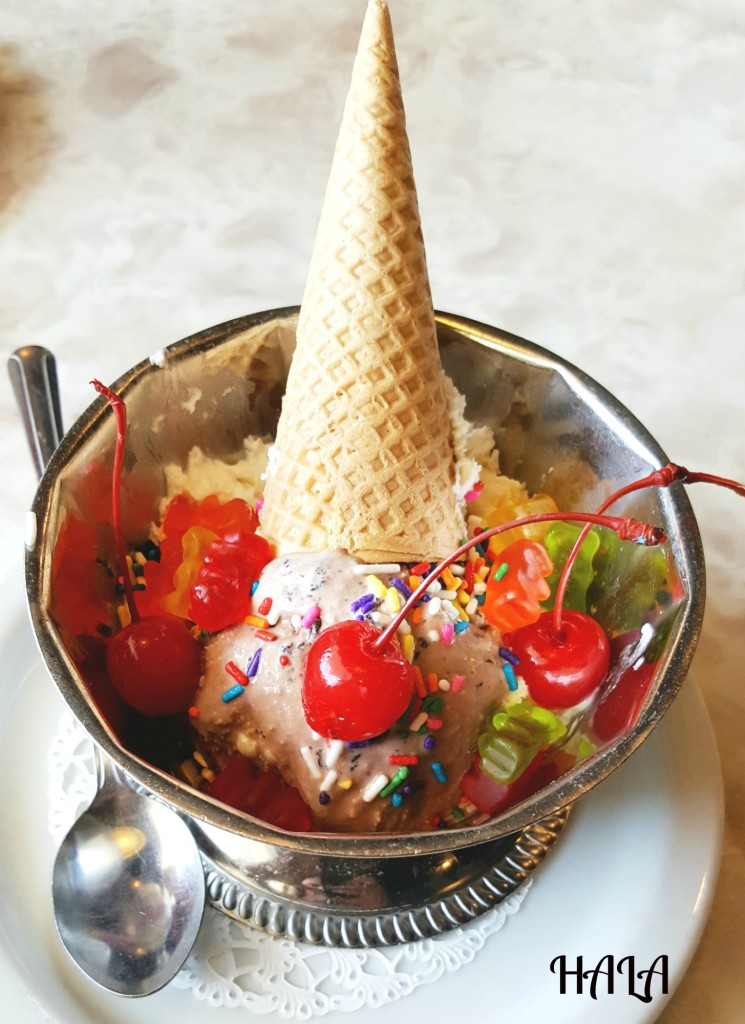 All kids meals include a clown sundae with their meal! Chey added some sprinkles and gummy bears to hers. YUM!!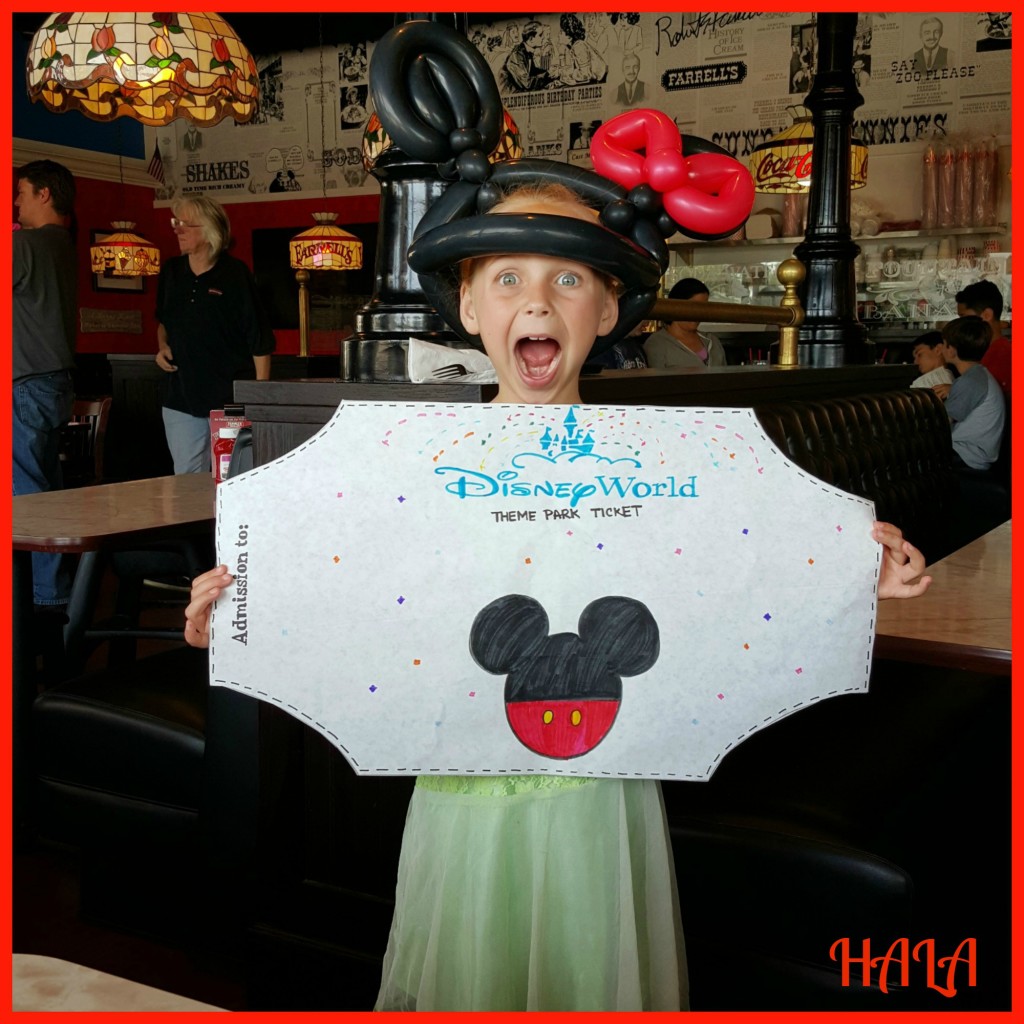 Chey with her Disney World "ticket"
THANK YOU FARRELL'S!!!
We will be back soon! Hope you will be too!
What would you celebrate at Farrell's? <3