Celebrate Your Inner Child at Stacked! Food Well Built.
By Erin
Trying to think of an innovative place that has something to please everyone that you can take the family or some friends to? Then you will want to take a trip out to Stacked the next time you dine out! When I got an invite to come in for a visit, I couldn't pass it up. Stacked: Food Well Built is a full-service, casual restaurant with a unique way of ordering that enables you to get exactly what you want, as you customize your meals in a comfortable, relaxed way on a tablet at your table. Whether you want to let your inner child out and customize all sorts of delicious and creative concoctions, or you like to go the more traditional route and order items that already have a set list of ingredients, Stacked is a place you will want to try if you have not already!
The tablet-based ordering system allows you to use a drag and drop feature that gives you the ability to visually build your meal right on the screen. I am a very visual person myself, so it helps me to see exactly what I am attempting to order.  Other benefits of having this system is the ability to control when you order and when you pay. This lets you easily customize your meal as you select your favorite ingredients to create your own personal masterpiece. However, if you do prefer a traditional approach, where a server takes your order for you, the staff is always happy to do so!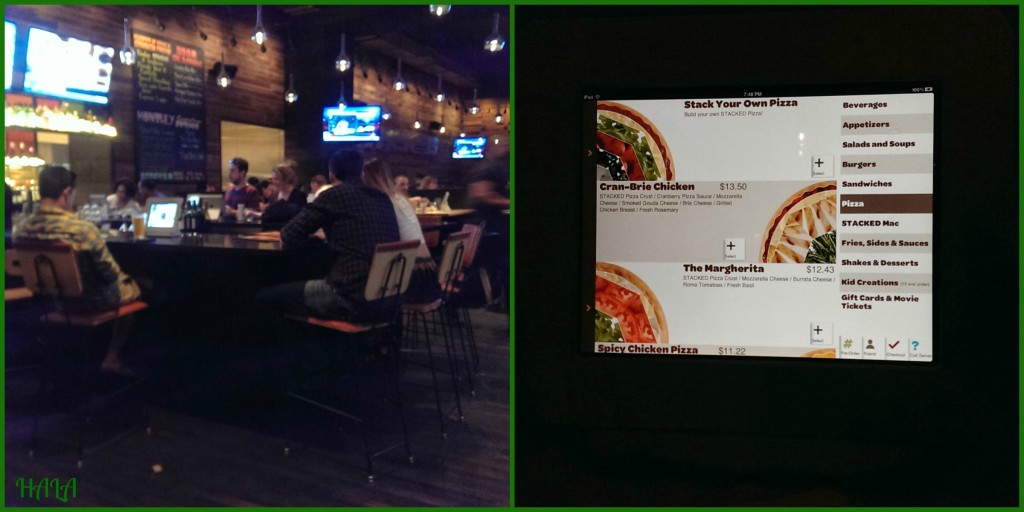 What the tablets on the tables look like that you order from. It is a very user-friendly way to order.  Stacked has lots of TVs everywhere, making it a great place to stop in for Happy Hour and to watch one of your favorite teams play.
As a true kid at heart, I just had to order my "dessert" first, by ordering a Mint Chocolate Chip Milkshake! 😉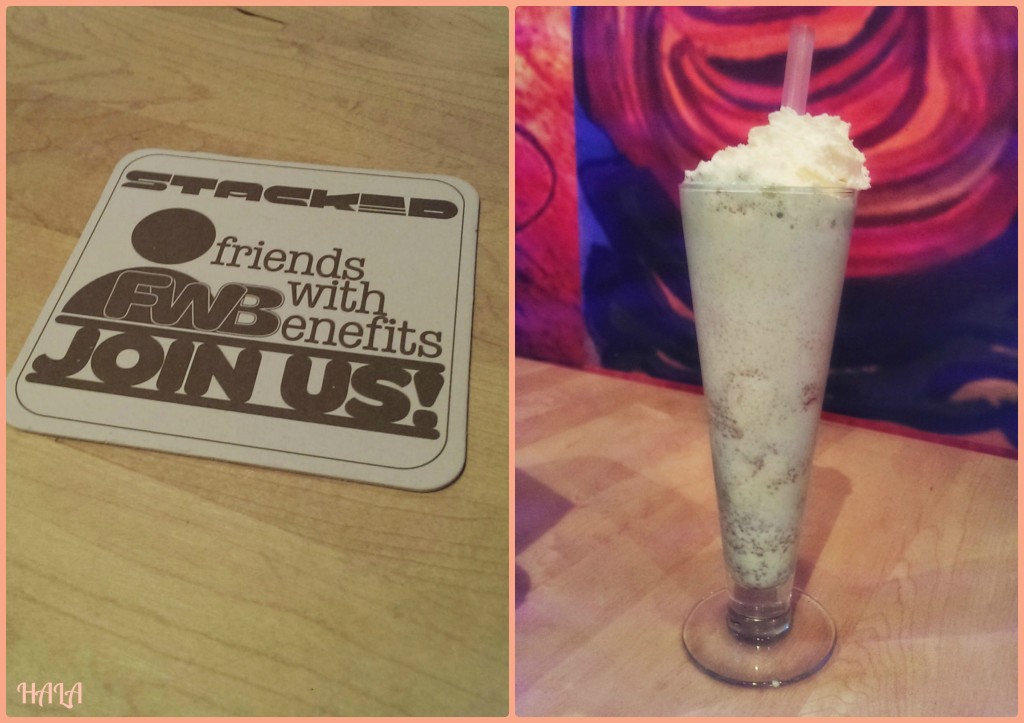 The Mint Chocolate Chip Milkshake is a rich, refreshing blend of Chocolate Chips and mint topped with a generous dollop of Whipped Cream. I also added on strawberries to my shake. It had been a very warm day, and I had been outside at the barn for the past 4 hours. This was the perfect option. A light, creamy, mint flavor with chocolate and strawberries mixed in, with whipped cream on top!
Next, since it was so warm out, we decided to order The Cow In The Garden Salad.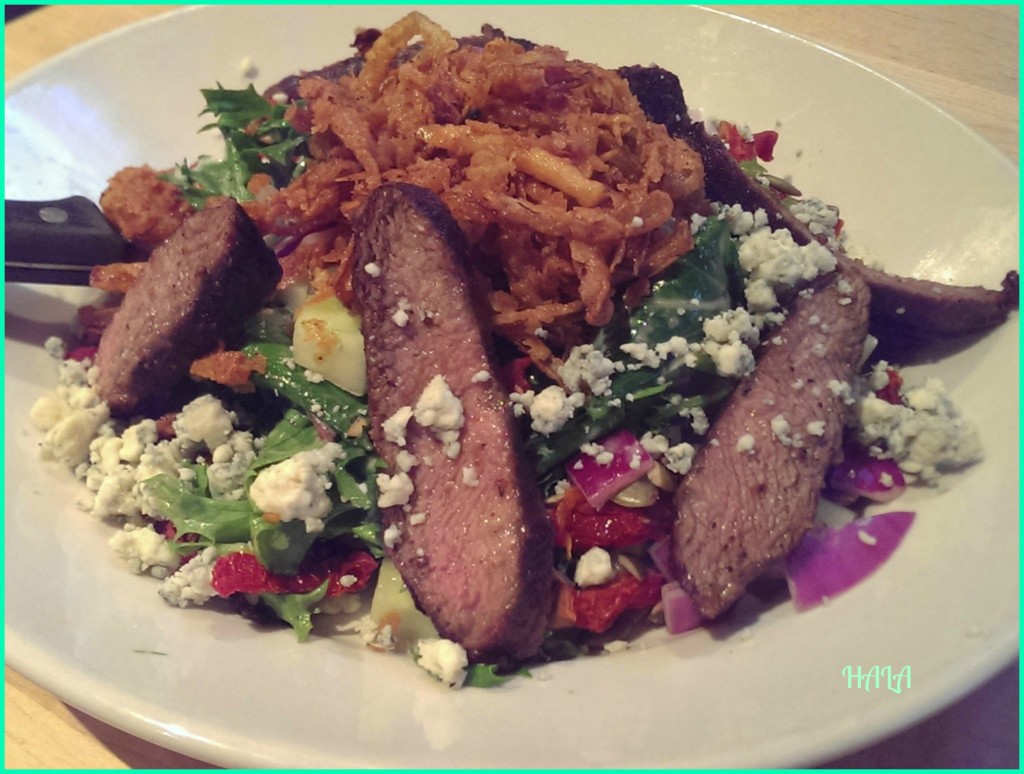 I loved this salad! Think of an amazing explosion of flavors that blend together perfectly. What's in the Cow in the Garden Salad? Flat Iron Steak with a Spring Lettuce Mix, Point Reyes Bleu Cheese, Sundried Tomatoes, Cucumber, Red Onion, Toasted Pepitas, Bleu Cheese and Balsamic Vinaigrette dressings topped with crispy Onion Strings.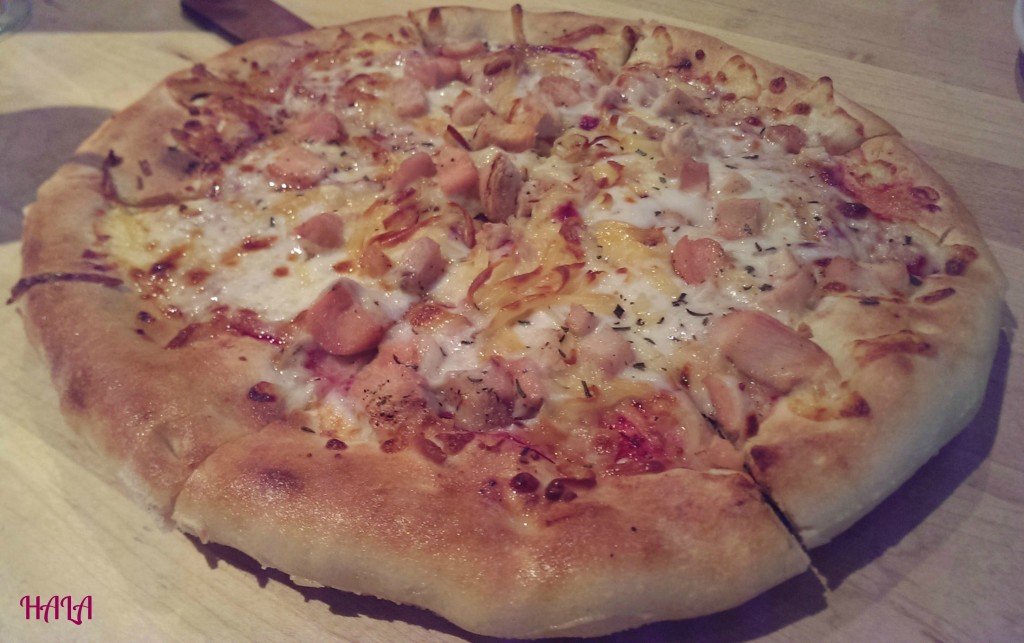 This next one had been recommended to me to try, so I just had to try it, and I loved it! It's the Cran-Brie Chicken Pizza.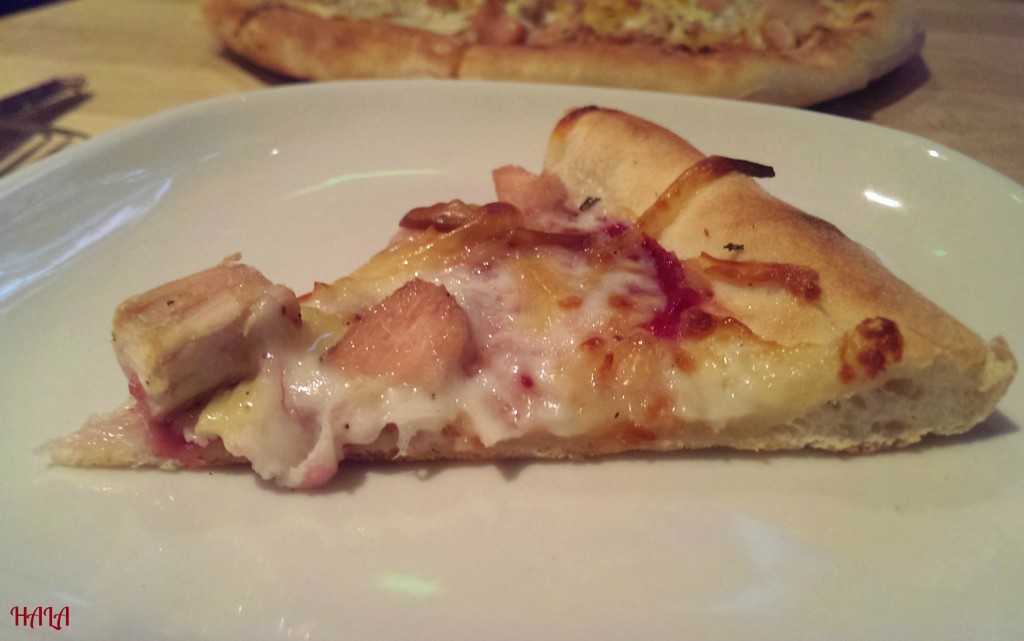 I am so glad that we decided to try it! This pizza is a unique, amazingly flavorful combination – Grilled Chicken Breast, Cranberry Sauce and Fresh Rosemary meet Mozzarella Cheese, Smoked Gouda Cheese and Brie.

The last food item we tried this night was some good old Mac 'n' Cheese!! It's no secret that  kids both young and old love their Mac! The best part at Stacked is you can make your Mac any way you like! Mac 'n' Cheese has never been more flavorful. It is made from scratch with a base of large elbow macaroni mixed with Cheddar, American and Pepper Jack cheeses and topped with a Parmesan breadcrumb crust. From there, you become the artist and can choose among your favorites you wish to savor in your masterpiece.  Consider it the Mac of your childhood dreams. 😉 We chose to have the Rosemary Chicken Mac 'n' Cheese, with Grilled Chicken, Roasted Garlic and a hint of Fresh Rosemary. We then also added on some Applewood Smoked Bacon to make it even yummier! They don't scimp on the ingredients either! We had PLENTY of bacon added to our special order of Mac!! 🙂 Other toppings you can add include everything from Pulled Pork, Pork Andouille and Fried Egg to Caramelized Onions, Sundried Tomatoes and Blue Cheese. There's even Lobster to add into the mix. I have to try the lobster next time!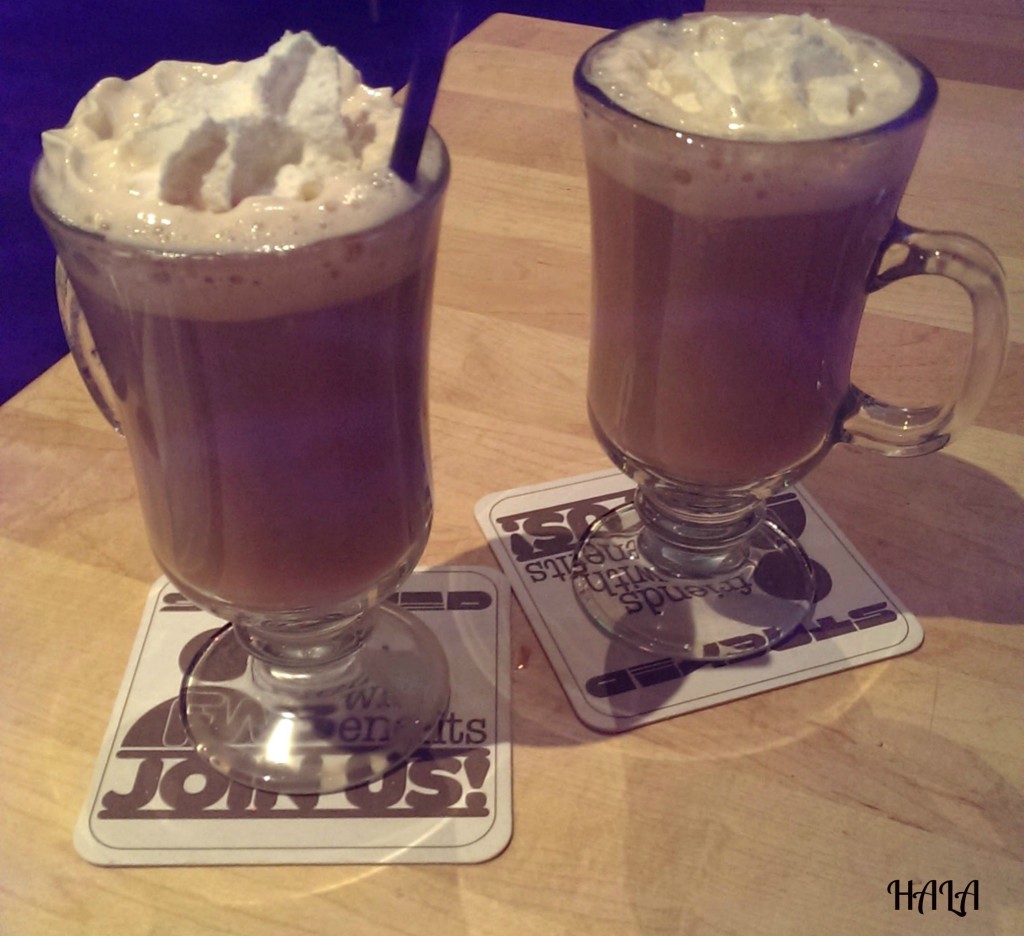 Being too darn full to have an actual dessert, and considering I technically kind of had dessert to start my meal, I ended my meal, with a drink instead. A Bailey's Irish Cream Coffee, which really hit the spot. Nice and creamy, smooth and just a little bit sweet. Yum! Refill please! 😉
Also, another great thing about Stacked is if you or your child is following a Gluten-free diet, Stacked offers dozens of options including Gluten-free noodles and cookies. There are many vegetarian and vegan options to choose from as well. Stacked has everything you need to have a truly enjoyable and delicous meal!
What would you love to try at STACKED?