Dreams Do Come True in McFarland, USA!
By Erin
It's not very often a movie comes out that is as inspiring, touching, real, filled with as much heart and is as heartwarming as this one is. Be prepared to go on a very real and heartfelt adventure with this special group of boys in the most inspiring sports drama about a Mexican-American cross-country team from rural California.
Based on a true story, Kevin Costner stars as the team's coach, Coach White, who's determination to guide a bunch of farm workers' kids into a team full of champions with big dreams and goals is evident from the start. Coach White isn't perfect by any means but his heart is in the right place and he is passionately devoted to his runners. A couple of weeks ago I had the great privilege to attend a press junket with some of the film's creators and actors to gain a little bit more insight into the film, its history, background and setting dreams and goals.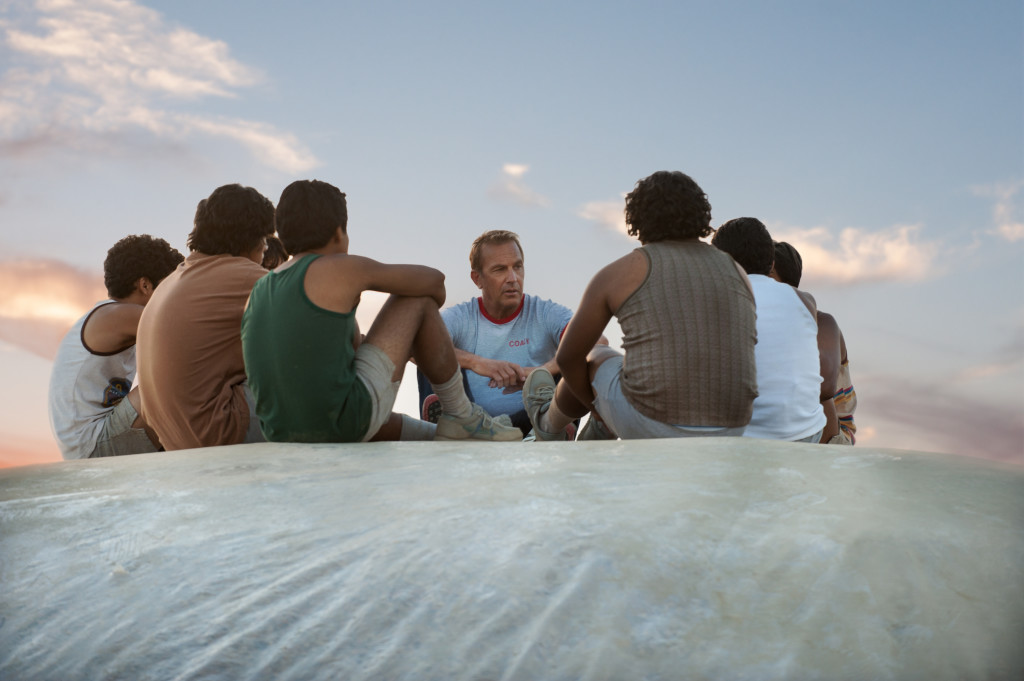 First off, there is a LOT of running in this movie. So, what kind of training did they have to go through to become cross country runners for the film? Carlos Pratts gave us a great description of what that was like.
Carlos Pratts:  I would say in the mornings, we went to Santa Clarita and I would run five or six miles with these guys, and I cried more than I cried when I saw Bambi. Then we would go to the studio and rehearse the film, and then after that I would make the fun drive in the Hyundai Elantra, which I'm very thankful for because my car was in a bad place; thank you, Disney and I would make the fun drive to Redondo Beach. In Redondo Beach, I would then go through a lot of pain from the great people at Brick Fitness – thank you, Brian Gwen –he would help with the strength, and then the nutrition and all that. So for about three months, I couldn't have a carb and I didn't wear a shirt in my apartment. So… I'm kidding about that part.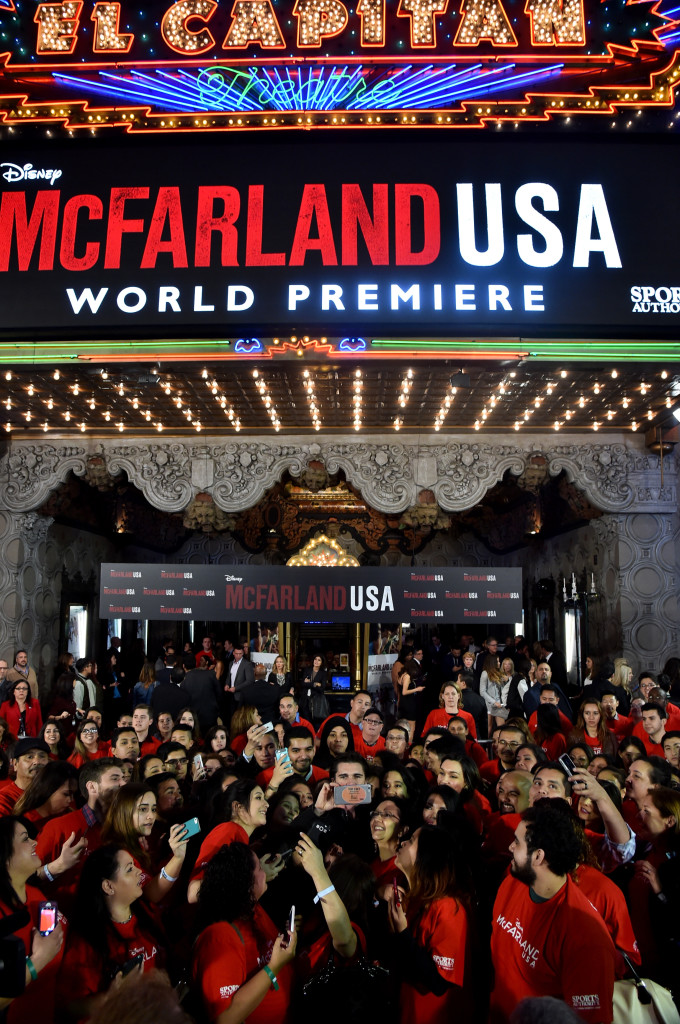 The World Premier of McFarland, USA
Next, these young actors were asked what it was like to work with Kevin Costner. Hector Duran gave us a heartfelt answer.
Hector Duran: Well, now that he's in front of me, it's a little more nerve wracking. No, I'm just kidding. Working with Kevin was obviously an amazing experience. He's such a humble guy. One of the greatest memories I have on set, which really shows his character for me, was we're on set at like 4 in the morning, and it was really cold outside. And Kevin's like, "Hector, are you cold?" And I was like, "Yeah." He's like, "Do you want my jacket?" And it really showed how much he cares about his fellow actors.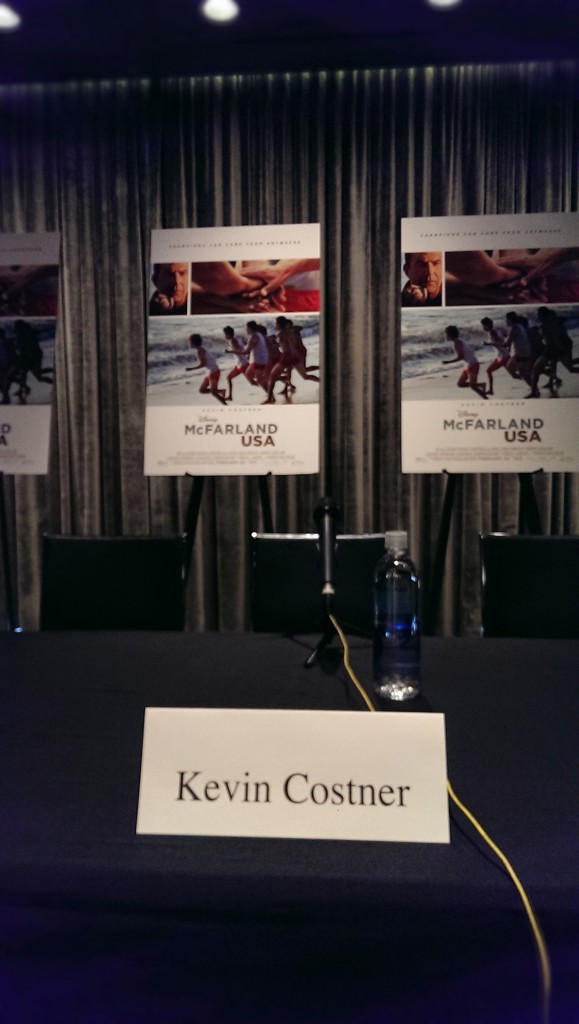 Another hot topic was about Kevin Costner, and what drew him in and appealed to him about playing Jim White in the movie.
Kevin Costner:  I had read about it in Sports Illustrated. And I remember being very taken with it. I had lived in the Central Valley in Visalia – I actually played McFarland in high school baseball. But I was taken with the story, and then of course closed the page and moved on with my life. And then this movie came up. And this shining cloud Niki Caro said, "Would you be in this movie?"
To play Jim, who, you know, there's these men and women all over America who are affecting our young people. Relationships that coaches establish with young people is something that carries through their life if it's done right. There's not a lot of Jim Whites, but there are Jim Whites, and he represents the best, really, of the best. There's a moment in time where kids really don't want to hear anything from their parents. But a coach can take on that –and boy, if they are of the cloth that Jim White came from, a very graceful, very quiet man, who somehow let them know what was possible.
What was just possible; not that they were gonna get there, but this is possible for you, a goal. Jim White, in just kind of putting the goal out in front of them, look what happened. Champions. Look – they exceeded beyond their expectations, so it's a great lesson to us, McFarland, that if we give our children, our young men, our young women goals, we let them see what's possible, they can exceed beyond their own wildest expectations. It's just a very good lesson, this movie. So I was proud to play the essence of Jim White. I'm not Jim White.
I completely agree with this, this is just one of the many positive and uplifting messages in McFarland, USA, and also made me think of this famous quote.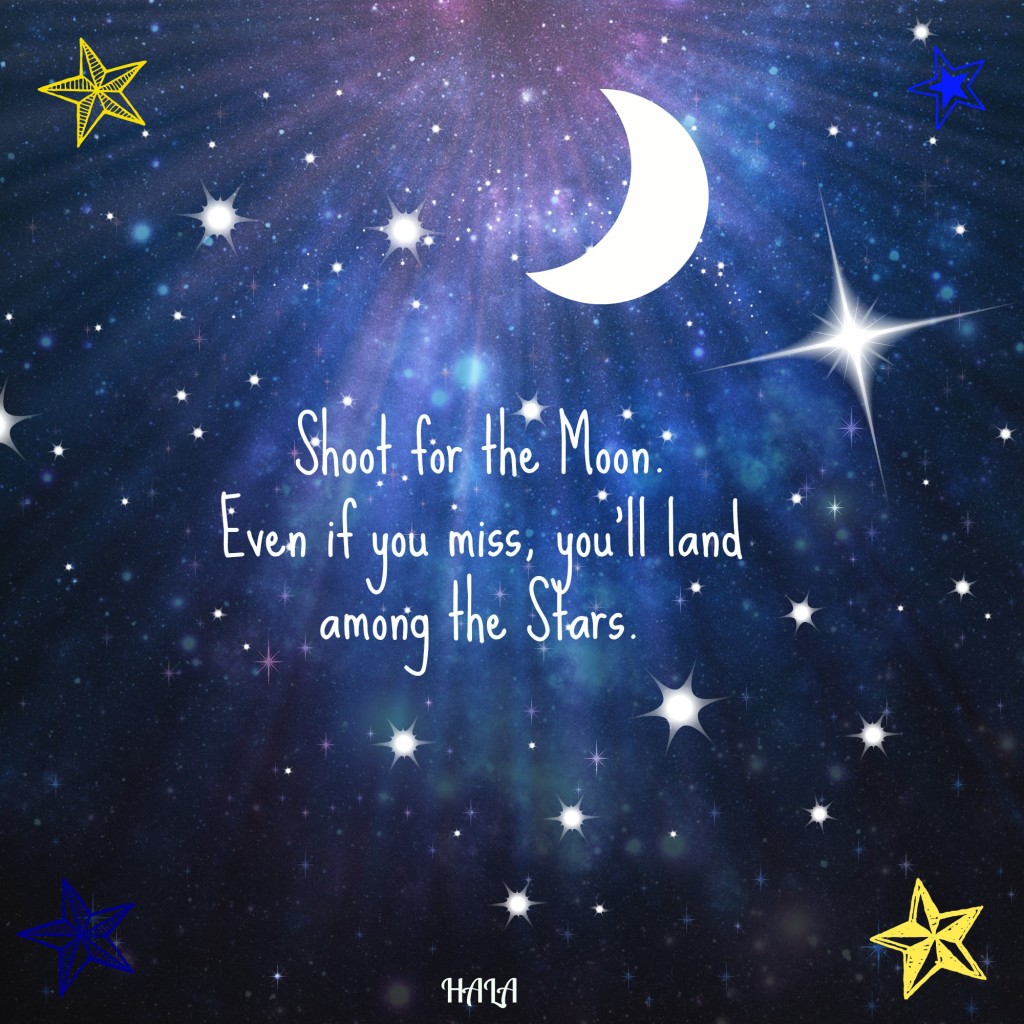 The last question for the day that Kevin's answer really hits the heart was about what he thought of the Mexican American community of McFarland and the people who live there. His reply really sums up the American dream and what it means to be American.
Kevin Costner: I've grown up in Ventura, and also in Visalia. I've driven down these roads. I saw people working in those fields. I played and fought and had friends where their families were pickers in Saticoy, California, a little Mexican barrio school that I went to. But, I didn't invest the way I did until Niki brought me this movie. Bending down to work and seeing a field go forever, understanding that this is forever, this is every week, this is every day in all kinds of weather, the appreciation, of who these people are, this is as American  a story as you can possibly have.
There's no – you think apple pie and baseball's American? No. McFarland is way more American than any of those things.
But there is no better American story than parents who are willing to do anything to better their children, to give their children a chance. There's nothing more American, and it's been playing out over the last 300 years, here. There's nothing more noble than a father and a mother, making an opportunity for their child, knowing that their life is gonna be hard. And there's something very noble about that, to me; something incredibly heroic.
I was so completely touched by Kevin's response. I have even more respect for him now than I did before.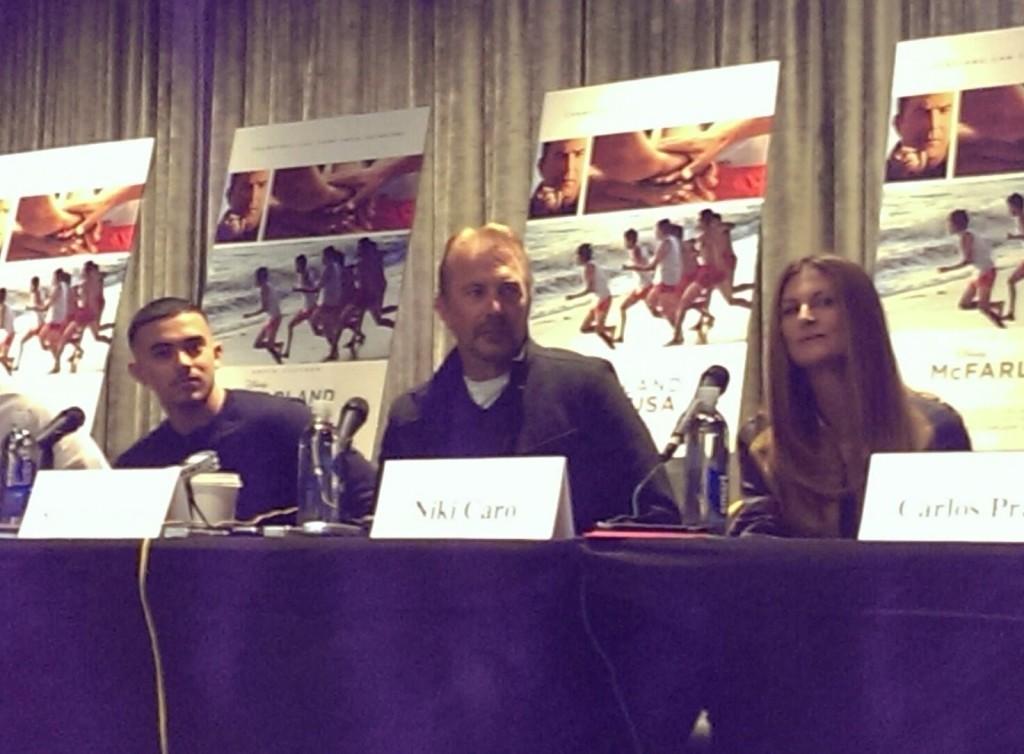 Kevin Costner & Niki Caro at the Press Junket at the W Hotel in Hollywood, CA. Sharing their inspirational story and what went into the makings of McFarland, USA.
I am so excited for this film and for everyone out there to go see this. Stay tuned for more info on the movie and this very courageous farming community, McFarland.
McFarland, USA will be running into a theater near you this Friday, February 20th!