Stuff Yourself With Nancy's Pizza
By Erin
*Disclosure: I received a gift card to make a trip to Nancy's to try out some of this deliciousness. All thoughts and opinions remain my own. Gift card for giveaway to be fulfilled by sponsor.*
Pizza lovers everywhere are going to want to devour some of this greatness at the newest pizza joint that has landed itself in Southern California. Originating in Chicago, Illinois in 1971, Nancy's Pizza is now serving up some piping hot and delicious pizza here in Alhambra, California. Nancy's is a fast-casual type restaurant where you order your food at the register, then find a seat and they will bring your order to you. You can also order for take out, and enjoy your meal at home.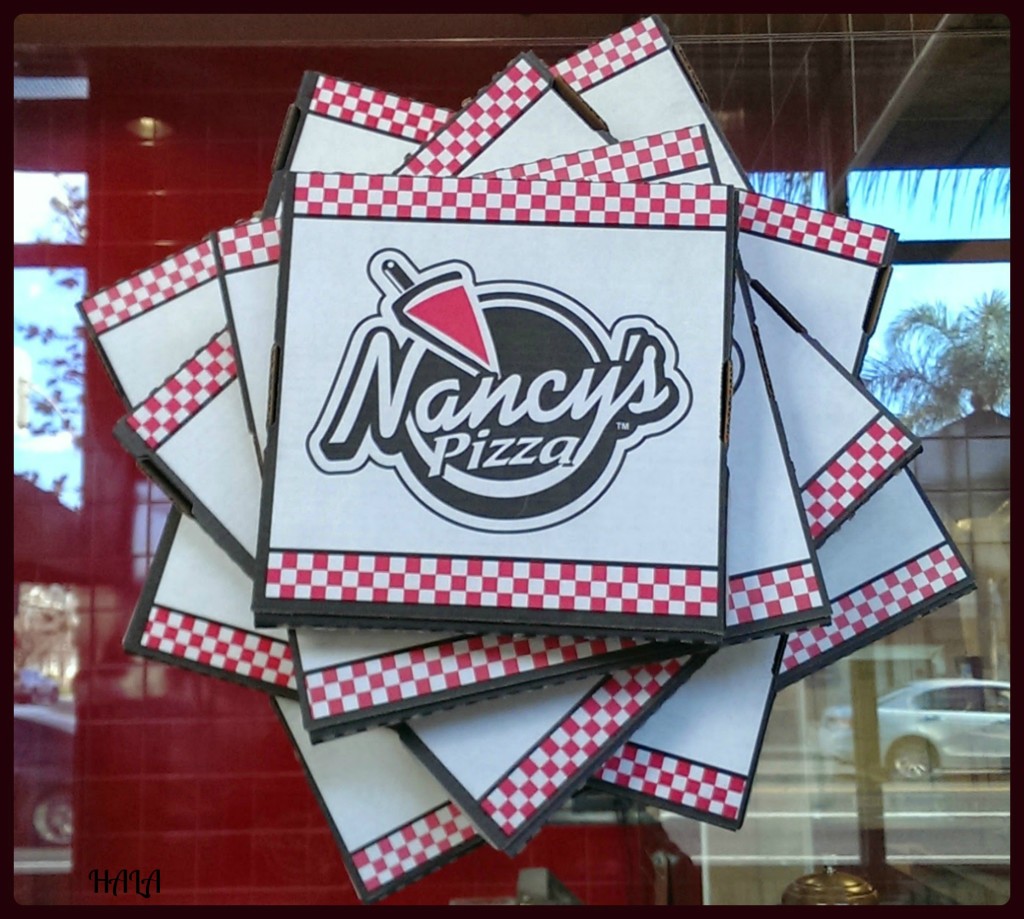 Famous for their stuffed pizzas, that were inspired in Italy and perfected in America, Rocco and Nancy invented the stuffed pizza in 1971. Today, Nancy's will have you wanting to stuff yourself full with some of this ooey, gooey, deliciousness. If you want something on the healthier side, they do have some great tasting salads as well.
 Stuffed Pizzas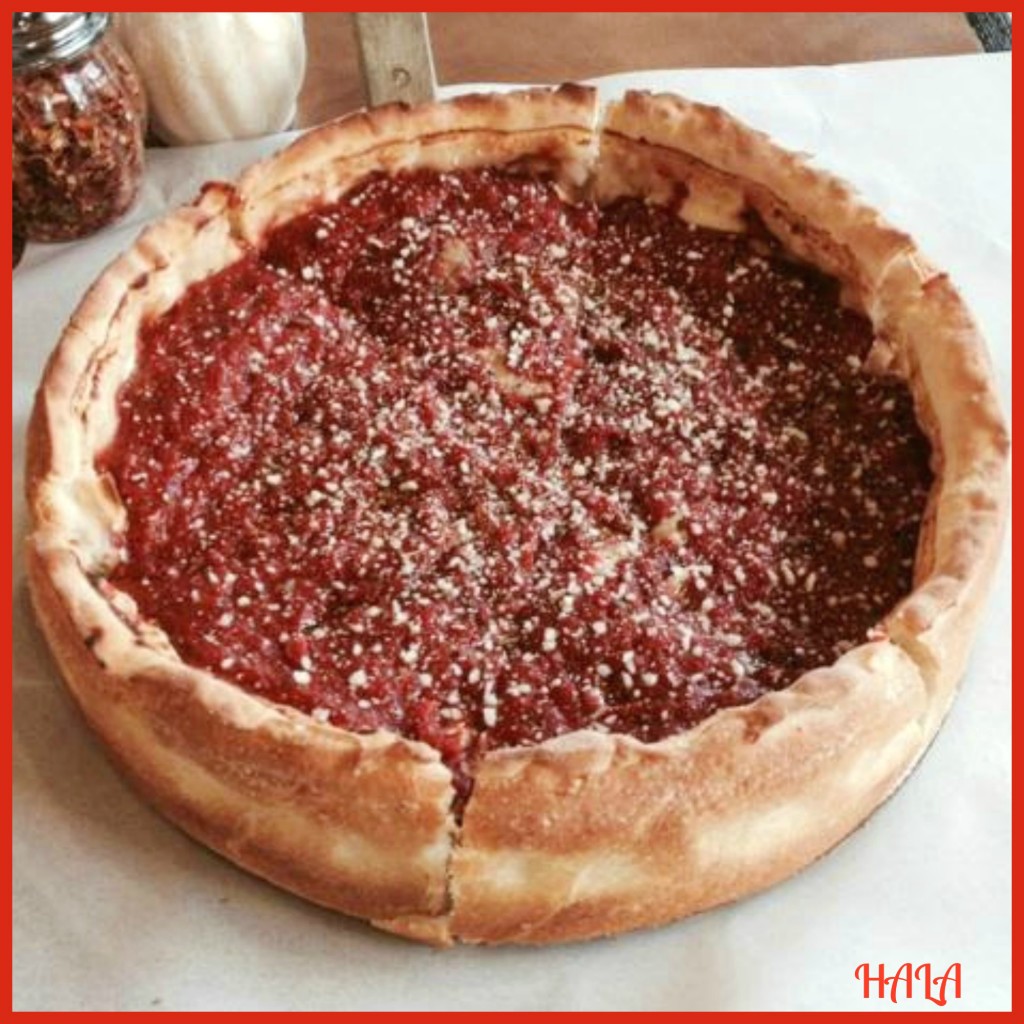 Being that the stuffed pizza is their trademark pizza, I just had to try this. Weighing in at 5 pounds for a 12 inch pizza and 2 1/2 inches high, it truly is a sight to see (and smell and taste)!  Stuffed full of fresh ingredients. I tried mine with Pepperoni and Sausage.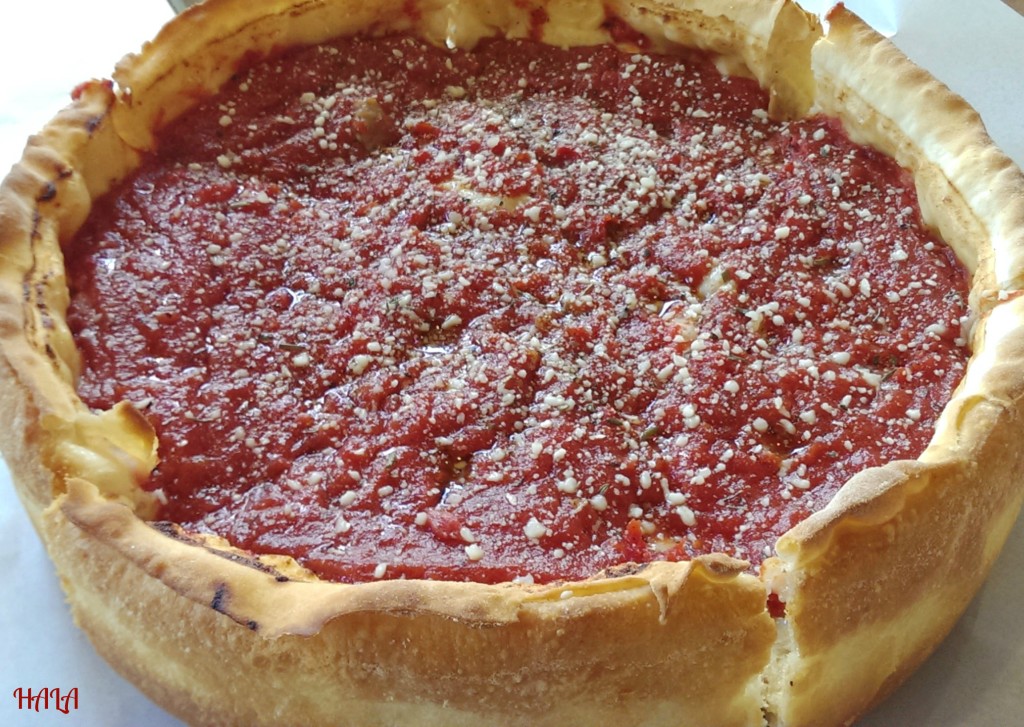 *I must note that the service here was amazing. When one of the girls was coming to our table to bring us our pasta, she was apologizing profusely that she had dropped our pizza and was going to make us a new one, but she was making us a medium sized one instead of the small one we had ordered. As we still had our salad and pasta to enjoy, we were in no rush to get our pizza right away anyways, so it was no big deal to us at all. However she kept apologizing and the upgrade to a medium sized pizza was a nice gesture. Not that we even needed it or expected that, it would just mean more leftovers to take home and enjoy later we figured. The staff did not know that I was a blogger here to review their restaurant, and I did not announce that fact at any time when we were there as I prefer whenever possible to get a true feel and experience of what a place is like as a regular diner coming in.*
Salads
Nancy's has quite a few different kinds of salads to choose from if you are looking for a healthier option, or just something to go with and compliment your pizza. They come in either a small size or large size. The large size is served in a bread bowl.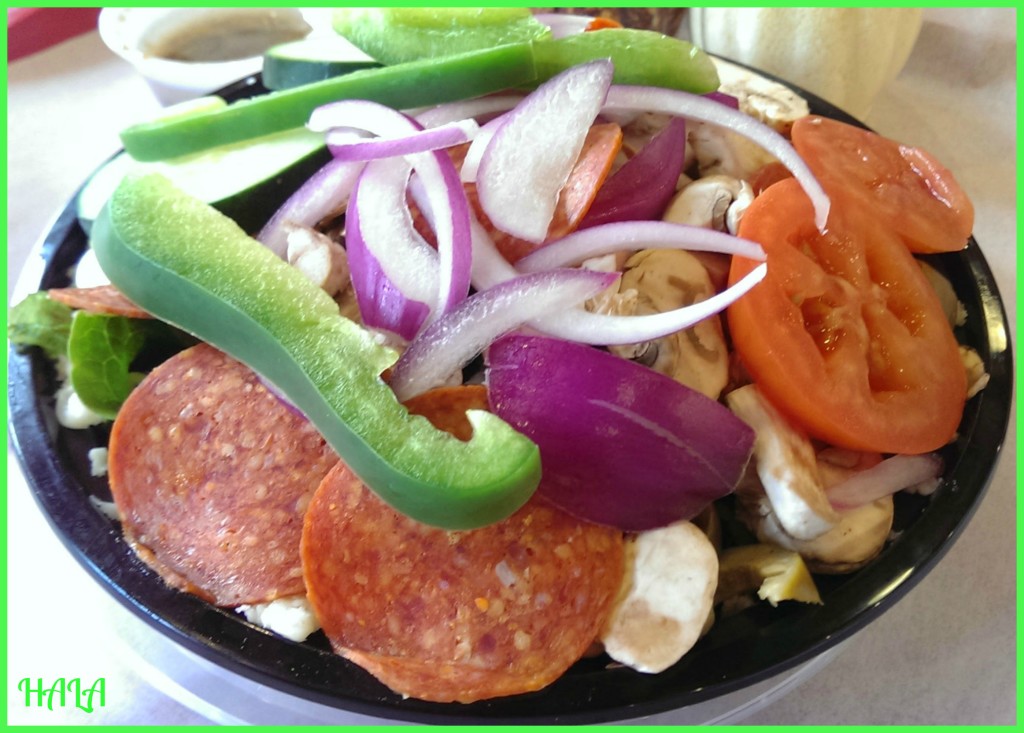 Pictured above is the 'Garbage Salad,' which consists of lettuce, pepperoni, Canadian bacon, mozzarella cheese, black and green olives, mushrooms, green peppers, red onions, tomatoes, and cucumbers. Pretty much it's a little bit of this and a little bit of that, but I liked it. This is the small size. My friend and I split this, so it's plenty for two if you are going to be getting a pizza to go along with your meal.
Pasta
Nancy's has a pretty decent selection of pastas to choose from if that's more your thing. I love pasta, so we had to try one of the dishes.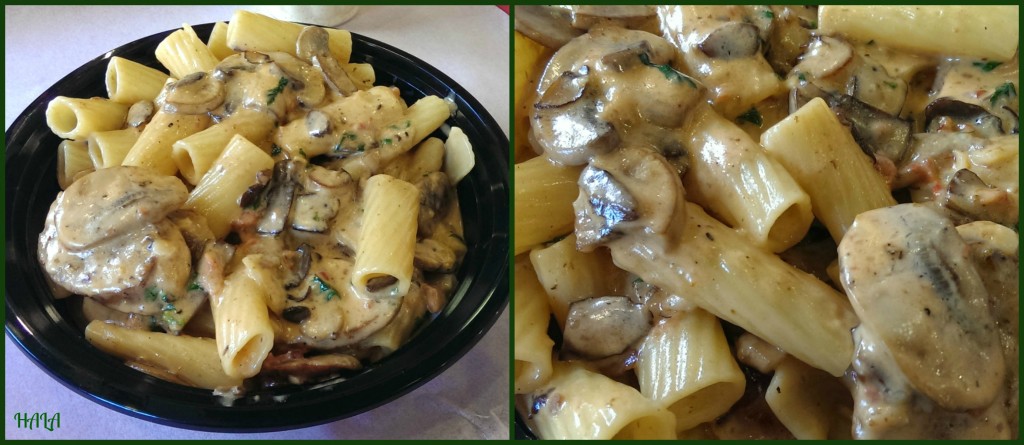 The Tuscan Rigatoni turned out to really hit the spot. Rigatoni pasta tossed in a pink cream sauce with fresh garlic, sautéed Italian sausage, fresh mushrooms and parsley. I'm really picky about my pasta, but I approve of this one. 🙂 The pasta dishes come in "For One" and "For Two" sizes. This is the "For One" size, and was more than enough for my friend and I (considering we also had the salad and the pizza).
Desserts
No meal is complete without dessert, right? Not that we really had room for it by this point, but we made room for a small bite and just took home the rest for later. The smell was too amazing to not have a taste of it while it was super fresh and piping hot.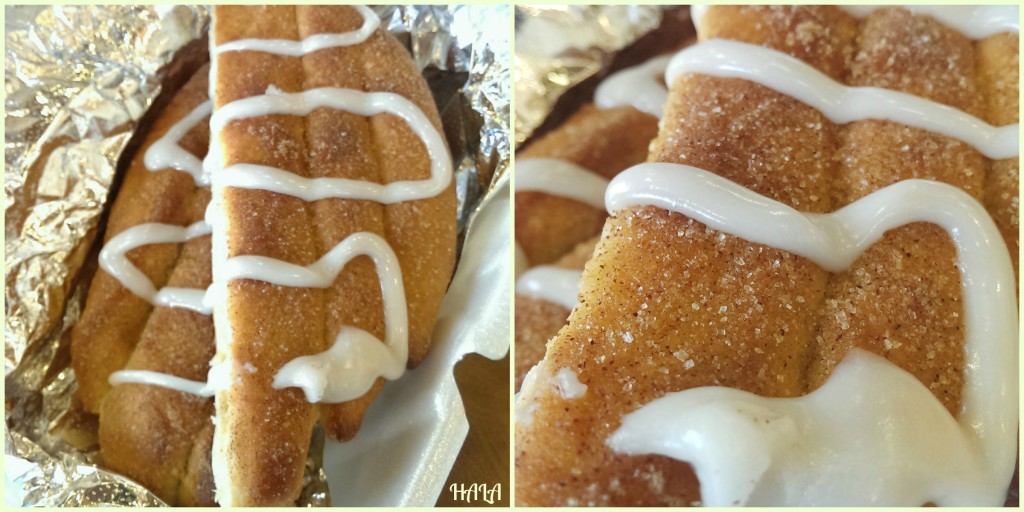 Homemade Cinni-Sticks with Vanilla Icing. These things smelled like heaven. A fun thing about the cinni-sticks is that you put your own icing on them, so I had a little fun with that. I tried to make the swirly zig-zag patten they had in the picture of this on their menu. How'd I do? Hahaha. 😉 They tasted good anyways! Warm, soft, moist and just sweet enough.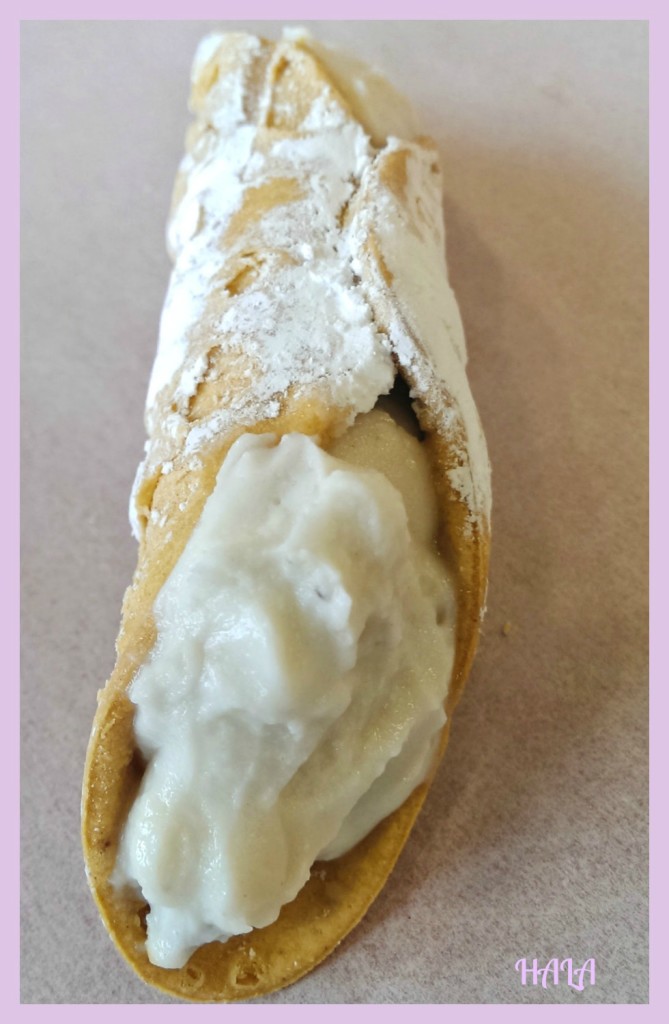 Fresh Made Cannoli. These were pretty good as well, but I enjoyed the cinni-sticks
more. Maybe it was because I was allowed to play with those with the icing?
Now, for the fun part. 😉 Some lucky duck out there reading this has a chance to win a $50 Gift Card to go enjoy some Nancy's Pizza just by entering the giveaway below.
Who will it be? YOU?
Good-Luck! 🙂
*Open to US Residents ages 18 and older. Must be able to make it out to a Nancy's location on your own. Ends 3/3/15 at 12AM PST. See the Sweepstakes section on the blog for complete list of rules.*
a Rafflecopter giveaway
ENJOY!