A First Look at Who's Who in Disney's "Big Hero 6"
By Erin
*I attended an early press day for this film as a guest of Disney for purposes of this post. All thoughts and opinions remain my own. All photos and videos are courtesy of Walt Disney Studios.*
There are some new super heroes coming our way this fall. I'm here today to introduce you and give you a first look at who's who in Disney's upcoming film Big Hero 6.  You will meet this dynamic group of friends when you go to see the film for yourself starting November 7th, but I have some important background information for you about each of them to make your experience that much more magical and enjoyable. From the creators of Frozen and Wreck it Ralph, Walt Disney Animation Studios is bringing us an action packed comedy adventure filled with heart about a robotics prodigy Hiro Hamada, his brilliant brother Tadashi and all of their super smart friends: the adrenaline junkie Go Go Tomago, neatnik Wasabi, Honey Lemon the chemistry whiz and Fred the fanboy. Inspired by the Marvel comics 'Big Hero 6' it is directed by Don Hall (Winnie the Pooh) and Chris Willams (Bolt), and produced by Roy Conli (Tangled).

Pictured from left to right: Fred, Honey Lemon, Wasabi, Go Go Tomago, Hiro Hamada & Baymax
Now let me introduce you to the very special and talented heroes that you will encounter on your Big Hero 6 adventure.

 Fred
Fanboy Fred is one laid back dude. Very eager to join "Big Hero 6" as he has tons of ideas to put into play. A sign-twirling, monster-loving, comic book aficionado, with a ferocious, fire-breathing alter ego who comes complete with claws. You can except much comedy to ensue with this guy.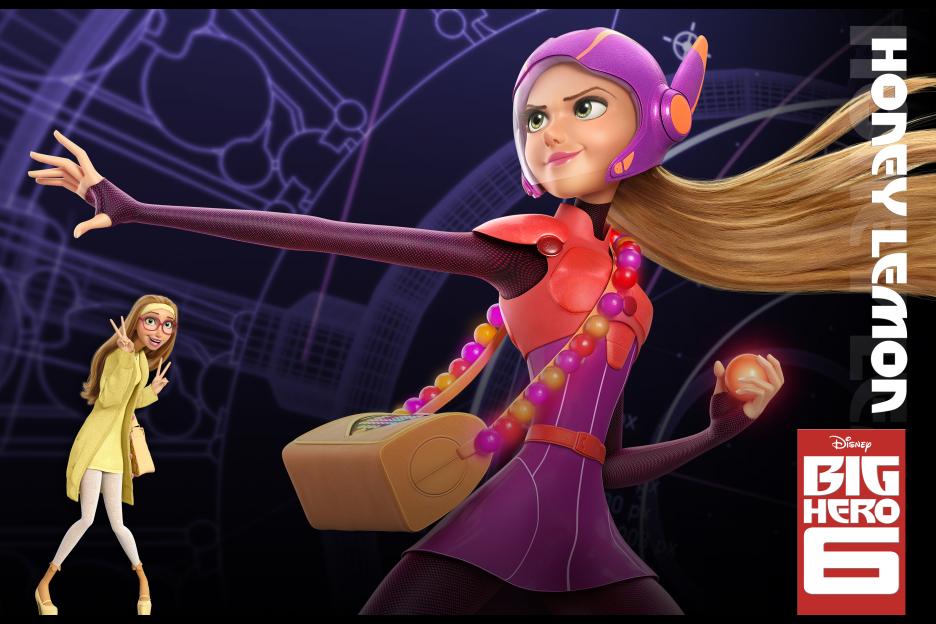 Honey Lemon
A real chemistry whiz, complete with glasses and funky fashion to match. This girl may be sweet as honey as her name implies, but she also has a lemon in her name and you know how those taste. Honey Lemon also has a fiery side and can do attitude that makes her unstoppable. With a mad scientist like quality, including that crazy twinkle in her eye, honey is sure to entertain us all with her smarts to get the team out of any jam. I'm so glad they included two strong female characters in this film. It truly helps make it a movie for anyone, not just the boys. Also be on the look out for Honey's purse and what's on it. It has the periodic table on it and I'd love to have one of my own!
Wasabi
A bit neurotic, but still super smart, he is committed to precision. This burly guy can't help but join Big Hero 6 when Hiro needs him the most. Considered the most normal among the group, he keeps the team grounded and makes sure to point out how crazy what they're doing is. His martial arts skills are amplified with some jaw-dropping plasma blade weaponry. Wasabi is one sharp guy.
Go Go Tomago
The second girl in the group, she has a lot of speed. Athletic, tough, and loyal; she is not much of a conversationalist. As the picture above shows, she is a bubble gum popping girl filled with sarcasm. She may be a gal of few words, but she is a very street smart, adrenaline junkie, who moves best when she's on wheels. Bicycle messengers were used as inspiration for her character. When Go Go joins Big Hero 6, she rolls like no other with her maglev discs as wheels, shields and throwing weapons.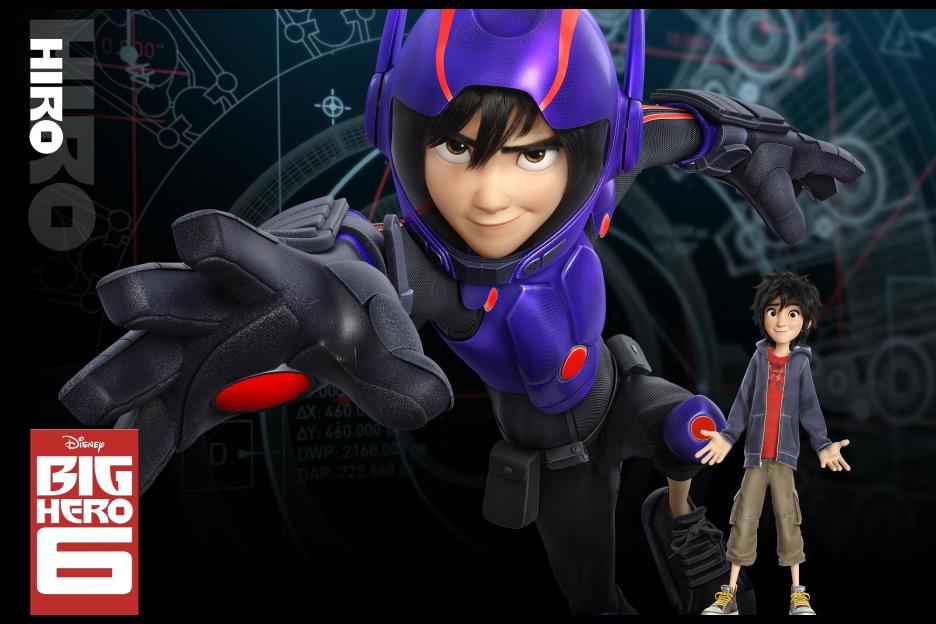 Hiro Hamada
One of our main characters, robotics prodigy Hiro is a total genius. At only 14 years old his state of the art battle bots dominated the underground world of bot fights that were held in the dark corners of San Fransokyo where everything takes place.  Lucky for Hiro, older brother Tadashi mentors him and inspires him to redirect his brilliance in a quest to gain admission into the prestigious San Fransokyo Institute of Technology. Sadly, a tragic event happens that changes everything and turns Hiro's world upside-down. Hiro comes upon a robot named Baymax whom he makes a very touching and unbreakable bond with.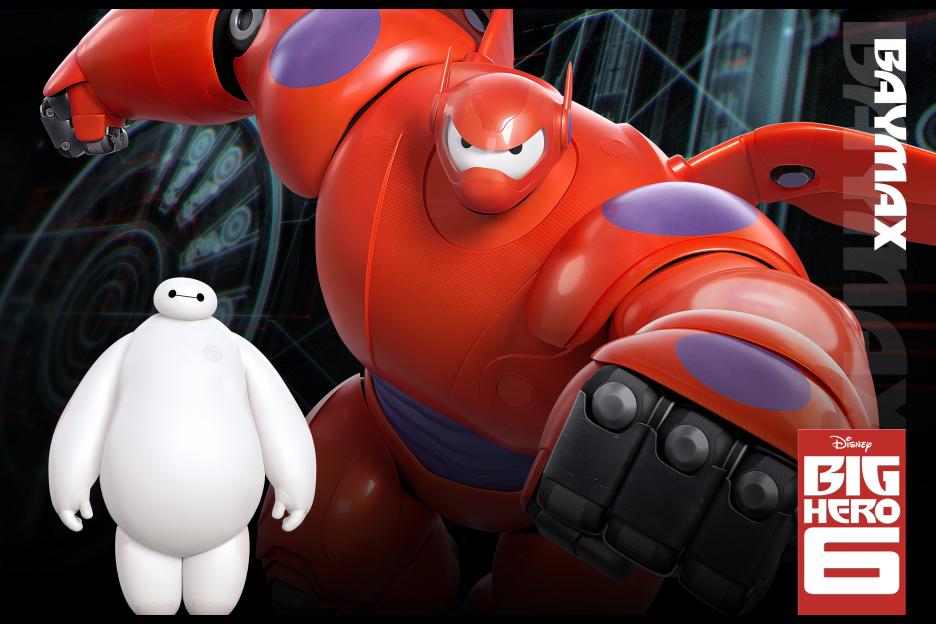 Baymax
Designed to care, Baymax is the other main character to watch out for. This lovable over-sized inflatable robot's job title is 'Personal Healthcare Companion' He can detect with a simple scan, a persons vital stats, level of pain, and can treat pretty much any ailment known to man or robot. Built by Hiro's brother Tadashi Hamada, Baymax may be the future of the healthcare industry. If you watch the clip below, you will see that upon Baymax's initial scan of Hiro, he thought Hiro was just going through puberty. Later on though, he realizes that he's dealing with a very tragic loss and is on a mission to help heal Hiro's broken heart.
Baymax and Hiro sharing a special moment. 😉
There you have it. The Big Hero 6 crew. The good guys that are here to try to save us from the evil doers. Will they be successful? I don't even know yet! Stay tuned! 😉 Be sure to watch the clip of Big Hero 6 below, it is hilarious!
Which character is your favorite so far?
Walt Disney Animation Studios on Twitter
Walt Disney Animation Studios on Tumblr
BIG HERO 6 opens in theaters everywhere on November 7th!