The Melting Pot: A Fondue Paradise
By Erin
*I was invited to come in as a guest and check out The Melting Pot. All thoughts and opinions remain my own.*
Chocolate, strawberries, cheesecake, oh my! Who doesn't like some good old fashioned fondue? At The Melting Pot, not only do you get an amazing meal, but a truly unique experience as well. If you love cheese and chocolate as much as I do, then you will surly be in heaven here! With quite a few locations to choose from in Southern California, there are also many others spread throughout the United States. Check their website above for exact locations in order to find your nearest fondue paradise. 😉
Perfect for a girls night out, date night, anniversaries, birthdays, graduations, happy hour, some dessert after a movie or other outing, or any other special occasion! Get ready for the experience of a lifetime!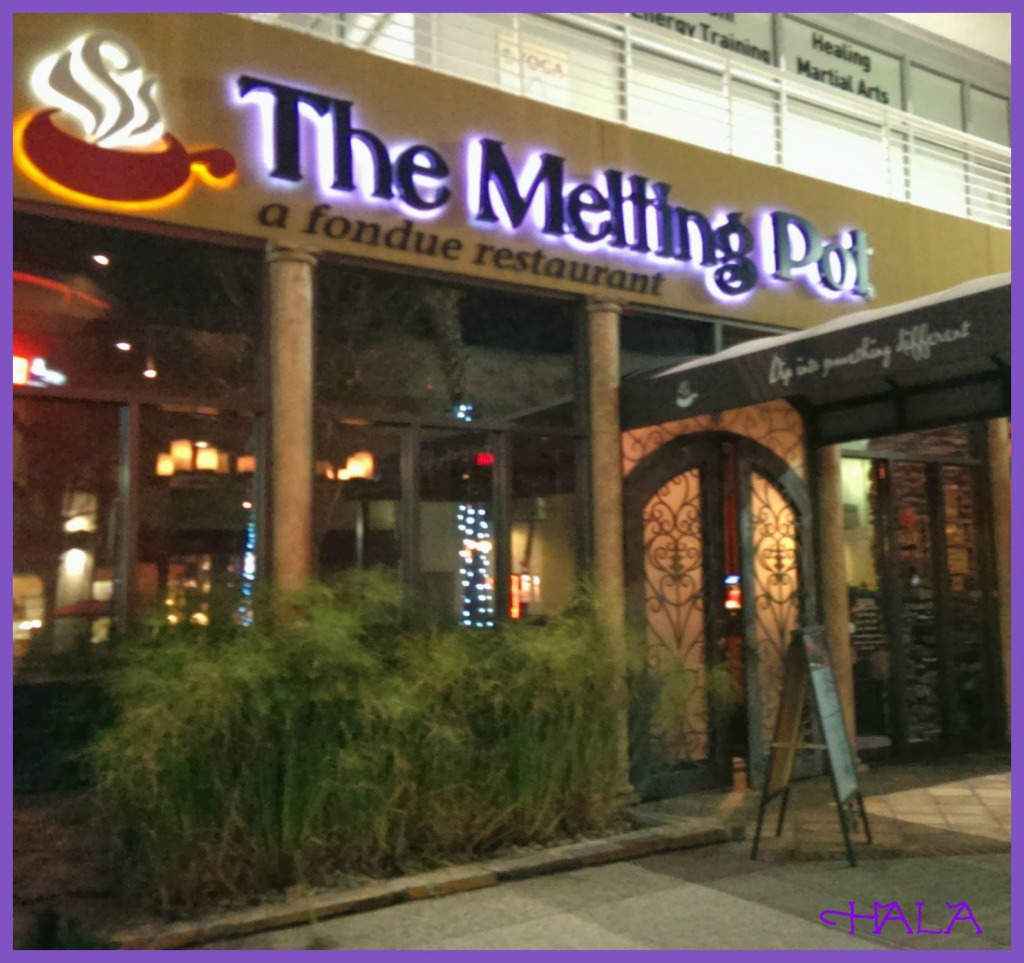 My local Melting Pot is in Brea, California.

Getting ready to fondue it up! 😉
Experience Fondue Paradise at The Melting Pot
You get to customize your fondue experience any way you like. Their menu allows you to order 1, 2, 3, or 4 courses. Whether you're craving a duet of cheese and chocolate fondue or want to experience all four courses, you can pick and choose to your hearts content. We went with the 4-Course Experience in order to give you all a little taste of what you can expect here.
4-Course Experience
1. Select one cheese fondue per cooktop.
2. Select your individual salad.
3. Select your individual entrée from their menu.
4. Select one chocolate fondue per cooktop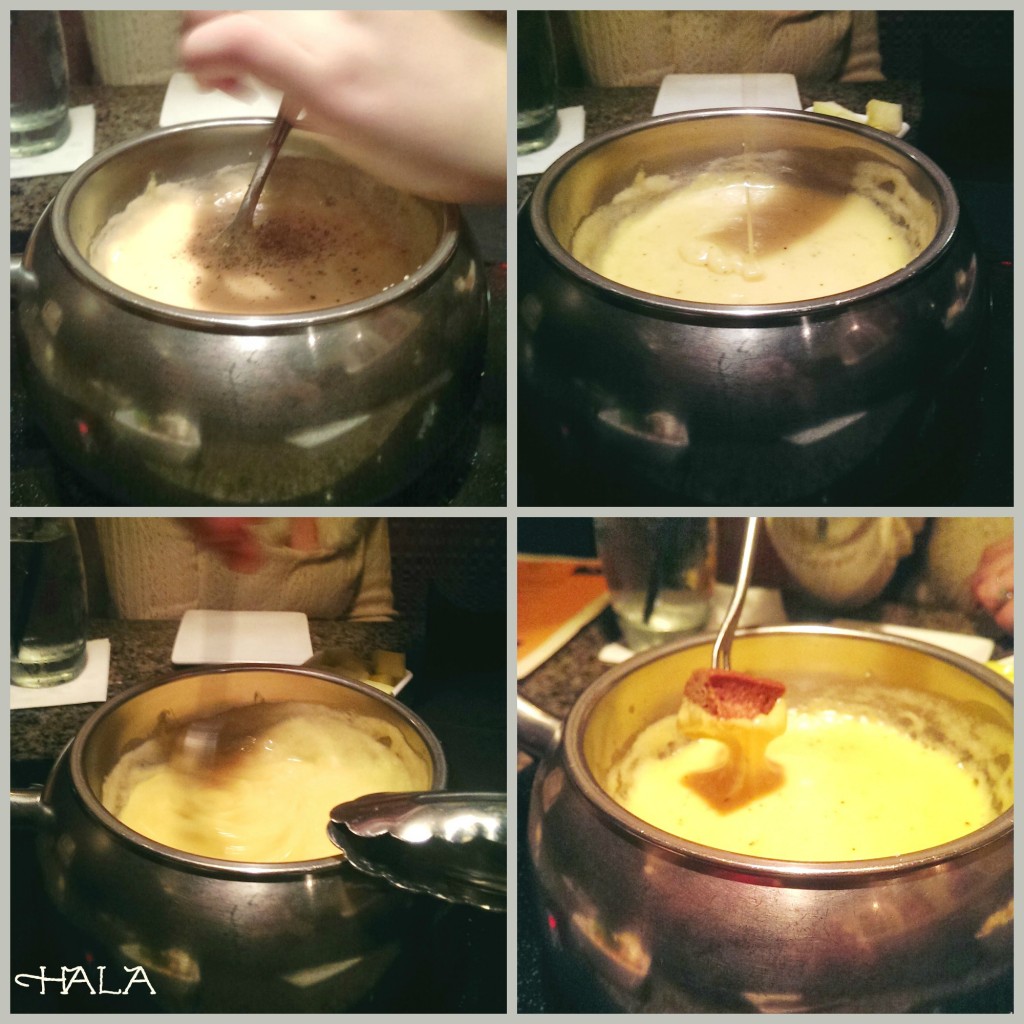 Cheddar Cheese Fondue being made table side!
Cheese Fondue
First choose your cheese. The creamy cheese fondue are prepared table side. Each cheese is served with artisan breads and seasonal vegetables for dipping. The choices for cheese includes: Cheddar Cheese Fondue, Classic Alpine Cheese Fondue, or Spinach Artichoke Cheese Fondue. We went with the Cheddar Cheese Fondue. This was prepared fresh at our table, as you can see above how it was made! It included aged, medium-sharp cheddar and Emmenthaler Swiss cheeses, lager beer, garlic and seasonings. It was very tasty. If I could have done so without burning my tongue off, I totally would have licked that bowl clean of every last drop of cheese.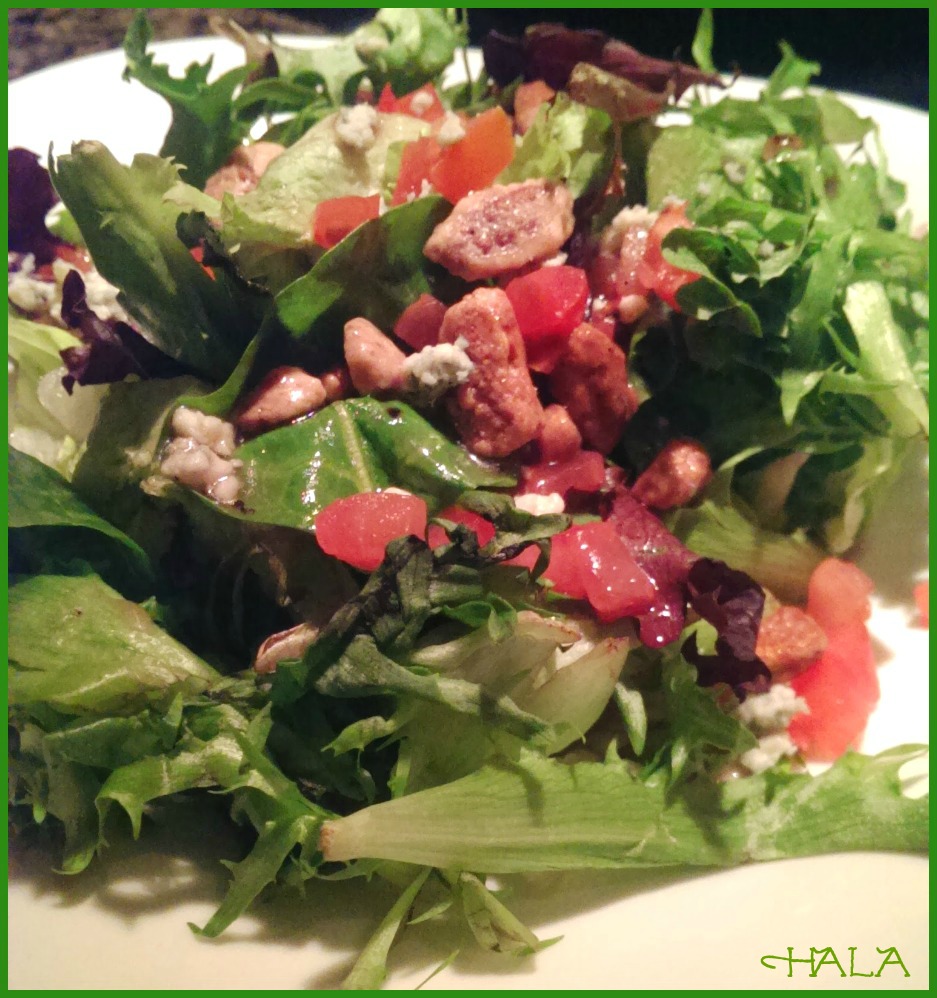 Pictured here is the California Salad. I could eat this everyday.
Salads
Fresh salads feature The Melting Pot's signature dressings. You can choose from their Caesar Salad– crisp romaine lettuce, shredded Parmesan cheese, crispy croutons and an added touch of Parmesan-encrusted pine nuts, tossed with Caesar dressing. The Melting Pot House Salad–Crisp romaine and iceberg lettuce, cheddar cheese, fresh tomatoes, crispy croutons and sliced egg with your choice of Peppercorn Ranch Dressing or their sweet and tangy House Dressing. Or my personal favorite, the California Salad- Mixed baby salad greens, Roma tomatoes, candied pecans and Gorgonzola cheese with Raspberry Black Walnut Vinaigrette. I am a sucker for candied pecans, gorgonzola cheese, and Raspberry Vinaigrette, so I savored every bite of this salad. The lettuce was crisp, the pecans were crunchy and sweet, and the cheese was some yummy goodness. The California Salad had me at candied pecans…. 😉 I think my mother enjoyed her salad as well. She had the same salad as I did. It was gone in about 30 seconds… so I'd have to say she must have liked it as well. 😉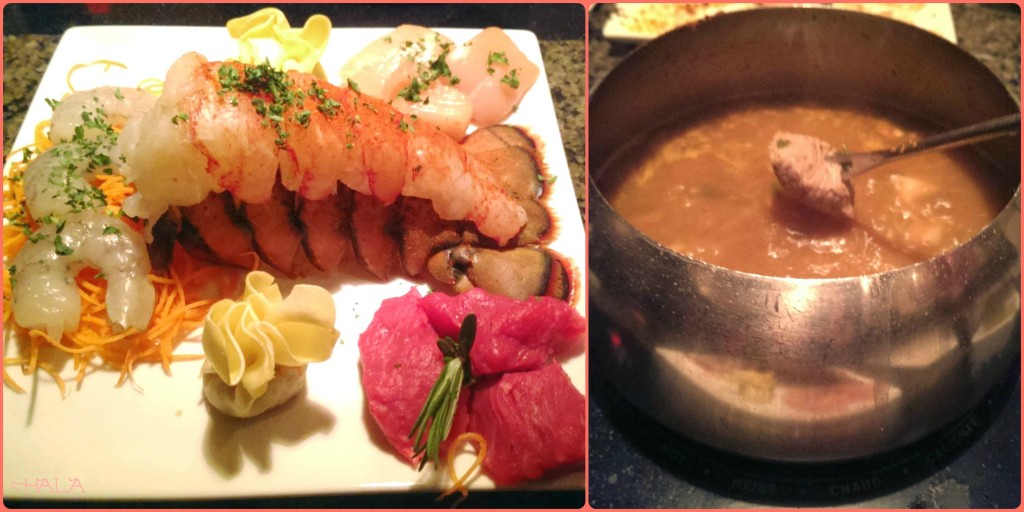 The amazing and oh so wonderful Fondue Delight! Yum! Is it dinner time yet? Pure Paradise!
Entree 
Entrées are cooked at the table in one of four premium cooking styles and are served with seasonal vegetables and their signature dipping sauces. There are quite a few choices here to choose from, but I chose  the Fondue Delight which included: premium filet mignon, a succulent cold water lobster tail paired with all-natural breast of chicken, Pacific white shrimp, and wild mushroom sacchetti. It was utterly amazing. See pic above. I wish I could have some more of that right now! It was very easy to cook the meat in the fondue pot, and it turned out very tasty. All of the meats were very tender and flavorful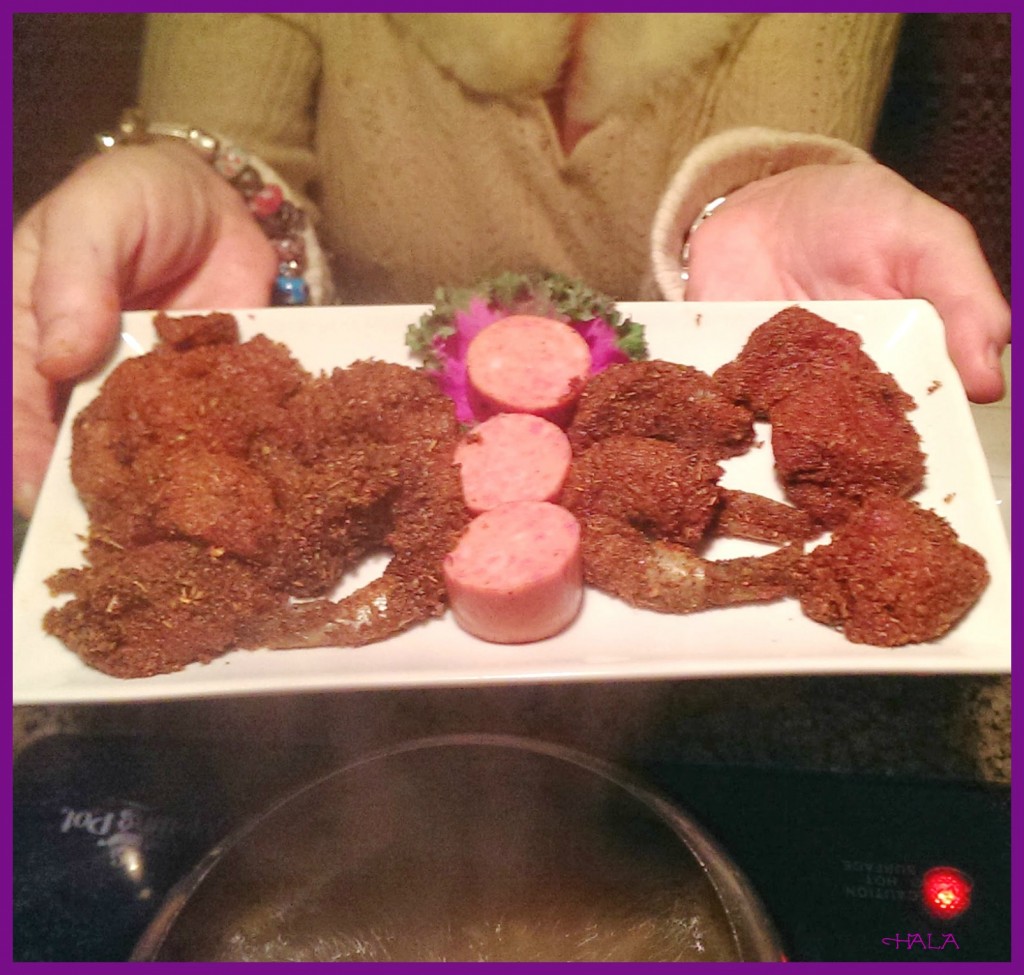 French Quarter Entree
My mom indulged in the French Quarter for her entree, which included, premium filet mignon, an all-natural breast of chicken, Pacific white shrimp seasoned with Cajun spices and accompanied by flavorful Andouille sausage. Her entree smelled and tasted delicious as well.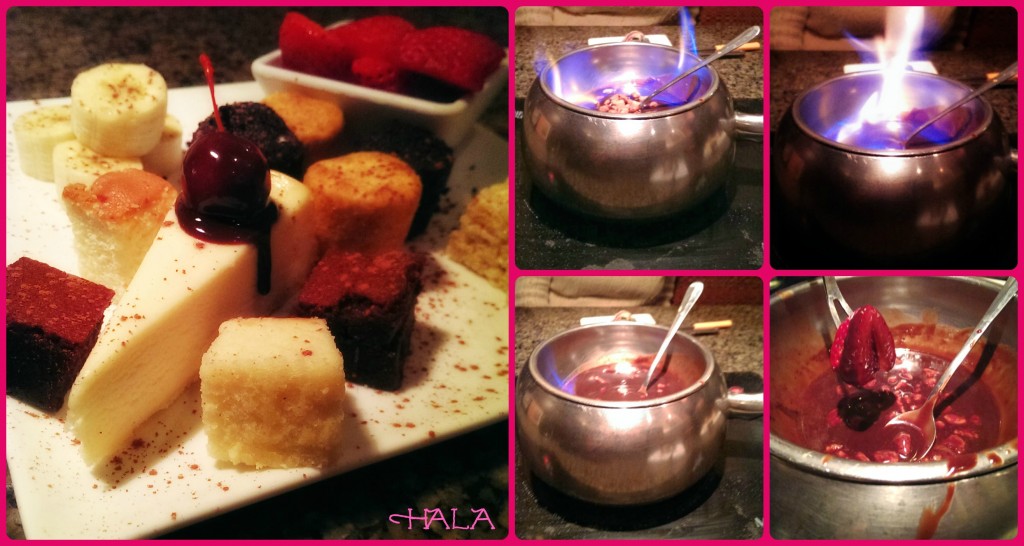 The Flaming Turtle, literally, when it's made, there are flames!! 
Chocolate Fondue

Ok, now for pretty much the best part. Dessert! How can you not want dessert? Especially at a fondue place? The fondue experience wouldn't be complete without chocolate fondue for dessert! You don't want to forget to experience the perfect fondue finale with decadent chocolate fondue creations. Every chocolate fondue creation comes with some delectable Dippers to dip into the chocolate. This includes fresh strawberries, blondies, bananas, pineapple, cheesecake, Rice Krispies Treats®, marshmallows, pound cake and brownies. Here are some of your choices to choose from for the Chocolate Fondue! The Original- Original milk chocolate fondue swirled with crunchy peanut butter. Pure Chocolate- Milk, dark or white chocolate melted to decadent perfection. Flaming Turtle- Consider it fondue candy. It's an irresistible combination of milk chocolate, caramel and candied pecans flambéed table side. Chocolate S'mores- The fondue version of this classic presents milk chocolate with marshmallow cream, flambéed and topped with bits of graham crackers. Yin & Yang- This fondue satisfies dark and white chocolate cravings in an artfully balanced fondue dessert.
The Flaming Turtle was irresistible just like the menu said  it would be. Very chocolately, with more caramel and candied pecans as well as tons of yummy milk chocolate! We managed to make enough room for all of this dessert of happiness. It was a lot of happy on one plate. I only wish here as well that I would have been able to lick that fondue plate clean of all the chocolate fondue!
You can Connect with the Melting Pot Here:
Have you been to the Melting Pot lately? Is there something you just have to have every time you come? Or if you are new to Melting Pot, what are you looking forward to trying out?
Happy Fonduing! =)