My Adventures with the 2014 Forester!
By Erin
*Disclosure: I am a voluntary participant in the Subaru of America Forester Blogger Program. I have been asked by Subaru of America to review their products in exchange for the use of a short-term vehicle loan and a gas card. As always, all opinions are 100% my own.*
Recently I had the pleasure to test-drive a 2014 Subaru Forester, which you can read more about in  my previous post here:  2014 Subaru Forester, to find out more about this amazing vehicle, my experience, and what I think of it. Now I want to share with you about some of the fun places I was able to drive this safe, reliable, and fun car around town here in Sunny California.
The weekend I had the Subaru Forester it was very warm and sunny. Originally I was planning on taking a road trip with the Forester. However, I got invited to an event that I could not pass up that was taking place in Beverly Hills. Expo West (an all Natural Products Expo) was happening this weekend in Anaheim (the home of Disneyland) as well. With so much going on, I ended up staying around town in the Los Angeles and surrounding Southern California areas.
Come join me on my adventures with the Subaru Forester! 🙂
First stop, work! Hey, at least it was Friday! I had to make a stop at my local Starbucks for a special Friday treat and so I could wake up. It was a little chilly in the morning, but it quickly warmed right up. By the time school was out, I was so glad that I was driving the Forester. Air Conditioning, moonroof…? Two things my current car does not have!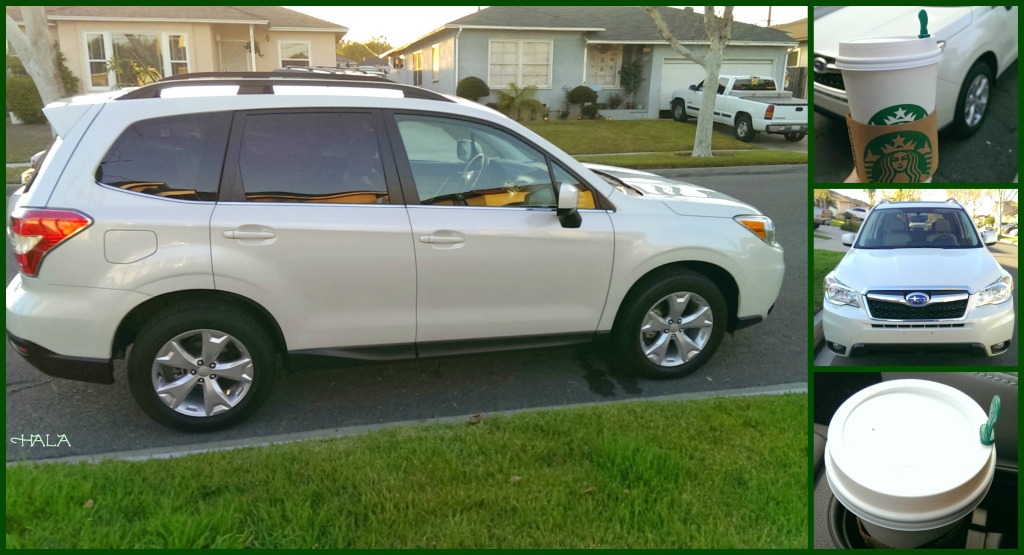 Finally the weekend! Time for some fun! Off to Expo West I go! Recognize where I'm parked at? 😉 It is at Angel Stadium in Anaheim, CA if you couldn't tell. I love the moonroof! Here you also see the sun shining brightly through it! With so many cars and people at the stadium, the EyeSight Driver Assistance came in extra handy here.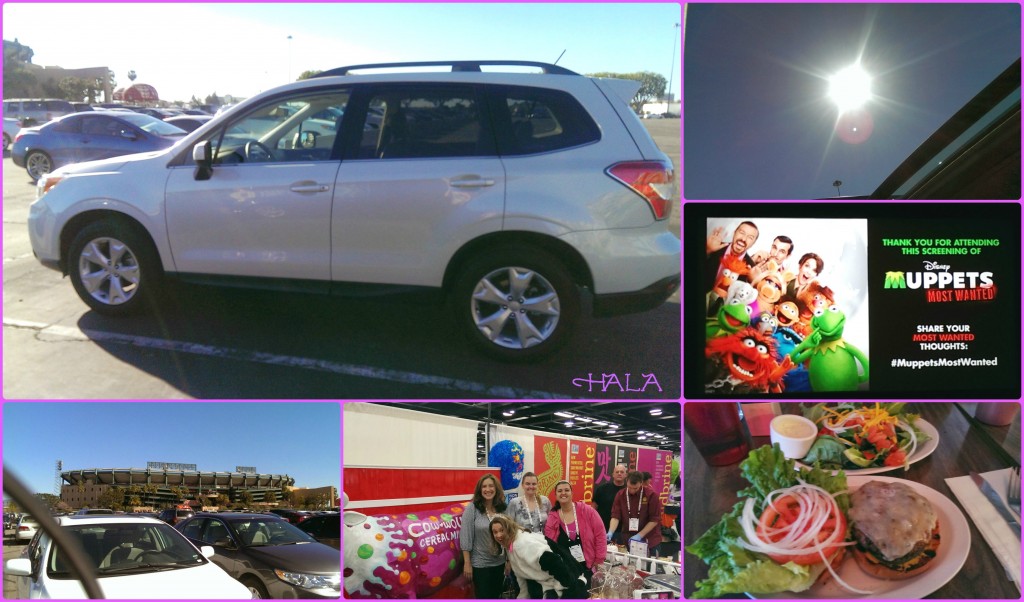 Later that evening, after the Expo, we went up to Burbank, CA, to the Walt Disney Studios to see an advance screening of The Muppets Most Wanted movie! I had a Press Junket to go to in the morning up in Beverly Hills for this movie, so I needed to see it first!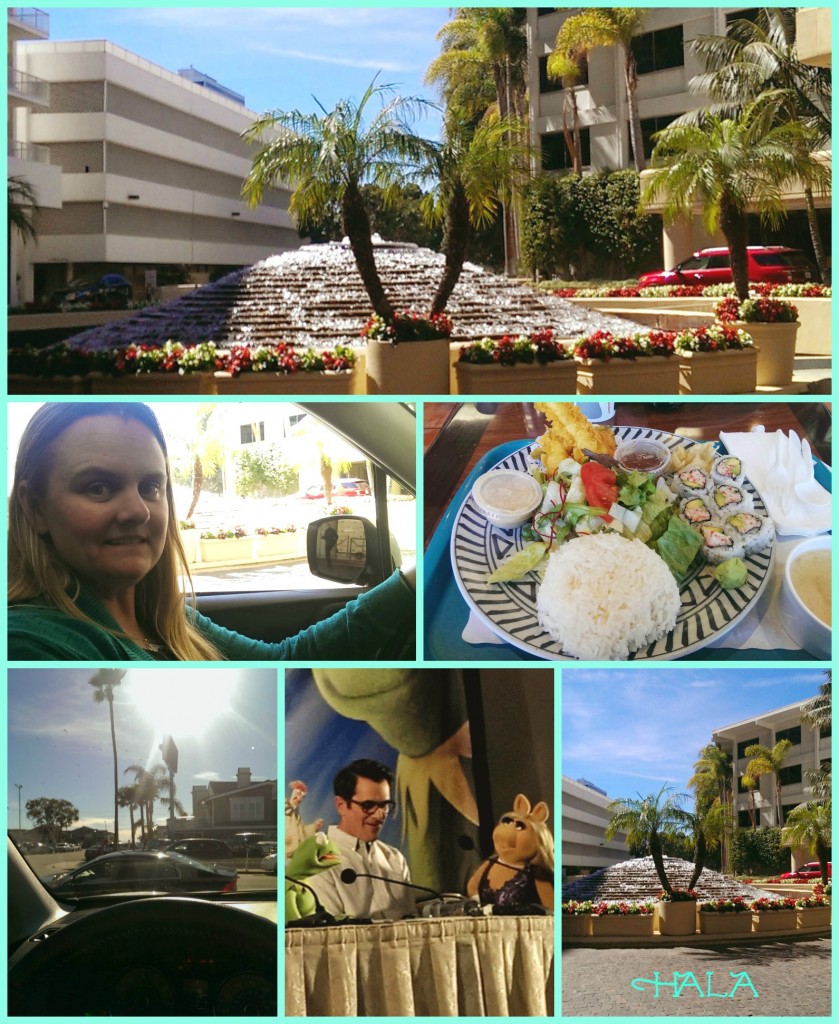 Sunday Funday! Time for the Muppets Most Wanted Junket! This also happened to be the Sunday that the time changed AND the L.A. Marathon was taking place, so we were getting up EXTRA early to make sure we made it up to Beverly Hills on time! With the Forester, we got there with plenty of time to spare. Where we ran into some problems though was when we were leaving the Beverly Hills area. As we were trying to leave to head over to another place for a media lunch across town on the other side of Los Angeles, many of the streets were still closed due to the L.A. Marathon still going on. Traffic sucks normaly in LA, now times that by 10 when the streets are closed and that's what we were dealing with. Thanks to the air conditioning, SiriusXM Satellite Radio, GPS Navigation System, moonroof, and the smooth and comfortable ride of the 2014 Subaru Forester; it was completely bearable. In my other car, with no Air Conditioning and none of these other fancy perks… I would have been totally miserable and grumpy as I would have been sweating bullets trying to figure this maze of closed roads out.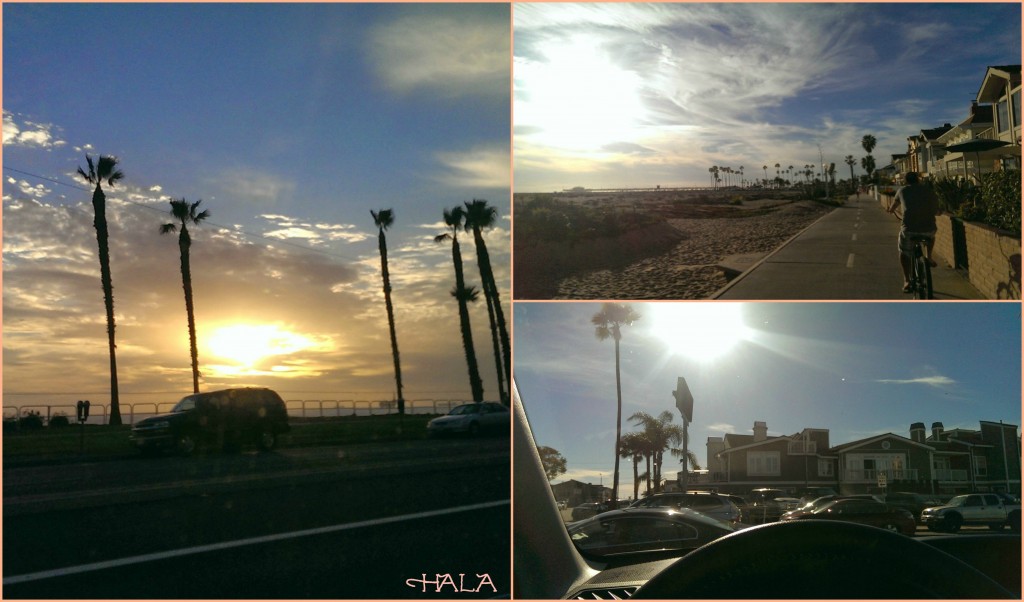 What would a beautiful sunny weekend in Southern California be without a trip to the beach? Yep, that was the last thing on my list of places to drive the Forester to for now. The beach! We enjoyed a fun bike ride on the beach right before sunset then enjoyed a delicious dinner before heading back home and getting ready for the week ahead.
Time to drive the Subaru Forester off into the sunset now! 😉 Thanks for following along with me with this exciting adventure! 😉
To Connect with Subaru on social media, you can find them here: