The Muppets are Here! Muppets Most Wanted
By Erin
It's here! It's here! It's finally here! The new movie, Muppets Most Wanted has finally arrived in theaters today! I had the chance to see a press screening of the movie and here's what I have to share about this wonderful film.  There's so much to love about the Muppets, you won't want to miss this one.
The entire gang is back, heading out on a global tour, selling out grand theaters all throughout Europe. Of course, it doesn't take long until trouble finds them wrapped up in an international crime caper. Kermit has a doppelgänger, named Constantine, who is the World's Number One Criminal.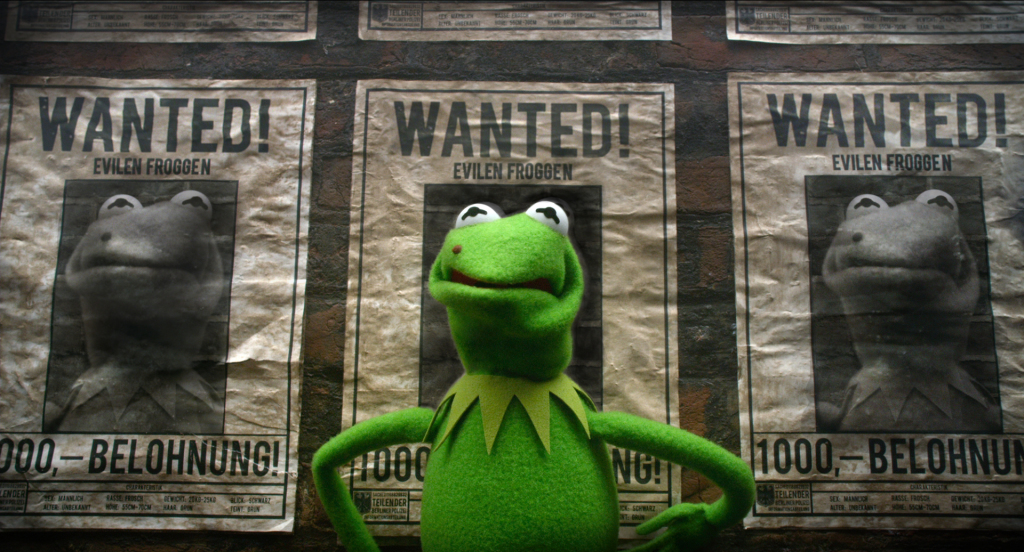 The Worlds Number One Criminal, Constantine. (Photo Courtesy of Disney)
There is so much to love here. There is comedy, a caper, new lovable songs, cool cameos, an awesome cast and a possible muppet wedding!
*The Cameos* 
In the grand fashion of the muppets, the film hosts an array of cameos that will leave you wondering who will pop up on the big screen next. A few you can look forward to seeing are: Usher, Celine Dion, Christoph Waltz, Sean Combs and Salma Hayek.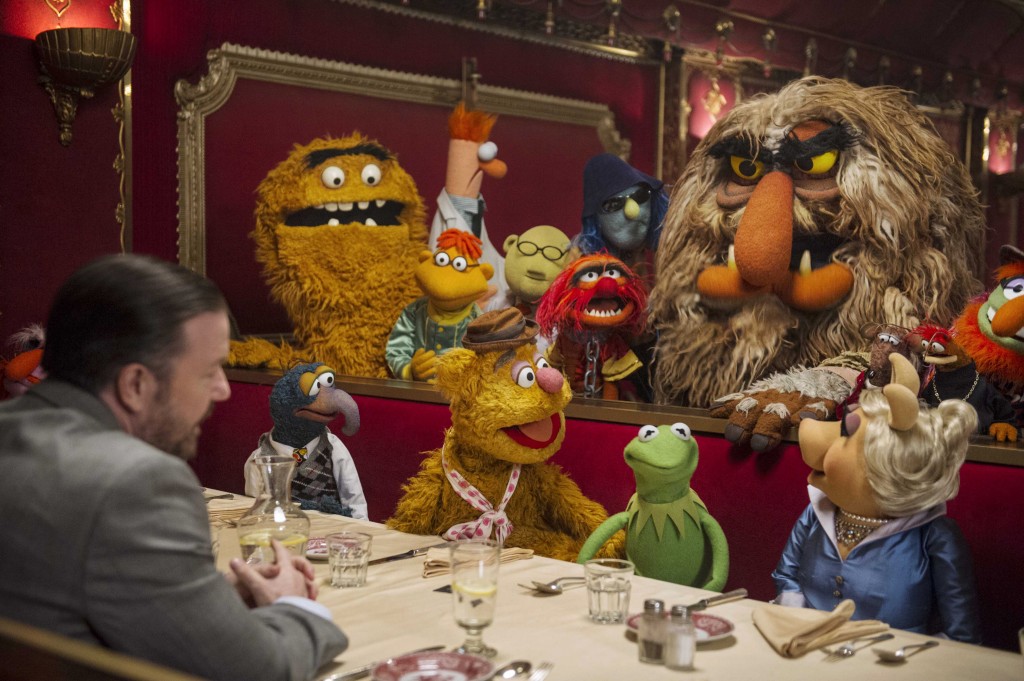 Kermit and the Muppets decide to go on a Global Tour. (Photo Courtesy of Disney)
*The Cast*
An all-star cast is sure to make this film a hit.
~Kermit the Frog
~Constantine– The World's Number One Criminal
~Dominic Badguy: Ricky Gervais
~Miss Piggy
~Nadya: Tina Fey
~Jean Pierre Napoleon: Ty Burrell
~Sam Eagle
~Fozzie Bear
~Walter
~Animal
~Gonzo the Great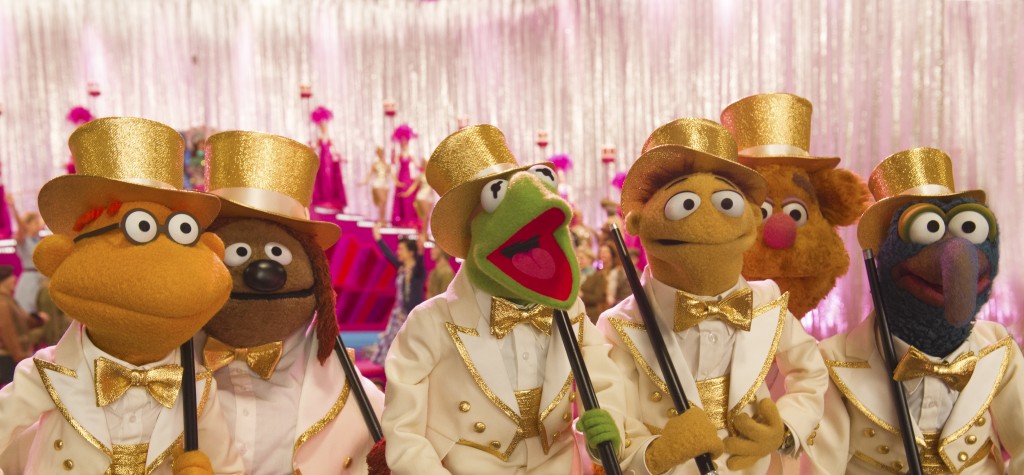 The Muppets performing on stage. (Photo Courtesy of Disney)
*Musical Mayhem  Makes for Some Catchy Tunes*
What would a muppet movie be without the musical aspect that has made them so famous and popular for the past four decades? With songs by Bret McKenzie and score by Christophe Beck you know you're in for a special musical treat. A few of the songs you may be singing to yourself as you leave the theater include, "They've Ordered a Sequel," "We're Doing a Sequel,"The Big House," "I'll Get You What You Want," "Interrogation Song," & "Something So Right."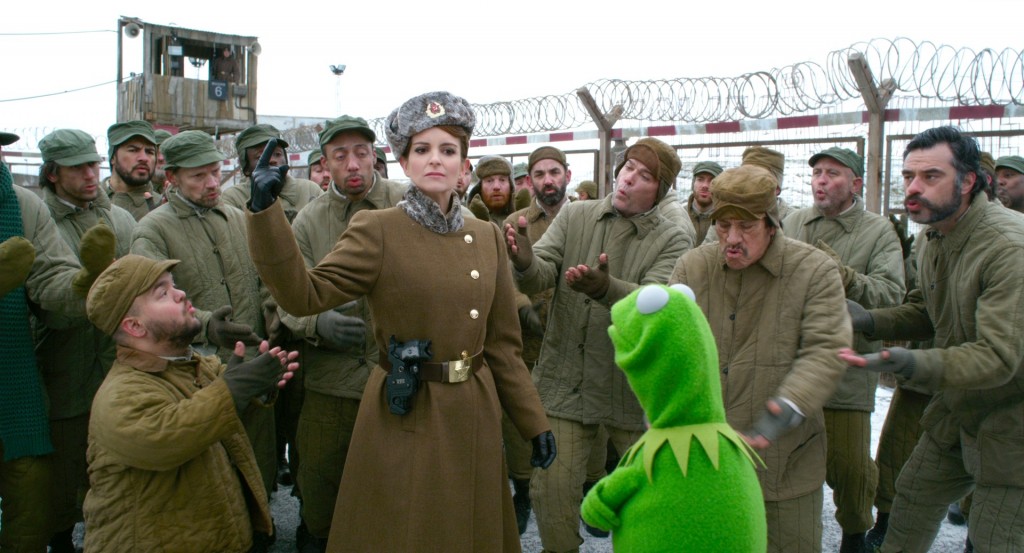 What's Kermit doing here? (Photo Courtesy of Disney)
I truly adored watching Tina Fey play the part of Nadya.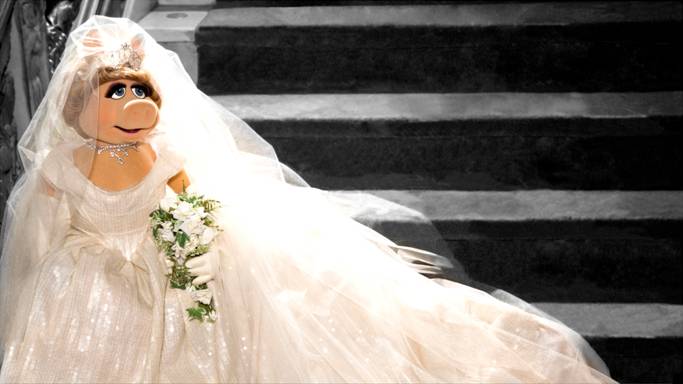 Will Ms. Piggy and Kermit the Frog finally tie the knot? (Photo Courtesy of Disney)
I throughly enjoyed seeing Muppets Most Wanted. There is only one thing I wish was different about the movie…. but I cannot say what that is as  I don't want to give away all the surprises that are in store when you go see it for yourself. I'm sure you will see what I mean when you do. 😉
You won't want to miss this fun filled short at the beginning of the movie, called "Party Central!" (Photo Courtesy of Disney)
You can connect and follow along in all the Muppet fun here:
Follow The Muppets on Twitter
Follow Miss Piggy on Twitter 
Follow The Muppets on Instagram 
Visit the Official Muppets Most Wanted Site
So, what are you waiting for? Go out and see the movie already! You know you want to…. Kermit and Miss Piggy are waiting for you! 😉