Horsing Around in Circle D
*I was recently part of a fun Blog Swap, where some of the lovely ladies from the SoCal Lady Blogger Group decided that we would see what it was like to blog in someone else's shoes. You will see my post about Grace posted up on Megan's blog, Sunshine Wonderland in the near future. Mindy from Budget Fairy Tale was chosen to guest post for me. The most obvious thing I could think of to ask Mindy to write about for me was about horses, given that's part of my blog's name and something I felt wouldn't be too difficult to ask someone to write about. Well, Mindy had the brilliant  idea to join our loves for Disneyland with my love for Horses to create this wonderful post. I hope you enjoy learning about the horses of Disneyland as much as I did!*
By Mindy
Hi everyone! My name is Mindy and I blog at Budget Fairy Tale. I want to thank Erin for having me on Horsing Around in L.A. today! Since I love writing about Disneyland, and Erin loves writing about horses, it only made sense for me to combine our loves and write a little bit about the Disneyland horses!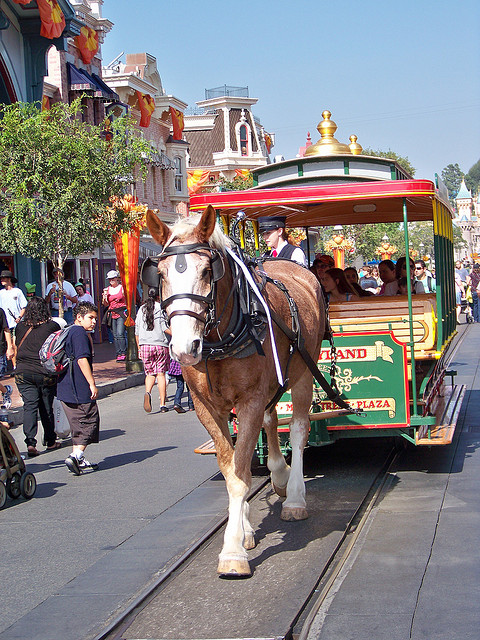 Michelle drives the Horse-Drawn Streetcar up Main Street" by Castles, Capes, and Clones on Flickr, used under Creative Commons license.
If you're a long time resident of L.A. then no doubt you have been to Disneyland, probably multiple times. I'm sure you are familiar with the gorgeous Disneyland horses that pull the street cars. The same horses also lead Cinderella's Carriage at Disneyland weddings! But have you ever thought about where they go at night? It's not like the Mickey and Minnie costumes that can be placed on a shelf or hung in a closet. Live animals need careful care and attention, of course. That's why Disneyland has a full working ranch on property called Circle D!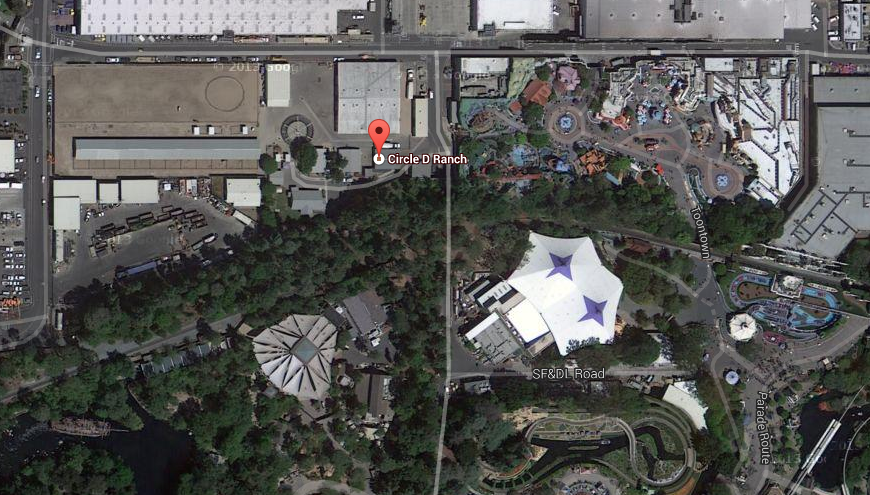 Satellite view of Circle D. Source: Google Maps
Circle D is located just west of Toontown and just north of the Big Thunder Ranch, where the petting zoo is located. When live animals are not "on stage," they chill out in the stables and enclosures at Circle D. If you have ever run a Disneyland half marathon or 10k, you probably ran by the Circle D and maybe even saw some horses.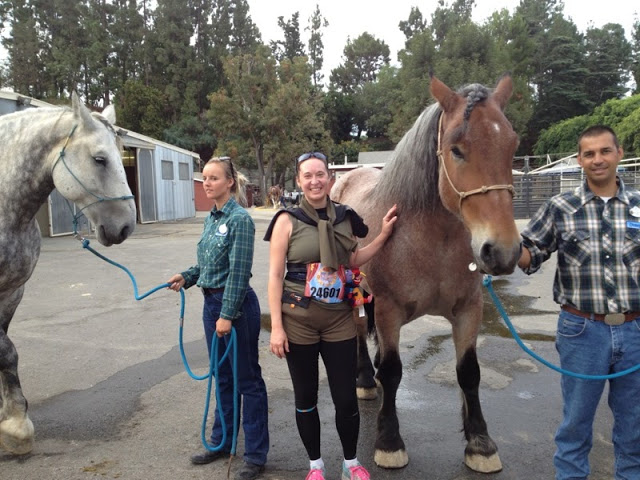 During the 2013 Disneyland 10k. Source: Mindy's personal photo.
The area now known as Circle D was a working ranch before Walt Disney even owned the property. Walt had hired Owen and Dolly Pope to train and care for the horses. The Popes lived in a farm house on Circle D property – the only people to actually live at Disneyland! The house is still standing today, making it the only remaining house on Disneyland property (although no one lives there now). When the surrounding land become known as Disneyland, the size of the ranch was reduced but operations remained the same. Owen and Dolly lived there until the 1970s, when they moved to Florida to help with the operations at the new Walt Disney World. Circle D is probably one of the only areas of Disneyland that hasn't changed much since the resort opened in 1955!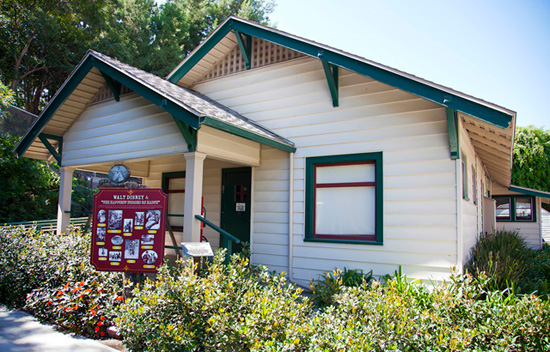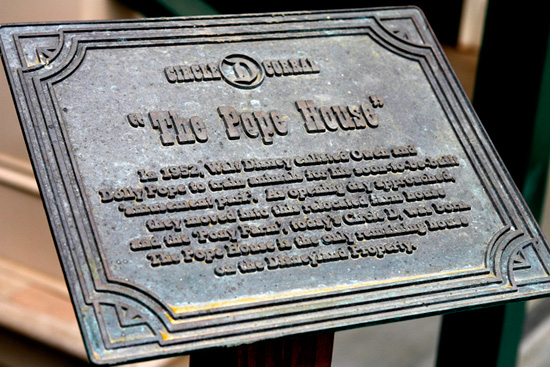 From the plaque:
"The Pope House"
"In 1952, Walt Disney enlisted Owen and Dolly Pope to train animals for his soon-to-be built 'amusement park.' As opening day approached, they moved into this relocated farm house and the 'Pony Farm,' today's Circle D, was born. The Pope House is the only remaining house on the Disneyland Property."
Image Sources: Disney Parks Blog.
Today, Circle D is home to around 30 horses, as well as goats, sheep, birds, donkeys, cows, and sometimes turkeys! Circle D is where the animals are bathed, brushed, and generally cared for by a staff of about 50 people. The four legged Cast Members only work four hours each day, three days a week, and they all have names and nametags, just like two legged Cast Members! The horses go through extensive training to learn how to behave around all those guests, strollers, balloons, camera flashes, mice costumes, and random loud noises.
Circle D is not open to the public, but sometimes Disney will offer tours as part of a contest or promotion. I would sure love to take a tour someday! And I'm sure Erin would come with me, too!
Article sources: Disney Parks Blog – Circle D Corral; Disney Parks Blog – Pope House; Disney By The Numbers

Budget Fairy Tale features musings about my life as a regular girl trying to live the fairy tale lifestyle. Budget Fairy Tale also features Disneyland weddings (including our own!), Disneyland news, DIY projects, style posts, pictures of Pomeranians, and whatever I feel like rambling about. Please stop by and say hello!
Be sure to go check out my guest post on Sunshine Wonderland by clicking the badge below! 😉