A Valentine's Day Celebration at The Melting Pot
By Erin
*This Valentines Day, Whoo Your Sweetheart with an Intimate 6-Course Fondue Experience and Free Chocolate Fondue for One Year as The Melting Pot Irvine and Brea are giving away FREE Chocolate Fondue for ONE YEAR to couples who get engaged at their restaurant on Valentine's Day!

The Melting Pot is one place I love to go to for a fun meal. Whether I want something sweet, like chocolate, or more savory (or maybe both) The Melting Pot has you covered. When I heard about these sweet Valentine's Day specials, I just had to share them with you.
True Love and Endless Love Equals Endless Fondue this Valentine's Day at The Melting Pot OC when it hosts "Endless Love of Fondue" from 5 p.m. to 11 p.m. on February 14th, 2014. A top choice for Best Romantic Dining Experience, The Melting Pot OC will treat guests to an intimate celebration that includes a menu of savory fondues, complete with rose petals and candles, a bouquet of fresh aromatic red roses, a bottle of Champagne, fresh strawberries and silky chocolate fondue.  Thinking of getting engaged on this special night? Let The Melting Pot be the setting for your romantic engagement!
Couples who make a reservation for The Melting Pot's proposal package will receive one free chocolate fondue each month for one year!  How's that for a SWEET deal? Couples' packages start at $275 the True Romance Package featuring a six-course fondue dinner, a half-dozen red roses and premium Champagne, and $375 for The Proposal Package, featuring a six-course fondue dinner, a dozen red roses, premium Champagne with commemorative sparkling wine flutes and one complimentary chocolate fondue each month for one year.
Valentine's Day menu prices range from $64.95 to $69.95 per person. The Melting Pot has two locations in Orange County: The Melting Pot Brea, located at 375 W. Birch Street, (714) 671-6000; and The Melting Pot Irvine, located at 2646 Dupont Dr.,(949) 955-3242. Reservations are recommended.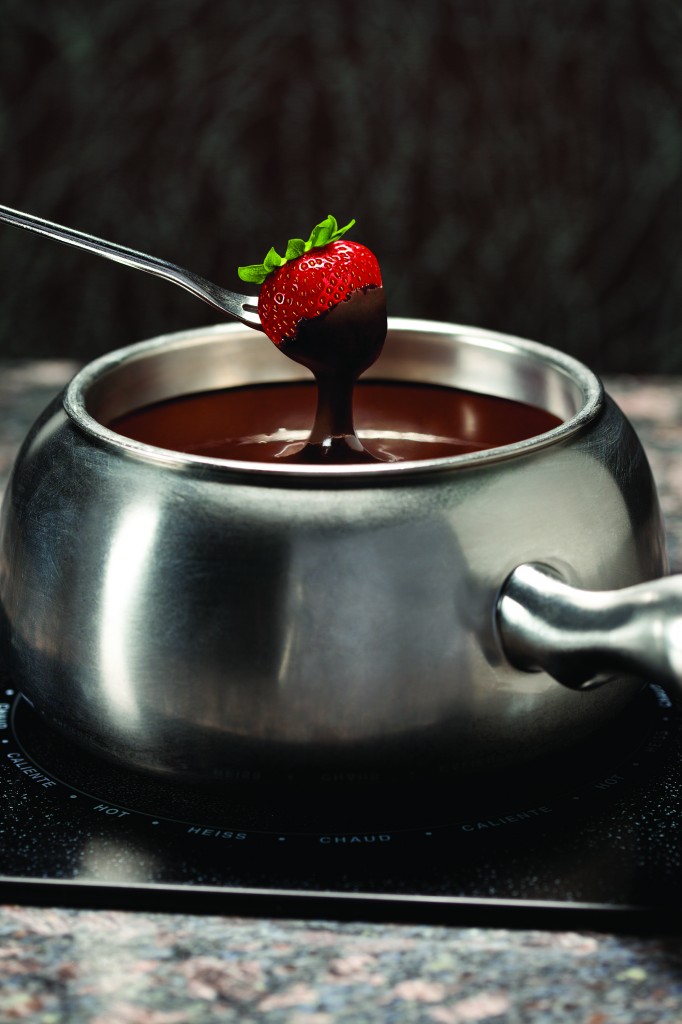 On Valentine's Day, guests may choose from two menus: Endless Love, a prix fixe six-course fondue and choice cuts entrée from $64.95 to $69.95 and Late Night Romance, a light bite menu available from 10 p.m. to 11 p.m., featuring cheese fondue, farm fresh salad, chocolate fondue with a celebratory cocktail from $22.95 to $29.95.  The Melting pot is the perfect spot for a romantic night out!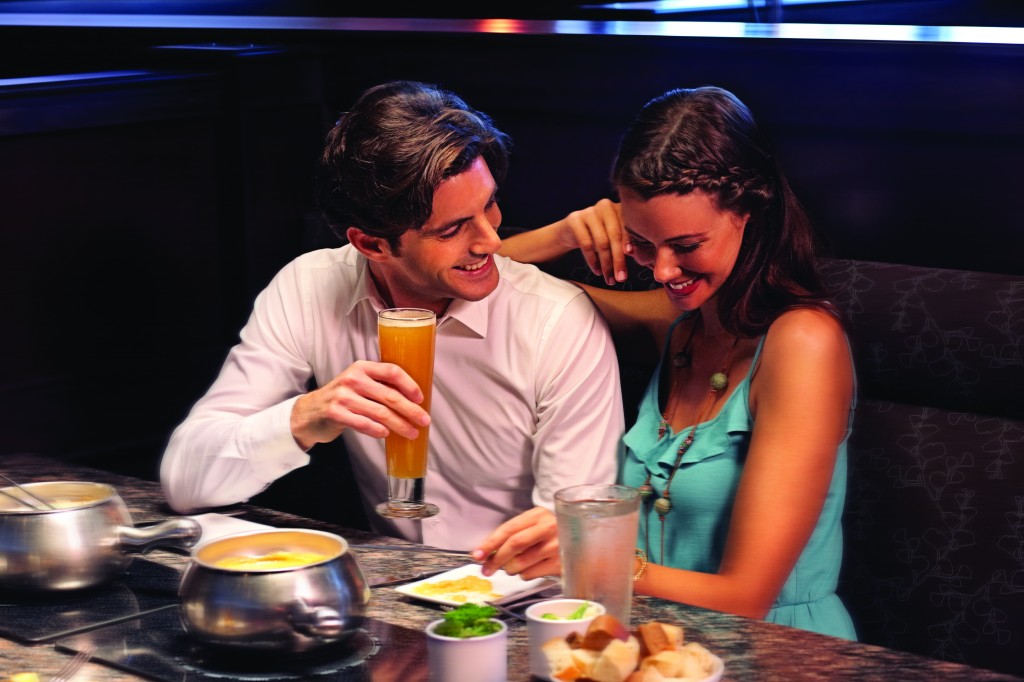 Endless Love
1st Course
Choice of Starter:
Crab Claw Cocktail  or Prosciutto-Wrapped Melot
 2nd Course
Choice of Cheese Fondue:
Loaded Baked Potato Cheddar * Mediterranean
3rd Course
Raspberry Sorbet
4th Course
Choice of Salad:
Strawberry Pecan Salad * Caesar Salad * Beet and Feta Salad
5th Course
Filet Mignon Florentine, Basil Pesto Chicken, Lobster Tail, Pacific White Shrimp, Atlantic Salmon with Five Cheese Heart ravioli Asparagus and Portobello Mushrooms
 6th Course
Choice of Chocolate Fondue:
Crème Brulee or Dark and Dulce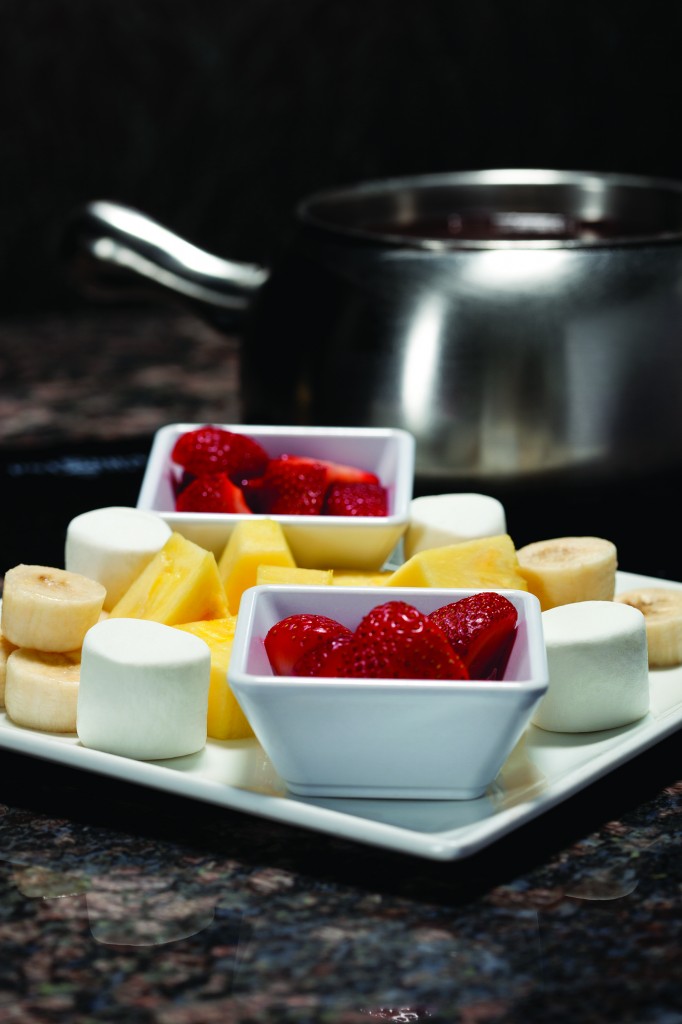 LATE NIGHT ROMANCE MENU
Available from 10 pm-11 pm
Late Night Menu selections include a celebratory cocktail,
premium dippers and a gift per couple
Cupid's Delight
Cheese Fondue, Salad, and Chocolate Fondue
$39.95 per person
Lover's of Fondue
Cheese Fondue or a Salad, and Chocolate Fondue
$32.95 per person
The Perfect Ending
Chocolate Fondue
$22.95 per person
Celebratory Cocktail Selections
Kir Royal
Magnifico Ginger Pech Champagne
Love Martini
Burnt Almond Mocha
White Chocolate Cappuccino
Select Glasses of Wine
Non-Alcoholic Selections
Cappuccino
Mocha
Fresh Muddled Lemonade
* Strawberry, Blackberry, Raspberry
Additional Information
A vegetarian option is also available for $64.95.
Single? Don't let that get you down, grab some girlfriends and head out for the time of your life. Or maybe you just want a fun night out with the girls instead of spending it with your guy? Well the Melting Pot is THE place for fun times with the girls as well, no matter what time of year it is.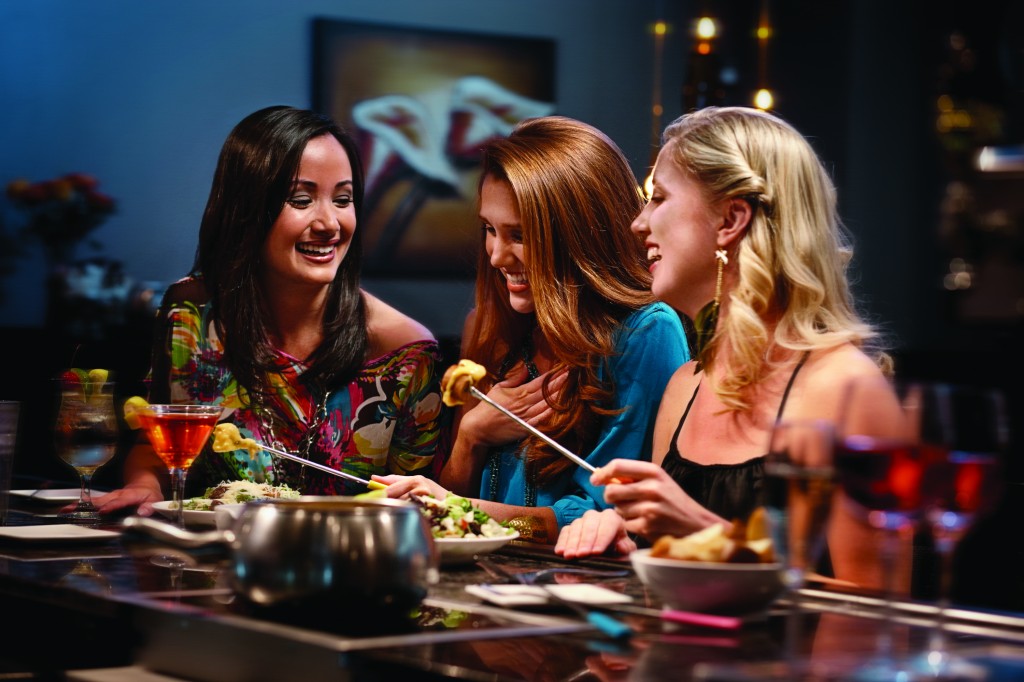 ABOUT THE MELTING POT
The Melting Pot is an award-winning fondue eatery that caters to guests who like to "dip into something different." State-of-the art cooking mixed with ambrosial cheeses and a variety of savory seasoned bouillon broths for dipping a wide array of entrées such as fresh beef, lobster, shrimp, pork, poultry, tofu and gourmet vegetables. The Melting Pot's delicious selection of specialty chocolate fondues served with seasonal fruit, cakes and brownies. Guests may enjoy a glass of wine from their award-winning wine list, or try one of our sinfully creative martinis. Separate dining areas are available for large parties. Two locations are in Orange County: in Brea and in Irvine.
Have YOU been to the Melting Pot before? What's your favorite thing about the Melting Pot, or what would you just love to try?
I hope everyone has a Happy Valentine's Day!
*Pics used are all from and used with permission from the Melting Pot!*