Knott's Goes Pink For the Cure With Susan G. Komen 
By Erin
Disclosure: I will be attending a media event at Knott's Berry Farm courtesy of Gigasavvy to hear about the Susan G. Komen & Knott's partnership. The Knott's Ticket giveaway is also kindly provided by Giga Savvy! All thoughts and opinions remain my own.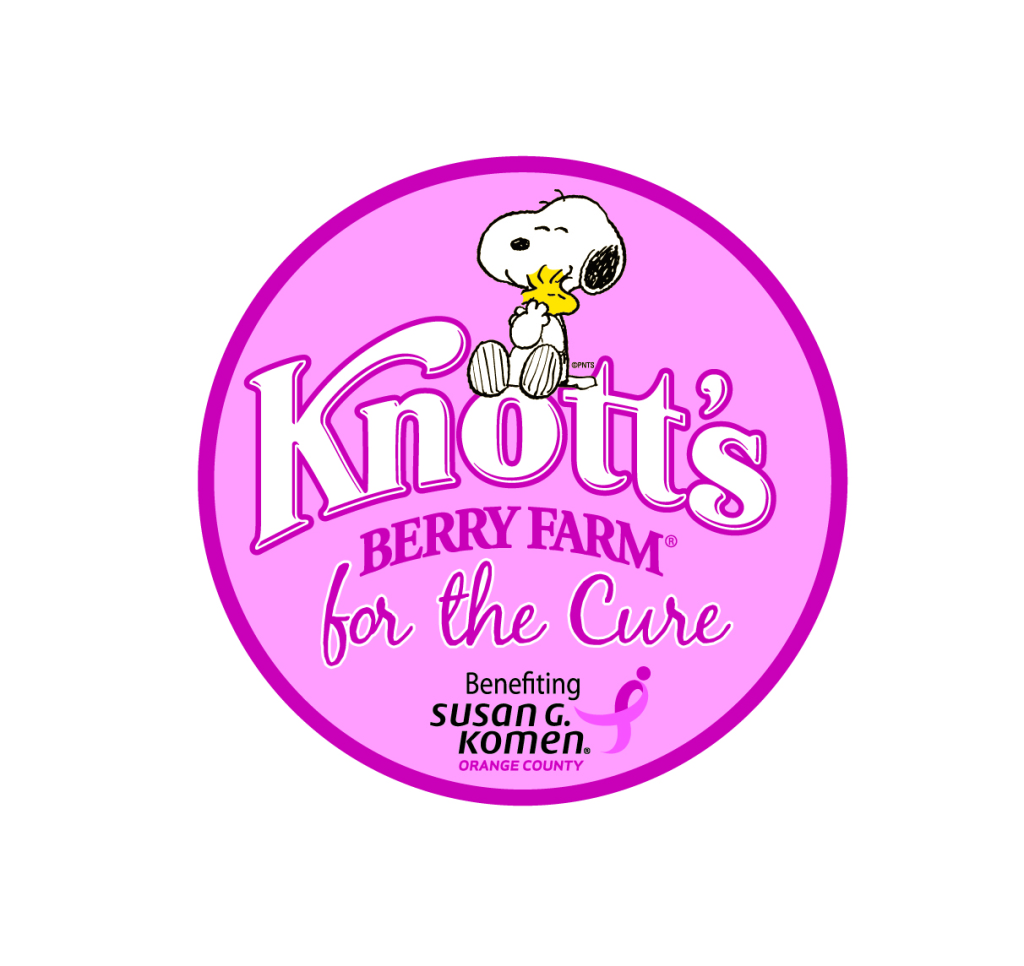 It's no secret that I love the amusement parks that Southern California has to offer. When I heard that one of my favorite places was teaming up with a good cause like Susan G Komen to help fight breast cancer, I knew I had to help spread the word and share about the wonderful work they were going to do together.
For the months of February and March, Knott's Berry Farm and Susan G. Komen of Orange County are working together to raise money for breast cancer awareness, services and research by offering a very special "Pink Ticket" and limited edition specially designed "pink" merchandise. Knott's will offer a specially discounted "Pink Ticket" February 1st-March 31st in support of the organization.
In Orange County, one in eight women will be diagnosed with breast cancer. Thanks to Komen's funding of research, new treatments and awareness of the importance of annual mammograms to detect breast cancer in its earliest and most curable stages, the survival rate for breast cancer has risen dramatically over the 33 years of the organization. The Orange County Komen Affiliate provides mammograms for uninsured women and works with other organizations to bring information to people throughout the county.
The promotion will provide guests with the opportunity to enjoy Knott's world class entertainment, attractions and specially-themed "pink" décor, while supporting an important cause that touches many women. Starting February 1, through March 31, guests can purchase "Pink Tickets" for theme park admission only online at www.knotts.com. A portion of the "Pink Tickets" proceeds will benefit Susan G. Komen Orange County.
Knott's Berry Farm has kicked off the promotion by donating $25,000 to Susan G. Komen Orange County. The money that the theme park has already donated will provide 400 women in Orange County with life-saving breast health services. Guests entering the theme park will be greeted by a pink Knott's Berry Farm for the Cure display adorned with Snoopy and his pal Woodstock. Guests can purchase a commemorative limited edition magnet to place on the special display in honor of, or in memory of, someone affected by breast cancer. The magnet will be sold at select merchandise locations inside Knott's Berry Farm and all proceeds will benefit Komen Orange County.
For Knott's theme park information, including hours of operation please visit www.knotts.com Follow and join the conversation by using #KnottsPink.
About Susan G. Komen®
Susan G. Komen is the world's largest breast cancer organization, funding more breast cancer research than any other nonprofit while providing real-time help to those facing the disease. Founded in 1982, Komen has raised more than $800 million in research and provided more than $1.7 billion in funding to screening, education, treatment and psychosocial support programs serving millions of people in more than 30 countries worldwide. Komen was founded by Nancy G. Brinker, who promised her sister, Susan G. Komen, that she would end the disease that claimed Suzy's life. Visit Susan G. Komen.
NOW in honor of this great cause you can enter for a chance to win 2 tickets to Knott's Berry Farm so that YOU can enjoy the pink park at Knott's  or at some other time in 2014 of your choosing! Enter using the rafflecopter below!
No purchase necessary, void where prohibited. This is for 2 (two) Tickets to Knott's Berry Farm and does not include parking, travel or accommodations. Perfect for any SoCal residents or those in the US that may be traveling out to Southern California sometime during the year in 2014. Giveaway ends on 2/9 at 12:00am PST. Winner will be chosen randomly and will be notified via email. Winner will have 48 hours to respond and claim prize or else a new winner will be chosen. All other rules can be found in the Sweepstakes Rules Section on the blog. Not liable for unclaimed prizes or fulfillment. Sponsor has the right to refuse filling prize if winner has won this prize already from other blogs, so that there are no duplicate winners. In which case a new winner would be chosen.
I hope to see you in the park sporting your pink!