Jan's Health Bar: Fresh and Healthy Eats!
By: Erin
After all the fried fair food and BBQ posts from the summer, it's time to be good and have something a bit more on the healthier side, that is still very tasty and delicious. It's fall now, but this week is supposed to warm up well into the 80's again so I have the best place ever for you to go chill out at and relax. It's Jan's Health Bar in Huntington Beach (also in Costa Mesa)! It is just a jump, hop and a skip away from the beach! Located on Main Street, it is just a few short blocks away from the beach.
When Jan's contacted me about heading over to try out their menu, I couldn't refuse. Smoothies? Summer Salads? A refreshing Chicken Salad Sandwich on such a warm summer's day? Best of all, Acai bowls? You don't have to ask me twice! Well, that would go for anything food related… but that's besides the point.
You are probably wondering now why I am so excited about this as it's not deep-fried anything. Take a look for yourself, I hope you can smell the freshness through the pictures that I was able to capture of Jan's amazing offerings.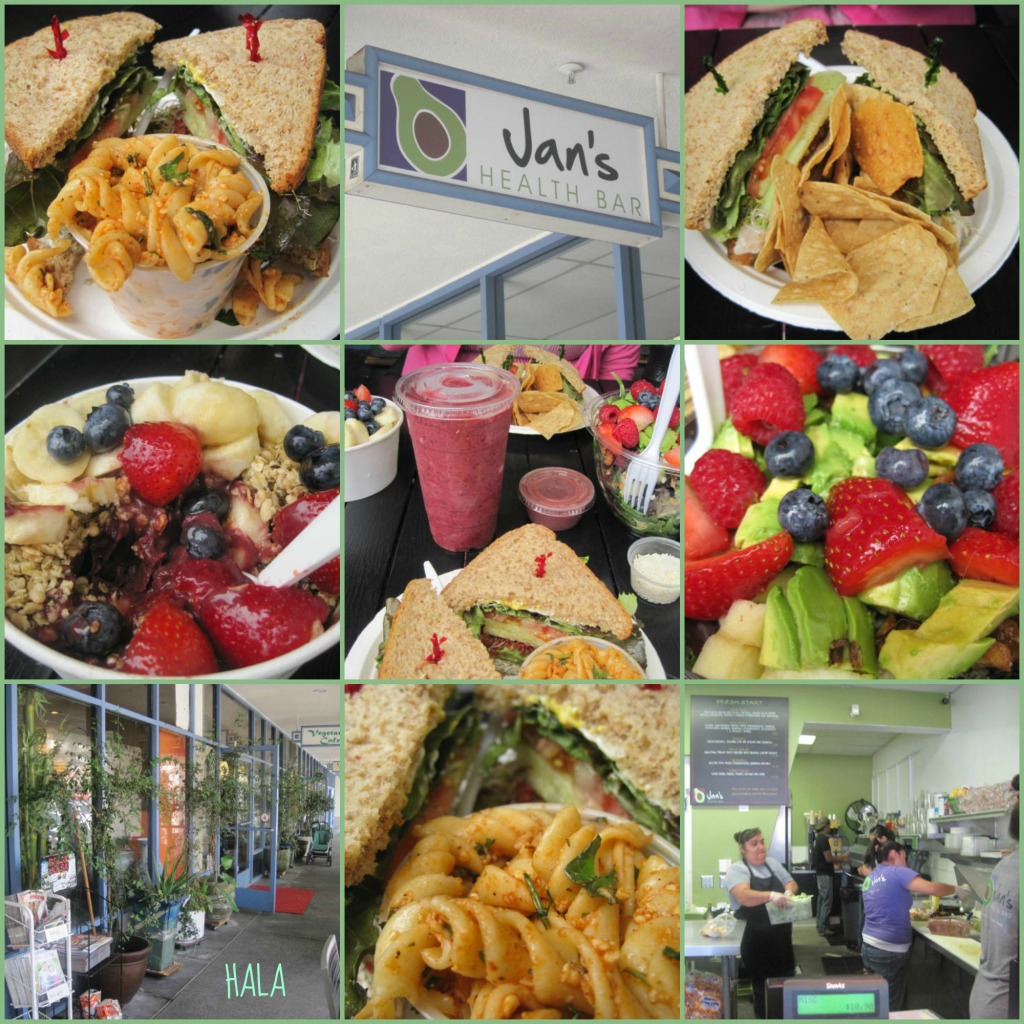 We had the Turkey Avocado and Chicken and Avocado Sandwiches ($8.50 each).  They include mayonnaise, mustard, cucumber, lettuce, tomato, soy bacon bits and sprouts and are served with your choice of chips, fruit, or pasta salad. My friend opted for the chips, while I went for the pasta salad. To wash it all down with, I tried the Sunshine Berry Smoothie ($4.95) The Sunshine Berry Smoothie includes strawberries, raspberries, blackberries, bananas, and fresh orange juice! Yum! So berry refreshing! 😉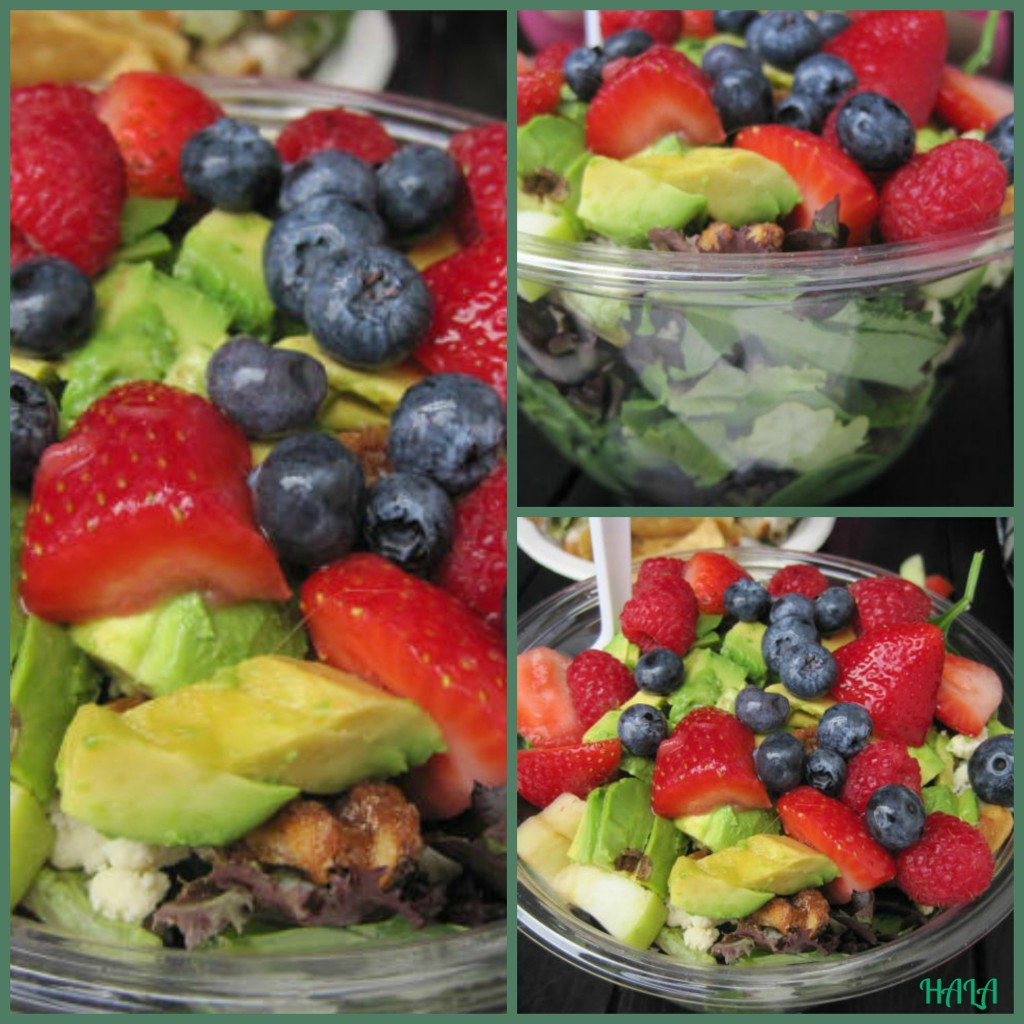 Next we had to try one of their super awesomely fresh looking salads. Their Summer Salad ($7.95) is served with Organic mixed greens, spinach, apples, carrots, candied walnuts, avocado, blue cheese crumbles, topped with fresh berries and served with a light raspberry vinaigrette dressing. You may also add turkey to this salad delight for only $2.00 As you can tell from the pictures above, everything was very fresh, which made for a very crisp, delicious and delightful taste bud experience. Not to mention all of these ingredients are GOOD for you too! Nothing fried here.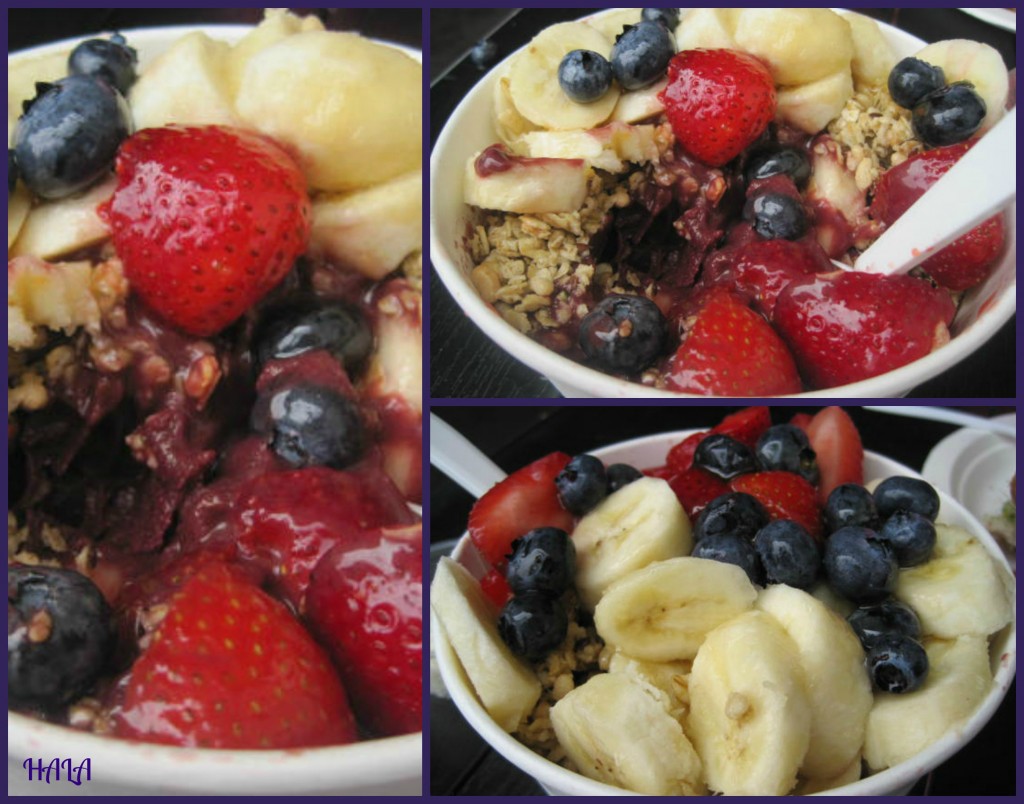 Last, but certainly not least, was my favorite item from the day; their Acai Bowl ($7.95)!! Best.Acai.Bowls. EVER!! Served up with Organic Acai, blended thickly with strawberries and banana, topped with granola, coconut, bananas, strawberries, blueberries, and a succulent drizzle of honey! My oh my, totally delish! All of these ingredients meshed together make for one super energizing and flavorful ordeal. You will want seconds and maybe even thirds of this stuff! Oh and don't get me wrong, their sandwiches and smoothies aren't bad either!! I loved their summer salad. Very light and refreshing with lots of fresh fruit and my weakness, candied nuts! The only complaint we had, if you could call it that, was that we wished their plates that they serve you on were bigger! They give such generous offerings with their servings that it is hard to keep it on the plate and not spill. If the plates were just a little bit bigger, then that would be solved. =) If you are looking for a yummy, tasty, healthy alternative to the usual fast food joint, give Jan's a try! Jan's won't disappoint and will have you wanting to come back for some more healthy goodness! I have been back here numerous times already for their Acai bowls, and you can bet that I will be back again soon! 😉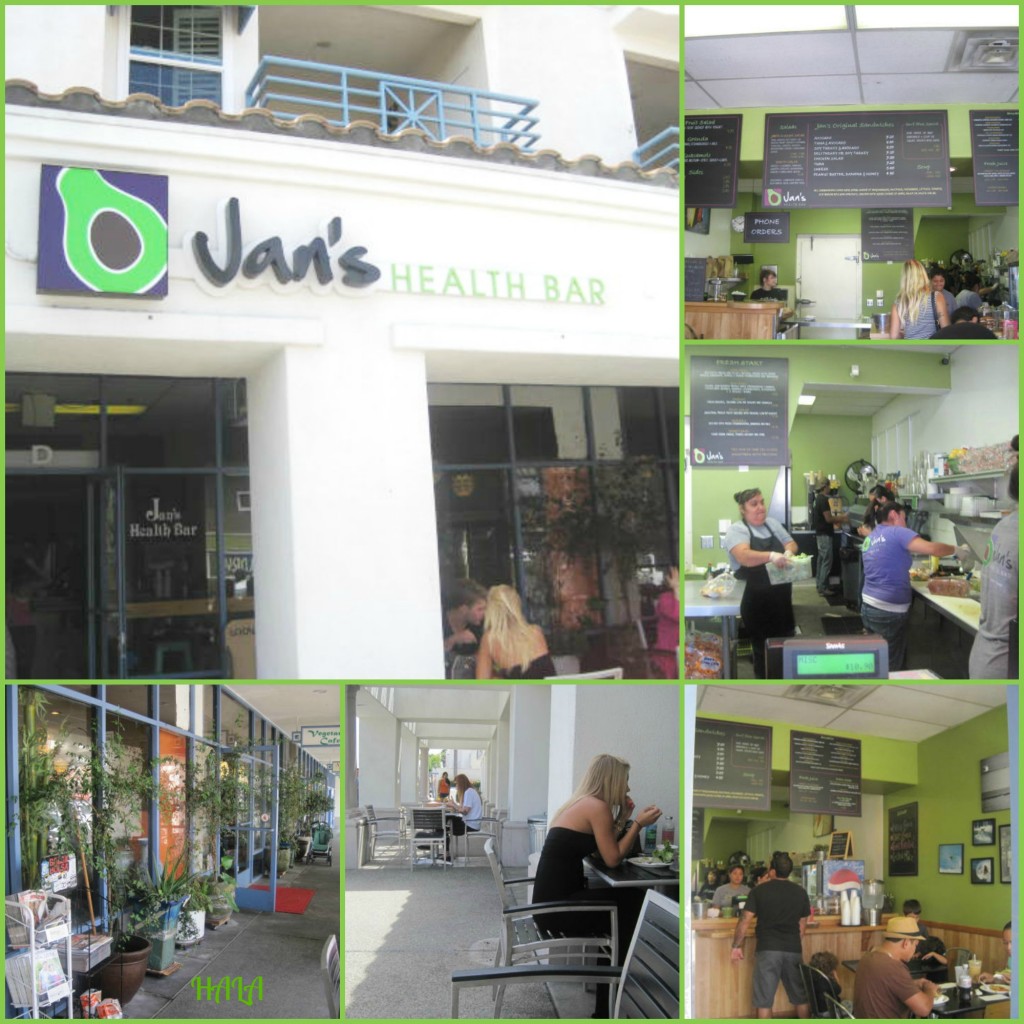 You can also connect with Jan's Health Bar here: Facebook  Twitter Instagram