SmartStrand Carpet: "License to Spill" Tour Comes to LA!
By: Erin
Disclosure: I am a member of the Collective Bias® Social Fabric® Community. This shop has been compensated as part of a social shopper insights study for Collective Bias and their client. All thoughts and opinions remain my own.
Growing up with pets, I know how hard it is to keep carpet clean.  Especially as they get into their older years, it can get really messy. Throw in your occasional spill from time to time and general foot traffic coming through, and if you have kids, then you know how dirty carpet can get, fast! When I learned that the Mohawk SmartStrand was going to be at the Port of Los Angeles Lobster Festival for their License to Spill tour this past weekend, I knew that I just had to check it out and boy was I ever impressed! I was also looking forward to eating some tasty lobster and hanging out with my favorite blogger buddies!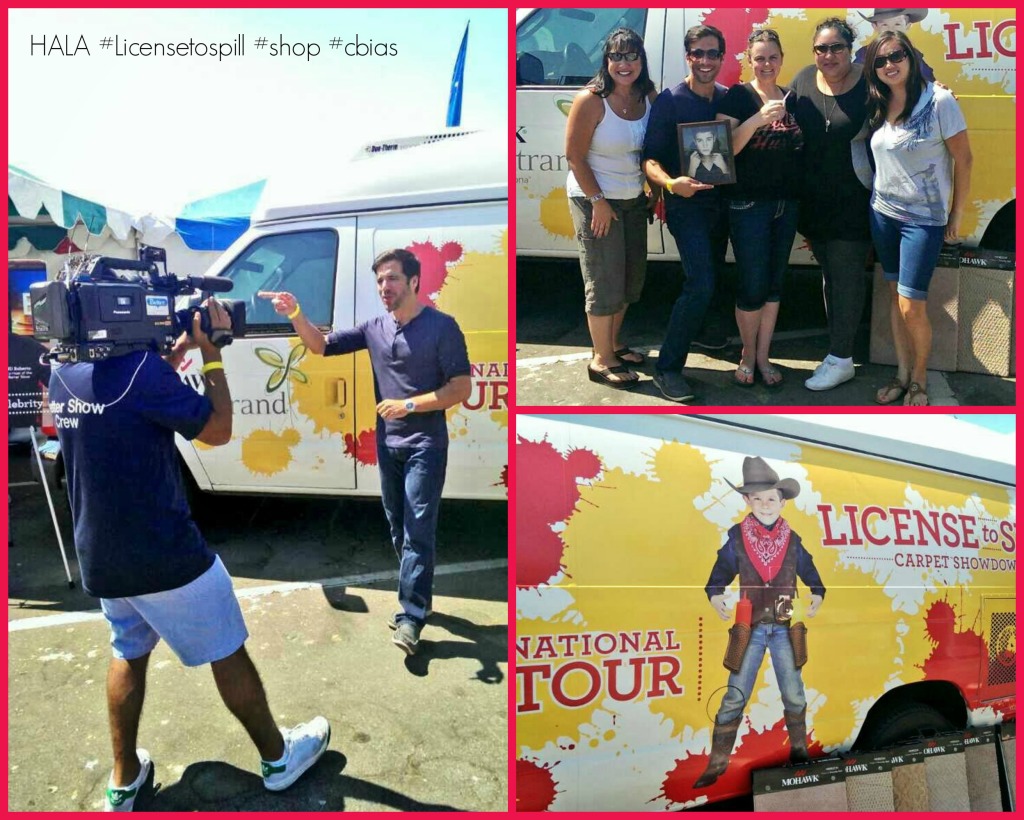 As soon as I arrived I met up with my fellow blogging friends and who should appear then, but JD Roberto, who  is from The Better Show! JD was there to test out the SmartStrand Carpet and to Record about the License to Spill Tour for his show. He was having a great time enjoying the Lobster Fest as he came back from playing one of the games with a  framed Justin Bieber photo that he was going to give to his co-host as a joke.
The smells coming from the License to Spill tour were making me crave lobster even more as they were dishing out samples of Lobster Cioppino by Noramae Munster from Ports O' Call Waterfront Dining.  I could have taken seconds or even thirds of this yummy stuff, but I waited patiently for my lobster!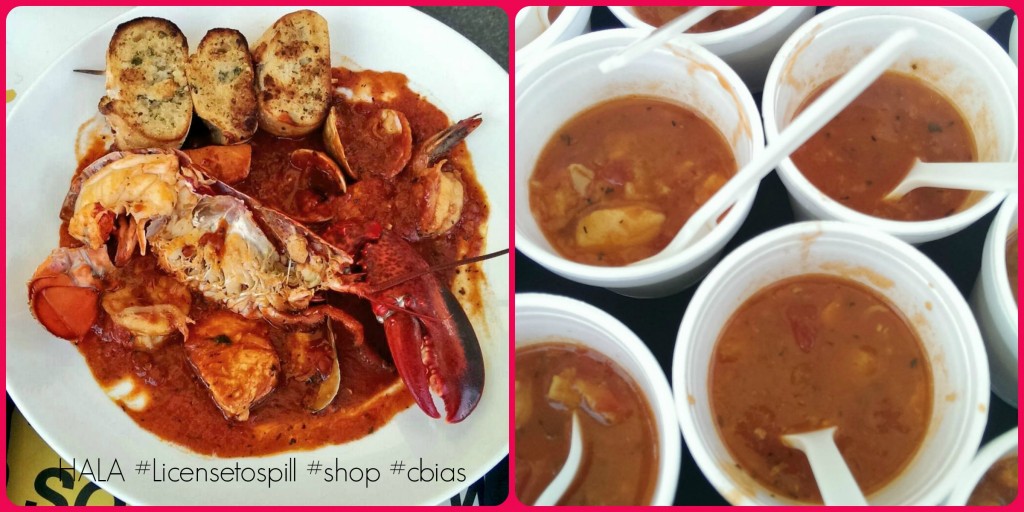 All the delicious goodness, coming from Ports O' Call Waterfront Dining.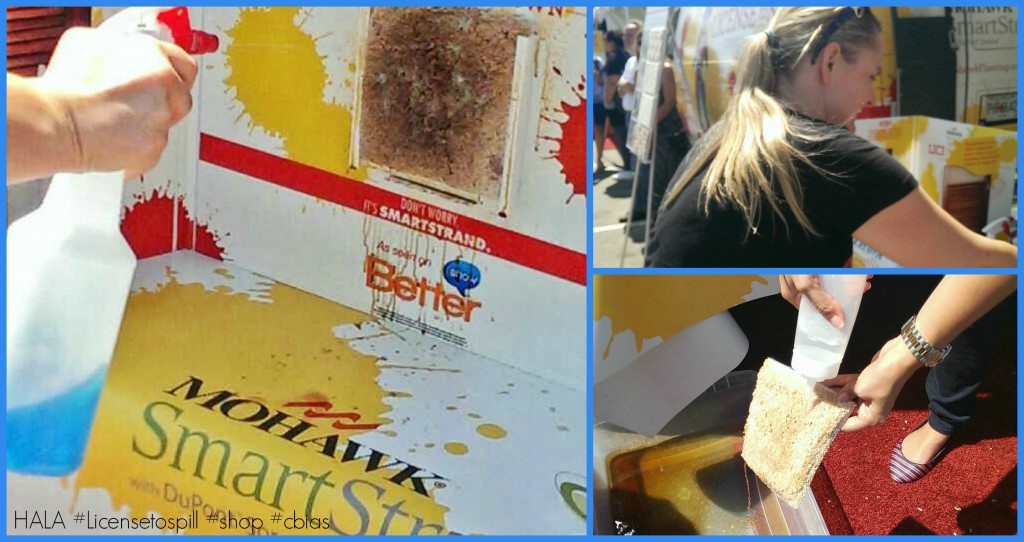 Next, I was shown a demo on the Mohawk SmartStrand and how clean you can get it just by using water. I did my best to get the SmartStrand carpet as dirty as I can! How'd I do? I "spilled" red wine, soy sauce, and kool-aide on it.  But, look!!! It all came out with water! I was blown away by this!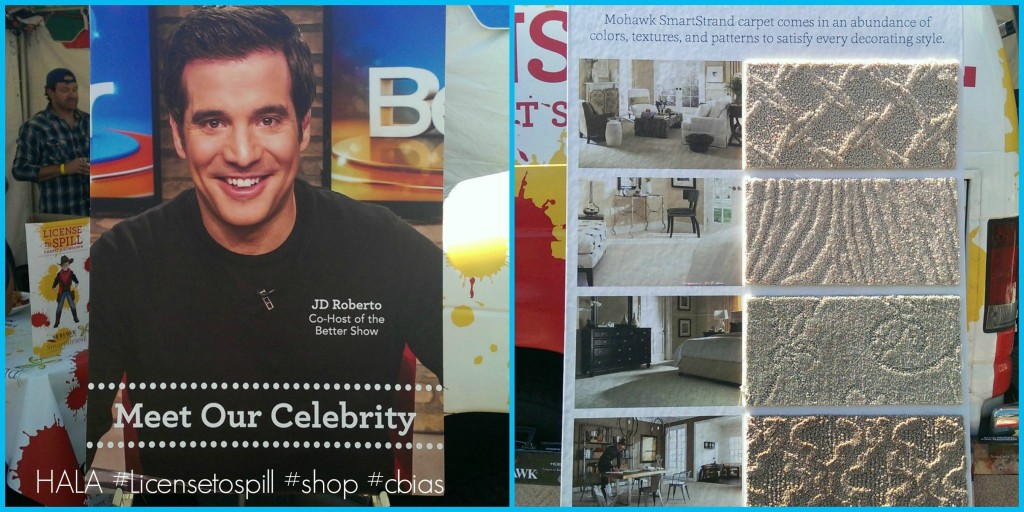 JD is so famous! His pics and photos were up everywhere! Also, which of these carpet strands would you choose if you won a 6′ X 9′ SmartStrand Silk bound carpet.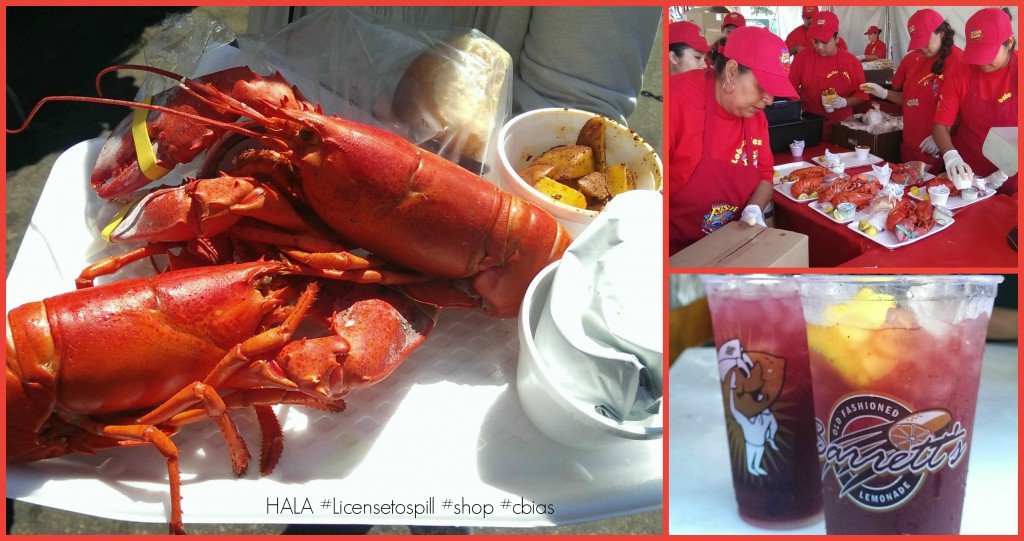 Lobster and Fresh squeezed Lemonade, what a perfect way to end the day at the Port of Los Angeles Lobster Fest!
After seeing the demonstration at the Lobster Fest, I couldn't wait to get home and try it out for myself with the samples that I received! Can it really be true? Well, let's make a mess and find out! 😉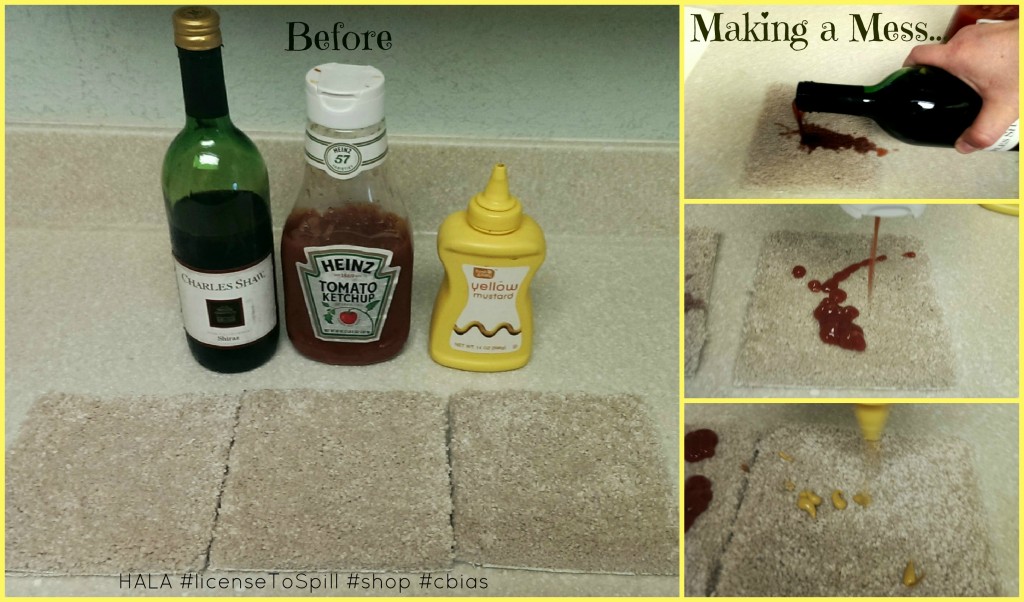 I used Red Wine, Ketchup, and Mustard in my little experiment!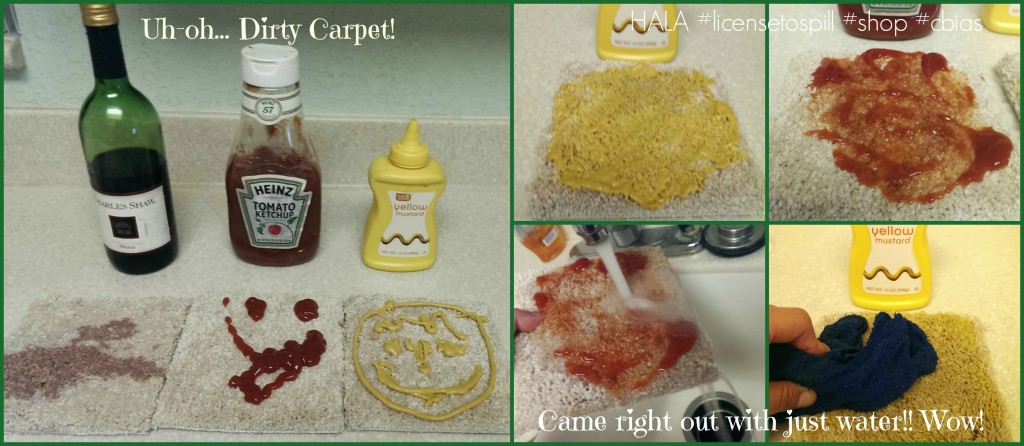 Look what I did to the carpet Ma! I spilled ON PURPOSE!! I'm sure every kid would love (or maybe they already do?) to be able to do something like this to the carpet, and NOT get in trouble for it. I know I had quite a bit of fun doing this. I even smeared in the mustard and ketchup pretty good, just for good measure to make sure it was nice and dirty. The red wine sat, so it could "stain" the carpet and soak in while I played with the mustard and ketchup. Then it was time to apply the water and scrub it with a dishcloth!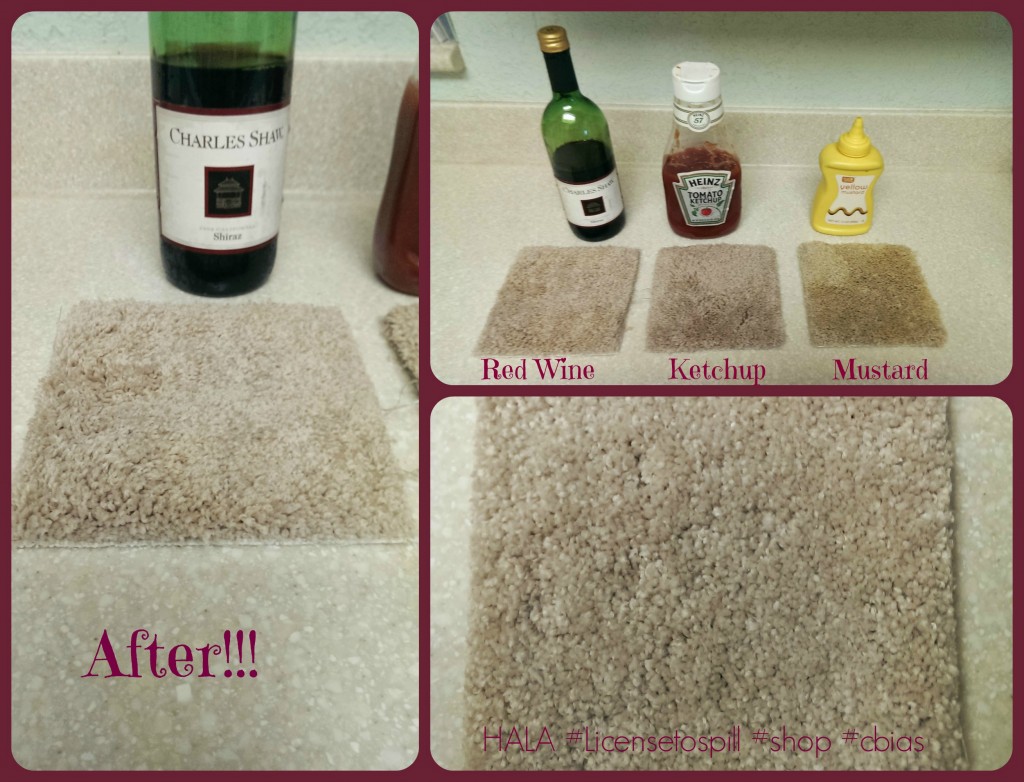 As you can see, ALL of the stains came right out! I couldn't believe it! The mustard one just looks a bit darker because it was the last one I did, and also because it needed the most elbow grease to get out, so it is more wet than the other two. It still just came out with plain water and the  wash cloth though. I did not even end up using any soap or detergent at all for any of these three items! Once the mustard carpet dried out though, it looked just like the rest (see bottom right pic above, that's the mustard sample after it dried out!)
What did I love about SmartStrand?
1. STAIN PROTECTION--SmartStrand has permanent protection built into the carpet fibers to fight against stains and soil resistance. It will NEVER wear off. While other carpets have been treated topically, which wears off over time, you don't have to worry about that with SmartStrand.
2. EASY TO CLEAN— Adios Carpet Cleaners! No harsh chemicals needed to clean this carpet! If you have a dishrag, warm water, and a mild soap or detergent, that's all you will need to get to work on those stains with this carpet! Ketchup, Kool-Aid, or even red wine spills? No problem! All those stains and more clean out easily from SmartStrand carpet. All of your flooring horror stories will soon be a thing of the past, permanently.
3.BEAUTIFUL– This most baeutiful flooring can be purchased through retail partners. Mohawk happens to also be the world's largest flooring manufacturer.
You could enter to win your own 6'X 9′ SmartStrand Silk bound carpet rug by visiting their website below!
I am convinced, how about you? The next time I need to purchase new carpeting, Mohawk will be my first choice!