La Sandia: 2nd Annual Chile Relleno Festival! Thru September 15th!
By: Erin
Disclosure: I was invited out to try the limited time Chile Relleno Festival Menu over at La Sandia. I was not compensated for this post and all thoughts and opinions remain my own.
You might remember last month my post on La Sandia's NEW Latin Light Menu, where you can see the lighter side that La Sandia has to offer. Well, now thru September 15th they have a real treat for you! They are celebrating with their 2nd Annual Chile Relleno Festival!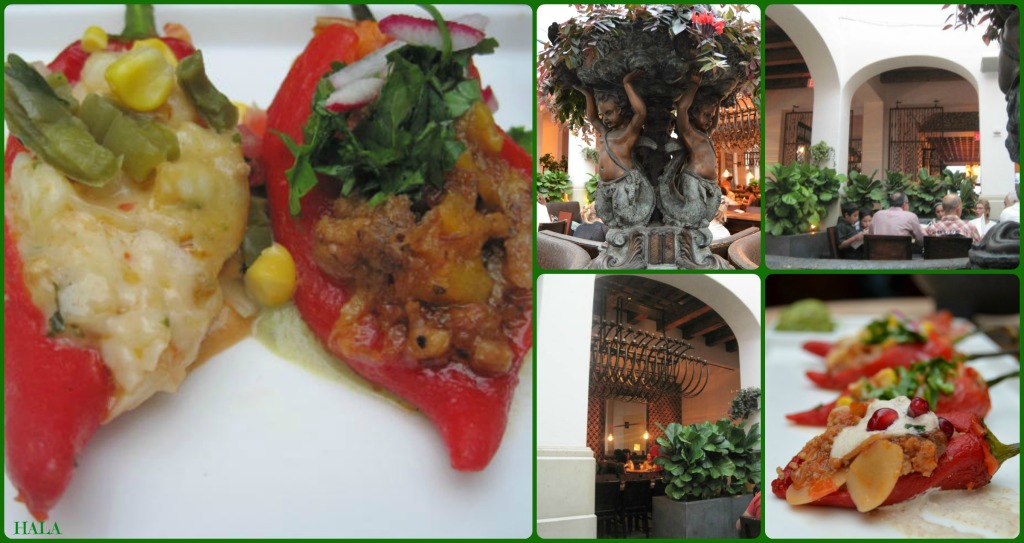 It may be hot outside, but it's even hotter over at La Sandia! With their Chile Rellenos that is! 😉 Whether you like them hot, battered, deep fried, and stuffed with melted Mexican Cheeses, Chef Richard Sandoval's La Sandia over at Santa Monica Place has got you covered! These glorious chile peppers combine bold, authentic Mexican flavors with signature modern spins and twists that you would expect from Chef Sandoval.
Originating in Puebla, Mexico in the 16th century, the Chile Relleno, or "stuffed chile" traditionally calls for a poblano pepper that is stuffed, battered in egg or masa flour and then fried. Today though, much creativity is involved as the fillings, sauces and even the types of peppers that are used can vary by region and personal tastes.
Now onto the Chile's!
First we started off with the Mini Relleno Tasting ($14.95) in which you will get to taste the flavors of all the special chile's they have: En Nogada, Picadillo, Seafood, and Vegetable.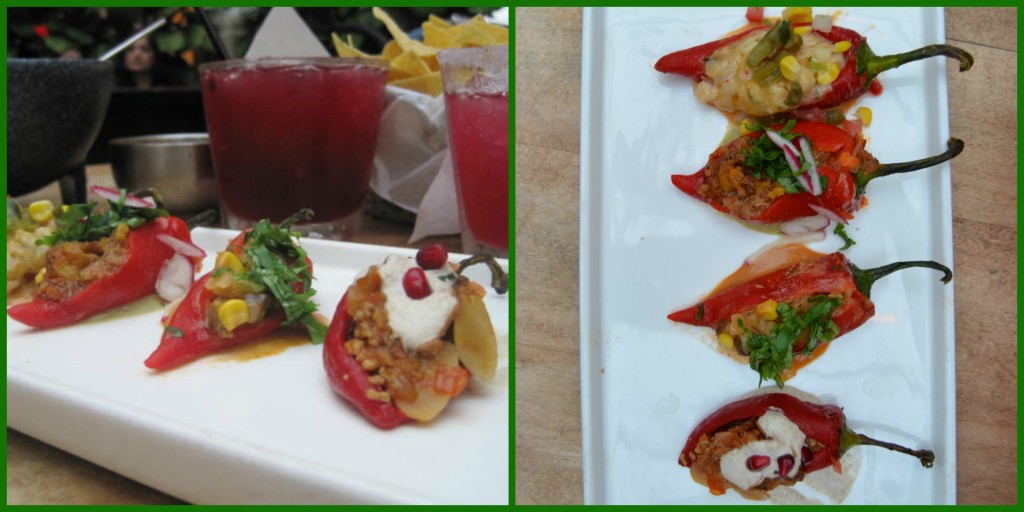 From top to bottom of the photo on the right: Seafood Relleno, Picadillo Relleno, Veggie Relleno, and En Nogada Relleno. My top two favorites are the Seafood Relleno and the Picadillo Relleno. The seafood one was just so fresh, creamy and really juicy with the succulent  shrimp, calamari and scallops! How could I not love the Picadillo one as it has bacon in it?
Here's a brief description of each of Chef Sandoval's Chile Rellenos:

Chile en Nogada Relleno
Poblano Pepper stuffed with Veal, Tomatoes, Onions & Almonds
Served with Cinnamon-Walnut Sauce, Pomegranate Seeds
Chile Picadillo Relleno
Two Pasilla Chiles stuffed with Chorizo, Bacon, Pork & Mashed Plantains
Served with Black Bean Puree, Chile de Arbol Sauce & Cactus Salad
Chile Seafood Relleno
Poblano Pepper stuffed with Shrimp, Calamari, Scallops,
Gouda & Cilantro
Chile Vegetable Relleno
Anaheim Pepper stuffed with Crimini Mushrooms,
                                                                        Squash, Tomatoes, Onions, Corn & Cheese
After trying the mini tasting, we ordered a couple of the regular rellenos to get a comparision of the size of the rellenos. Of course we just had to order our two favorites mentioned above! The Chile Seafood Relleno ($19.95) and the Chile Picadillo Relleno ($18.95).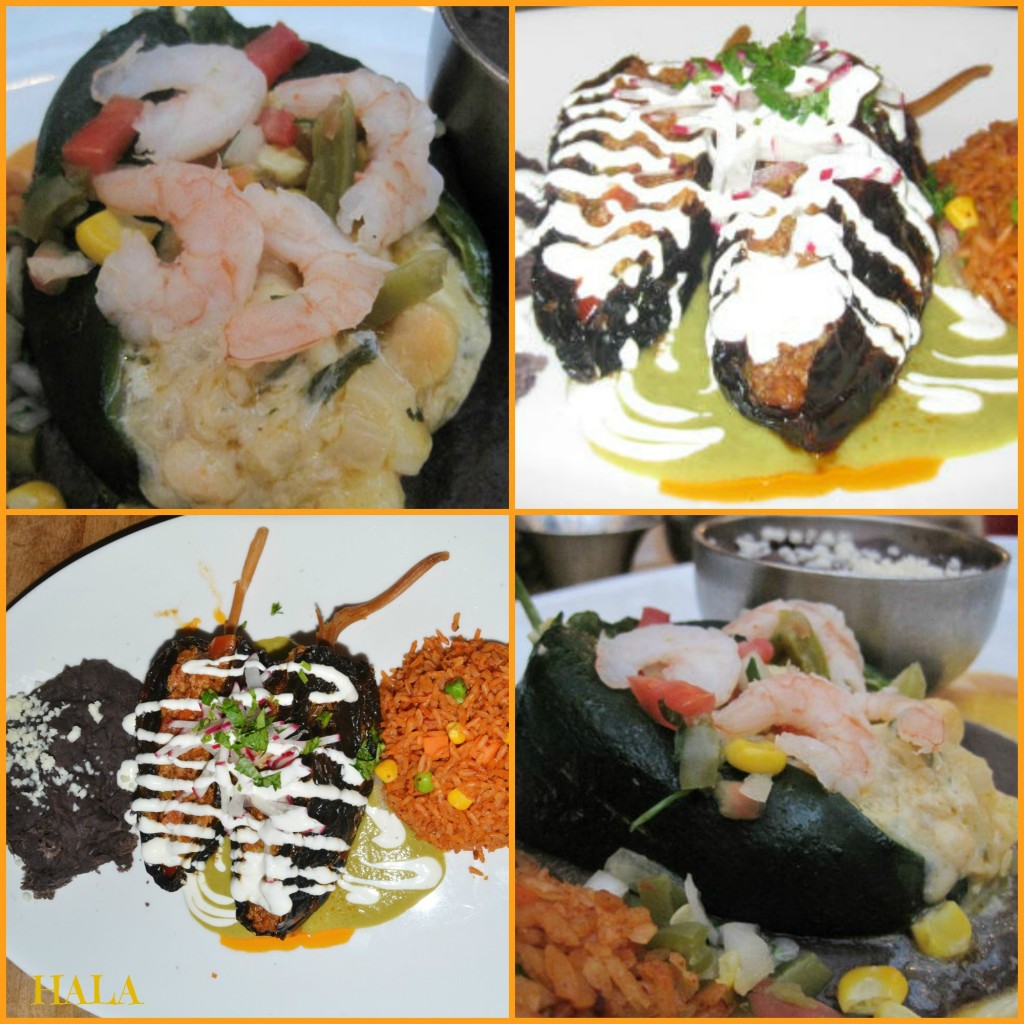 You can see how much bigger these babies are compared to the mini's! They are huge! Very delicious though, and totally worth ordering. I loved how generous they were with the shrimp. The Relleno was full of them as you can tell from the picture above.
The last Chile Relleno of the night that we sampled is their chef special that you can order any time of the year as it is on their regular menu! This Chile Relleno ($15.95)  is a chile poblano stuffed with mexican cheeses and sauteed vegetables and served with a side of refried black beans and some chile chipotle sauce. This is a good choice for the veggie lovers out there as there is no meat in this one! Just lots of ooey gooey cheesy goodness and lots of healthy veggies stuffed inside!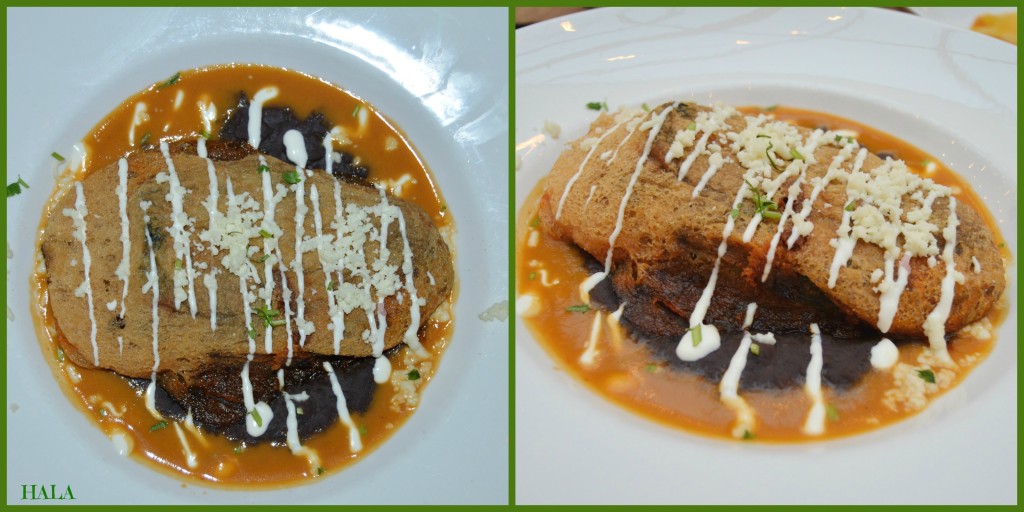 To bring down the heat, cool off with some special drinks that only the Chile Relleno Festival menu can offer you, the Pomegranate Margarita $9.95 (My absolute favorite!) and the Coconut Mojito $10.95!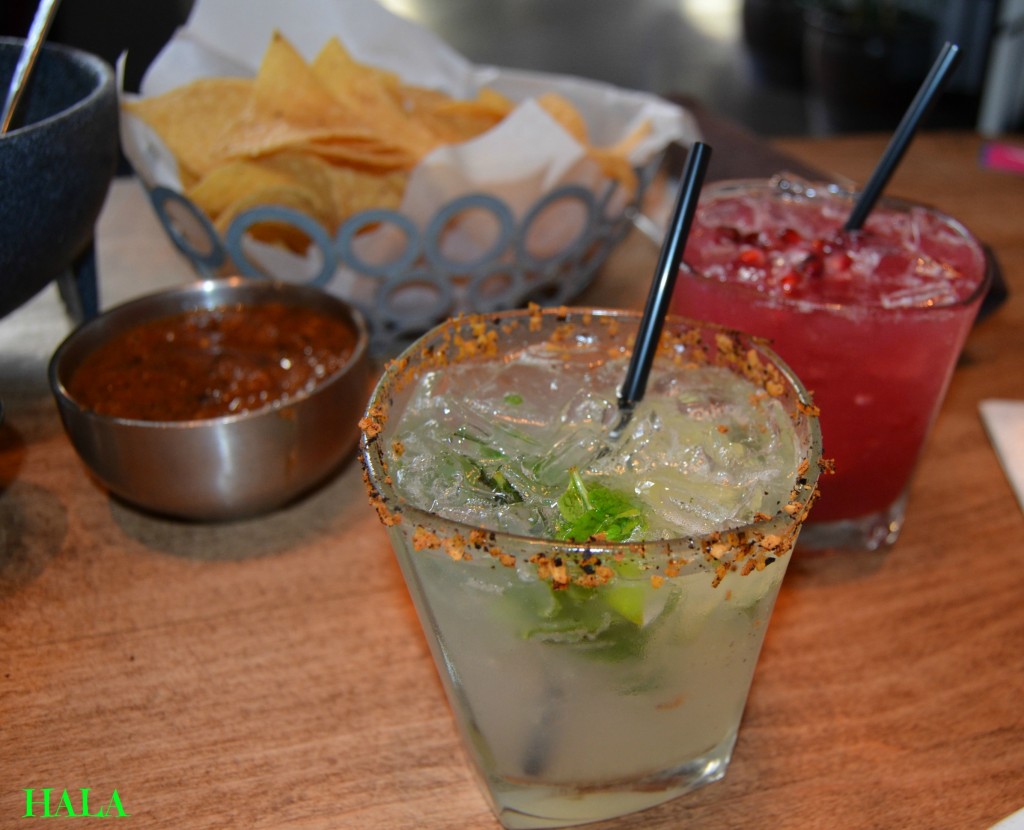 If you love chile relleno's but want something on the lighter side, don't fret! La Sandia has still got you covered and is thinking of you! Their Latin Light Menu offers a Chile Relleno Trio for under 500 calories! You can't beat that! 😉
Of course as always, you know I can't leave a place without adding a little bit of sweetness in my life called dessert! So here's a little number they have that is bound to satisfy your sweet tooth craving for a bite of yummy dessert goodness!
Caramel Flan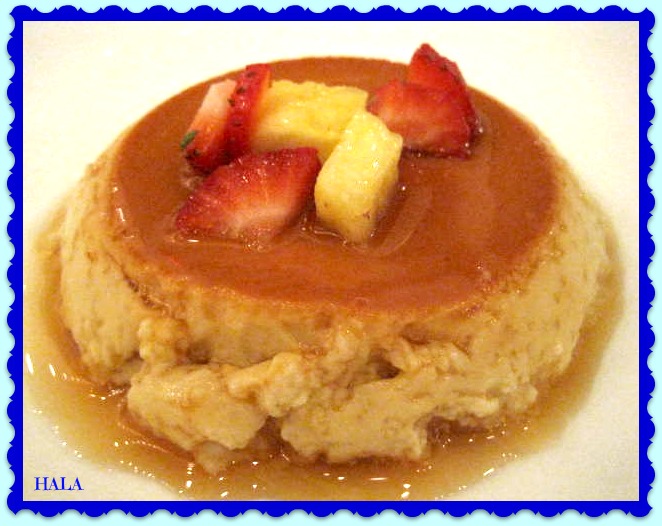 Their homemade Caramel Flan ($4.95) is created with Mexican Custard, Caramel, and some fresh pineapple-strawberry pico. Yum! It's just sweet enough to leave you happy and full and I love the added touch of the fruit topping on top.  🙂
Which Chile Relleno are you eager to try? What's your favorite way to have one?
Enjoy and Salud!